This easy strawberry shortcake ice cream recipe is no churn and uses just 4 ingredients. The best way to enjoy your strawberry shortcake this summer. (Along with this Strawberry Shortcake Icebox Cake)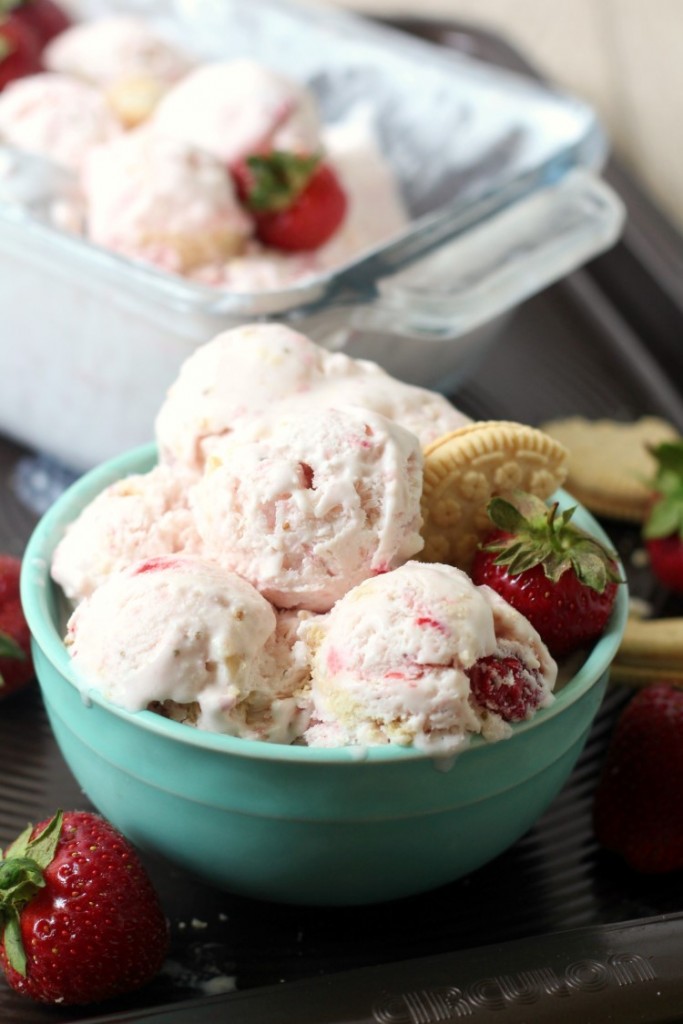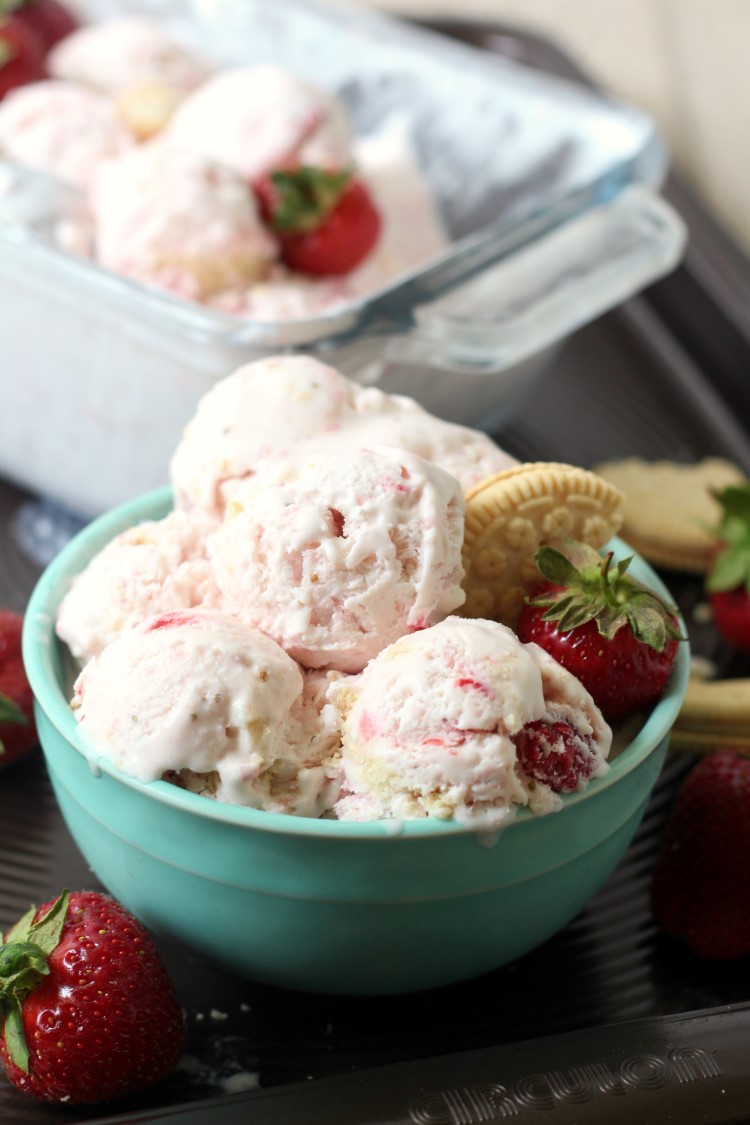 Is it too late to be still be sharing strawberry recipes? Are you all tired of strawberries already? Or is your season actually over? Here in Lancaster County the season is on it's last leg, but I made this ice cream last week and definitely wanted to share it with you this year. So find some fresh strawberries and make it. You'll only need 1 and 1/2 cups.
This year the strawberries have been super sweet and juicy and perfect. Some years they are either flavorless or sour, but they have been perfect. My kids and I have been going through about a quart about every day, just eating them fresh.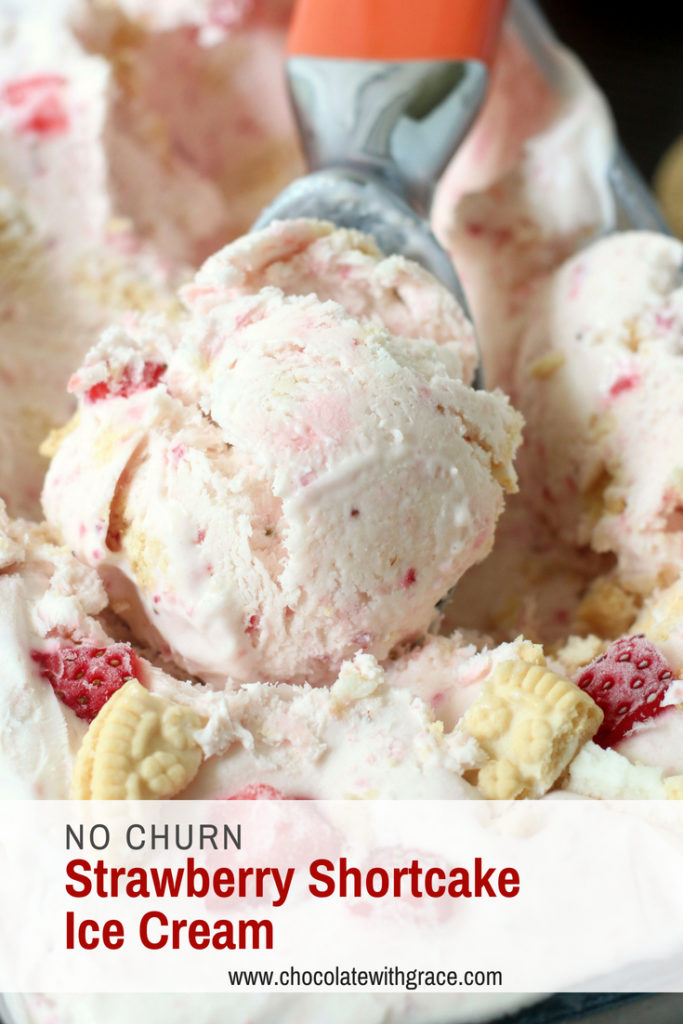 As I mentioned in my last strawberry post, I'm not a fan of traditional shortcake. No thanks dry crumbly biscuit. Golden Oreos have been my shortcake crush this year. They make a much tastier substitute in shortcake dessert, plus it's pretty handy to pick up a package, no baking required.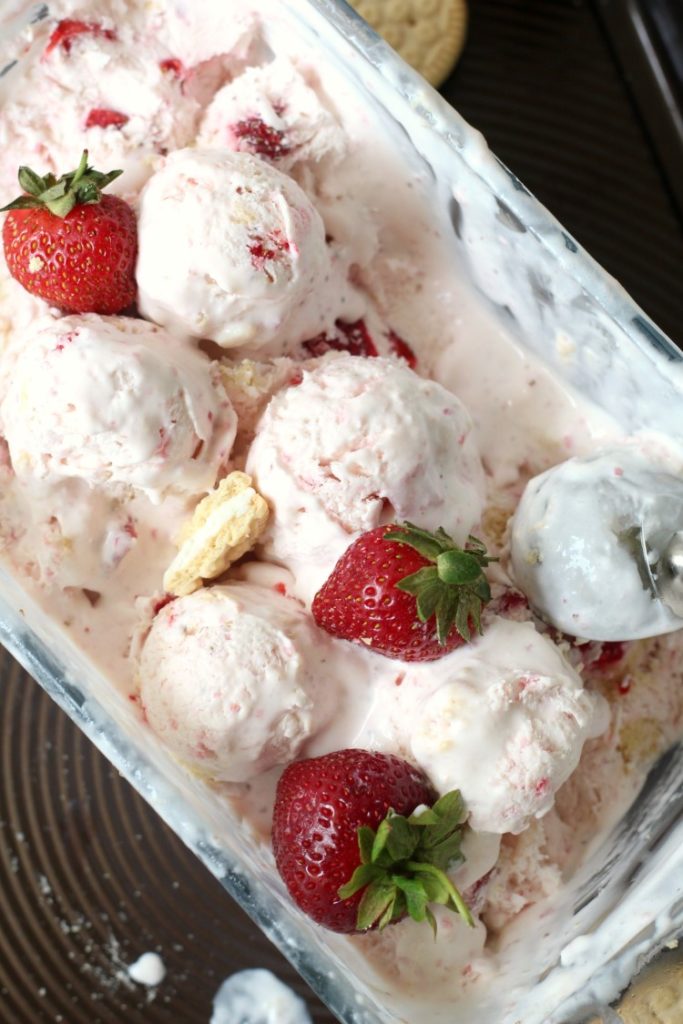 A few notes on this Strawberry Shortcake Ice Cream Recipe.
This is a no churn recipe, Yay! You simply whip heavy cream and then fold in sweetened condensed milk, strawberry puree and crushed golden Oreos. The sad part of all that, it has to freeze for 8 hours 🙁 So, plan ahead.
In my recipe, I included diced strawberry chunks. It turns out that I don't like the texture of frozen strawberries in my ice cream. If you're the same, I would either recommend either just pureeing the additional strawberries or dicing them super fine. Maybe even processing them a bit in a food processor, so you end up with very small strawberry chunks. It's no fun ending up with hard strawberry chunks in your creamy ice cream.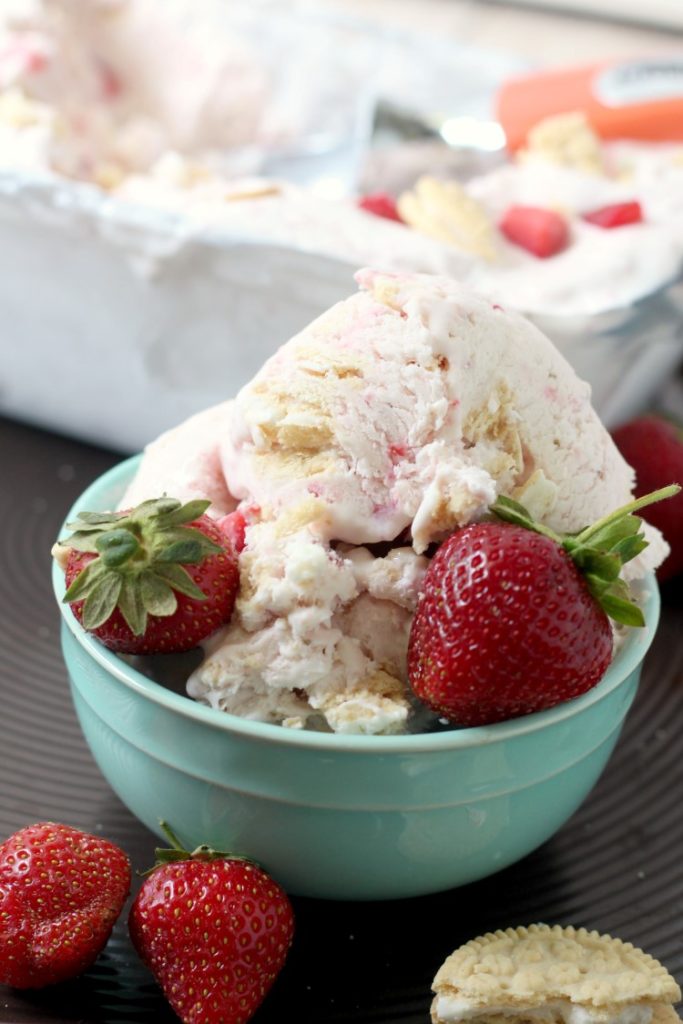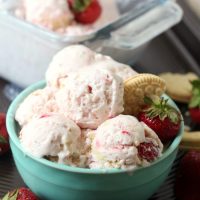 Strawberry Shortcake Ice Cream
Yield: 2.5 quarts

Prep Time: 15 minutes

Additional Time: 8 hours

Total Time: 8 hours 15 minutes

This easy strawberry shortcake ice cream recipe is no churn and uses just 4 ingredients. The best way to enjoy your strawberry shortcake this summer.
Ingredients
1 1/2 cups diced strawberries, divided
2 cups heavy whipping cream
1 can sweetened condensed milk (NOT evaporated milk)
1 1/2 cup golden Oreos, broken into pieces. I used about 8 Oreos.
Instructions
Puree 1 cup of the strawberries in a food processor and set aside. Dice the remaining half cup of strawberries very small, otherwise you will have hard ice chunks in your ice cream. Set strawberries aside.

With a mixer, beat the heavy cream until stiff peaks from. Gently fold in the pureed strawberries and sweetened condensed milk. Gently stir in the remaining diced strawberries and golden oreos. Pour mixture into a 2.5 quart container and freeze until firm, at least 8 hours.
Nutrition Information:
Yield: 20 Serving Size: 1/2 cup

Amount Per Serving:

Calories: 196 Total Fat: 13g Saturated Fat: 6g Trans Fat: 0g Unsaturated Fat: 6g Cholesterol: 28mg Sodium: 87mg Carbohydrates: 18g Fiber: 1g Sugar: 11g Protein: 2g

Nutrition information may vary significantly based on ingredients used and portion sizes. We are not responsible the reliability of this data or your reliance on it. We are not responsible for the results of any recipe you try from this blog/website, Chocolatewithgrace.com. Your results may vary due to differences in ingredients, humidity, altitude, cooking temperatures, errors, or individual cooking abilities.


Her are some other ice creams in summer fruit flavors that sound like a perfect treat.
Strawberry Cheesecake Ice Cream from Life in the Lofthouse
Blueberry Ice Cream from Baked by Rachel
Raspberry Ice Cream from Small Town Woman
Strawberry Shortcake Icebox Cake