While a good fudgy brownie is hard to beat, sometimes its fun to take them up a level and add some other flavors. Try adding strawberry cream cheese frosting to your brownies for a fun Valentine's treat.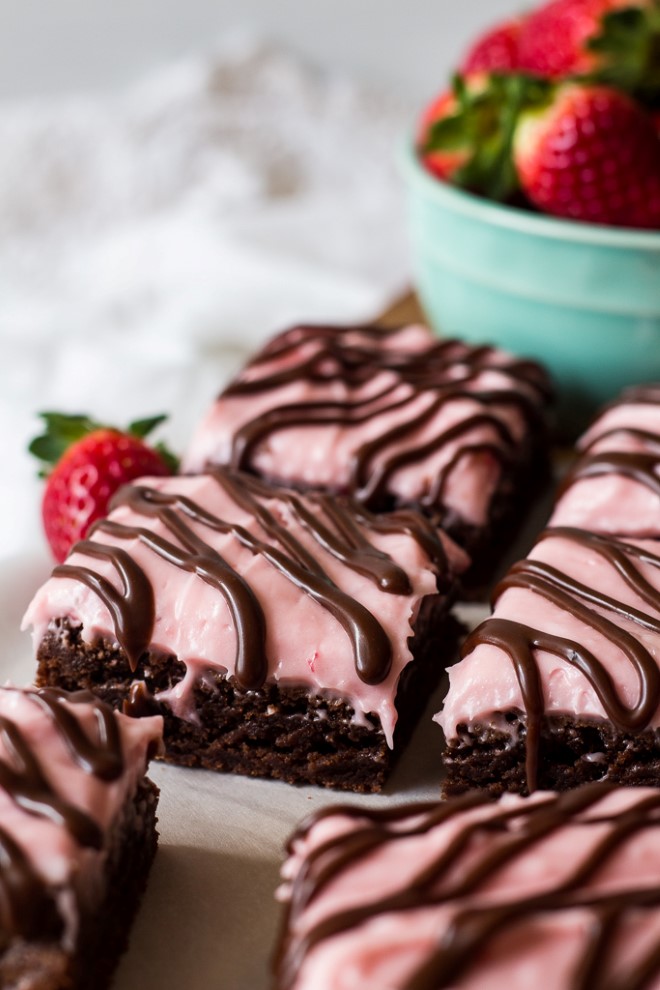 Day 4 of brownie week! Now that you know all the ins and outs of making a great batch of homemade brownies, I'l teach you how to you can upgrade a simple pan of brownies into a fun dessert for any occasion. Today we're jazzing up our regular pan of brownies with some cream cheese frosting.
If you haven't yet, check out my first three posts in the brownie week series about how to make the best brownies in the world from scratch, how to make homemade brownie mix, or how to make a quick and easy pan of brownies with just cocoa.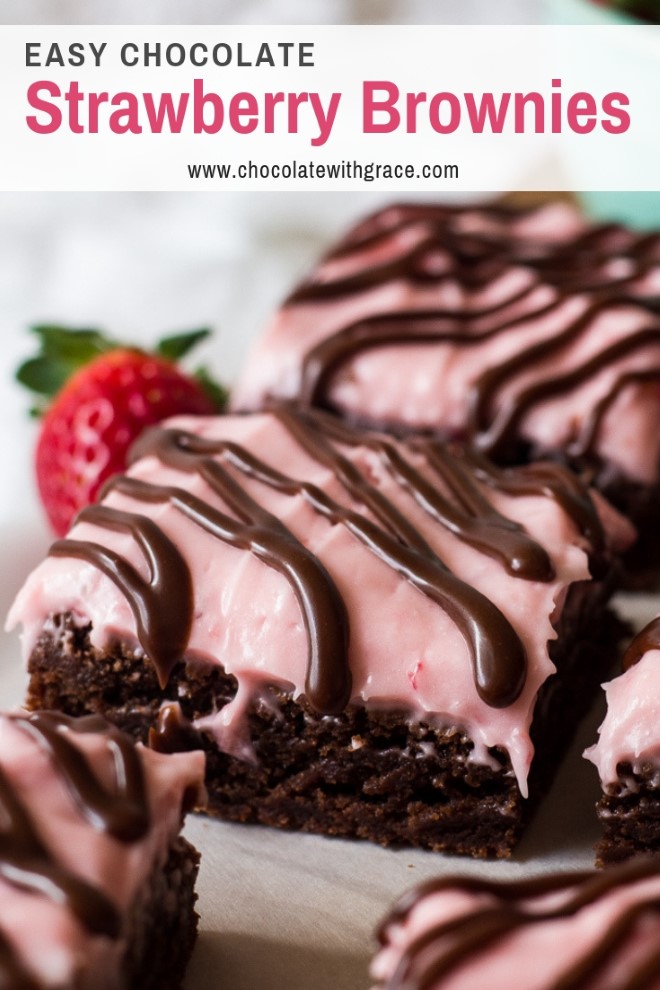 How to give your boring brownies a unique twist:
Some days a rich fudgy pan of good 'ole brownies hits the spot. Other days or occasions call for an upgrade to regular brownies. Here are some quick and easy ideas to make the ordinary pan of brownies special.
Add frosting in any flavor you love. For the recipe, I chose to use strawberry cream cheese frosting. However peanut butter frosting or coffee buttercream sound delicious too!
Add any of your favorite mix ins. Stir chopped nuts, chocolate chunks, peanut butter cups or Oreos into the batter before baking.
Make a brownie skillet cookie. Bake the brownie batter in a skillet, and top with ice cream, peanut butter and hot fudge while its still warm and dig in with a spoon.
Swirl in some caramel or raspberry jam into the batter before your bake them. And then add some more on top when they come out.
Add chocolate frosting and a generous amount of sprinkles. The visual appeal on this one will please any child or kid at heart.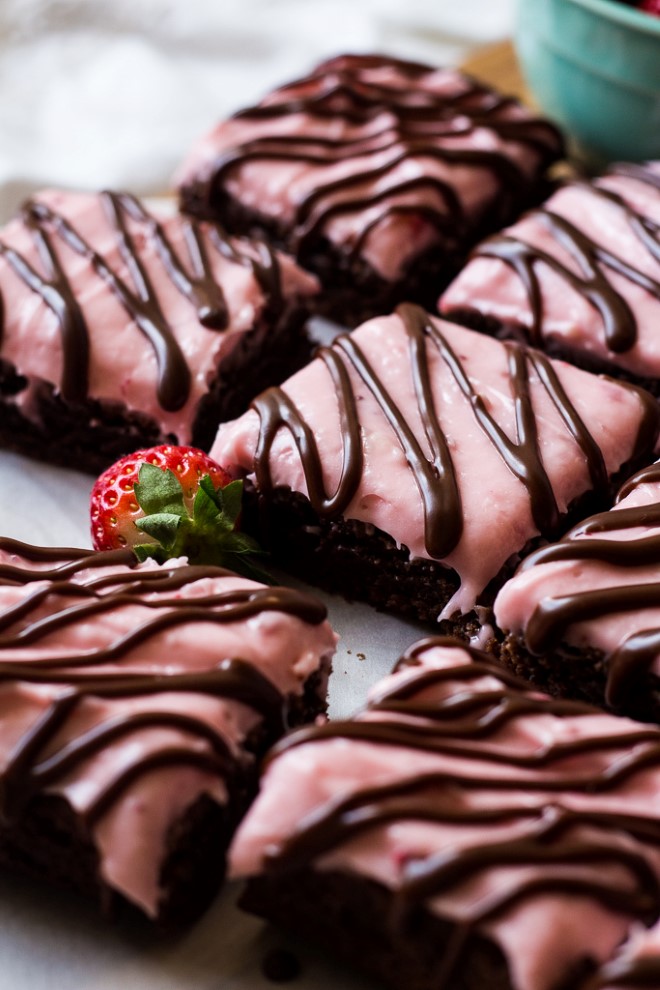 I had a pan of brownies sitting around and some extra strawberry cream cheese frosting to use and that's how these strawberry frosted brownies were born. I added the fudge drizzle to make them extra fancy, but it is completely optional and doesn't add a lot to the flavor.
Let me know if you make these brownies and what you think. Tag me #chocolatewithgrace on Instagram and be sure to follow me there. Also, if you have any ways you love to make your brownies special, let me know in the comments. Be sure to check out some additional brownie recipe ideas at the bottom of the post.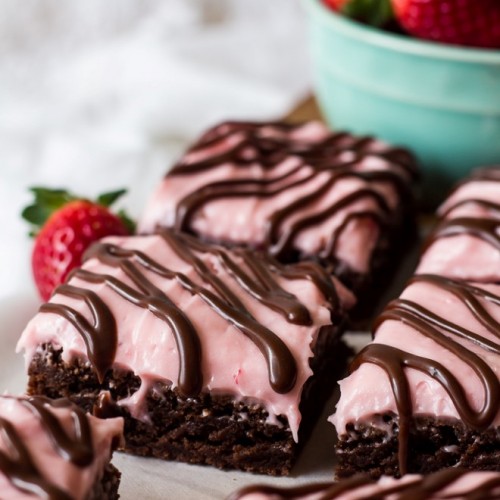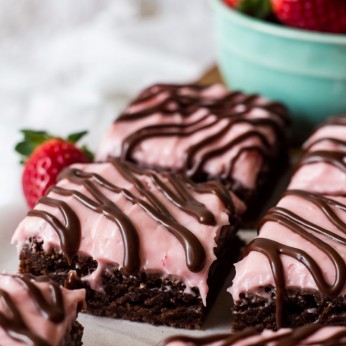 Strawberry Frosted Brownies
Take ordinary fudgy brownies up a level and add strawberry cream cheese frosting for a fun Valentine's Day Treat.
Ingredients
For the strawberry cream cheese frosting
1/4

cup

finely chopped strawberries

8

oz

cream cheese

softened

1/2

cup

butter

softened

3 to 4

cups

powdered sugar

1-2

drops red food coloring

if desired
For the Fudge Drizzle (optional)
3

tablespoons

butter

melted

3

tablespoons

cocoa powder

1

tablespoon

corn syrup or honey

1/2

cup

powdered sugar

1-2

tablespoons

milk or cream
Instructions
Make the brownies as directed in the recipe or on the box and let them cool.

Meanwhile, make the frosting. In a large bowl, beat together the softened cream cheese and butter until fluffy. Add the strawberries and 3 cups of powdered sugar and beat together slowly. Add enough of the remaining powdered sugar to form a spreadable consistency. Spread on cooled brownies.

To make the fudge drizzle, add the melted butter, cocoa powder, corn syrup powdered sugar and milk or cream to a microwave safe bowl. Stir together and microwave for about 20 seconds. Stir again. Drizzle warm glaze over cooled brownie bites. Glaze will set when cooled.
Notes
The fudge drizzle is optional. I just think it makes them look extra yummy! You can either drizzle the fudge on the brownies before you cut them or wait until you cut them and drizzle each individual brownie. I drizzled the brownies after I cut them.
Nutrition
If you like fruit and chocolate, perhaps you will like some of these other fruity brownies. I really only like the chocolate strawberry combination, but I know there are a lot of you who like chocolate covered cherries or raspberries.
Check out Blackberry Cheesecake Brownies from Broma Bakery. Raspberry Oreo Brownies from Taming Twins. Or Chocolate Covered Cherry Brownies from Plain Chicken.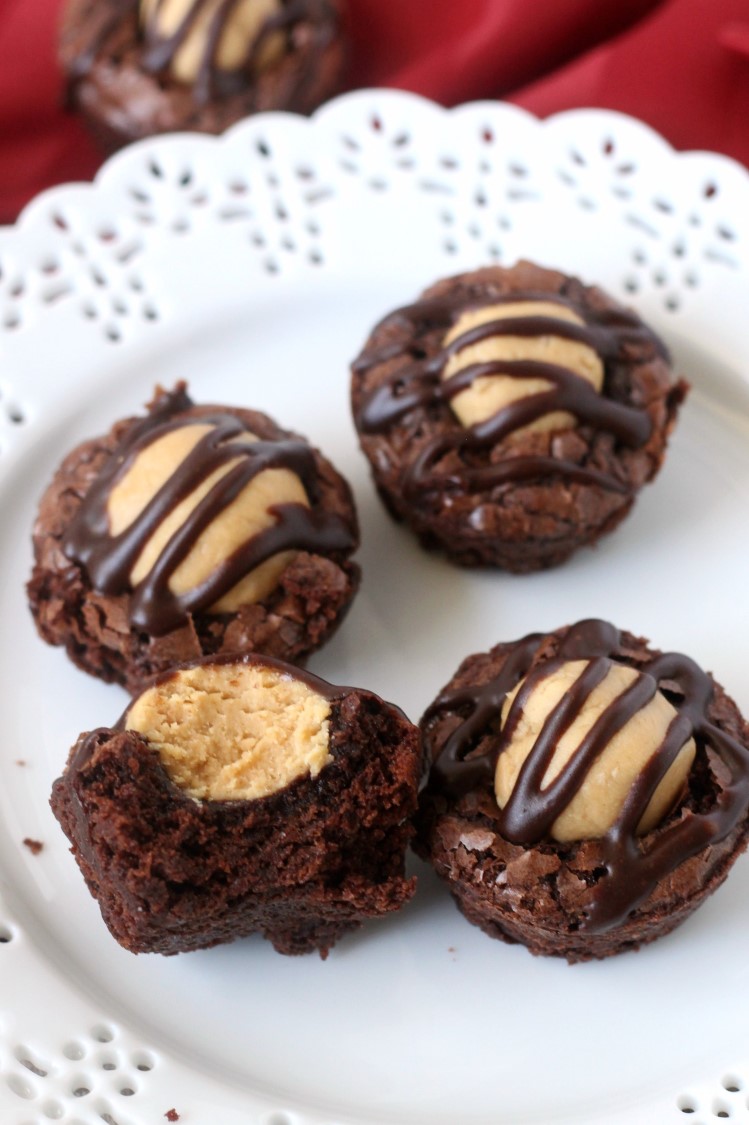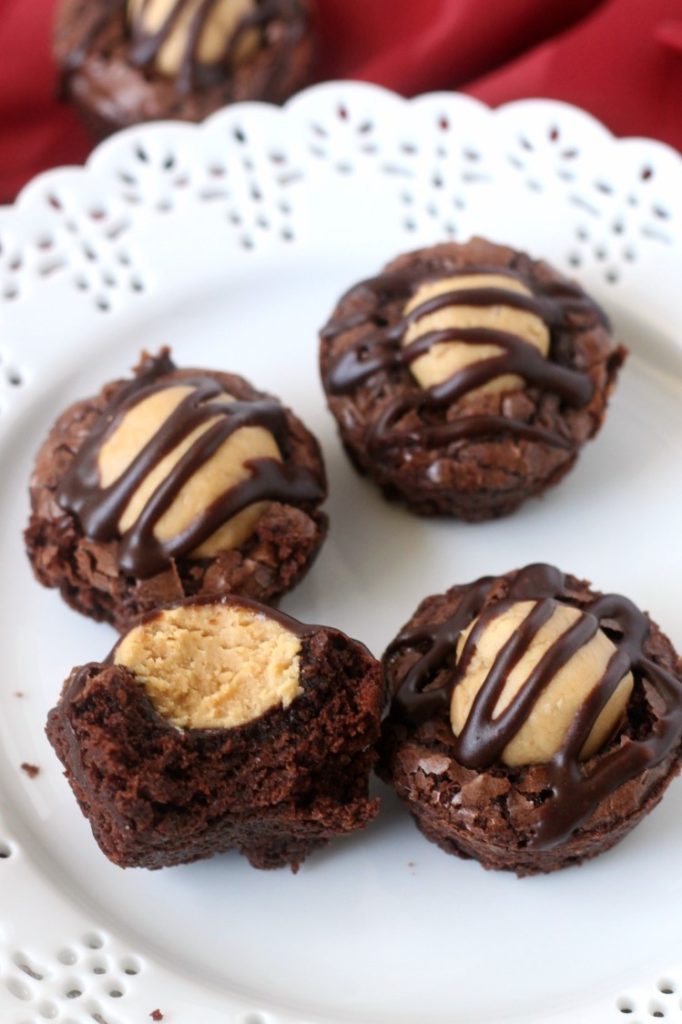 Mint Brownies with Chocolate Ganache