Buckeye Brownie Bites are buckeyes (aka peanut butter balls) pressed into warm brownie bites and drizzled with chocolate, a fun twist on a classic favorite.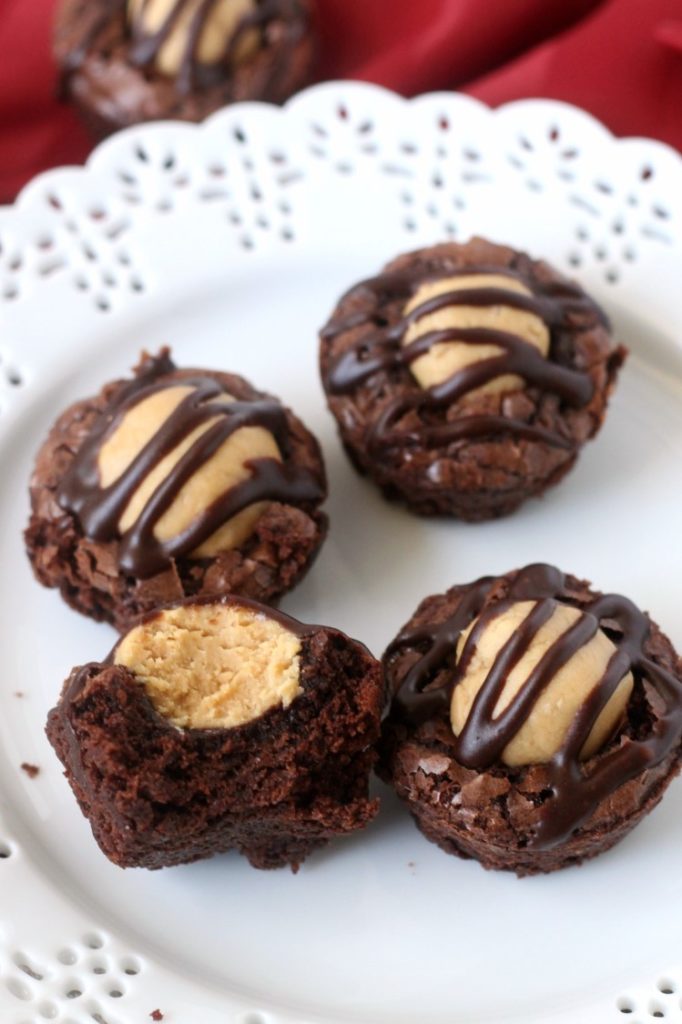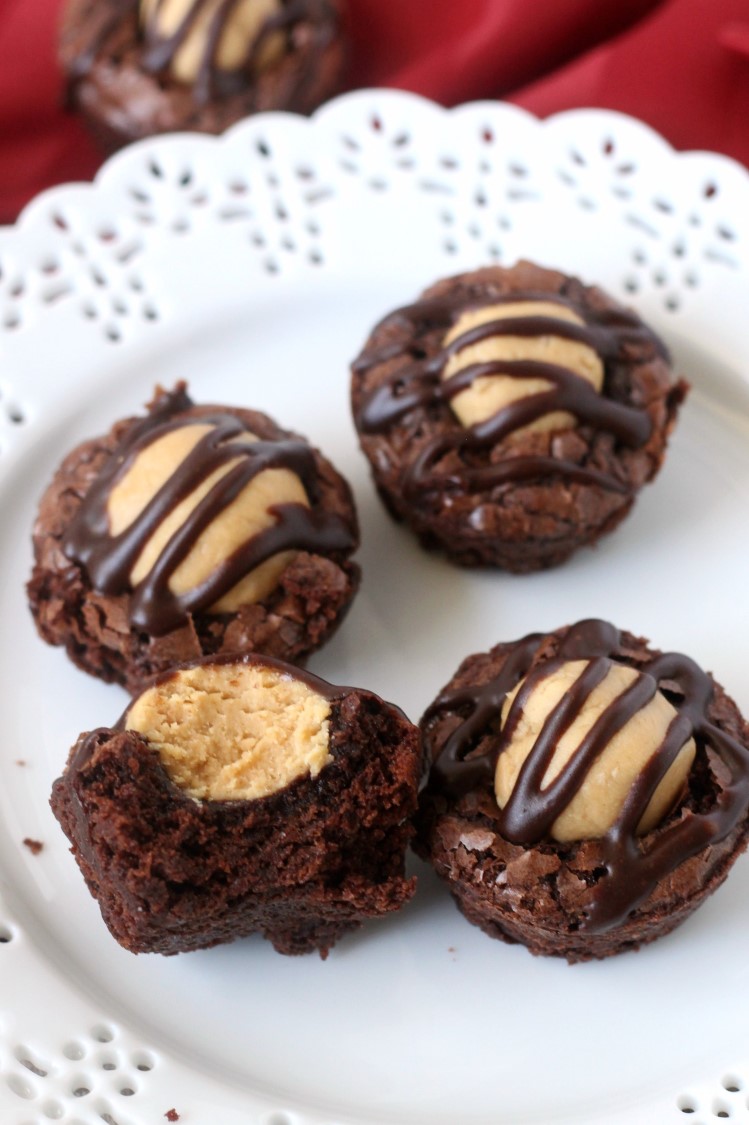 I spent the day cutting down thorn bushes and stuffing them into yard waste bags. I mentioned before how overgrown are fenced backyard was, like to the point we couldn't see the fence. Slowly, we've been tackling it all a summer. A bush year a pile of weeds there.
There was a group of overgrown rose bushes and wild raspberries along the back of the fence that I was dreading working because who wants to deal with thorns? I won yesterday and they are almost all gone. However, even though I wore gloves, some of the giant, old, gnarly, thorns poked through and I have quite a few sore spots on my hands. Rest assured I will not be planted anything with thorns as a replacement.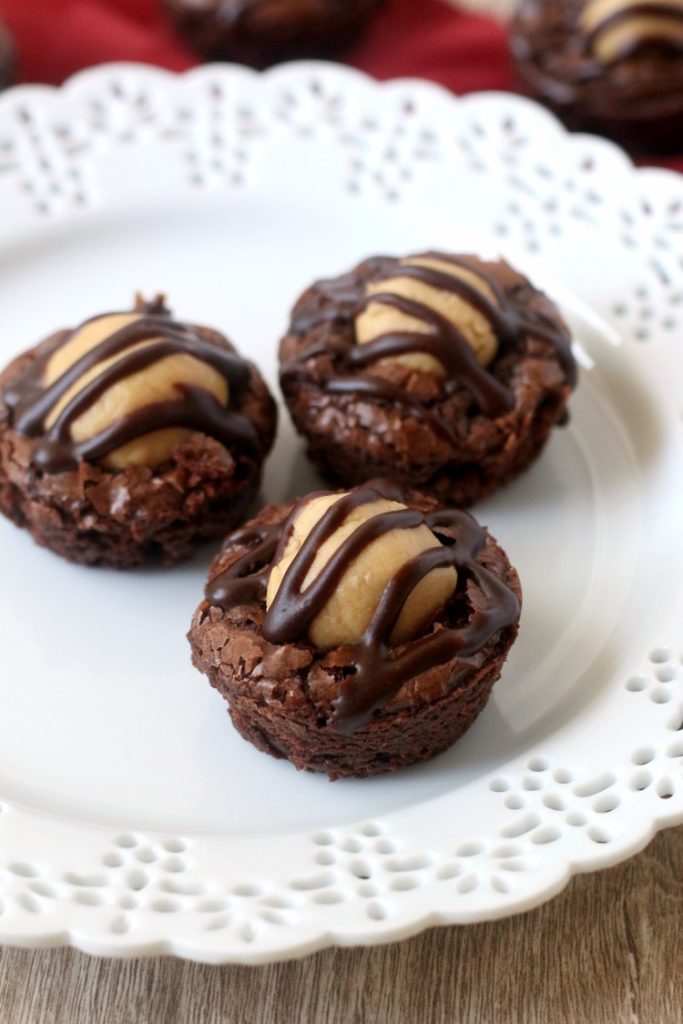 Also, having to stuff them in bags is an extra pain and makes me feel like such a city kid. I miss the big open space in Ohio where we could easy just burn things. It would be some much faster to throw them on a pile and burn them up. However, #neighbors.
At least the township passes out the bags free, when we lived in town they charged a pretty penny for yard waste bags. With all our overgrowth, we would be eating ramen noodles to pay for hauling away the bushes.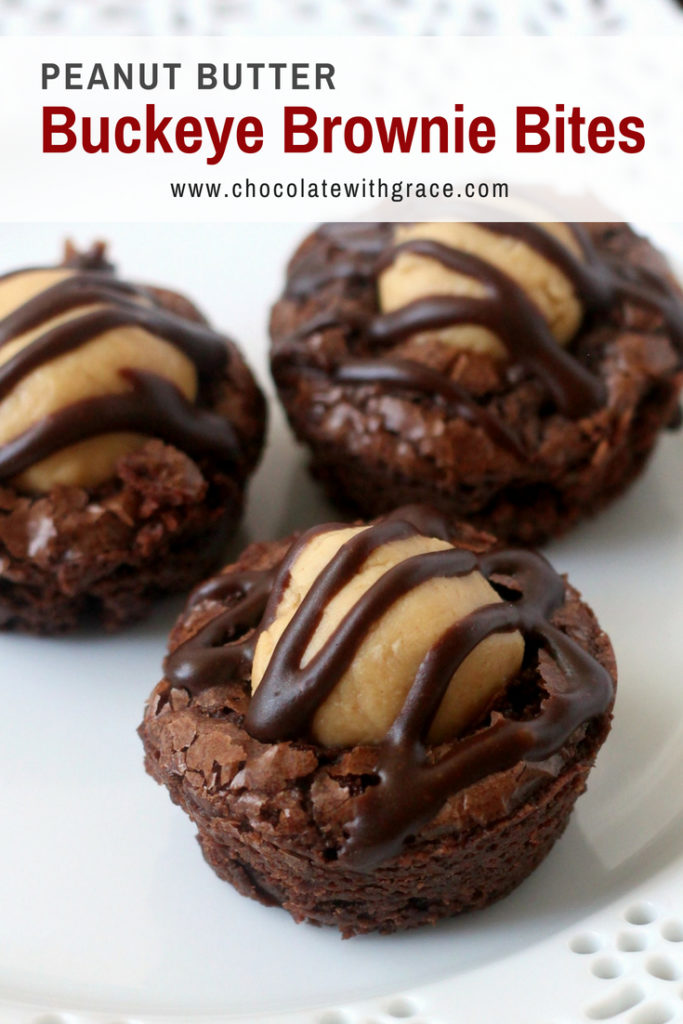 I guess I was also subconsciously missing Ohio in other ways because I made these Buckeye Brownie Bites to satisfy a sweet craving. For all of you non Ohio natives, a buckeye is a poisonous nut from the buckeye tree and buckeye candies are peanut butter balls dipped in chocolate to resemble the nut.
My traditional buckeye candy recipe is one of the most popular recipes on my site and one of my favorites too. Here is a new twist for your to try. Bake a batch of brownies in mini muffin tins and then press a peanut butter ball on top, drizzle with chocolate and you have a fun chocolate peanut butter treat. It's less time commitment than dipping regular buckeyes too.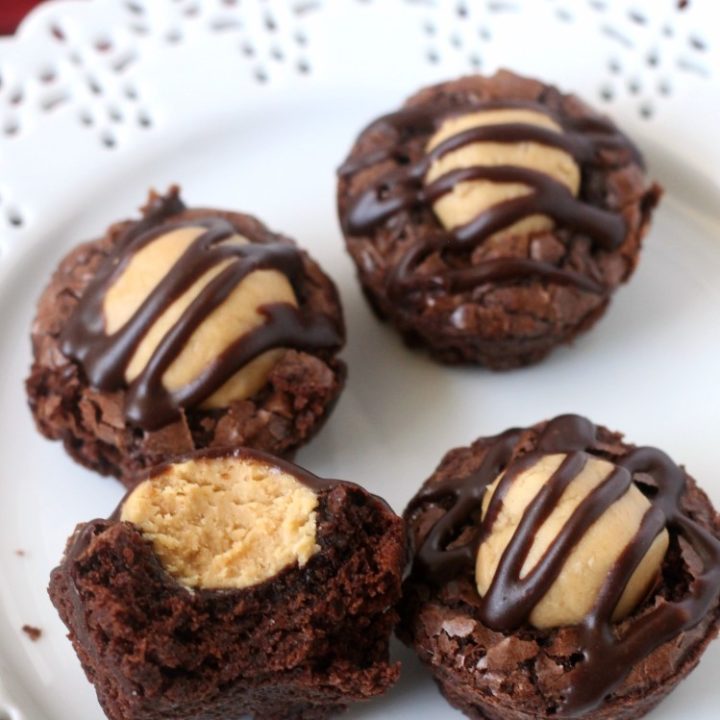 Buckeye Brownie Bites
Yield: 36 bites

Prep Time: 45 minutes

Cook Time: 20 minutes

Total Time: 1 hour 5 minutes

Buckeye Brownie Bites are buckeyes (aka peanut butter balls) pressed into warm brownie bites and drizzled with chocolate, a fun twist on a classic favorite.
Ingredients
For the peanut butter balls
1/2 cup peanut butter
2 tablespoons butter, softened
3/4 cup powdered sugar
For the Brownies
½ cup vegetable oil
1 cup granulated sugar
2 eggs
1 teaspoon vanilla
1/3 cup cocoa powder
1/2 cup all purpose flour
1/4 teaspoon salt
1/4 teaspoon baking powder
For the chocolate drizzle
3 tablespoons butter, melted
3 tablespoons cocoa powder
1 tablespoon corn syrup or honey
1/2 cup powdered sugar
1-2 tablespoons milk or cream
Instructions
Make the peanut butter balls first. Beat together the peanut butter, butter and powdered sugar until smooth. If it is too dry and crumbly, add more peanut butter, if it's too sticky, add more powdered sugar. roll into 3/4 inch balls. Should make 36. Set aside

To make the brownies bites, preheat oven to 350 F. Grease 3 mini muffins pans well. Whisk together the oil, sugar, eggs, and vanilla. Beat in the cocoa, flour, salt and baking powder. Divide batter into muffin tins, filling them 2/3 full. Should make 36 brownie bites

Bake for 15-20 minutes or until an inserted toothpick comes out with a few crumbs. Remove from the oven and immediately press a peanut butter ball into each bite. Let cool several minutes in the pan before moving to a wire rack to cool completely.

To make the chocolate drizzle, add the melted butter, cocoa powder, corn syrup powdered sugar and milk or cream to a microwave safe bowl. Stir together and microwave for about 20 seconds. Stir again. Drizzle warm glaze over cooled brownie bites. Glaze will set when cooled.
Nutrition Information:
Yield: 36 Serving Size: 1 brownie
Amount Per Serving: Calories: 120Total Fat: 7gSaturated Fat: 2gTrans Fat: 0gUnsaturated Fat: 5gCholesterol: 16mgSodium: 53mgCarbohydrates: 13gFiber: 0gSugar: 10gProtein: 2g

Nutrition information may vary significantly based on ingredients used and portion sizes. We are not responsible the reliability of this data or your reliance on it. We are not responsible for the results of any recipe you try from this blog/website, Chocolatewithgrace.com. Your results may vary due to differences in ingredients, humidity, altitude, cooking temperatures, errors, or individual cooking abilities.


Here are some other brownie bite recipes that sound delicious!
Texas Sheet Cake Bites from Life in the Lofthouse
Peanut Butter Cup Brownie Bites from Melanie Makes
And you all know my love of mint chocolate chip so here are Mint Chocolate Chip Brownie Bites from Shugary Sweets
And if you're looking for other buckeye recipes, I have you covered.
Classic Buckeyes – Peanut Butter Balls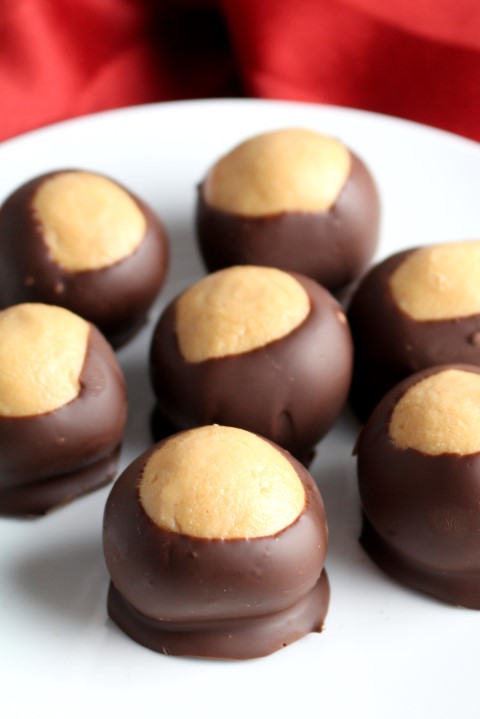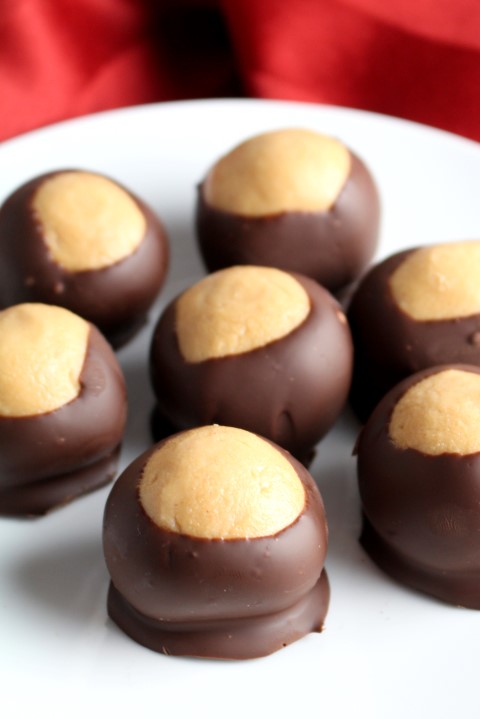 Peanut Butter Pretzel Buckeyes