You can either use canned cherry pie filling or make your own with fresh cherries in these vanilla glazed Cherry Pie Bars. It's an easy summer dessert recipe perfect for any picnic, potluck or party.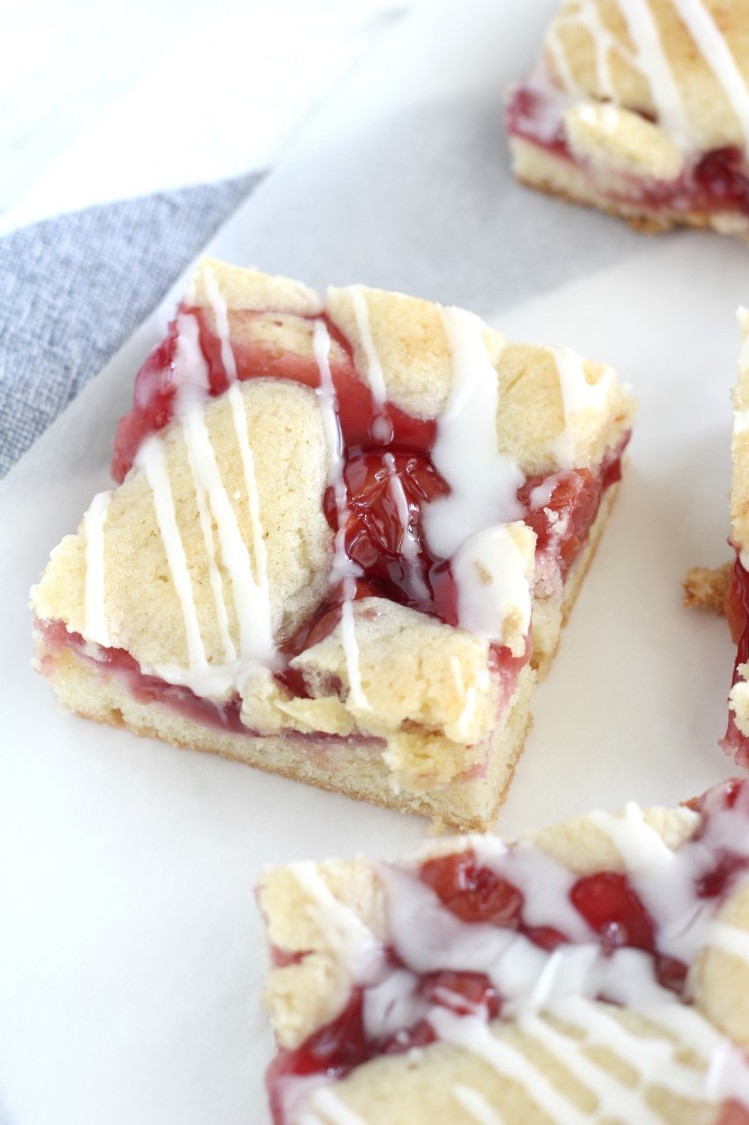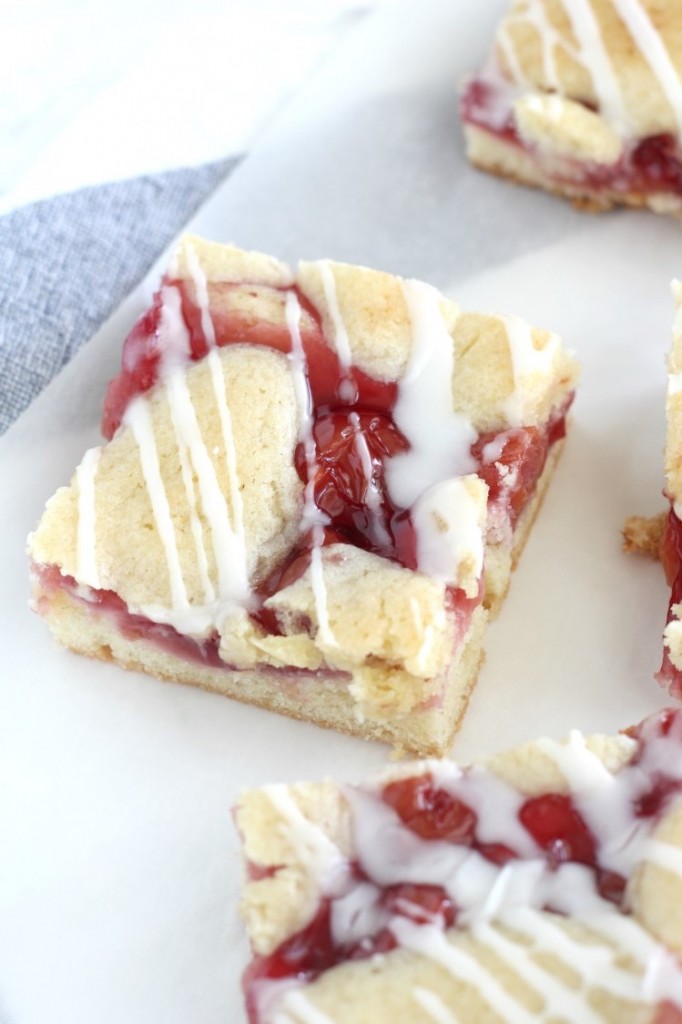 Thanks to some dogs that woke us up at 5:30 barking, I'm able to share a new post with you this morning. Thankfully, my children went back to sleep, or I would have been super grumpy. I was pretty mad when I heard them this morning, but I guess I get a few quiet minutes out of it to share these cherry pie bars with you so all is well.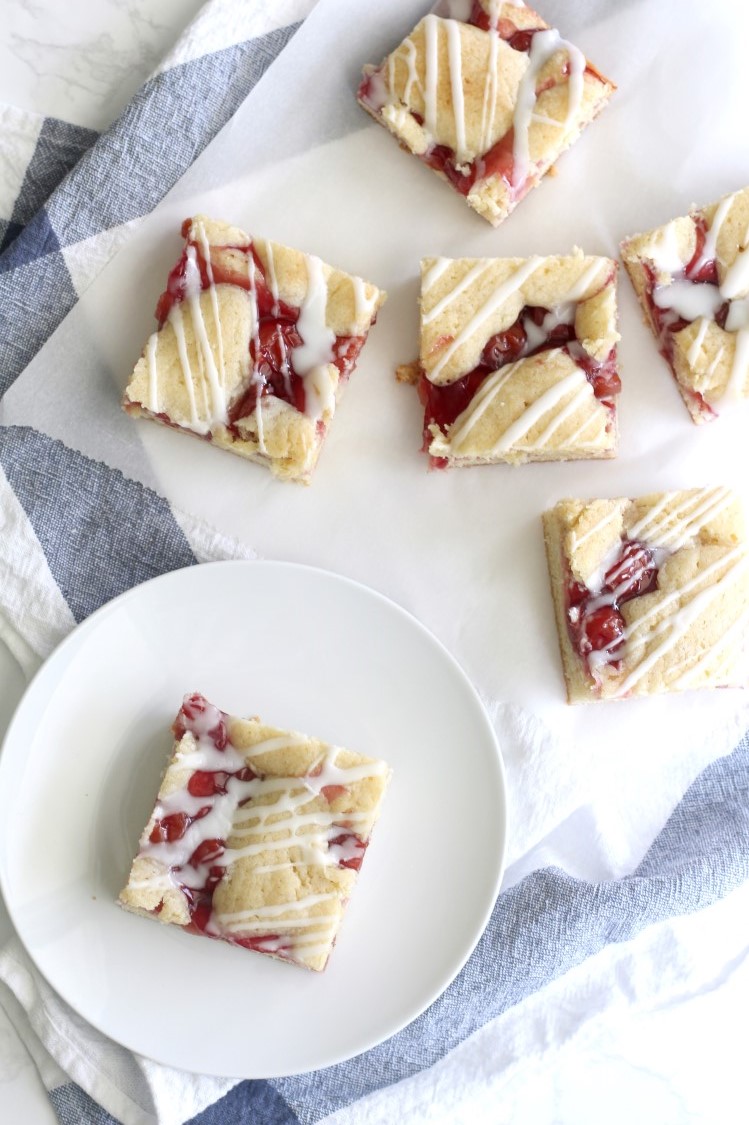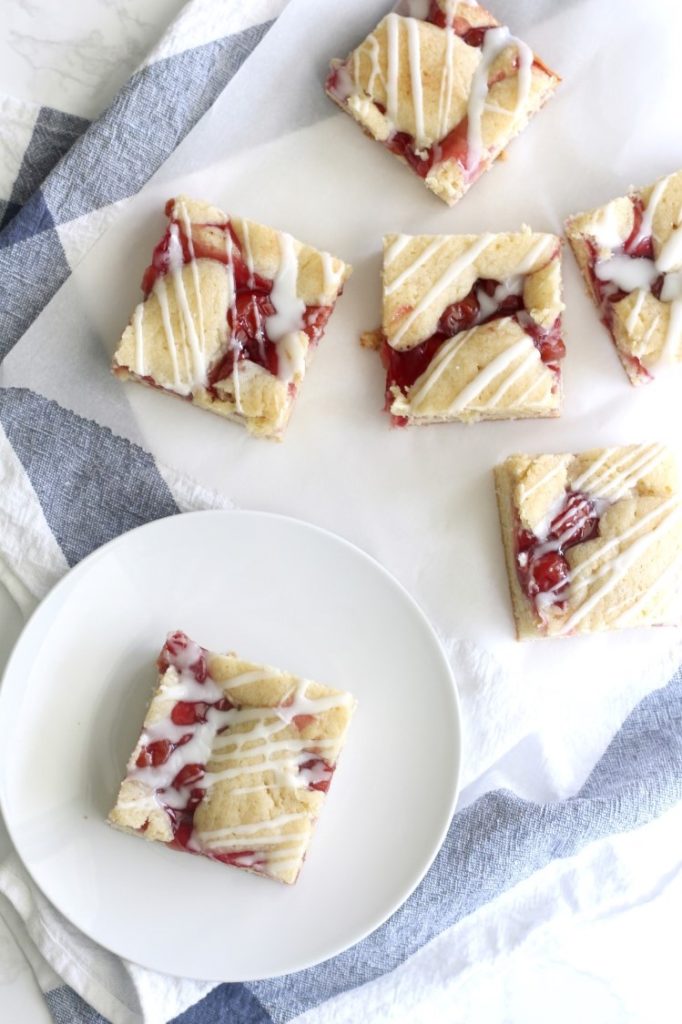 Of course this was a night Tyler was away for work. He has already been gone for one week this month and has one more work trip planned. Thankfully, his work travel is usually very light because I'm no good at parenting the kids solo. And actually, I'm headed out with him on his next trip, (Which is international!!!! Any guesses?)
We're leaving the kids behind this time for a week. I've never left them alone for that long and I've never left Ashtyn alone overnight. Am I going to be okay? Tyler's one stipulation in taking me was that I couldn't complain about missing the kids. And right now with the amount of crying they've both been doing, I'm ready for a bit of a break. I'm also dreaming about sleep, glorious uninterrupted sleep.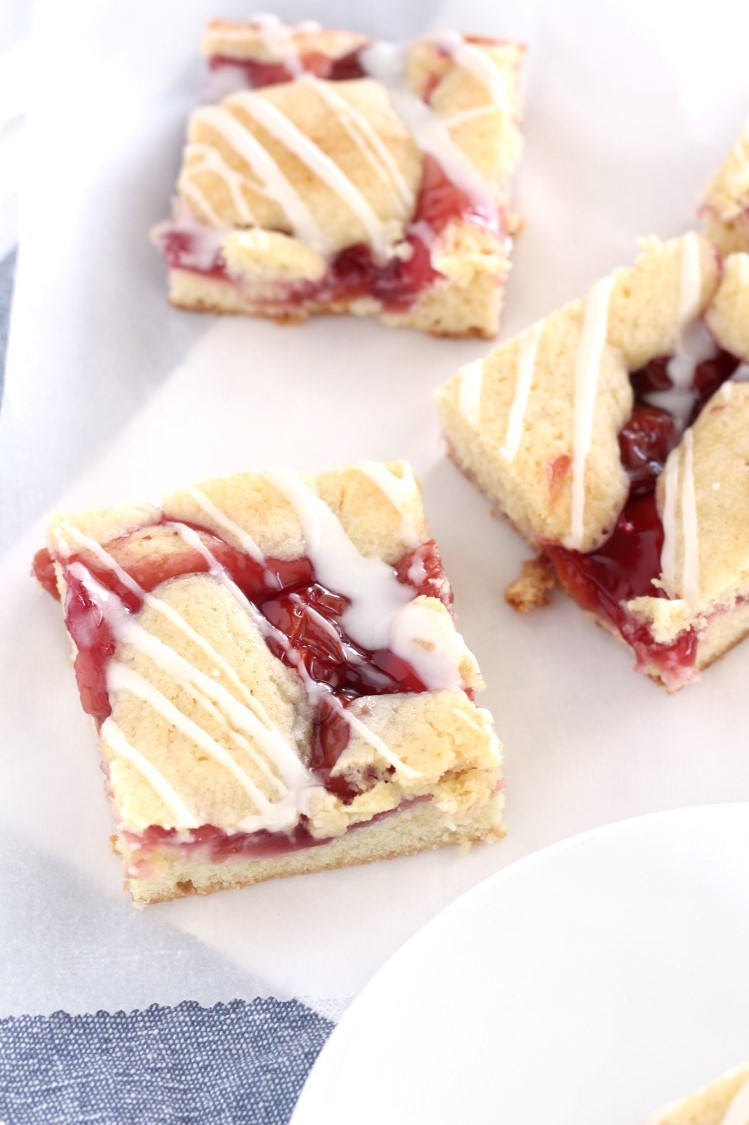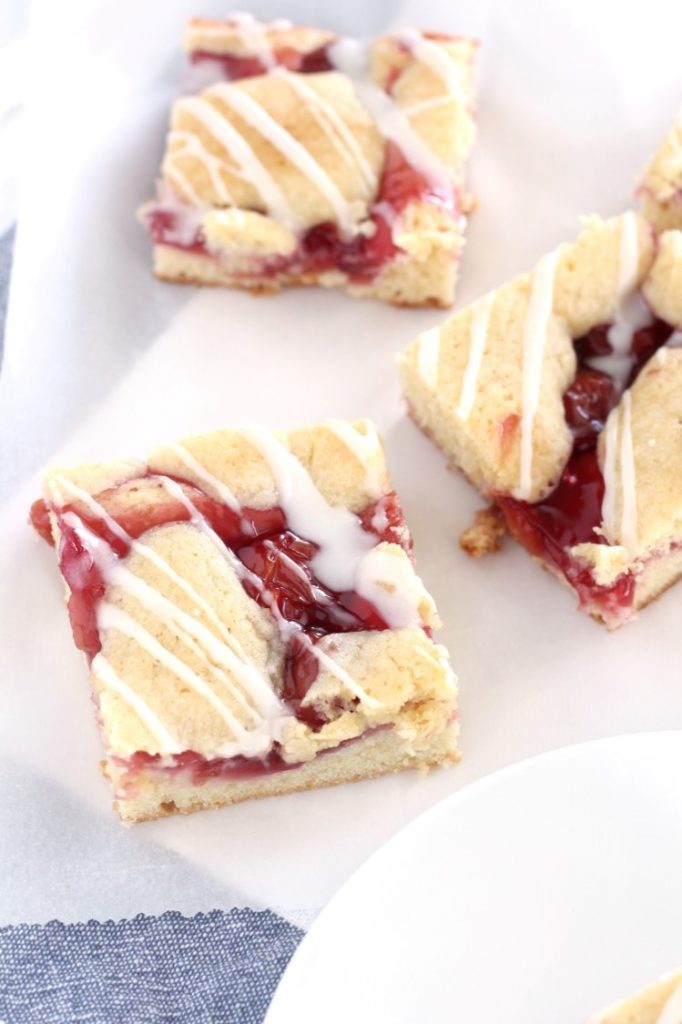 In some of the down time while Tyler is at work, I'm hoping to have some quiet moments to write a few more posts and update some other aspects of my blog. Those are my plans anyway, but I may end up just sleeping and hopefully exploring if I'm brave enough to go on my own. 🙂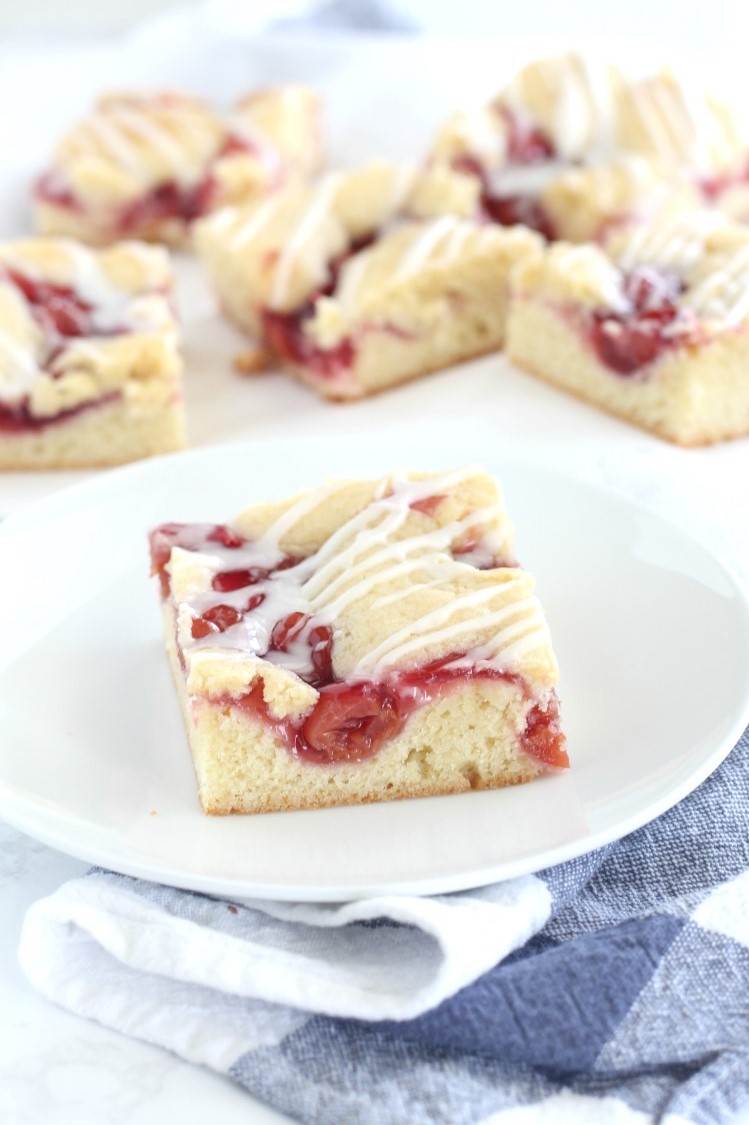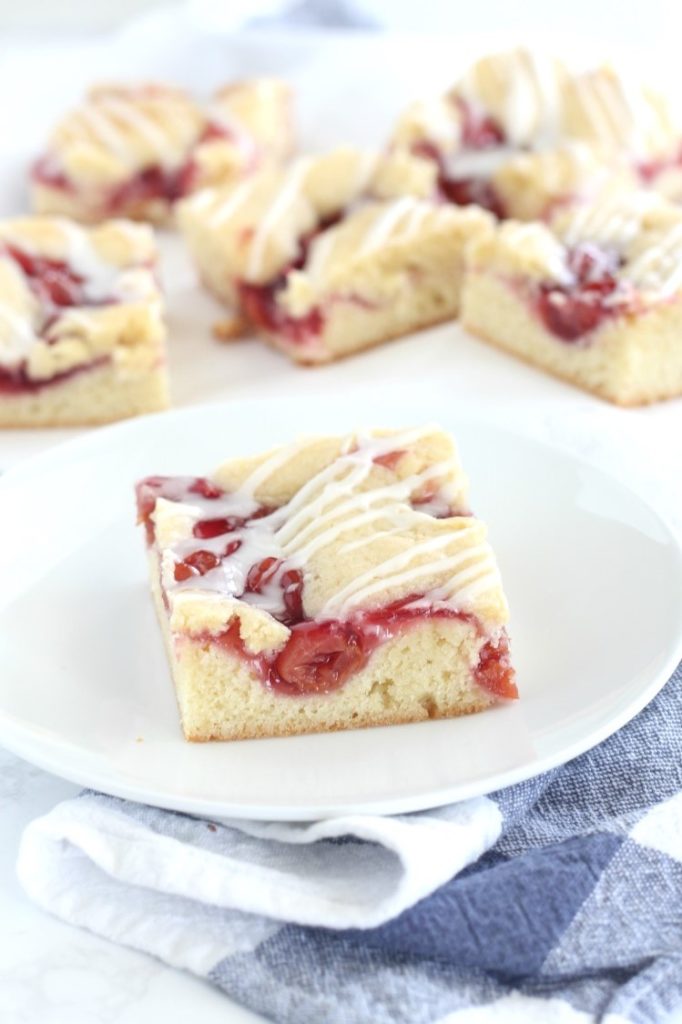 Back to these Vanilla Glazed Cherry Pie Bars, they come together quickly, with a simple batter and they are extra simple if you just use canned cherry pie filling. Although if you have fresh cherries sitting around to use, these bars would be phenomenal with fresh cherry pie filling.
Once they are cooled, whip up the glaze and drizzle it on and they are ready to serve. Anyone else get great satisfaction from drizzling on glaze? In my opinion, these bars are like muffins and get softer and more moist the second day after being tightly covered, so I like to try and make them ahead. They're definitely a go to dessert around here in the summer because they're easy and look super pretty and summery as well.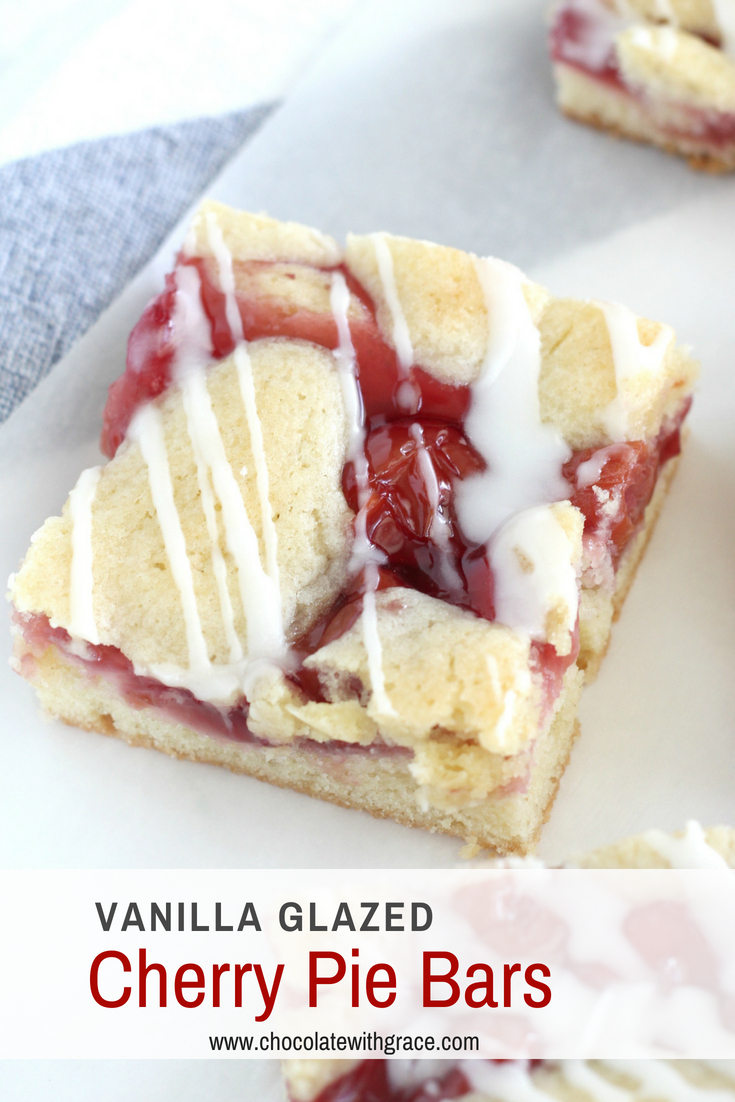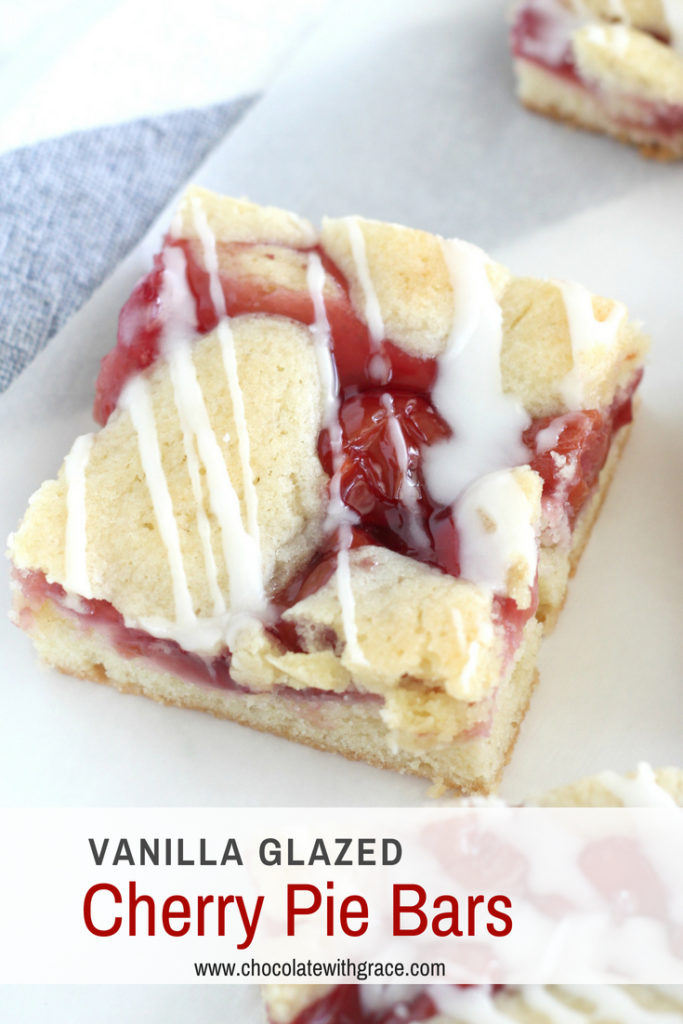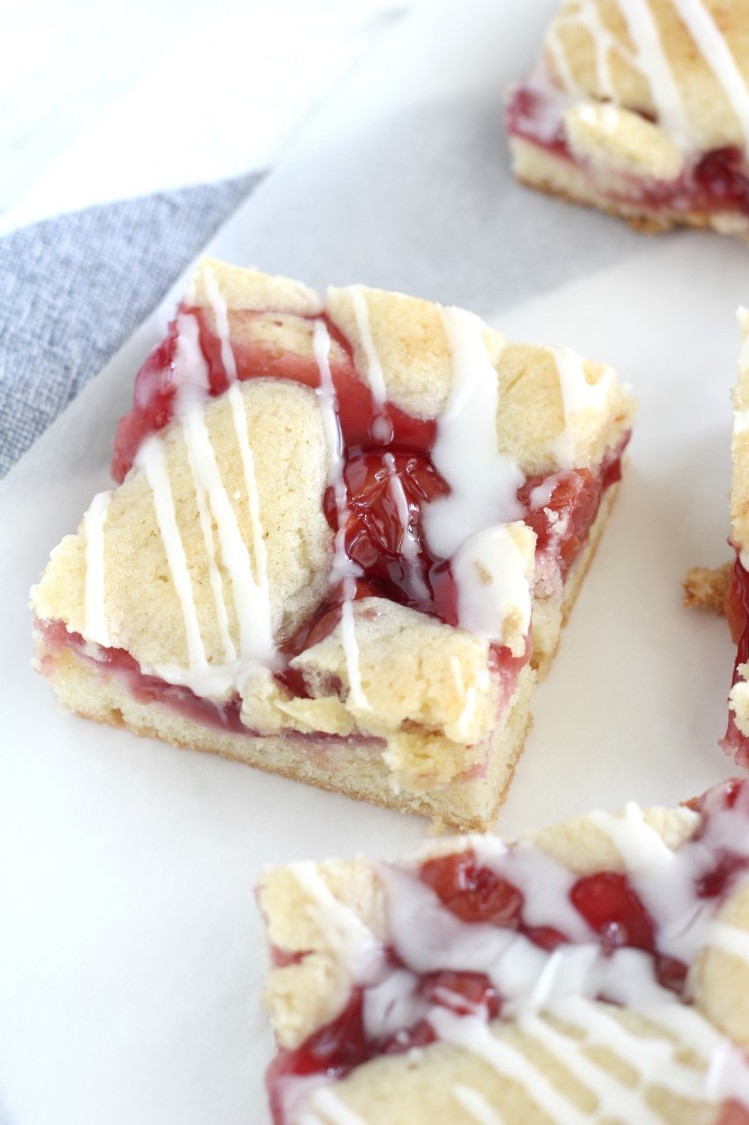 Vanilla Glazed Cherry Pie Bars
You can either use canned cherry pie filling or make your own with fresh cherries in these vanilla glazed Cherry Pie Bars. It's an easy summer dessert recipe perfect for any picnic, potluck or party.
Ingredients
For the Bars
1

cup

2 sticks butter, softened

1 3/4

cup

sugar

1

teaspoon

vanilla

4

eggs

room temperature

3

cups

all-purpose flour

1 1/2

teaspoon

baking powder

1/4

teaspoon

salt

1

20 ounce can cherry pie filling (or 2 cups homemade)
For the vanilla glaze
1 1/2

cups

powdered sugar

1

teaspoon

vanilla extract

1-2

tablespoons

milk
Instructions
Preheat the oven to 350 F. Cream the butter and sugar together in a large bowl. Beat in eggs and vanilla. In a separate bowl, whisk together the flour, baking powder and salt. Add the dry ingredients to the wet and stir until combined.

Grease a 10 x 15 inch baking pan. Reserve 1 1/2 cup of batter, spread the rest on the bottom of the greased baking pan. Spread with cherry pie filling. I like to use a bit more than 20 ounces if I have it. Using a teaspoon, dollop on the reserved batter in drops. Bake in preheated oven for 35 minutes or until lightly browned and toothpick inserted in the middle comes out clean. Do not over bake.

Let cool. To make the glaze, beat the powdered sugar, vanilla extract and enough milk to form a smooth consistency. Drizzle on cooled bars. Cut and serve. These are better the second day as the batter absorbs some of the moisture from the pie filling.
Nutrition
Serving:
1
bar
·
Calories:
243
kcal
·
Carbohydrates:
39
g
·
Protein:
3
g
·
Fat:
9
g
·
Saturated Fat:
5
g
·
Polyunsaturated Fat:
3
g
·
Cholesterol:
51
mg
·
Sodium:
130
mg
·
Fiber:
1
g
·
Sugar:
21
g
Here are some other cherry desserts to try this summer.
Cherry Cheesecake Cupcakes from the Cozy Cook
Slow Cooker Cherry Dump Cake from Cincy Shopper
Cherry Cheesecake Brownies from Creations by Kara
The only other cherry recipe on my site are these Rustic Cherry Tarts (which is also the only other cherry recipe you probably need).