These fresh peach pie bars are the epitome of summer. Fresh peaches are cooked into a gorgeous, flavorful pie filling that is layered into these bars.
(If peaches aren't available just yet, these pie bars will work beautifully with a store-bought jar or can of peach pie filling too!)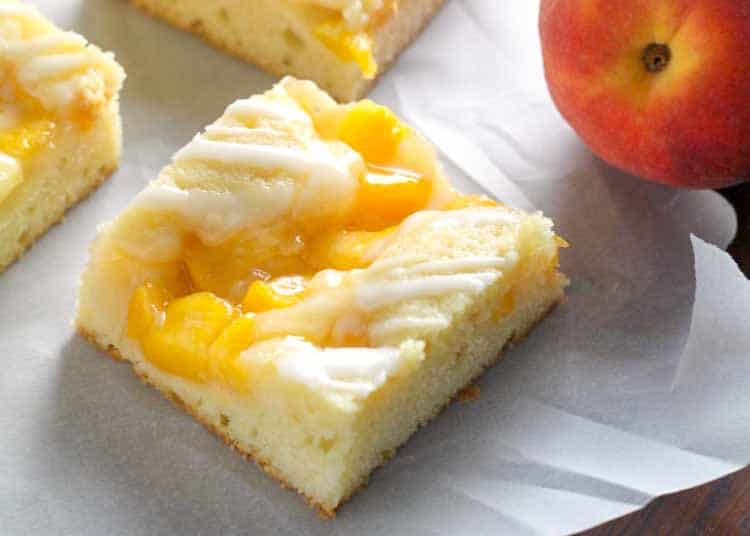 Peaches are my favorite fruit and the banner of hot summer days. It's hard to beat a fresh, ripe peach for an afternoon snack (except maybe ice cream, always ice cream.)
Summer produce is in full swing by the time peaches are ready and I love meals that are filled with fresh fruits and vegetables: corn, zucchini, peaches, apricots, and blueberries.
Peach Pie Bars
A few summers ago, while I was dreaming up recipes to use up my bounty of fresh peaches, I couldn't get pie bars out of my head. I'll admit it, I've been on a pie bar kick recently.
Every month, I seem to be making a new flavor. First, it was cherry pie bars, then blueberry pie bars, and now fresh peach pie bars.
And PLEASE don't ask me to pick a favorite, it depends on what month of the year it is, what fruit is in season, and what I'm craving at the moment.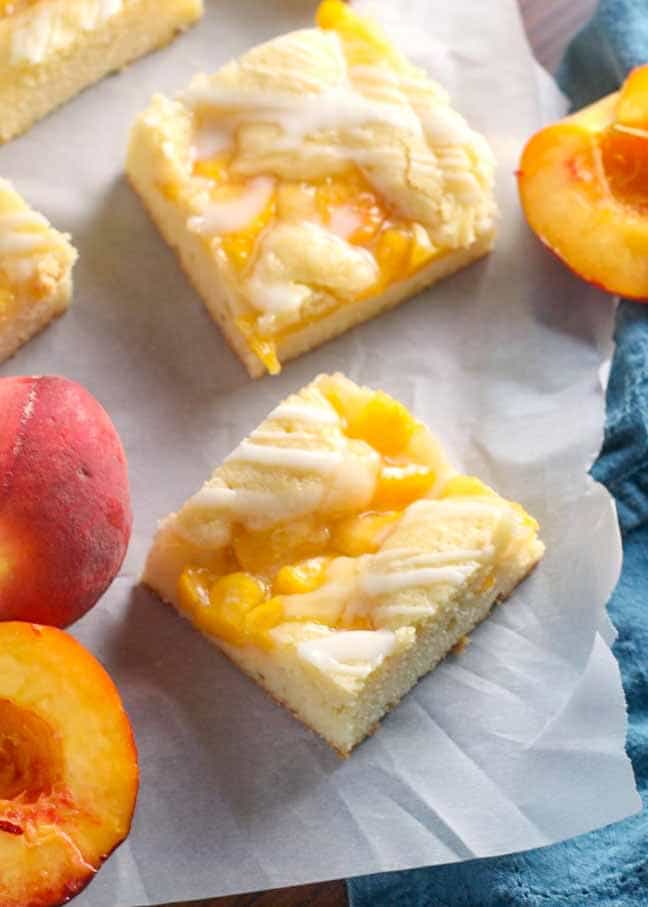 When fresh peaches are available, peaches tend to be my favorite option for any fruit dessert, especially these bars. And I love how much easier pie bars are to make than an actual pie.
Watch out, next month it may be apple pie bars. (Doesn't that sound good?) What fruit would you turn into a pie bar?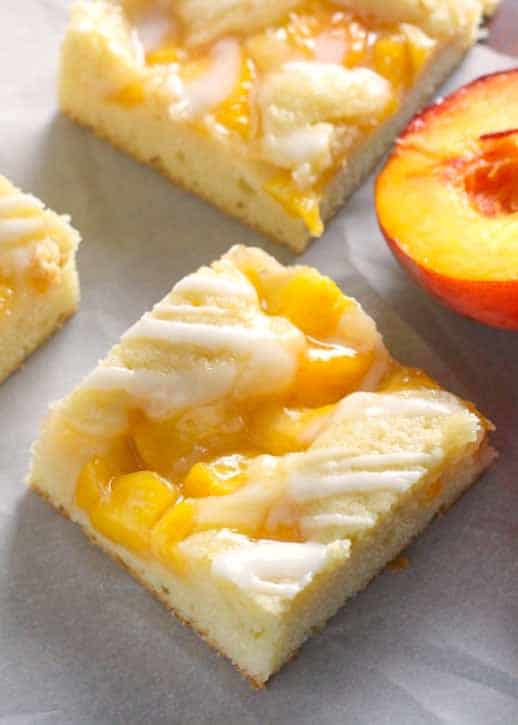 Peach Desserts
These Peaches 'n Cream Bars are another great use for fresh peaches. And this Peaches 'N Cream French toast casserole is long-time family favorite.
If you love peach pie as much as I do, I'm sure you'll love this Fresh Peach Pie from Dessert Now, Dinner Later and the Easy Peach No Bake Dessert from The Kitchen is My Playground too.
And last, but definitely not least, don't forget about the brown butter peach sweet rolls I posted earlier this month!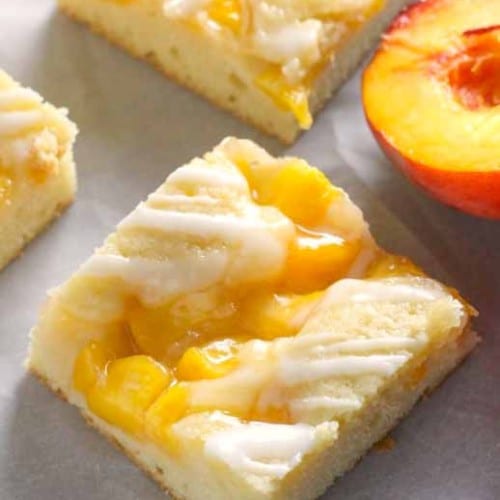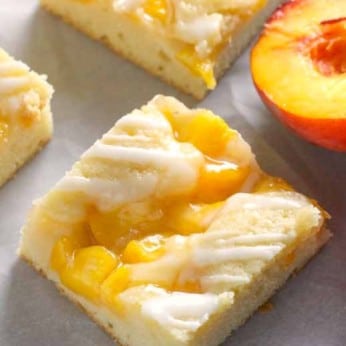 Fresh Peach Pie Bars
These fresh peach pie bars are the epitome of summer. Fresh peaches are cooked into a gorgeous, flavorful pie filling that is layered into these bars.
Ingredients
For the Fresh Peach Filling *
2

tablespoons

cornstarch

½

cup

sugar

2

cups

fresh peaches

diced

1

tablespoon

fresh lemon juice

1/4

cup

water
For the Pie Bars
1

cup

2 sticks butter, softened

1¾

cup

sugar

1

teaspoon

vanilla

4

eggs

room temperature

3

cups

all-purpose flour

1½

teaspoon

baking powder

¼

teaspoon

salt
For the glaze
1½

cups

powdered sugar

1

teaspoon

vanilla extract

1-2

tablespoons

milk
Instructions
Peach Pie Filling
Whisk together the cornstarch and sugar in a medium saucepan. Toss the diced peaches in the fresh lemon juice and add to the saucepan along with the water. Cook over medium heat, whisking frequently. Cook until the mixture thickens and begins to bubble. Set aside to cool.
Peach Pie Bars
Preheat the oven to 350°F. Cream the butter and sugar together in a large bowl. Beat in eggs and vanilla. In a separate bowl, whisk together the flour, baking powder, and salt. Add the dry ingredients to the wet and stir until combined.

Grease a 10 x 15 inch baking pan. Reserve 1½ cup of batter, spread the rest on the bottom of the greased baking pan. Spread with the fresh peach filling. Using a teaspoon, dollop on the reserved batter in drops. Bake in preheated oven for 35 minutes or until lightly browned and toothpick inserted in the middle comes out clean. Do not overbake. Cool completely.
Pie Bar Glaze
Beat the powdered sugar, vanilla extract, and enough milk to form a smooth consistency. Drizzle on cooled bars. Cut and serve. These are better on the second day as the batter absorbs some of the moisture from the filling.
Notes
*1 (20 ounce) can of peach pie filling may be used instead of the fresh peach filling.
Nutrition
{originally published 7/30/18 – recipe notes and photos updated 3/8/22}