An easy, no churn pumpkin ice cream with a caramel swirl and crunchy brown sugar pecan bits.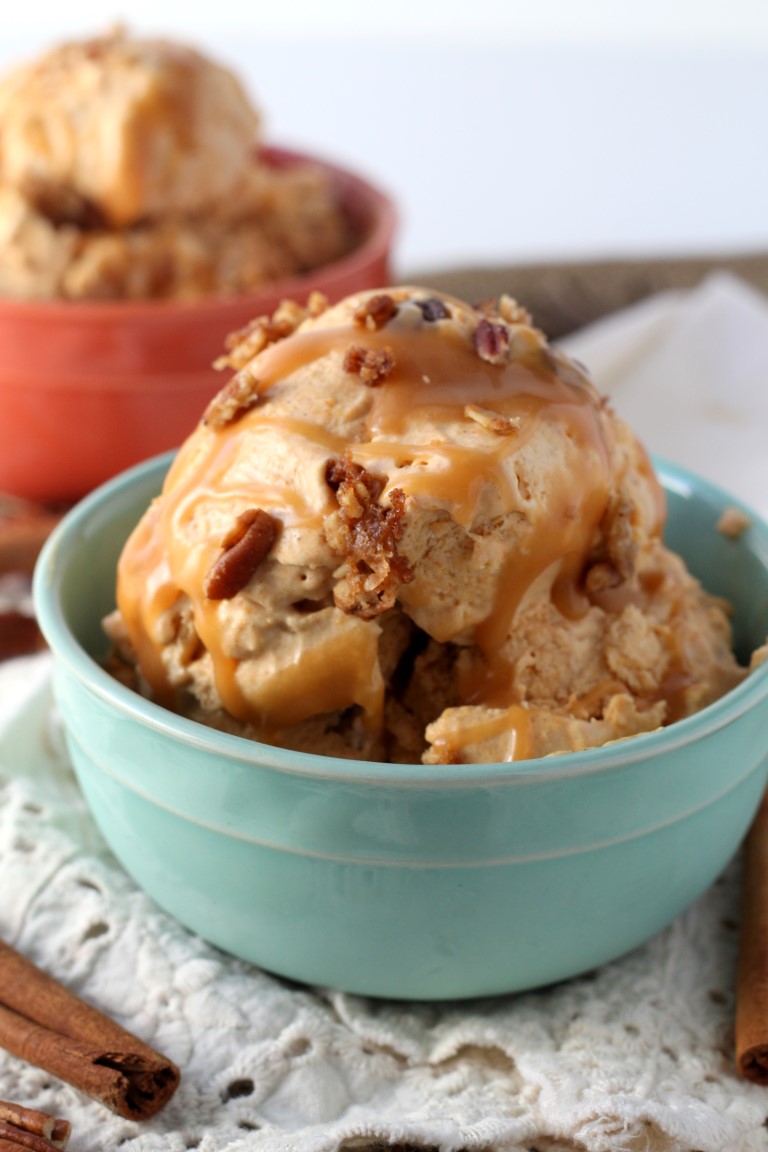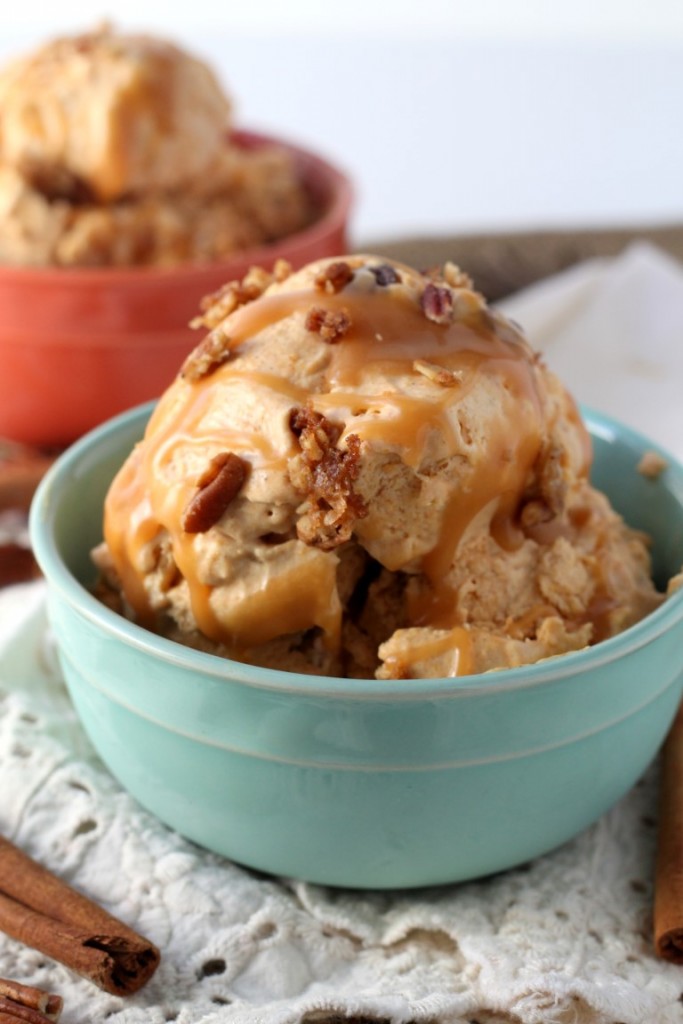 Are you scared of bats? I didn't think I was either, until recently several have snuck into our house in the evening. To me, bats always seemed like harmless creatures that flew around at night eating the mosquitoes I didn't like. However, when one gets trapped in the house and is darting around the room, flying inches from my head, I start to scream. And I've never been one to scream at creatures in the house before.
Thankfully, my husband has been able to catch them for me and throw them out. (And I made fun of him for picking up a butterfly net at a garage sale. I'll say it's come in very handy!) Anyway, we have survived the bats and are just wondering how to bat-proof our house. We can't figure out where they are getting in.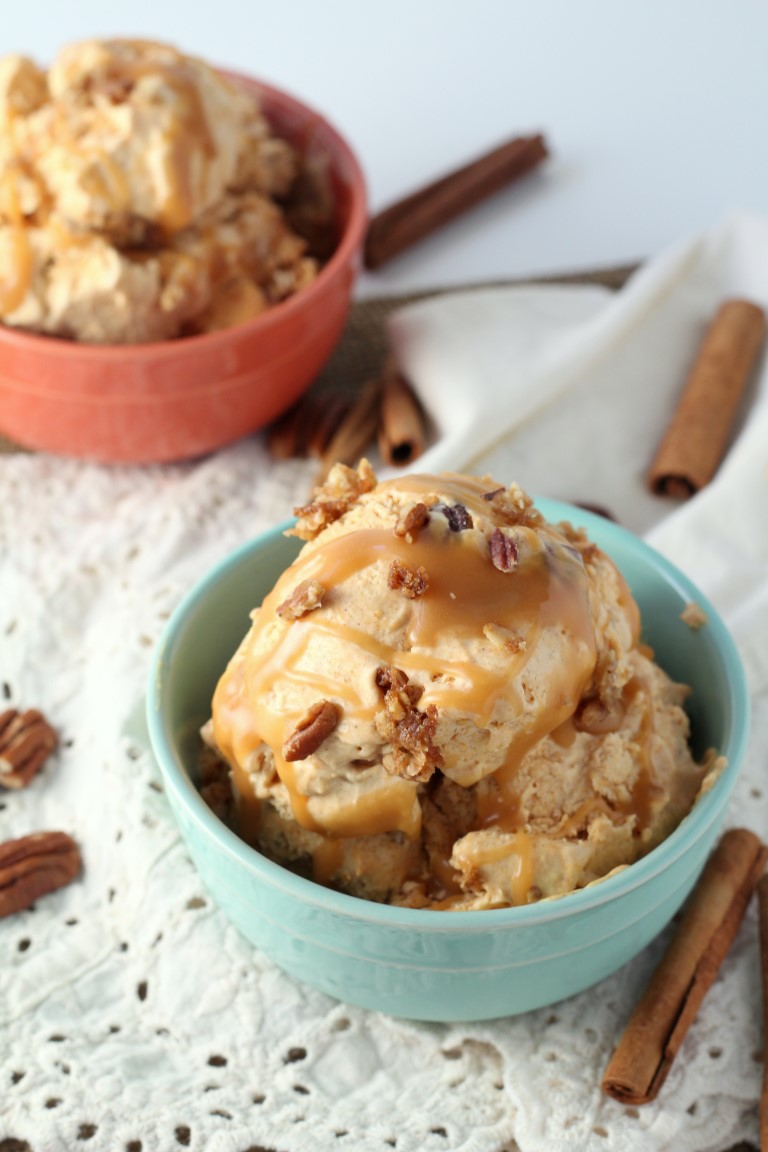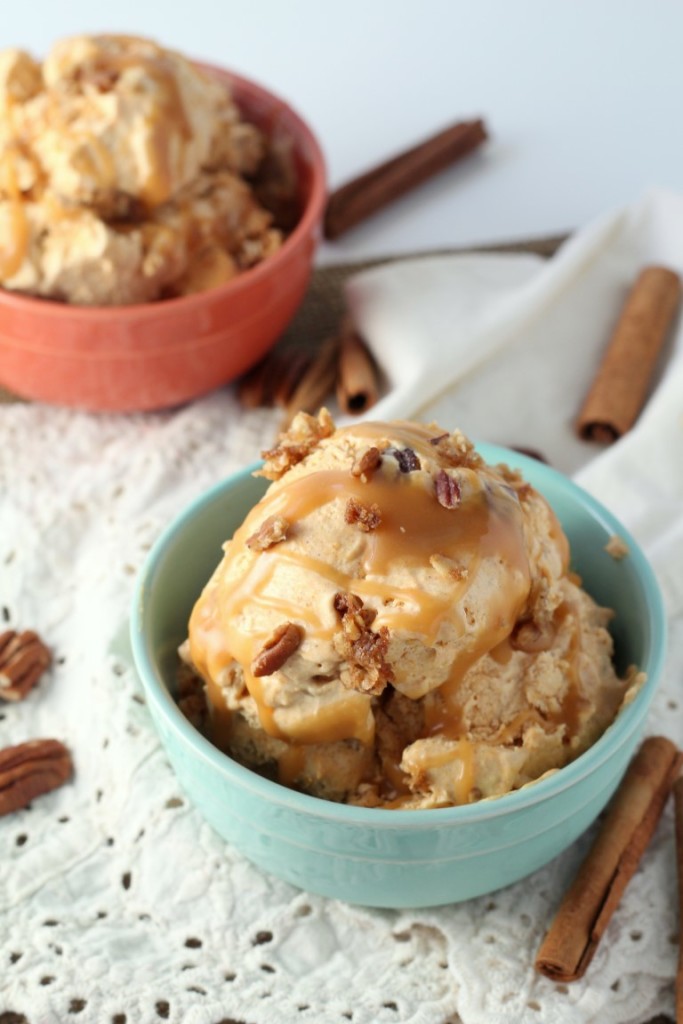 Back to this Caramel Pumpkin Crunch Ice Cream, it's perfect for these hot late summer days where I'm craving fall flavors, but it's still so hot outside I want ice cream! This is a no-churn recipe making it easy to stir together in a few minutes. Making the "crunch" part takes a bit of oven time, but other than that it's simple.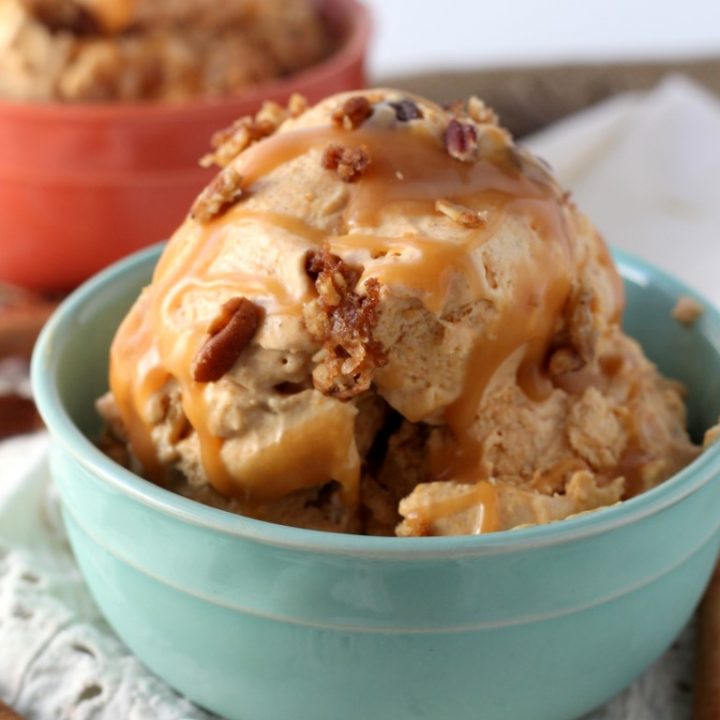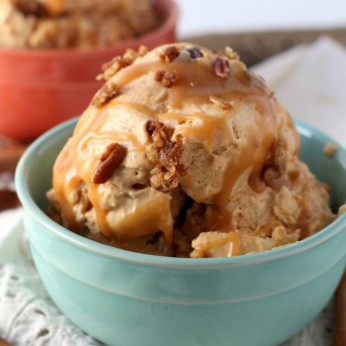 Caramel Pumpkin Crunch Ice Cream
An easy, no churn pumpkin ice cream with a caramel swirl and crunchy brown sugar pecan bits.
Ingredients
For the Pecan Crunch
1/2

cup

chopped pecans

1/2

cup

rolled oats

2

tablespoons

sugar

2

tablespoons

flour

3

tablespoons

butter

melted
For the pumpkin ice cream
2

and 1/2 cups heavy whipping cream

1

can

14 ounces sweetened condensed milk

1

cup

canned pumpkin

1

tablespoon

pumpkin pie spice

1/2

cup

caramel sauce
Instructions
To make the pecan crunch, preheat oven to 400 F. Line a baking sheet with parchment paper. In a small bowl, combine the pecans, oats, sugar, flour, and melted butter. Spread the mixture onto the parchment line cookie sheet. It will be a bit like granola. Bake at 400 F for 5 or 10 minutes or until browned. The mixture will spread out and look like a giant oatmeal cookie. Let it cool completely and then crumble it into small pieces.

To make the ice cream, beat the heavy cream in a large bowl until stiff peaks form. Gently fold in the sweetened condensed milk, pumpkin and pumpkin pie spice. In a 2 quart glass bowl, layer 1/3 of the ice cream mixture, swirl in 1/3 of the caramel and sprinkle on a good dose of the pecan crumbles. Repeat the layers 2 more times. Freeze for 8 hours or overnight.
Nutrition
Here are some pumpkin recipes from other bloggers that I'm looking forward to trying this fall.
This classic pumpkin roll from Gimme Some Oven
These pumpkin snickerdoodles from Cooking Classy
And these glazed pumpkin spice cake bars from Whole and Heavenly Oven.
Some of the most popular pumpkin recipes on my blog: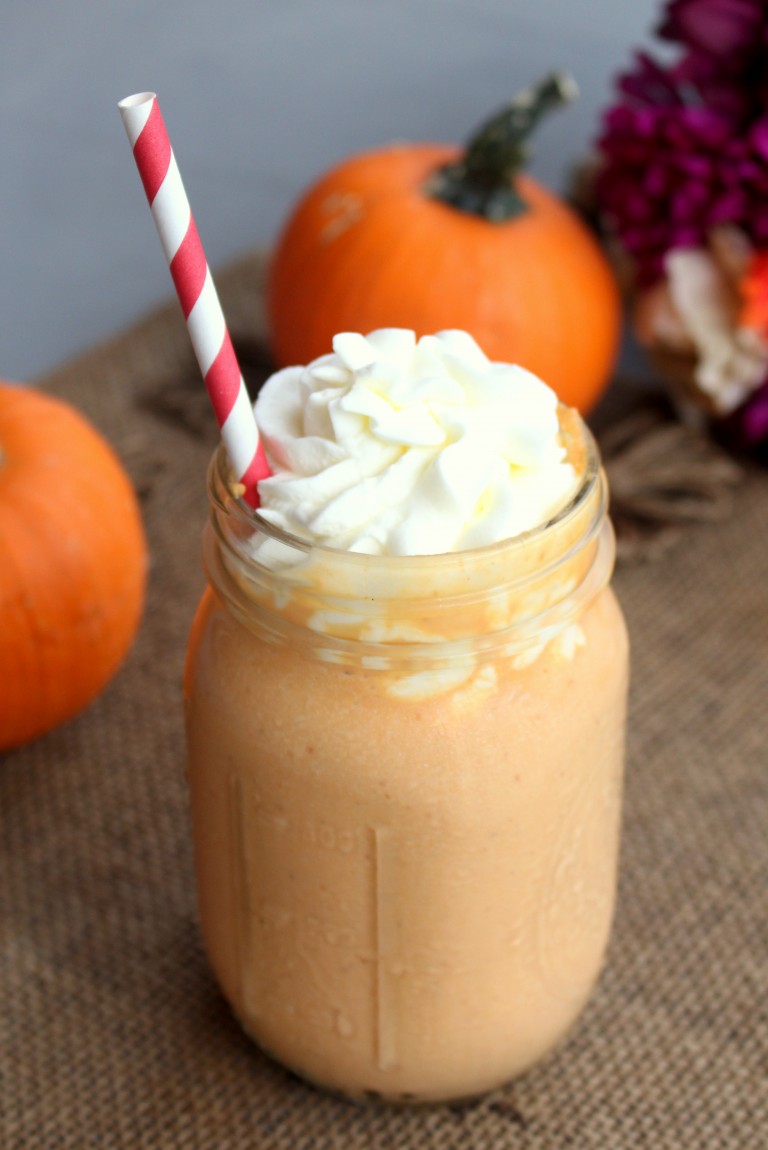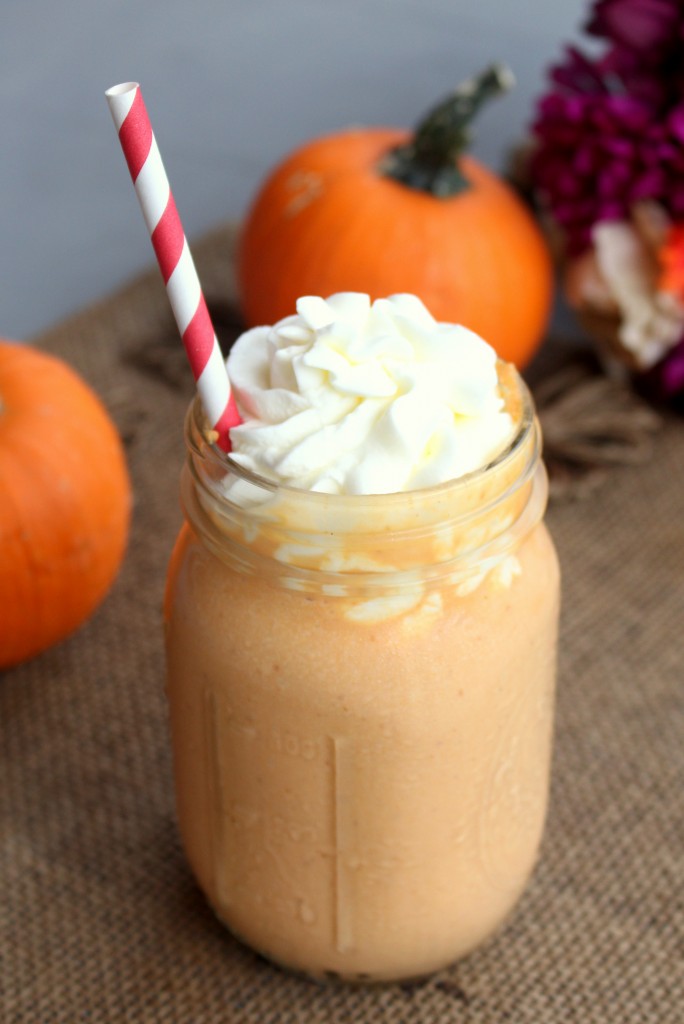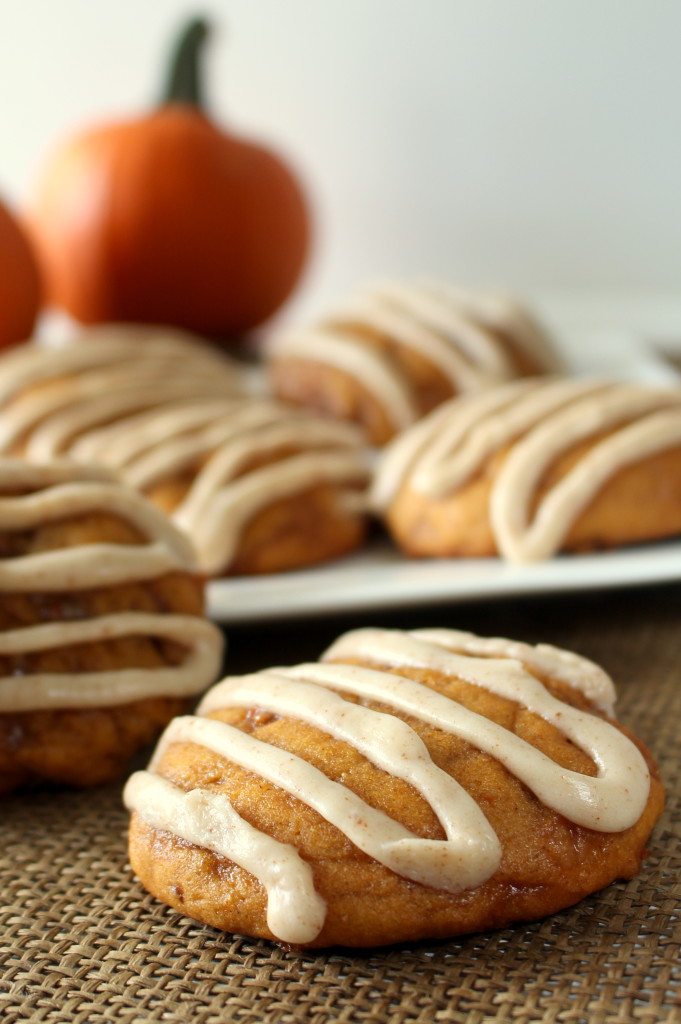 Salted Caramel Pumpkin Cheesecake