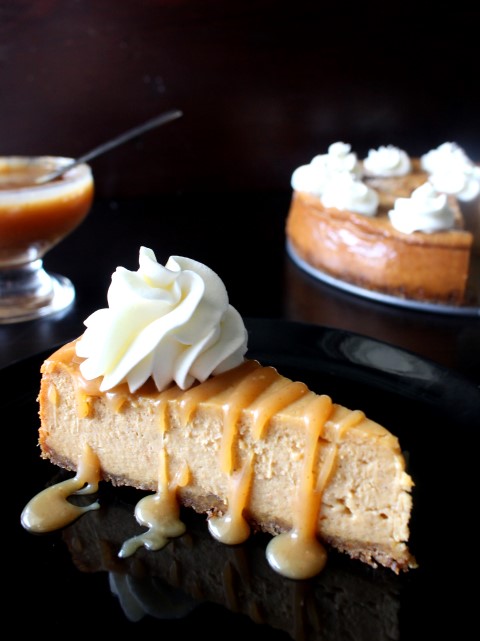 Today I'm indulging myself. I'm forgetting my sense of self-control that keeps me from eating a whole dozen chocolate chip cookies straight from the oven, the voice that tells me I'm over the calorie limit. The day started out cold and rainy, but Tyler was so wonderful as to bring me a giant cup of hot chocolate in bed.
He handed it to me with an uncertain look on his face and watched me take a few sips. It was so a good!  A few sips turned into large swallows, and he asked me how it was.  I told him it was probably the best hot chocolate I had ever tasted! "No wonder," I thought, when he told me we were out of milk and he had made it entirely with heavy cream, and then added three packets of hot chocolate mix!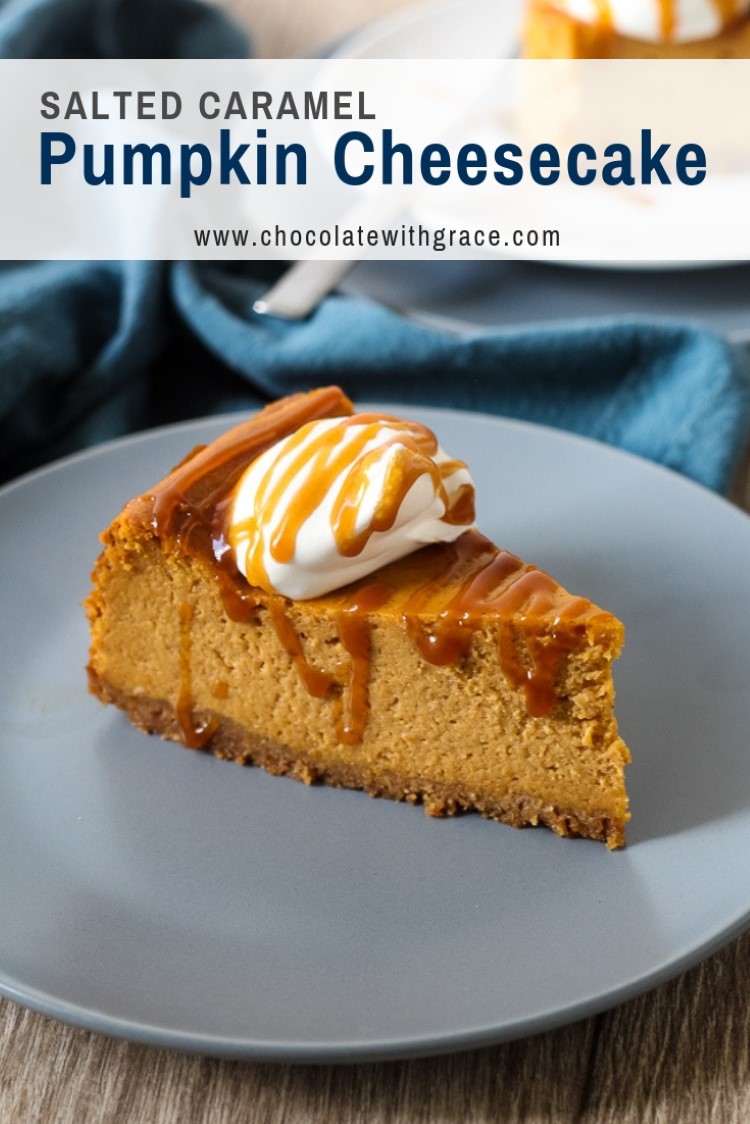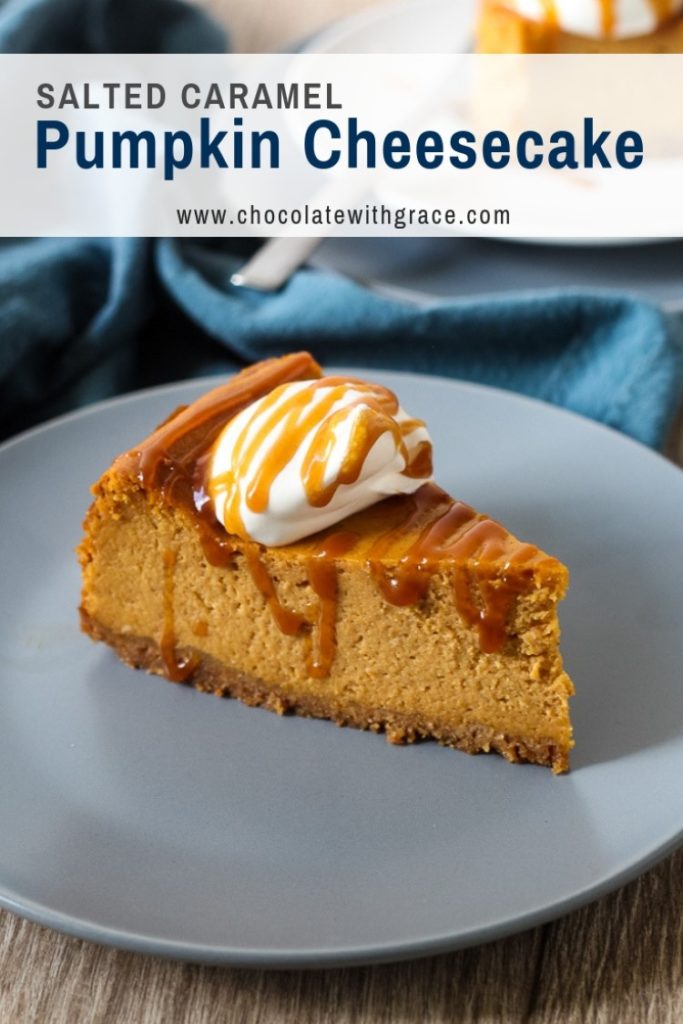 After figuring there probably was close to 2000 calories in just that one cup of hot chocolate (we did end up sharing it, it was huge!), I gave up and declared this a "eat whatever I want day"!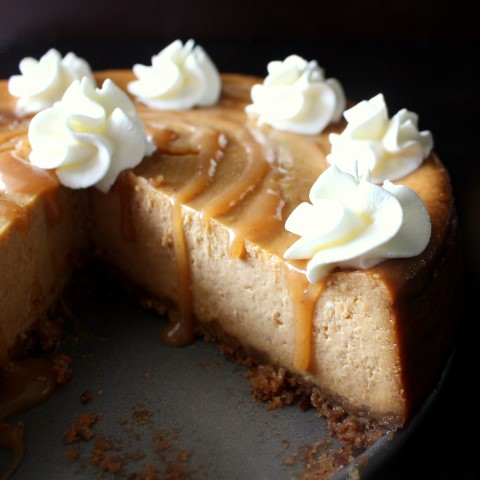 Cheesecake included. And in my fall mood, I'm presenting you a Salted Caramel Pumpkin Cheesecake. Because I love salted caramel all the time and 'tis the season for pumpkin, I'm in the mood for some diet-defeating cheesecake, and together they make one awesome dessert! Of course, you could tuck this recipe away for thanksgiving, (which would be a very appropriate time to pull it out!) but some cold, rainy days call for a decadent, but delicious cheesecake recipe!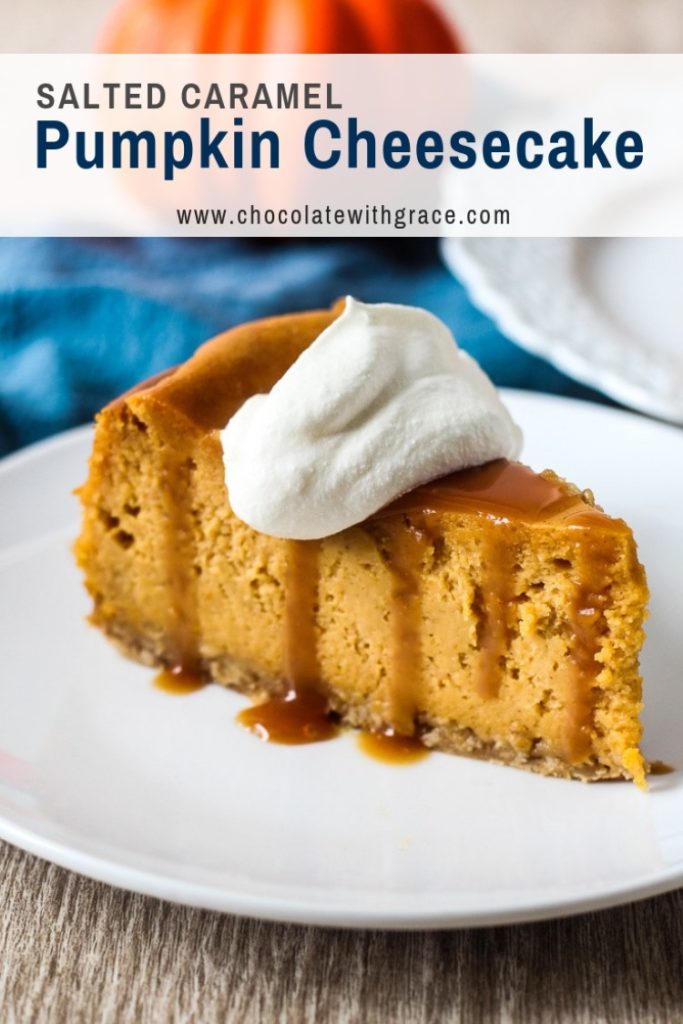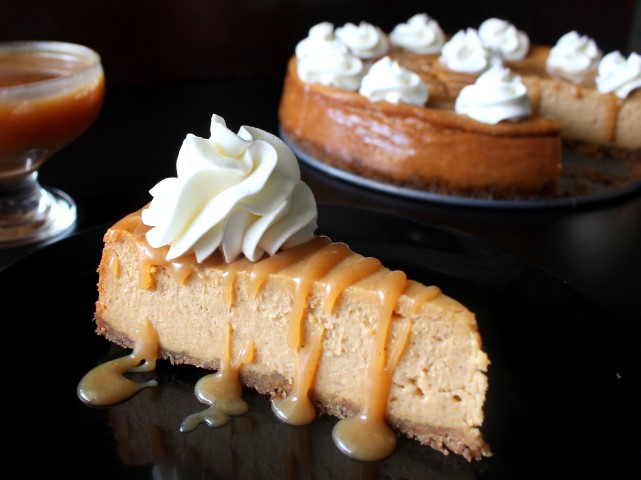 Salted Caramel Pumpkin Cheesecake
Ingredients
For the Crust
1

and 1/2 cups graham cracker crumbs

2

T

granulated sugar

1/3

cup

butter

melted
For the Cheesecake
3

8 ounce packages of cream cheese, softened

1

and 1/2 cups brown sugar

packed

1

and 1/2 cups pumpkin

3

and 1/2 T all purpose flour

1

tsp

cinnamon

1/2

tsp

nutmeg

1/8

tsp

ginger

4

eggs

room temperature

Salted Caramel Sauce

Whipped Cream
Instructions
Preheat oven to 350 F. Mix the graham cracker crumbs and sugar together. Pour melted butter over the crumbs and stir until moistened. Press the mixture in the bottom of a 9 inch springform pan. Bake for 8-9 minutes.

Reduce oven temperature to 325 F. In a large bowl, beat together the cream cheese and brown sugar until smooth. Stir in the pumpkin, flour, cinnamon, nutmeg and ginger. Break the eggs into a small bowl and lightly beat with a fork. Add the eggs to the cream cheese mixture and stir just until well combined. Don't over beat the mixture, or the cheesecake may crack. Pour on top of the graham cracker crust.

Bake at 325 F for 1 hour. At the end of the hr, turn off the oven and leave the oven door shut for another hour and a half before opening the oven door. The long cooling period, will help minimize cracks. Remove the cheesecake from the oven and let cool completely. Serve with Salted Caramel Sauce and Whipped Cream.
If you are in the mood for more pumpkin, check out these:
Easy layered pumpkin cheesecake bars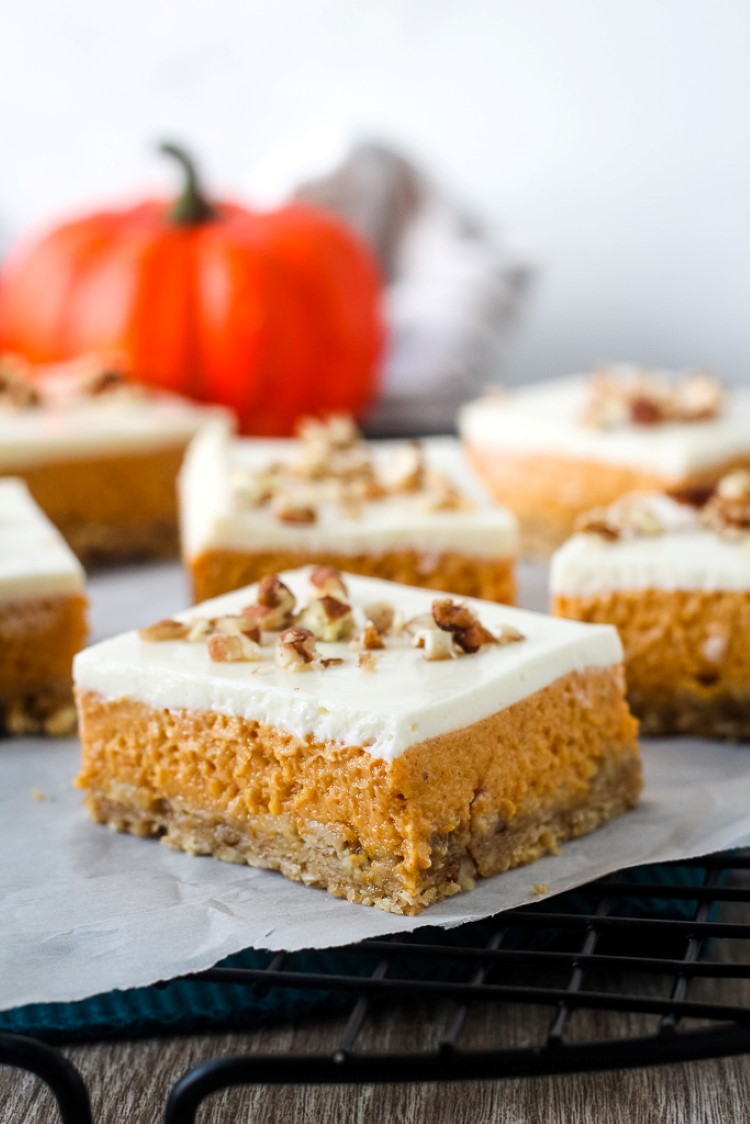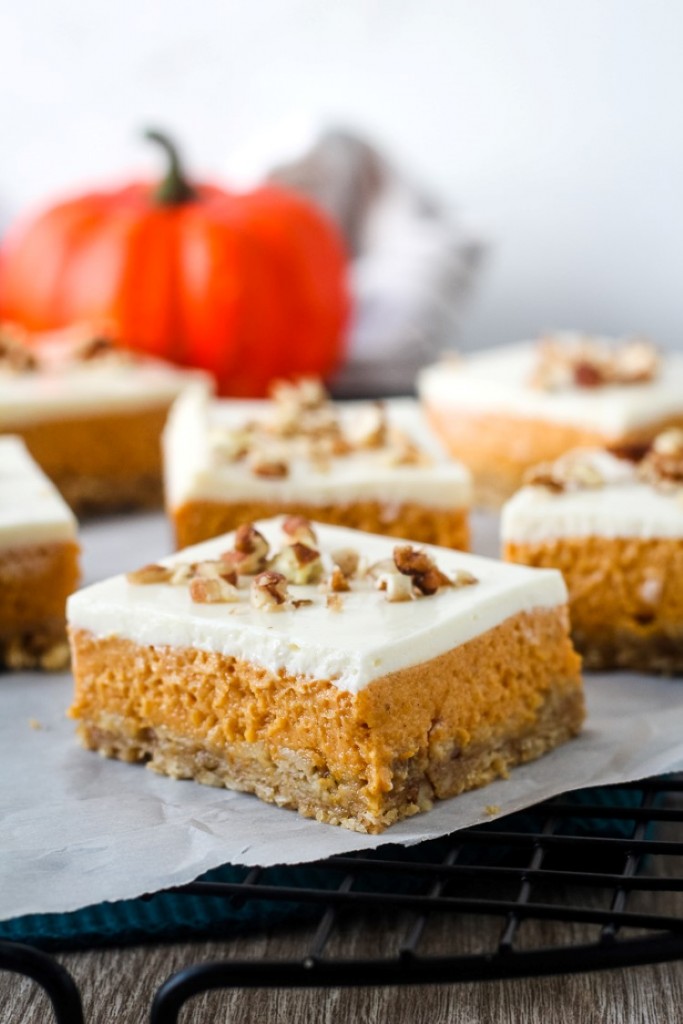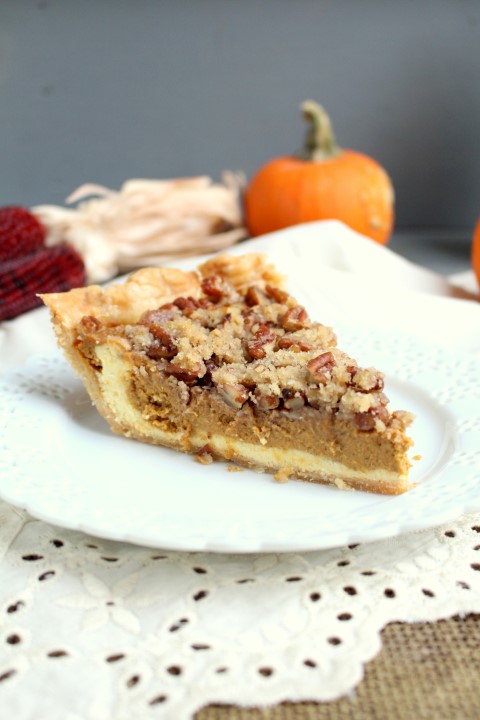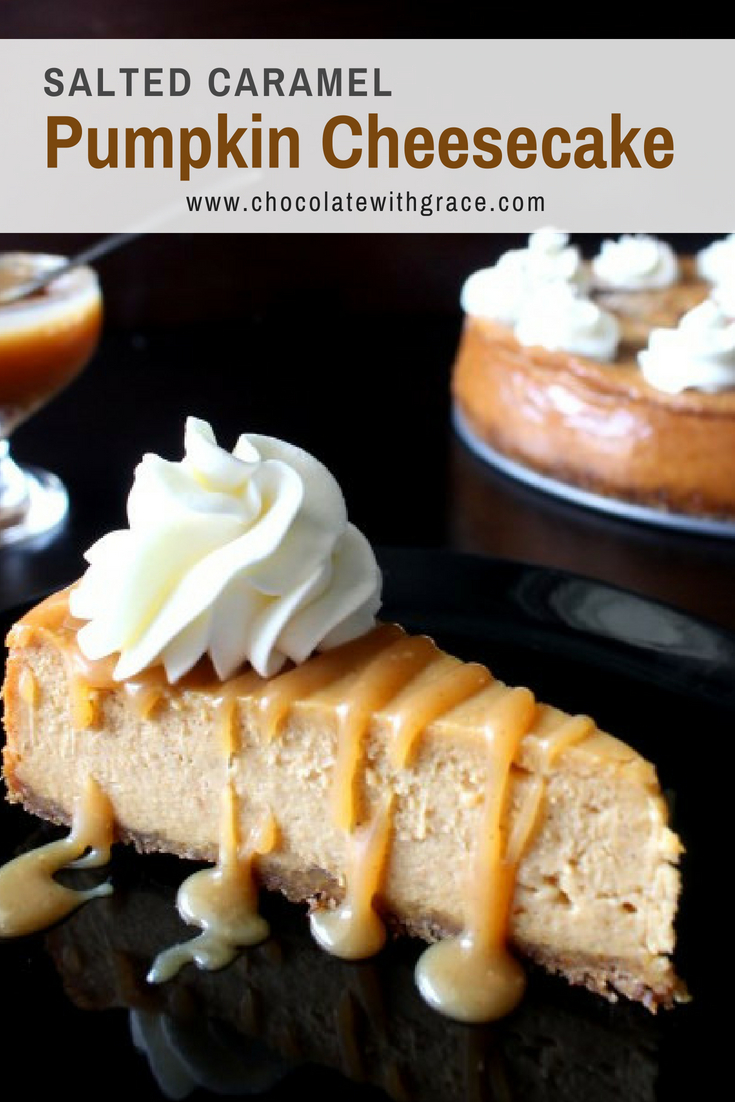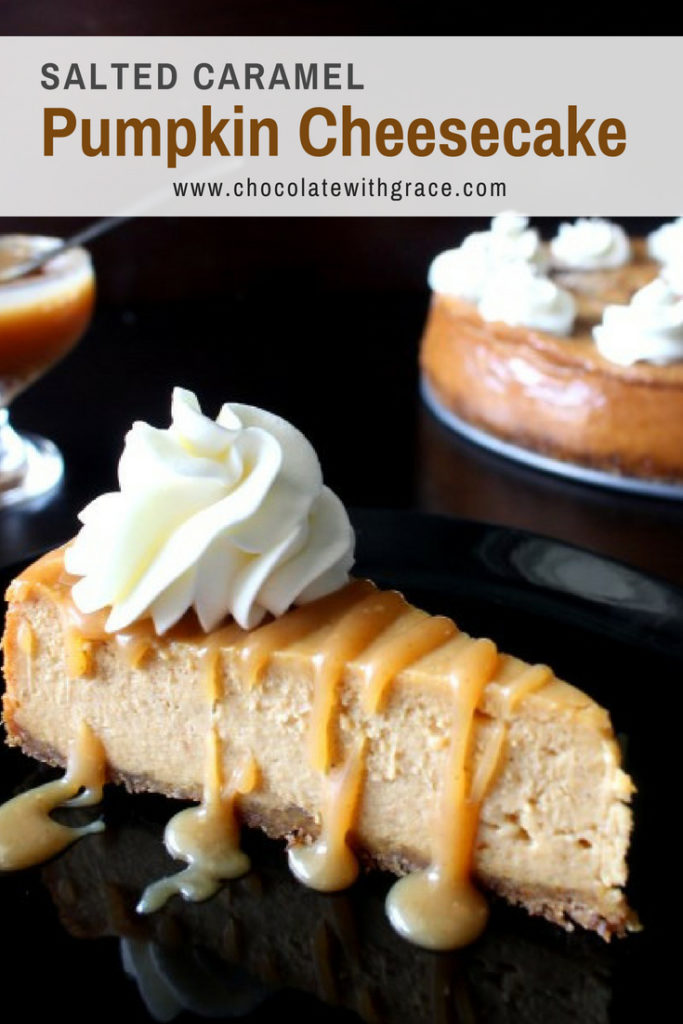 Salted Caramel Pumpkin Cheesecake is an elegant fall dessert. A smooth pumpkin cheesecake topped with salted caramel sauce and whipped cream.