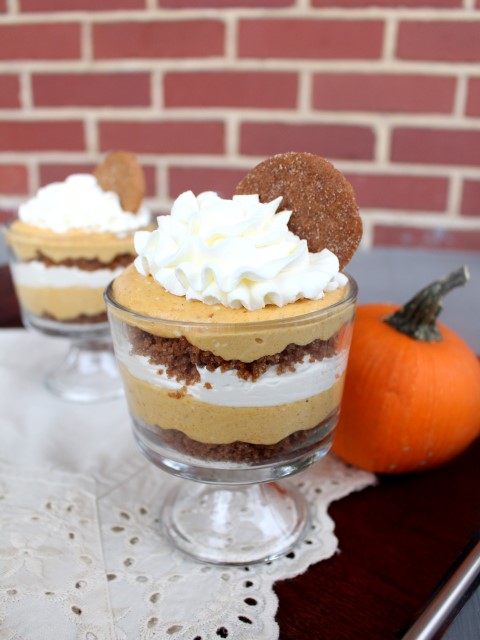 Tyler and I love having people over and hosting, and this past summer we were blessed with lots of guests and the trend has continued into the fall. I have to admit, I still get a bit nervous when cooking meals for other people. I'm hoping more practice and experience will help with that and let me enjoy the time together even more.
A few weekends ago, we had filled our schedules pretty full with activities and house guests both Friday and Saturday night. After a busy but fun Friday night, I was left with just a few hours and no dessert for our dinner on Saturday. I put together these cute little trifles. They were super easy to make and looked pretty cute too.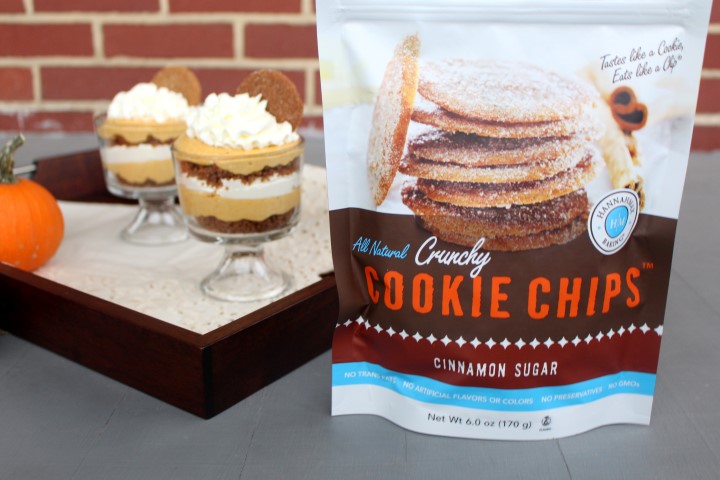 Disclosure: This post is sponsored by HannahMax Baking. While I was compensated for writing this post, all opinions are my own.
The trifles start with a crunchy cookie crust, layered with a smooth pumpkin cheesecake and topped with fluffy whipped cream. The crust features Cookie Chips. If you have never heard of Cookie Chips, let me introduce you to one of the most addictive snacks ever. If you've been reading my blog for long, you know I have a terrible sweet tooth. I'll skip the movie night popcorn in favor of my favorite sweet treats any day. And let me tell you from experience, they disappear mighty quick when I get a craving for something sweet. It's a wonderfully dangerous thing, but as a plus, they are lower calorie than a lot of other sweet treats on the store shelves. they are made with all natural ingredients; no preservatives or GMO ingredients.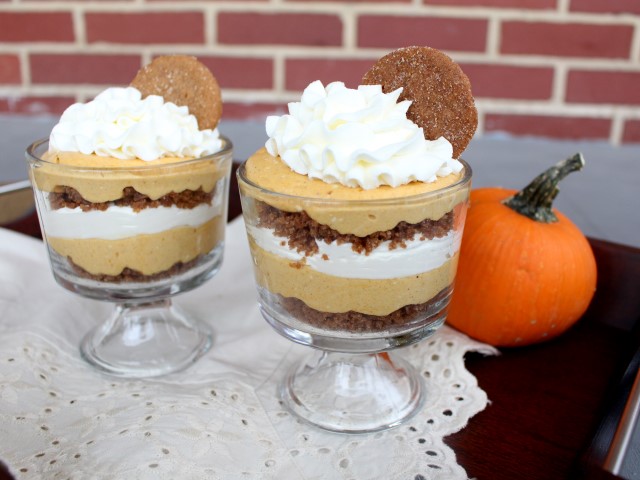 Now, if you can get them to last around your house long enough, I recommend making these cute little trifles. The no bake pumpkin cheesecake filling makes them a breeze to make. I chose to use Cinnamon Sugar Cookie chips for my crust, but I'm sure they would be fantastic with the Original flavor or even the Dark Chocolate Chocolate Chip (they are my favorite to eat plain!)
No Bake Pumpkin Cheesecake Trifles
Ingredients
8 oz cream cheese, softened (low fat is okay)
1/2 cup brown sugar
1 and 1/4 cup pumpkin
1 and 1/2 tsp pumpkin pie spice
1/2 tsp vanilla extract
4 cups sweetened whipped cream or whipped topping, divided
1 and 1/2 cups cookie chips, crushed
2 T butter
Instructions
With a mixer, beat together softened cream cheese and brown sugar until smooth. Add pumpkin, pumpkin pie spice and vanilla and beat again until smooth. Fold in 2 cups of the whipped cream. To make the cookie layer, pour the melted butter over the crushed cookie chips and stir until coated.
To assemble the trifles, press about 3 T off the cookie layer into the bottom of a mini trifle bowl or other similar glass serving container. Top with an 8th of the pumpkin cheesecake mixture and then and 8th of the remaining whipped cream. Repeat the layers ending with a pretty swirl of whipped cream topped with a whole cookie chip.
These are best when served within and hour after making while the cookie chips still have their crunch. You can make them the day ahead, but be warned the cookie chips will absorb some of the liquid, giving them a softer texture, which is still delicious.
https://chocolatewithgrace.com/bake-pumpkin-cheesecake-trifles/

These Mini No Bake Pumpkin Cheesecake Trifles come together super quick and feature a smooth pumpkin cheesecake, fluffy whipped cream, and a buttery cookie chip layer.