This is a creamy pumpkin fudge filled with chunks of Oreo cookies. This Pumpkin Oreo Fudge is super easy, and there is no candy thermometer required!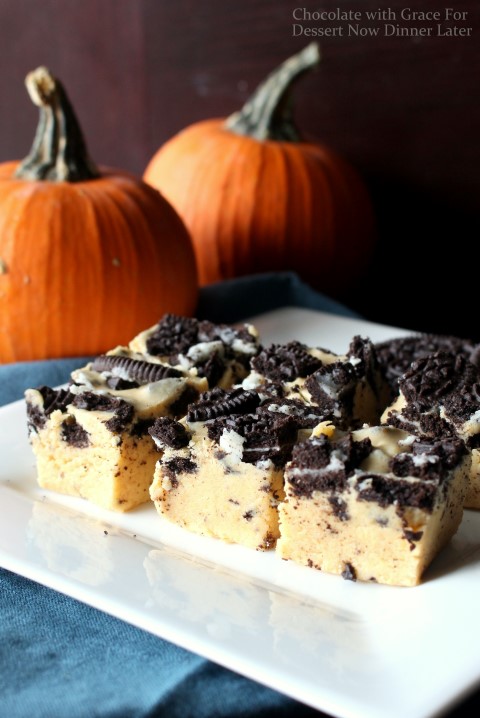 As a follow up to the Savory Pumpkin Twists I shared last time, I'm back with another pumpkin recipe for all of you fanatics.
This time, instead of a savory twist, I'm pairing it with chocolate in a delicious fudge for a decadent treat.
Pumpkin Oreo Fudge
If you can resist Oreos and Pumpkin together, you have my admiration, but you're missing out! Speaking of which, have you tried the new Pumpkin Spice Oreo flavor? It's so good!
If it were up to me, every recipe I create in the fall would include pumpkin. I really do love it that much.
Anyway, this fudge needs to be made, probably this week and no excuses, because it doesn't even require a candy thermometer.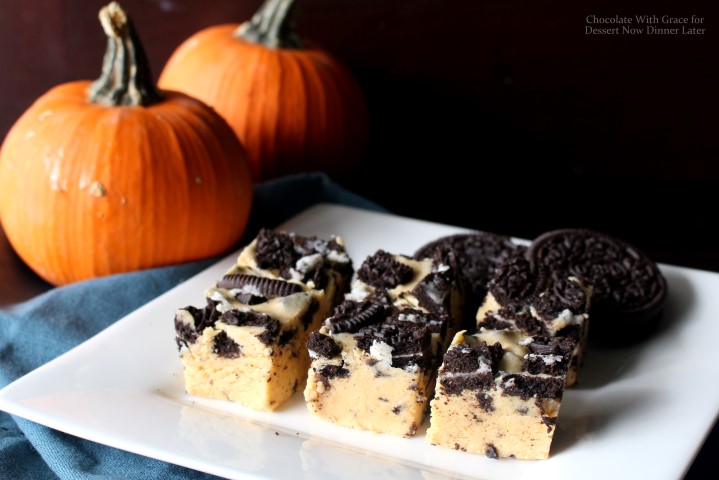 I had to make this fudge three times to get the ingredient ratios right. The first couple of batches were basically a thick syrup. For all my love of pumpkin, it can be a hard ingredient to incorporate into fudge as it cooks down.
I finally upped the amount of white chocolate in the batch and it firmed up, making a beautifully soft and creamy fudge.
Pumpkin Oreo Fudge Recipe
Yield: 48-64 pieces, depending on size
1 and 1/2 cups granulated sugar
6 Tbsp butter
1/3 cup heavy cream
1 cup marshmallow cream
2/3 cup pumpkin
1 tsp pumpkin pie spice
3 cups white chocolate chips
2 cups crushed Oreos, divided
Line an 8 x 8 inch baking pan with foil. Measure all ingredients ahead of time and have them within easy reach.
In a medium saucepan, combine sugar, butter and heavy cream over medium heat.
Bring to a boil and boil for exactly two minutes, stirring constantly. Remove from heat and immediately stir in marshmallow cream.
As soon as the marshmallow cream is incorporated, add the pumpkin, pumpkin pie spice, and white chocolate chips. Stir the mixture until the white chocolate chips have melted and the mixture is smooth. It will take a bit of stirring.
Stir in 1 cup of the crushed Oreos. Pour into the prepared baking pan. Press the remaining 1 cup of Oreo's onto the surface of the fudge. Cover and Chill overnight. Cut into 1-inch squares.
{This recipe was originally published on 10/25/14 as a guest post for Dessert Now Dinner Later.}