A soft, spiced pumpkin center with a white chocolate shell, these little pumpkin pie truffles are addicting. You're going to want more than one.
Today is the last day of summer and I'm sad to see it go. The first half of the summer we were stuck inside with a newborn and couldn't make too many plans. Now that Ashtyn older and were put together enough to go out, we've thoroughly been enjoying the warm weather. Both the park and the library are within walking distance and we try to go to each at least once a week. (One of the benefits of living in town, although some days I long for a little more open space to run and play in our own backyard.)
That said, it's is still super hot outside and humid too, so we're trying to enjoy this last heat wave before fall. And since we not turning the oven on when it's almost 90 degrees, we're making things like no-bake truffles, pumpkin of course since it's September.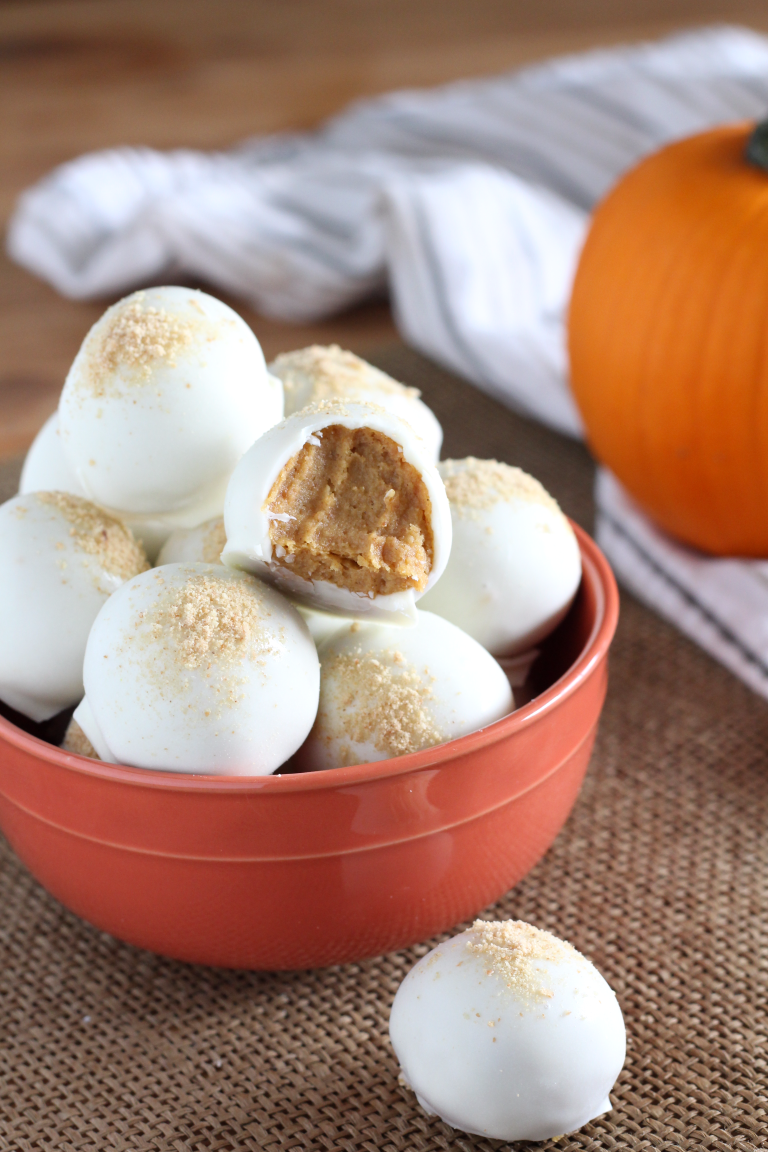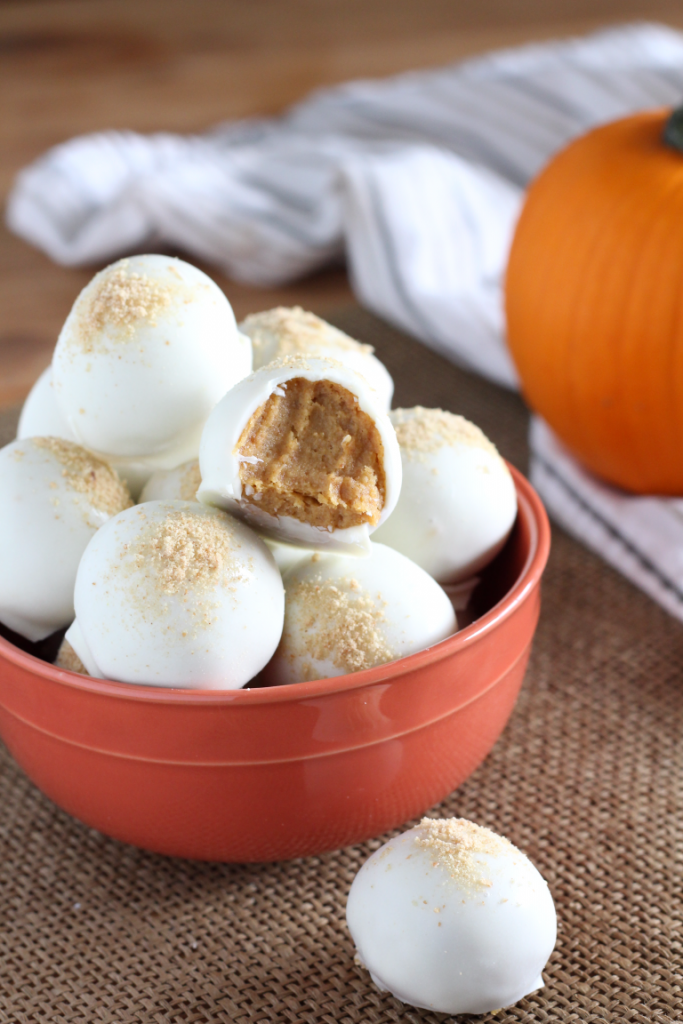 These little pumpkin truffles are made with graham crackers. Sound funny? Have you heard of Oreo truffles? Oreo truffles use crushed up Oreos and cream cheese, when the cream cheese softens the Oreo, it makes a smooth, rich truffle. The pumpkin and cream cheese does the same thing to the graham cracker crumbs in these pumpkin truffles and a bit a white chocolate helps sweeten and firm them up.
They're a perfect treat when you want something fancy and pumpkin and it's still summer out. Just be sure to share to have some friends to share them with. They're rich and addicting 🙂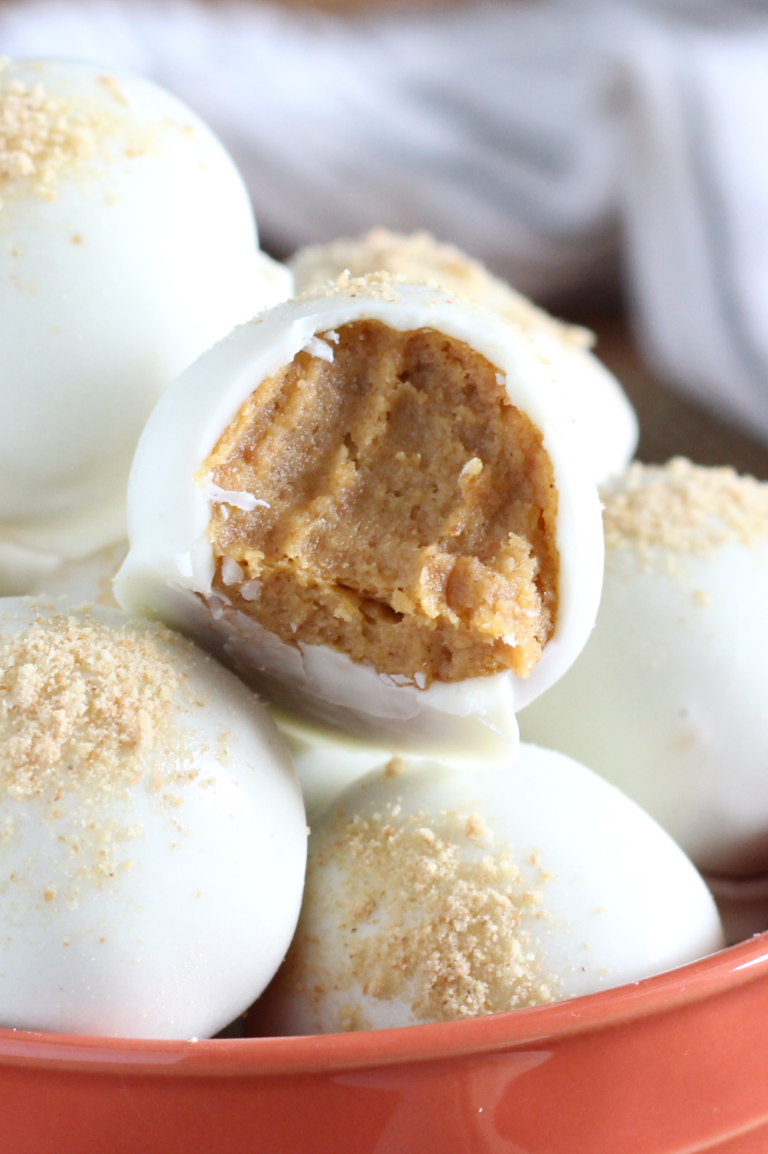 Pumpkin Pie Truffles
A soft, spiced pumpkin center with a white chocolate shell, these little pumpkin pie truffles are addicting. You're going to want more than one.
Ingredients
4

ounces

cream cheese

softened

1/4

cup

powdered sugar

1/2

cup

pumpkin puree

1

and 3/4 cup finely crushed graham cracker crumbs

1

teaspoon

pumpkin pie spice

4

ounces

white chocolate

melted

8

ounces

white chocolate

for dipping
Instructions
Beat together the cream cheese and powdered sugar until smooth. Add the pumpkin and beat until smooth. Stir in the finely crushed graham cracker crumbs and pumpkin pie spice. The finer the graham crackers are crushed the smoother the truffles will be. I like to pulse mine in the blender until very fine.

Add the 4 ounces of melted white chocolate and stir until smooth. The mixture will be thick, but still soft. Cover and chill in the refrigerator for at least 4 hours until cold and firm. The graham crackers will absorb the moisture, thickening the mixture so it can be rolled into balls.

After the dough is chilled, roll the truffle mixture into 1 inch balls. The mixture will still be soft, but workable. Chill the truffle balls in again until firm, at least 30 minutes.

In a deep container suitable for dipping, melt the 8 ounces of white chocolate in the microwave in 10 second intervals until melted and smooth.

Dip the chilled balls into the white chocolate and place on parchment paper to harden. You may sprinkle with additional graham cracker crumbs for garnish. Store in the refrigerator.
Nutrition
While I'm in the truffle mood, I may also try these
Chocolate Chip Cookie Dough Truffles
from Garnish with Lemon, or these
No-bake Peanut Butter Truffles
from Marsha's Baking Addiction.
My Lemon Oreo Truffles are also a favorite! Be sure to check them out.