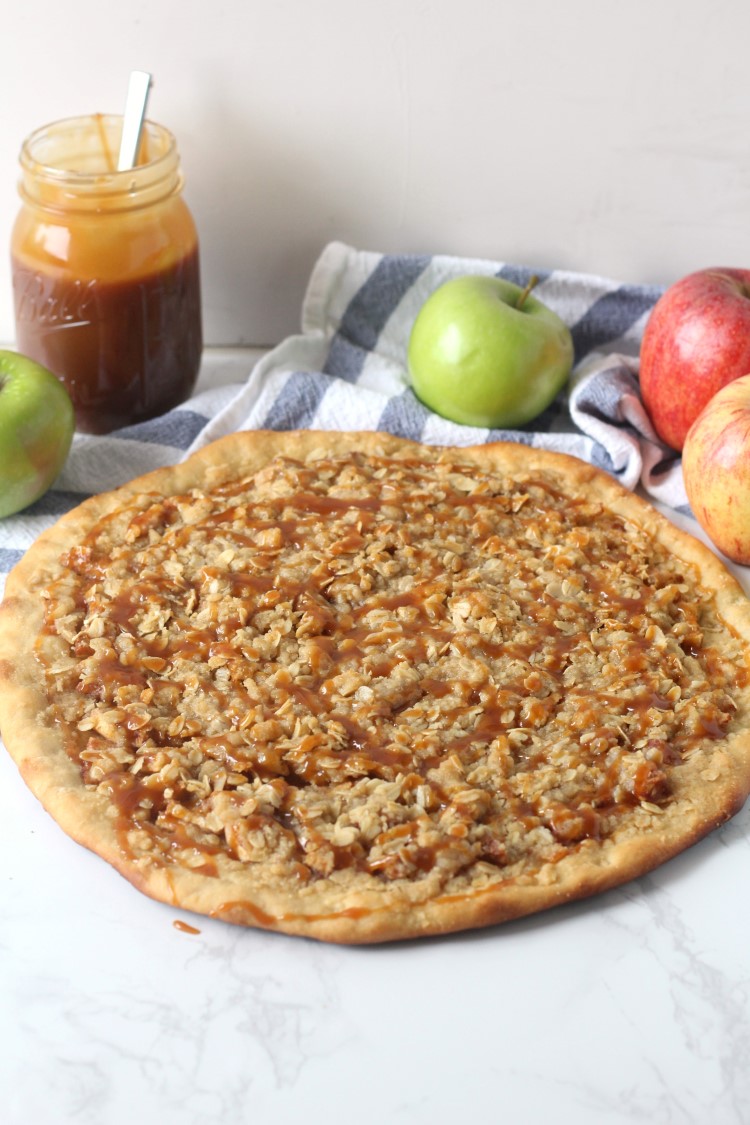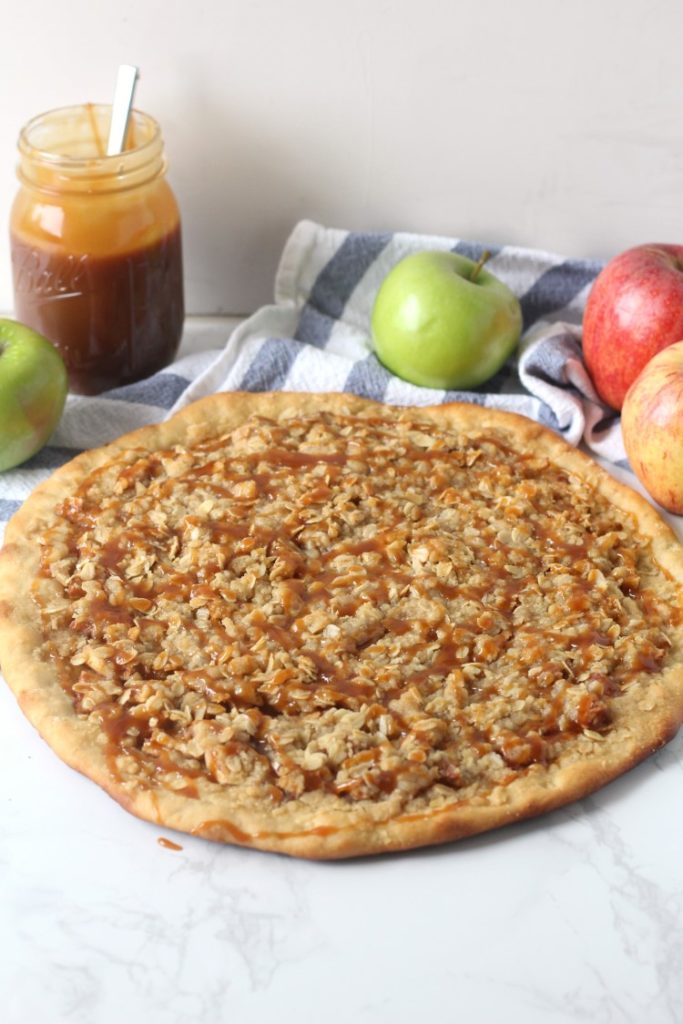 This recipe was originally published in September 2014. I've updated the images and post. The recipe is the same.

This has been the first week that is has actually felt like fall here, so I don't feel quite so guilty posting apple and pumpkin recipes. Mornings and evenings are crisp enough to want a toasty jacket, and even the midday temperatures still have a cool breeze that rustles the few leaves already on the ground. It all makes me want to pull out my boots and grab a Pumpkin Spice Latte and go apple picking. I've never actually done all those three things at once together, but it sounds idyllic!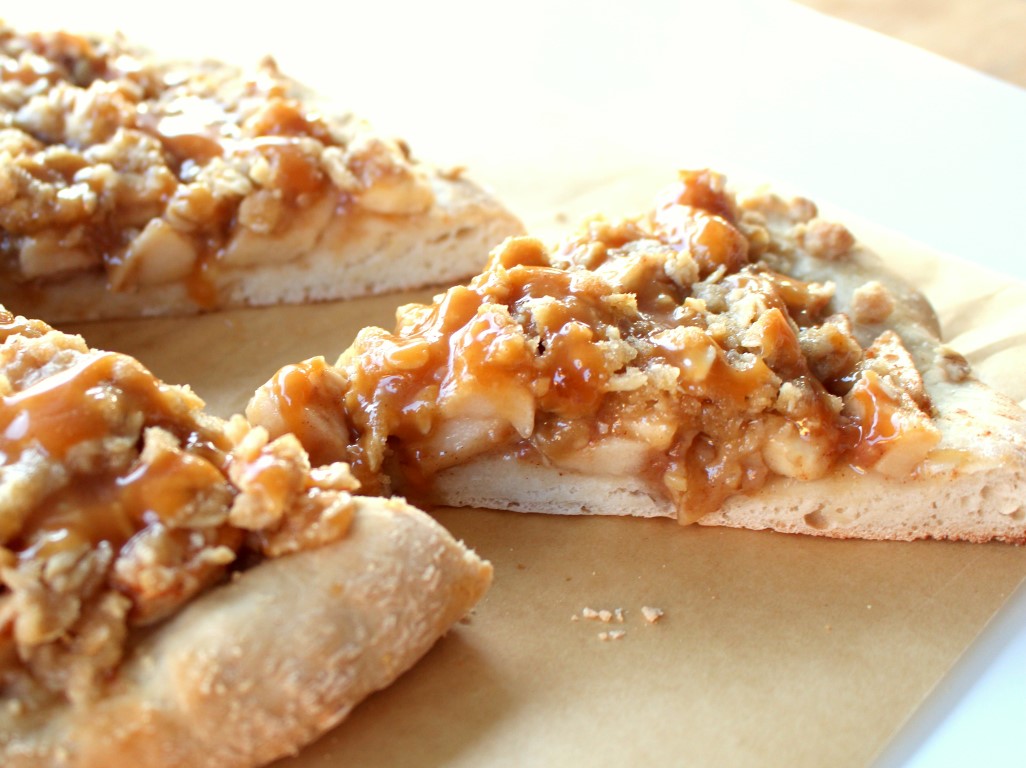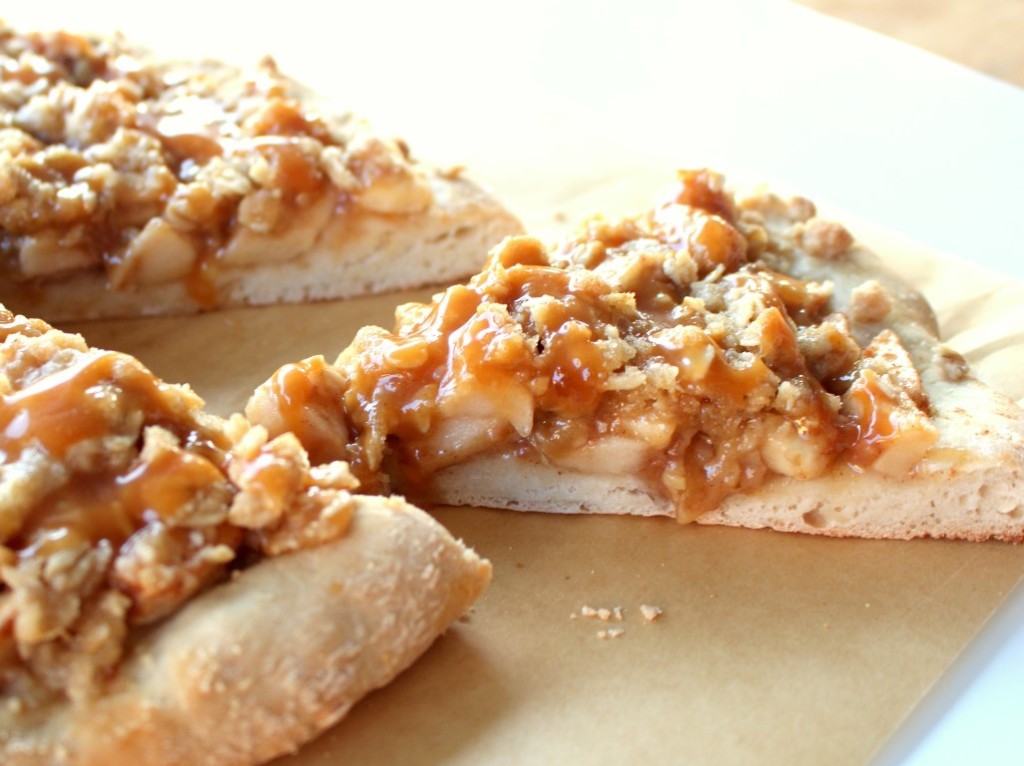 If you have a chance to try all three of those things together, let me know how it is! I do know the first thing I would make with those apples, after I pick them: this apple pizza. It might be a hard choice between this pizza and apple pie.
They are actually pretty similar, the only difference being the pizza has a traditional dough crust and the apple pie is has a normal pie crust. So if you're not comfortable with making pie crusts, start here. (Although, I have perfect confidence you could master the pie crust. You should have seen my first few attempts!)
And my version has extra apples and streusel on top. Some versions are basically all crust with a sprinkling of apples. This version has a thick layer of soft cinnamon apples and sweet streusel. Plenty of apple goodness for every bit of crust.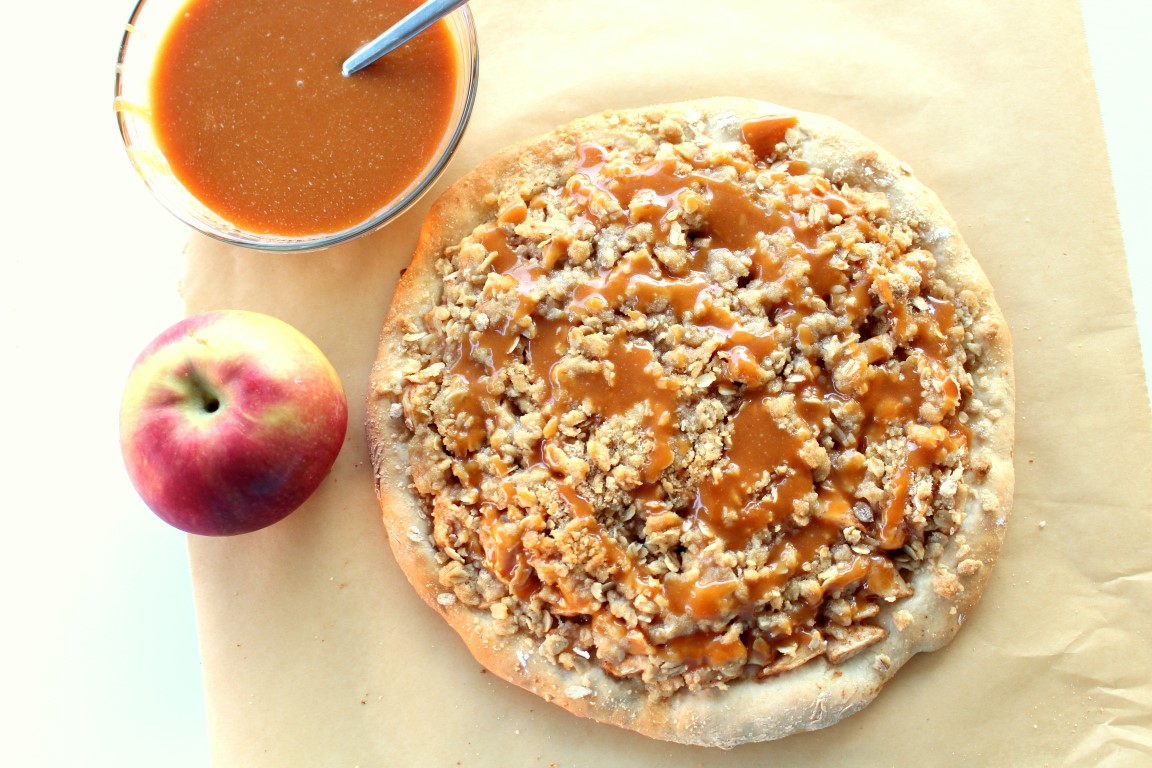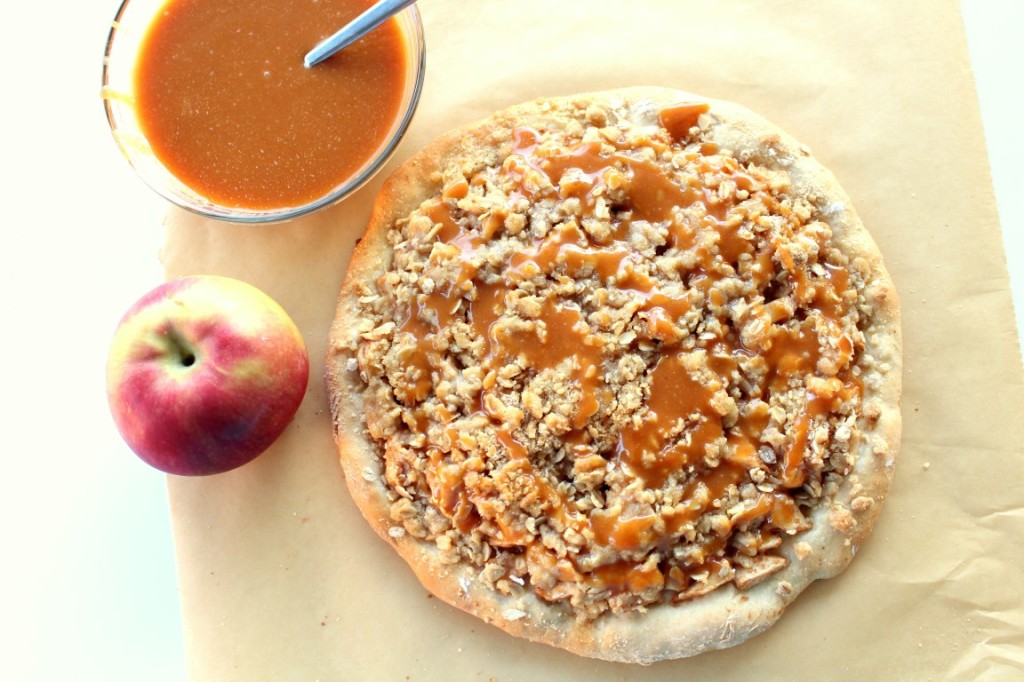 How to make Pizza Hut Apple Dessert Pizza
The crust for pizza is very easy to make. It is an adaptation of my ever day pizza crust recipe, but basically I swapped out the bit of regular sugar for a little extra brown sugar. It gives the crust a hint of sweetness without taking away from the apple flavors.
After the crust comes a layer of apples and cinnamon, topped with the best streusel. It bakes up like a regular ole pizza, but is so much better.  The best way to serve it is warm with extra caramel and a scoop of vanilla ice cream.
Be sure to dice the apples very small, otherwise the won't cook as quickly as the crust and you'll have crunchy apples on your dessert pizza.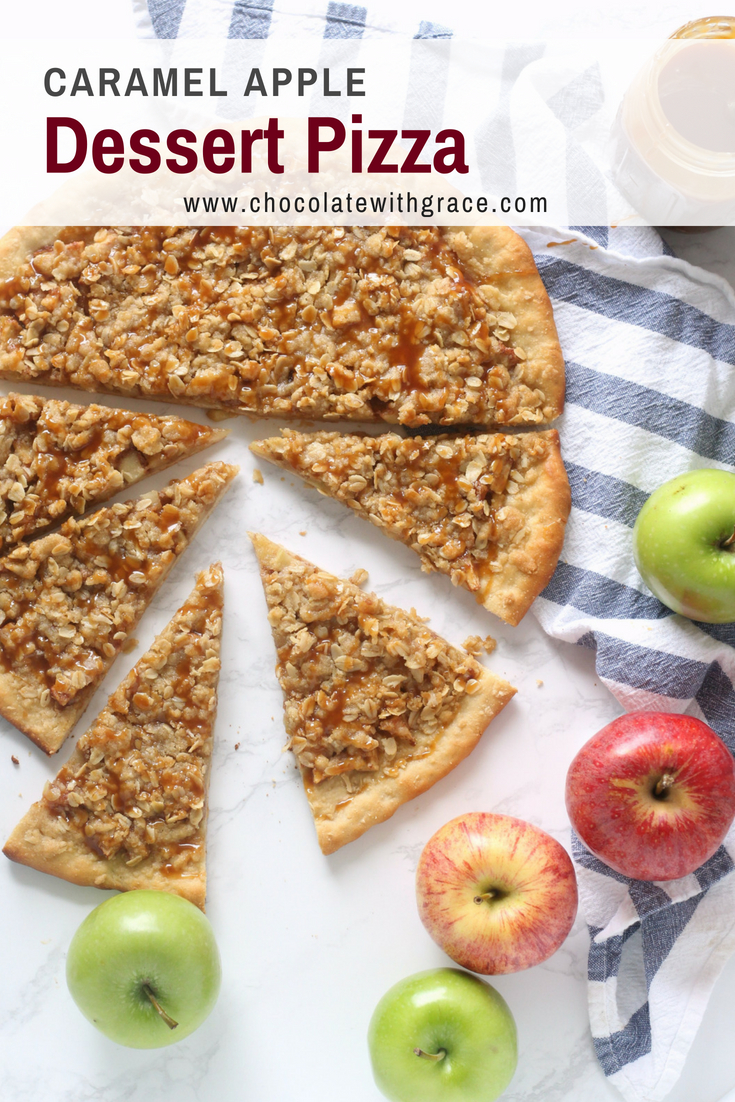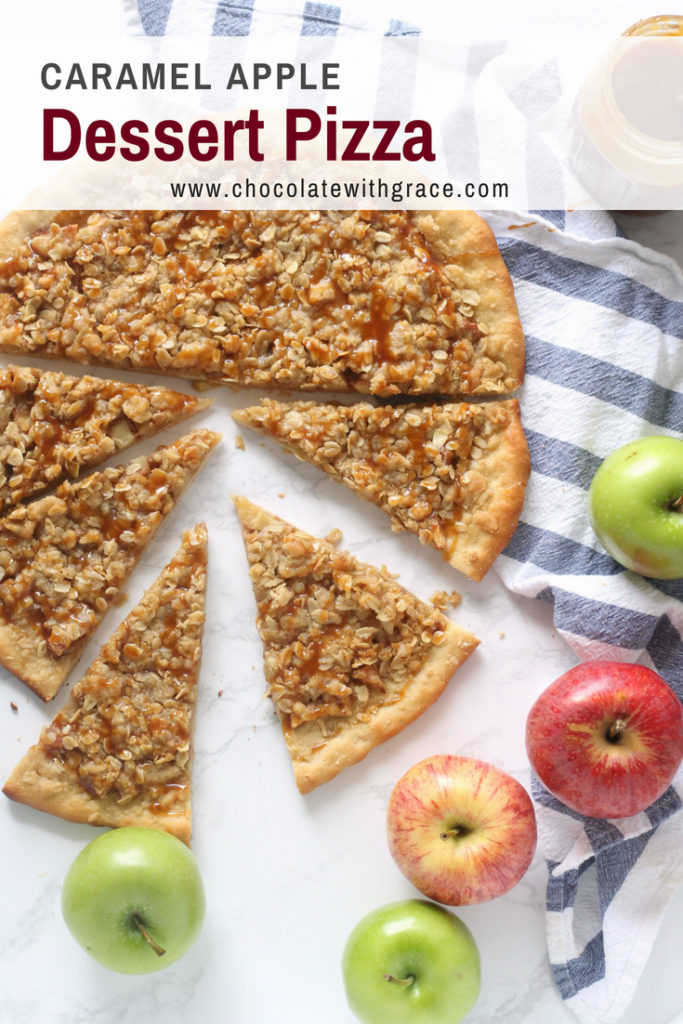 The first time I made this, I made it a 12 inch pizza and it turned out thicker. Take a look at the original photos to see what I mean. This time, I wanted a thinner, pizza hut apple dessert pizza style crust so I made it a 15 inch pizza. It was also delicious with a more crispy crust. Take you pick, just know that a thinner pizza will take less time to bake, so check it sooner.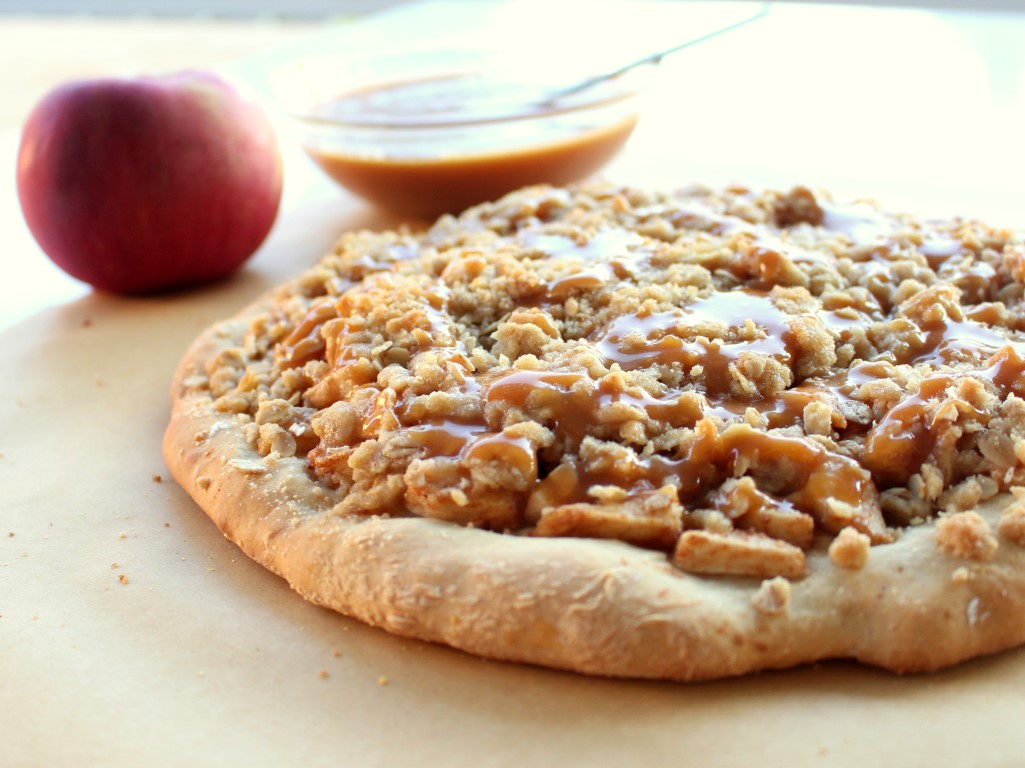 Caramel Apple Dessert Pizza
Ingredients
For the Crust
1/2

cup

hot water

1/2

Tablespoon

instant yeast

2

Tablespoons

brown sugar

1

Tablespoon

olive oil

1/2

tsp

salt

1

and 1/2 cup all purpose flour
For the Apple Filling
2

& 1/2 cups apples

peeled and finely diced

2

Tablespoons

flour

2

Tablespoons

brown sugar

1/2

tsp

cinnamon

1/4

tsp

nutmeg
For the Streusel
1/2

cup

flour

1/2

cup

cold butter

1/3

cup

brown sugar

1/2

cup

oatmeal

Homemade Caramel Sauce to drizzle on top
Instructions
To make the crust, combine hot water and yeast in a large bowl. Let sit for a few minutes until a foam develops. Stir in the brown sugar, olive oil, salt and flour. Knead for a few minutes until dough is stretchy. Let sit for 30 minutes to rise.

Meanwhile, peel and dice the apples. Toss them with the flour, brown sugar, cinnamon and nutmeg. Grease and lightly dust a pizza pan with cornmeal. Preheat oven to 400 F. Pat out the dough into a 12 - 15 inch circle. Lightly brush with olive oil. Spread the apples on top of the dough.

To make the streusel, mix together the flour and brown sugar. Cut in the cold butter until it makes pea-sized crumbs. Gently stir in oatmeal. Sprinkle over the apples.

Bake at 400 F. for 28-22 minutes or until the apples are tender and the crust is browned. Let cool slightly. Serve warm with caramel and vanilla ice cream.
Here are some other Dessert Pizza Recipes from bloggers around the web that sound amazing.
Cookies and Cream Dessert Pizza from Girl Versus Dough
Monster Cookie Pizza from Chef in Training
S'mores Dessert Pizza from Six Sister's Stuff
And if you're looking for more caramel apple treats, check out these other recipes on my blog.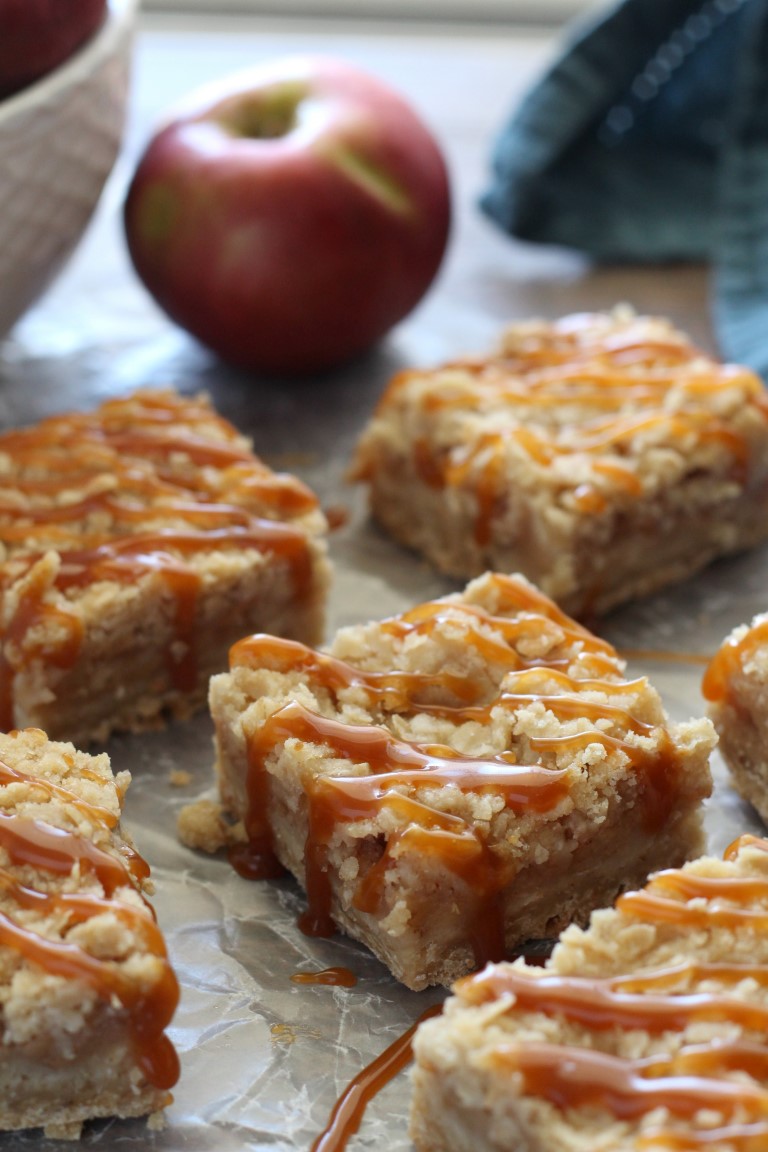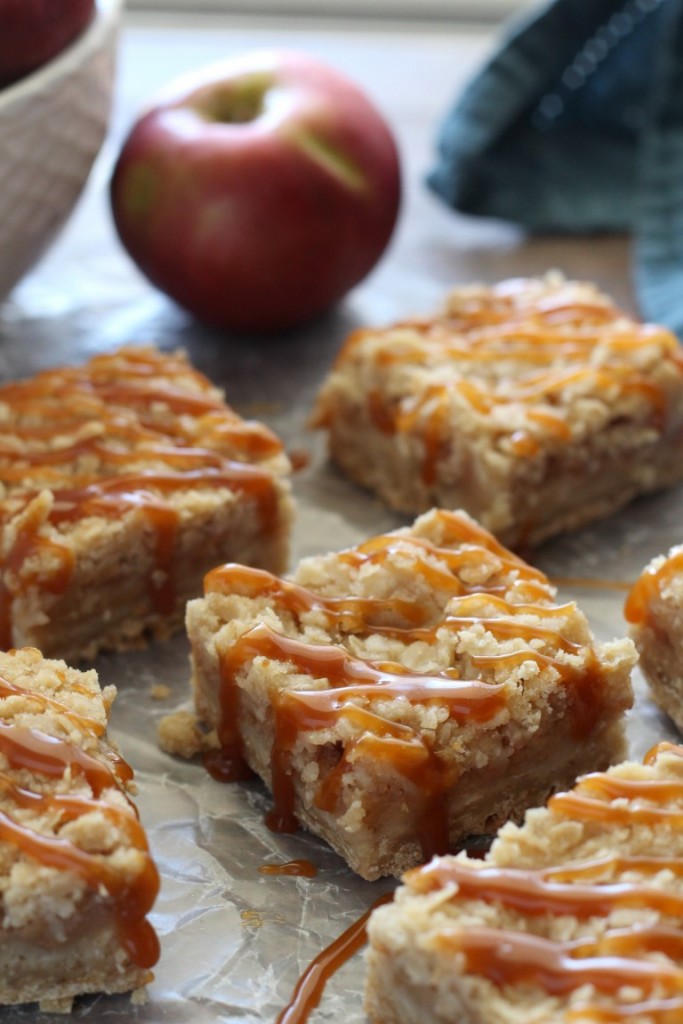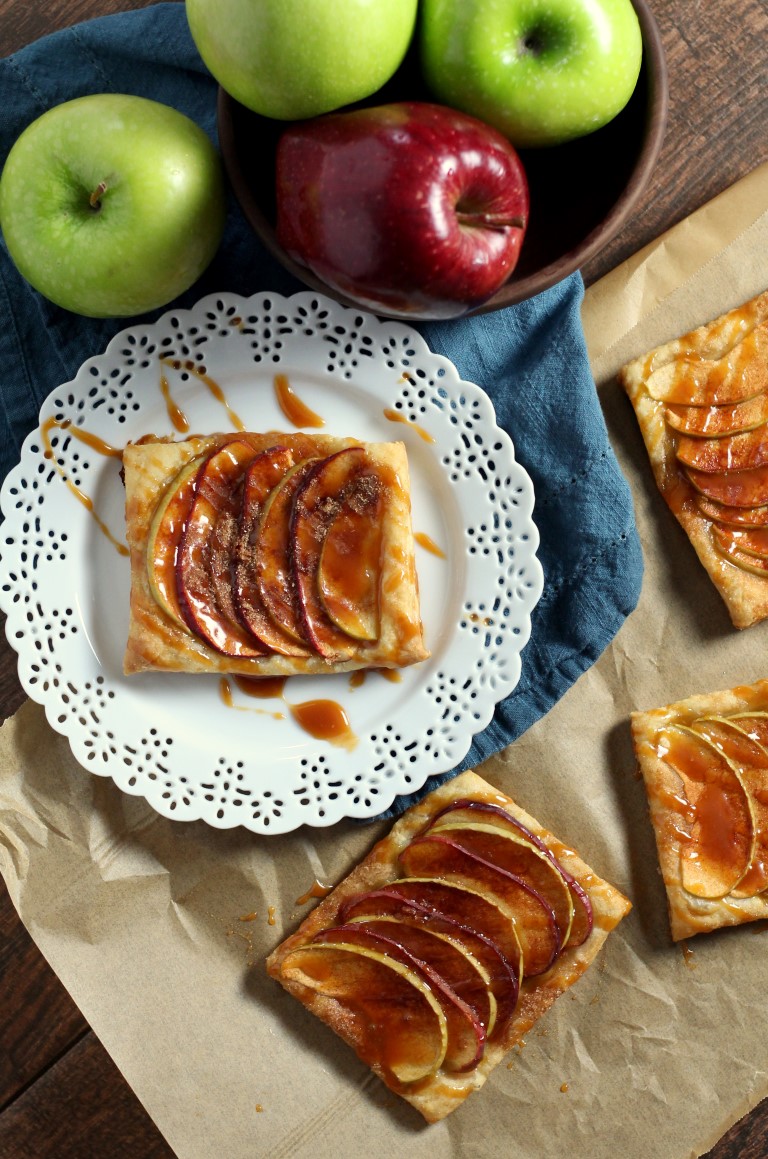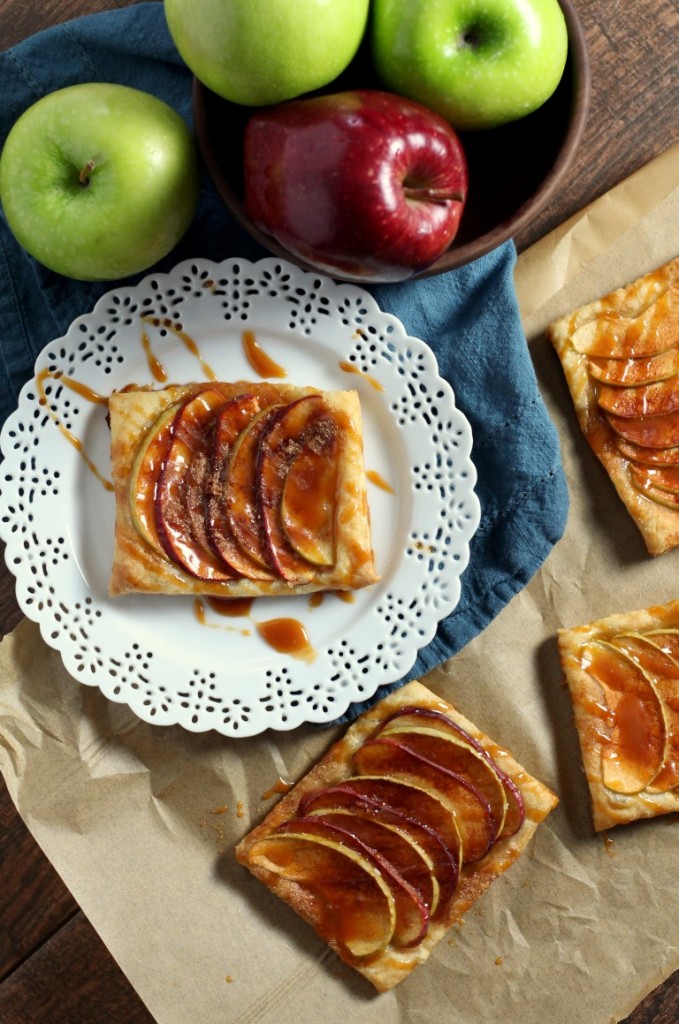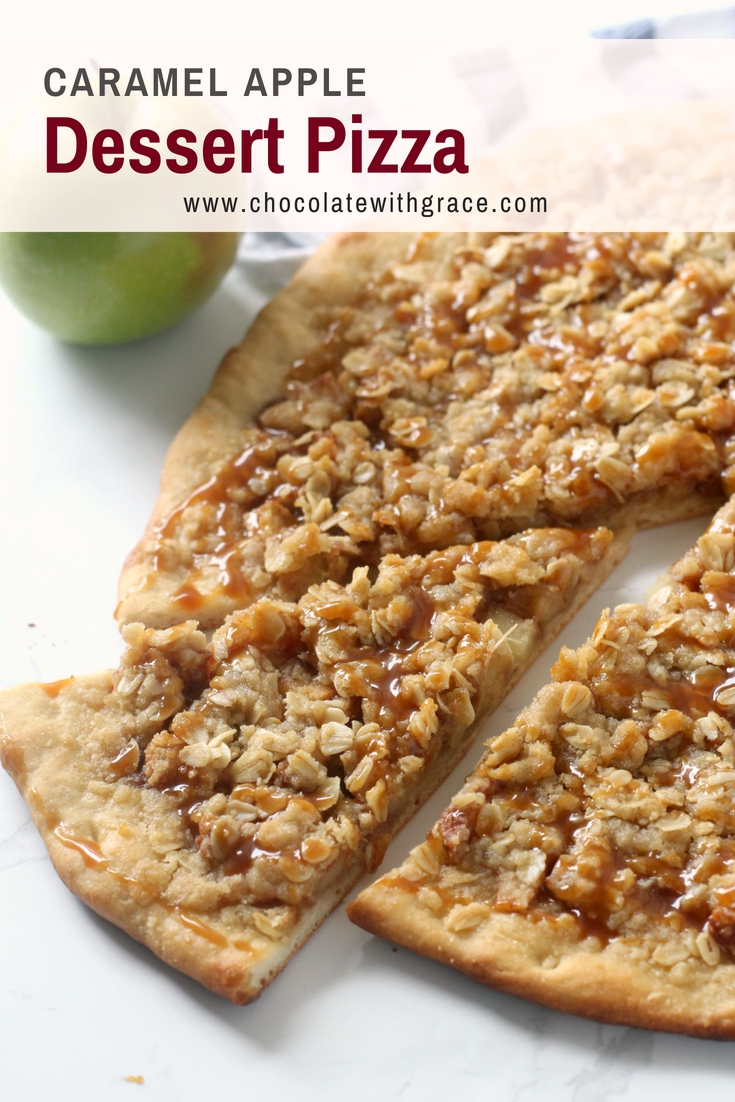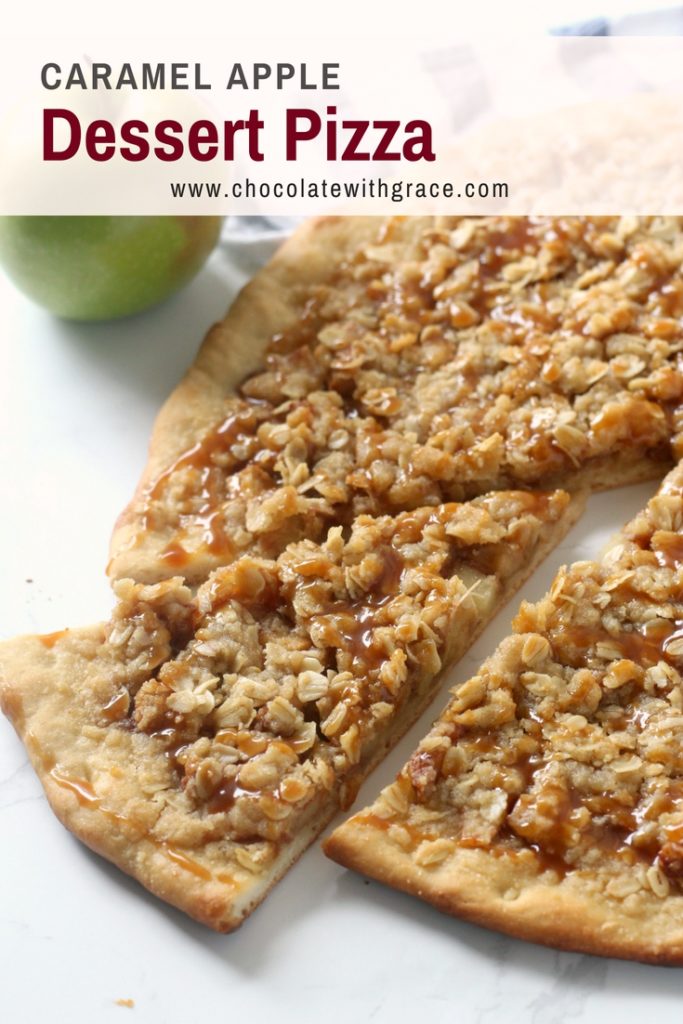 Grab a bag of apples on your next shopping trip because your gonna want to make this warm caramel apple dessert pizza topped with a thick layer of gooey apples, brown sugar streusel and drizzled with homemade caramel sauce. It's  very similar to the Pizza Hut Apple Dessert Pizza recipe with just an extra caramel drizzle.