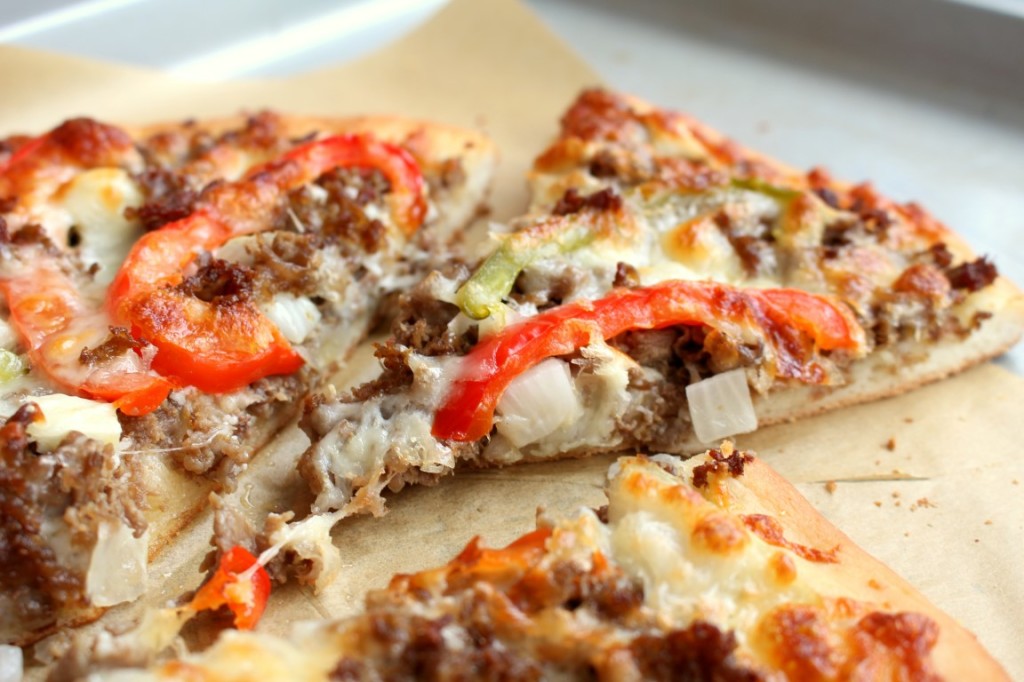 When I first moved to Lancaster, PA, my husband, who lived for several years in Philadelphia, introduced me to one of his favorite sandwiches: cheese steak. We had talked about making a cheese steak pizza for a while, and after a very cheesy miscalculation on our first attempt a couple of months ago (one whole pound of American cheese, to be exact!) we finally perfected our recipe.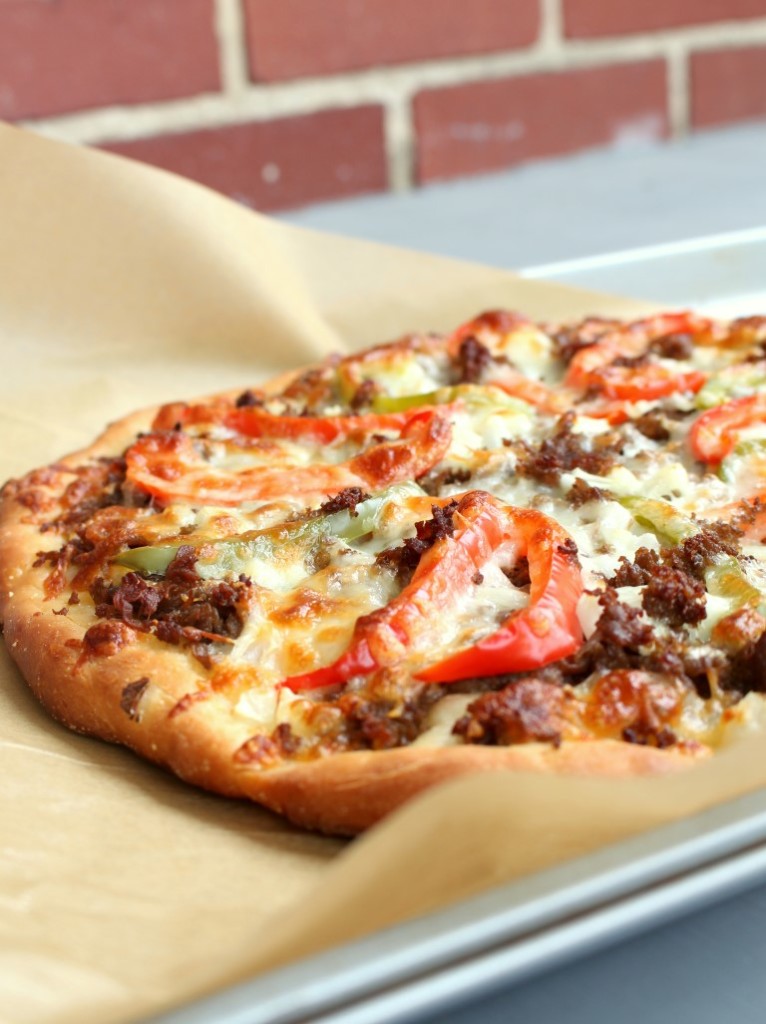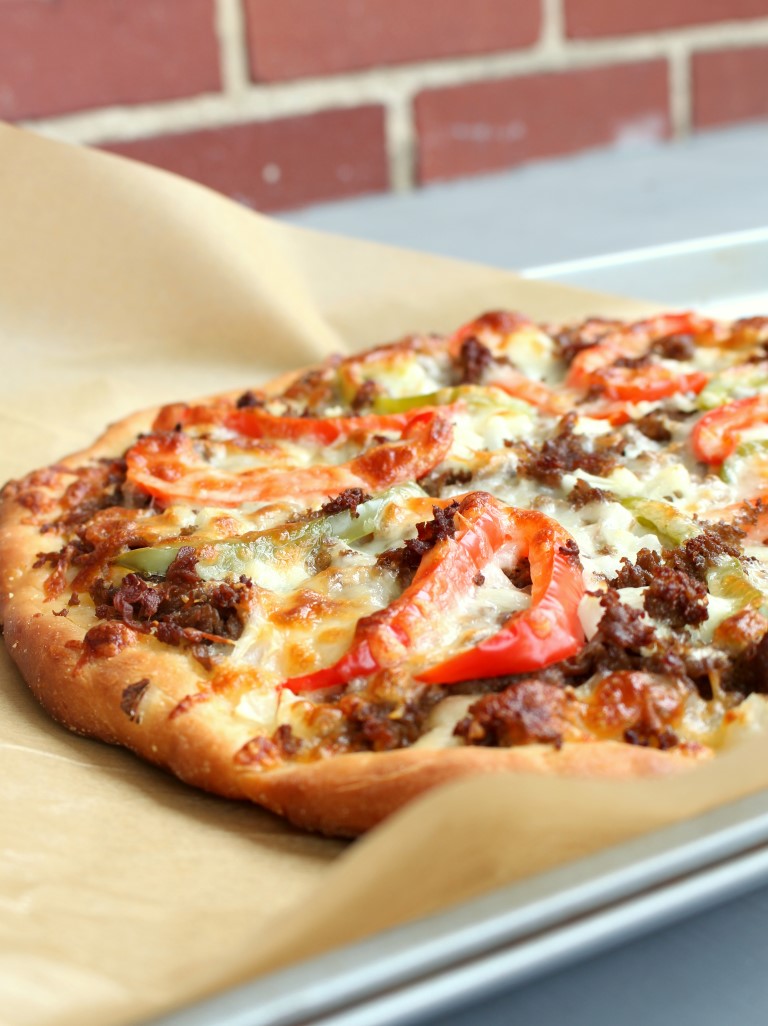 This pizza doesn't use any tomato sauce, but a light mayonnaise base to keep everything from getting too dry and provide the classic cheese steak taste. Our first attempt involved American cheese, for its nice melting properties, but it ends up browning very dark in the oven, so we switched to a mix of provolone and mozzarella that turned out very well. We used our favorite sweet onions, chopping them fresh instead of sauteing or caramelizing them, and added some nice colorful pepper strips. Some people will argue that pepper strips don't belong on a traditional cheesesteak, however we love the color and flavor they add to the pizza.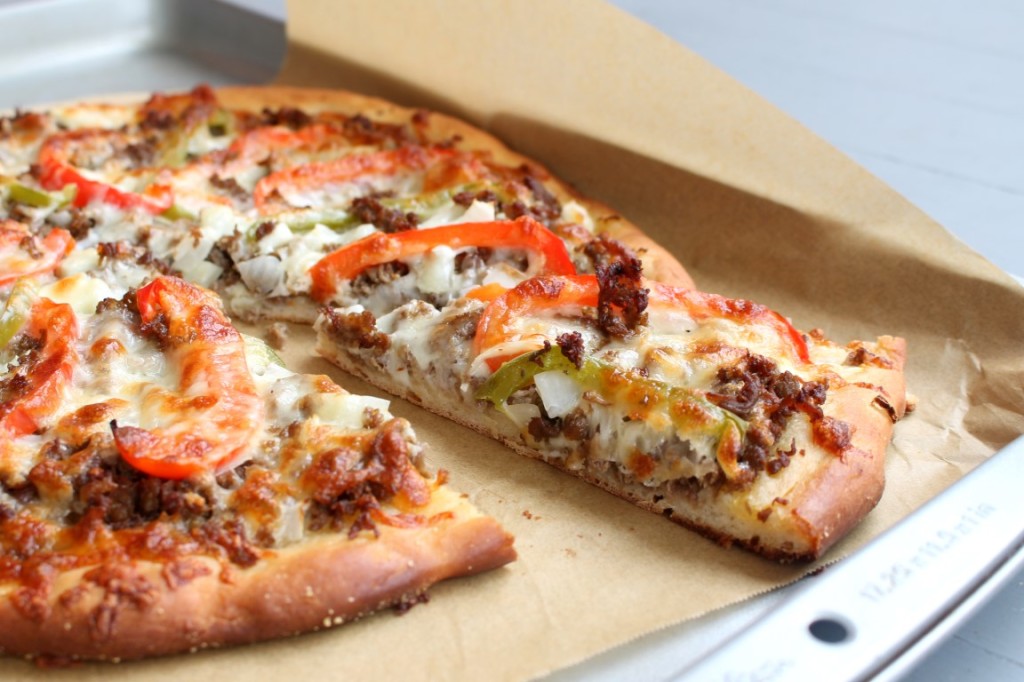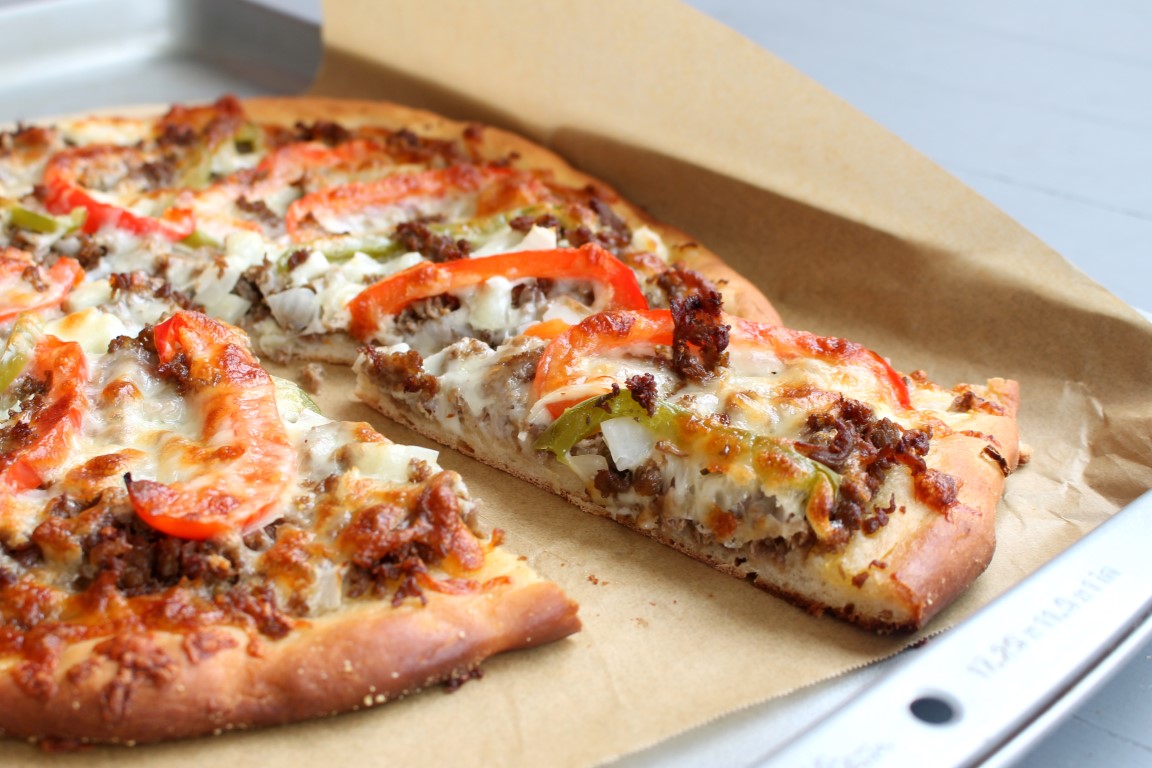 I usually have some some of a my standard pizza dough in the freezer, so the most time consuming part of this meal is slicing the steak, but if you have a handy helper, or can get it pre-sliced, this pizza comes together in about 20 minutes.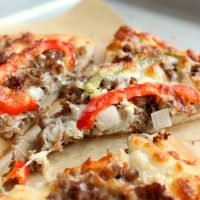 Philly Cheesesteak Pizza
Yield: 8 pieces

Prep Time: 10 minutes

Cook Time: 15 minutes

Total Time: 25 minutes

A hearty pizza made with steak, cheese, peppers and onions. A twist on a philly classic.
Ingredients
1 recipe of your favorite pizza crust
1/4 cup mayonnaise
1/2 pound cooked and chopped steak
1/4 cup chopped sweet onion
A handful of green and red pepper strips
1 and 1/2 cups shredded provolone cheese
1 and 1/2 cups mozzarella cheese
Instructions
Preheat oven to 400 F. Shape crust into a 12 inch circle. Spread the mayonnaise on the base of the crust. Top with steak, onion, peppers, and cheeses. Bake for 15-20 minutes or until lightly browned.
Nutrition Information:
Yield: 8 Serving Size: 1 piece

Amount Per Serving:

Calories: 323 Total Fat: 15g Saturated Fat: 5g Trans Fat: 0g Unsaturated Fat: 10g Cholesterol: 31mg Sodium: 557mg Carbohydrates: 34g Fiber: 2g Sugar: 2g Protein: 12g

Nutrition information may vary significantly based on ingredients used and portion sizes. We are not responsible the reliability of this data or your reliance on it. We are not responsible for the results of any recipe you try from this blog/website, Chocolatewithgrace.com. Your results may vary due to differences in ingredients, humidity, altitude, cooking temperatures, errors, or individual cooking abilities.



Try another one of our favorite pizzas, Chicken Cordon Bleu!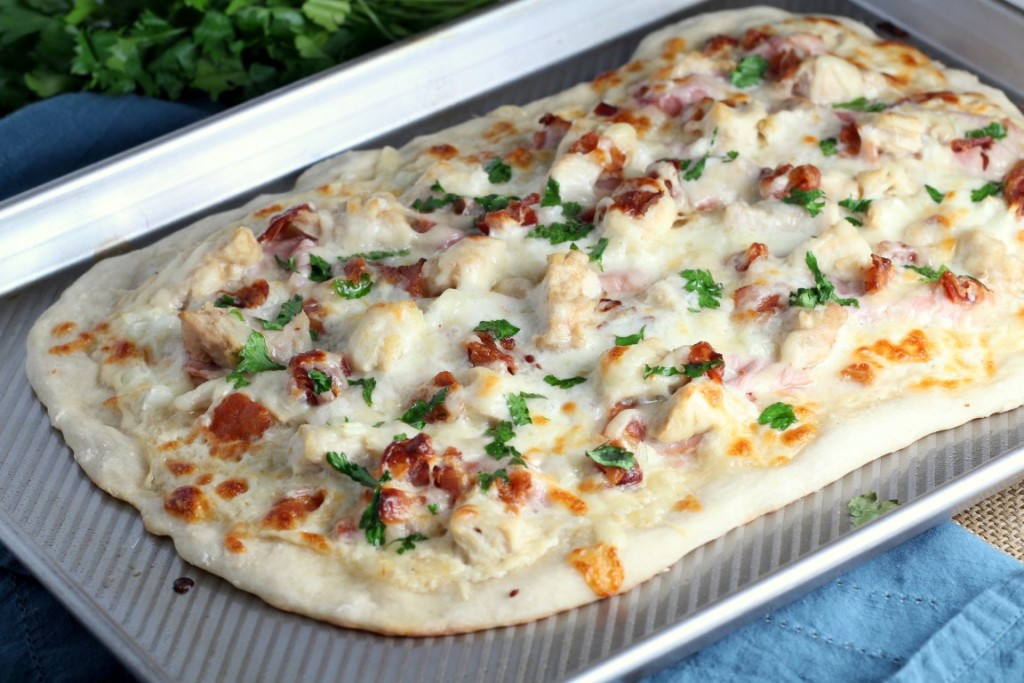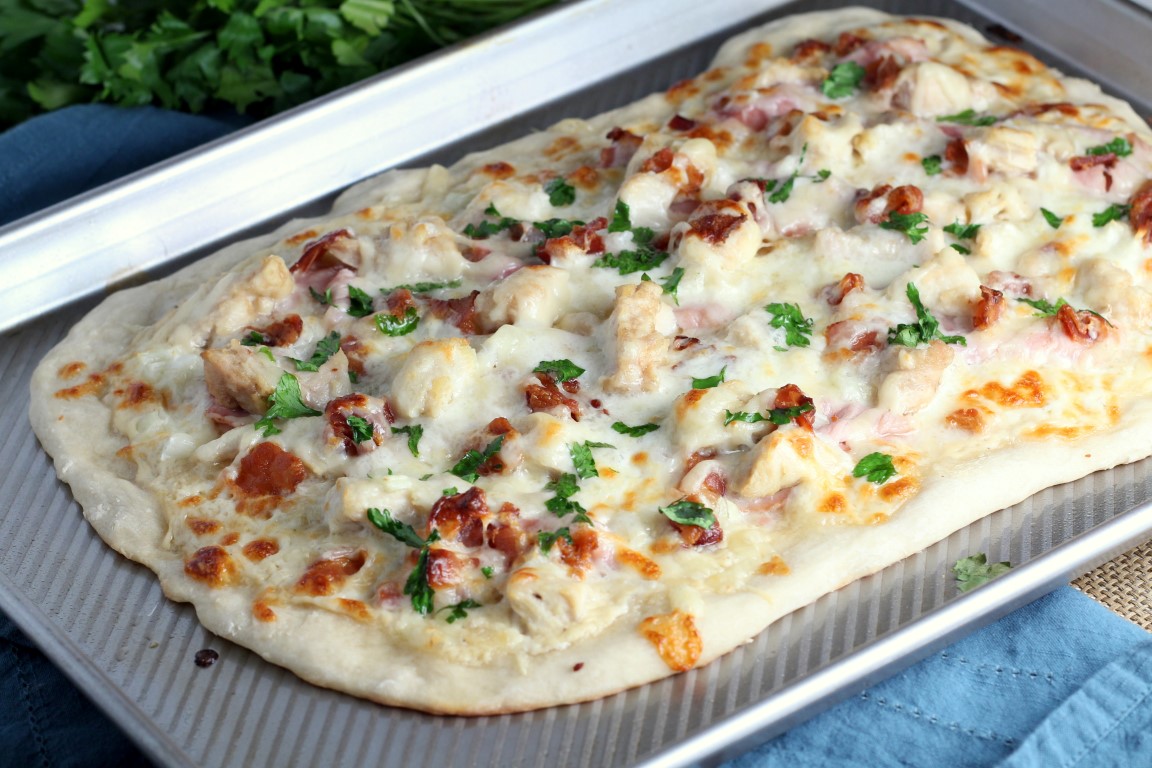 A hearty pizza made with steak, cheese, peppers and onions.