Pizza on the grill is surprisingly easy and delicious. This whole wheat pizza crust is not only healthy, but quick to make and can be ready in less than 45 minutes.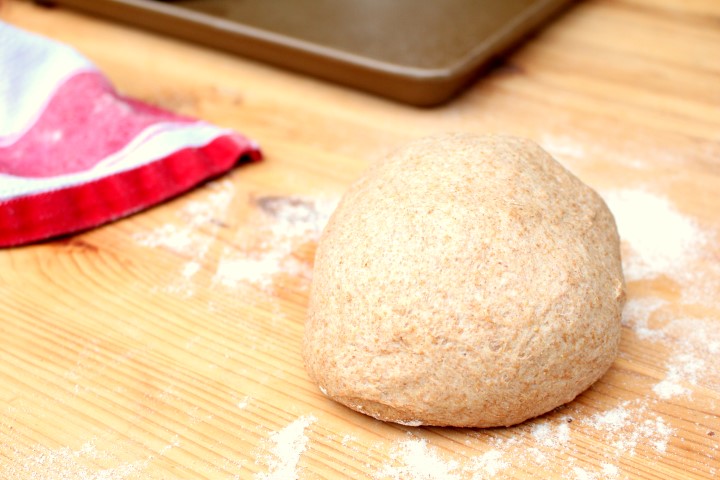 I'm not a big meat person, meaning meat and I don't always get along well when it comes to cooking. I'm a lot happier playing with flour, sugar and dough.
My husband likes a nice piece of meat for supper and he is great at grilling, so in the summer, many of our meals are made entirely on the grill.
I usually don't get involved in the grilling process; I mean I don't even know how to start it! It's all part of my strategy. I figure if I don't know how, I won't have to.
My one exception is when we grill pizza. I make the dough and oversee the process. It's perfect, because I love playing with dough.
I know people like recipes for the grill because they tend to be be simpler. Even though it involves dough, the ingredient list is short and the process quick.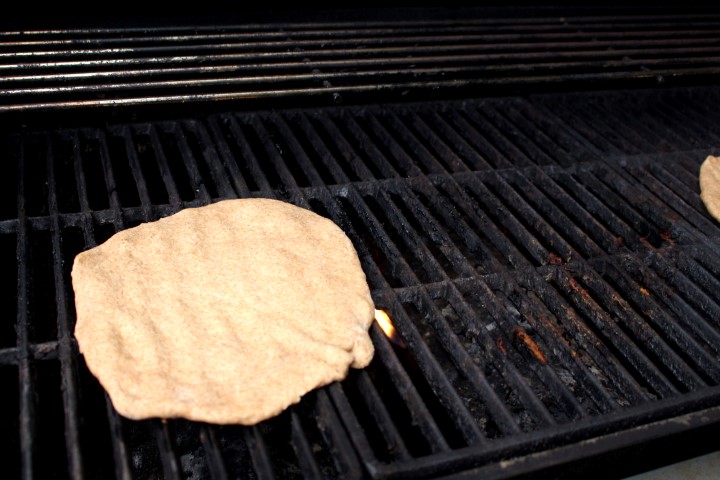 People tend to panic when a recipe involves yeast, but it's actually very forgiving. Simply follow the instructions carefully and soon you will be a dough lover like me.
This recipe uses instant yeast which cuts down the the time the dough needs to rise. Other types of yeast can be used, but the rising time will be longer.
Part of the magic of this recipe is that it bakes directly on the grill racks. No dirty pans to worry about. This recipe works the best if you make individual size pizzas, about 6 – 8 inches in diameter. These smaller pieces are easier to handle on taking them on and off the grill.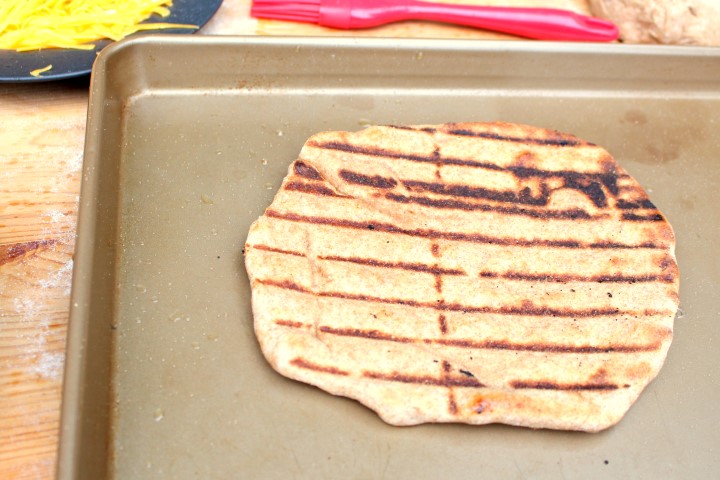 Before starting this recipe it is good to have a plan in place, meaning you know what your going to top the pizza with. Once they start baking on the grill, everything happens very fast. So having everything ahead of time is going to help streamline the process.
My favorite way to do it is mix up the dough and while its rising for 20 minutes prepare the toppings. The process works like this: Brush one side of the crust with olive oil and grill for 3 to 4 minutes. remove from the grill and brush the opposite side with olive oil.
Top the grilled side with your choice of toppings. Grill for 3 to 4 more minutes and you have pizza! Couldn't be simpler. And the crust gets a wonderful chewy texture that is hard to duplicate in the oven.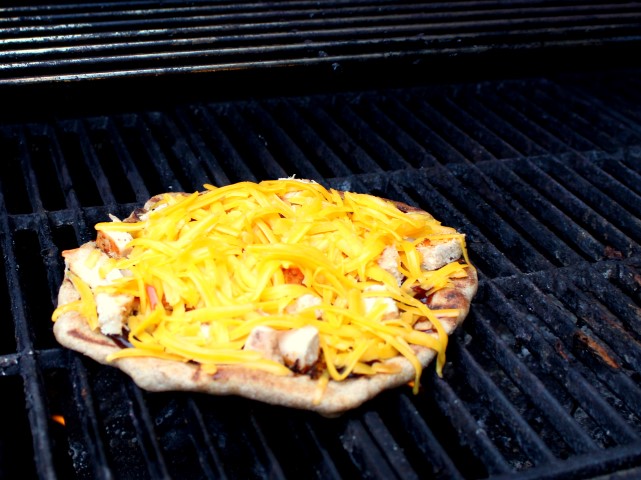 Top the pizza with whatever topping your little heart desires. Our favorite happens to be barbecue chicken.
We use barbecue sauce for the base and add on chicken, sweet onions and cheddar cheese. Bacon is also great if it's on hand. Traditional topping would also work well. Get creative and make it fun!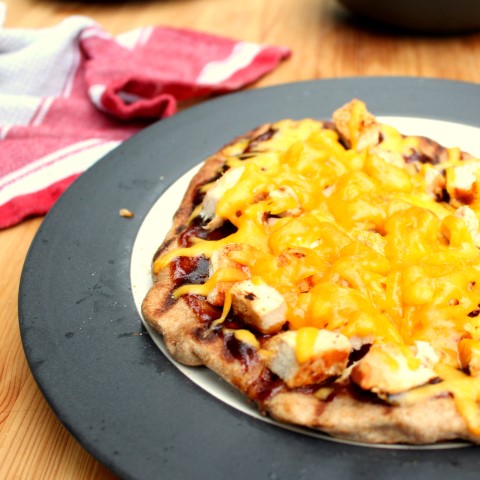 For some great topping ideas, check out the Chicken Cordon Bleu Pizza and the Philly Cheesesteak Pizza too!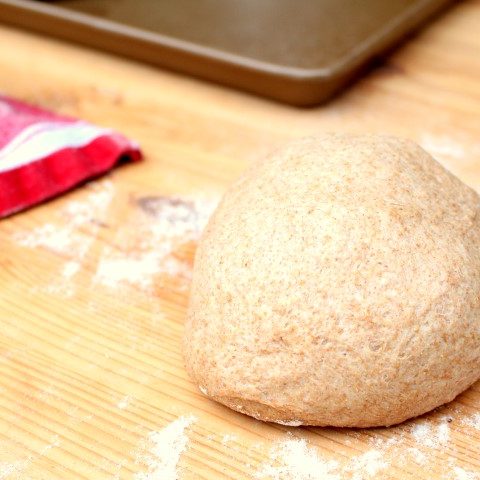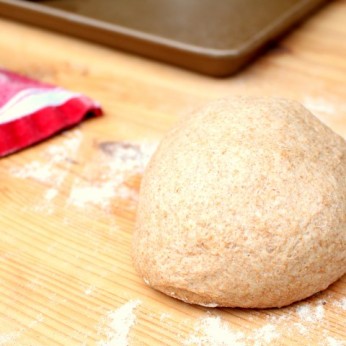 Whole Wheat Grilled Pizza Crust
A pizza crust you can grill, made with whole wheat flour
Servings:
4
personal sized pizzas
Ingredients
1

T

instant yeast

1

cup

warm water

2

T

honey

2

T

olive oil

1

tsp

salt

2

and ½ cups whole wheat flour

Additional olive for brushing

Desired pizza toppings
Instructions
Mix the yeast and warm water together in a medium bowl. Let sit for about 5 minutes until slightly bubbly. This step makes sure the yeast is actually alive.

Add honey, 2 T olive oil, salt and ½ cup flour. Stir until well mixed. Add enough of the remaining flour to form a soft dough.

Turn out onto a flour surface and knead for about 5 minutes until elastic. Let the dough rest on the counter covered with a clean towel for 20-30 minutes. 30 minutes is better. Meanwhile prepare the pizza toppings.

Preheat the grill to 400 F. Divide dough into 4 section and flatten each section into a 7 inch circle. Brush the top with olive oil. Place the 4 circles oil side down on the grill and grill for 3-4 minutes. Dough will become puffy. Remove the crust from the grill and carefully brush the opposite side with olive oil. Flip the crust back over and spread the sauce and pasta on the already grilled side of the pizza. Place the pizzas back on the grill and grill for an additional 3-4 minutes. Keep the lid down on the grill to help melt the cheese.

Remove from the grill and enjoy. Be careful, they will be very hot.
Nutrition
Serving:
1
g
·
Calories:
276
kcal
·
Carbohydrates:
40
g
·
Protein:
8
g
·
Fat:
10
g
·
Saturated Fat:
2
g
·
Polyunsaturated Fat:
7
g
·
Cholesterol:
5
mg
·
Sodium:
753
mg
·
Fiber:
5
g
·
Sugar:
10
g
{originally published 8/13/14 – recipe notes and photos updated 5/21/21}