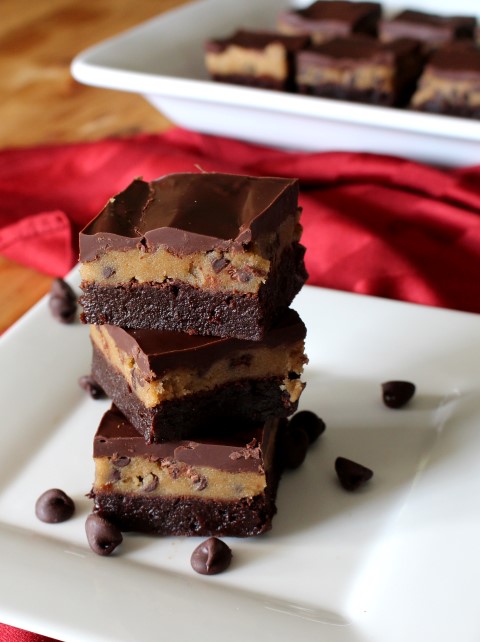 I'm back with another ultra chocolatey recipe. It's been almost two weeks since I posted my last chocolate recipe, which is a long time not to use one of my most favorite ingredients ever. (The Nutella Hot Fudge from two weeks ago is hard to beat as my favorite chocolate recipe.)  But these cookie dough brownies also rank up there as one of my all time favorites. I just can't say no to brownies or chocolate chip cookies and here I get both.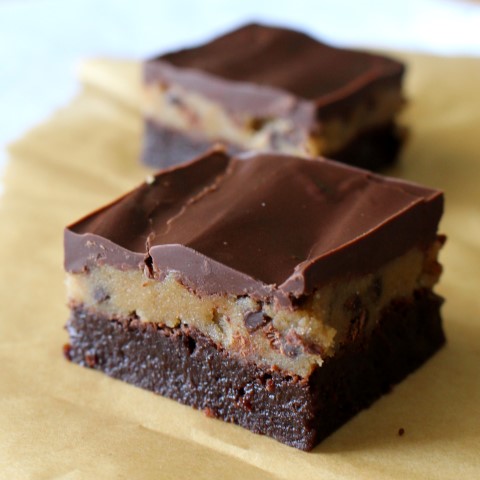 I'm a person who loves cookies, but is all over the dough first. Cookie dough is the best therapy for me. I don't need fancy flavor profiles and gourmet ingredients, just give me a bowl and let me eat to my hearts content. I promise I'll love you forever.
A version of these cookie dough brownie has been around since I have been little. It was always a favorite at our house. However, I thought it could use a little improvement. I switched up the brownie base to my favorite fudgy brownies ever!! And then I added mini chocolate chips to the cookie dough. Somehow when we were little we never noticed the cookie dough didn't have any chocolate chips. But now in my cookie dough connoisseur days, their absence is very apparent and easily remedied. The only downside to making these is waiting for them to cool enough to spread on the dough and top chocolate layer on, and then waiting for that chocolate layer to set up. But they are oh-so amazing when they are done.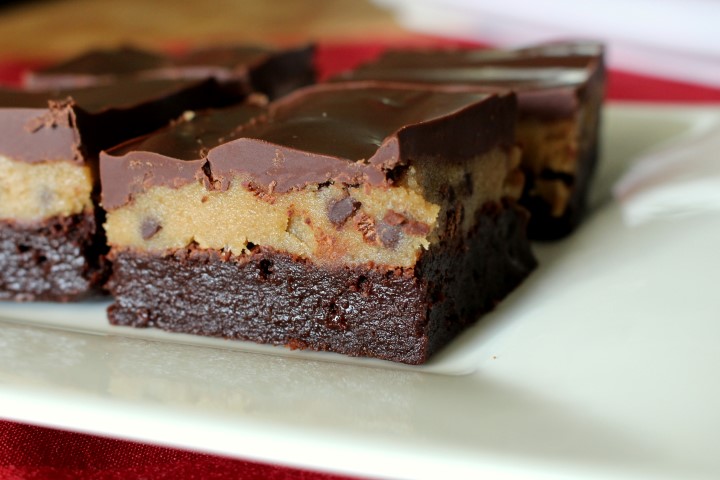 Cookie Dough Brownies
Brownies topped with a cookie dough layer and a more chocolate.
Ingredients
For the Brownie Layer
For the Cookie Dough Layer
4 T butter, softened
⅔ cup brown sugar
2 T milk
⅔ cup flour
½ cup mini semi-sweet chocolate chips
For the Chocolate Layer
1 and ½ cup semisweet chocolate chips
2 T shortening
Instructions
Make the brownies in a 9x9 in pan and let them cool completely.
In a medium mixing bowl, cream together the butter and sugar. Stir in milk alternately with the flour. Add the mini chocolate chips and stir until they are well distributed.
Spread the cookie dough mixture on top of the brownies. Cover and place in the refrigerator.
Meanwhile, place chocolate chips and shortening in a microwavable bowl. Microwave to 10 seconds at a time, stirring between each interval. When the chocolate is melted and smooth, remove brownies from the refrigerator and spread the chocolate evenly across the top. Refrigerate for at least two hours or until the set. Cut into small squares. They are rich!
 

Try my Nutella Brownies for Two 

 

Bring your favorite chocolate dessert to Roxana's home baking #chocolateparty and win amazing prizes from Imperial Sugar®, Gold Medal Flour®, Safest Choice™ Pasteurized Eggs and KitchenAid®

A rich fudgy brownie with a thick layer of eggless cookie dough and an extra layer of chocolate. Just because everything is better with a extra chocolate.