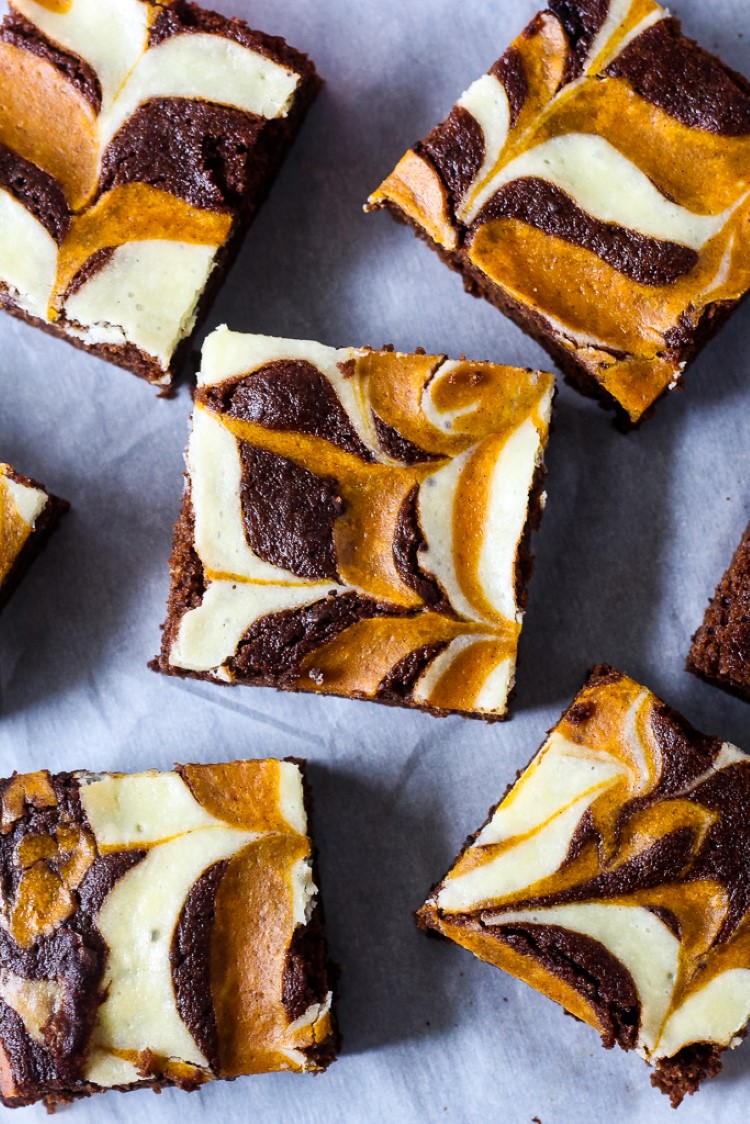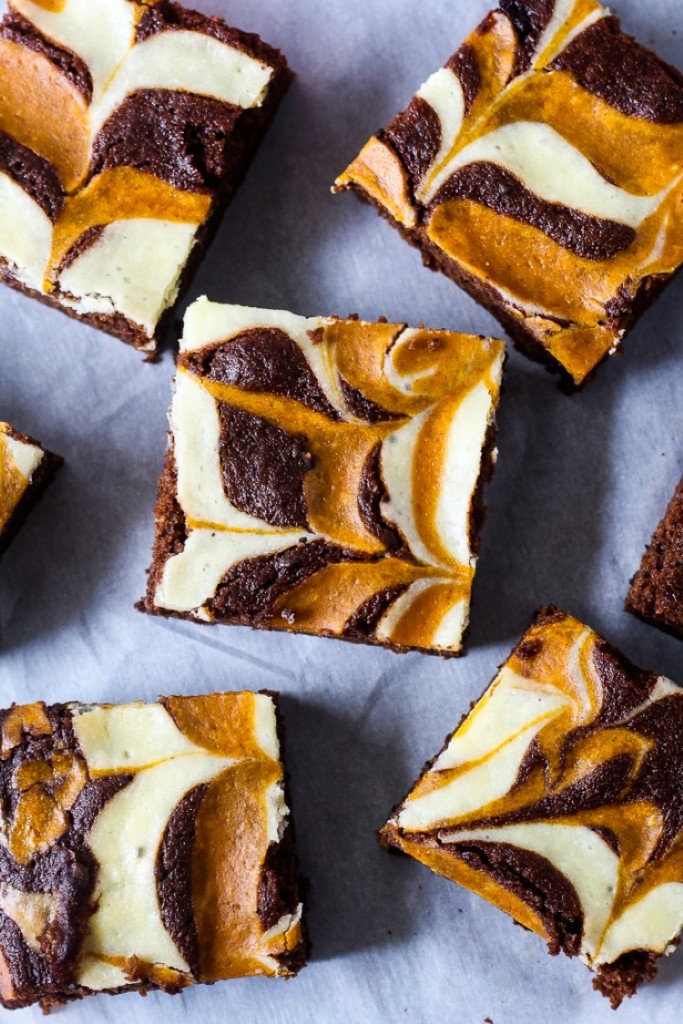 This post contains affiliate links. Please see my privacy policy for more information.
This post was originally published in October 2014. I've updated the pictures and tweaked the recipe slightly to be even better.
Pumpkin Cream Cheese Swirl Brownies
Once upon a time I made a rich chocolatey brownie swirled with with a smooth pumpkin cheesecake and enjoyed one piece after another. Today, I'm eating a bowl of ramen noodles, sitting in my cold office, and staring at these long gone brownies wishfully. Just look at that dark chocolate and pumpkin cheesecake layer!
(I must be on a cheesecake kick this fall, my last recipe also involved pumpkin cheesecake. Oh, and a chocolate pumpkin kick too! Check out these cookies for fall!)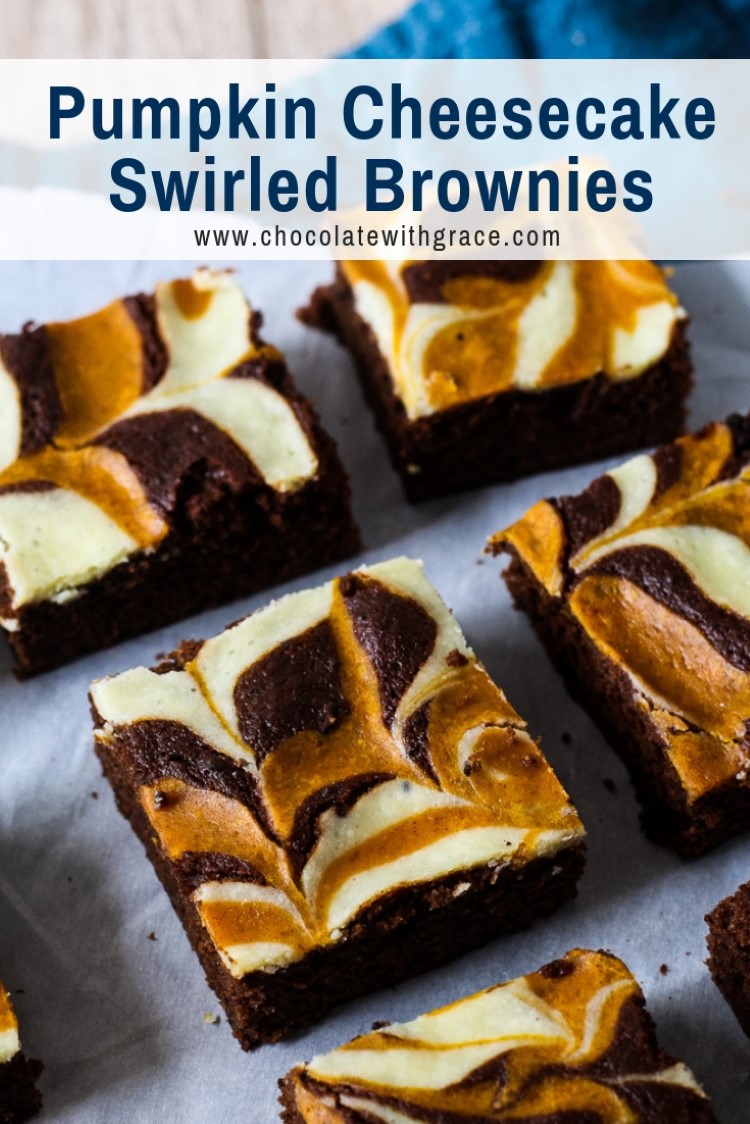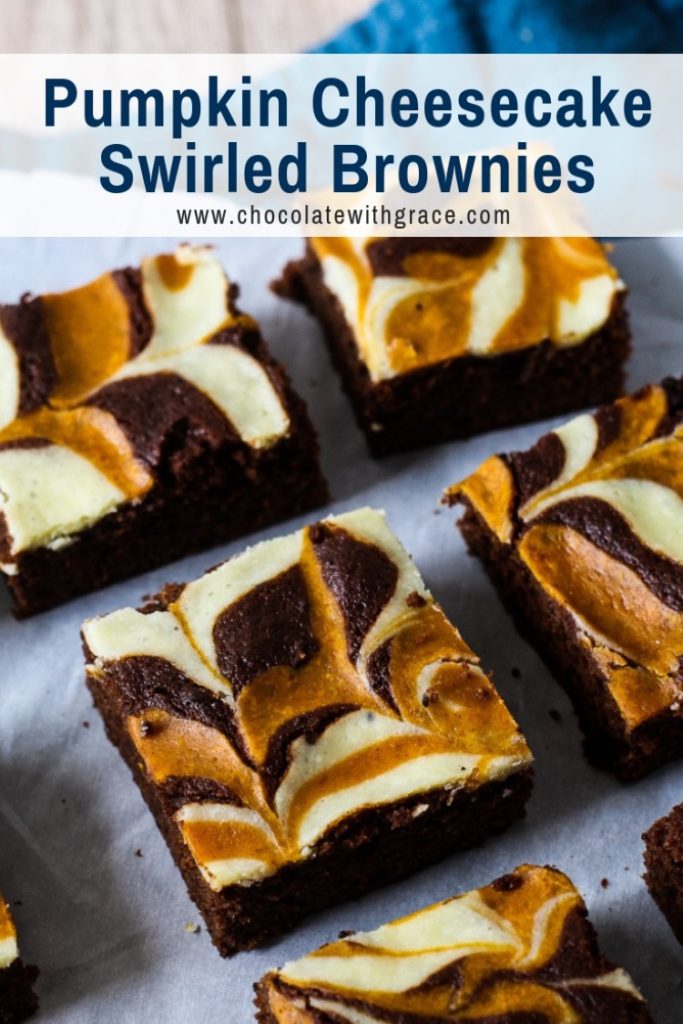 This is a standard brownie recipe with pumpkin mixed in for extra pumpkin layer. Then I swirled in a cheesecake layer. Half of that cheesecake layer is plain and half is pumpkin cheesecake. That makes the pretty two-toned effect.
The brownie is thick, dense and soft. Not too chewy thanks to the addition of pumpkin, but rich like a brownie should be. When I tweaked the recipe. I added an extra egg for more chewy brownie texture.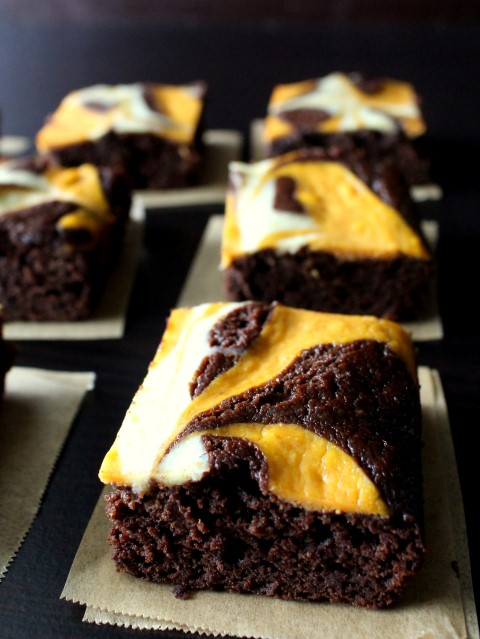 How to make pumpkin swirl brownies
Getting the pretty swirl on top isn't too hard. I chose to use only about 3/4 of the pumpkin mixture and then regretted it because I wanted more cheesecake on top. Take your pick on how much cheesecake batter to use. Using less will probably make prettier swirls, but more will taste better.
I simply spoon the cheesecake mixture on top in strips and then take a butter knife or toothpick and run it through the batter to make a criss cross pattern. Then swirl it in a couple circles for good measure. Be careful not to over-swirl or it will turn into mud.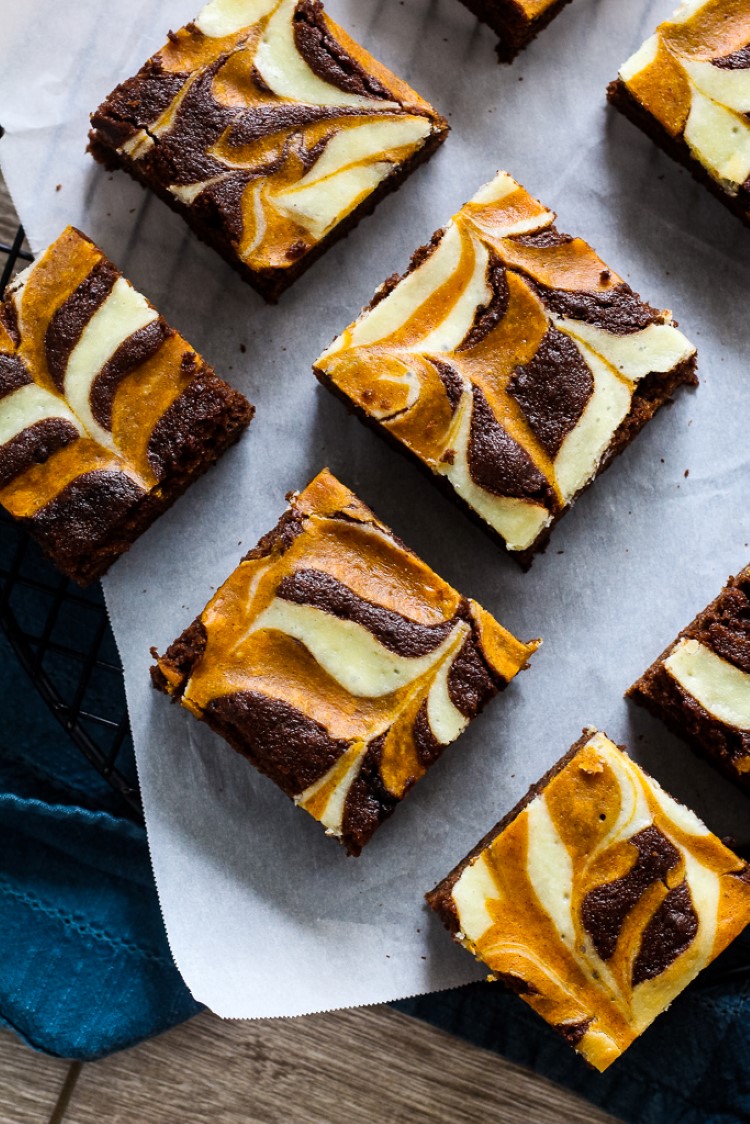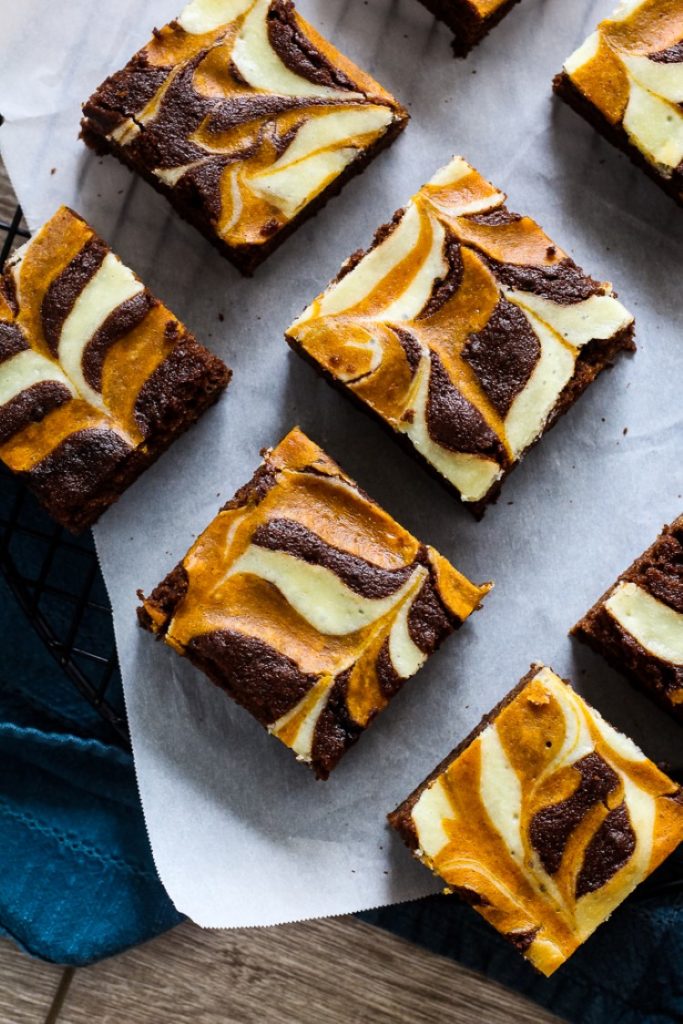 Let me know in the comments if you make this recipe. I think it would be perfect for a fall potluck or party, maybe even Thanksgiving dessert.
This pumpkin brownie recipe is loosely based on my Best Brownie Recipe in the world from scratch. If you're looking for a great basic brownie recipe, be sure to check it out.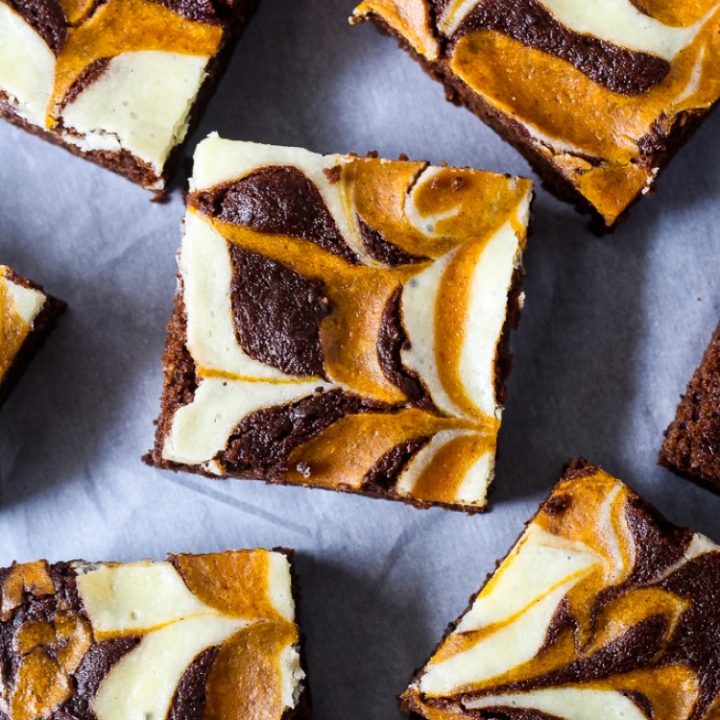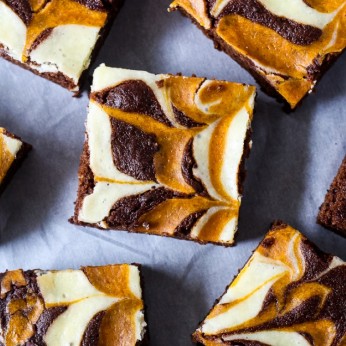 Pumpkin Cheesecake Swirled Brownies
A rich chocolate pumpkin brownie swirled with a pumpkin cheesecake layer.
Ingredients
For the Brownies
1/2

cup

butter

melted

2

cups

granulated sugar

1

cup

canned pumpkin

not pumpkin pie filling

3

eggs

1

teaspoon

vanilla extract

2/3

cup

cocoa

1

cup

all purpose flour

1/2

teaspoon

baking soda

1

teaspoon

salt
For the Cheesecake Swirl
4

ounces

cream cheese

softened

1/3

cup

granulated sugar

1

egg

1/2

tsp

vanilla

1/3

cup

canned pumpkin

1/2

tsp

pumpkin pie spice
Instructions
Preheat the oven to 350 F. Grease and four a 9 x 13 inch baking pan. Beat together melted butter, sugar, pumpkin, eggs and vanilla together in a large bowl. In a separate bowl, whisk together the cocoa, flour, baking soda and salt. Add the dry ingredients to the wet and mix together until combined. Pour batter into prepared pan.

To make the cheesecake filling, beat together cream cheese, sugar, egg, vanilla and pumpkin pie spice in a medium bowl. Reserve about 2/3 of a cup of this mixture. This will be the white cheesecake swirl layer. Mix the pumpkin into the remaining cheesecake mixture. You will have to colors of cheesecake batter. Starting with the white batter, spoon the mixture onto the brownie batter in thin rows. Then do the same with the pumpkin cheesecake batter. Don't worry if they touch or its not perfect. It's art. Run a butter knife through the batter in a grid pattern to get the swirled look. Don't over do it.

Bake at 350 F for 30-40 minutes or until a toothpick inserted comes out clean. Cool completely and chill in the refrigerator for at least 2 hours before slicing. Makes 24 brownies.
Notes
The cheesecake layer will be runny, keep baking until set. I've received some comments that the bake time is not long enough. I included a larger baking range, but oven and pans vary. Keep baking until a toothpick inserted comes out clean.
Nutrition
Serving:
1
brownie
·
Calories:
183
kcal
·
Carbohydrates:
29
g
·
Protein:
3
g
·
Fat:
7
g
·
Saturated Fat:
4
g
·
Polyunsaturated Fat:
2
g
·
Cholesterol:
46
mg
·
Sodium:
196
mg
·
Fiber:
2
g
·
Sugar:
20
g
Uncommon Designs
last month where I am a contributor!
Follow along on my pumpkin, cheesecake and chocolate craze with these other recipes!
Layered Pumpkin Cheesecake Bars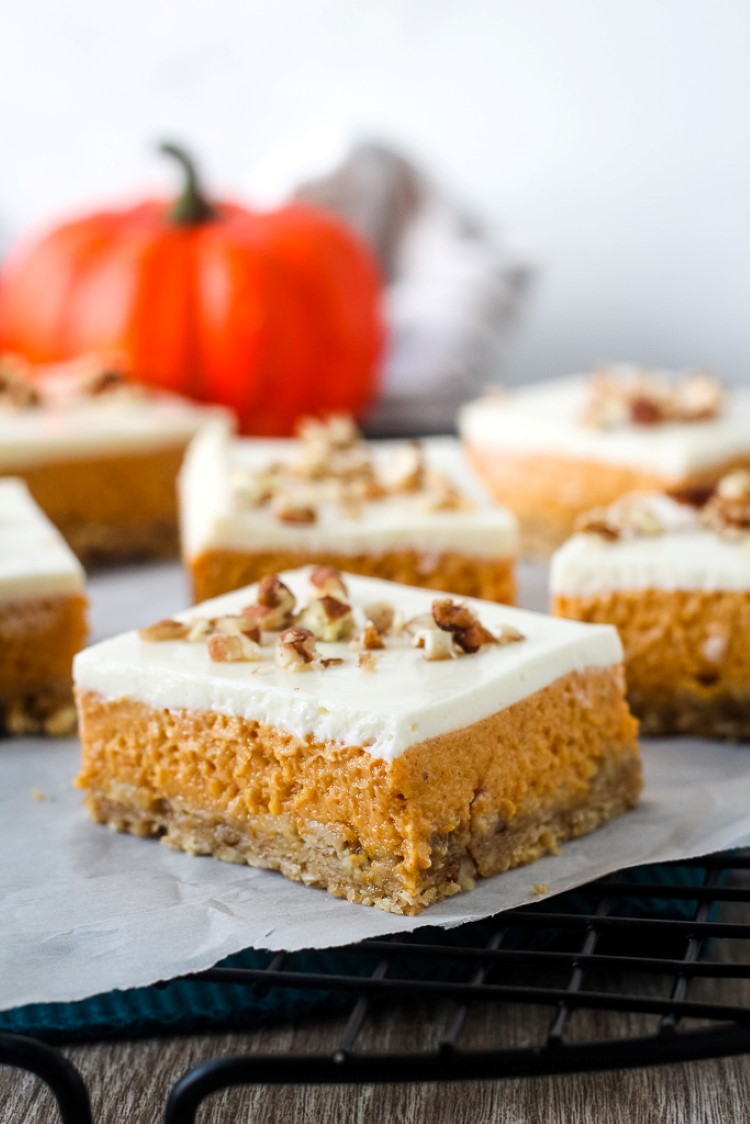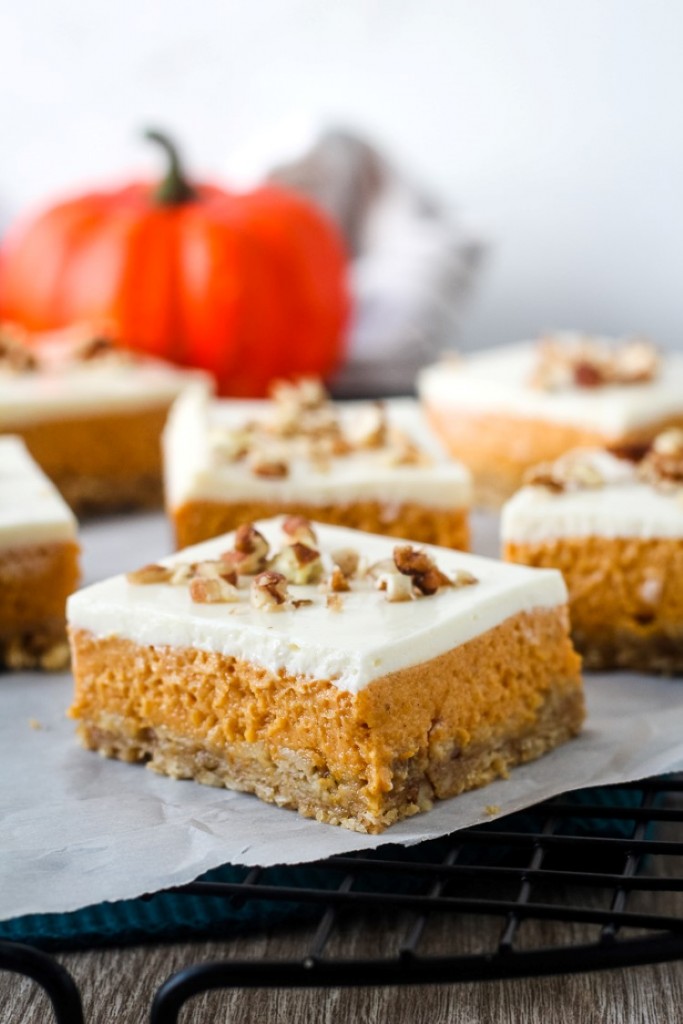 Salted Caramel Pumpkin Cheesecake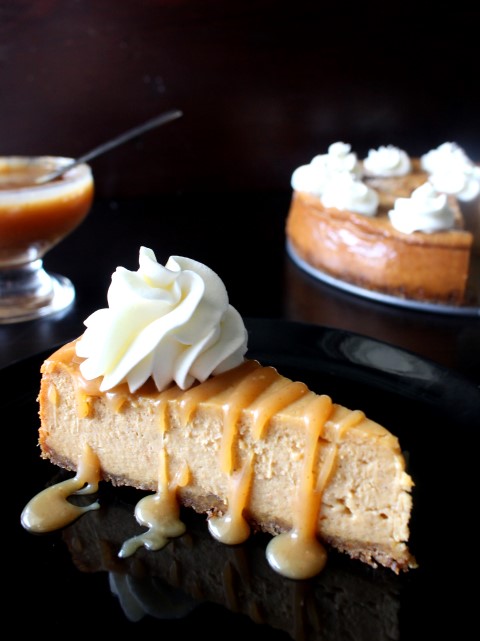 Chocolate Sandwich Cookies with Pumpkin Spice Buttercream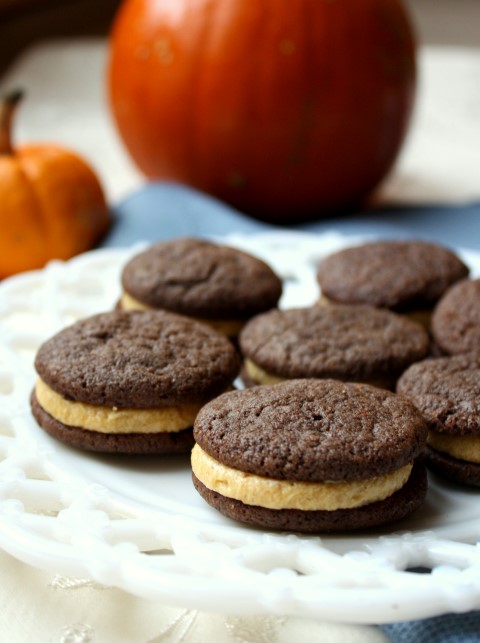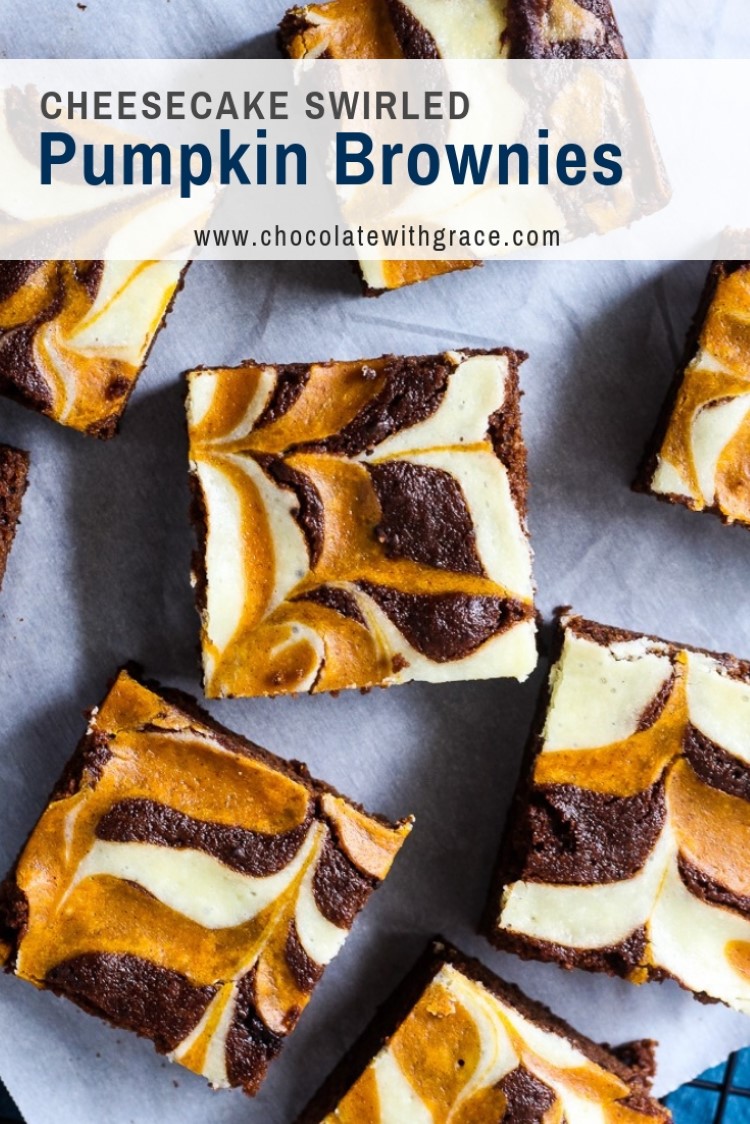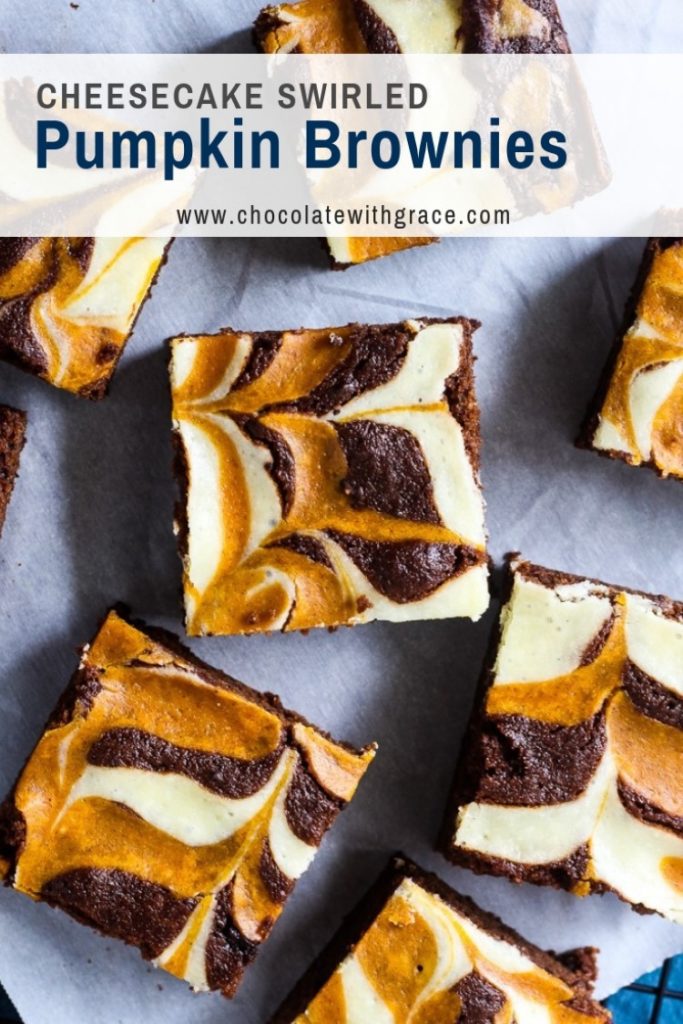 The pumpkin cheesecake swirl in the brownies is worth the extra bit of effort and makes these brownies ultra moist.