6 ingredients is all you need to make these rich and gooey Red Velvet Cookies and Cream Bars.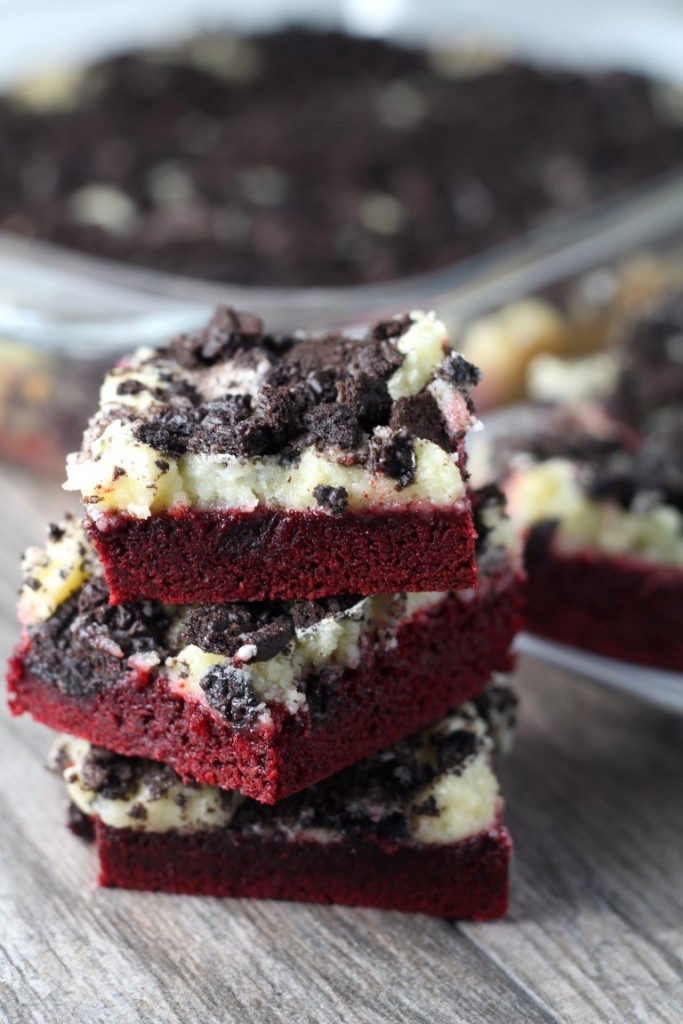 This weekend I attempted my first recipe video. (You can check it out below!) The idea for these bars has been floating in my head for a while, and this weekend they were on my to-do list to tackle. Originally, they were going to be a traditional recipe post, but something possessed me to try and tackle a video. Not sure what I was thinking. It involved a giant mess in the living room, a trip to the grocery store, lots of googling, hours of learning to edit and editing the video, and lots of Oreo's eaten. All of that on top of feeding a baby every couple hours.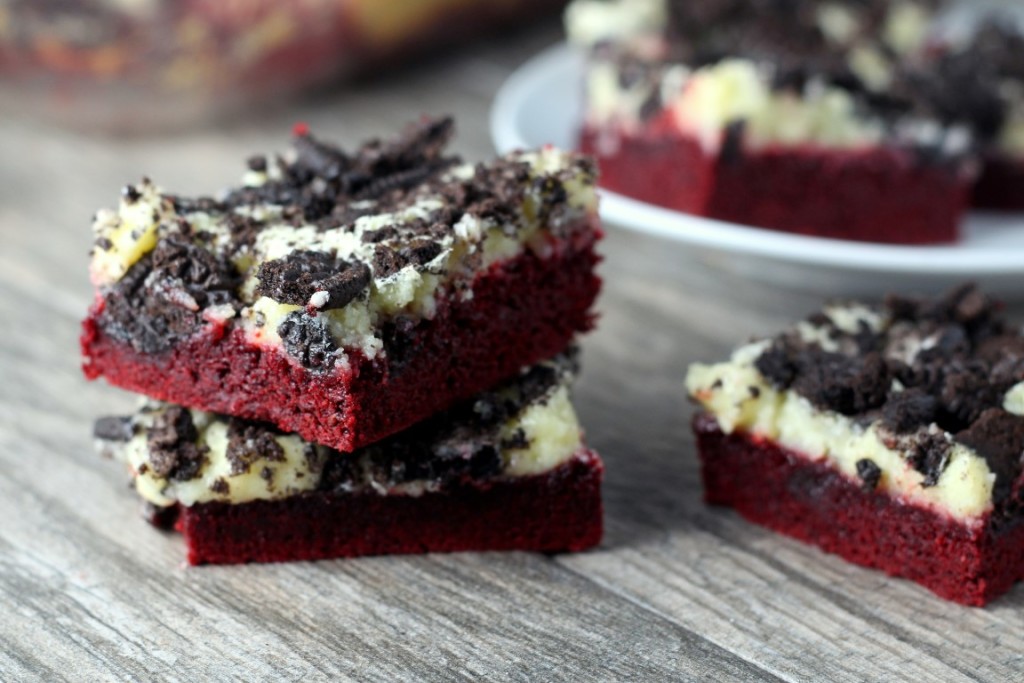 But I had so much fun. Apparently I thrive on a good challenge, and since there was no one around to tell me not to tackle video with a 6-week old baby, we succeeded, although the dishes and laundry suffered. 😛 Check out the finished product!
This is a simple 6-ingredient recipe, and very similar to Gooey Cake Mix Bars. I just made a few changes to make them perfect for Valentine's Day or whenever the red velvet craving hits. I think red velvet is so fun, but I can't bring myself to add a whole bottle (or more!) of red food coloring to anything. So I use a red velvet cake mix for the red layer. Then I don't actually have to see the red food coloring. They are quick to make, less than and hour from start to finish. If there's one thing I can emphasize about this recipe, please don't over-bake the bars. They will still look gooey in the center, but that's perfect and will keep them moist. They will set up completely when cooling.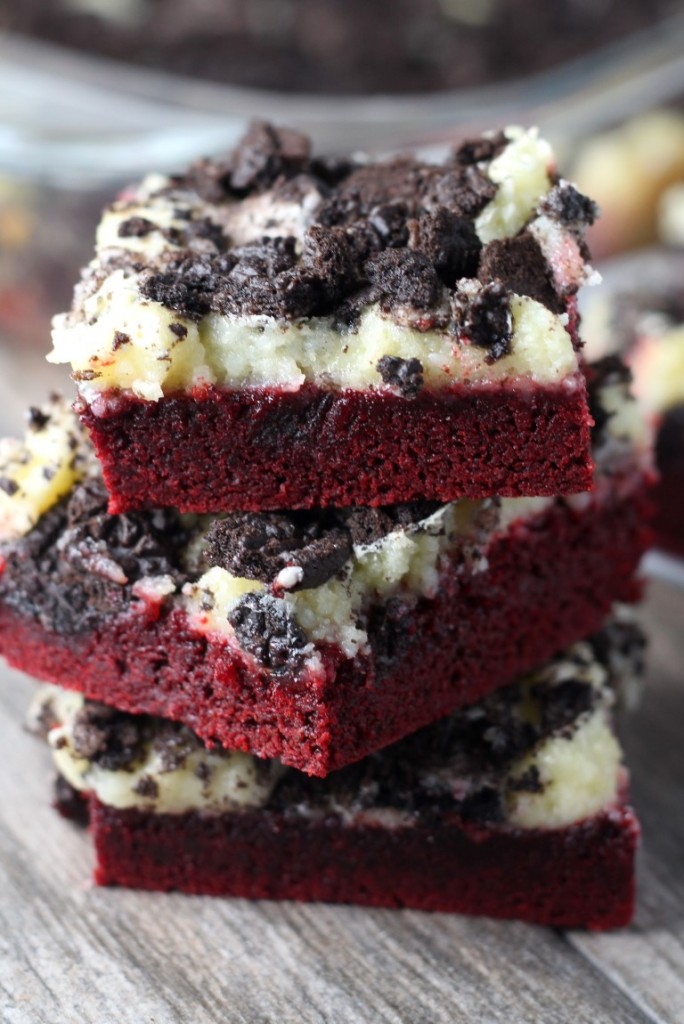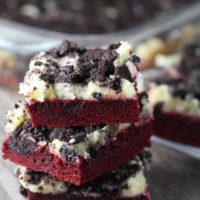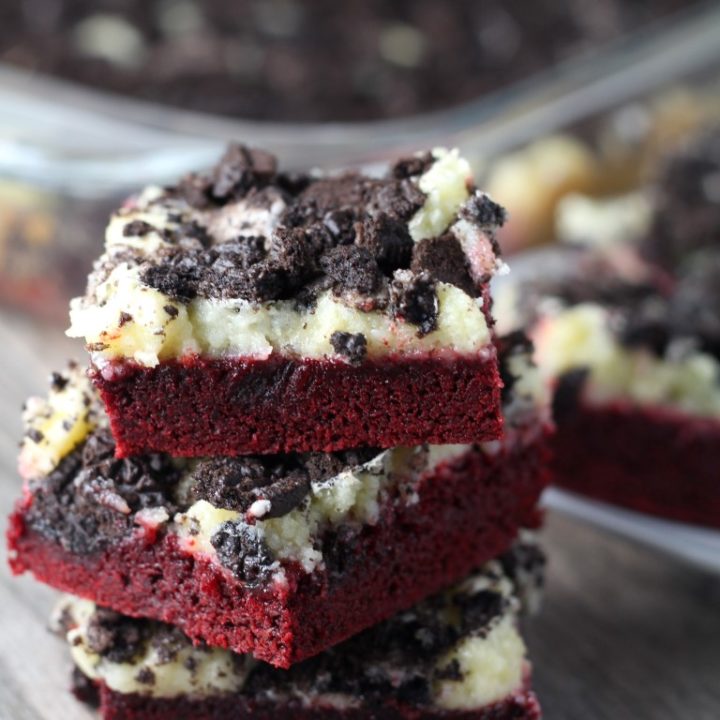 Red Velvet Cookies and Cream Bars
Yield: 24 bars

Prep Time: 20 minutes

Cook Time: 25 minutes

Total Time: 45 minutes

6 Ingredients is all you need to make these gooey red velvet cookies and cream bars. A rich red velvet layer topped with a creamy cookie layer.
Ingredients
1 red velvet cake mix (mine was 15.25 ounces)
1/2 cup butter, melted
3 eggs, divided
8 ounces cream cheese, softened
2 cups powdered sugar
2 cups chocolate sandwich cookies, crushed
Instructions
Preheat oven to 350 F. In a large bowl, stir together the red velvet cake mix, melted butter, and 1 egg. Press the dough into the bottom of a greased 9 x 13 inch pan. Set aside.

In a medium bowl, beat the cream cheese until creamy. Beat in the powdered sugar until smooth and then beat in the eggs until incorporated. Spread the cream cheese mixture on top of the red velvet dough.

Sprinkle with the crushed sandwich cookies. Bake at 350 F for 24-26 minutes or until done. Do not overbake. The center should be slightly jiggly. It will firm up when cool.

Cool and cut into bars
Nutrition Information:
Yield: 24 Serving Size: 1 bar

Amount Per Serving:

Calories: 214 Total Fat: 13g Saturated Fat: 8g Trans Fat: 0g Unsaturated Fat: 4g Cholesterol: 50mg Sodium: 110mg Carbohydrates: 22g Fiber: 1g Sugar: 18g Protein: 3g

Nutrition information may vary significantly based on ingredients used and portion sizes. We are not responsible the reliability of this data or your reliance on it. We are not responsible for the results of any recipe you try from this blog/website, Chocolatewithgrace.com. Your results may vary due to differences in ingredients, humidity, altitude, cooking temperatures, errors, or individual cooking abilities.


These other red velvet desserts would also make great Valentine's treats.
Mini Red Velvet Cheesecakes from Blahnik Baker
Red Velvet Bundt Cake from Chocolate, Chocolate and More
Red Velvet Cheesecake Cake from Recipe Girl
Try out some of my other favorite bar recipes
Raspberry Lemon No Bake Cheesecake Bars