These Sour Cream Cut Out Cookies are super soft and spread with a fluffy buttercream frosting. Similar to Lofthouse style sugar cookies.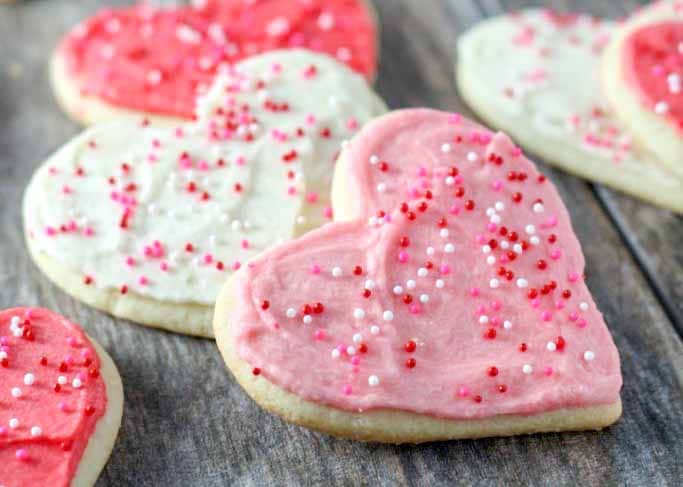 I always enjoy making cut out cookies for Valentine's day. It's kind of funny because I don't always make them for Christmas.
However, there something extra fun about pink sprinkles and fluffy buttercream on top of heart-shaped cookies. It just makes Valentine's baking that much better.
Valentine's Dessert Recipes
I love Valentine's recipes so much. A holiday all about love? How could I not enjoy baking this time of year? It's just plain fun and certain to make someone smile.
From heart-shaped Valentine's shortbread cookies to red velvet crinkle cookies and cake balls, these treats are always a hit.
For a spectacular dessert that is sure to make your sweetheart's day, these Chocolate Covered Strawberry Cupcakes are a showstopper.
Sour Cream Cut Out Cookies
This is my absolute favorite cut out cookie recipe. They're moist and soft and topped with a thick layer of buttercream frosting, rather than a hard glaze.
The sour cream in the dough is the secret. It can be a bit tricky to roll out the dough since the sour cream makes it sticky, but if you take the time to chill the dough thoroughly and keep it cold, it isn't a problem.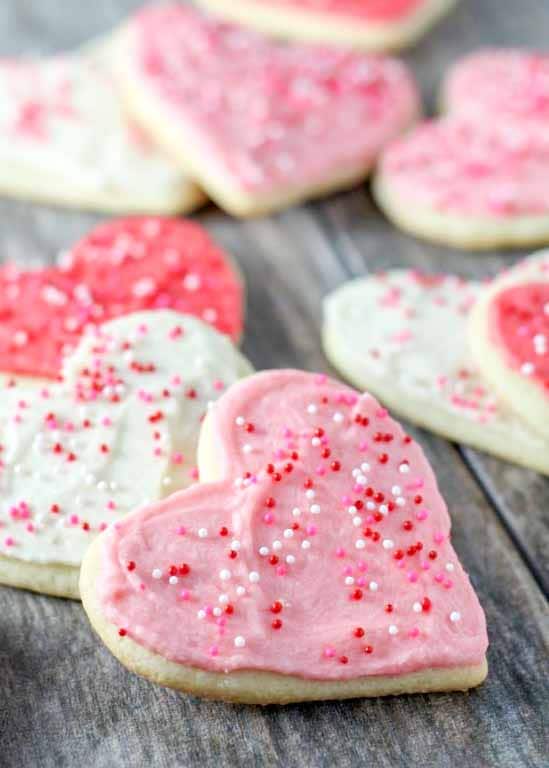 Sour Cream Cut Out Cookie Recipe
This is the perfect cut out recipe for you if you're looking for a soft (and delicious) cut-out cookie recipe, if you love buttercream frosting, and have the time and patience to invest in making them.
I'll remind you once again that the chilling time is critical for this recipe – at least 6 hours, preferably overnight. I typically mix up the dough the night before I'm planning to bake the cookies.
Since these cookies are designed to be soft, they do tend to spread a little bit. This is a terrific recipe for simple designs like hearts and Christmas trees.
For more intricate designs and a traditional cut out sugar cookie, I highly recommend this Sugar Cookie Recipe from In Katrina's Kitchen.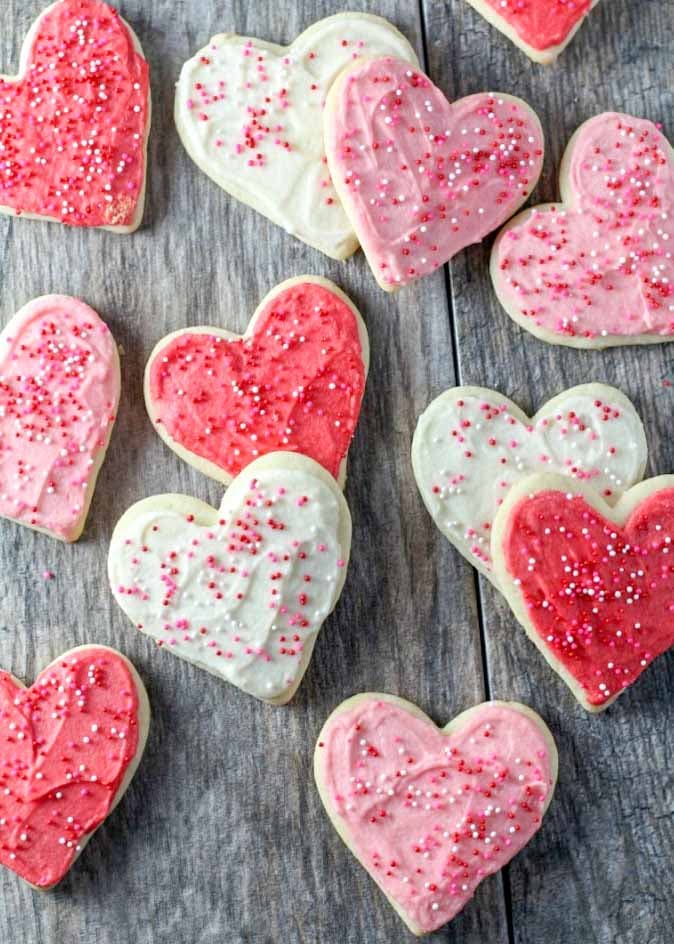 To Make The Cookie Dough
Beat the butter and sugar with an electric mixer until light and fluffy. Add in eggs and vanilla. Beat to combine. In a separate bowl, whisk together the flour, salt, and baking soda.
Add half of the dry ingredients to the wet ingredients and mix to combine. Add the sour cream and mix again. Add the remaining dry ingredients and stir until combined
Chill the dough for at least 6 hours, overnight is best.
To Bake The Cookies
Preheat oven to 325°F. Roll out about ⅓ of the cold dough to about 1/3-inch thickness on a well-floured surface. This is a sticky dough, so you will need to keep everything well-floured. Keep any dough that you are not working with in the refrigerator, so it will stay cold.
Bake the cookies for 9-11 minutes. Do not over bake them. They should still be pale when they come out of the oven. If the edges are browned, they won't be as soft.
Allow the cookies to cool on the cookie sheet for 1-2 minutes, before transferring them to a wire rack to cool. The cookies freeze well unfrosted. Allow them to cool completely before frosting.
To Frost The Cookies
Beat the butter with an electric mixer for 2 or 3 minutes, until fluffy. Slowly add the powdered sugar and continue beating. Add the vanilla and only enough of the milk or cream to make the frosting a spreadable consistency.
Use food coloring to tint the frosting with whichever colors you like. Frost the cookies and top with sprinkles, if desired.
{originally published 2/12/16 – recipe notes and photos updated 1/14/21}
Here are some other cut out cookies that look fun to make:
Rainbow Funfetti Cut Out Cookies from Sweet Sugarbelle
Chocolate Chip Cut Out Cookies from Made to be a Momma
Soft Gingerbread Cookies from Blossom to Stem
Mini Sugar Cookie Fruit Pizzas
Caramel Stuffed Pretzel Cookies