Peanut butter balls sandwiched between pretzels and dipped in chocolate are a salty sweet twist on a classic!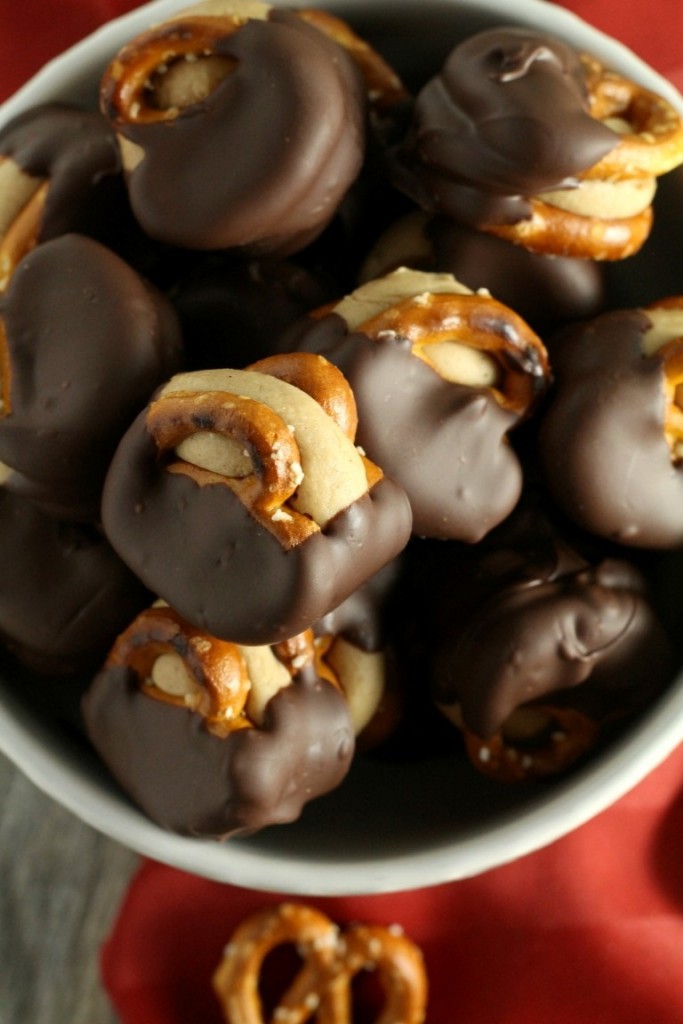 The Christmas baking bug gets me every year and even though we will have an especially busy December this year, I want to make all the recipes. I have already made plenty of recipes for December and I just need to edit the pictures and write the posts. But I still have about 20 great recipe ideas milling around my head I'd love to make.
If I'm still sharing Christmas recipes in January, you'll know why. I just about have enough posts for one every day in December, and I'm pretty sure I won't be able to post things that fast.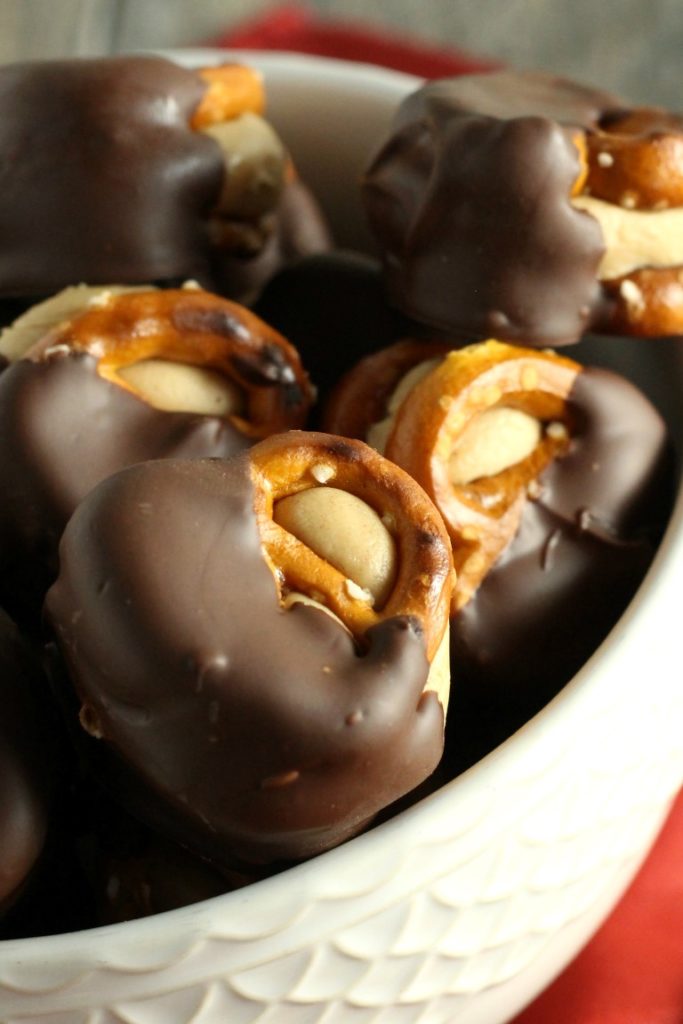 Also, while I'm dreaming of Christmas recipes, would you prefer a peppermint chocolate recipe, or a gingerbread recipe? I crave peppermint chocolate things at Christmas, but I have a soft spot for gingerbread, because my mom made gingerbread men every year for the Christmas cookie exchange.
These Peanut Butter Pretzel Buckeyes are a twist one of the most popular recipes on my site. I also have recipe for peanut butter balls with rice krispies that would be good sandwiched between two pretzels.
I know you love salty sweet treats because these salted caramel pretzel cupcakes are also super popular. I'm still not sure which version I prefer, the traditional peanut butter balls or these salty sweet pretzel ones. If you make them, let me know which ones you prefer.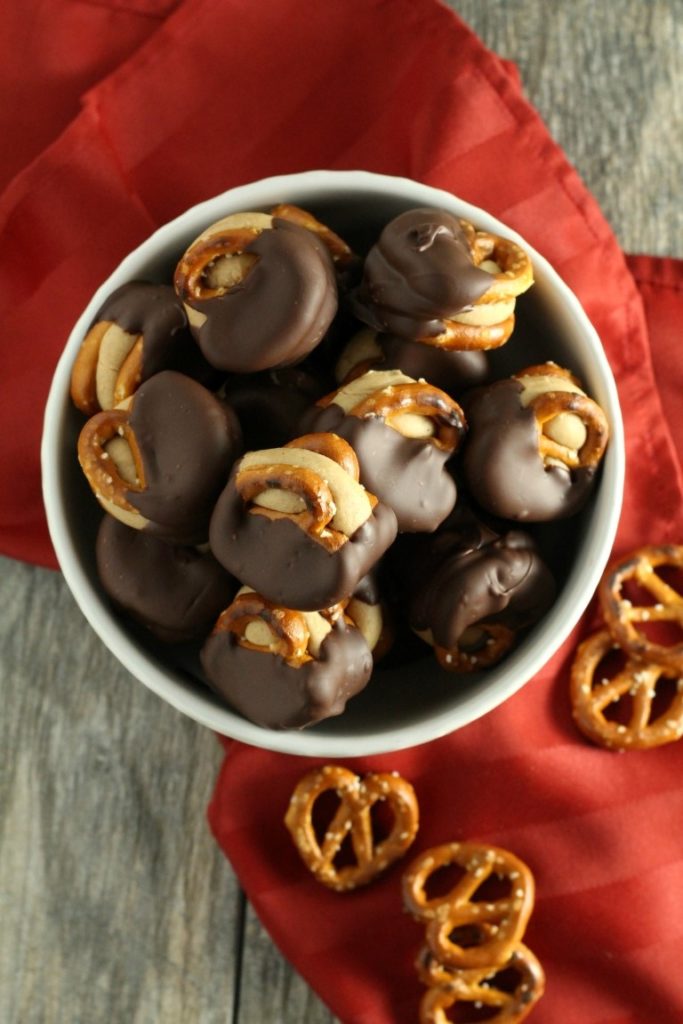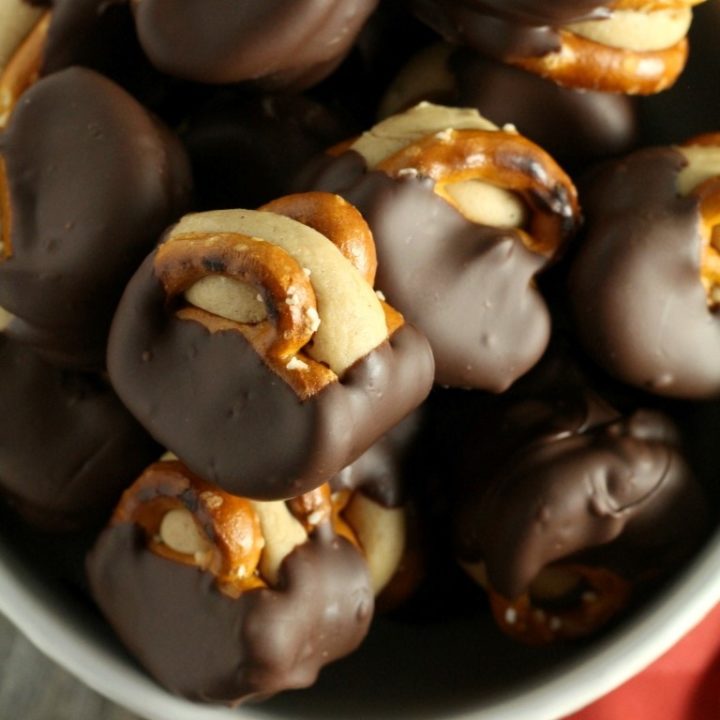 Peanut Butter Pretzel Buckeyes
Yield: about 40

Prep Time: 30 minutes

Cook Time: 1 minute

Inactive Time: 1 hour 39 minutes

Total Time: 2 hours 10 minutes

Peanut butter balls sandwiched between pretzels and dipped in chocolate are a salty sweet twist on a classic!
Ingredients
12 oz peanut butter,
1/2 cup butter, softened
1 teaspoon vanilla
1 pound powdered sugar
16 ounces semi sweet chocolate
80 mini pretzel twists
Instructions
In the bowl of a mixer, beat peanut butter and butter. Stir in vanilla. Add powdered sugar and beat on low speed until smooth.

Roll into 1 inch balls and sandwich between two pretzels. Place in the freezer for at least 1 hour.

Place the chocolate in a deep bowl and microwave for 10-15 seconds at a time, stirring between intervals, until melted.

Dip the chilled peanut butter balls three fourths of the way into the melted chocolate and place on wax paper to set.
Nutrition Information:
Yield: 40 Serving Size: 1 buckeye
Amount Per Serving: Calories: 387Total Fat: 12gSaturated Fat: 5gTrans Fat: 0gUnsaturated Fat: 6gCholesterol: 6mgSodium: 763mgCarbohydrates: 66gFiber: 3gSugar: 19gProtein: 8g

Nutrition information may vary significantly based on ingredients used and portion sizes. We are not responsible the reliability of this data or your reliance on it. We are not responsible for the results of any recipe you try from this blog/website, Chocolatewithgrace.com. Your results may vary due to differences in ingredients, humidity, altitude, cooking temperatures, errors, or individual cooking abilities.


While we are talking peanut butter pretzel treats, this Peanut Butter Pretzel Pie for Lil' Luna looks delicious. Or these Chocolate Peanut Butter Pretzel Bars would also cure the salty sweet cravings.
Also, be sure to try my traditional buckeye recipe!