A chocolate cupcake with salted caramel frosting and pretzels make a fun salty sweet treat.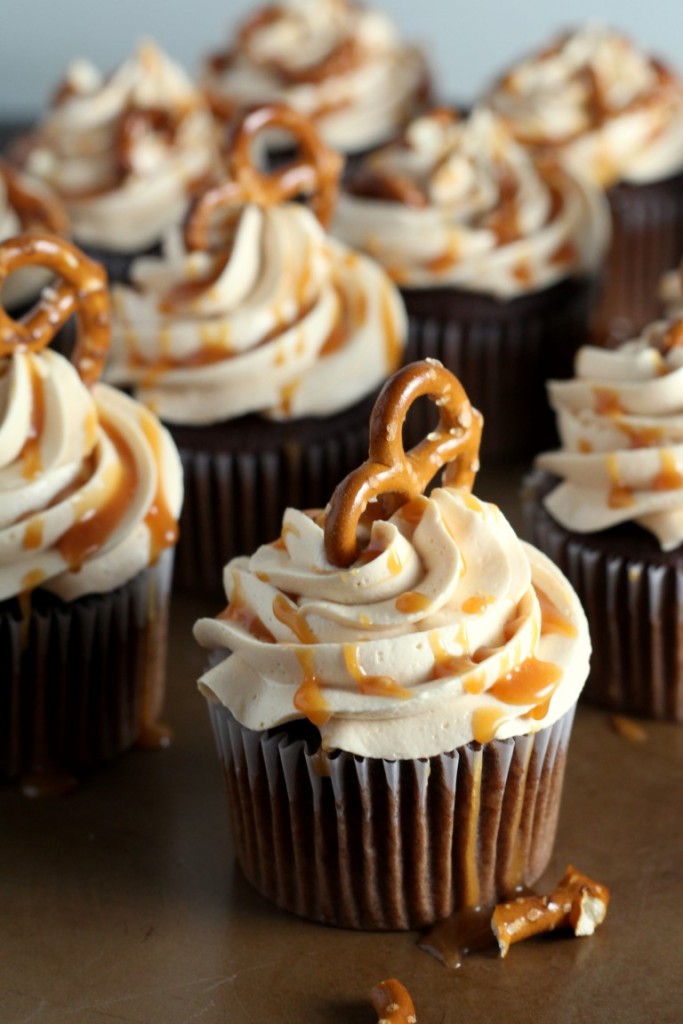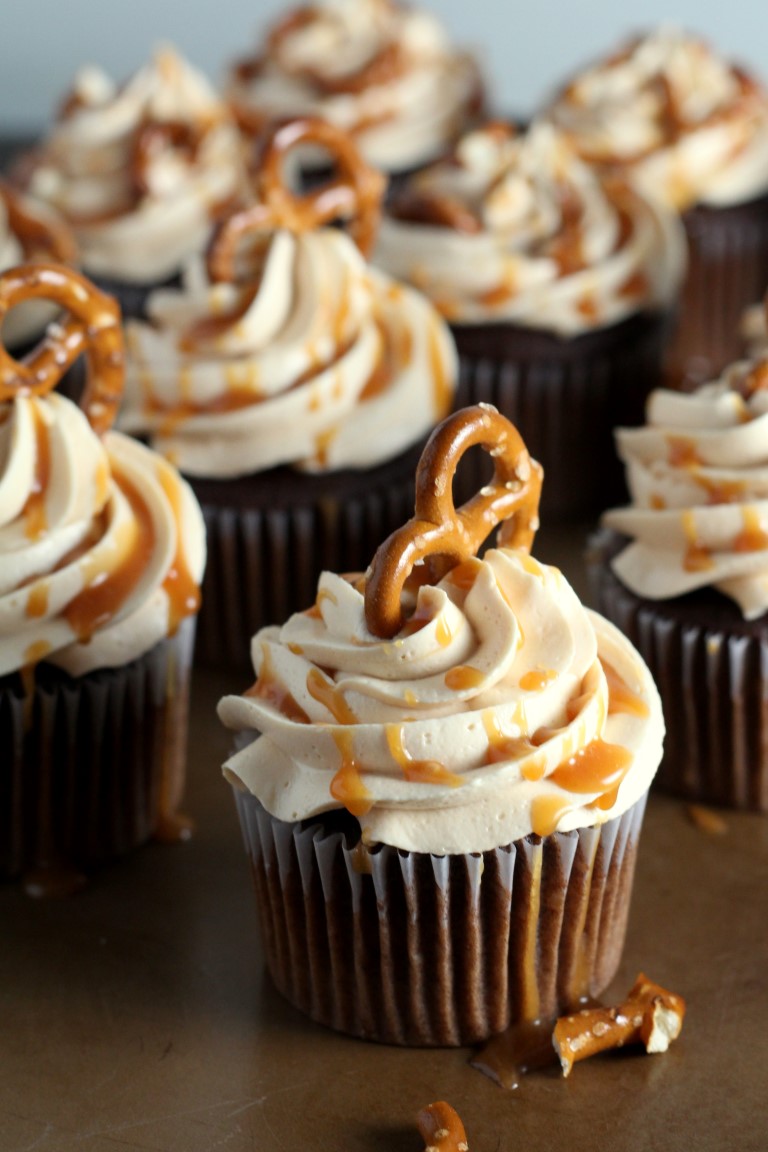 Totally unrelated to these Salted Caramel Preztel Cupcakes, but there's a story that's too funny not to tell. The last two weeks in August, Tyler was out of town for training in Delaware for 2 weeks. It was bad timing, as he left right after we returned from vacation. I was already experiencing the post-vacation blues and I was not excited about the prospect of being a single working mom for two weeks. (But I survived, and I am so thankful that is not my normal routine!) 
Anyway, I was grumpy that morning and I had made myself some toast with peanut butter and honey. I had to add the honey to brighten up my day a little. I brought them upstairs to eat while I nursed Cameron and set them down right beside where he was sitting.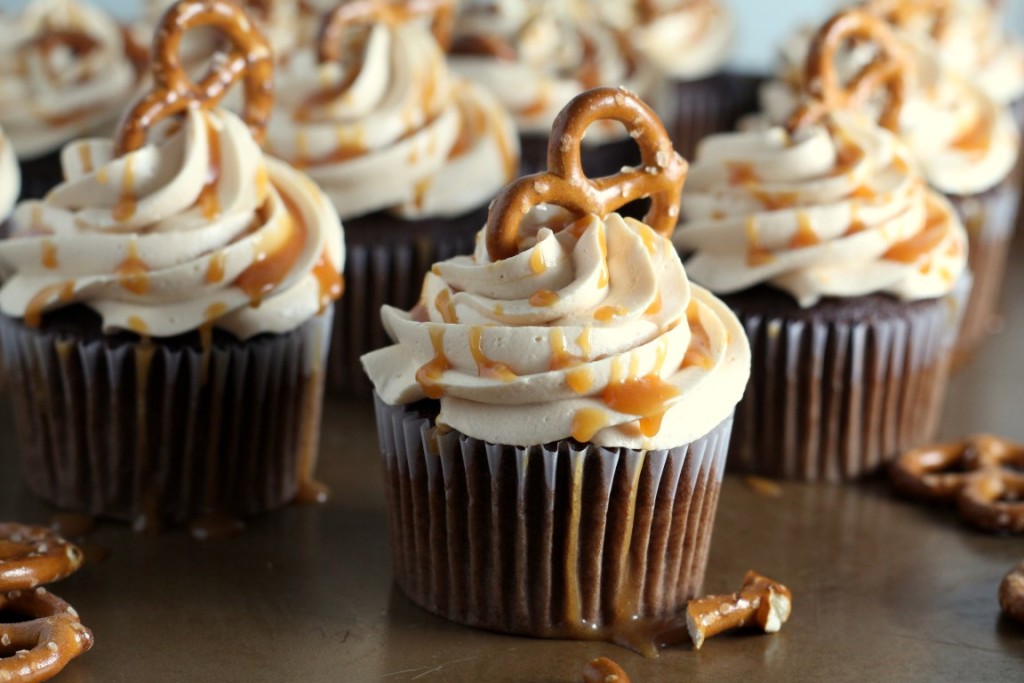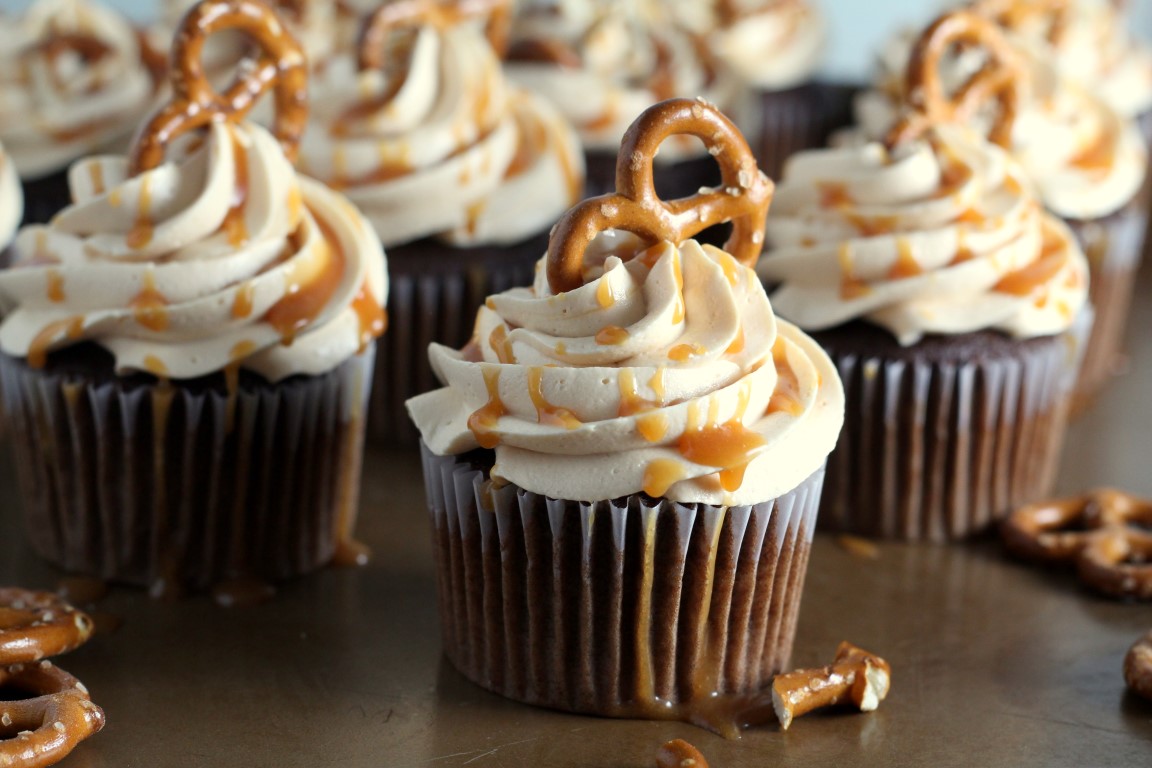 Now he is usually a pretty stable sitter and doesn't usually fall over. But for some reason, as soon as I set the plate with my honeyed, peanut buttered toast down beside them, he promptly fell backwards right onto my breakfast! I felt like crying at this point, because I didn't have time to clean peanut butter and honey off the back of his head. (Those have to be the two worst things you can get on your head don't they?)
But as I picked him up, the toast stuck to the back of his head and it was so comical, Tyler started laughing and then I realized how funny it was and laughed too and the morning mood was improved. At least he had a soft landing for his head I guess.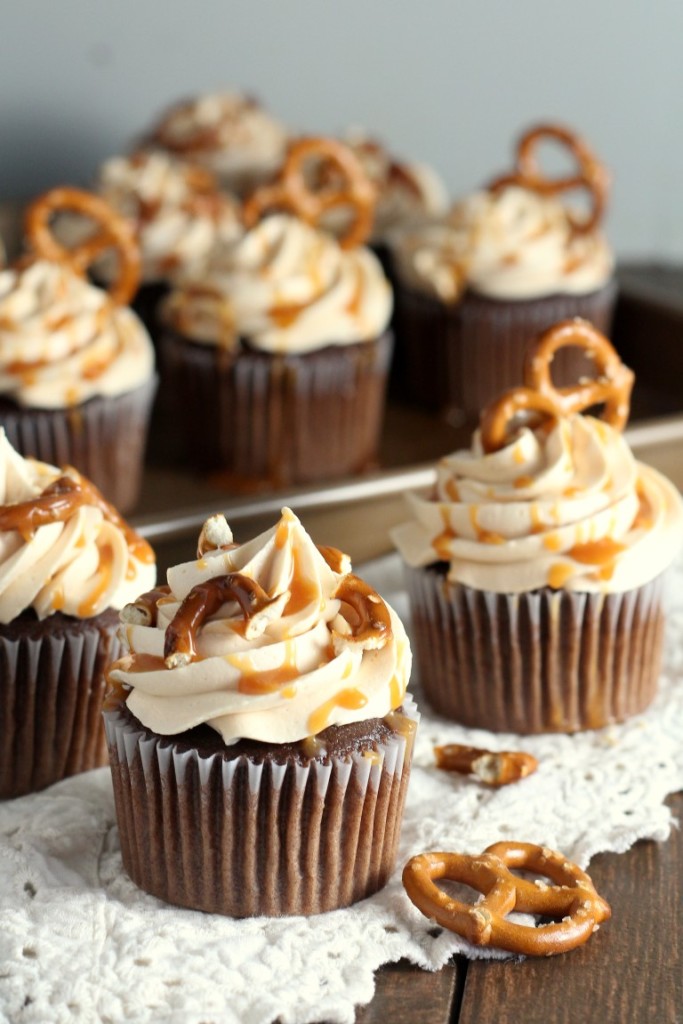 The inspiration for these cupcakes came from my favorite flavor of frozen yogurt, Salted Caramel Pretzel. I would always get that flavor on our yogurt date nights and top it with Reese's Peanut Butter Cups and more salted caramel. Tyler would always get strawberry with gummy bears. I made fun of him for that. Who want's hard gummy bears on their frozen yogurt? But he always made fun of mine too.
There's something about that salty sweet combination, especially when paired with chocolate that is irresistible. I've already made the flavor into these Caramel Stuffed Pretzel Cookies.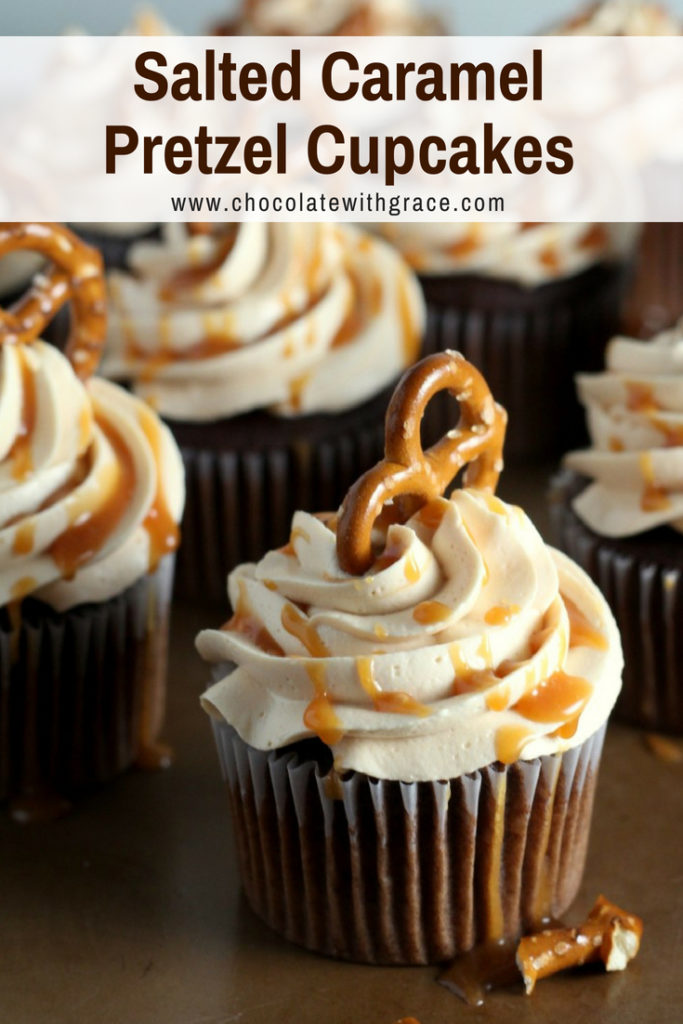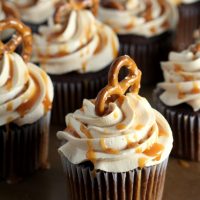 Salted Caramel Pretzel Cupcakes
Yield: 20 cupcakes

Prep Time: 30 minutes

Cook Time: 20 minutes

Additional Time: 20 minutes

Total Time: 1 hour 10 minutes

A chocolate cupcake with salted caramel frosting and pretzels make a fun salty sweet treat.
Ingredients
For the chocolate cupcakes
1 cup water
2/3 cup cocoa
1 tsp vinegar
1/2 cup butter, softened slightly
1 and ¼ cup white sugar
¼ cup + 1 T vegetable oil
2 eggs +1 egg yolk
1 and ¾ cup all purpose flour
½ tsp salt
½ tsp baking soda
For the salted caramel buttercream
3/4 cup softened butter
3 and 1/2 cups powdered sugar
2/3 cup salted caramel sauce, room temperature
1/4 teaspoon salt
1-2 tablespoons heavy cream or milk, room termperature
mini pretzel twists, for decorating
Instructions
Preheat oven to 350 F. Boil 1 cup water in microwave. Whisk in cocoa and vinegar until smooth. Let cool.

Meanwhile, in a stand mixer, beat 1 stick butter for 4 to 5 minutes on high speed. Add the sugar and beat for another couple minutes. Add the oil and eggs, mixing well.

In a separate bowl, whisk together the flour, salt and baking soda.

Add to the mixer and mix until just combined. Fill lined cupcake tins about 2/3 full.

Bake at 350 for 12-15 minutes or until they spring back when lightly touched. Cool completely on wire racks

To make the frosting, beat the butter until smooth. Beat in 3 cups of powdered sugar on high for 1-2 minutes or until smooth and fluffy. Beat in the caramel sauce, salt and enough of the milk or cream to reach a smooth consistency

Frost the cupcakes, generously of course 🙂 and top with mini pretzels.
Nutrition Information:
Yield: 20 Serving Size: 1 cupcake

Amount Per Serving:

Calories: 187 Total Fat: 14g Saturated Fat: 8g Trans Fat: 1g Unsaturated Fat: 5g Cholesterol: 61mg Sodium: 247mg Carbohydrates: 13g Fiber: 1g Sugar: 6g Protein: 3g

Nutrition information may vary significantly based on ingredients used and portion sizes. We are not responsible the reliability of this data or your reliance on it. We are not responsible for the results of any recipe you try from this blog/website, Chocolatewithgrace.com. Your results may vary due to differences in ingredients, humidity, altitude, cooking temperatures, errors, or individual cooking abilities.


Here are some other fun Salted Caramel Pretzel Treats
Salted Caramel Pretzel Chocolate Chip Cookies from Two Peas and Their Pod
Caramel Pretzel Magic Bars from Chef in Training
Salted Caramel Pretzel Brownies from Butter Baking
Caramel Stuffed Pretzel Cookies