A soft cookie stuffed with gooey caramel and loaded with lots of salty, crunchy pretzels. This is a glorious combination of sweet, salty with contrasting textures.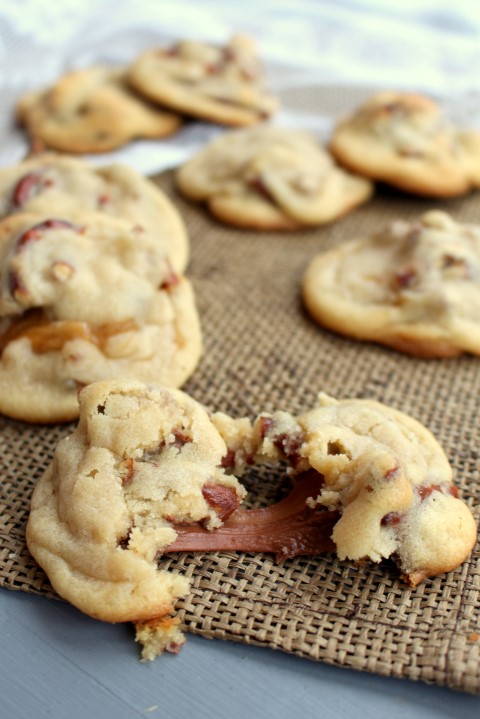 I have to give my husband credit for these amazing cookies. A couple of weeks ago, he was picking up groceries at the store and he brought home some bakery cookies.
Now, if you've ever lived the life of a food blogger, especially a food blogger who is obsessed with desserts, you will know that there is never a shortage of baked goods around the house.
We are up over our ears in cake, cookies, muffins, cheesecake, and brownies. Why did my husband bring home cookies from the grocery? Especially since, in my not-so-humble opinon, most grocery stores tend to have sub-par cookies.
However, these cookies weren't just the average chocolate chip cookie, there were caramel pretzel cookies. Just the name sounds pretty amazing, right?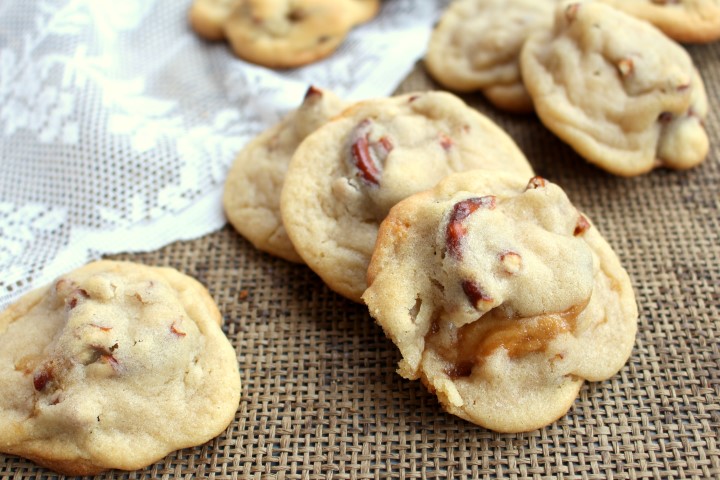 Anyway back to the grocery store cookies. They were good, but nothing life changing. However, I was still convinced these flavors could be made into one awesome cookie.
I started with my favorite cookie base. I added crushed pretzels and stuffed each ball of dough with a Rolo.
And then I waited for the cookie dough to chill, my least favorite part of cookie baking, but arguably the most important.
When these cookies finally came out of the oven, they were the softest, most fantastically gooey, caramelly, cookies with a fabulous salty crunch for contrast.
I don't know if those descriptors are all real words, but that was a sentence from my heart. These are awesome cookies!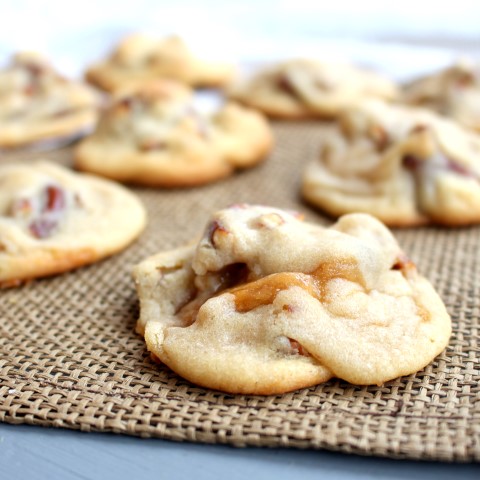 If you want to read some tips on how to make soft, puffy cookies, start by reading my post on the best ever chocolate chip cookies.
The basic recipe is very similar to these cookies. I also recommend eating these cookies within 24 hours of baking them, or else the pretzels become slightly stale.
They are still great on later days, but they are the best while the pretzel still have their crunch. Nothing else too complicated. Happy Baking!!
Caramel Stuffed Pretzel Cookies
Ingredients
3

sticks butter

softened (1 and 1/2 cups)

1

cup

white sugar

1

cup

packed brown sugar

2

eggs

room temperature

1

T

vanilla

4

cups

all purpose flour

2

T

cornstarch

2

tsp

baking soda

1

tsp

salt

3

cups

crushed pretzels

3

dozen Rolo candies
Instructions
Cream butter and sugars together in a large bolwl. Beat in egg and vanilla.

In a separate bowl combine flour, cornstarch, baking soda and salt. Add to butter mixture.

Stir until combined. Stir in crushed pretzels. Using about a tablespoon of dough, roll each ball around a Rolo, completely sealing the candy inside the dough

Chill for at least 2 hrs or up to a couple days if you don't want to eat them right away.

Preheat oven to 350 and grease cookie sheet. Bake for 8-11 minutes until edges are lightly brown. Do not over-bake. The centers may still look doughy.

Allow to cool on the cookie sheet for 5 minutes and then cool completely on wire rack.
Salted Caramel Pretzel Cupcakes