The classic PB & J sandwich remade into a fun summertime desert? These Peanut Butter and Jelly Ice Cream Sandwiches feature soft peanut butter cookies, vanilla or raspberry ice cream, and a layer of fruity goodness.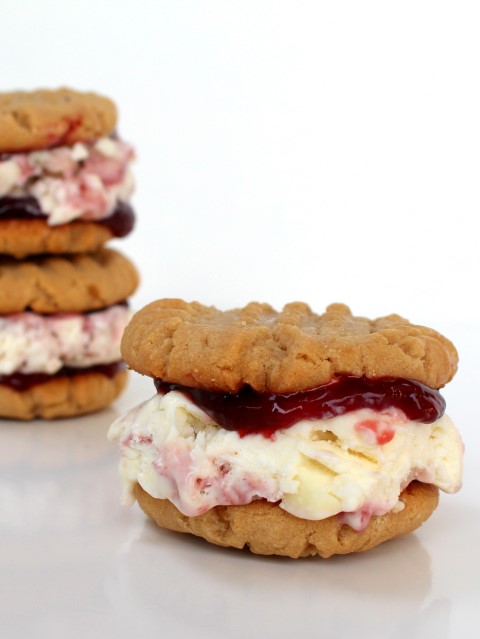 This recipe was inspired after a week of too many peanut butter and jelly sandwiches at work. Some days I am motivated and have wonderful, healthy lunches and other days I end up with a peanut butter sandwich; the result of not getting up early enough. At work I was dreaming up how I could improve the classic sandwich for a better lunch and of course my sugar-lovin' mind turned it into desert. Now this doesn't solve my lunch problem, but it did create a fun easy treat for Tyler and I one very hot evening.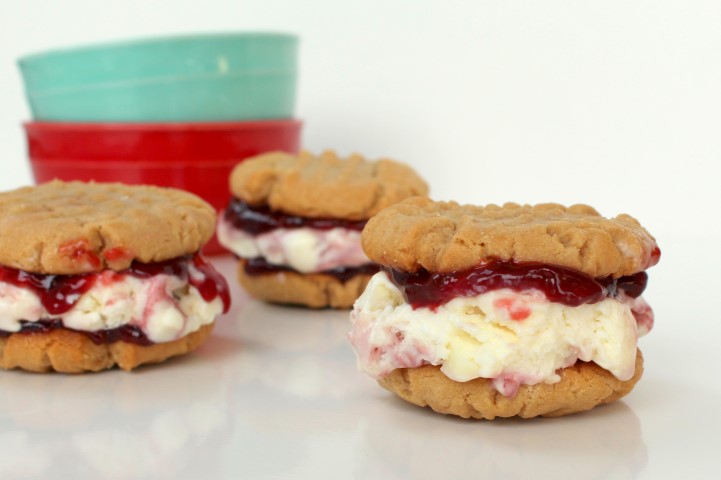 I should know by now not to try and take ice cream picture on sultry 90 degree days. As I've mentioned before, I take almost all of my pictures outside and ice cream just doesn't sit there nice and pretty on a hot day waiting for it's picture to be taken like a cookie does. A smarter food blogger would have planned this recipe out months ago and photographed it in cooler days gone by. But who dreams about ice cream in the winter? If I was considering a peanut butter and jelly reincarnation in the winter, I would have probably dreamed up peanut butter and jelly hot chocolate. Yep, be glad the inspiration struck me when it did.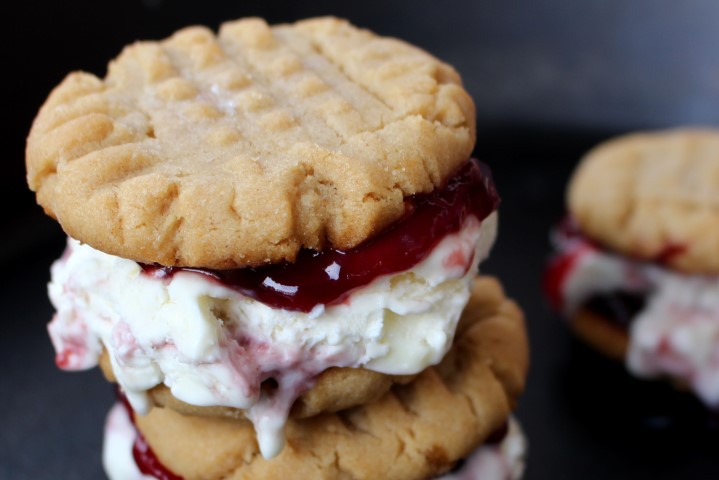 As far as actually making these peanut butter and jelly ice cream sandwiches, I probably don't even need to tell how as a picture is pretty self explanatory. However, I will give you a few tips to make the best ice cream sandwiches ever. Start with the best peanut butter cookies. I know I've mentioned this before, but I love the classic Jif Peanut Butter Cookie recipe. You won't catch me trying to develop a new one anytime soon. Spread a layer of your favorite jelly on the bottoms of the peanut butter cookie. Place these in the freezer for about 20 minutes to stiffen up the jelly a bit. This will keep it from dripping. I used jelly because that is what I had on hand, but if you want to cut the sweetness a bit, use a simple fruit puree instead. Spread a thick layer of ice cream (vanilla or strawberry would be best) and top with another cookie. I would advise eating them quickly and not trying to take their picture outside on a hot day! 🙂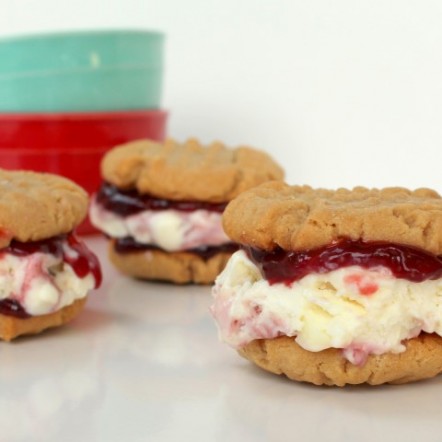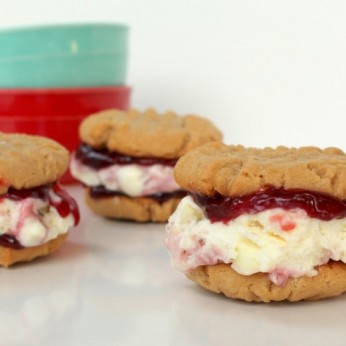 Peanut Butter and Jelly Ice Cream Sandwiches
Ingredients
12

of your favorite peanut butter cookies

6

T

of your favorite Jam or fruit puree

2

cups

strawberry or vanilla ice cream
Instructions
Spread about a tablespoon of jam or fruit puree on the bottom of 6 of the cookies. Place on a plate in the freezer for about 20 minutes

Remove from the freezer and place a scoop of ice cream on top of the jam. Top with another cookie and enjoy immediately.