No Bake Peanut Butter Cookies with oatmeal are the perfect treat when a late night craving hits. They're quick and easy to make and satisfy everyone's sweet tooth.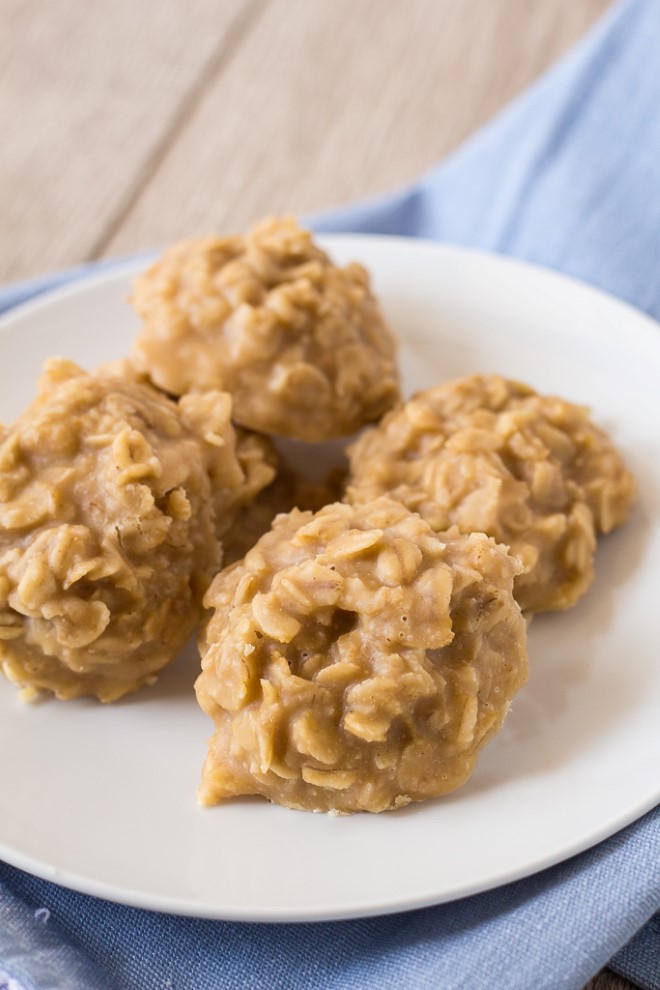 Me and my kids have been on a peanut butter kick lately. They've been asking for peanut butter spoons for snack, which are just what they sound like, peanut butter on a spoon. We've been making the best peanut butter cookies (and the chocolate chip peanut butter cookie version too!) on the regular, but sometimes when we want something quicker, we make these no bake peanut butter cookies.
You're sure to have these ingredients in your kitchen at any given time, so when you're ready for a quick and tasty dessert for you and your family, I know you'll remember these great no bake peanut butter cookies.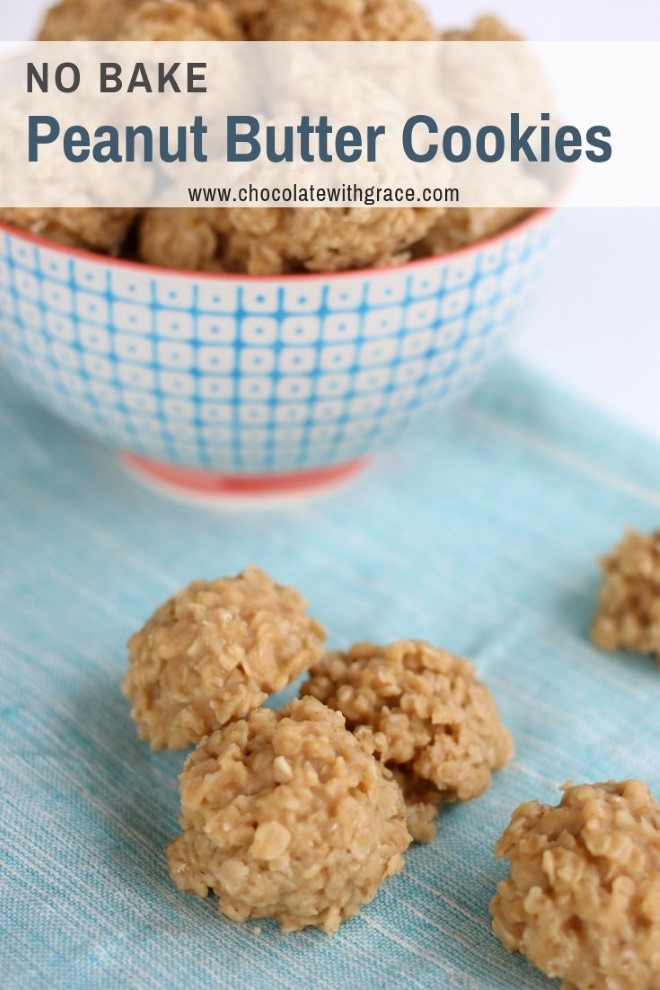 Ingredients for no bake peanut butter cookies
As I said, I'm all about simple ingredients, and these take you back to the basics. You'll need oats. I prefer the quick cooking kind, but you can go with what works for you. Yes, gluten-free oats work well in this recipe if you follow a gluten-free diet.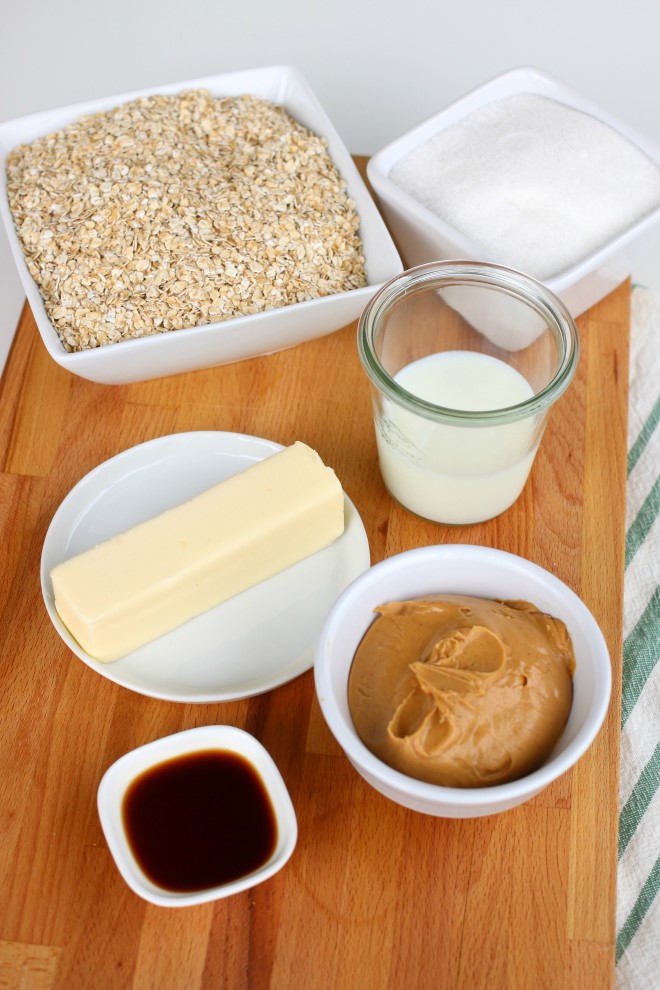 Peanut butter is the star of this show. Smooth peanut butter is best unless you want your cookies to have peanut chunks, in that case, the chunkier, the better. Be careful when using natural peanut butter where the oil separates. Since these are no bake cookies, you need the mixture to set well, and if the peanut butter is too soft, it can mess up the texture of the cookies.
You'll also need vanilla, sugar, milk, and butter. I prefer white granulated sugar and unsalted butter, but you can choose what works best for you. If you follow a vegan diet, you can easily adjust this recipe by using a non-dairy milk option and non-dairy butter.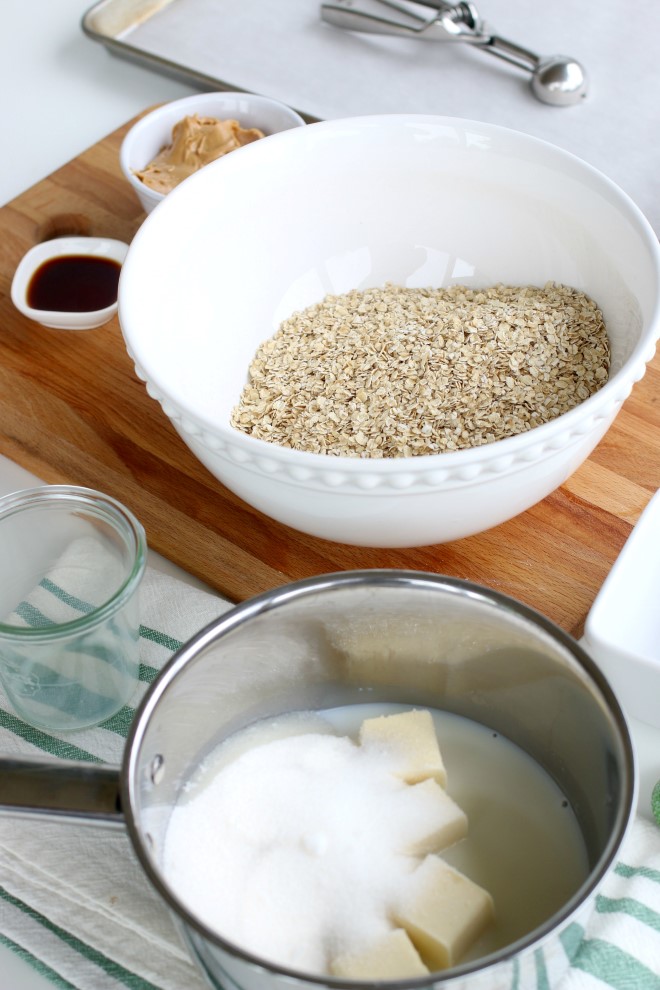 How to make no bake peanut butter cookies
If you think the ingredients are simple, just wait until you read the directions. First, you're going to measure out your oats and place them in a large bowl. In another bowl, mix your peanut butter and vanilla extract together and set it aside.
Grab a small saucepan and mix the sugar, milk, and butter until they combine. Then, turn on the stove and stir the sugar mixture until it begins to boil. Once it starts boiling, set a two-minute timer, and continue mixing until the two minutes are up.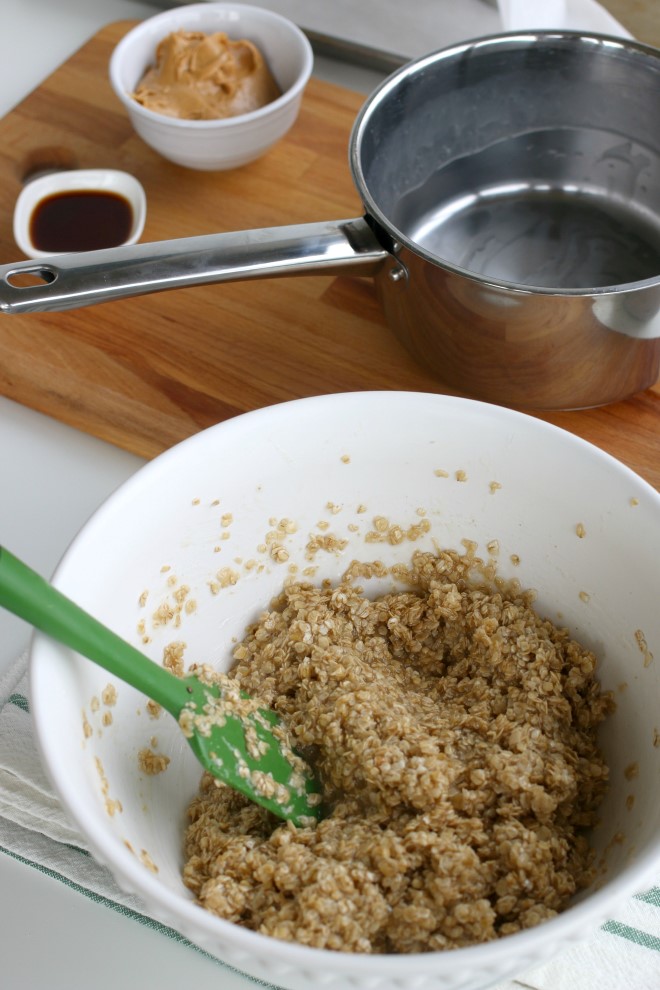 Immediately after the timer goes off, add your warm sugar mixture to the bowl of oats and stir them together gently. Next, add the peanut butter and vanilla mixture and stir everything until they combine nicely.
Now it's time for the fun part. Grab a cookie sheet and line it with parchment paper if you have it. Quickly scoop the cookie mixture onto the cookie sheet. It's important that you get your cookie dough onto the cookie sheet fast. If not your dough might start to set before it's in the proper form on the cookie sheet.
Now, let your cookies cool, then and it's time to enjoy!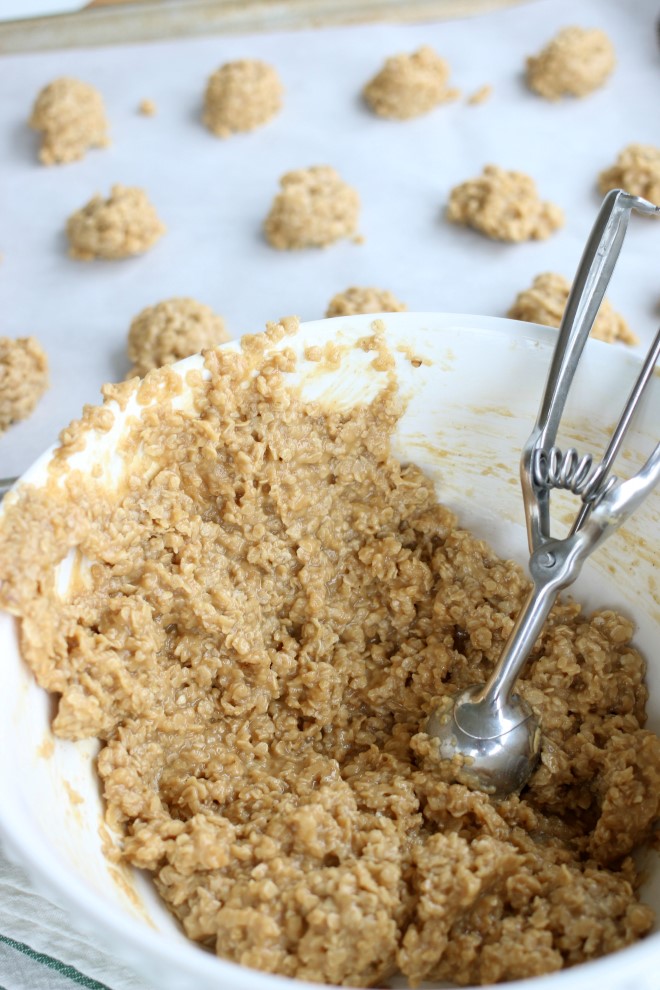 Tips when making no bake peanut butter cookies
Cooking is a science, but it's also an art form. Use this recipe as a guide, but if need be, make the changes necessary for it to work for you.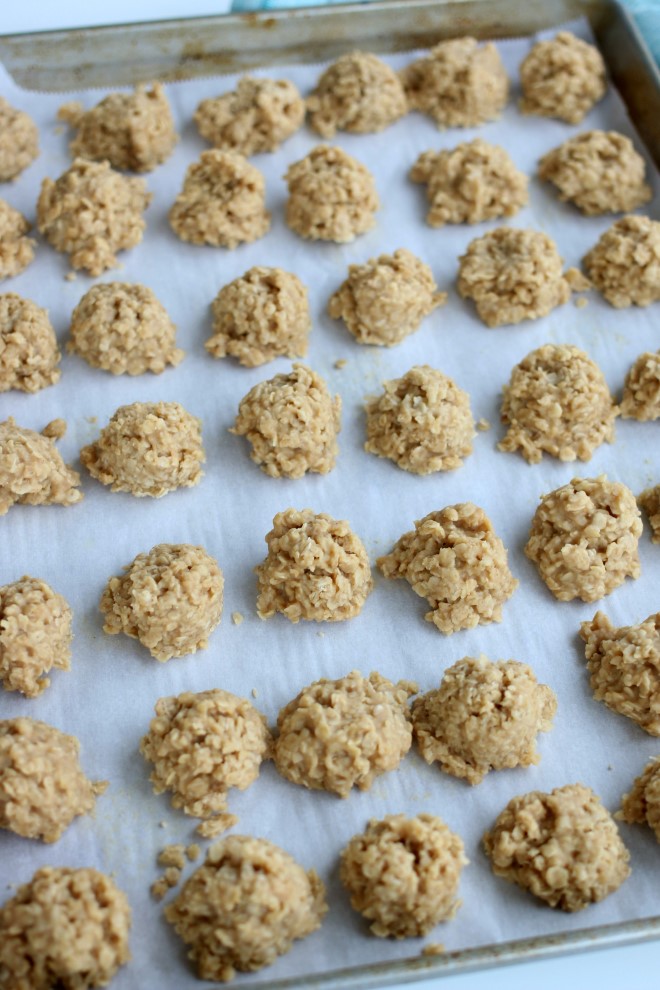 I've made these cookies many times, and I've found that a surefire way for them to not set up correctly is for the sugar mixture to not boil long enough. Be sure not to cut the boiling time because this process is crucial if you want your cookies to have the right texture. Also, keep in mind that if you boil the mixture too long, your cookies can turn out crumbly.
You want to give the cookies at least an hour to set up. If they still haven't done so after an hour, place them in the refrigerator to speed up the process.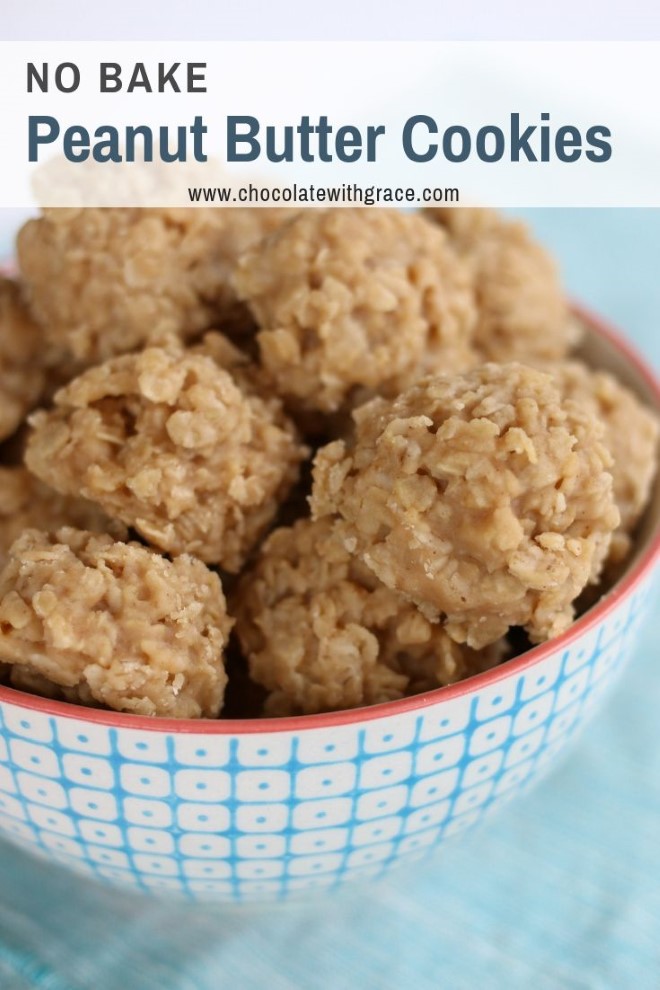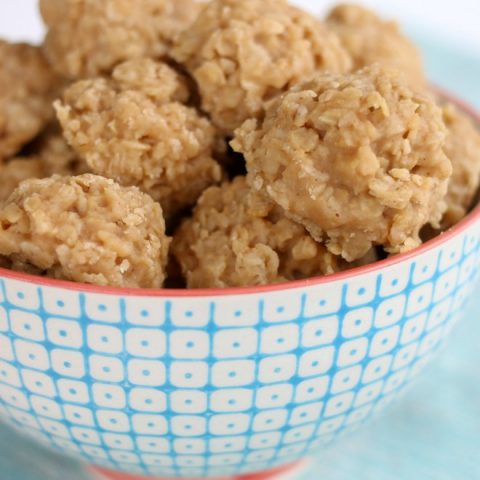 No Bake Peanut Butter Cookies
Yield: 42 cookies

Prep Time: 15 minutes

Additional Time: 30 minutes

Total Time: 45 minutes

No Bake Peanut Butter Cookies with oatmeal are the perfect treat when a late night craving hits. They're quick and easy to make and satisfy everyone's sweet tooth. 
Ingredients
1 3/4 cups granulated sugar
1/2 cup milk
1/2 cup (1 stick) butter, unsalted
3 cups oats, quick cooking - gluten-free oats are fine to use
1/2 cup smooth peanut butter
1 teaspoon vanilla extract
Instructions
1. Measure oats and add to large bowl

2. Measure peanut butter and vanilla extract , set aside

3. In a small saucepan, whisk together sugar, milk and butter and stir to combine

4. Heat the sugar mixture on stove over medium heat, stirring constantly

5. When mixture begins to boil slightly, set the timer for 2 minutes

6. Continue to stir until the timer goes off

7. Immediately add mixture to oats, stir slightly

8. Add peanut butter and vanilla, stir just until combined

9. Working quickly, scoop cookies onto cookie sheet or parchment paper

10. Let cool. Store in airtight container.
Nutrition Information:
Yield: 42 Serving Size: 1 cookie
Amount Per Serving: Calories: 97Total Fat: 4gSaturated Fat: 2gTrans Fat: 0gUnsaturated Fat: 2gCholesterol: 6mgSodium: 17mgCarbohydrates: 14gFiber: 1gSugar: 9gProtein: 2g

Nutrition information may vary significantly based on ingredients used and portion sizes. We are not responsible the reliability of this data or your reliance on it. We are not responsible for the results of any recipe you try from this blog/website, Chocolatewithgrace.com. Your results may vary due to differences in ingredients, humidity, altitude, cooking temperatures, errors, or individual cooking abilities.

If you're looking for other easy, no bake cookies, check out these from other bloggers.
No Bake Samoa Cookies from the Domestic Rebel.
No Bake Avalanche Cookies from Baking You Happier
No Bake Almond Joy Cookies from Mom's Dinner
I also have a recipe for The best peanut butter cookies you should check out.