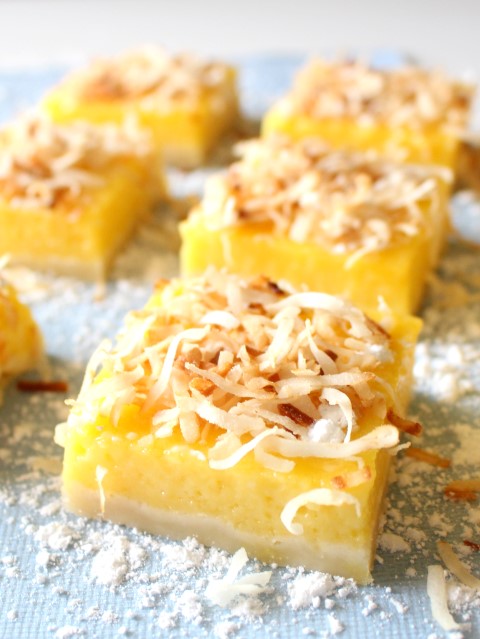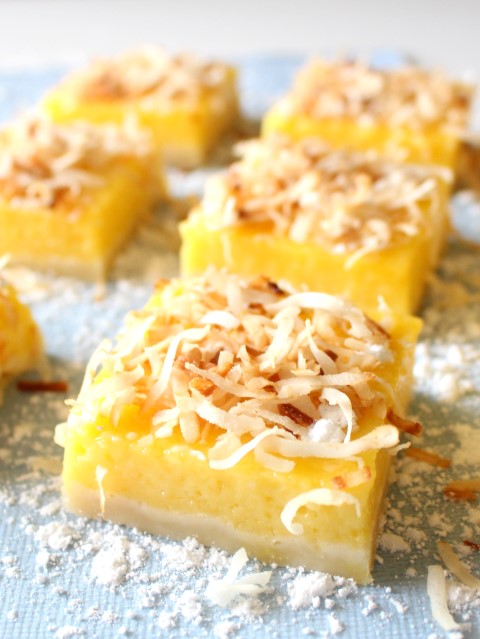 Mangoes were on sale last week at the grocery store, and even though they're not something I usually buy in the summer (with all the fresh local fruits that abound Lancaster County, PA) I had to get a few. My family and I are a bit mango crazy, so I asked my sister what I should make with them and she basically told me it was a crime to use them in any way besides eating them plain. I almost agree; Plain mangoes are fantastic, and you probably get the most health benefits from eating them that way, but when I have 5 ripe mangoes sitting on my counter (no wonder they were on sale!), I have to do something fun with them! Thus these cheery little bars were born: the second best way to eat a mango.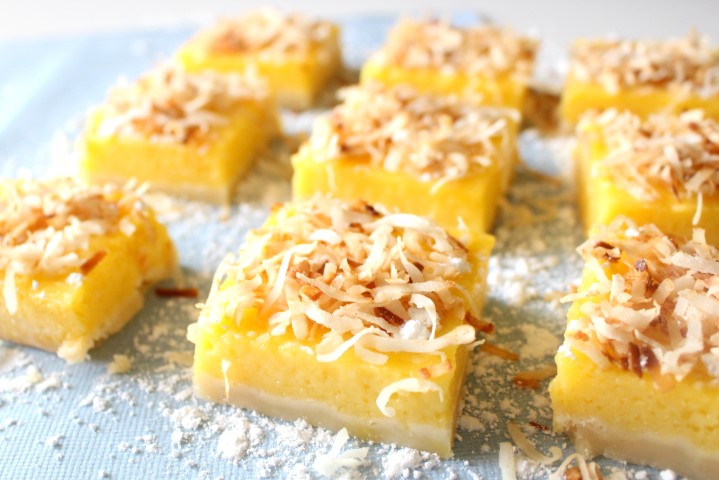 Nothing fancy, but absolutely tasty! They are very similar in consistency to a lemon bar. Feel free to leave off the coconut and use a simple dusting of powdered sugar instead.
Mango Lemon Bars with Toasted Coconut
Ingredients
For the Crust

1 and 3/4 cup all purpose flour
1 and 1/2 stick of cold butter
1/4 cup powdered sugar

For the Filling

5 eggs
1 and 2/3 cup granulated sugar
1/3 cup lemon juice
1 and 1/2 cup mango puree*
1/2 cup flour

Topping

Additional powdered sugar for sifting
1 cup toasted coconut
Instructions
Preheat oven to 350 F. Grease and flour a 9 x 13 inch baking pan. In a medium bowl, mix together 1 and 3/4 cup flour and powdered sugar. Cut in cold butter with a pastry blender until the mixture resembles coarse crumbs. Press the mixture into the bottom of the baking pan. Bake for 8-9 minutes or until the crust is lightly browned. Let cool.
Meanwhile, beat together eggs and granulated sugar. Stir in lemon juice and mango puree. Lastly, gently stir in 1/2 cup flour. Pour mixture over the crust. Reduce heat in the oven to 325 F and bake for 22-25 minutes or until set. Let cool and refrigerate at least 2 hours before cutting bars. Dust with powdered sugar and sprinkle with toasted coconut.
* to make the mango puree, combined 2 cups diced mangoes, 1 Tablespoon water and 1 Tablespoon granulated sugar in a small saucepan. Bring to a simmer over medium low heat and simmer for 10 minutes. Remove from heat and let cool. Process in a blender until smooth.
https://chocolatewithgrace.com/mango-lemon-bars-toasted-coconut/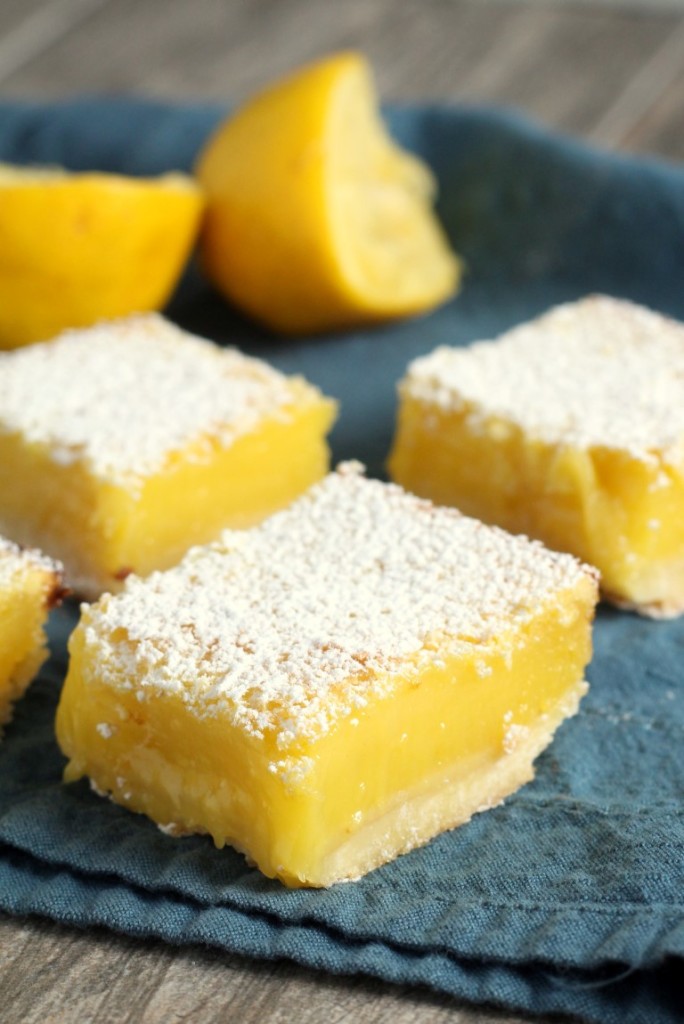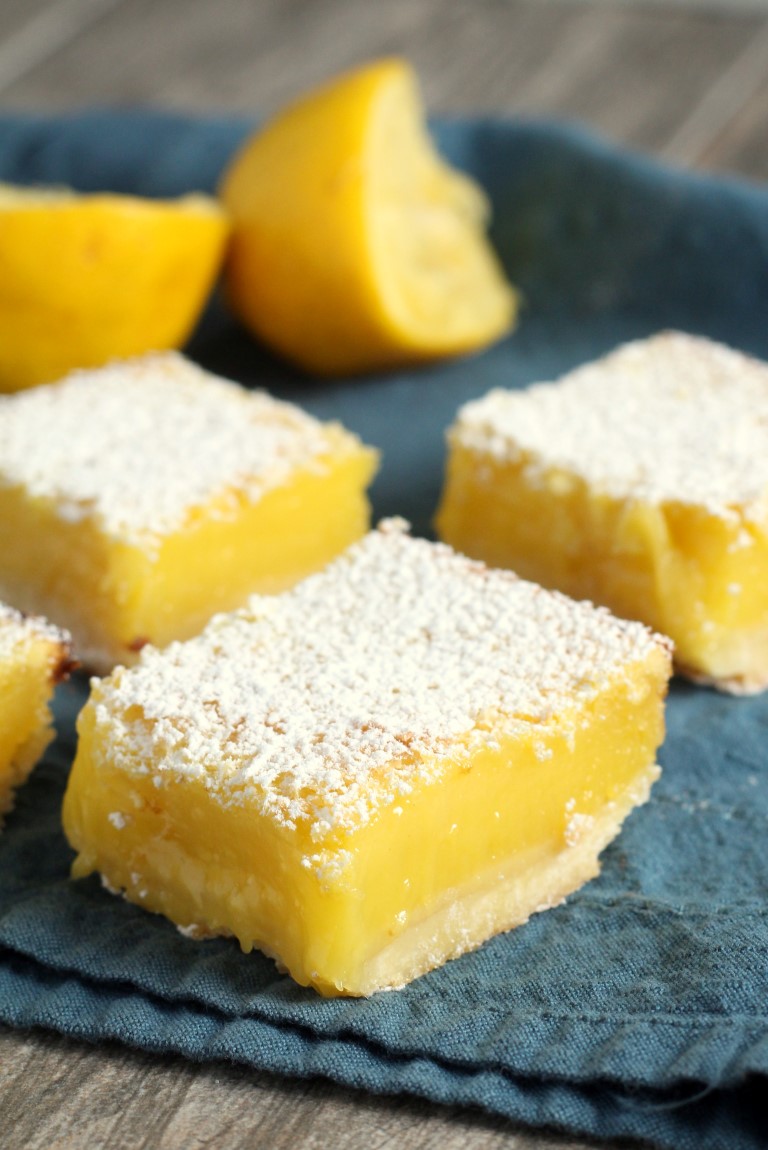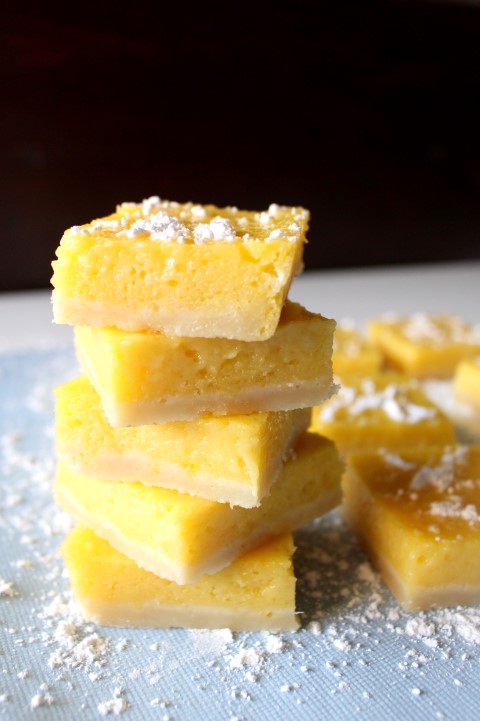 Similar to the traditional lemon bar, except with an extra tropical flair. They start with a shortbread crust, feature a smooth mango lemon filling and are topped with slightly sweet toasted coconut.