Nutella S'mores Cookie Pie is a  fun indulgent s'mores dessert. Everyone will love the warm graham cracker cookie, sticky marshmallow and the rich hazelnut chocolate layer. Be sure to have friends around to help you eat it.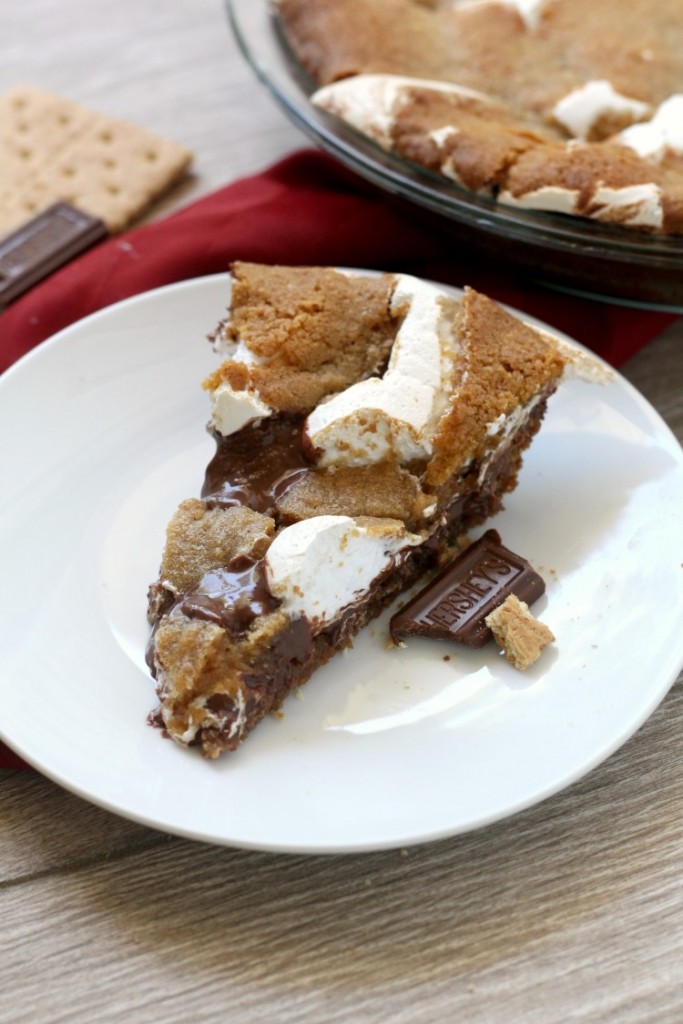 Guess who just got back from Germany a few days ago? I mentioned a fun trip we were going to take a few posts back, but I don't think I ever told you where. We are still recovering from jet lag a bit, but we had the best time. We left the kids with my inlaws who kindly watched them for a whole week.
This was the first time we have left Cameron for more than a night or two and the first time we had ever left Ashtyn at all. I missed them some, but I loved having the quality time with Tyler. His work sent him to training in Germany for the week and I tagged along. We went the weekend ahead of time and did some exploring on our own.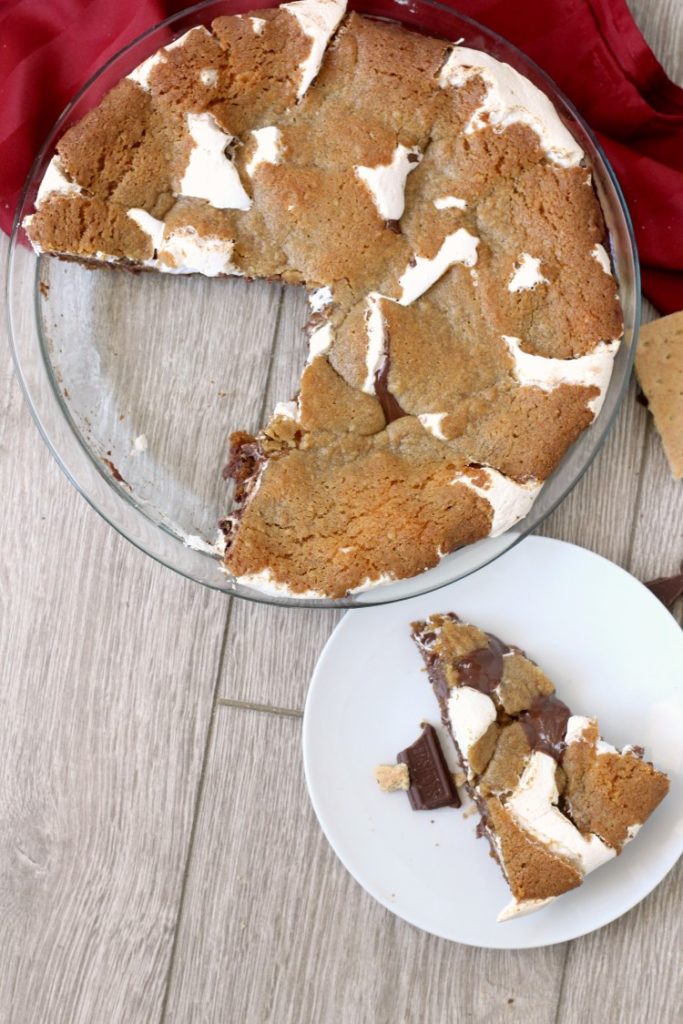 While he was in training, I explored the town we stayed in. It was cute and had the best walking district. I took a nap almost every day and even did a little work on my blog. Yay for quiet, uninterrupted time. And the breakfast every morning was the best, homemade bread, meat, cheeses and fruit.
It was such a relaxing and needed break from routine. But I'm a routine person so it's good to be home and cuddle my children again.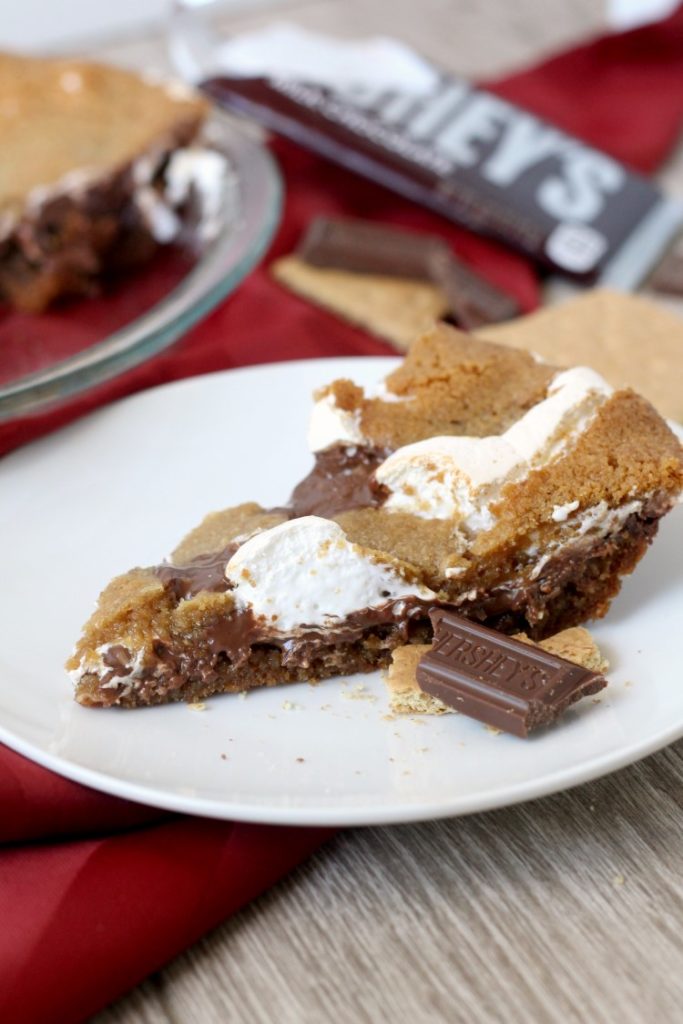 So I'm on a s'mores kick. (Check out the S'mores Brownie Bites I posted last week.) And this s'mores dessert is one to gather all your friends and loved ones around. First of all, it's too rich to eat on your own. Not that I know from experience 😉 I may have made it on a random Wednesday afternoon and had no one to share it with.
And I'm not exactly comfortable sharing half eaten desserts with our new neighbors yet. And second any s'mores or nutella loves within miles will come running when they smell this.  It's great served warm and you'll need a spoon to eat it that way. Or let it cool completely and you can cut it into bars and eat it with your hands. If you want, you could even make it in an 8×8 pan so you can have traditional bars, not pie pieces.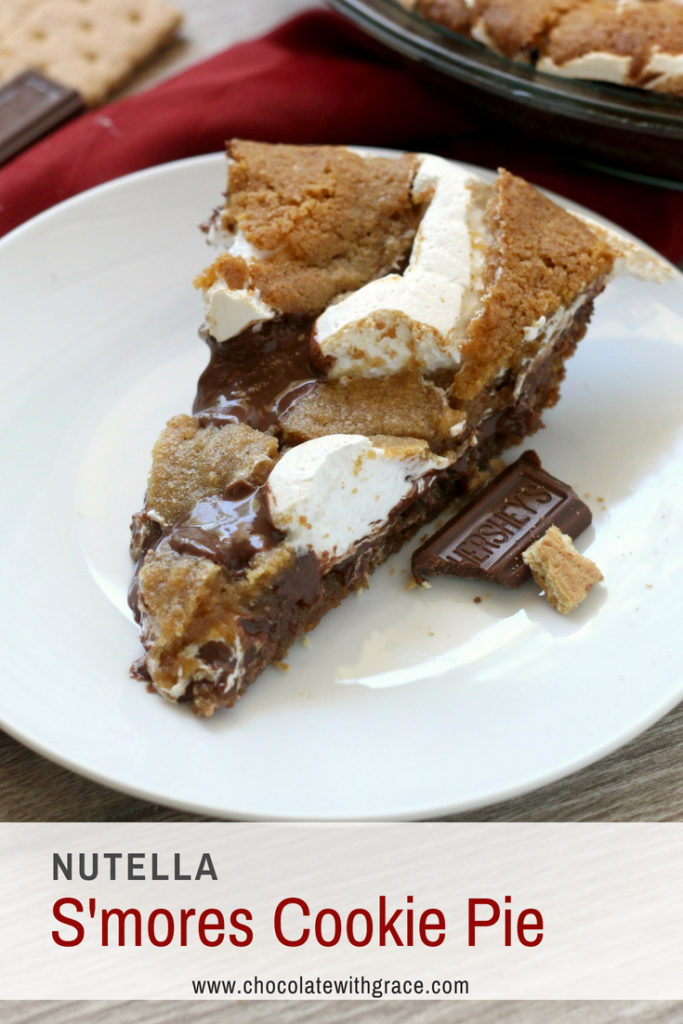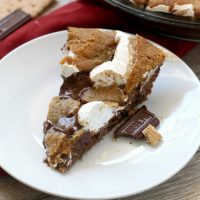 Nutella S'mores Cookie Pie
Yield: 8 servings

Prep Time: 20 minutes

Cook Time: 20 minutes

Total Time: 40 minutes

Nutella Smores Cookie Pie is a fun indulgent s'mores dessert. Everyone will love the warm graham cracker cookie, sticky marshmallow and rich hazelnut chocolate layer. Be sure to have friends around to help you eat it.
Ingredients
1/2 cup butter, softened
2/3 cup brown sugar
1 egg
1 teaspoon vanilla
1 cup all purpose flour
1/2 teaspoon baking soda
1/2 teaspoon salt
3/4 cup finely crushed graham cracker crumbs, about 7 sheets
1/2 cup nutella
3/4 cup marshmallow cream
Instructions
Preheat oven to 350 F. Cream the butter and brown sugar together in a large bowl until fluffy. Beat in egg and vanilla. Whisk together the flour, baking soda, salt. Add the dry ingredients and graham cracker crumbs to the wet ingredients and stir together.

Grease a 9 inch pie plate. Press 2/3 of the dough into the bottom of the pan. Spread with Nutella and then add the marshmallow cream by teaspoons. Crumble up the remaining dough and sprinkle over the top.

Bake at 350 F for 20-22 minutes or until top is lightly browned. Let cool at least 30 minutes before serving. It is good warm and completely cooled.
Nutrition Information:
Yield: 8 Serving Size: 1 piece

Amount Per Serving:

Calories: 366 Total Fat: 17g Saturated Fat: 12g Trans Fat: 0g Unsaturated Fat: 4g Cholesterol: 54mg Sodium: 365mg Carbohydrates: 49g Fiber: 1g Sugar: 30g Protein: 4g

Nutrition information may vary significantly based on ingredients used and portion sizes. We are not responsible the reliability of this data or your reliance on it. We are not responsible for the results of any recipe you try from this blog/website, Chocolatewithgrace.com. Your results may vary due to differences in ingredients, humidity, altitude, cooking temperatures, errors, or individual cooking abilities.


If you're looking for more over-the-top s'more recipes, try one of these from my friends below.
S'mores Stuffed Cookies from A Cookie Named Desire
Easy No Bake S'mores parfaits from Live Love Texas
Golden Graham S'mores Bars from Half Scratched
And here are some favorite S'mores recipes from my own blog.
Smores Brownie Bites