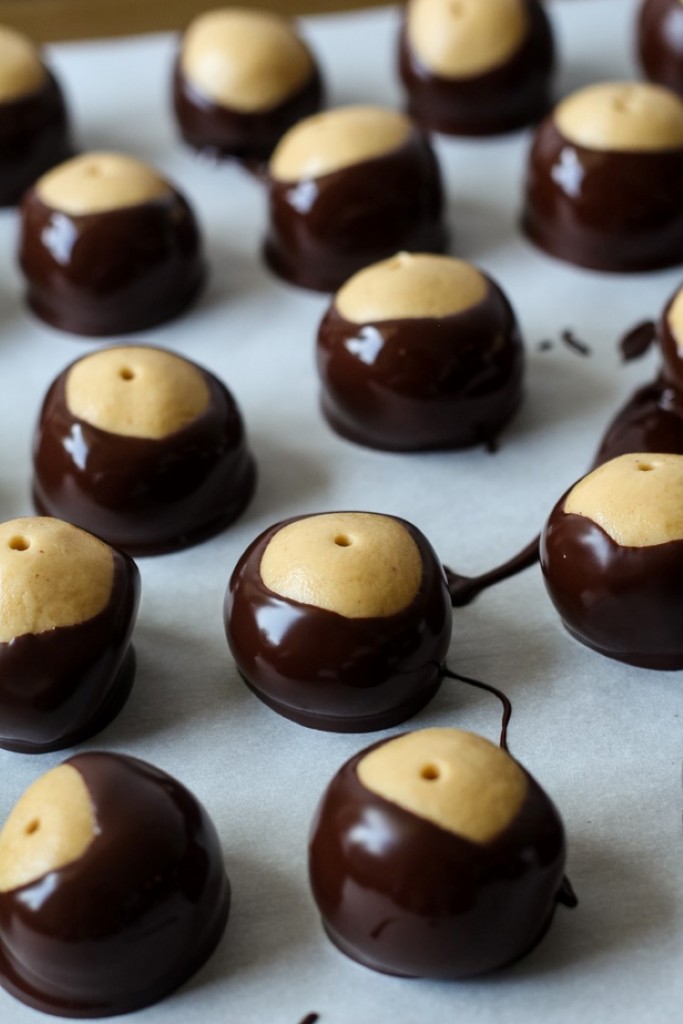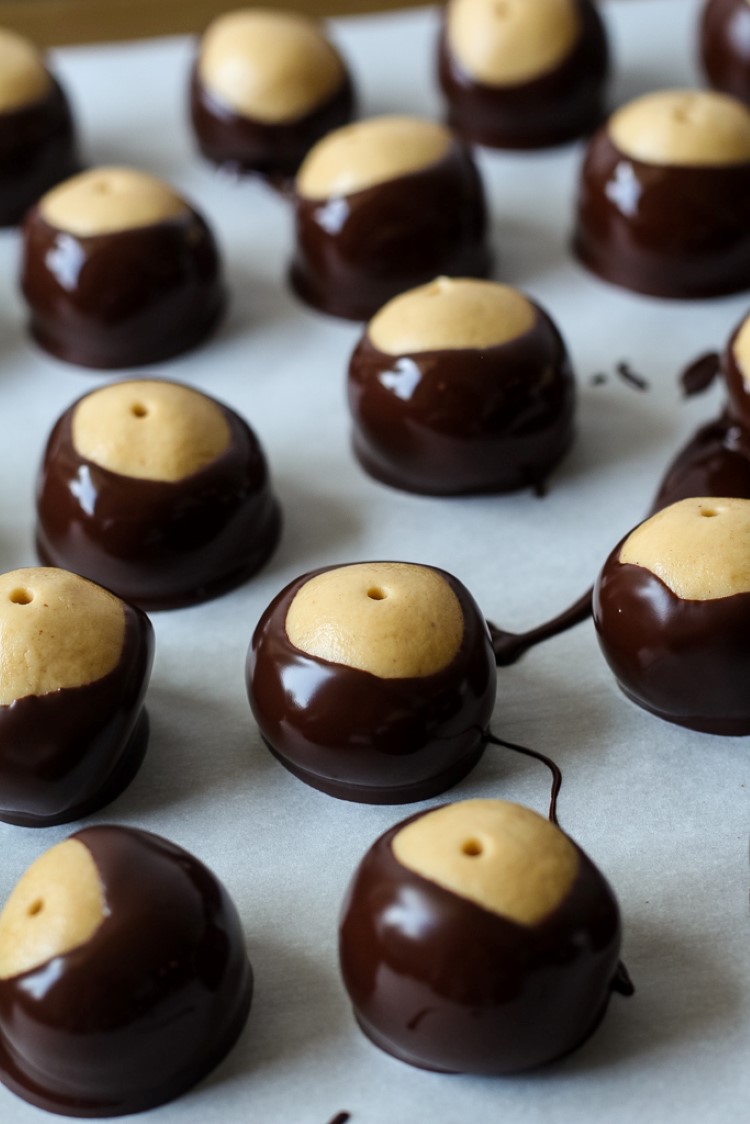 This post contains affiliate links. Please see my privacy page for more information.
This post was originally published in December 2014. I've updated it with a ton of information based on questions I was getting. Scroll to the bottom of the post for the recipe.
I grew up in Ohio, so I consider myself somewhat of a buckeye expert. Buckeyes have been a classic and absolute favorite for my family for Christmas ever since I can remember. I've updated this post in a FAQ style to answer all your buckeye questions. Consider this your ultimate guide to making buckeye candy.
Where does Buckeye Candy come from?
In Ohio, the state tree is the buckeye, and the nuts from the tree (Which are actually poisonous if eaten raw) look exactly like these candies.  The first Christmas my east-coast husband and I spent together, I asked him if he wanted a buckeye. He looked at me funny, but I soon found out they were one of his favorites too, only he knew them as peanut butter balls.
What is the difference between buckeyes and peanut butter balls?
In most recipes, the only difference is how they are dipped in chocolate. Buckeyes are only partially dipped in chocolate, leaving the peanut butter showing on the top. That way they look like the nuts from the buckeye tree. Peanut Butter Balls are traditionally covered in chocolate. (see the picture below.) This was one I messed up on and dipped the entire peanut butter ball in chocolate. Sometimes, peanut butter balls are made with rice krispies. I have a recipe for those on my site too.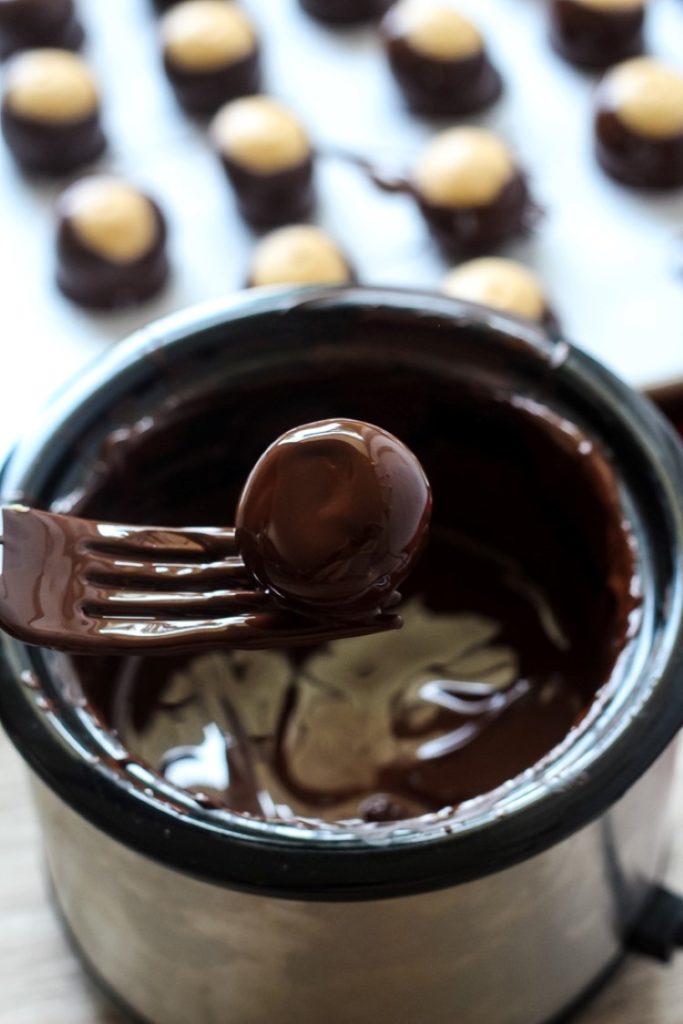 How to make Buckeye Candy
The actual process in simple, cream the peanut butter and butter until smooth. Then beat in the powdered sugar and vanilla. Roll into balls. Chill. Dip in Chocolate. Chill and enjoy. But there are a few handy tips I can give to make the process a bit easier.
First, use a heavy duty mixer. It makes beating the powdered sugar in much easier. I'm eyeing a Bosch Mixer like my mom has, which was the best. A Kitchen Aide is what I have and will do the trick with the cookie paddle. I've also used a large bowl, wooden spoon and some arm muscle with good results.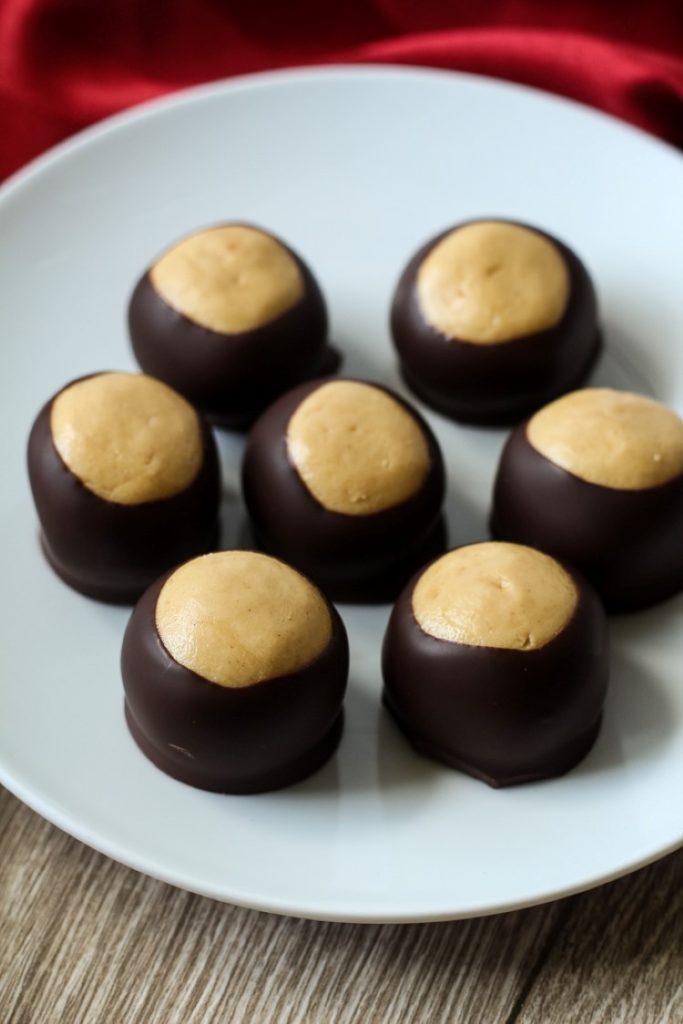 Why are my buckeyes dry and crumbly?
First, carefully measure the ingredients to get the correct ratios. This recipe is tried and true for thousands, so don't try and change it. The trick is to keep beating it until it's smooth. Don't quit too early. It can take 5-10 minutes of beating, depending on your mixing method to completely combine the peanut butter and powdered sugar, so keep beating it and it will probably come together.
The humidity and quality of ingredients can also make a difference, so if it isn't smooth after beating well, add a tablespoon of peanut butter at a time until it is smooth.
Why are my buckeyes sticky?
This could be because it's a very humid day or the brand of the ingredients. To fix this, add more powdered sugar, 1/4 cup at a time until it is firm and dry enough to roll between your palms.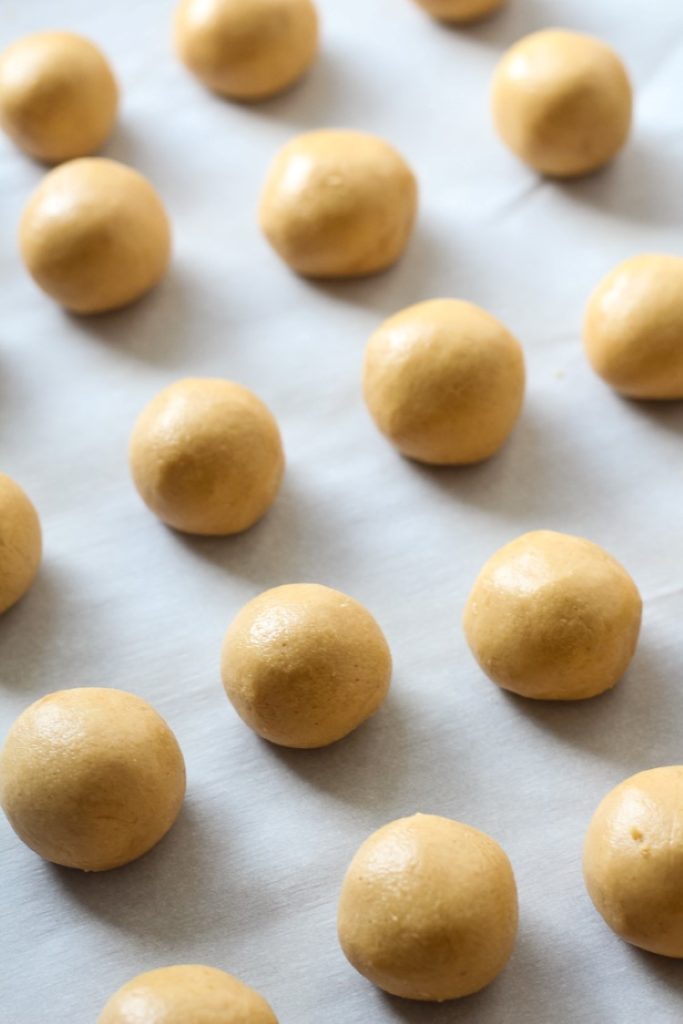 Do you have any tips for dipping buckeyes in chocolate?
Freeze your peanut butter balls before dipping. It makes them much easier to work with and keeps them from melting when dipped in the warm chocolate. Also, have everything set up with plenty of space before you begin.Have a cookie sheet lined with wax paper to set the buckeyes on after dipping.
How to melt chocolate for buckeyes
There are several ways to melt the chocolate and dip the buckeyes. You can melt the chocolate in the microwave in 15-second intervals, stirring in between until smooth. Or you can use a double boiler to melt the chocolate on the stove over low heat.
Or my favorite method is to use a crockpot little dipper melting pot. This melts the chocolate in 20 minutes and keeps a consistent temperature the whole time you are dipping. It's also a fairly narrow and deep container, which allows you to use less chocolate.
Also, be sure to chill your peanut butter balls or even freeze them before dipping. This keeps them from melting when they are dipping in the warm chocolate. Much easier to work with.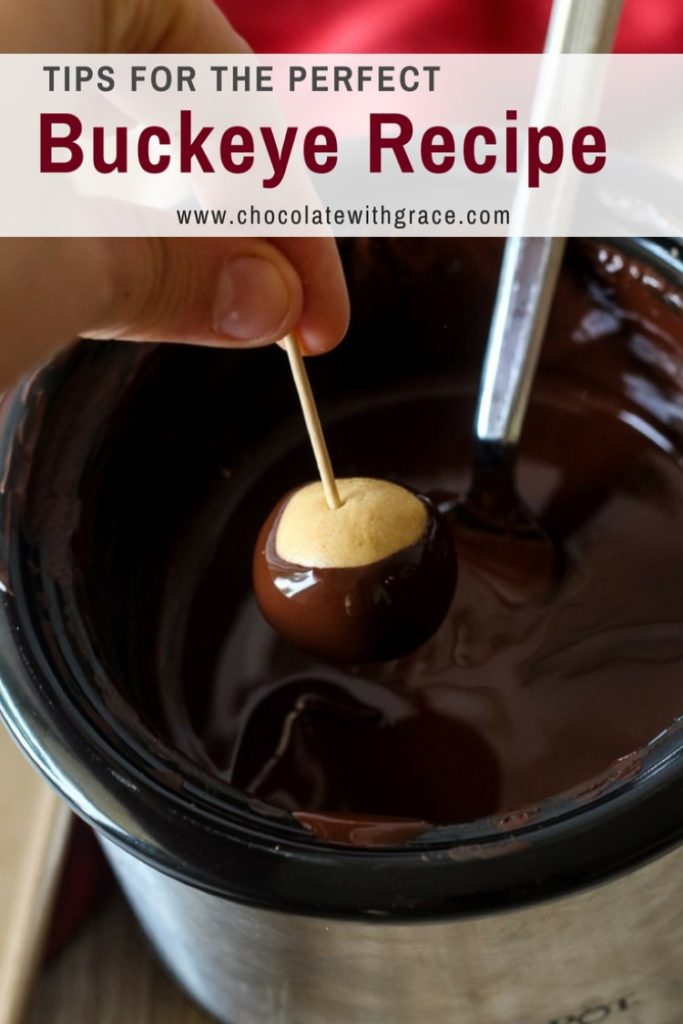 How to dip buckeyes in chocolate
My favorite way is with a toothpick. Simply stab each ball with a toothpick and dip in chocolate. This works best if the peanut butter balls are frozen first. Otherwise, they will tend to fall off the toothpick when pulling them out of the chocolate.
This method does make holes in the top of the buckeyes. But after the chocolate has set on the buckeyes, you can pinch the holes closed if you care.
How to dip buckeyes in chocolate without toothpicks
I've used a fork with moderate success. Simply place the peanut butter ball on the fork and lower into the chocolate. however, it's hard to get the right amount of chocolate coverage for buckeyes. I've heard some people use a fancy chocolate dipping set with good results, but I've never tried it. Let me know in the comments if you do.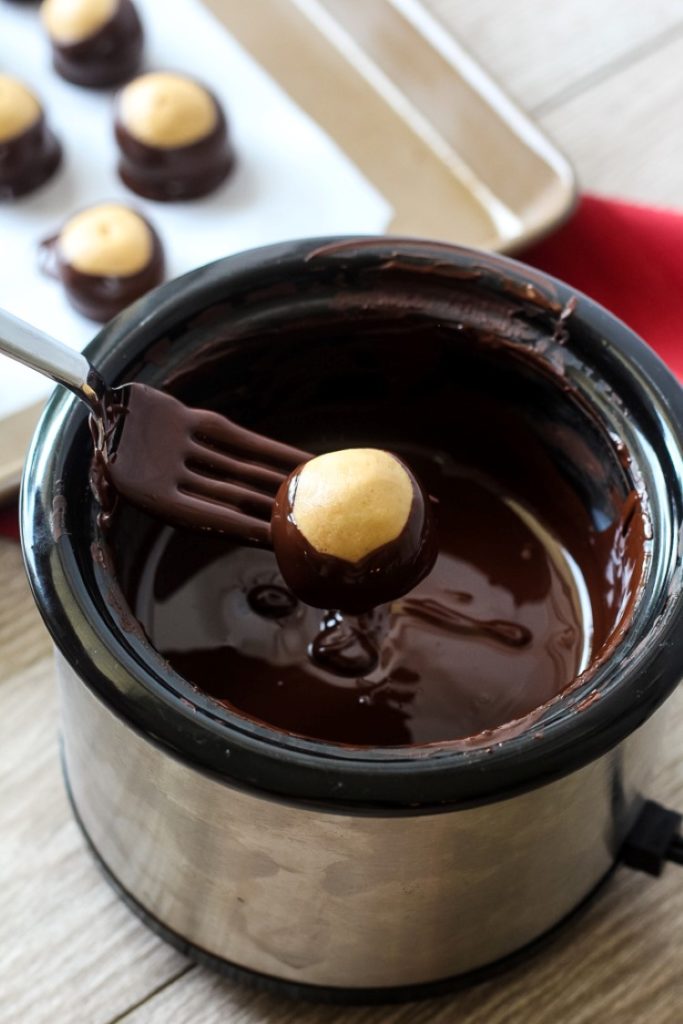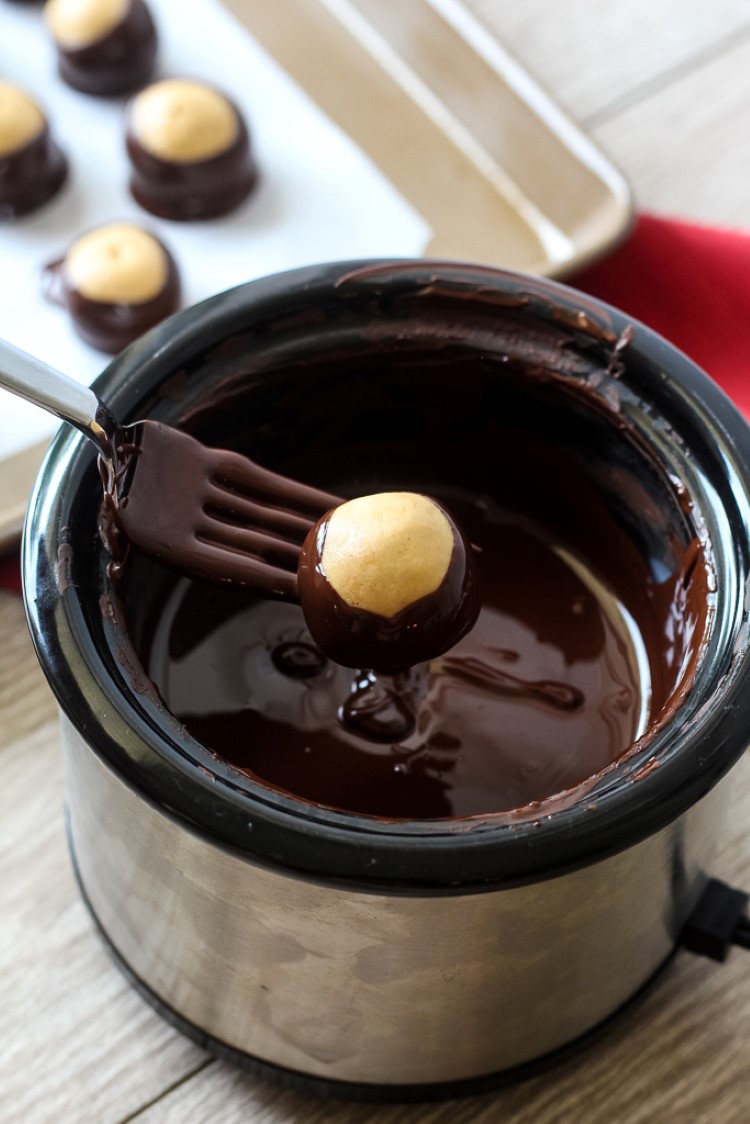 Is this a Buckeye recipe with paraffin wax?
Yes, paraffin helps the chocolate melt smoothly and set up nice and firm. You can make the buckeyes without if you prefer. I've done it lots of times, but the paraffin does make it easier and doesn't affect the taste at all.
How should I store buckeye candy?
Some people say buckeyes are sugary enough to leave on the counter. However, for food safety, I prefer storing them in refrigerator or freezer. They will keep in the refrigerator for up to a week or in the freezer for several weeks.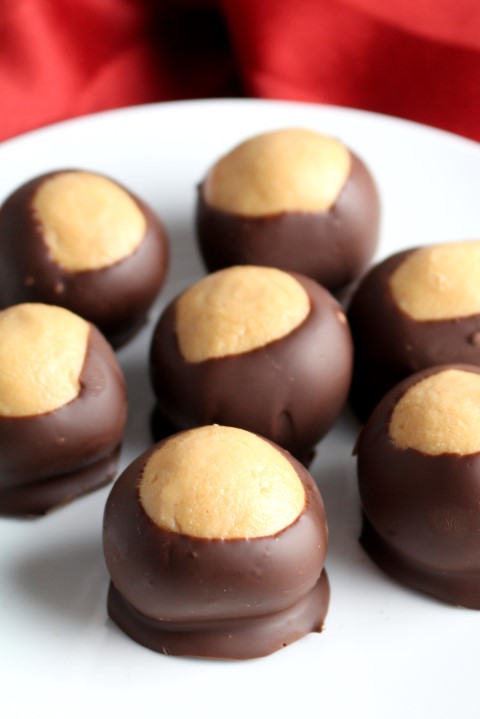 Do Buckeyes need to be refrigerated?
Yes, storing them in the fridge is best. After dipping, let them set and the move them to a tightly covered container before placing in the fridge. They will keep up to a week.
Can I freeze Buckeyes?
Yes, they will keep several weeks in the freezer. Simply, let the chocolate set, and then move them to a tightly sealed container in the freezer. They will keep longer, but the quality starts to decline after several weeks.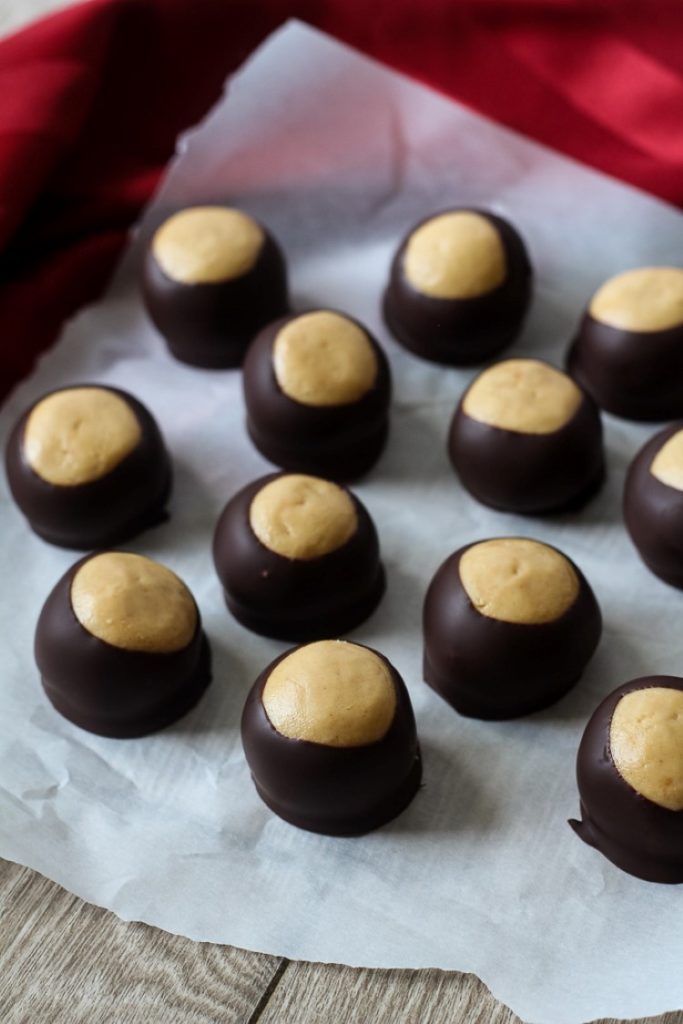 How long to Buckeyes stay fresh?
A day or two on the counter. Up to a week in refrigerator. Or up to two months in the freezer. They are a great make-ahead Christmas candy because they store so well.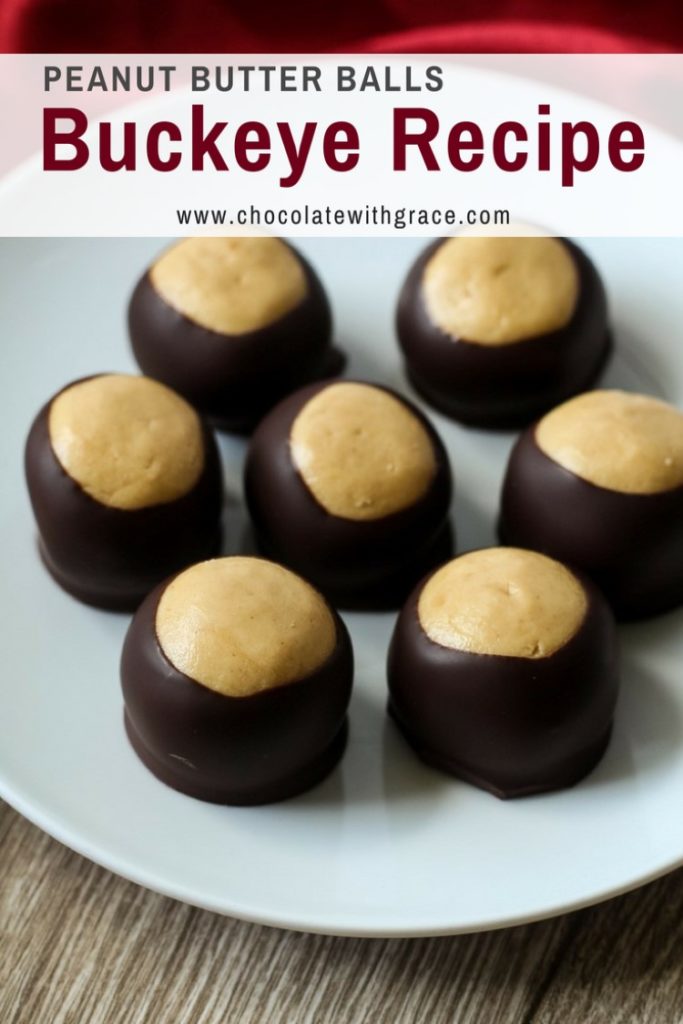 Let me know if you try this buckeye candy recipe and how it turned out. They are a family favorite for us.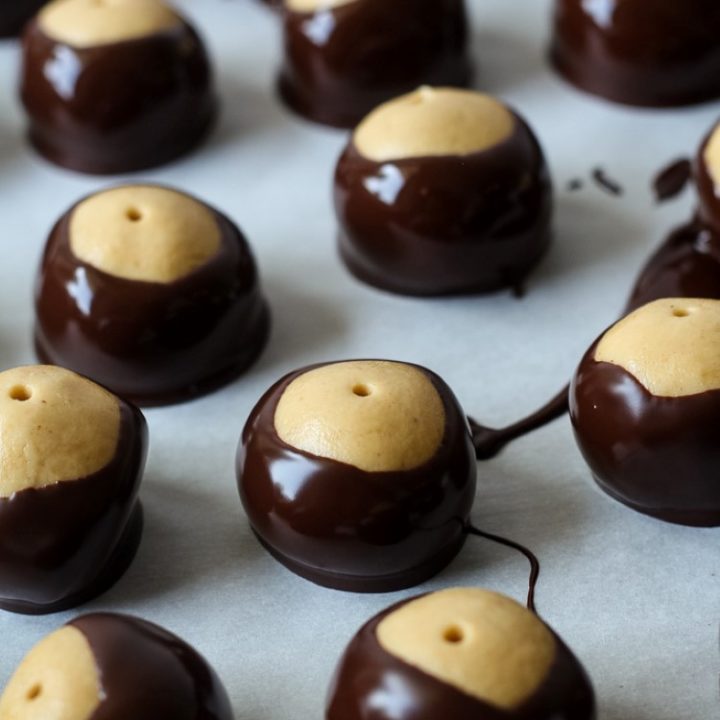 Buckeyes (Peanut Butter Balls)
Yield: about 40

Prep Time: 1 hour

Additional Time: 2 hours

Total Time: 3 hours

Buckeyes, also known as Peanut Butter Balls have a smooth peanut butter center and are dipped in chocolate for a fun treat.
Ingredients
12 oz (1 1/2 cups) creamy peanut butter
1/2 cup butter, softened
1 teaspoon vanilla
1 pound (4 cups) powdered sugar
16 ounces semi sweet chocolate (you can use chocolate chips or your favorite brand of dark chocolate)
1/4 cup shaved paraffin wax.
Instructions
In the bowl of a mixer, beat peanut butter and butter. Stir in vanilla. Add powdered sugar and beat on low speed until smooth. This may take several minutes

Roll into 1 inch balls and place in the freezer for at least 1 hour.

Place the chocolate and paraffin wax in a deep bowl and microwave for 10-15 seconds at a time, stirring between intervals, until melted. (you can also use a double boiler or chocolate melting pot to melt the chocolate).

Dip the chilled peanut butter balls three fourths of the way into the melted chocolate and place on a wax paper lined cookie sheet until chocolate is set.

Store in the fridge or the freezer.
Nutrition Information:
Yield: 40 Serving Size: 1 buckeye
Amount Per Serving: Calories: 127Total Fat: 6gSaturated Fat: 4gTrans Fat: 0gUnsaturated Fat: 2gCholesterol: 6mgSodium: 22mgCarbohydrates: 19gFiber: 1gSugar: 18gProtein: 1g

Nutrition information may vary significantly based on ingredients used and portion sizes. We are not responsible the reliability of this data or your reliance on it. We are not responsible for the results of any recipe you try from this blog/website, Chocolatewithgrace.com. Your results may vary due to differences in ingredients, humidity, altitude, cooking temperatures, errors, or individual cooking abilities.

 I have several other fun buckeye inspired treats on my blog. Be sure to try these too!
Peanut Butter Pretzel Buckeyes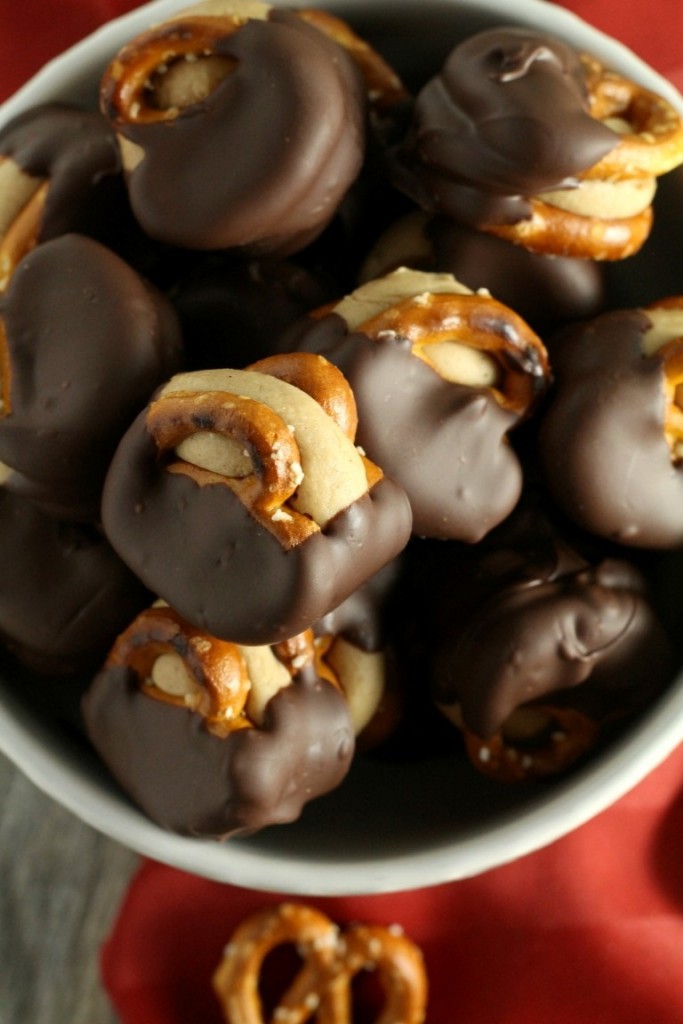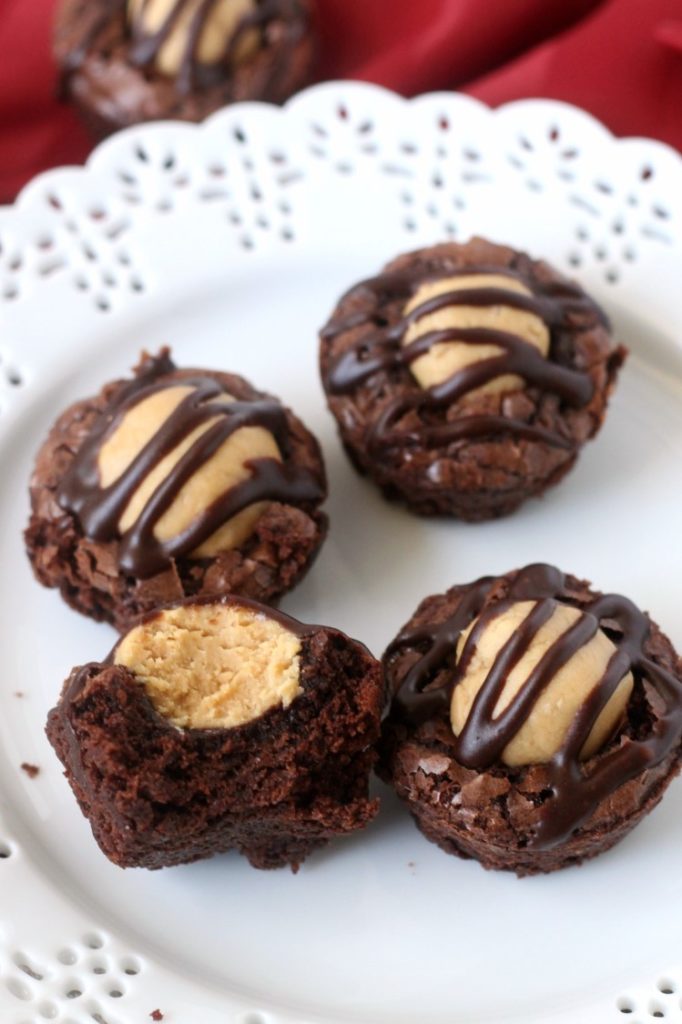 Chocolate Peanut Butter Acorns, just like buckeyes, only shaped like acorns!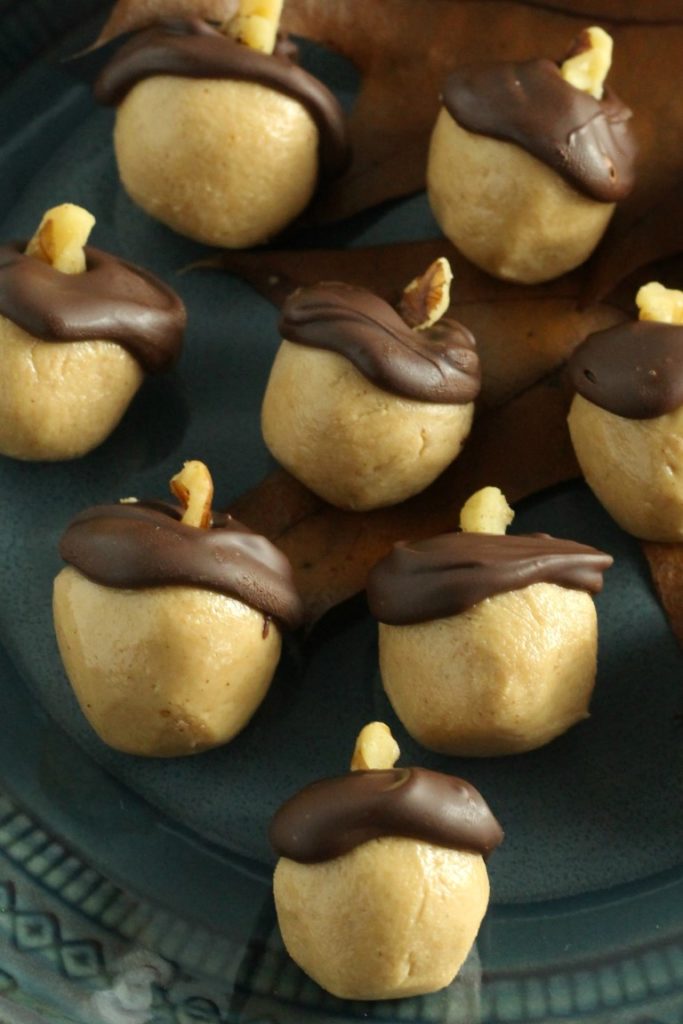 For more peanut butter and chocolate recipes check out:
Peanut Butter Stuffed Rice Krispie Treats – How fun!
This delicious Chocolate Peanut Butter Cake
and these totally addicting Chocolate Peanut Butter Bars

Buckeyes, also known as Peanut Butter Balls, have a smooth peanut butter center and chocolate shell. Make this simple buckeye recipe for your Christmas treat trays. This post has a ton of tips and tricks to making the perfect buckeyes. Be sure to read it all.