These Fruit Cheesecake Bars have a tender shortbread crust that is topped with a creamy no-bake cheesecake piled high with fresh fruit.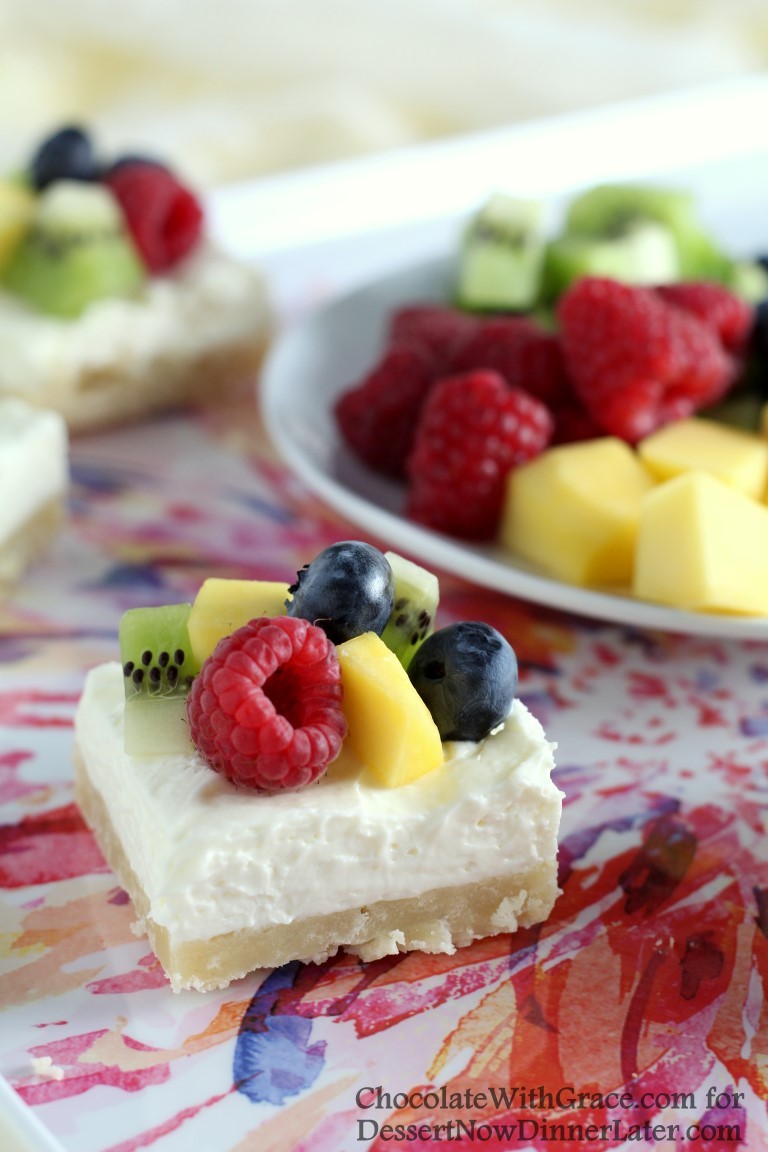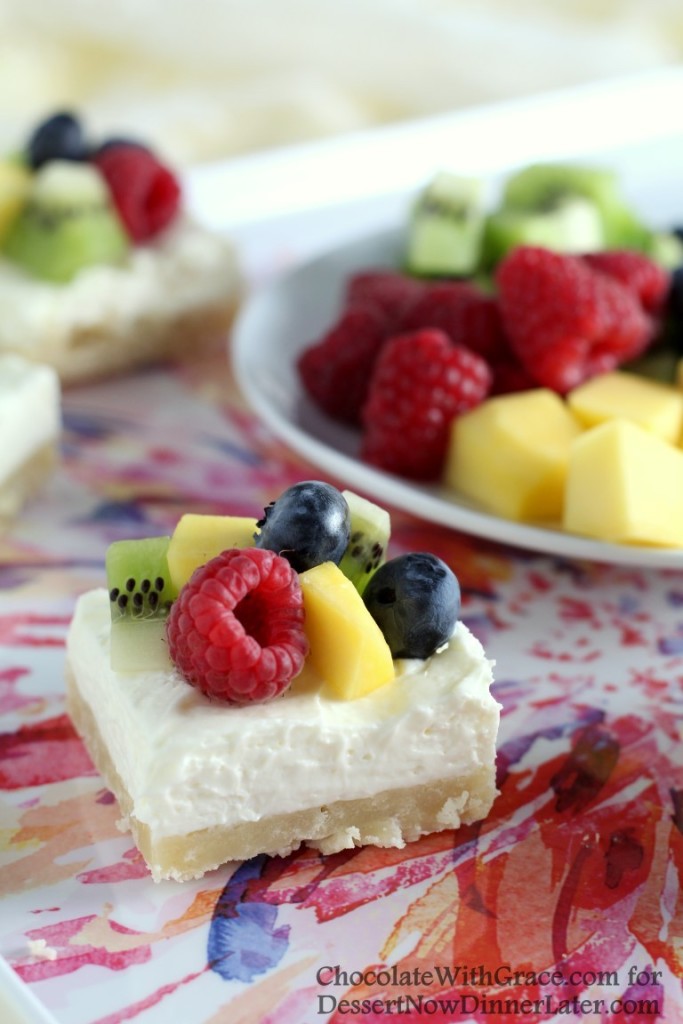 Fruit Cheesecake Bars
These bars start with an easy shortbread crust topped with a no-bake cheesecake layer. Then right before serving, fresh fruit is piled on top to balance the sweetness of the cheesecake. You're going to love this dessert!
The crust is a buttery shortbread and the cheesecake layer is no-bake. This makes them super easy to make.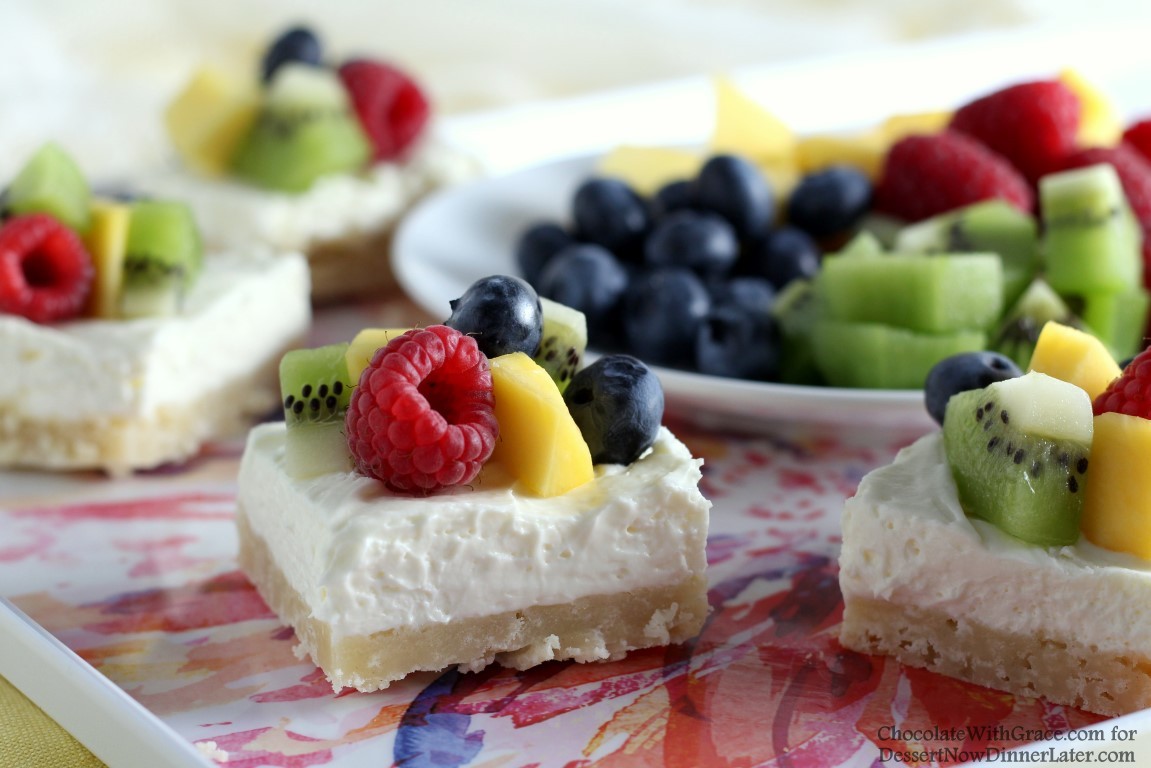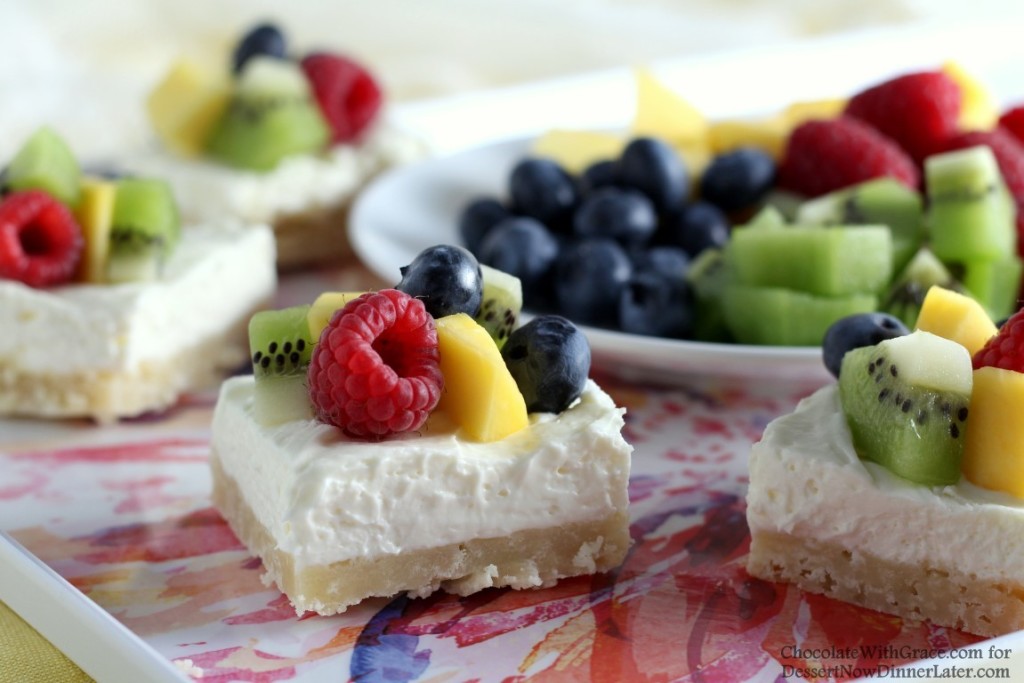 I know some people have a thing against turning the oven on in the summer, but personally, I don't mind baking in the summer! The results are always worth it.
There are so many possibilities with all of the fresh fruits in season. Some of my favorite fruits to use are cherries, raspberries, and peaches.
These Fruit Cheesecake Bars are versatile as can be. Feel free to use whatever fruits are in season or are your favorites. Wouldn't they be fun with strawberries, raspberries and blueberries around the 4th of July?!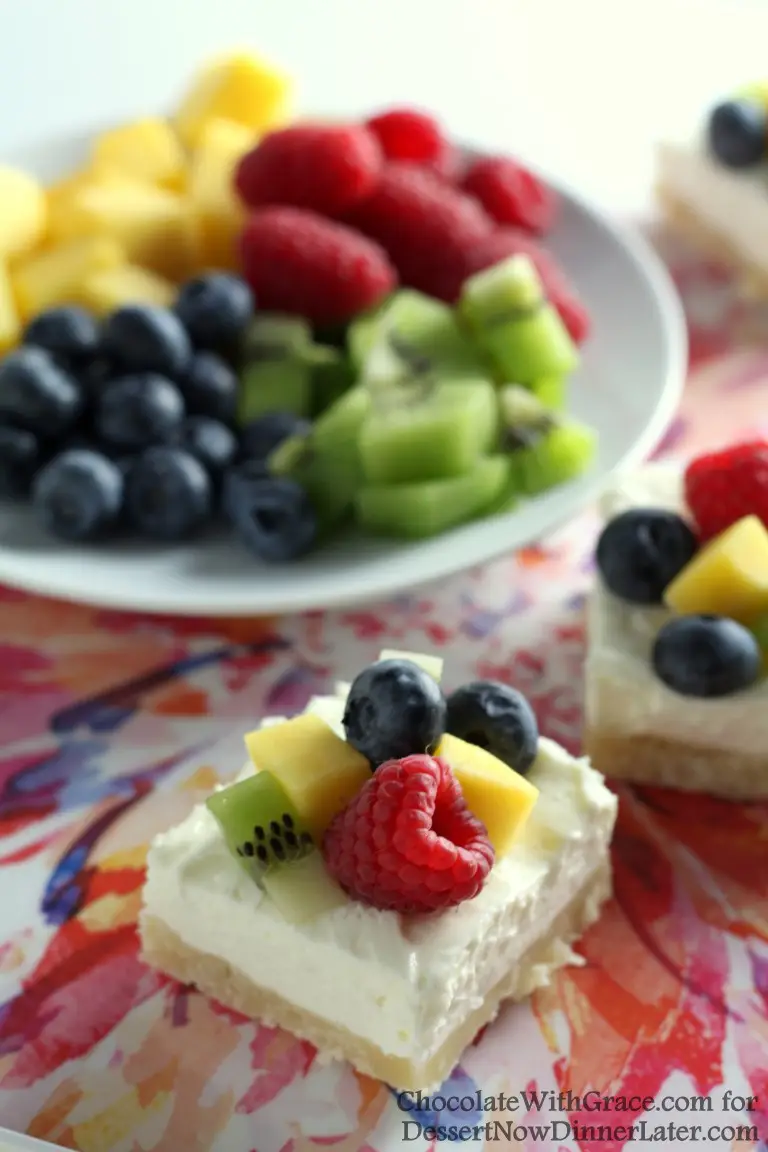 Fruit Cheesecake Bars Recipe
For the Crust:
1 1/2 cups all purpose flour
1/2 cup powdered sugar
3/4 cup cold butter
For the Cheesecake Layer:
12 ounces (1 1/2 packages) cream cheese, softened
3/4 cup powdered sugar
1 cup heavy whipping cream
1 teaspoon vanilla
Fresh fruit of your choice for the top – I used raspberries, blueberries, kiwi, and mangoes
FOR THE CRUST: Preheat the oven to 350 degrees Fahrenheit. In a medium bowl, mix together the flour and powdered sugar. Cut in the cold butter with a pastry blender until the crumbs are pea-size. Press the mixture into a greased 8×8 inch baking pan. Bake at 350 degrees Fahrenheit for 10 to 15 minutes or until lightly browned. Let cool completely.
FOR THE CHEESECAKE LAYER: In a large bowl, beat together the cream cheese and powdered sugar until smooth. Add the heaving whipping cream and vanilla. Beat on high speed for 2 to 3 minutes or until the mixture thickens. Spread on top of the cooled crust and chill for at least 4 hours.
Top with fresh fruit immediately before serving.
{This recipe was originally published 6/22/15 as a guest post for Dessert Now Dinner Later.}