Skip the traditional fried version and make these baked apple cider donuts in a muffin tin at home.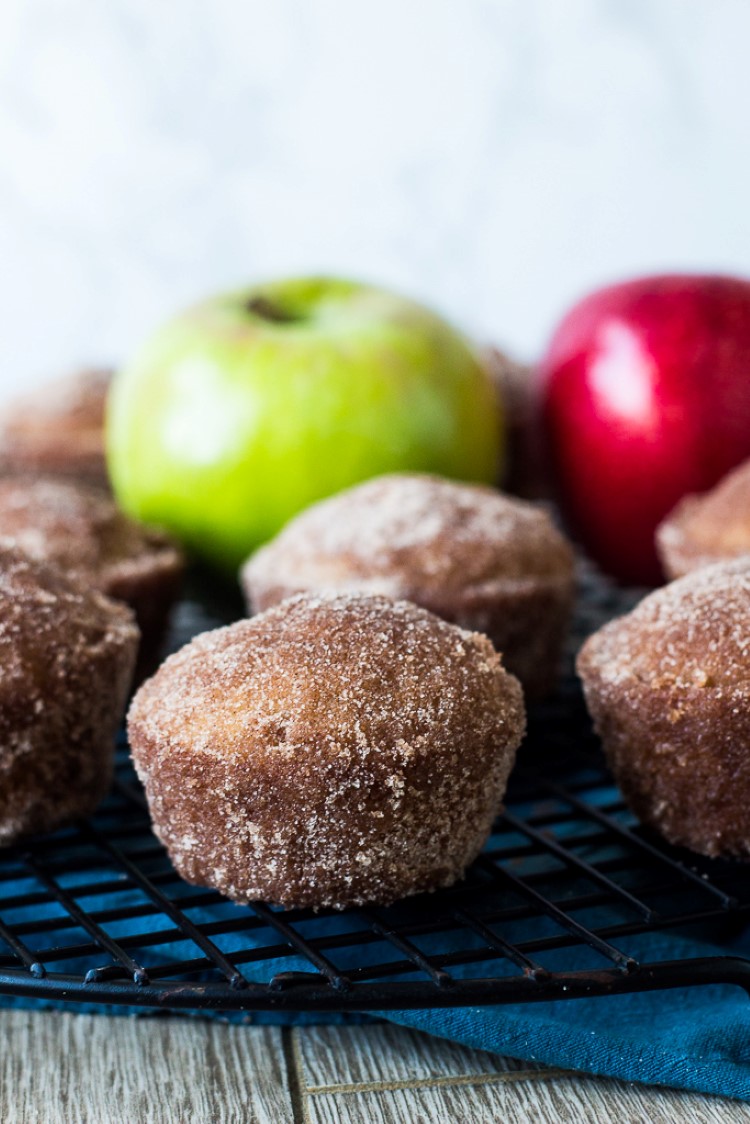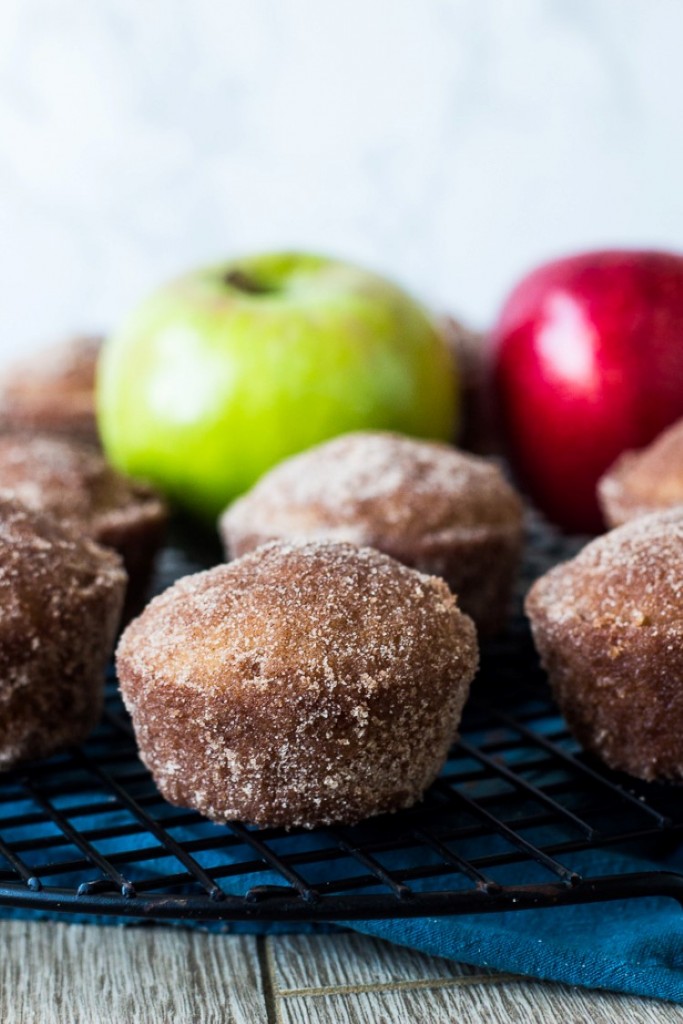 I haven't met anyone yet who doesn't like apple cider donuts. This recipe takes the traditional apple orchard apple cider donuts and turns them into a baked recipe in a muffin tin that can be made at home.
I have had this idea for apple cider donut muffins for several years now and have tried to make them with flop after flop. Either they were dense and chewy or tough and didn't rise. Each year I tried again and kept getting closer, but not quite there. This year, I nailed it and I'm excited to share it with you.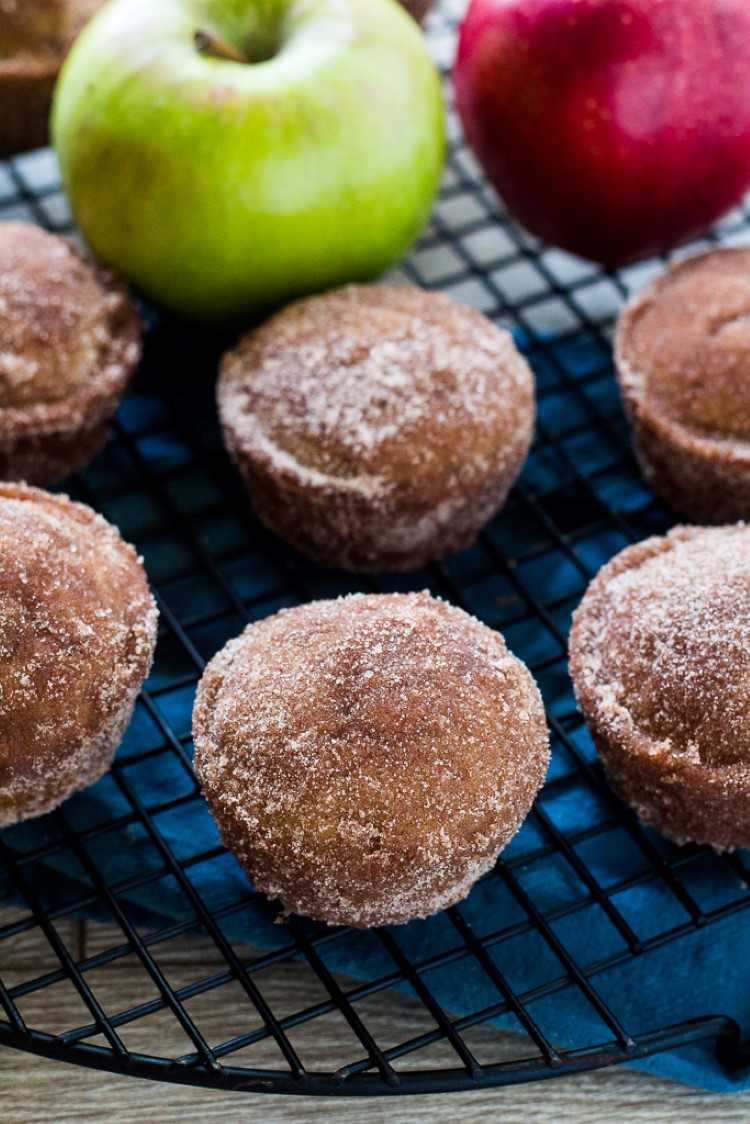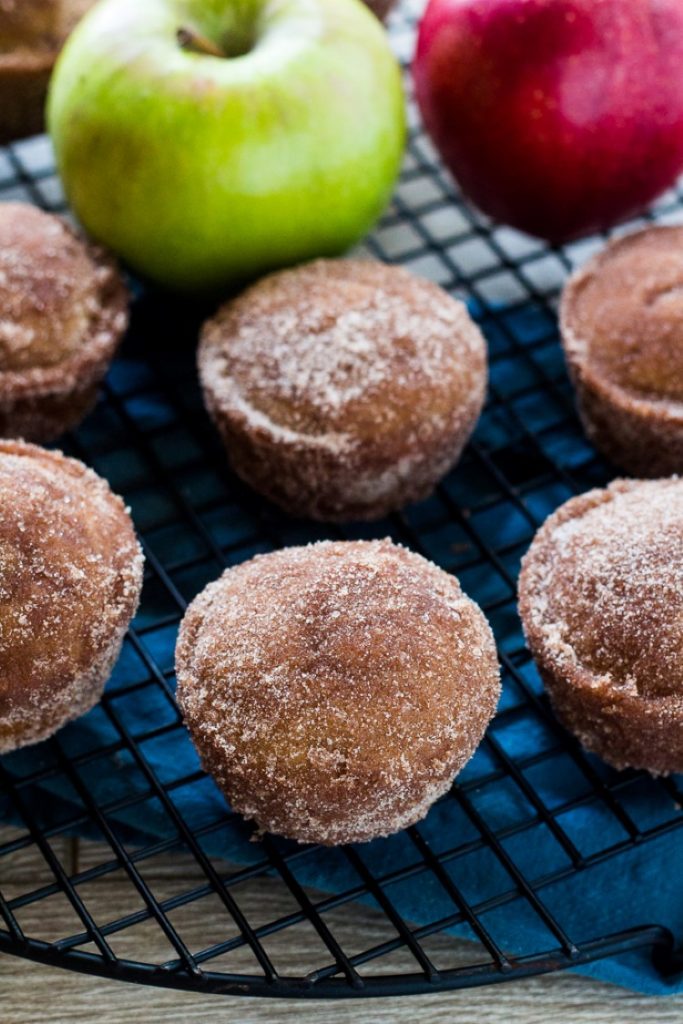 Baked Apple Cider Donuts without a donut pan
If you've had an apple cider donut, you know they are never overpowering in apple flavor, but the best ones definitely have that sweet and subtle apple cider flavor. Part of the problem of making good baked apple cider donut muffins, is getting a good apple cider flavor. I achieved this by reducing the fresh apple cider.
Simply take 1 cup of apple cider, put it in a small saucepan over medium heat and simmer until it is reduced by half. The 1/2 cup of reduced apply cider has so much more flavor than plain cider.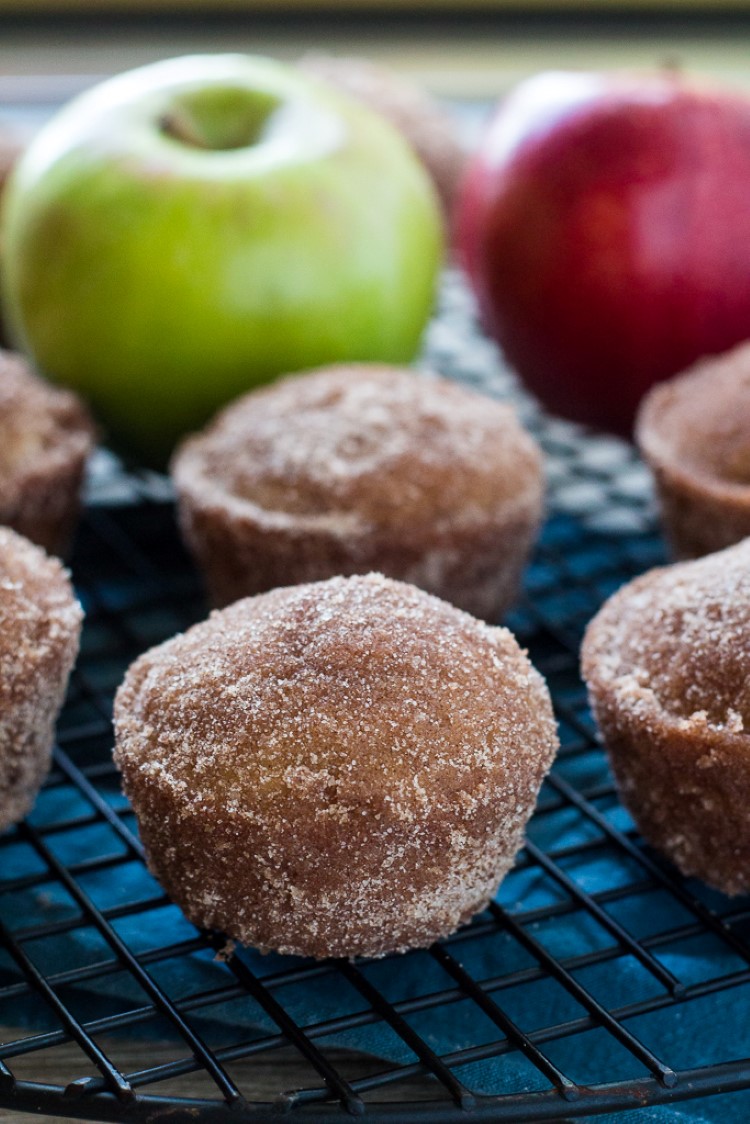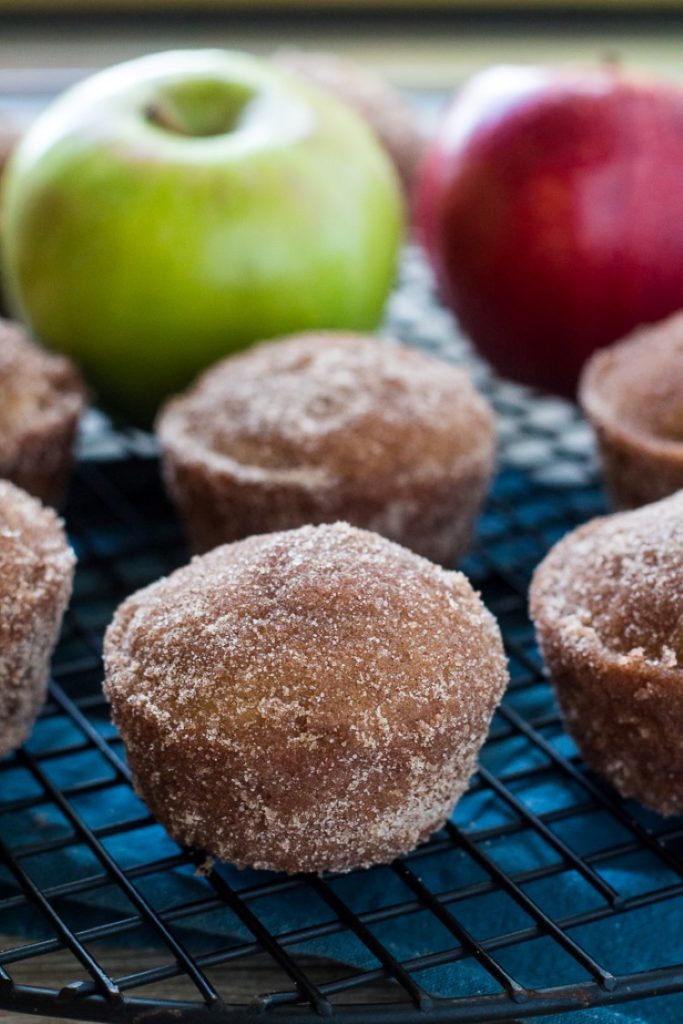 I know this may be self explanatory, but in my research on apple cider donuts, I came across complaints which mentioned using apple cider vinegar instead of apple cider. I just want to be clear here, DO NOT use apple cider vinegar. This recipe is meant for the sweet apple cider which is like apple juice, only way better!
Using fresh pressed, unpasteurized apple cider is best for this recipe. One of the variables that I can't control is what variety of apples were used in the cider and how sugary it is. The amount of sugar in the recipe will affect the final texture.
If you end up with too chewy muffins, it probably means there was more sugar in your apple cider than mine. You can try and reduce the sugar in the recipe by a tablespoon or so to account for this.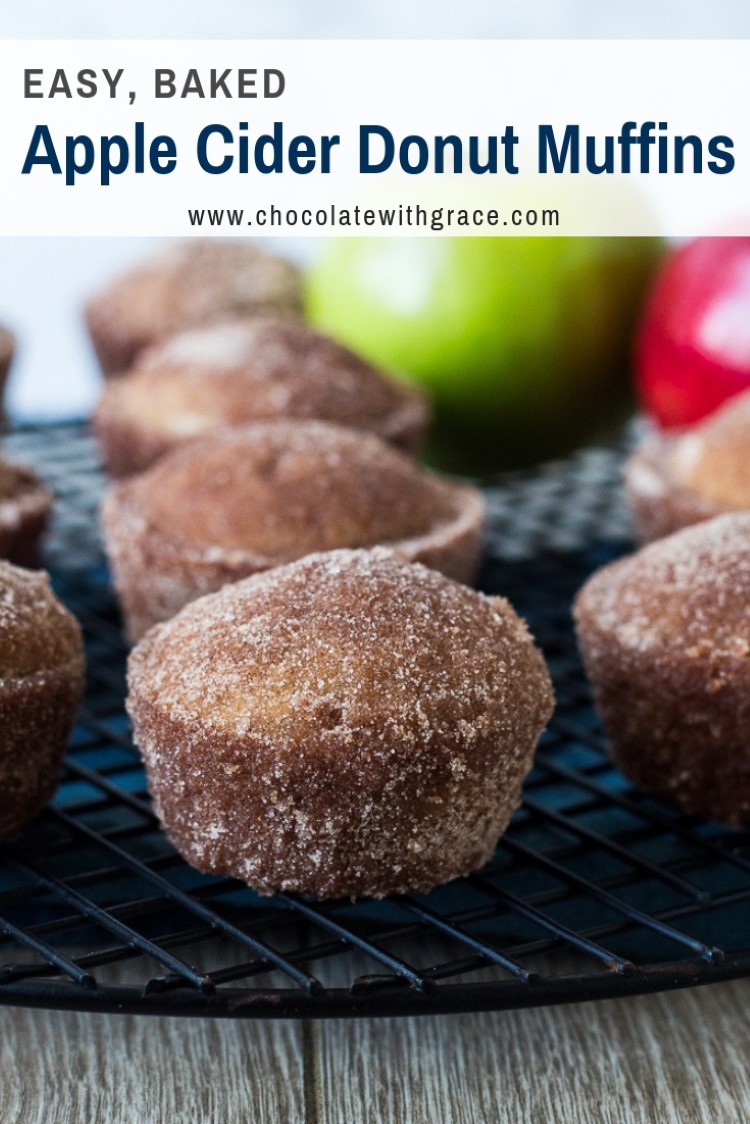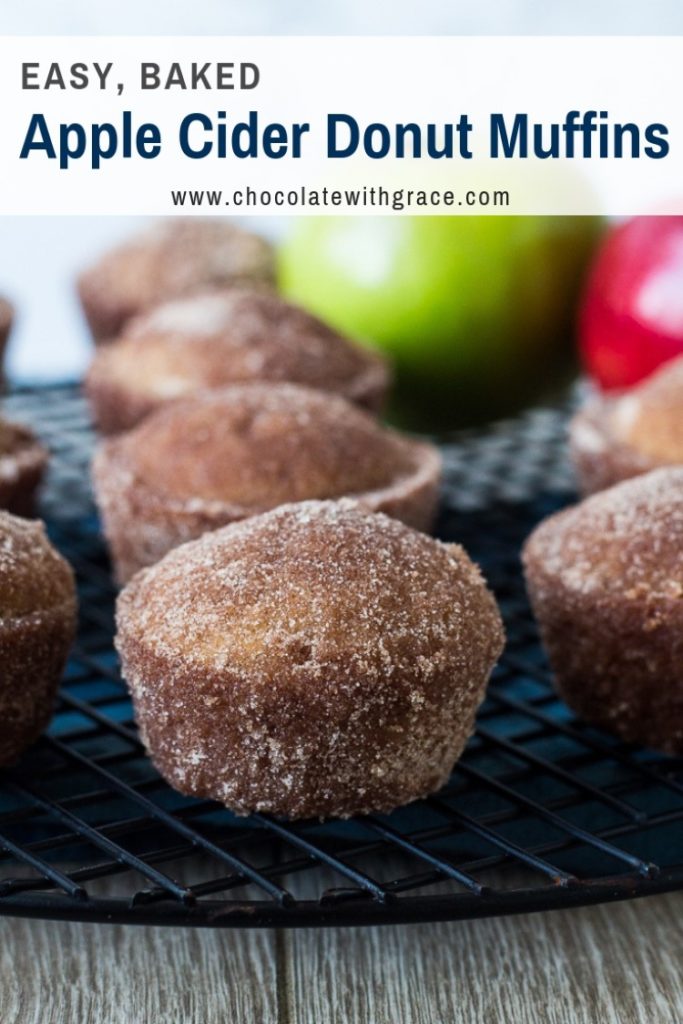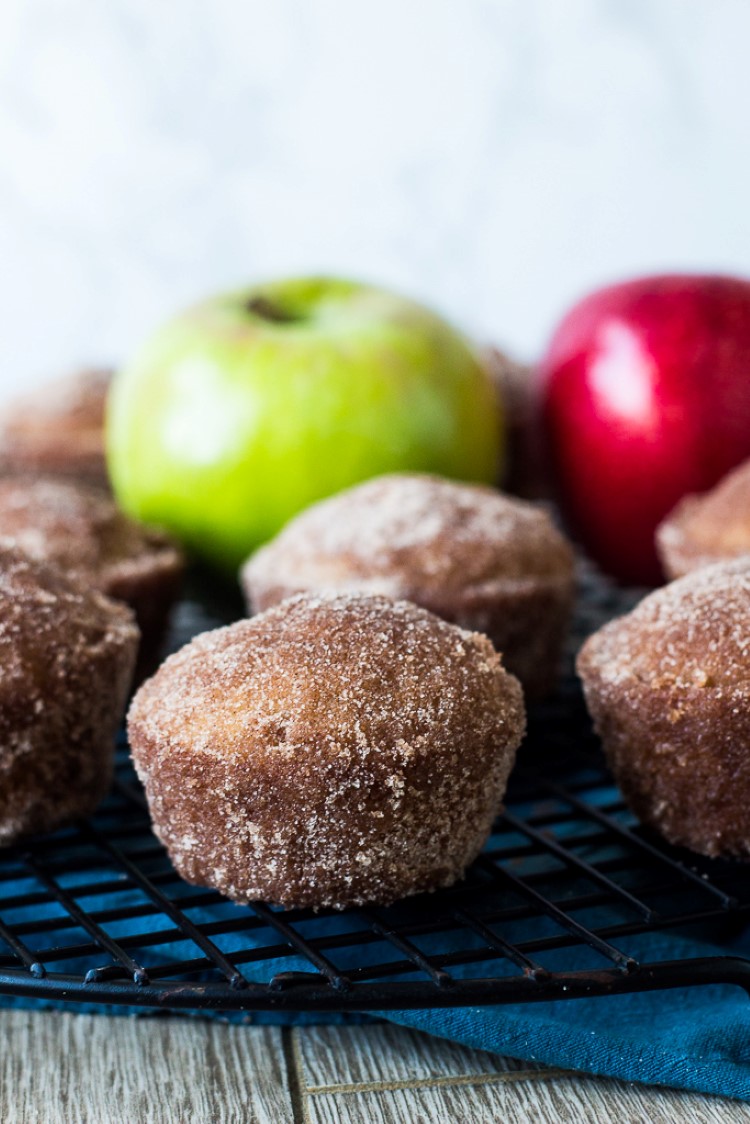 Baked Apple Cider Donuts in a Muffin Tin
Skip the traditional fried version and make these baked apple cider donuts in a muffin tin at home.
Ingredients
1

cup

apple cider

reduced to 1/2 cup, see instructions in recipe

1/2

cup

butter

melted and cooled

3/4

cup

brown sugar

2

eggs

room temperature

1

teaspoon

vanilla

1 3/4

cup

all purpose flour

1 1/2

teaspoon

baking powder

1/2

teaspoon

salt

1

teaspoon

cinnamon

1/4

teaspoon

nutmeg

1/4

cup

buttermilk
For the topping
1/4

cup

butter

melted and cooled

1/2

cup

granulated sugar

2

teaspoons

cinnamon
Instructions
Pour the apple cider into a small saucepan and place over medium heat. Simmer until reduced to 1/2 cup. Let cool.

Preheat oven to 350 F. Grease and flour a regular sized muffin tin with 12 wells. Make sure it is well greased.

Stir together the melted butter, brown sugar, eggs, vanilla and cooled apple cider in a large bowl. In a separate bowl, whisk together the flour, baking powder, salt, cinnamon and nutmeg. Add the dry ingredients to the wet alternately with the buttermilk. Stir until just combined.

Divide the batter evenly between the 12 muffin wells. They should be 1/2 to 2/3 full. Bake at 350 F for 16 to 18 minutes or just until a toothpick inserted comes out clean. Remove for pan to cool on wire rack.

Stir together the granulated sugar and cinnamon for the topping in a small bowl. Dip or brush each muffin with melted butter and coat with cinnamon sugar. The keep well at room temperature for 2 days.
Nutrition
Serving:
1
muffin
·
Calories:
266
kcal
·
Carbohydrates:
36
g
·
Protein:
3
g
·
Fat:
13
g
·
Saturated Fat:
8
g
·
Polyunsaturated Fat:
4
g
·
Cholesterol:
62
mg
·
Sodium:
266
mg
·
Fiber:
1
g
·
Sugar:
21
g
If you're looking for a traditional fried apple cider donut, try
this recipe
from Taste of Home.
Here are my other favorite ways to enjoy apples in the fall.