Baked Apple Fritters are an easy donut shop favorite that you can make at home now. These fritters are baked instead of fried, making them an easy treat to whip up on a whim.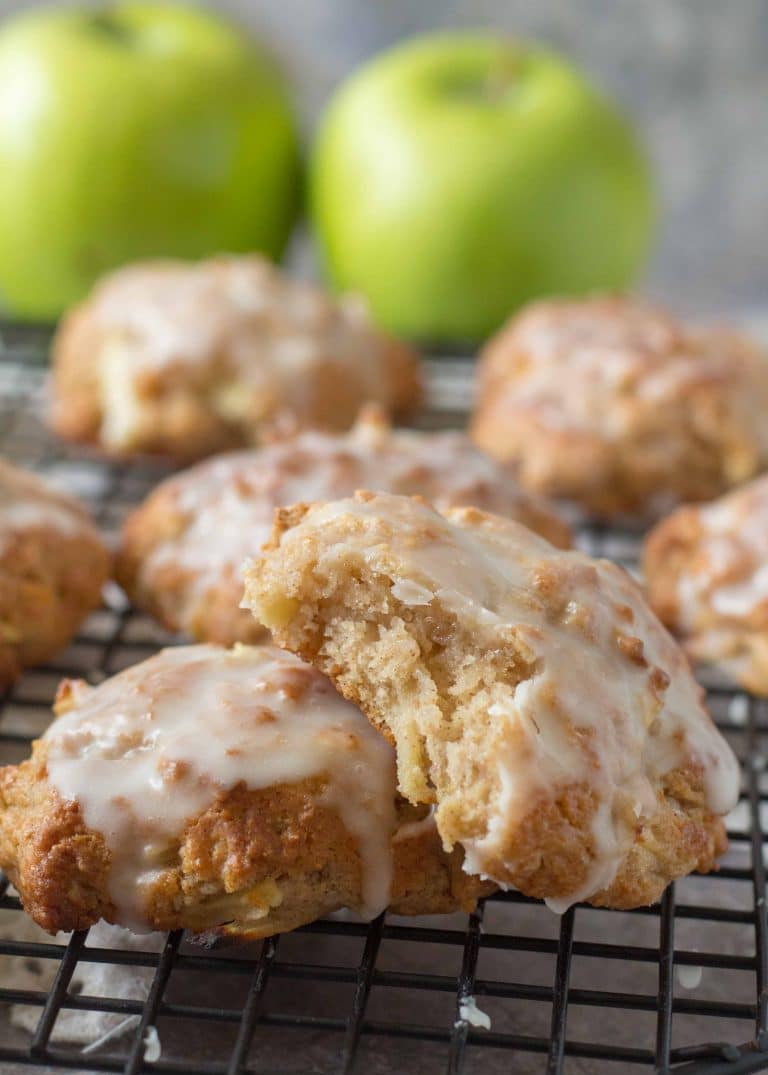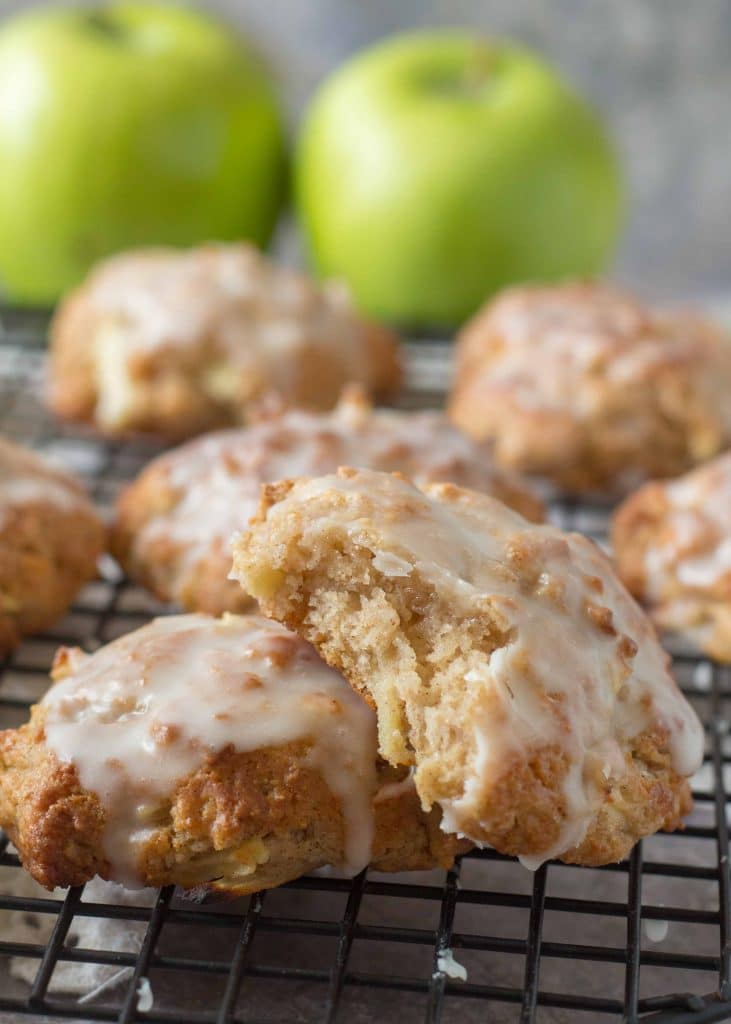 Baked Apple Fritters
This is one of the first recipes I make in the fall and they are an awesome way to warm up the kitchen on a chilly morning.
Apple Fritters are one of my husband's favorite bakery treats and I love that I can make this hassle-free recipe at home.
Apple Recipes
Apple recipes are a favorite with my family year-round, but there's something about them that calls to me even more through the winter.
These Baked Apple Cider Donut Muffins are another bakery-style treat that the kids love. And the Caramel Apple Puff Pastries are an impressive pastry that looks so much fussier than they actually are.
(If you haven't tried Puff Pastry Danishes, put them on your list as well. Because there is honestly nothing else with the ability to impress with such a minimum of effort!)
Last but definitely not least, Caramel Apple Cinnamon Rolls are a brunch favorite.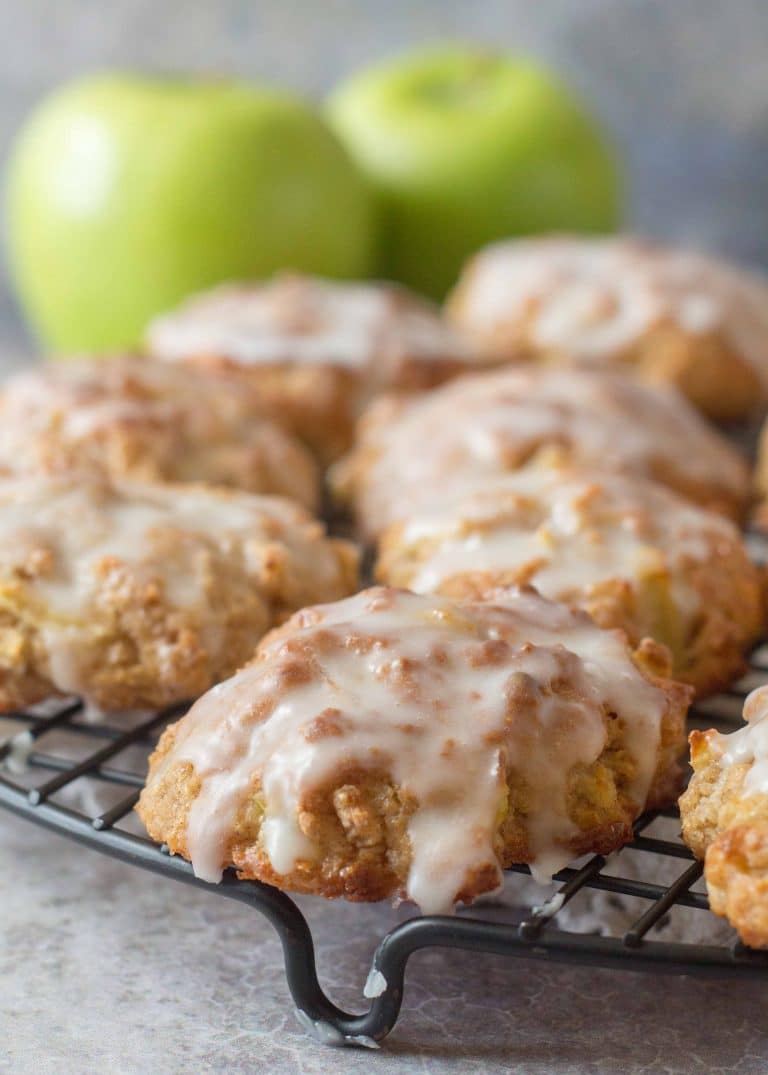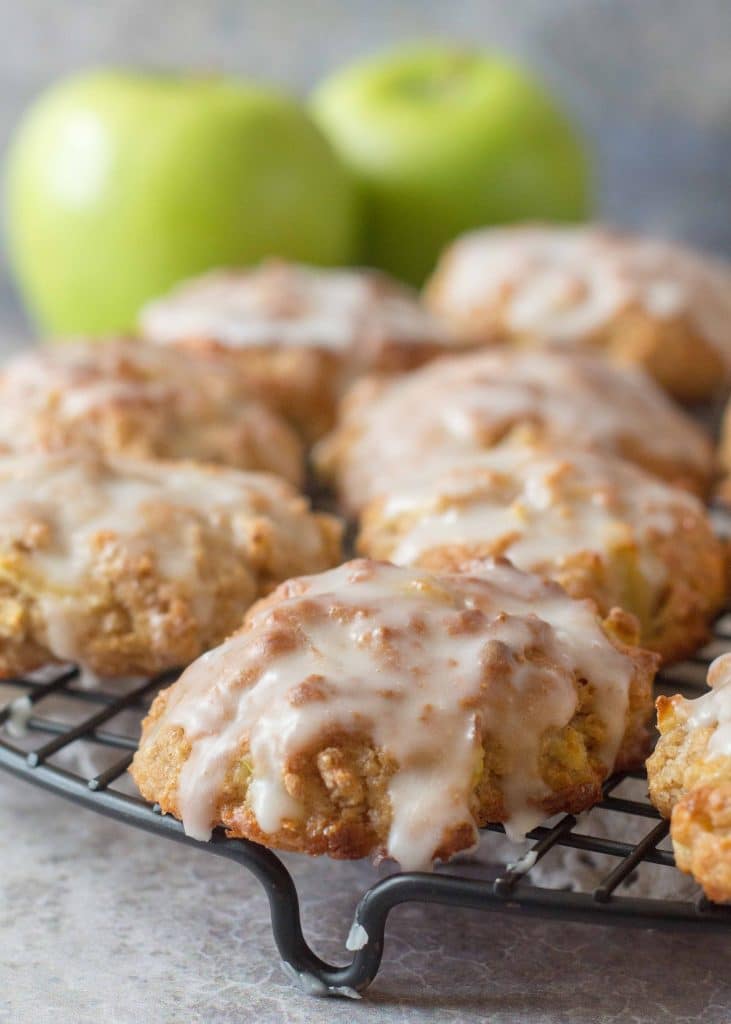 How to make baked apple fritters with no yeast
This recipe uses no yeast and instead starts with a biscuit-style dough. To start, mix together the dry ingredients.
Flour, sugar, salt, cinnamon, and baking powder are combined in a mixing bowl. Then, you'll cut in butter until small crumb sized.
Here's a tip: Take a stick of frozen butter and grate it directly into the dry ingredients, then stir. It's a quick and easy way to start the crumb mixture.
Next, toss in some finely diced apples to coat with flour.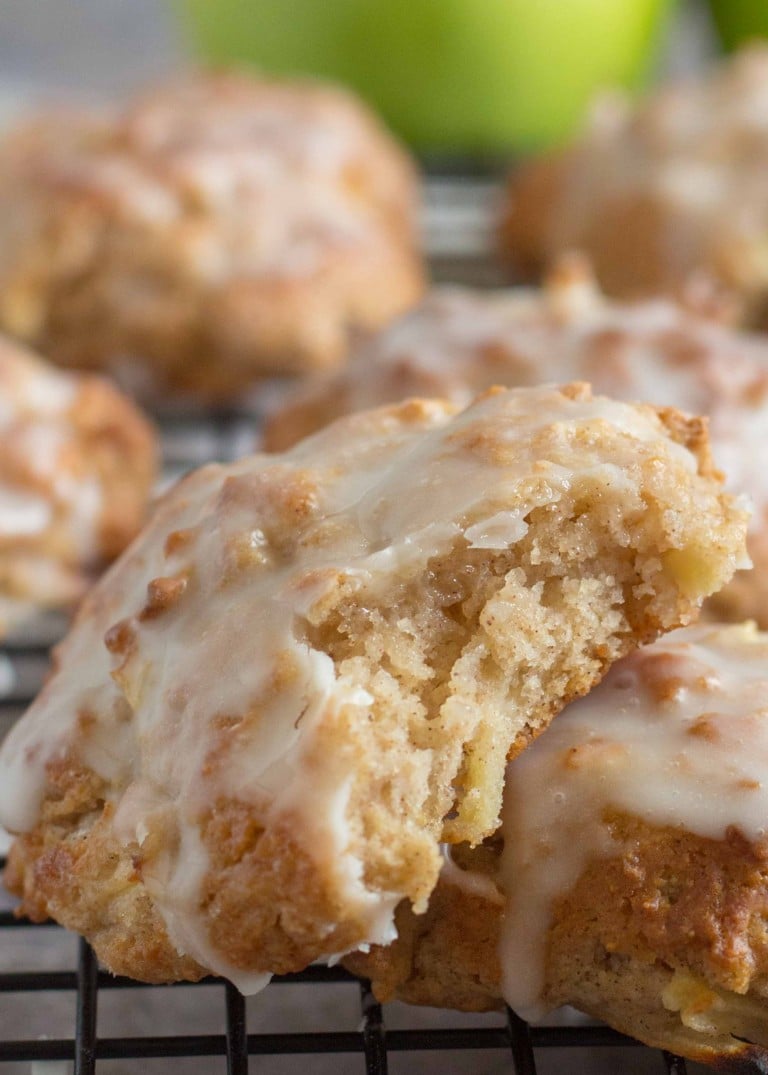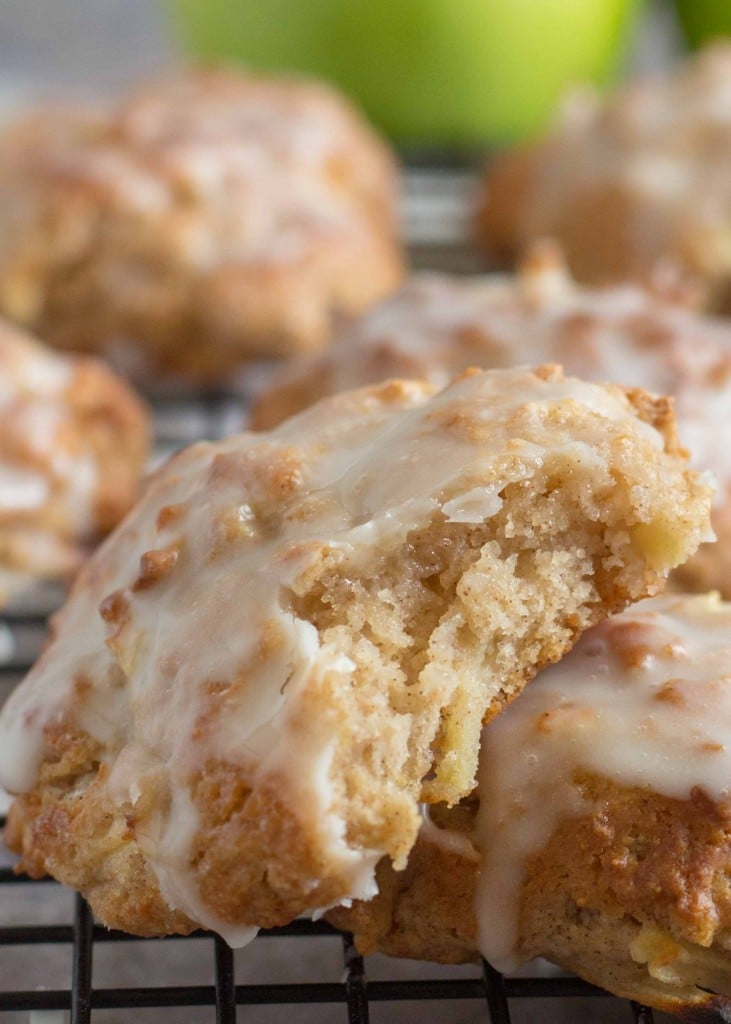 Last, you'll gently stir in some milk to make a thick batter. (The lack of egg in these apple fritters, makes them very tender.)
Drop by big spoonfuls onto a cookie sheet lined with parchment paper.
Can you bake apple fritters?
Yes, but I would use a recipe like this one that is meant to be baked. You don't want to try baking a dough or batter recipe that is intended to be fried.
After you make the dough and scoop it onto the cookie sheets, you'll bake in a 400°F oven.
After the fritters are baked, you'll brush them with a thin powdered sugar glaze, and pop them under the broiler for a few minutes, until slightly browned.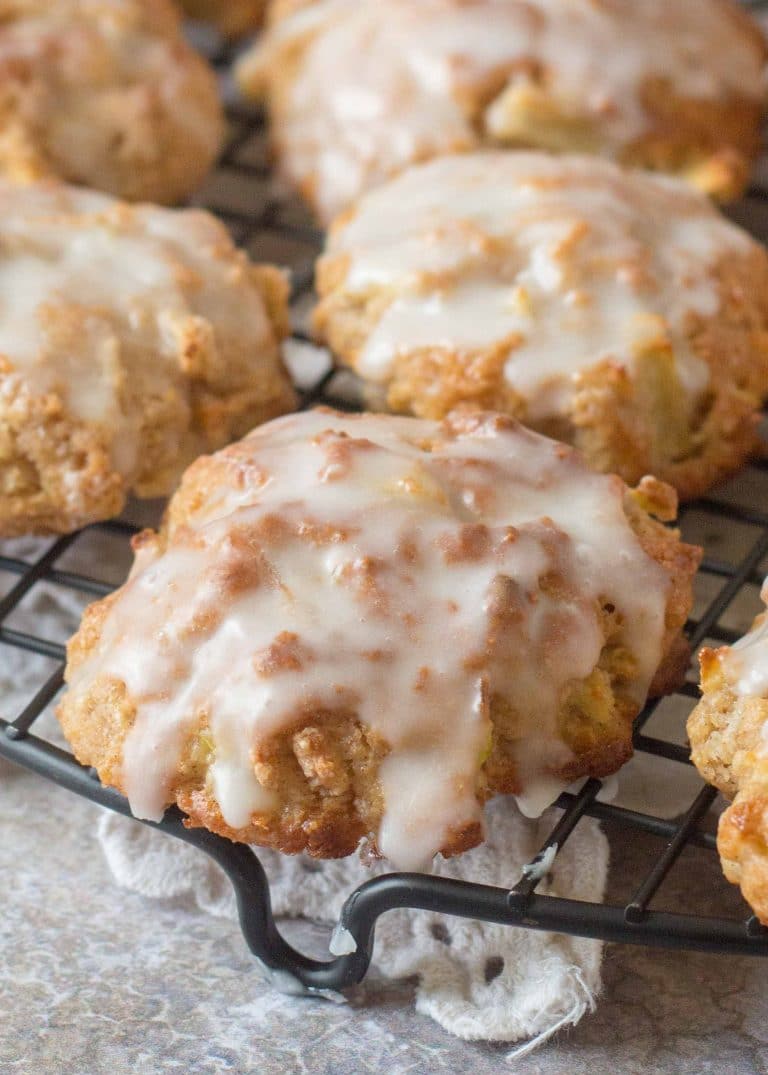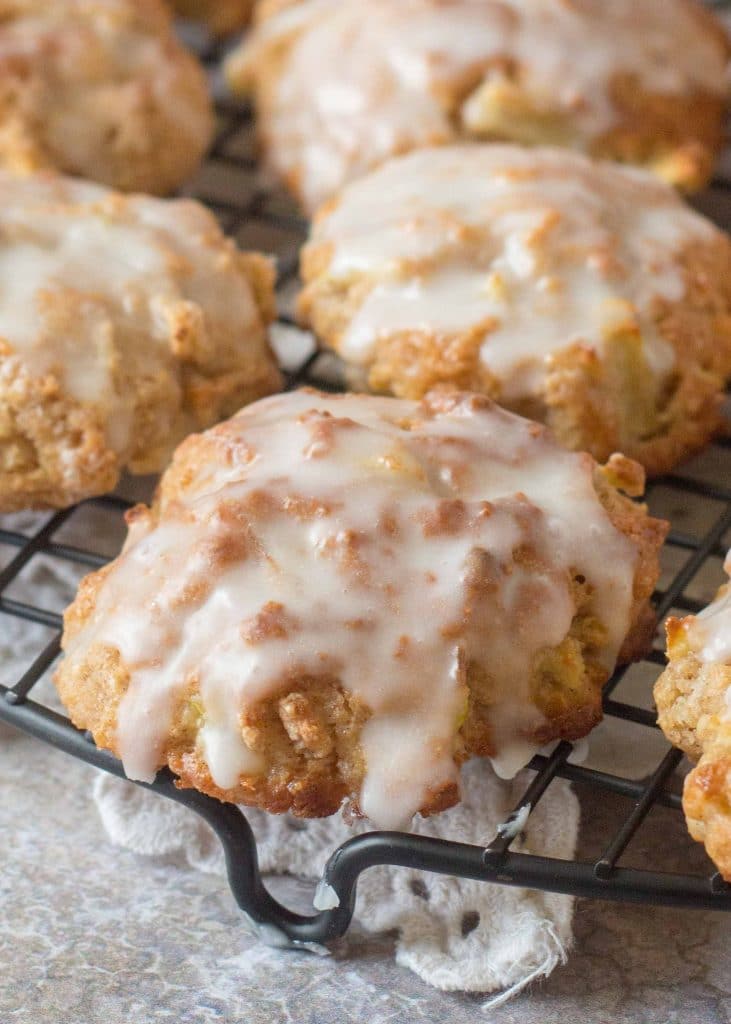 I picked up that broiling tip from Maegan at The Baker Mama when she shared her baked blueberry fritters.
Broiling the initial glaze not only gives these apple fritters a nice caramel color, but it crisps the outside of the fritter to make it more similar to its deep-fried cousin.
If you make this recipe, let me know how you liked it. Leave me a comment below or give it a rating in the recipe card. Happy Baking!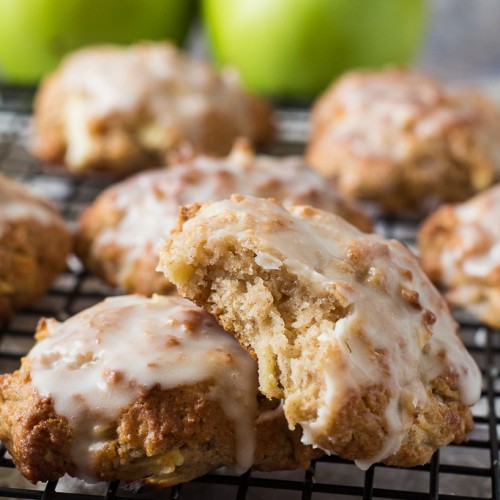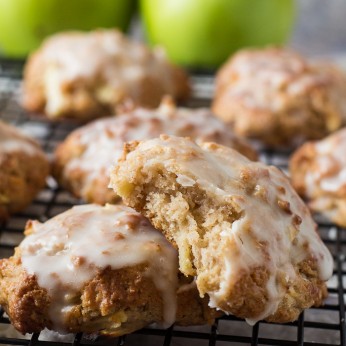 Baked Apple Fritters
Make this donut shop favorite at home this fall. These baked apple fritters are easy and baked, not fried.
Ingredients
For the Fritters
2

cups

flour

1/2

cup

brown sugar

1

tablespoon

baking powder

1

teaspoon

salt

1

teaspoon

cinnamon

1/2

cup

butter

cold

1 1/2

cups

finely diced apples

3/4

cup

milk

I used whole milk
For the broiled glaze
1

cup

powdered sugar

3

tablespoons

milk or juice
For the finishing glaze
1

cup

powdered sugar

2

tablespoons

milk
Instructions
Preheat the oven to 400° F. In a large bowl, whisk together the flour, brown sugar, baking powder, salt and cinnamon. Cut in the butter with a pastry blender until pea sized. Or I like to freeze the butter and grate it in with a cheese grater.

Gently stir in the apples. Then add the milk, stirring just until combined.

Drop by 2-inch spoonfuls onto a well greased baking sheet. (makes about 12-15 fritters)

Bake for about 12 minutes or until just lightly browned. Meanwhile, make the broiling glaze by mixing the powdered sugar and apple juice together until smooth. Remove the fritters from the oven, turn the broiler on and immediately brush with the glaze.

Place the fritters under the boiler, about 3 inches away and broil for 2-4 minutes until the glaze is browned and caramelized. Rotate the pan if needed.

Let cool on wire rack for several minutes. Whisk together the powdered sugar and milk for the last glaze and brush onto the warm fritters. The are best enjoyed warm.
Notes
I like to line my baking sheets with parchment paper as it makes the mess easier to clean-up, no baked on glaze. However, it is a fire risk under the broiler, so be careful if you try it.
If you make this recipe, leave me a rating and let me know how it went in the comments below.
Nutrition
Serving:
1
g
·
Calories:
219
kcal
·
Carbohydrates:
38
g
·
Protein:
2
g
·
Fat:
7
g
·
Saturated Fat:
4
g
·
Polyunsaturated Fat:
2
g
·
Cholesterol:
18
mg
·
Sodium:
308
mg
·
Fiber:
1
g
·
Sugar:
23
g
{originally published 9/9/19 – recipes notes and photos updated 1/20/21}