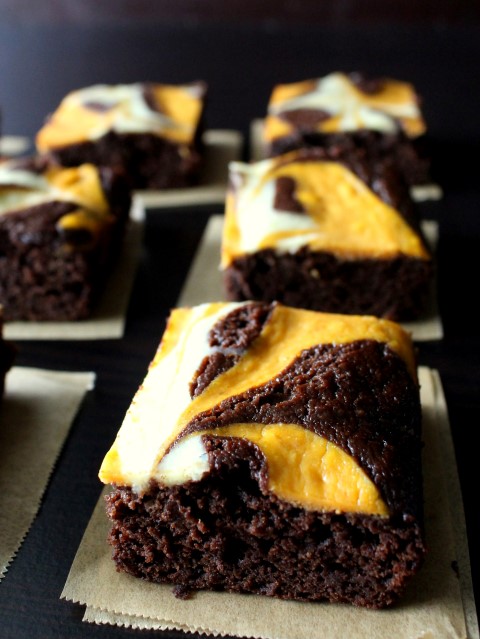 Once upon a time I made a rich chocolatey brownie swirled with with a smooth pumpkin cheesecake and enjoyed one piece after another. Today, I'm eating a bowl of ramen noodles, sitting in my cold office, and staring at these long gone brownies wishfully. Just look at that dark chocolate and pumpkin cheesecake layer!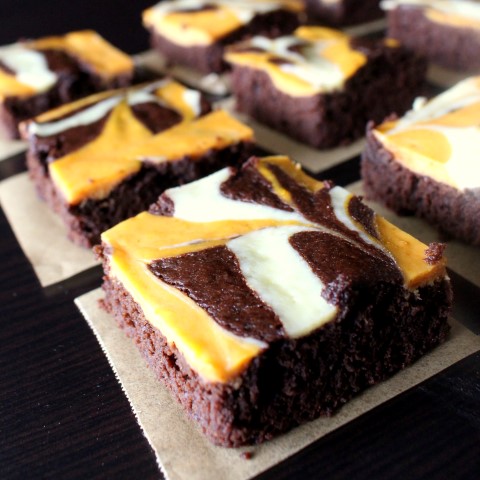 (I must be on a cheesecake kick this fall, my last recipe also involved pumpkin cheesecake. Oh, and a chocolate pumpkin kick too! Check out these cookies for fall!) Maybe it looks like a lag in creativity, but I don't care! I'm in pumpkin, cheesecake, and chocolate heaven! Just one more look at those gorgeous swirls.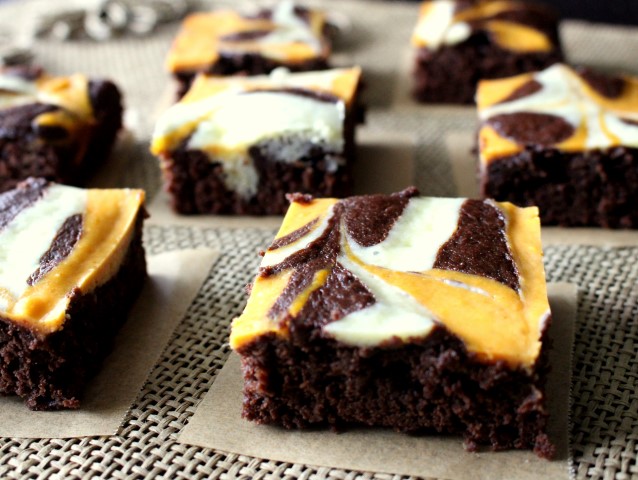 Pumpkin Cheesecake Swirled Brownies
Ingredients
For the Brownies

1/2 cup butter, melted
2 cups granulated sugar
1 cup canned pumpkin, not pumpkin pie filling
2 eggs
1 teaspoon vanilla extract
1 cup cocoa
3/4 cup all purpose flour
1/2 teaspoon baking soda
1 teaspoon salt

For the Cheesecake Swirl

4 ounces cream cheese, softened
1/3 cup granulated sugar
1 egg
1/2 tsp vanilla
1/3 cup canned pumpkin
1/2 tsp pumpkin pie spice
Instructions
Preheat the oven to 350 F. Grease and four a 9 x 13 inch baking pan. Beat together melted butter, sugar, pumpkin, eggs and vanilla together in a large bowl. In a separate bowl, whisk together the cocoa, flour, baking soda and salt. Add the dry ingredients to the wet and mix together until combined. Pour batter into prepared pan.
To make the cheesecake filling, beat together cream cheese, sugar egg and vanilla in a medium bowl. Reserve about 2/3 of a cup of this mixture. This will be the white cheesecake swirl layer. Mix the pumpkin into the remaining cheesecake mixture. You will have to colors of cheesecake batter. Starting with the white batter, spoon the mixture onto the brownie batter in thin rows. Then do the same with the pumpkin cheesecake batter. Don't worry if they touch or its not perfect. It's art. Run a butter knife through the batter in a grid pattern to get the swirled look. Don't over do it.
Bake at 350 F for 20-23 minutes or until a toothpick inserted comes out clean. Cool completely and chill in the refrigerator for at least 2 hours before slicing. Makes 24 brownies.
http://chocolatewithgrace.com/pumpkin-cheesecake-swirled-brownies/
This recipe first appeared on Uncommon Designs last month where I am a contributor!
Follow along on my pumpkin, cheesecake and chocolate craze with these other recipes!
Salted Caramel Pumpkin Cheesecake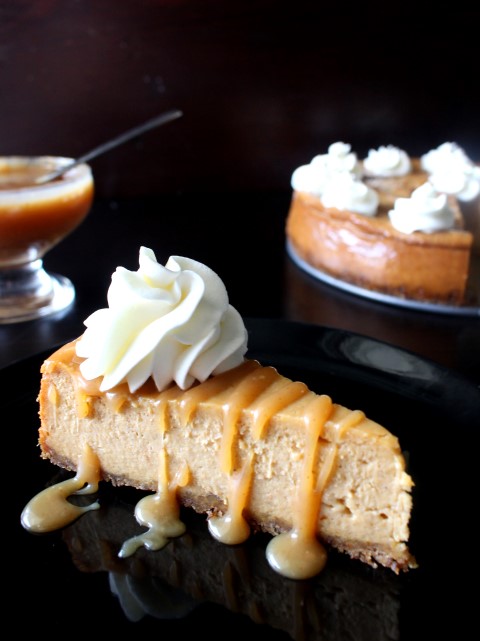 Chocolate Sandwich Cookies with Pumpkin Spice Buttercream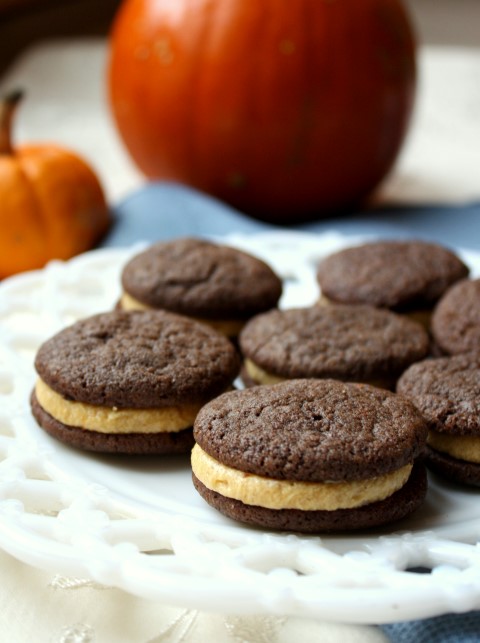 The pumpkin cheesecake swirl in the brownies is worth the extra bit of effort and makes these brownies ultra moist.