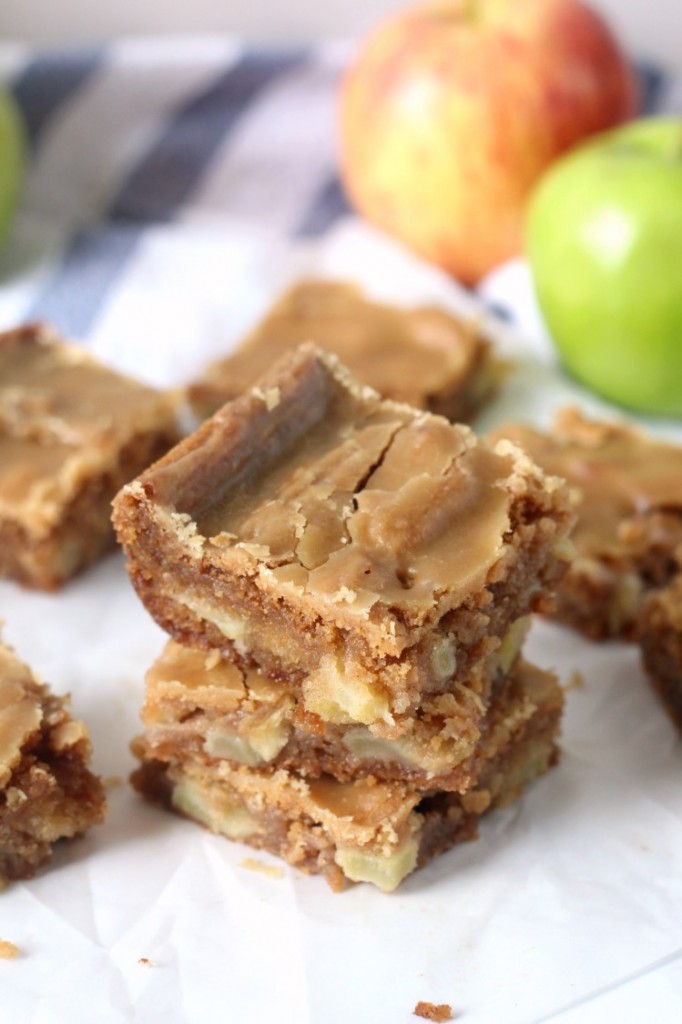 I've had to make these easy apple blondies at least three times in order to take pictures of them. Each time I made them, they disappeared long before I could get their picture taken with no leftovers to be seen. So one lazy Saturday afternoon, I decided to make them again to get them photographed and on the blog.
This recipe was originally published in November 2014, but I've updated the pictures and the recipe to include a brown sugar frosting.


The Easiest Apple Blondies with Brown Sugar Frosting
I had intentions of posting them earlier, as inspiration for all of you trying to figure out what to do with those bags of pretty apples on your counter. Not that there isn't one billion other ways to enjoy them. (Like in my caramel apple dessert pizza, or in a traditional apple pie, or even just plain!)
But these are one of the quickest baking ideas for apples and they're amazingly soft and chewy with a perfect cinnamony (my newest, favoritest, fall word) flavor to compliment the apples. Pecans are also a great addition to these apple blondies, but since Tyler doesn't care for them, and I don't care to eat a whole pan myself, I usually leave them out. They are great either way.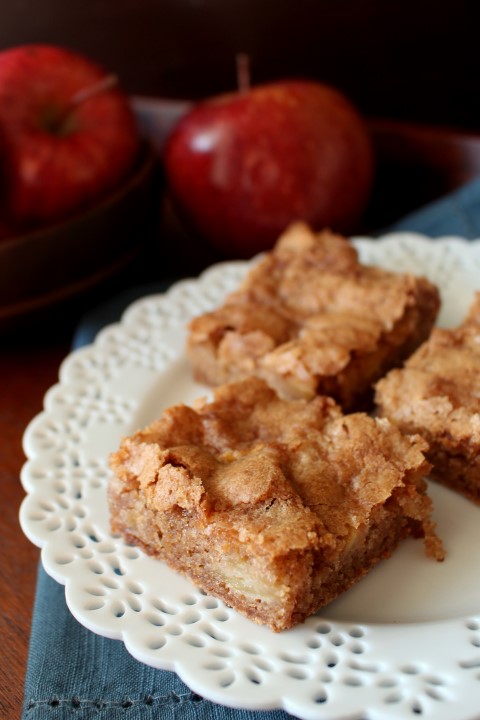 How to make Apple Blondies with Brown Sugar Frosting
These are simple to make as they have a pretty standard blondie base. It's extra easy because it starts with melted butter and everything else is simply stirred in from there. Not butter and sugar to cream together. The melted butter makes them extra chewy.
Whisk the dry ingredients and then gently stir the dry ingredients into the wet and add the apple and pecans if desired. While they are baking, whip up the brown sugar frosting. You will frost them immediately when they come out of the oven. These bars are so good they don't need the brown sugar frosting at all, but they are prettier with it and it adds an extra layer of flavor and sweetness.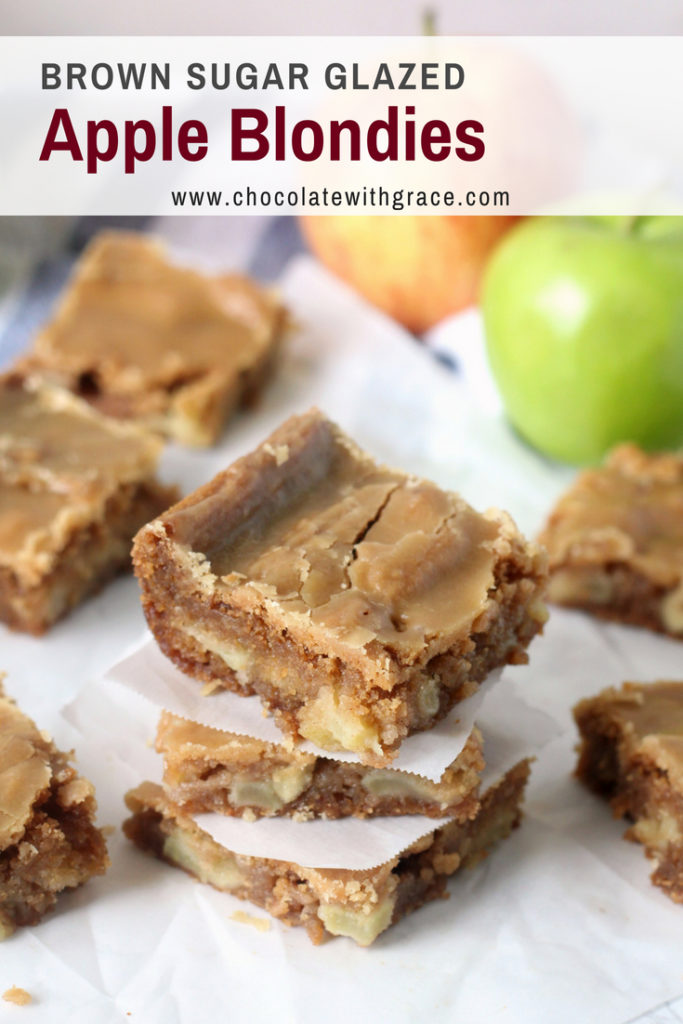 These would be excellent as a dessert to a simple fall meal. Perhaps a meal of sausage and spaghetti squash casserole or an Apple Cider Roast Chicken. Or they would be great to take to a potluck or snack on in the afternoon.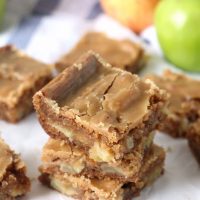 Easy Apple Blondies with Brown Sugar Frosting
Yield: 24 bars

Prep Time: 20 minutes

Cook Time: 40 minutes

Additional Time: 30 minutes

Total Time: 1 hour 30 minutes

These easy Apple Blondies are packed full of delicious fall apple flavors in a soft, cinnamon blonde brownie.
Ingredients
For the blondies
1 cup butter
2 cups granulated sugar
2 eggs, room temperature
2 cups all purpose flour
2 tsp cinnamon
1 tsp baking soda
1 tsp baking powder
2 cups apples, finely diced
1 cup chopped pecans, if desired
For the brown sugar frosting
1/4 cup butter
1/2 cup brown sugar
2-3 tablespoons milk
1/2 teaspoon vanilla
1 1/4 cup powdered sugar
Instructions
Preheat oven to 350 F. In a large microwave proof bowl, melt butter. Beat in sugar and eggs until fluffy. In a separate bowl, stir together flour, cinnamon, baking soda, and baking powder.

Add the dry ingredients to the wet and stir until just combined. Gently fold in apples and pecans, if desired. Pour the batter into a greased 9 x 13 inch pan. Bake for 40 to 50 minutes or until a toothpick inserted comes out clean.

While they are baking, make the brown sugar frosting. Melt the butter in a heavy saucepan over medium heat. Add the brown sugar and salt, heat until bubbly and let bubble for about 2 mins. Add the milk and cook for another 30-60 seconds until no longer grainy. Remove the pan from the heat and add the vanilla and powdered sugar. Beat until smooth. Add more milk if necessary to thin it out.

Frost the rolls with the warm frosting about 2 minutes after the come out of the oven. Let cool completely before cutting.
 Here are some of my other favorite fall apple recipes: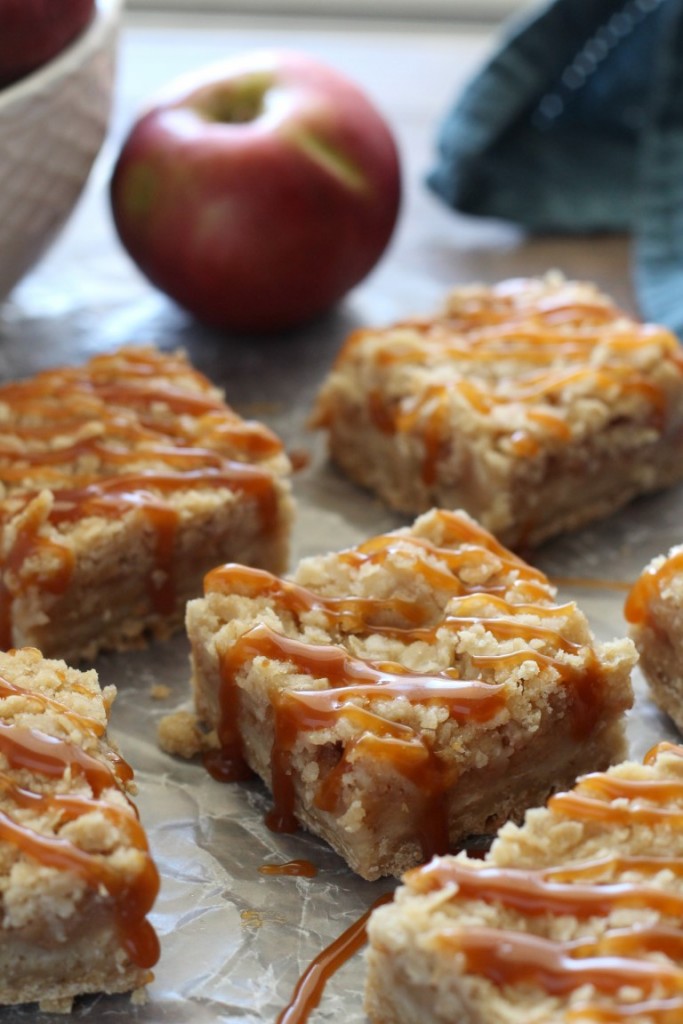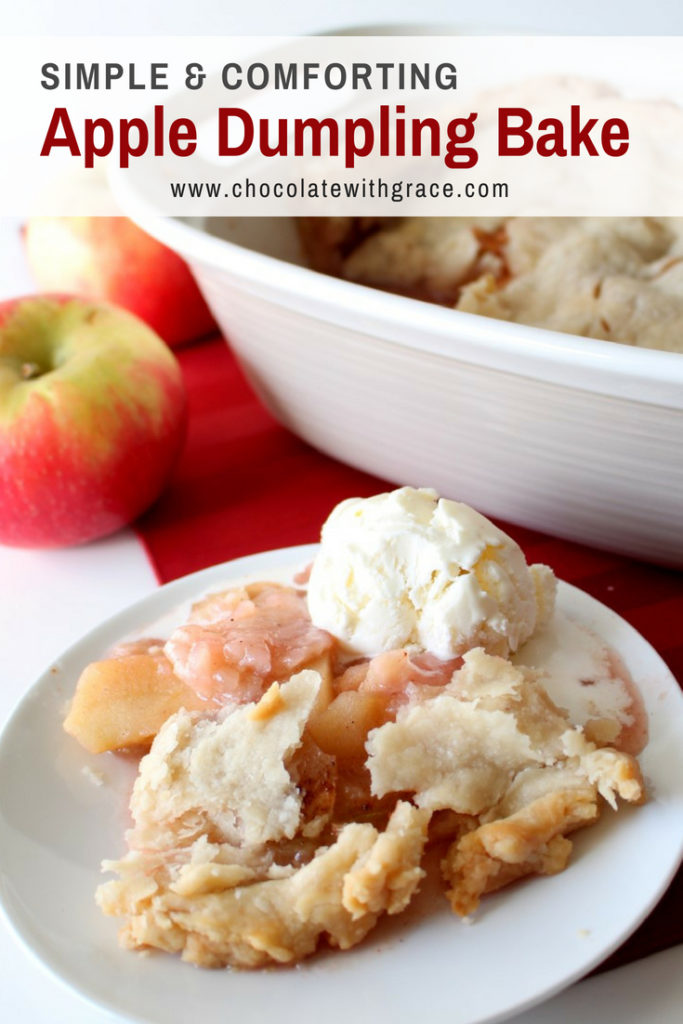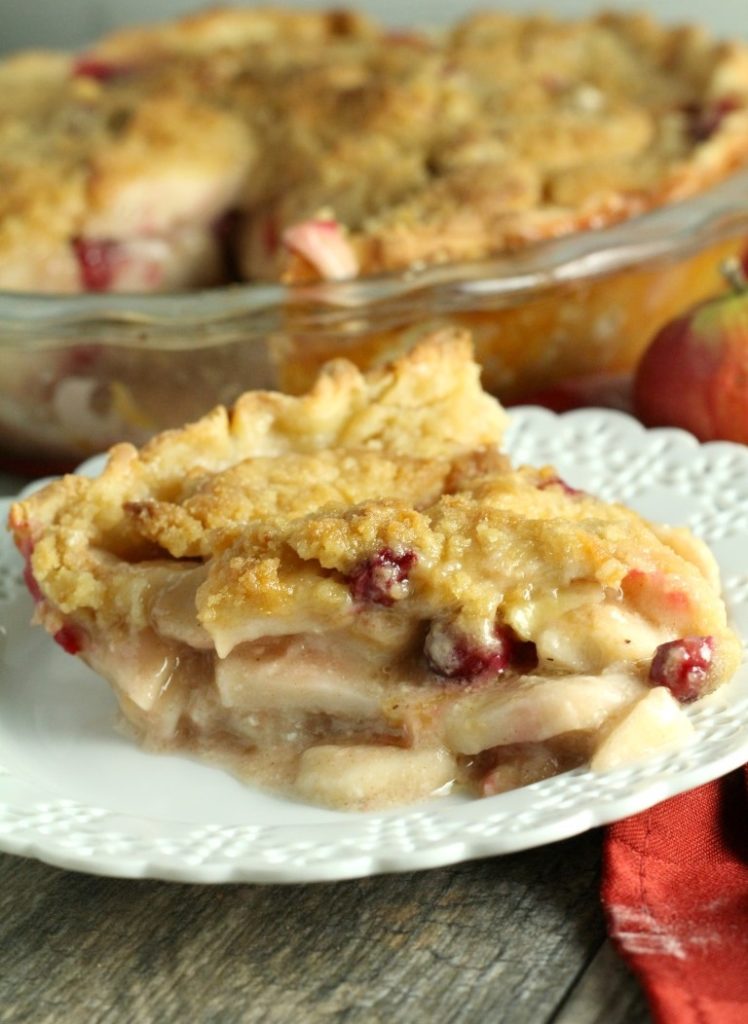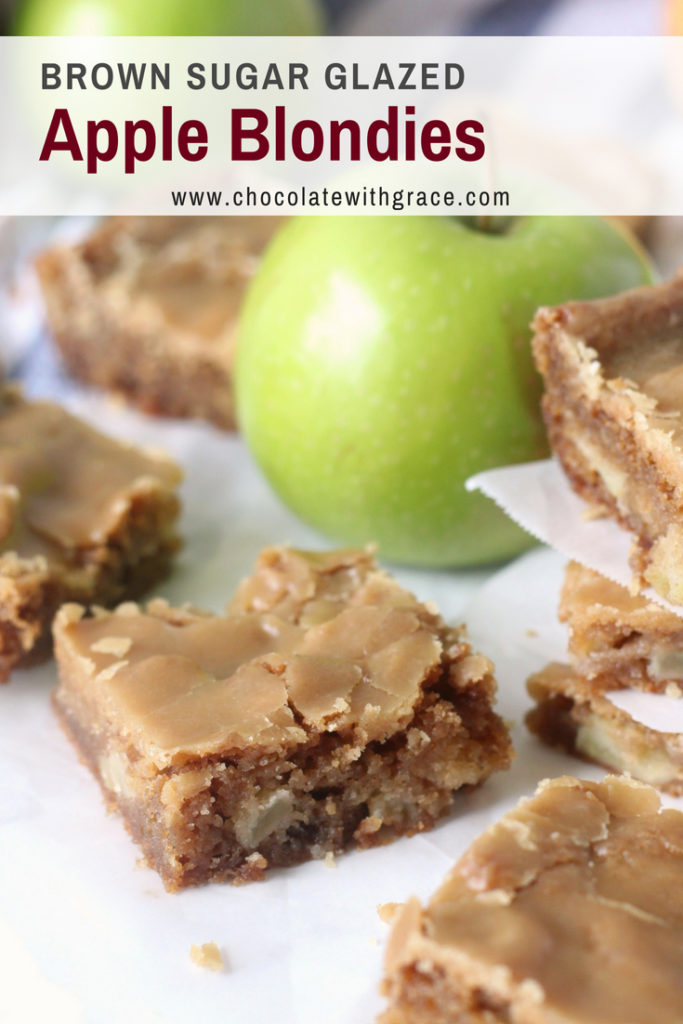 These easy Apple Blondies are packed full of delicious fall apple flavors in a soft, cinnamon blonde brownie.