Craving gingerbread but don't have time to make those cute, little gingerbread men? Try these quick and easy, soft gingerbread bars. 
It's snowing this morning for the first time this winter and it is giving me all the joyful Christmas feels. I want to curl up under a blanket with hot chocolate, listen to Christmas carols, bake cookies, wrap presents, go on a snowy walk outside, stamp our Christmas cards and decorate for Christmas all this Saturday. 
Reality is that I curled up in bed for awhile this morning watching Christmas carol music videos on youtube with Cameron and Ashtyn, (we love this song by the Piano Guys). And now after I type this post, my afternoon will be spent packing for our move. Because, guess who got a closing date!?!?! We are actually going to get to move before Christmas, barely.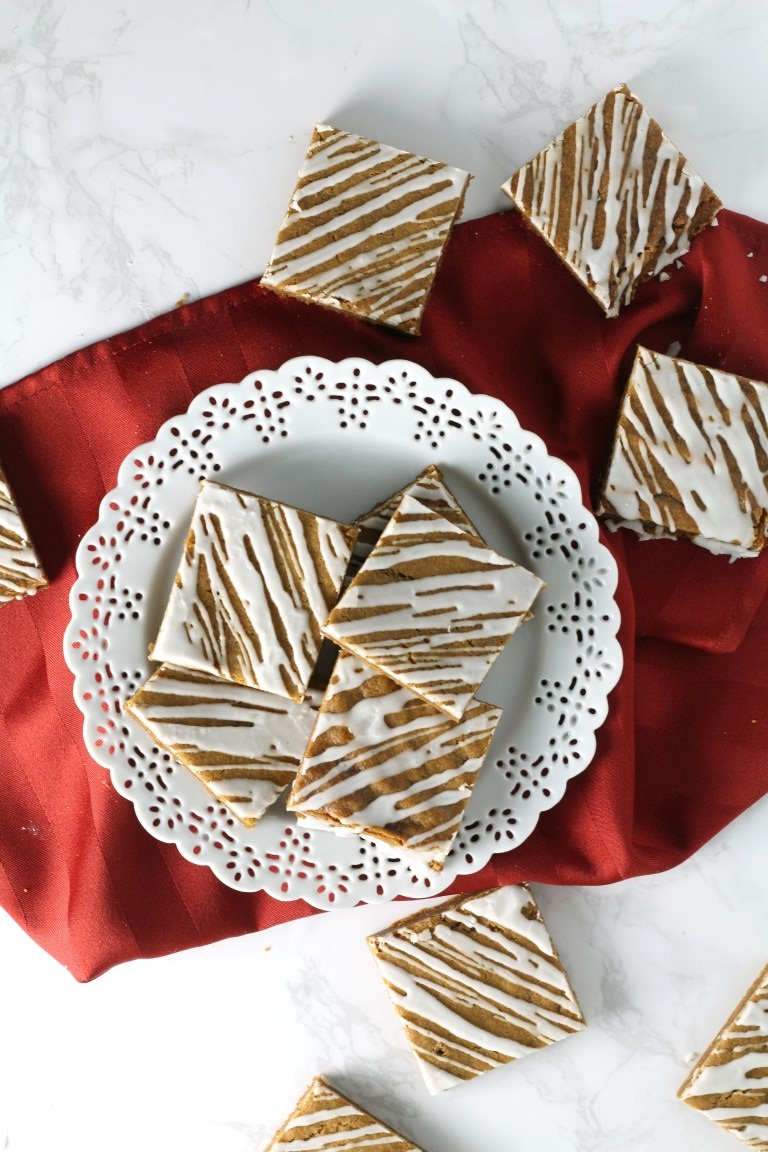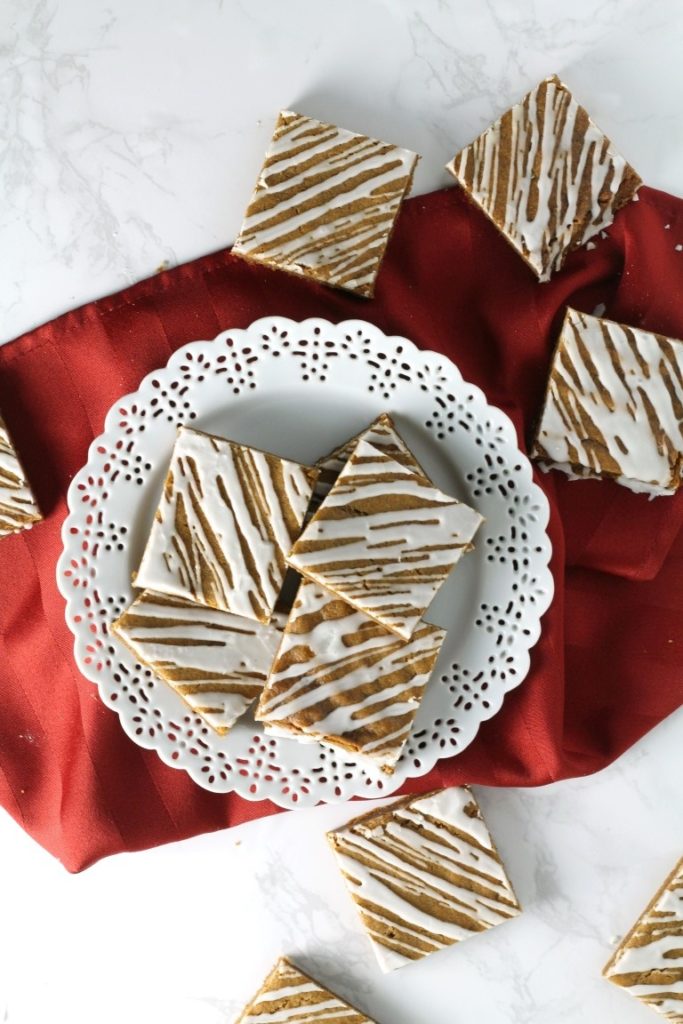 I made these easy gingerbread bars a few days ago when the baking bug bit, even though I said I was done baking Christmas treats for the year. I actually ended making them again yesterday and tweaking the recipe a bit so they are even better.
I definitely have to be done with my Christmas baking now, because I need to get the kitchen packed up later this week. You have any kitchen packing tips for me? That room intimidates me the most. Thankfully, we aren't moving far away (2 miles), so I can make several trips if needed.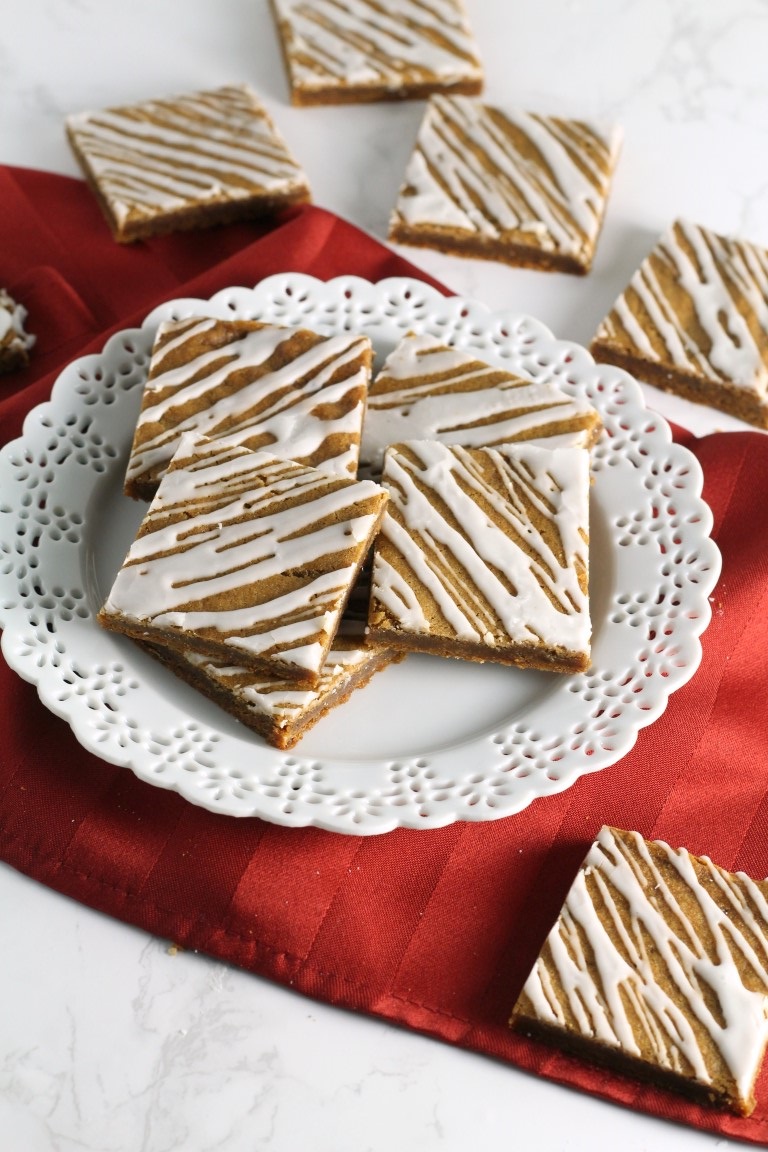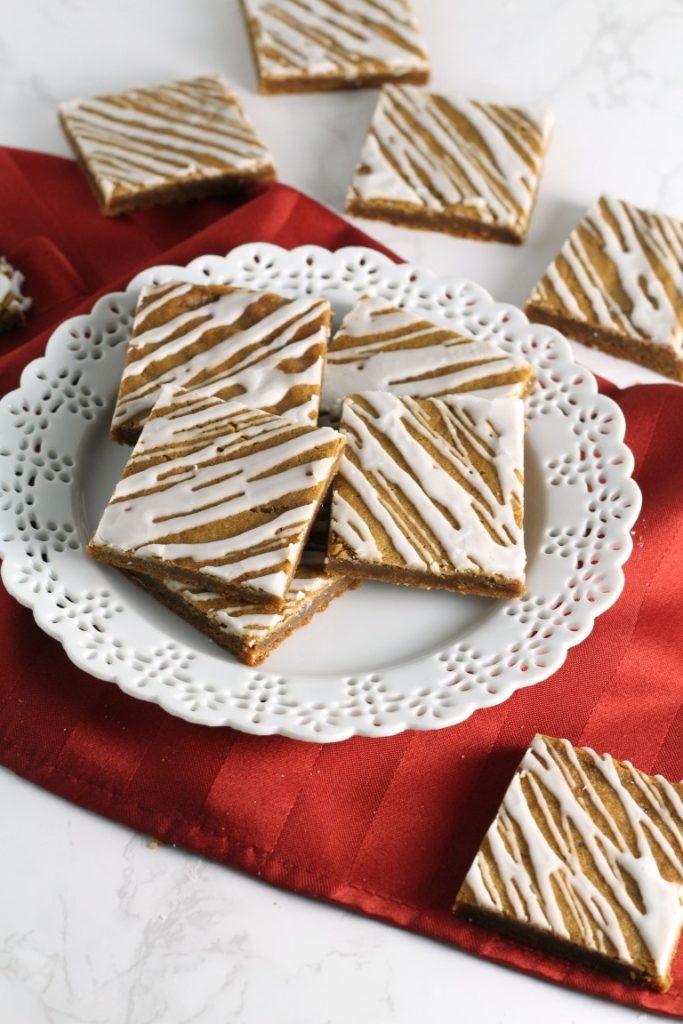 Do you you have an exciting baking plans this weekend? Let me know so I can live vicariously through you. I'd love to be baking instead of packing.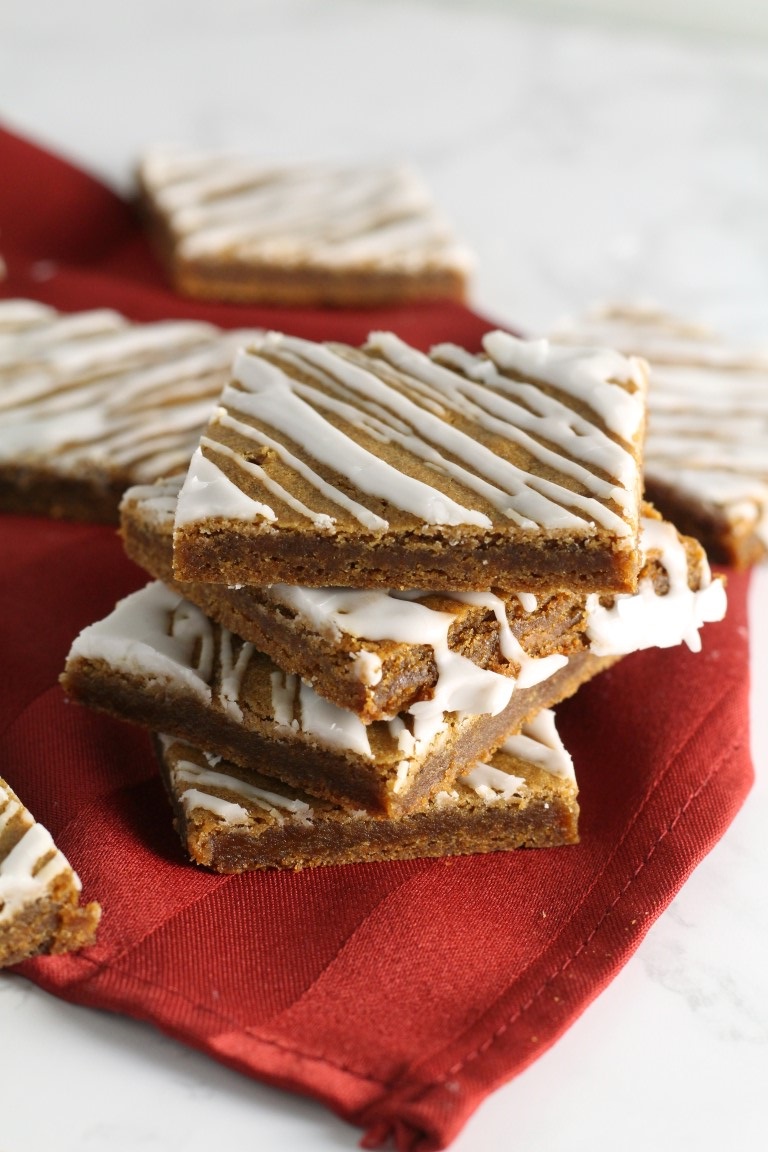 Soft Glazed Gingerbread Bars
Craving gingerbread but don't have time to make those cute, little gingerbread men? Try these quick and easy, soft gingerbread bars.
Ingredients
For the Gingerbread Bars
½

cup

softened butter

1

cup

brown sugar

1/4

cup

molasses

1

egg

room temperature

2

cups

all-purpose flour

1

teaspoon

baking soda

½

teaspoon

salt

1

teaspoon

ground cinnamon

1

teaspoon

ground ginger

1/4

teaspoon

ground cloves

1/4

teaspoon

ground nutmeg
For the Glaze
1

cup

powdered sugar

1-3

tablespoons

milk

1/2

teaspoon

vanilla
Instructions
Preheat the oven to 350 F. In a large bowl cream together the butter and brown sugar, beat in the molasses and egg. Whisk together the flour, baking soda, salt, cinnamon, ginger, cloves and nutmeg in a separate bowl. Add the dry ingredients to the wet and stir until well combined.

Press into the bottom of a greased 9 x 13 inch baking pan. Bake for 14-16 minutes or until a toothpick inserted comes out with a few crumbs. Let cool completely before glazing.

To make the glaze, mix together the powdered sugar, vanilla and enough of the milk to make a smooth consistency that is easy to drizzle. Drizzle onto cooled bars. Cut into squares.
Nutrition
Here are some other Gingerbread treats I would love to bake if I had time:
Gingerbread Crinkle Cookies from If you Give a Blonde a Kitchen
Gingerbread Loaf from Tastes of Lizzy T
Classic Old Fashioned Gingerbread Cake from Dinner, then Dessert
If you prefer gingerbread flavors in cookie form, check out my soft Molasses Crinkle Cookies!