A S'mores Sundae is the perfect way to enjoy s'mores in the summer. Vanilla ice cream, graham cracker crumbs, toasted marshmallows and hot fudge make this one of the easiest s'mores treats to make.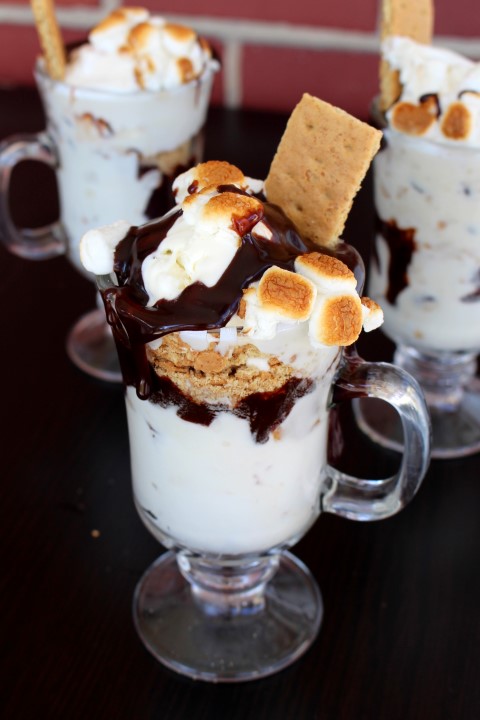 Tomorrow is National S'mores Day, one of the best food holidays. To celebrate I'm giving you one of the easiest tastiest s'mores recipes ever. It's so easy I don't think it can be called a recipe. I'm not sure who decided National S'mores day should be in August, to me s'mores are something to be enjoyed in the fall around a campfire. August is probably one of the hottest months of the year and often it seems too hot for a fire. With s'mores in ice cream sundae form, the problem is solved; no fire needed and they're enough to cool anyone down in style.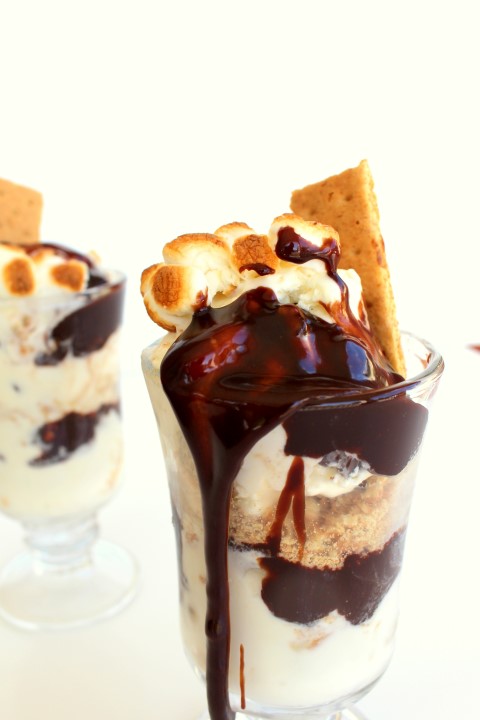 Ice cream is always been one of my favorite deserts so it was just natural to switch up s'mores into an ice cream desert. However, some other bloggers have some fantastic variations on s'mores that I would love to try.
S'mores Oreo Brownies by Yellow Bliss Road. Oreos would be an amazing addition to all the gooey goodness of a s'more.
Muddy Buddies, or what some people refer to as puppy chow ,has always been a favorite snack. Check out these S'more Muddy Buddies from Six Sister's Stuff.
And lastly, I am in absolute love with these White Chocolate Blackberry S'mores from 40 Aprons. Pure genius!
If your still looking for s'mores recipes, you can also check out my easy s'mores squares for an easy treat or my s'mores cupcakes for a more time intensive, but decadent treat. But me? I'm going to be enjoying a s'mores sundae tomorrow. Three cheers for ice cream married to s'mores!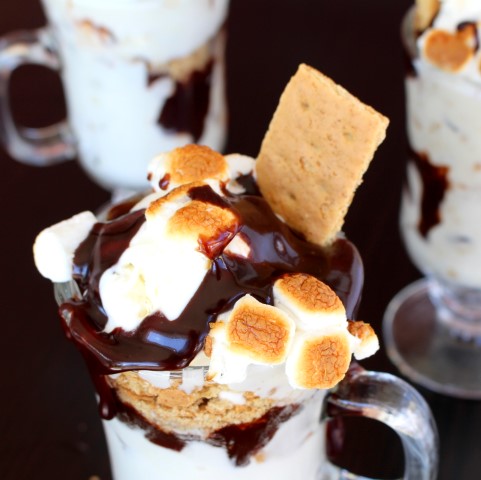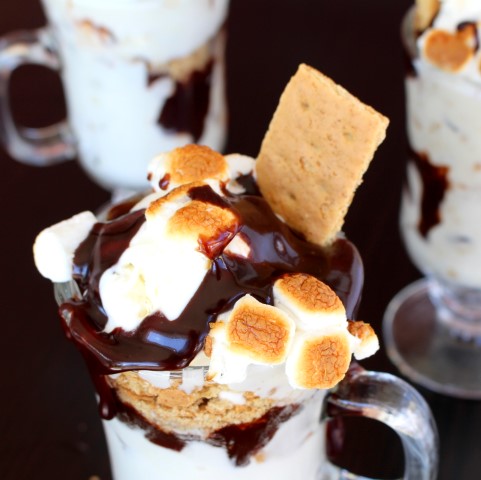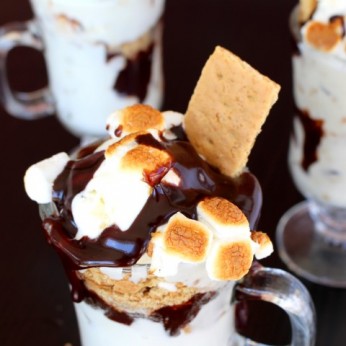 S'mores Sundae
Ingredients
1

pint

vanilla ice cream or chocolate if you prefer

1/2

cup

crushed graham crackers

1/4

cup

chocolate chips

1

cup

miniature marshmallows

3/4

cup

hot fudge
Note:
All quantities are negotiable

feel free to use what you want and in what layers you want. This is how we enjoyed our s'mores sundaes.
Instructions
To toast marshmallows, turn the broiler on to high and move the rack to its highest position. Spread the marshmallows into a single layer on a parchment paper lined cookie sheet. Broil the marshmallows for 30 seconds to 1 minutes until browned. Watch them closely. Then can go from brown to burnt in a matter of seconds. Let cool a bit before removing from parchment paper.

Place a scoop of ice cream in the bottom of two sundae glasses. Sprinkle in a layer of chocolate chips, graham cracker crumbs, hut fudge and marshmallows. Repeat layers. Garnish with additional toppings as desired.

Enjoy immediately.
Try these other awesome s'mores recipes!