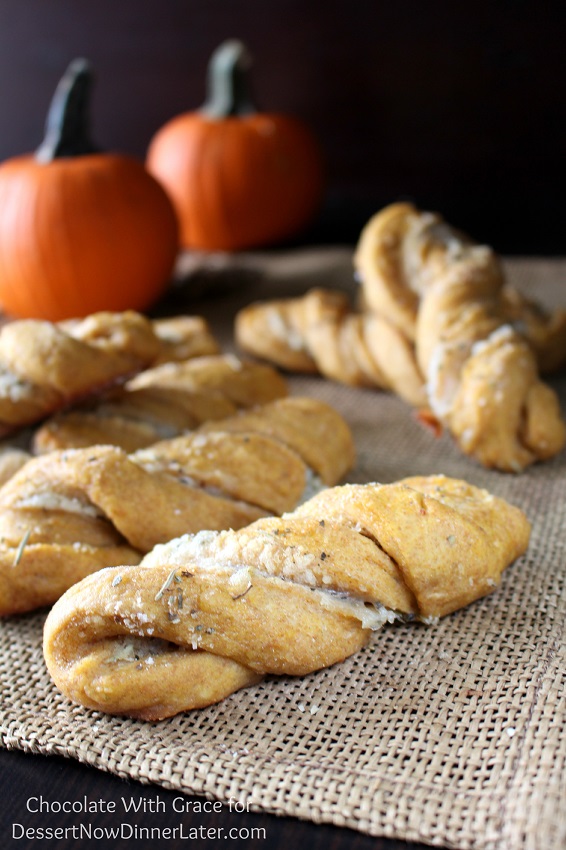 Pumpkin is one of my favorite ingredients to use and I don't see why it should be limited to a few months of the year. I'm on the team of "all-things-pumpkin-all-year-round". Pumpkin bread, pumpkin cookies, pumpkin cake, I love it all.
Savory Pumpkin Twists
Pumpkin to me is much more versatile than all the classic, sweet desserts we love it in. Today, I am pairing my favorite ingredient with savory flavors. Butter, Italian seasonings and a sprinkling a Parmesan and Mozzarella Cheese make these Savory Pumpkin Twists.
Now, you might be a bit skeptical and want to hoard that pumpkin for your favorite sweet treat, but let me say these are worth it.
I think they would be a fun alternative to traditional rolls for Thanksgiving dinner. I can't believe I brought Thanksgiving up already! But, it's coming ready or not!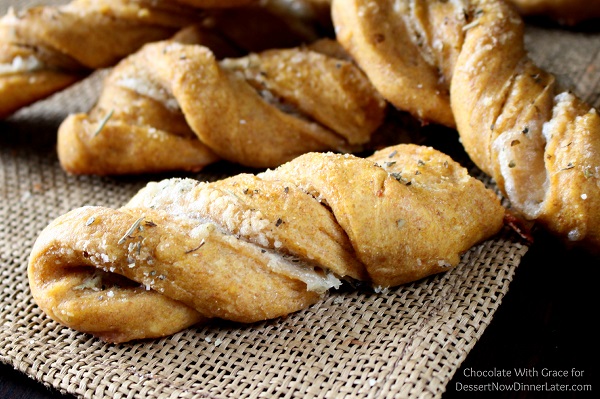 Now, I know you're probably thinking, "pumpkin belongs in a pie or in some beautiful pumpkin bars with cream cheese frosting." But before you write them off, let me give you my thirty-second elevator pitch on why these are worth a can of pumpkin.
First, pumpkin makes everything it touches soft and moist, and this yeast dough is no exception. The pumpkin takes ordinary dinner roll dough, and with the help of some herbs, cheese, and a pretty little twist, transforms them into an elegant addition to any meal. Or, you can just enjoy them as an everyday snack, like me! No need for special occasions.
Second, we can't go around eating sweets all season, so we might as well get more of this delicious ingredient by putting it in healthier treats.
After all, it is a vegetable! Third, my husband declared them one of the best things I have made.  They're absolutely worth a can of pumpkin and a little time!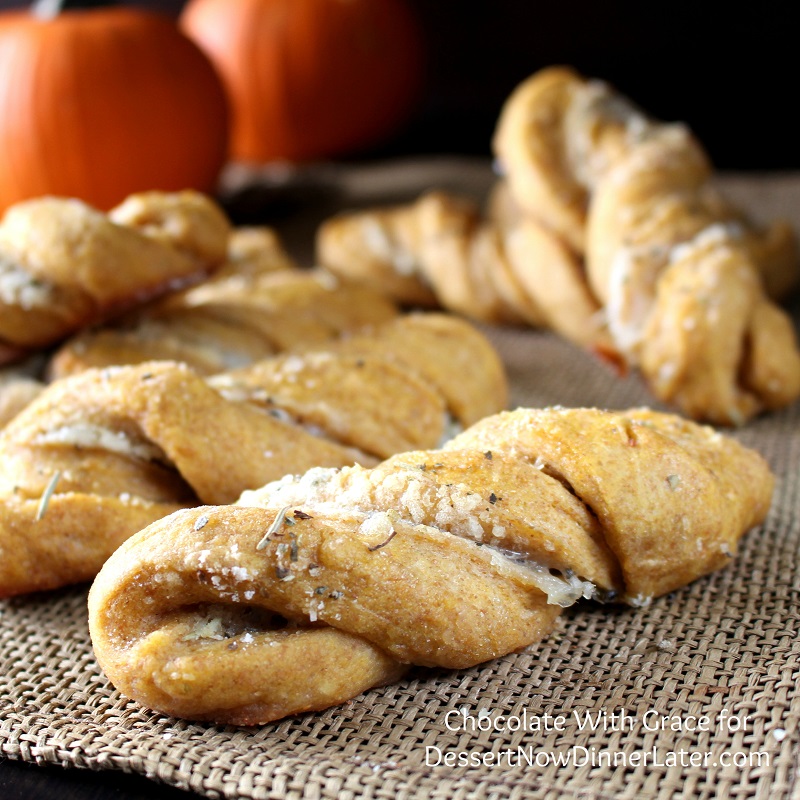 Savory Pumpkin Twists Recipe
For the Dough
1 Tbsp instant yeast
1/2 cup warm milk
2 Tbsp honey
2 Tbsp butter, melted and cooled
1 tsp salt
1 cup canned pumpkin
1 cup whole wheat flour
2 to 2 and 1/2 cups all purpose flour
For the Filling
5 Tbsp butter
1 tsp Italian seasoning
1/2 tsp sage
1/8 tsp garlic powder
1/2 cup grated Parmesan cheese
1/2 cup grated Mozzarella cheese
Dissolve yeast in milk in a large mixing bowl. Stir in the honey, butter, salt, pumpkin, and whole wheat flour. Add enough of the all purpose flour until a soft dough forms.
Turn out onto a floured surface and knead for 4 or 5 minutes until dough is elastic. Cover and set in a warm place and let rise until doubled.
Preheat oven to 350 degrees Fahrenheit. Melt the 5 Tablespoons of butter and stir in the Italian Seasoning, Sage and Parmesan.
Punch down the dough and then roll the dough into an 18 inch x 18 inch square. Spread the melted butter mixture onto the dough. Sprinkle with Parmesan and Mozzarella cheese.
Fold the dough in thirds and cut crosswise into 24 strips. Twist each strip one and a half times. Lay them out on a greased cookie sheet. Let rise for 20 minutes.
Bake at 350 degrees Fahrenheit for 14 to 16 minutes or until lightly browned. Do not overbake.
{This recipe was originally published 9/27/14 as a guest post on Dessert Now Dinner Later.}