This Pumpkin Crunch Dump Cake is simple to make and the perfect recipe for Thanksgiving dessert. 
This cake is more like a pumpkin pie with a crunchy pecan streusel layer on top made with yellow cake mix, just to be clear. Is anyone else a yellow cake mix fan like I am? Many birthday cakes growing up were made with a good old fashioned yellow cake and I still like the flavor to this day. I've also seen similar recipes to this one that use a spice cake mix, so if that is more your flavor profile, go for it. The pumpkin layer is bursting with that pumpkin spice flavor. 
As I type this, a parade is going past my window, well, around the corner from where I live. But still plenty close enough to hear a lot of commotion through the open windows. We are not parade people and I feel a little out of place in this town when the fair comes to town in the fall and people start to talk about the parade.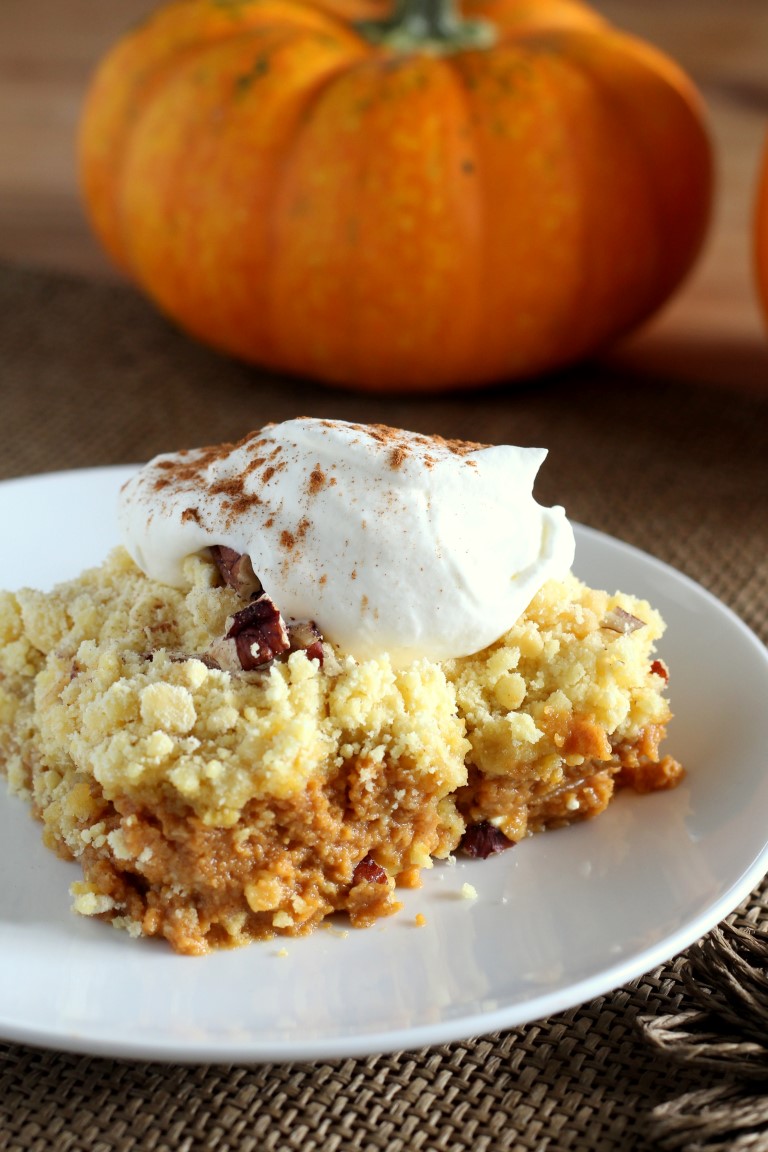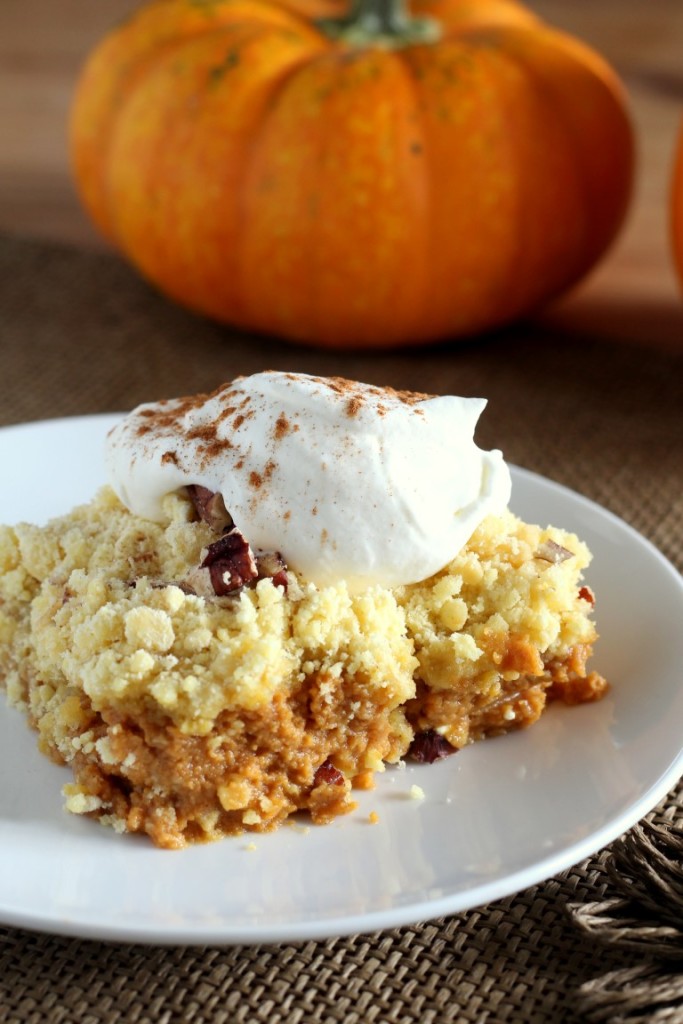 Weeks ahead of time they mark out their seats with string and folding chairs along main street. Weeks ahead, friends. Who does that? Then on parade day, the streets close and the traffic comes and clogs the streets that are open and just about park us into our driveway. Maybe that is why I get grouchy about the parade. Right now, I have a song stuck in my head that one of the floats was playing, "For I'm going to Louisana, for to see my Susieanna, singing Polly Wolly Doodle all the day." Did you ever listen to Wee Sing?
I do feel a little bad for people who love the parade because this year it poured rain for the first half of the parade. Are you a parade person? What makes you excited to watch them? Candy? Either way, I'm sure you will love this Pumpkin Crunch Dump Cake. Check out the video at the top of the post if you haven't yet for a quick tutorial on how to make it.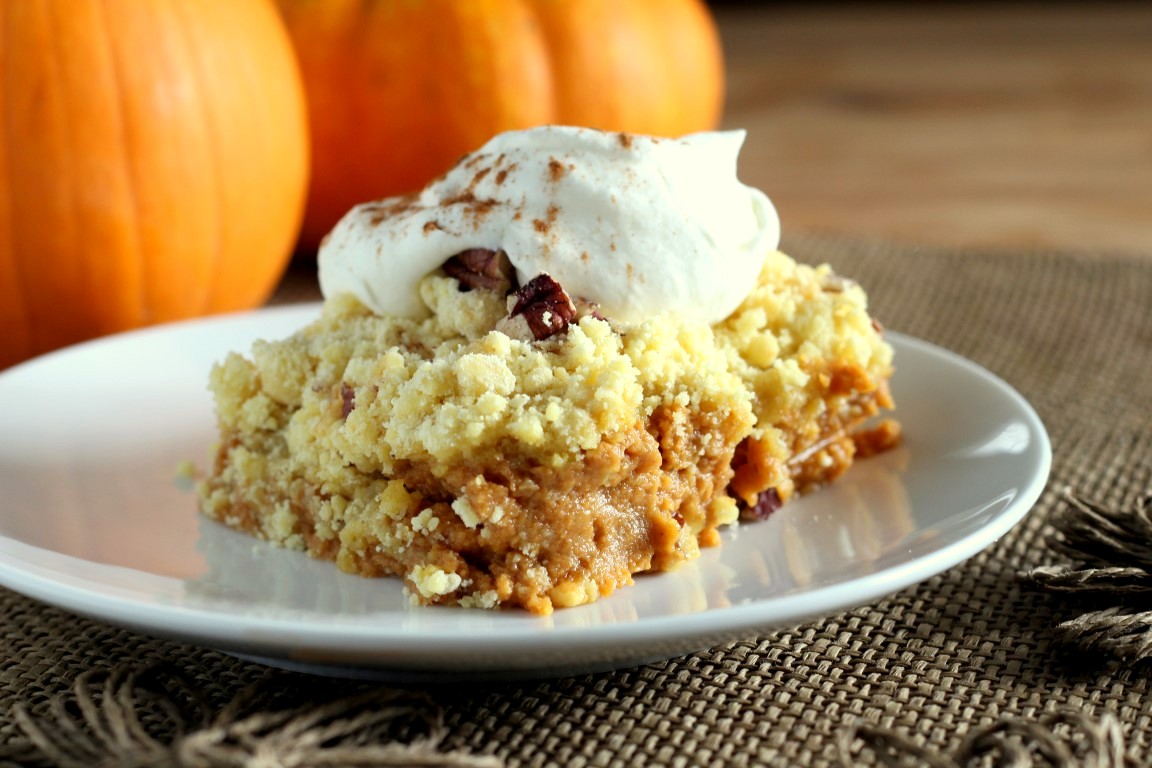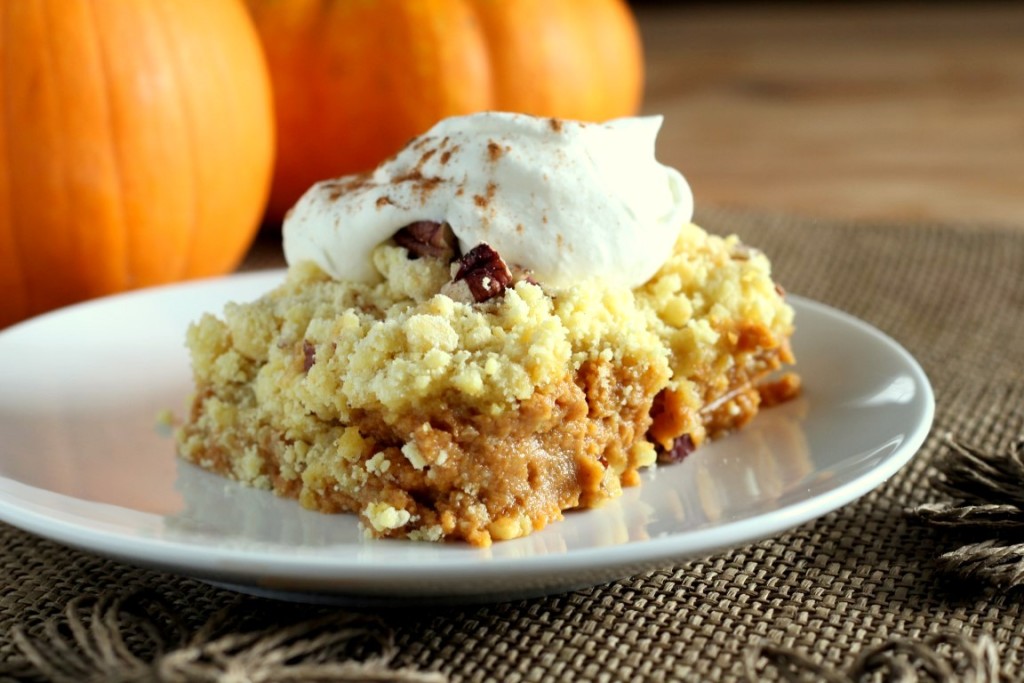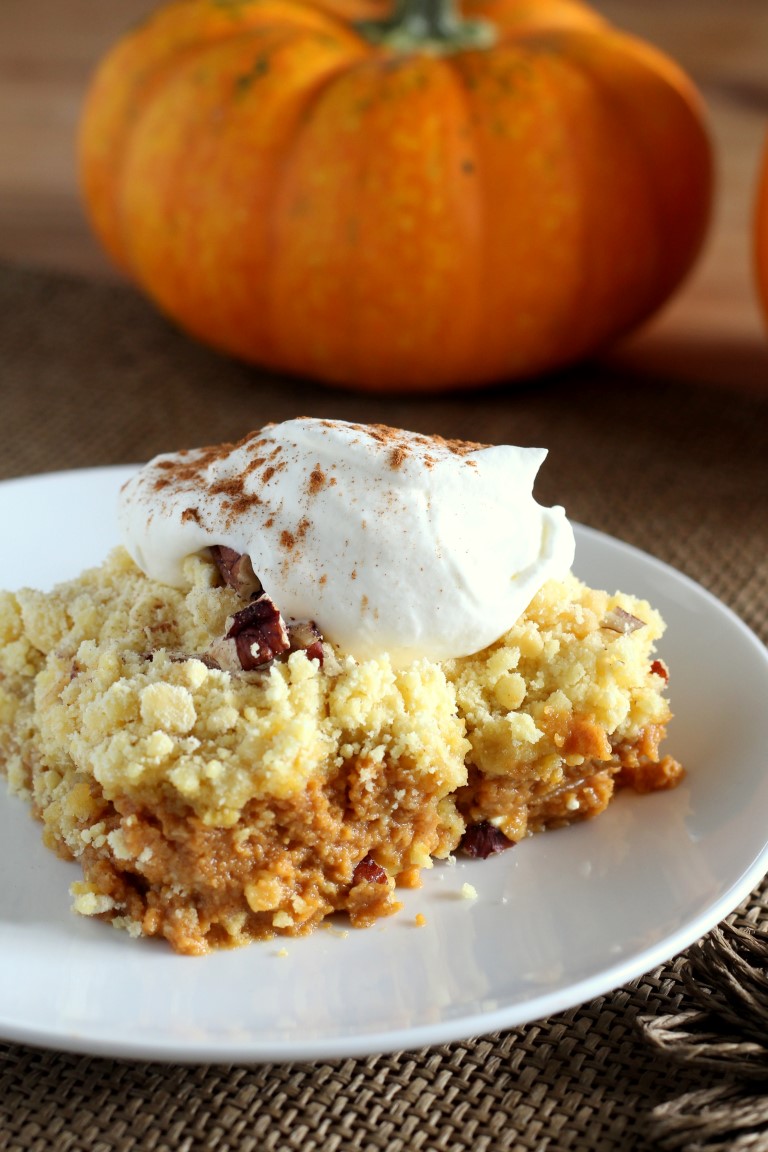 Pumpkin Crunch Dump Cake
This Pumpkin Crunch Dump Cake is simple to make and the perfect recipe for Thanksgiving dessert.
Ingredients
1

29 ounce can pumpkin puree

3/4

cup

half and half

3

eggs

1

cup

brown sugar

packed

2

teaspoons

pumpkin pie spice

1/2

teaspoon

salt

1

15.25 ounce yellow cake mix

1/2

cup

pecans

roughly chopped

1/2

cup

melted butter
Instructions
Preheat oven to 350 F. Grease a 9 x 13 inch baking pan and set aside. Whisk together the pumpkin, half and half, eggs, brown sugar, pumpkin pie spice and salt. Pour into the greased pan.

Sprinkle with the dry cake mix and top with chopped pecans. Last, drizzle melted butter over everything.

Bake at 350 F for 45-55 minutes, or until a toothpick inserted comes out clean. Let cool and serve with whipped cream.
Nutrition
If you're looking for a traditional pumpkin cake, try this one from Averie Cooks. It looks delicious.
Or here is a pumpkin spice cake shaped like an actual pumpkin. How fun is that?
Or if you want to eat pumpkin cake for breakfast, try this Pumpkin Spice Coffee Cake from Crunchy Creamy Sweet.
Try  these Pumpkin Bars with Cream Cheese Frosting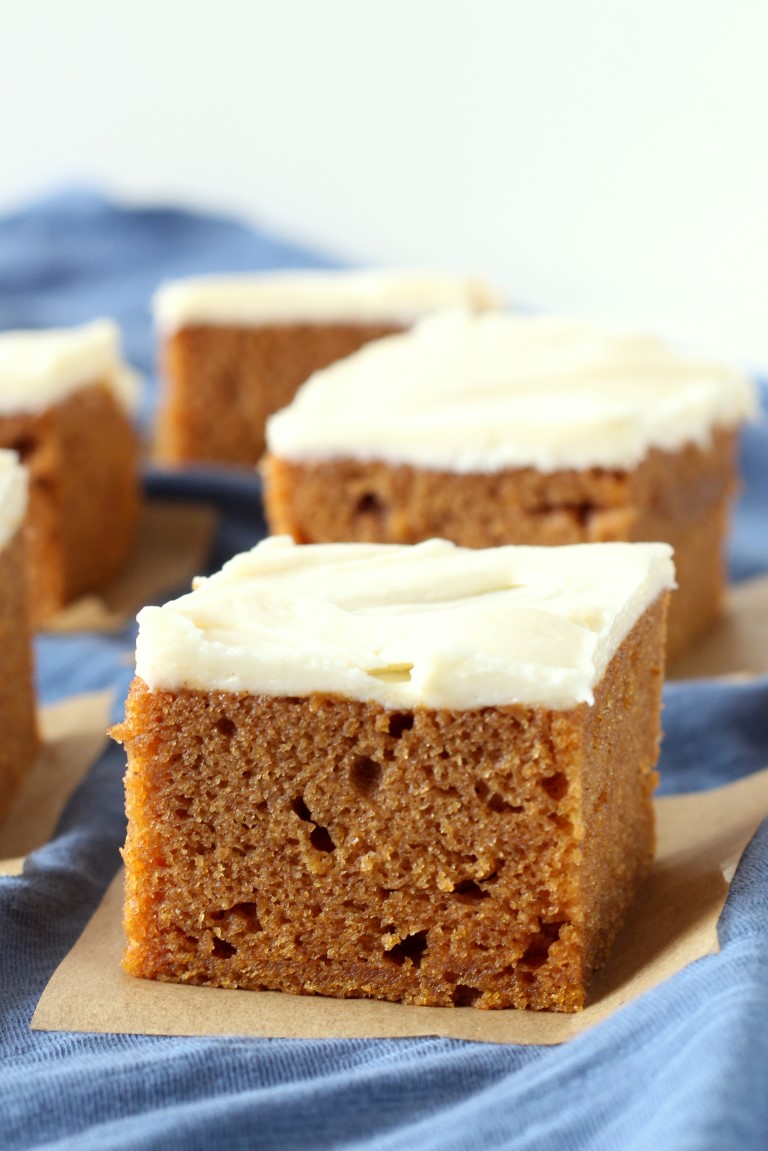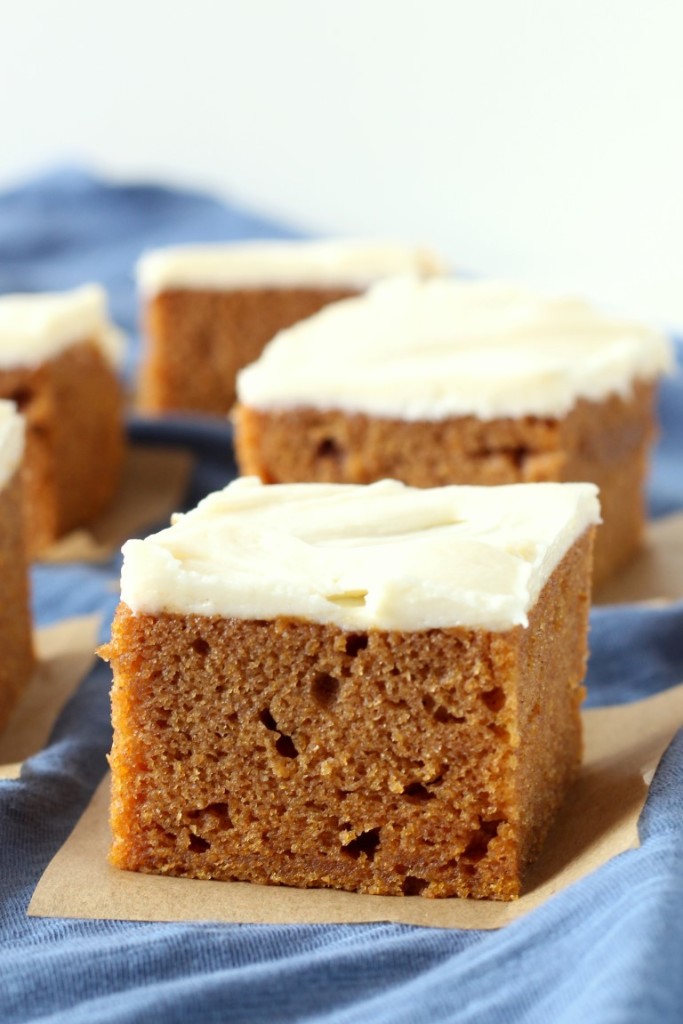 Or this Pumpkin Cheesecake Pie