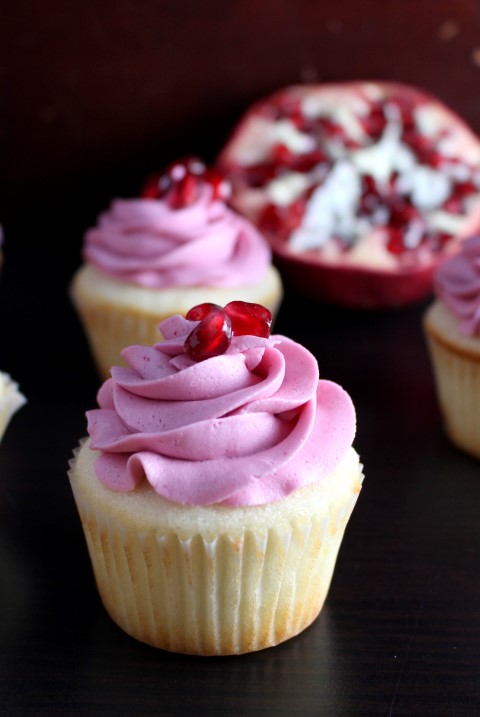 I'm going through one of my fruit obsessions right now. I'm all about the pomegranates. I've been enjoying them plain, in smoothies, and, of course, I had to make a dessert of out them. The little red jewels add so much color this time of year when everything is drab and brown (Although we finally did get some snow to brighten things up).
I usually love snow, but this week I was commuting to work from a hotel in Delaware where Tyler has training. It's not as far as I usually drive, but the drive is almost entirely through town, none of the pretty Amish countryside I usually see. Anyway, the snow made the drive over 2 hours long and all I got to see was the brown slush under the tires of the car in front of me. And snow usually makes me so happy!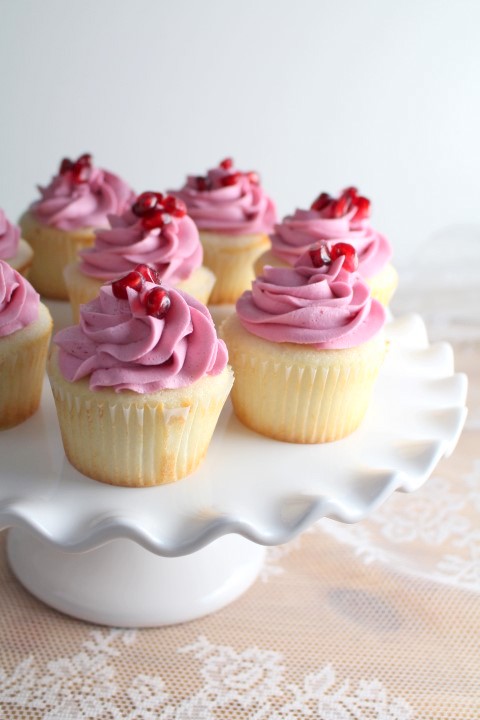 So I had fun editing some pretty cupcake pictures that evening (Eating one would have been even better, but they were long gone!). Since I make so many dessert recipes for the blog, I rarely eat more than one piece of anything before gladly giving them away, but I didn't feel one bit guilty for each almost the entire batch of these pomegranate cupcakes myself.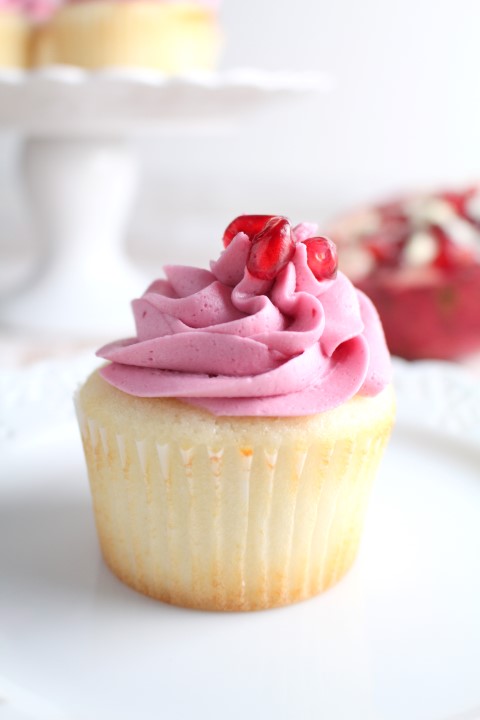 I've found my go-to white cupcake recipe. I adapted this white cake recipe from I Am Baker (and by adapted I mean I barely changed around 2 ingredients. No need to reinvent an amazing recipe.) The frosting is a basic buttercream with reduced pomegranate juice. The beautiful pink color of the frosting came solely from the pomegranate juice, no need for food coloring.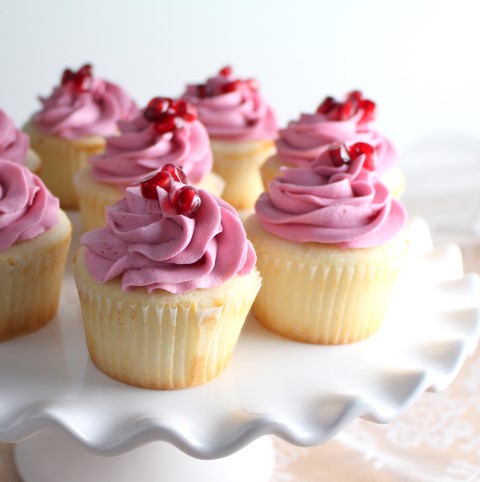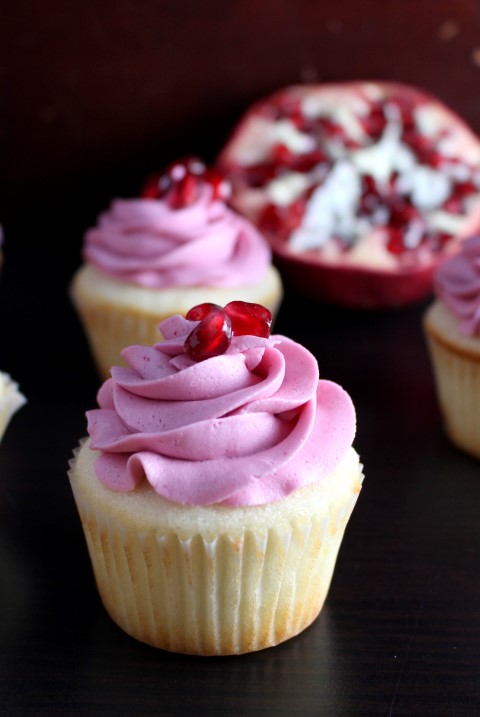 Pomegranate Cupcakes - White Cake with Pomegranate Buttercream
The best white cupcake with tangy, creamy pomegranate buttercream makes these pomegranate cupcakes perfect for a special occasion.
Ingredients
For the Cupcakes
1

cup

milk

room temperature

6

egg whites

room temperature

1

teaspoon

almond extract

2

teaspoons

vanilla extract

2

and 1/4 cups cake flour

1

and 3/4 cups white sugar

4

teaspoons

baking powder

1

teaspoon

salt

1

and 1/2 cups butter

softened
For the Pomegranate Buttercream
1/2

cup

pomegranate juice

1

cup

butter

softened

3

cups

powdered sugar

3-4

tablespoons

heavy cream or milk
Instructions
Line muffin tins with 24 cupcake liner. Preheat oven to 350 degrees F. Whisk together the wet ingredients, the milk, egg white, almond and vanilla extract.

In the bowl of a stand mixer fitted with the whisk attachment, mix together the cake flour, white sugar, baking powder and salt on low speed. Cut the butter into cubes and add to the mix. Beat on low until crumbly (about 1 to 2 minutes.

Pour all but 1/2 cup of the wet ingredients into the dry. Beat on a medium speed for about 1 and 1/2 minutes. Add the remaining wet ingredients and beat for another 1 minute. Pour batter into the prepared pans filling them about 2/3 full.

Bake in the preheated over for 14-15 minutes or until a toothpick inserted comes out clean. Remove from the pans to a wire rack and allow to cool completely.

To make the frosting, pour 1 cup pomegranate juice into a small saucepan, simmer until reduced to about 1/4 cup of liquid. The juice will be very dark and syrupy. Let cool completely to room temperature

In the bowl of a stand mixer, beat the butter on high speed until fluffy and white in color (about 2 minutes).

Gently stir in the powdered sugar. Beat in the reduced pomegranate juice and enough of the milk or cream to make a smooth, fluffy frosting.
Nutrition
Check out these other cupcakes that are perfect for special occasions!
Chocolate Covered Strawberry Cupcakes – This was the first post I ever wrote, please be forgiving to my photography and pictures, but the cupcakes themselves are amazing!
Pink Champagne Cupcakes from Blahnik Baker
Red Velvet Cupcakes from Sally's Baking Addiction
Banana and Caramel Chocolate Chip Cupcakes from Urban Bakes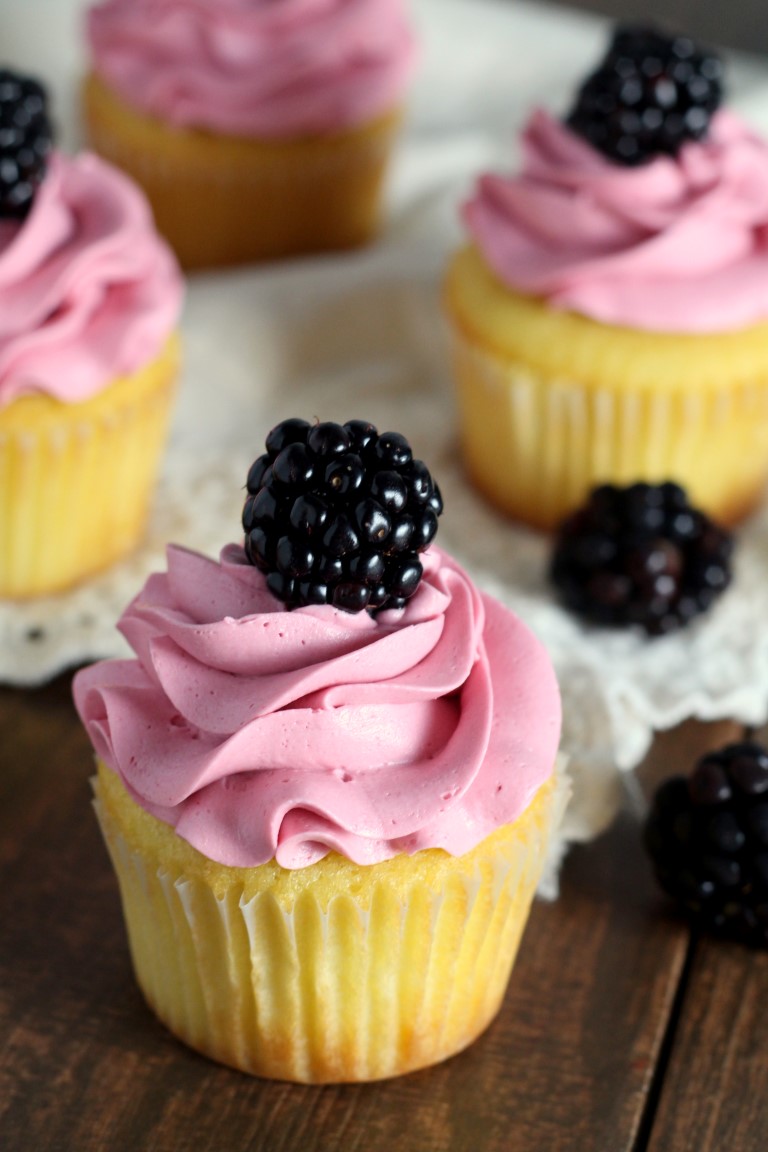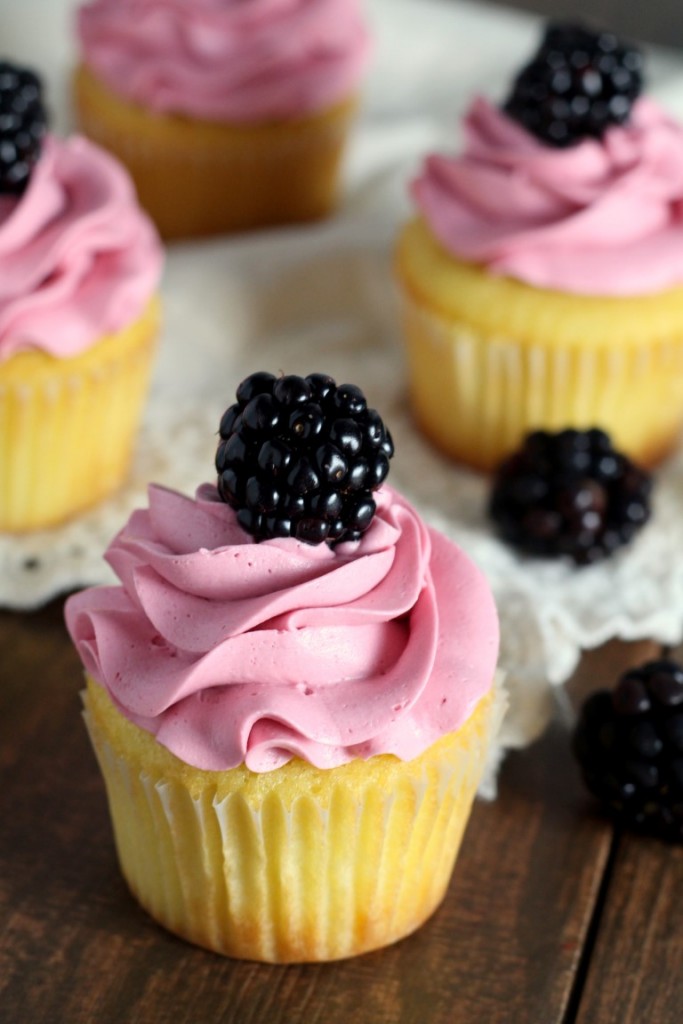 The best white cupcake with tangy, creamy pomegranate buttercream makes these pomegranate cupcakes perfect for a special occasion.