Fluffy blackberry buttercream frosting piped high over a soft, made-from-scratch vanilla cupcake tastes like spring in your hand. The sweet and slightly tangy flavor of the frosting perfectly complements the vanilla base, creating a light and colorful combination.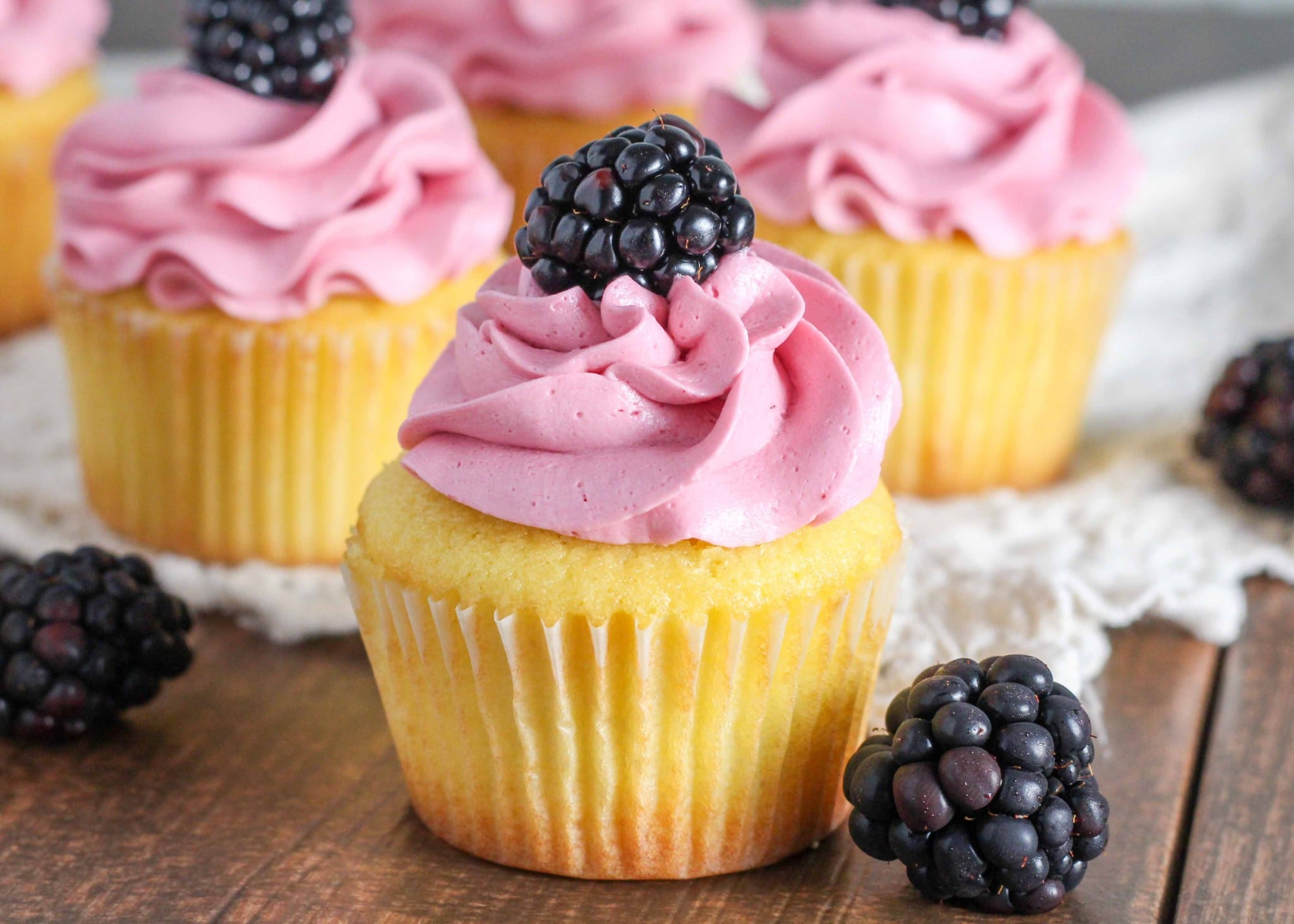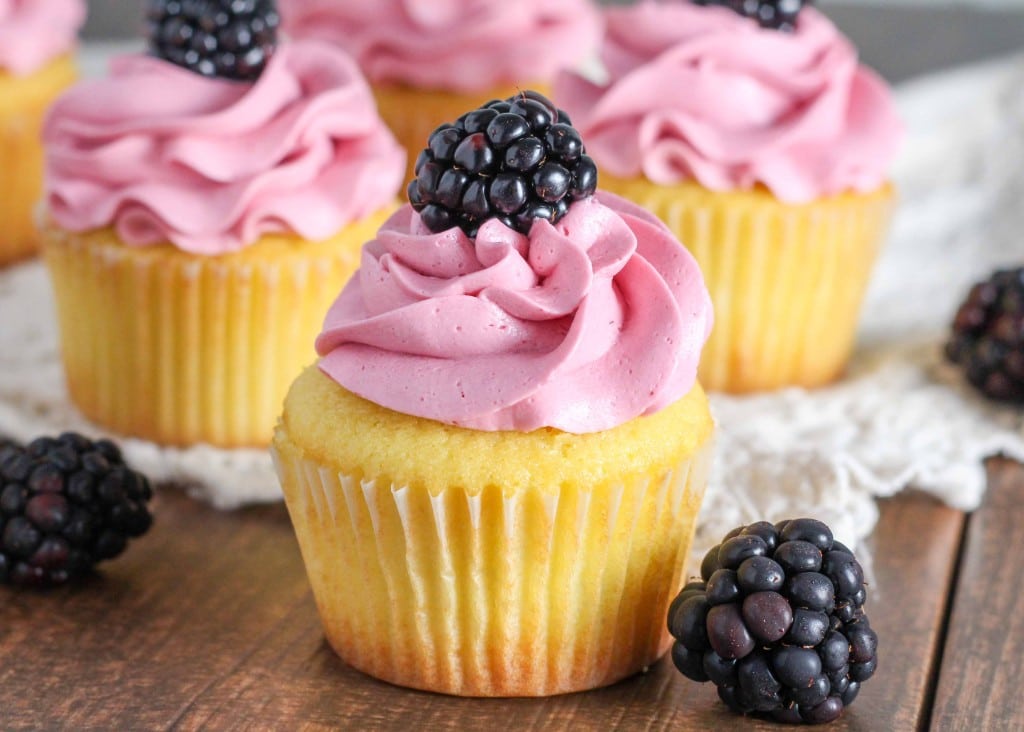 Blackberry Buttercream
When it comes to frosting, the perfect balance of tangy and sweet can take a cake or cupcake to the next level. Unfortunately, traditional buttercream frosting can often be too overwhelmingly sweet.
Luckily, there's a solution – pair it with a luscious blackberry puree that's thick and bursting with sweet-tart flavor. The combination of the two creates a delectable blackberry buttercream frosting that will leave your taste buds singing with joy.
Blackberry Sauce
Although I adore the sweet taste of blackberries, the hard seeds can be a bit of a nuisance. Fortunately, the large size of the seeds makes them easy to catch with a fine mesh sieve, resulting in a seedless puree.
To create a silky smooth blackberry sauce, there are a few essential steps to follow. First, heat the blackberries, lemon juice, and water over medium heat in a small saucepan.
As the berries start to soften, gently crush them with a flat edge or spoon to release as much juice as possible.
Continue simmering the blackberry mixture until it thickens and coats the back of a spoon. This ensures a perfect texture for your puree, allowing it to blend seamlessly into the frosting.
To remove the seeds from the mixture, pour it through a fine mesh sieve, using a spoon to press out all the juices. This step guarantees a smooth and velvety puree, essential for creating a smooth and creamy blackberry frosting.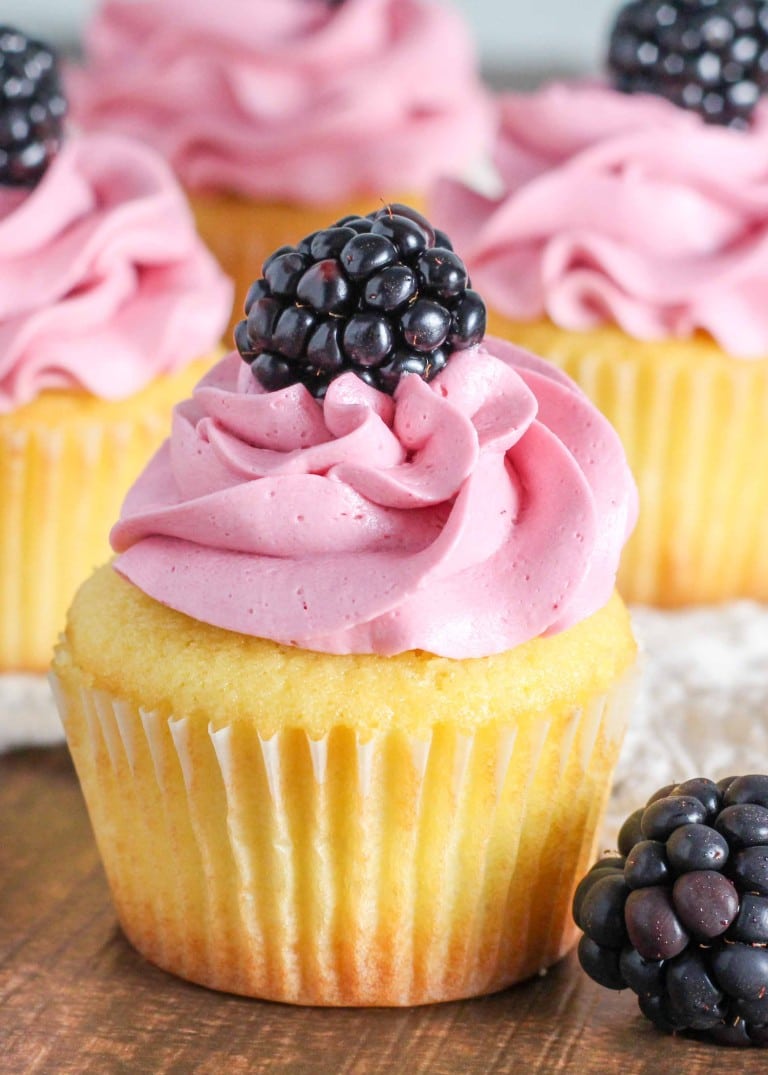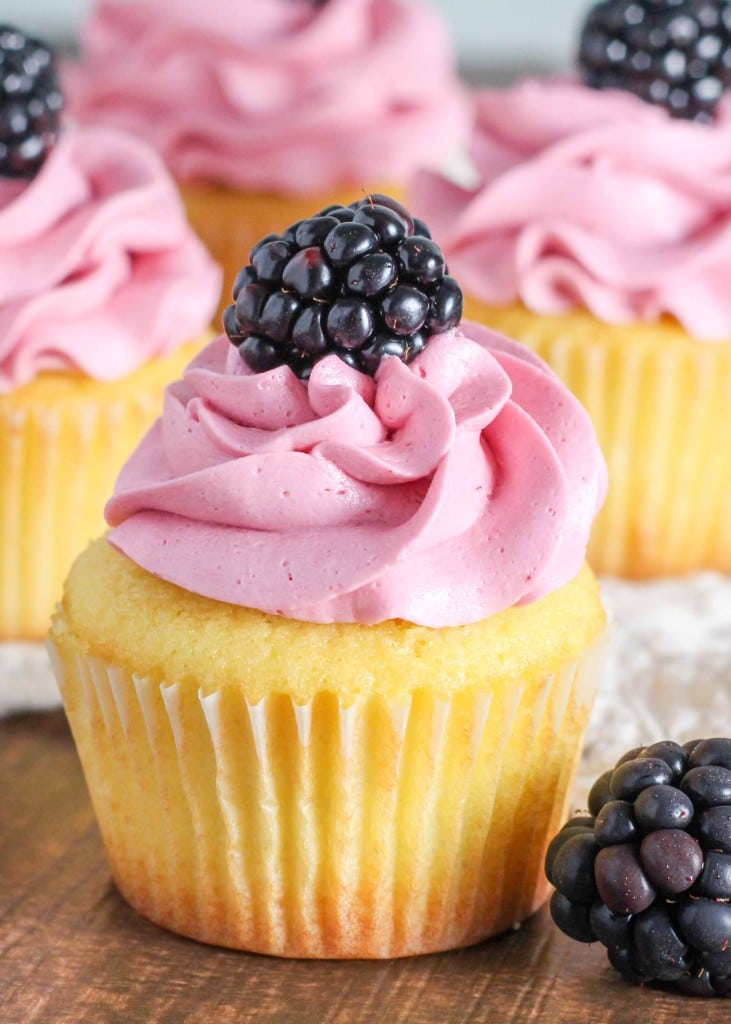 Blackberry Frosting
You'll need the following ingredients:
fresh blackberries
water
lemon juice
butter
powdered sugar
heavy cream or milk
vanilla
salt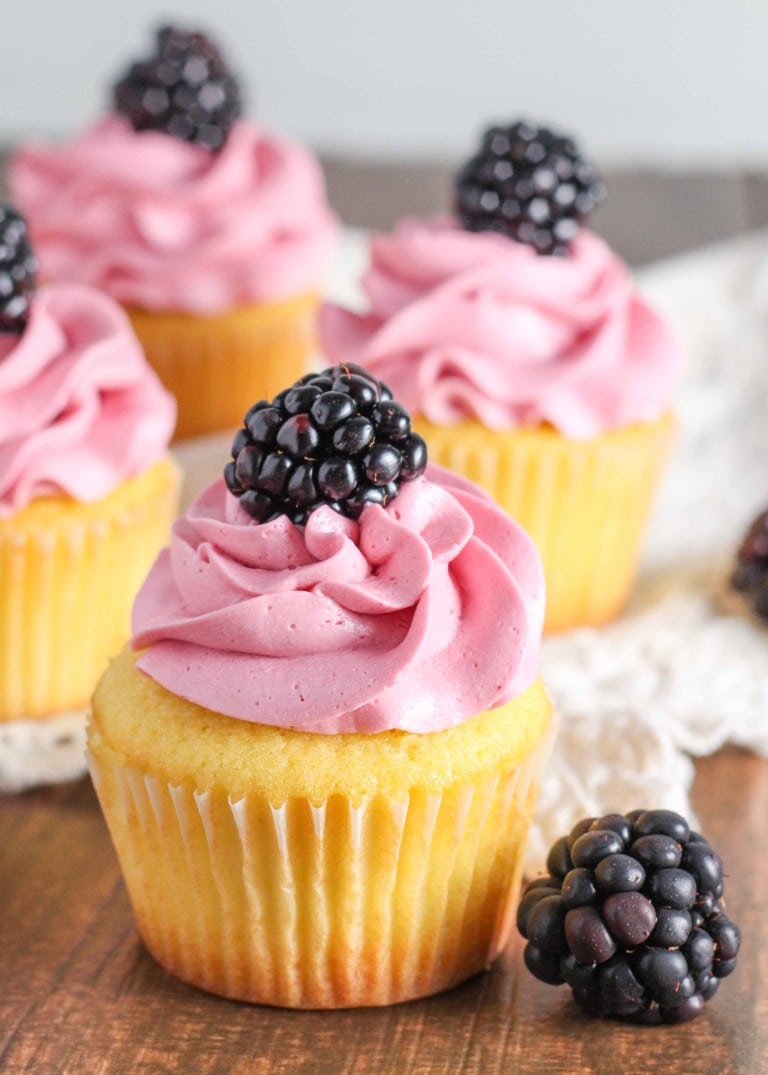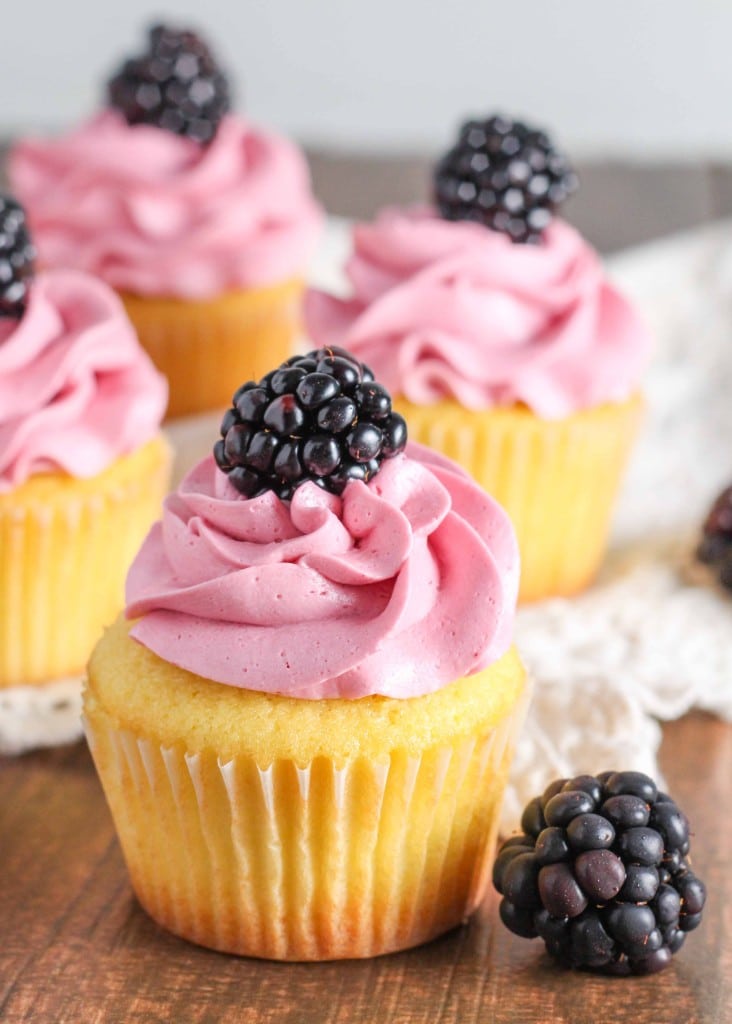 Blackberry Buttercream Frosting
Once the puree has been strained, it is crucial to allow the puree to cool completely before making the frosting. I can't overemphasize the importance of fully cooling the puree before making the frosting.
If you try to add the puree while it is still even a little bit warm, it will melt the butter, and the frosting will be ruined. You may be able to use it as a pourable glaze, but it will not be a light and fluffy pipeable frosting.
To make the frosting, whip the butter until light and fluffy, then slowly add the powdered sugar and blackberry puree. Add the sugar gradually to avoid creating a mess in the kitchen with sugar dust. Take it from me; I've been there before!
The amount of milk or heavy cream needed will depend on the consistency of both the blackberry sauce and the buttercream itself. Typically, I'll use about 2 tablespoons of cream or milk, but there are times when the frosting requires twice as much.
Drizzle the milk gradually into the frosting mixture while beating it constantly. Adding only as much as is needed in order to achieve a spreadable or pipeable frosting.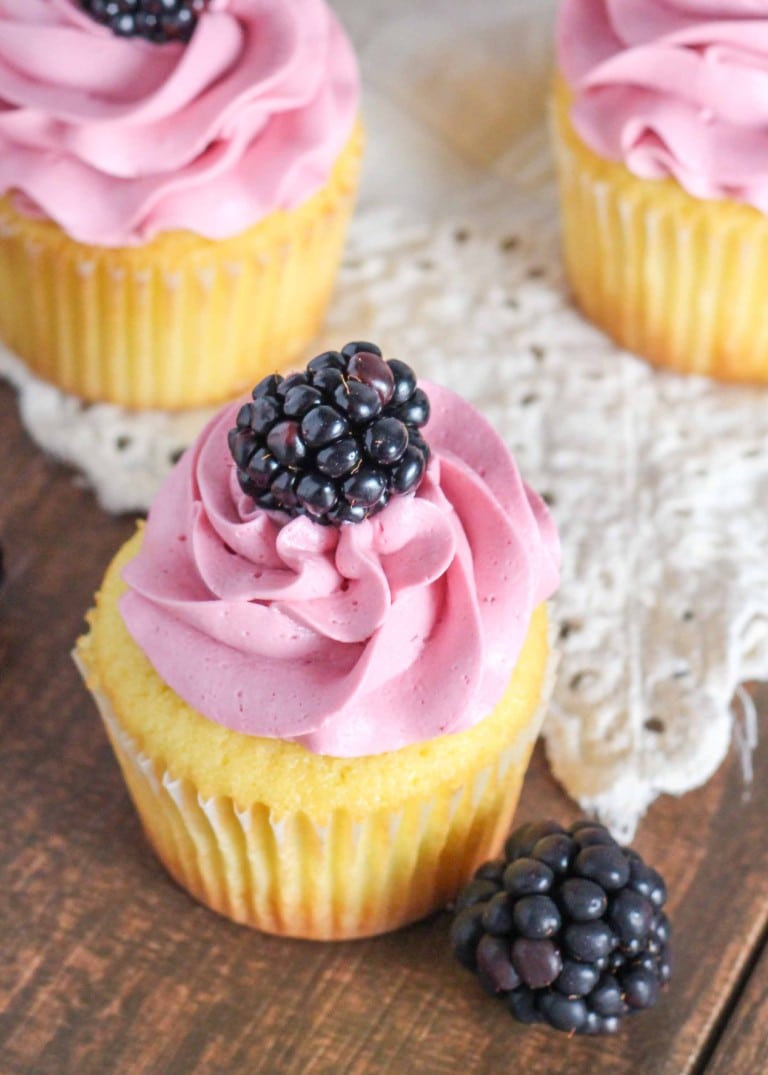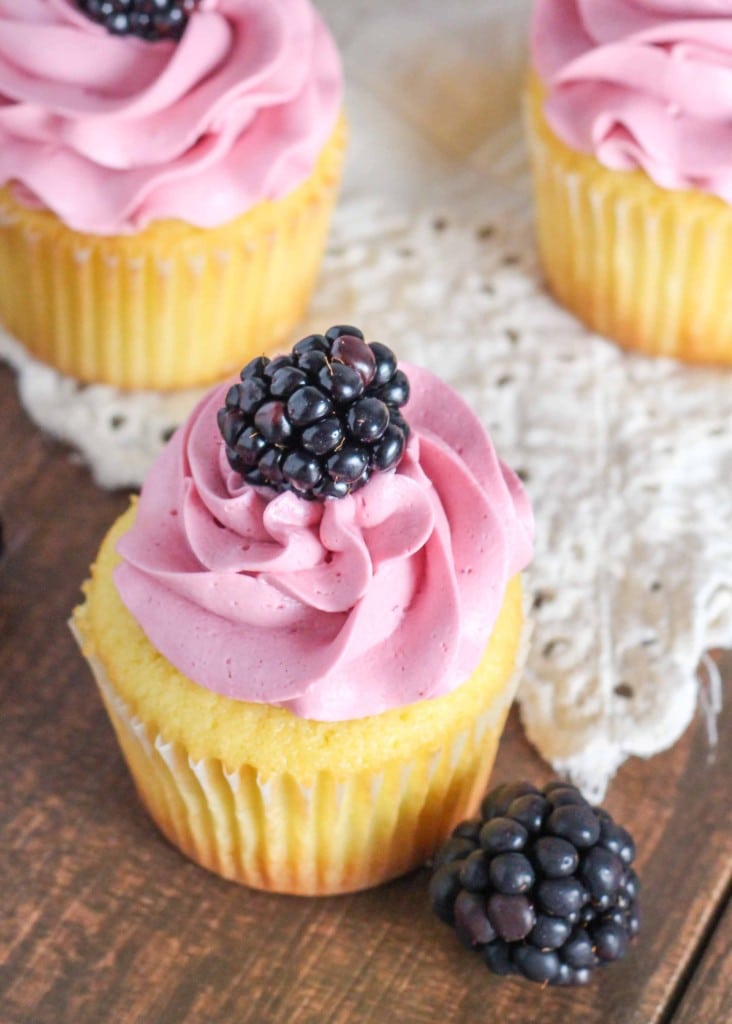 Blackberry Desserts
Blackberries are one of my favorite berries due to their naturally tart and tangy flavor. That tartness adds a unique flavor that helps balance the sweetness in many desserts. Blackberries pair exceptionally well with a hint of lemon, creating a refreshing combination.
Fresh blackberry frosting and citrusy lemon combine in this super moist Lemon Blackberry Cake. Every bite of this cake reminds me of summer.
These cheery, blackberry crumb bars are a summertime favorite and make a perfect afternoon snack or simple dessert.
This Blackberry Coconut Crisp begins with tart blackberries that have been sprinkled with sugar and then layered inside a coconut and oat crust. Served with a scoop of ice cream, this is a summer classic.
Cute mini blackberry cheesecakes made in a muffin tin with blackberry filling on top. Perfect-sized portions to take with you for picnics, potlucks, and parties.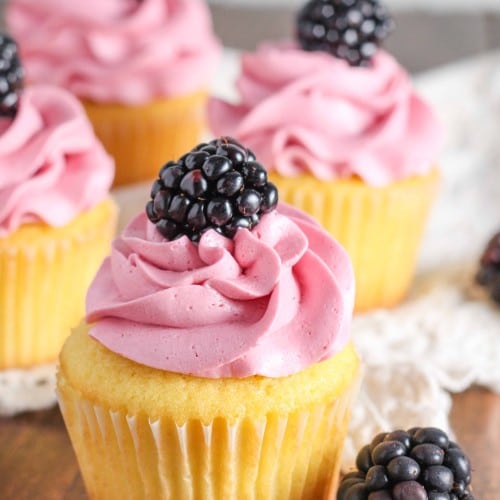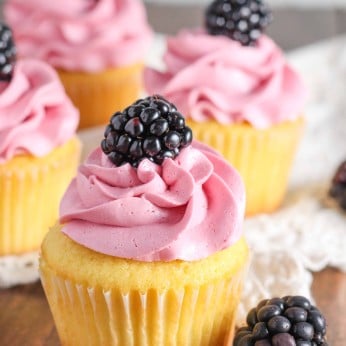 Vanilla Cupcakes with Blackberry Frosting
Fluffy blackberry frosting piped high over a soft, made-from-scratch vanilla cupcake tastes like spring in your hand.
Ingredients
Cupcake Ingredients
1

cup

butter

softened

2

cups

granulated sugar

4

eggs

room temperature

1

teaspoon

vanilla

2¾

cups

all-purpose flour

2

teaspoons

baking powder

1

cup

milk

room temperature
Blackberry Sauce Ingredients
1

cup

fresh blackberries

1

tablespoon

water

1

tablespoon

lemon juice
Blackberry Buttercream Ingredients
1

cup

butter

room temperature

4

cups

powdered sugar

2-4

tablespoons

heavy cream or milk

1

teaspoon

vanilla

⅛

teaspoon

kosher salt

Additional blackberries for garnish

if desired
Instructions
Cupcake Instructions
Preheat the oven to 350°F. Line 2 cupcake pans with 24 cupcake liners. In a stand mixer, cream the butter and sugar on high for 2-3 minutes or until light in color and fluffy. Beat in the eggs one at a time, add the vanilla.

In a separate bowl, whisk together the flour and baking powder. Alternate adding the dry ingredients to the wet ingredients with the milk in three parts, stirring just until combined and scraping down the sides as necessary.

Spoon the batter into the lined cupcake pan, dividing between all 24. Bake for 15-20 minutes or until a toothpick inserted comes out clean. Let the cupcakes cool for 5 minutes in the pan before removing them to a wire rack. Cool completely.
Blackberry Sauce Instructions
Combine the blackberries, lemon juice, and water in a small saucepan. Cook over medium heat until the blackberries soften and release their juices. Use a wooden spoon to crush the blackberries and continue to cook over medium heat until the mixture coats the back of the spoon.

Remove from the heat and pour the mixture through a fine mesh strainer to remove the seeds. Press the mixture against the strainer with the wooden spoon. You should have approximately ¼ cup of sauce. Cool completely and refrigerate until ready to use.
Blackberry Buttercream Instructions
Beat the softened butter in a stand mixer for 2-3 minutes until light in color and fluffy. Slowly add the powdered sugar, vanilla, and COLD blackberry sauce. Beat until smooth.

Slowly add 2 tablespoons of heavy cream or milk while beating constantly. Add additional cream or milk ONLY as needed to achieve a spreadable consistency. Beat the frosting on high for 3-4 minutes, until very fluffy.

Pipe the frosting onto cooled cupcakes and garnish with blackberries if desired.
Nutrition
Serving:
1
cupcake
·
Calories:
351
kcal
·
Carbohydrates:
49
g
·
Protein:
3
g
·
Fat:
17
g
·
Saturated Fat:
10
g
·
Polyunsaturated Fat:
1
g
·
Monounsaturated Fat:
4
g
·
Trans Fat:
1
g
·
Cholesterol:
69
mg
·
Sodium:
173
mg
·
Potassium:
59
mg
·
Fiber:
1
g
·
Sugar:
37
g
·
Vitamin A:
544
IU
·
Vitamin C:
2
mg
·
Calcium:
47
mg
·
Iron:
1
mg
{originally published 7/13/2016 – recipe notes and photos updated 3/23/2023}