This Pomegranate Banana smoothie is an easy, healthy and delicious treat to start out your new year!
The banana in this smoothie pairs so well with the tartness of the pomegranates and makes a delicious and healthy treat.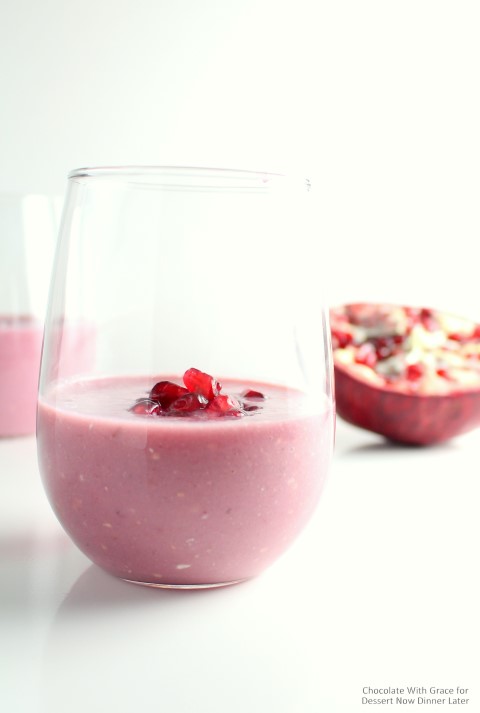 I am sad today because the Christmas holidays are over, but not too sad to see the abundance of sweets around the house reduced. I can only handle so many sweets before I start craving fruits and vegetables again.
So, here is my first attempt to get back to a more normal life with lots of fruits and veggies. Besides, pomegranates are almost as good as candy, and they are certainly prettier.
This time of year it can be hard to find good fruits and vegetables in season. Forget the strawberries and blueberries, they're either mushy or way too expensive.
Some of my favorites fruits to buy in the winter are oranges, grapefruits, kiwi and pomegranates. Right now, I'm eating all the pomegranates I can get my hands on.
There is something about those bright red little jewels that make a person happy.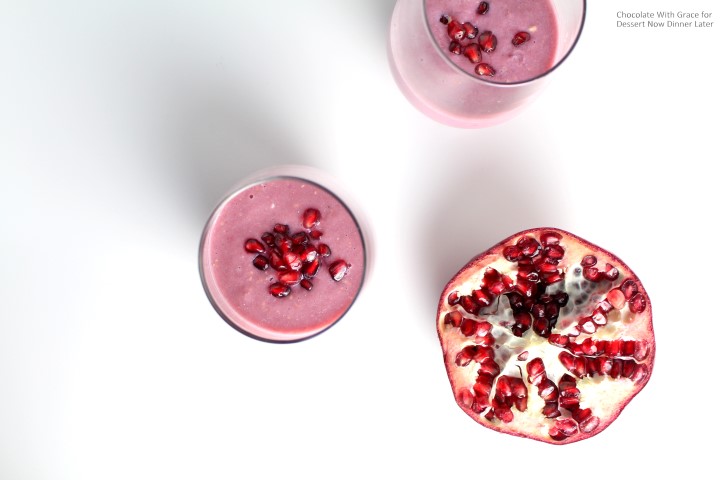 Making this smoothie is a snap, especially for those early back-to-work mornings when no one wants to get up early just to make breakfast.
Cook's Note: You only need 4 ingredients for this recipe and they simply get thrown in a blender until smooth. I used the actual pomegranate arils in this smoothie, but I will put up a fair warning that using them will give you a textured smoothie from the seeds, and I wouldn't recommend it for a wimpy blender, either.
If a textured smoothie doesn't appeal to you, feel free to substitute pomegranate juice instead. Just be sure to cut down the other liquids and add a bit extra banana.
I love the banana paired with the pomegranate; its smooth sweetness compliments the tartness of the pomegranate perfectly.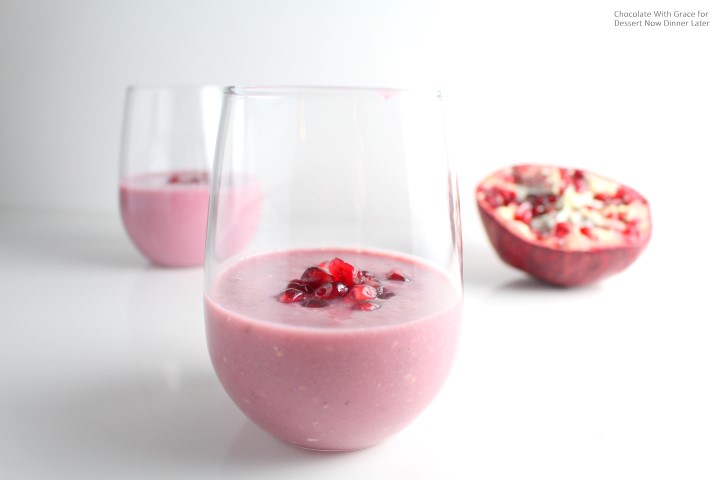 Pomegranate Banana Smoothie
1 ripe banana
3/4 cup pomegranate arils, the jewels/seeds
1/3 cup Greek yogurt
4 to 5 Tablespoons of milk or pomegranate juice to thin to desired consistency
Place banana, pomegranate arils, greek yogurt, and milk into a blender. Blend until smooth and serve immediately.
Please note, using the pomegranate arils in the smoothie will make it textured. For a smoother texture, use pomegranate juice and add a few strawberries or increase the banana.
{This recipe was originally published 12/27/14 as a guest post for Dessert Now Dinner Later.}