Pear Bread is a slightly sweet, fragrantly sweet treat snack that is great on its own or alongside a seasonal bowl of soup or salad.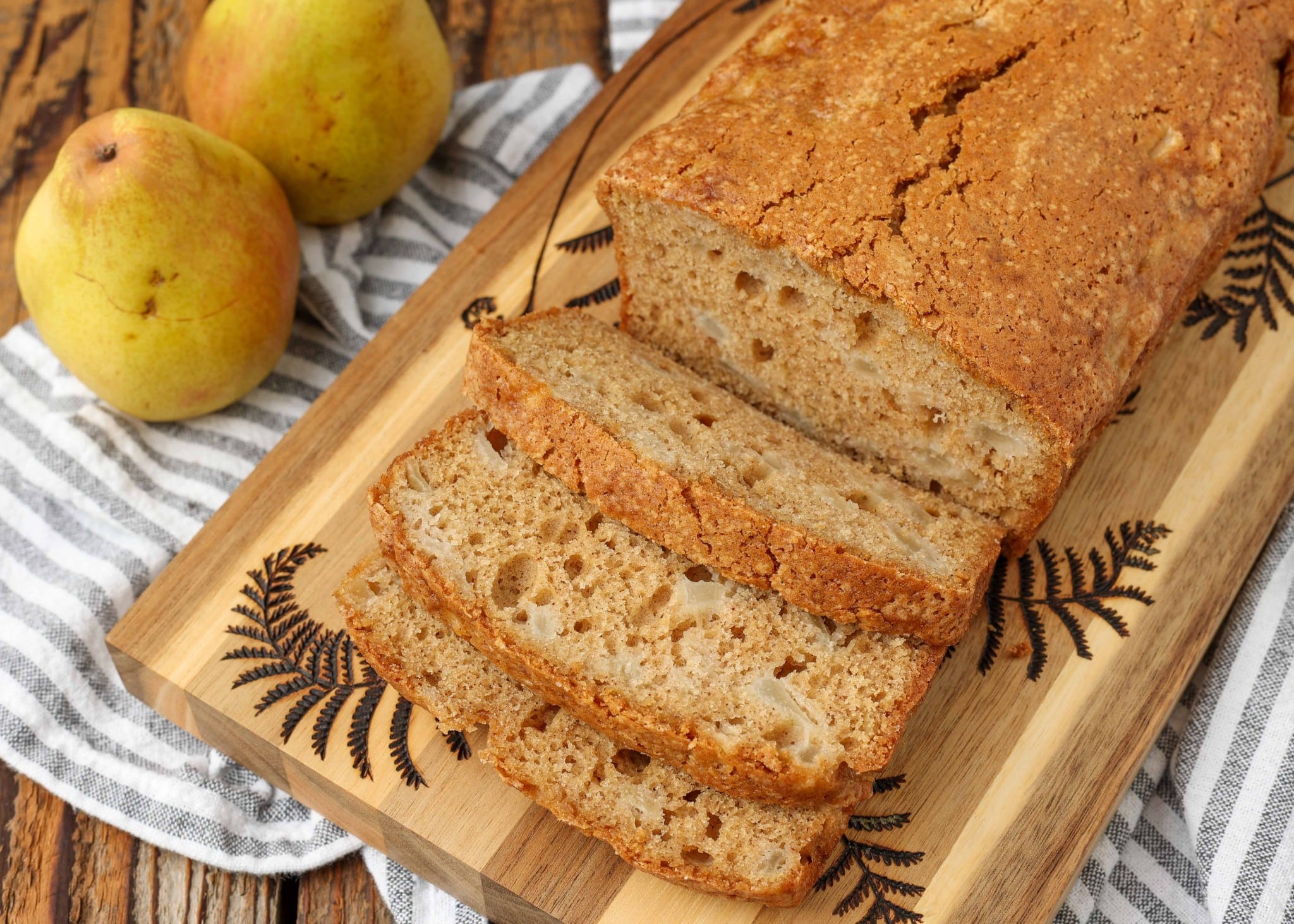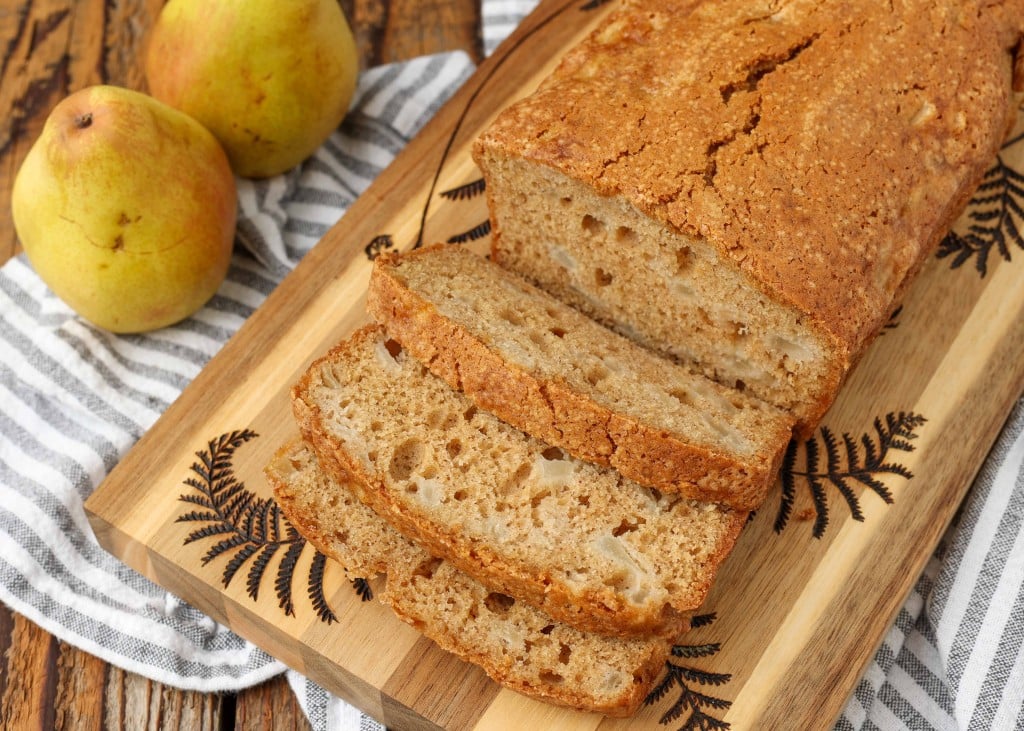 Cinnamon spice pear bread is a great way to make the best of winter's pear abundance. We were gifted a box of pears for the holidays and I've had a lot of fun finding new ways to enjoy them.
This is a wonderfully moist quick bread recipe that gets even better after a short rest. The pear flavor deepens the longer you wait to enjoy it. (I'm not suggesting you wait a week, a few hours or overnight will be perfect.)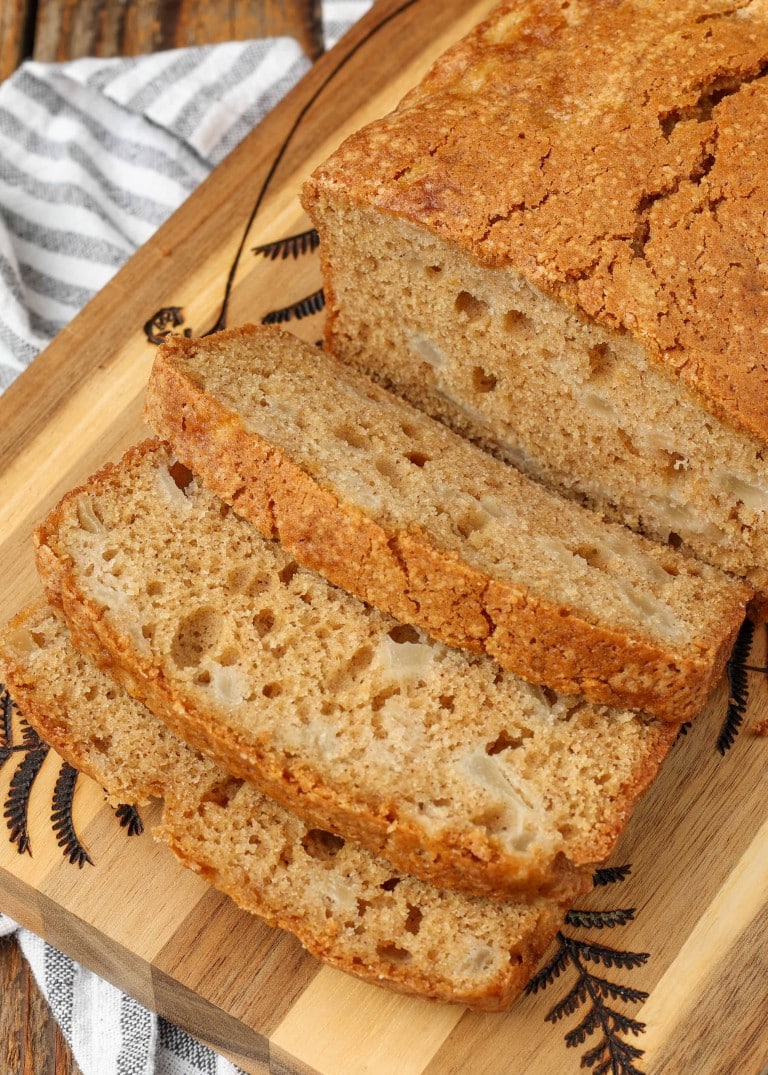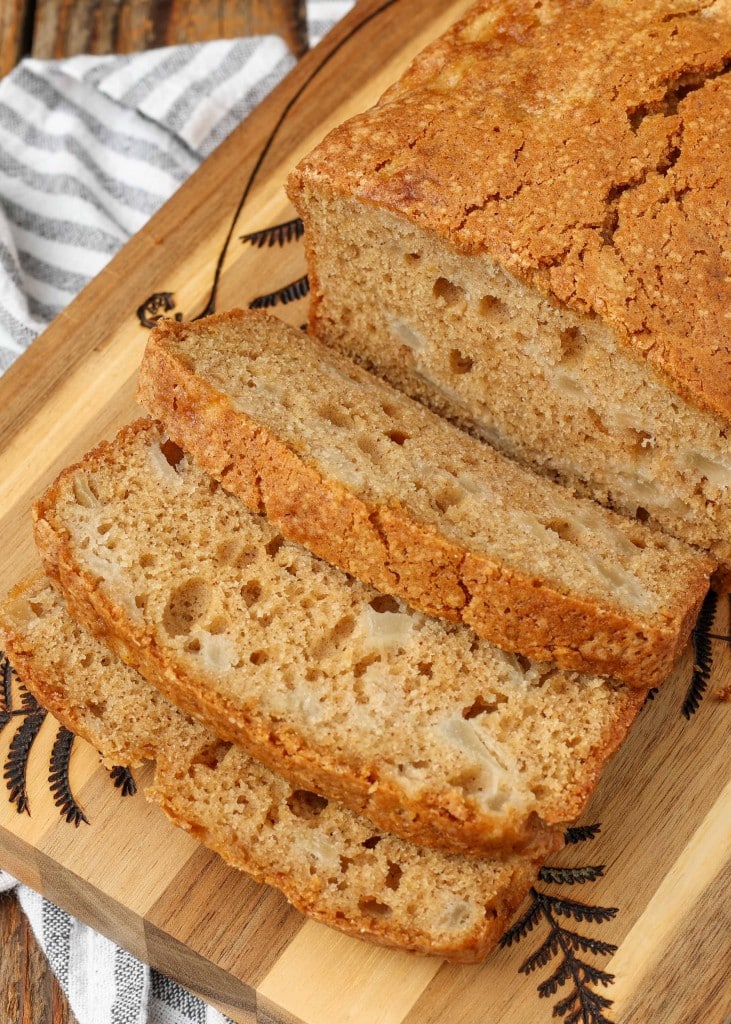 Pear Bread Recipe
Quick breads are the perfect sweet bread to go with soup and salads. Pear Bread is a quick bread because it doesn't require yeast or rest and kneading as a step in the bread-making process.
Instead, you follow the same steps as you would for a muffin. Cream the wet ingredients together then add the dry and blend it all together. Be careful not to overmix or the bread can become tough when baked. A few lumps are okay.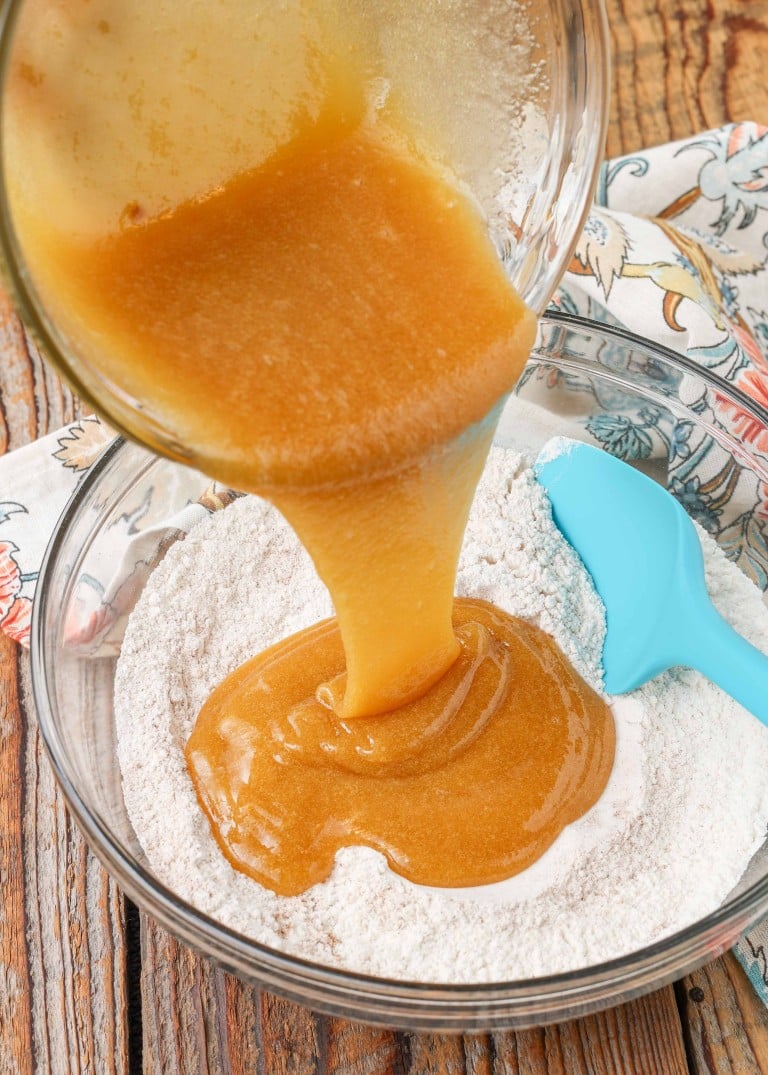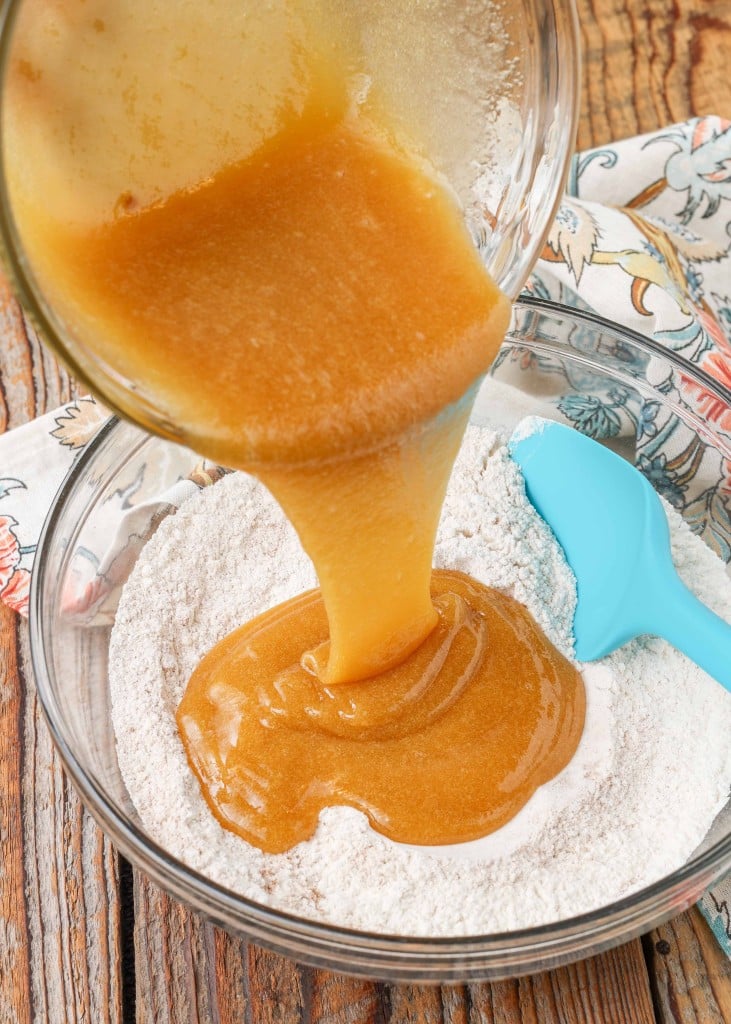 I like to grease and flour my loaf pan or use parchment paper. You have to flour the sides or use the parchment, so that your bread dough has some traction.
It should climb the sides of the pan when rising in the oven. Don't skip on the flour part if you go the route of greasing the pan.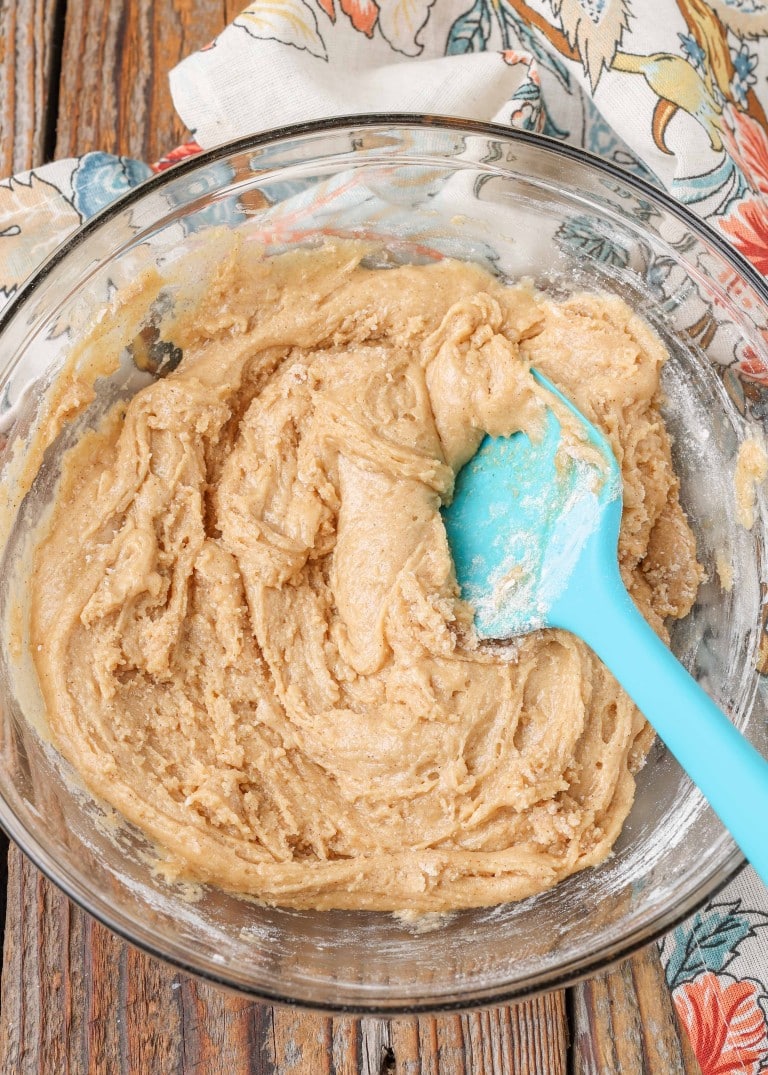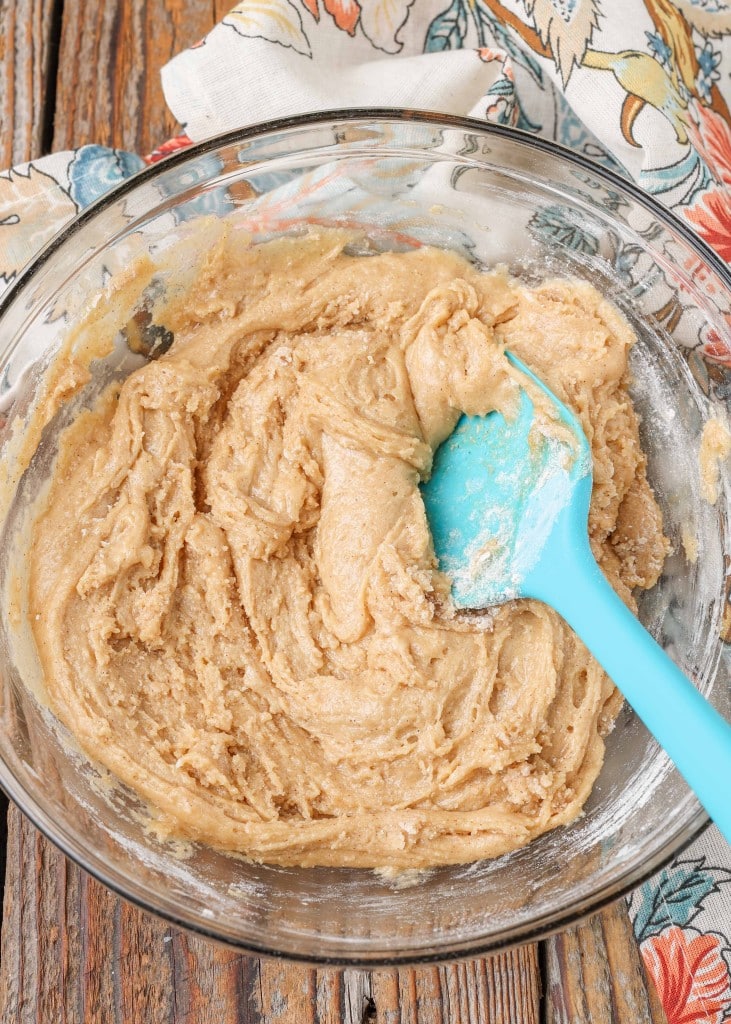 Once you combine your wet and dry ingredients, you will want to get the dough fairly quickly into the pan and into the oven.
Make sure you have your pears and pecans chopped and ready, so that the batter won't sit too long.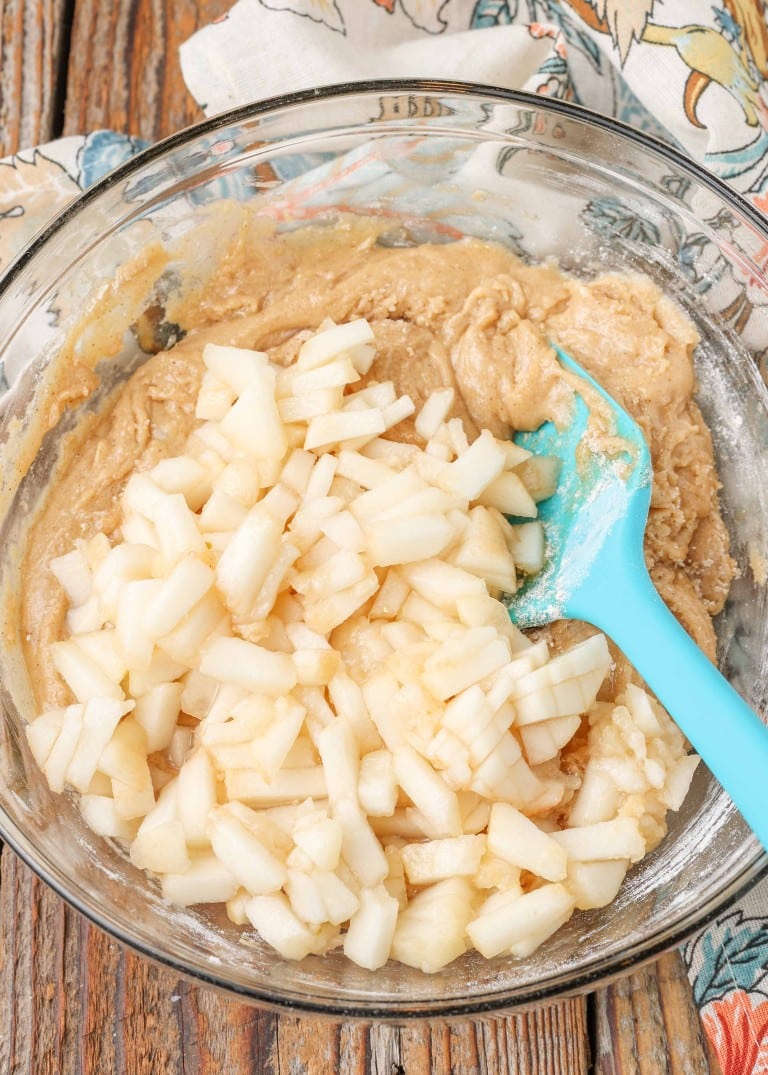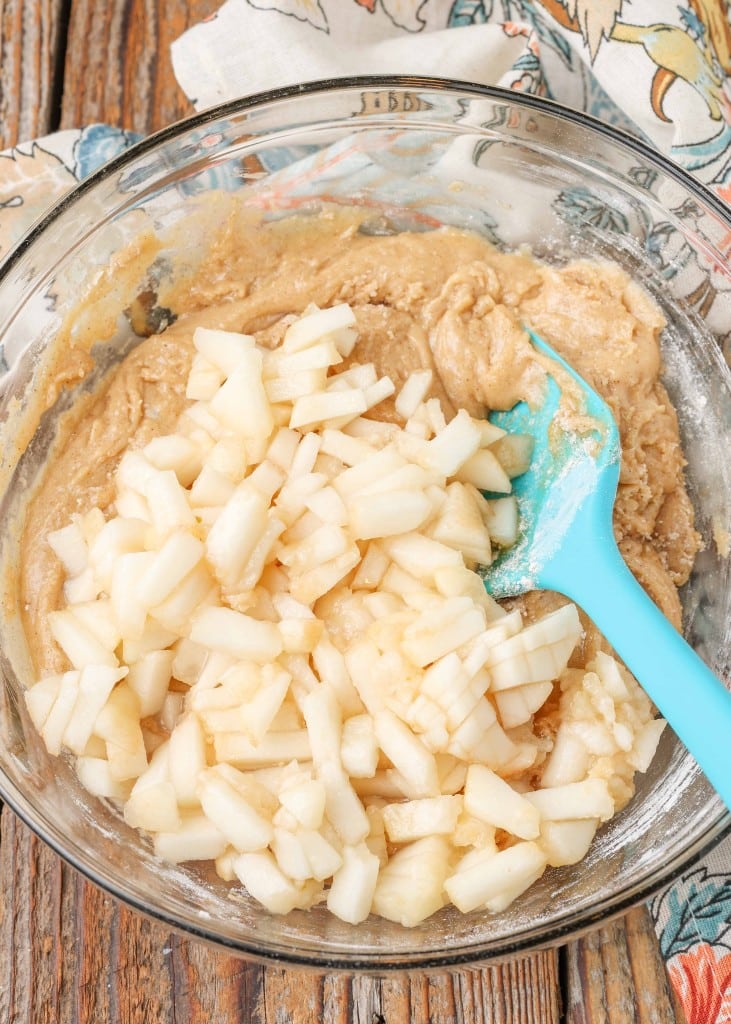 Quick Bread Baking
Quick bread baking does take just a bit of finesse. Be sure to follow the recommended pan size and baking times for the best success.
When placing the bread in the oven use the center rack. Finally, make sure you let it cool completely before removing it from the pan.
Quick breads often crack or develop ridges on top as they bake. That is perfectly okay and you did nothing wrong. It is a matter of the outside baking more quickly than the inside, which can happen. This is absolutely normal.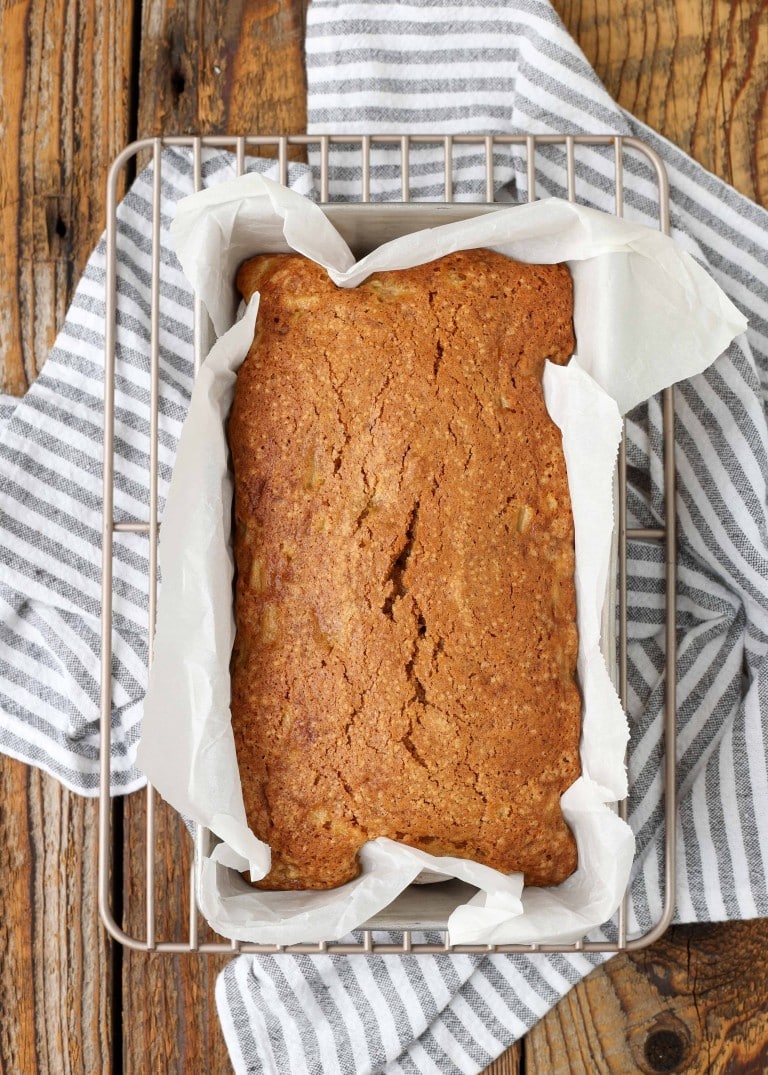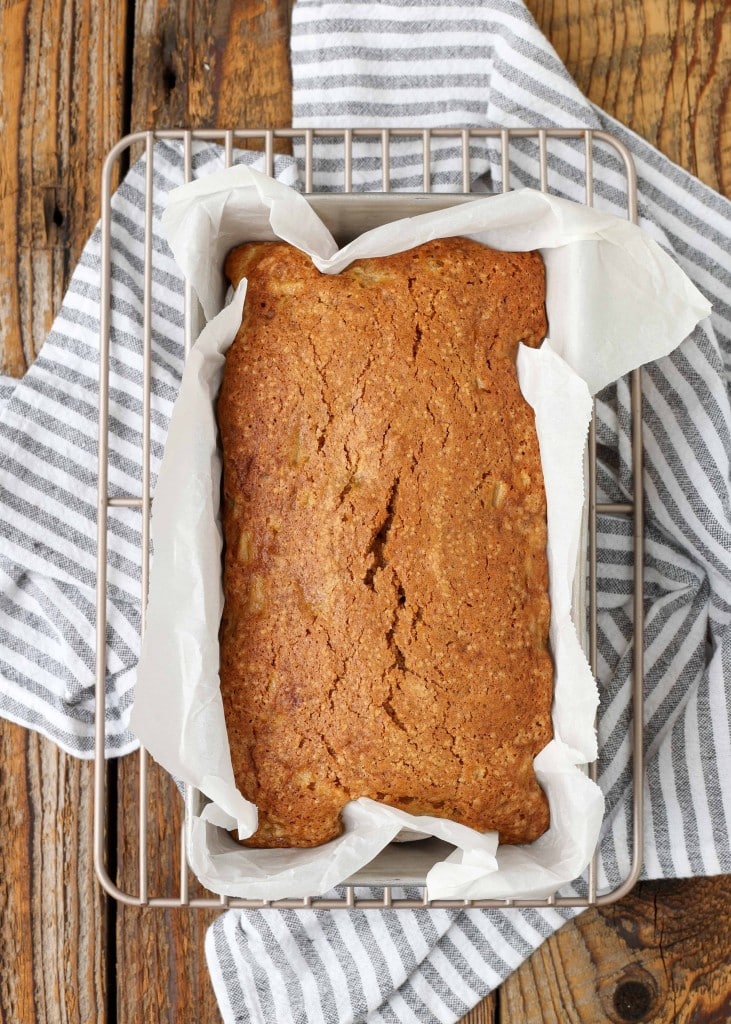 Recipe for Pear Bread
You'll need these ingredients to make this recipe:
all-purpose flour
baking soda
baking powder
kosher salt
ground cinnamon
vegetable oil
eggs
white sugar
light brown sugar
vanilla extract
ripe pears
chopped pecans OPTIONAL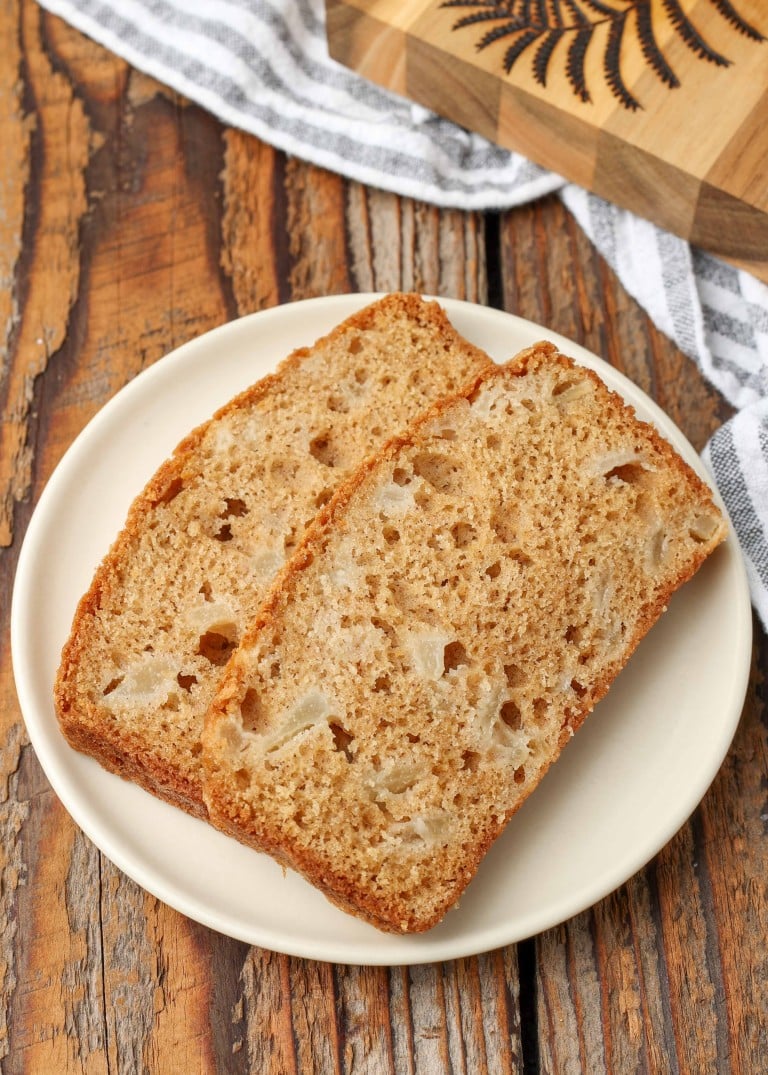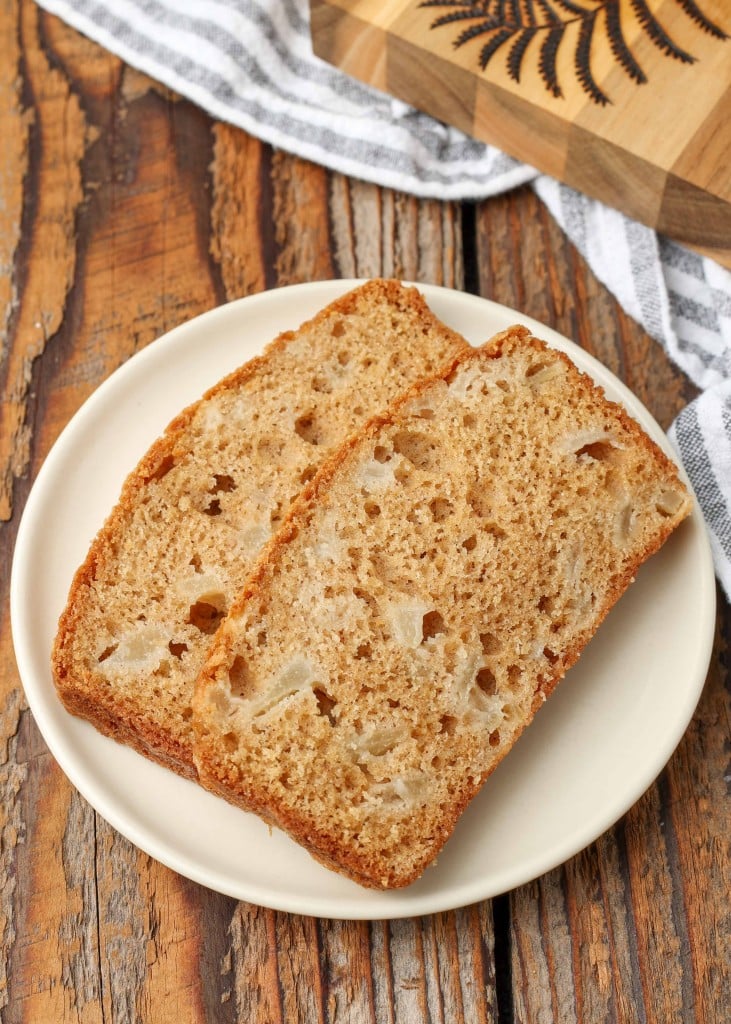 Recipes for Pears
Pears are a wintertime treat that can go from savory to sweet and from salads to desserts. Pear Salad with Gorgonzola and Quinoa is packed full of juicy pears, tangy Gorgonzola, and crunchy pecans. I can't wait to try this Pear Salad with dried cherries and candied walnuts.
Pears tossed with cinnamon sugar are topped with a buttery brown sugar crisp topping to create this delicious pear crisp. And this Caramel Pear Tart is a simple, rustic tart featuring fresh pears drizzled with caramel sauce. 
Filled with fresh juicy pears and fall flavors between layers of brown sugar crumble topping and crust, the pear crumble is a winter dessert for any occasion.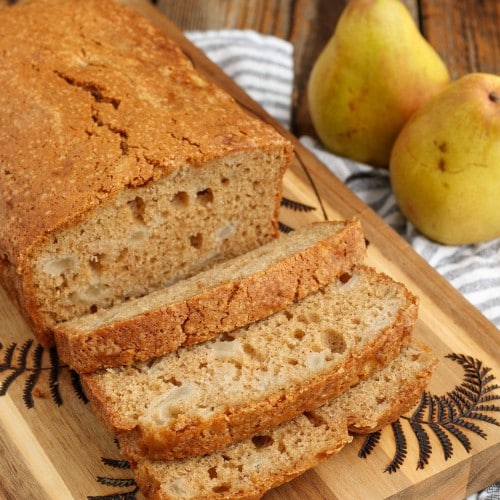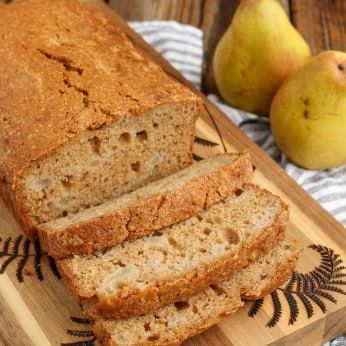 Pear Bread
Pear Bread is a slightly sweet, full of cinnamon fragrantly sweet treat we enjoy along with a seasonal bowl of soup or salad.
Ingredients
1½

cups

all-purpose flour

½

teaspoon

baking soda

¼

teaspoon

baking powder

½

teaspoon

kosher salt

1

teaspoon

ground cinnamon

⅓

cup

vegetable oil

2

eggs

½

cup

white sugar

½

cup

light brown sugar

1

teaspoon

vanilla extract

2

ripe pears

peeled and finely diced, about 1½ cups

½

cup

chopped pecans

OPTIONAL
Instructions
Preheat the oven to 325°F. Grease and flour an 8×5 inch loaf pan or line with parchment paper. In a medium mixing bowl combine flour, baking powder, baking soda, salt, and cinnamon. Whisk to combine and set aside.

In a large mixing bowl, whisk together the oil, eggs, sugars, and vanilla. Add the dry ingredients to the wet ingredients and stir until just moistened. Fold in the pears and pecans.

Transfer to the prepared pan and bake for one hour and 15 minutes. Cool completely before removing from the pan.
Nutrition
Calories:
178
kcal
·
Carbohydrates:
26
g
·
Protein:
2
g
·
Fat:
8
g
·
Saturated Fat:
1
g
·
Polyunsaturated Fat:
4
g
·
Monounsaturated Fat:
3
g
·
Trans Fat:
0.03
g
·
Cholesterol:
20
mg
·
Sodium:
124
mg
·
Potassium:
70
mg
·
Fiber:
1
g
·
Sugar:
15
g
·
Vitamin A:
38
IU
·
Vitamin C:
1
mg
·
Calcium:
20
mg
·
Iron:
1
mg