Put your leftover pot roast to good use in this Leftover Roast Beef Pot Pie. It re-purposes all the beef, potatoes, carrots and gravy into a delicious pie. Feel free to use a pre-made pie crust to make this a quick and easy dinner recipe.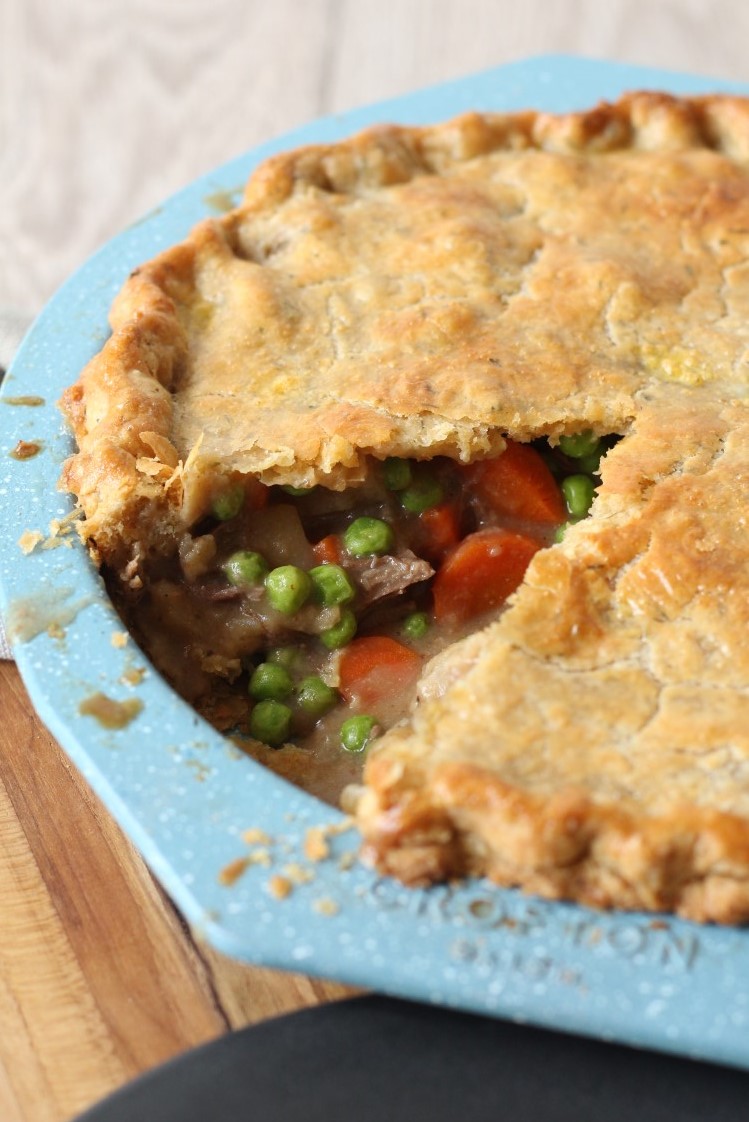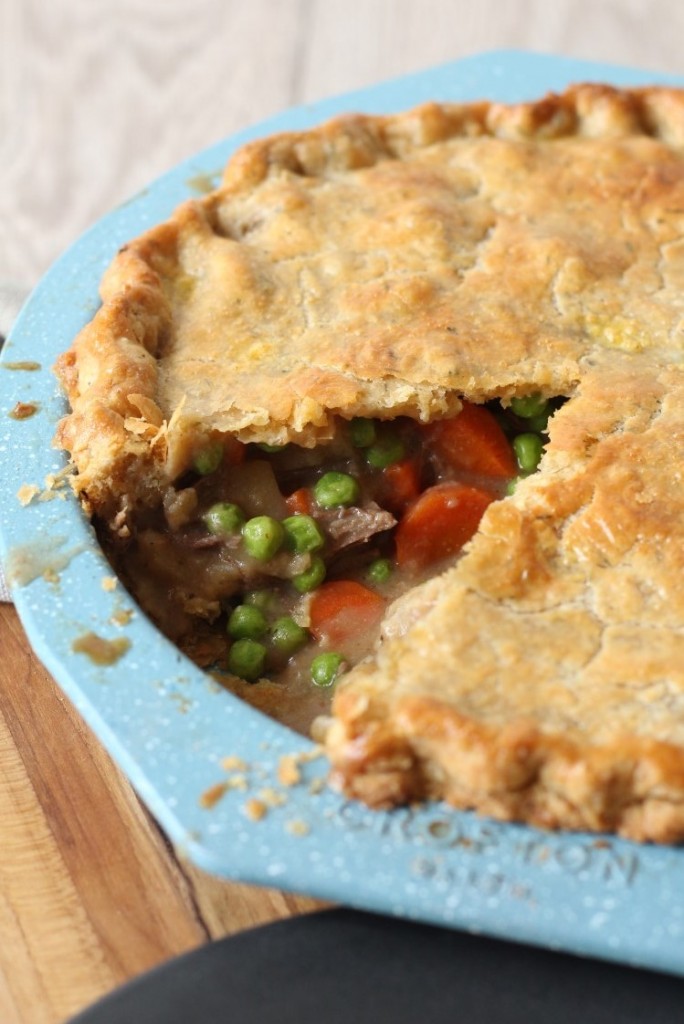 Remember how I promised you more Everyday Eats aka recipes you can make for dinner? Well a few weeks ago I posted Zuppa Toscana Soup and now I'm back sharing a recipe for an easy Beef Pot Pie you can make using your leftovers from a pot roast. Don't worry if you don't have a leftover pot roast, you can still make the pie, you'll just have to cook cubed beef and vegetables first. 
This recipe is based on one my mom made for us growing up and it is comfort food, perfect for a rainy day like we are having today. (I'm actually not sad about the rain today, my garden needed it.) I should give you an update on my garden. Maybe I can use some homegrown veggies to make the pie later this summer.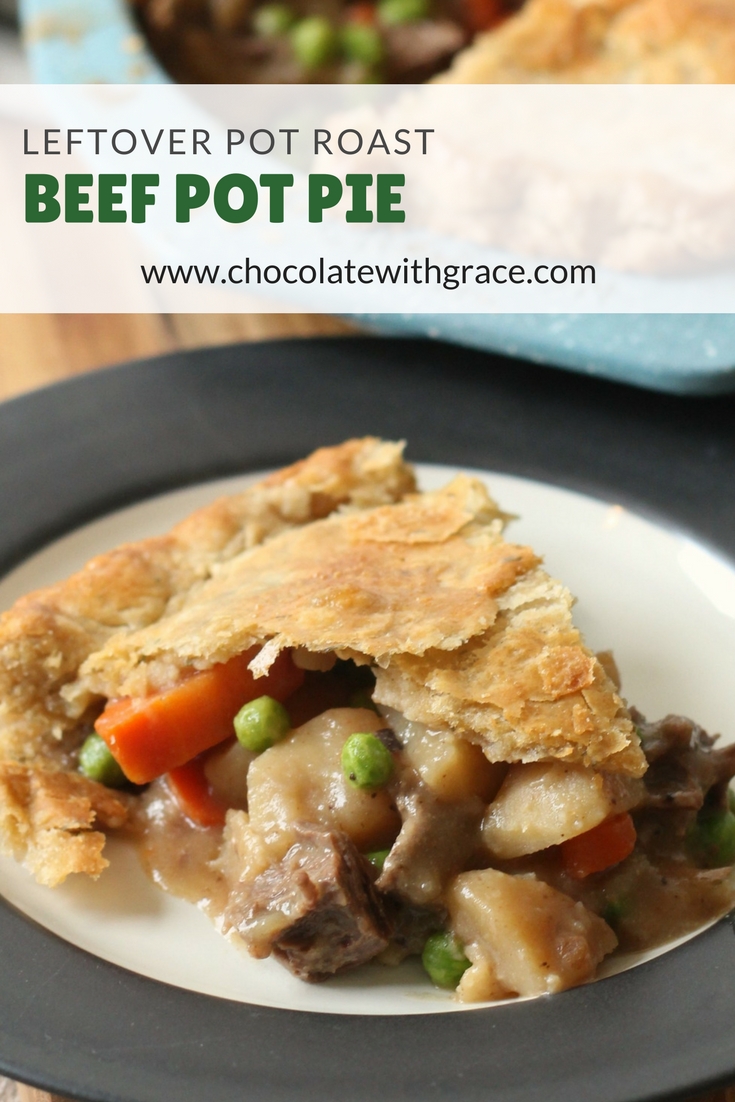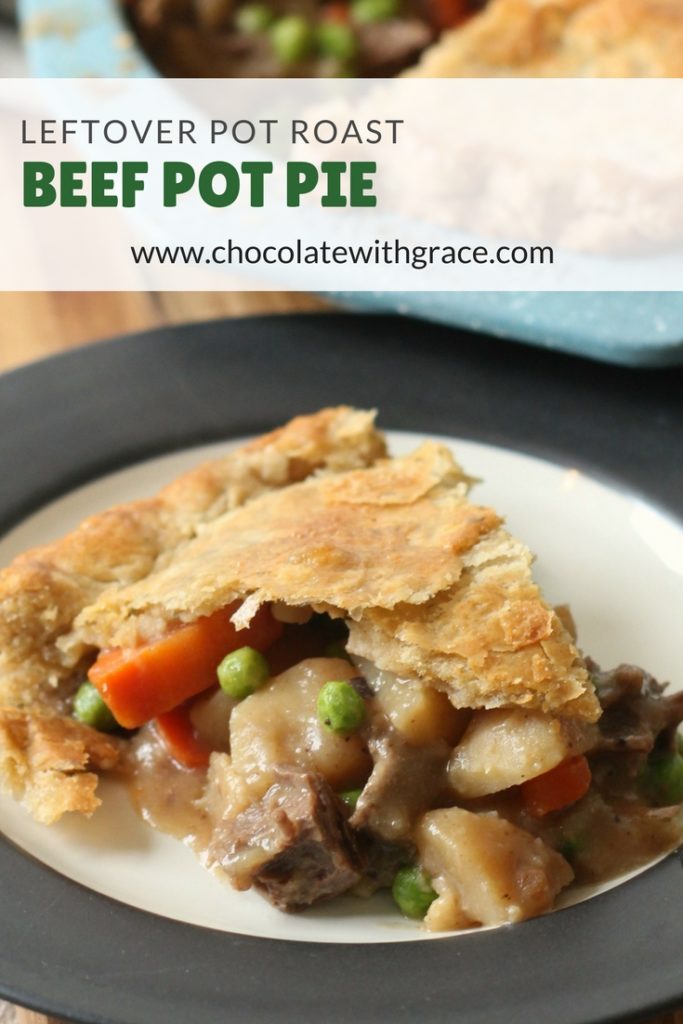 Right now the lettuce and radishes are peaking their heads through and I think I spotted a pea sprout, I'm hoping the rain brings the rest of them up. The strawberries and asparagus still look pretty dormant, but I think that's still expected at this point, at least I hope.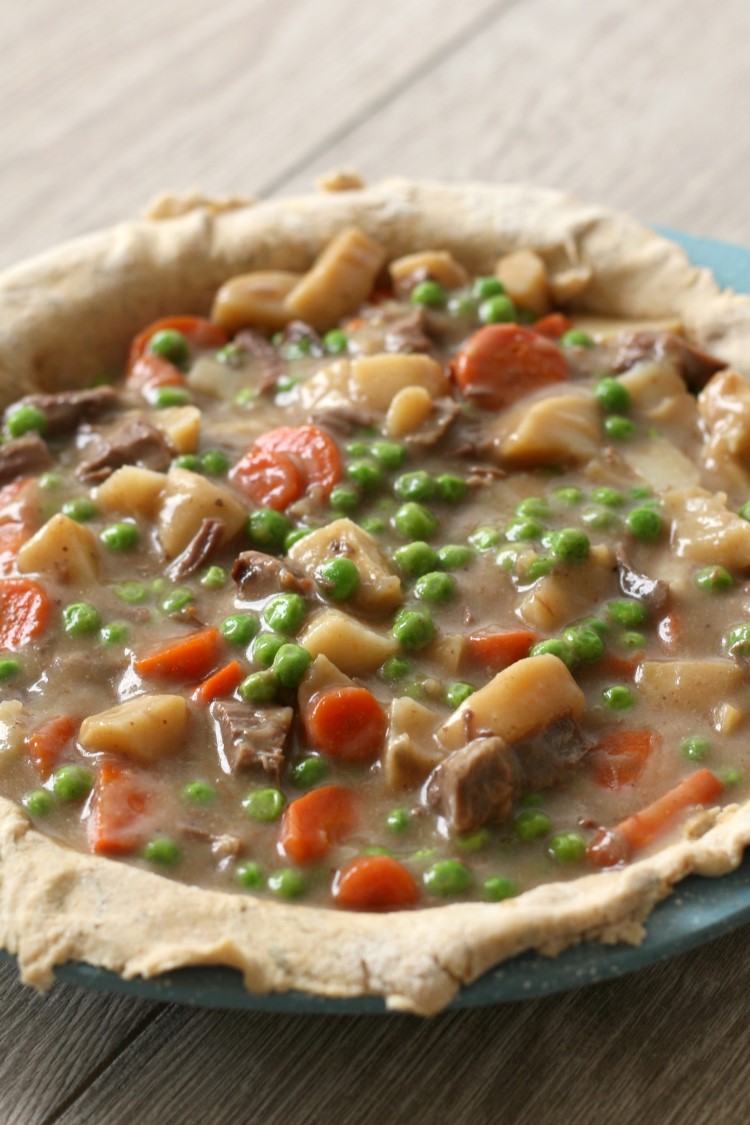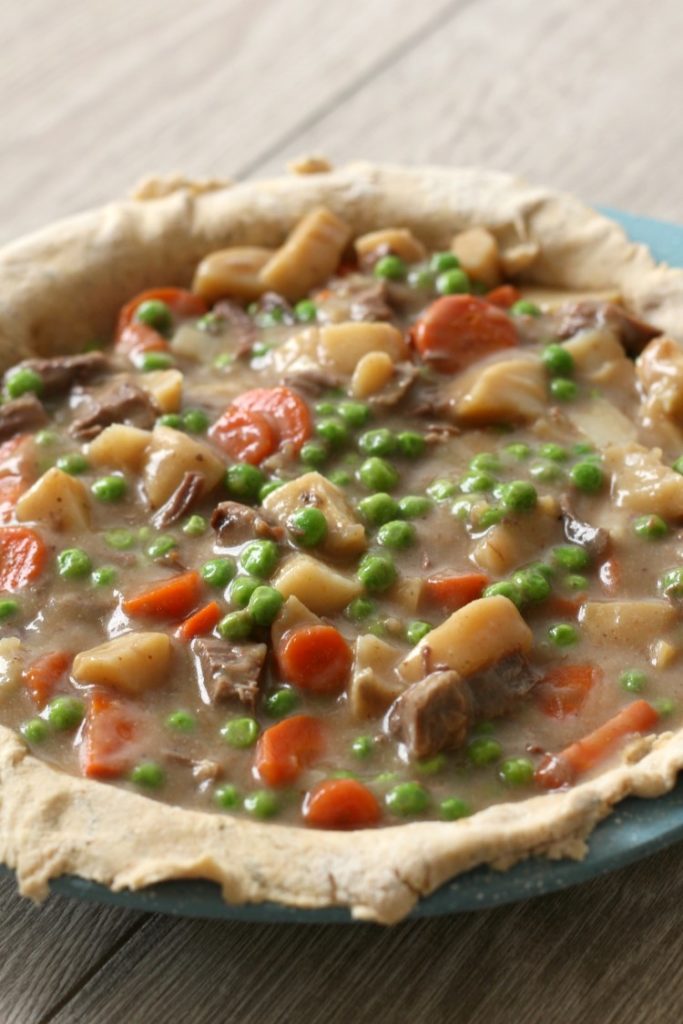 Back to the pie, doesn't that filling look amazing? I want to say, "I'm making myself hungry again looking at these pictures." But that's the most cliche thing a food blogger can say, so I'm going to avoid it. Although, my family certainly calls me out when I have made many other cliche food blogger statements.
Anyway, my last bragging point on the pie is the fact that my husband helped himself to another piece as a bedtime snack it was so good. Who is he anyway? My choice of bedtimes snacks involve ice cream or cookies, certainly not a piece of leftover pot pie. What kind of snack do you reach for at bedtimes?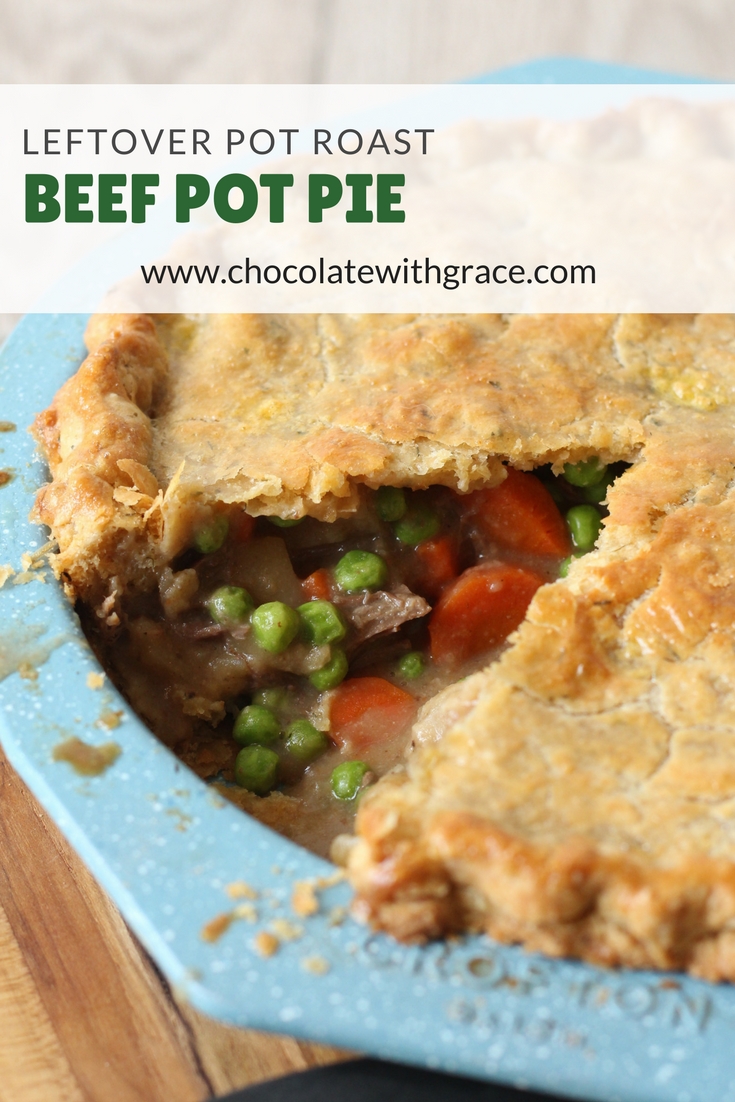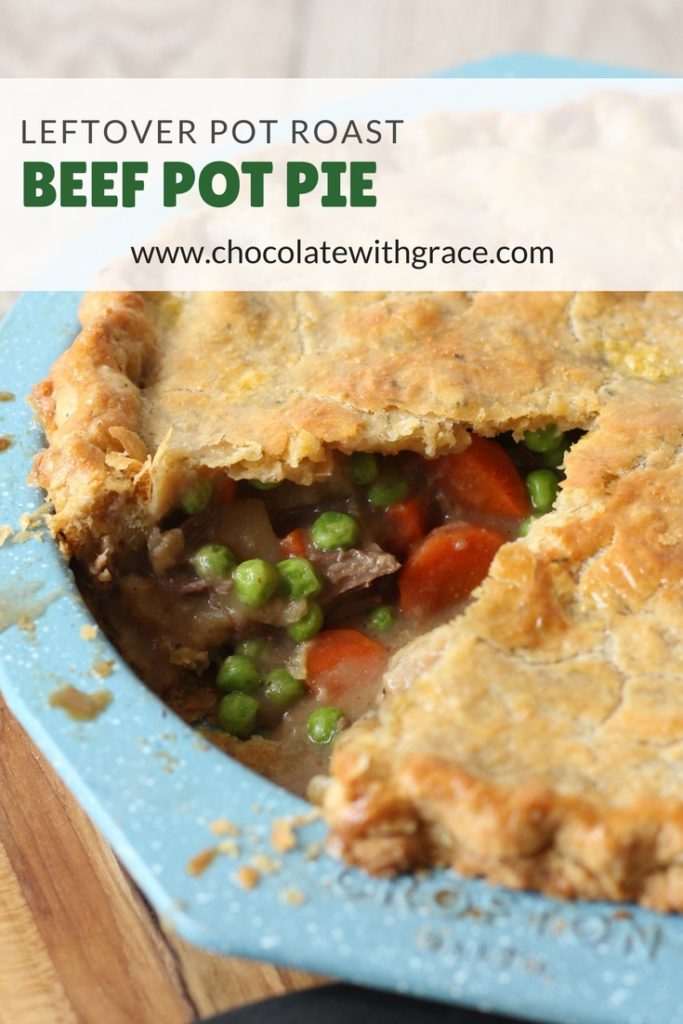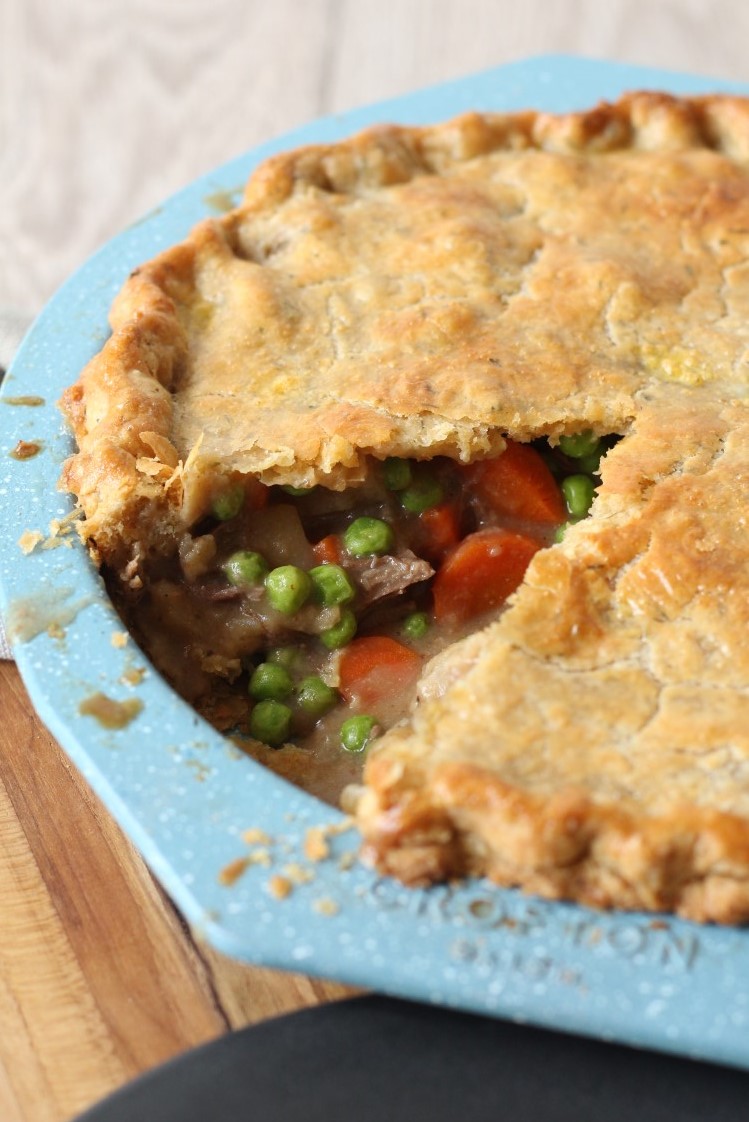 Leftover Roast Beef Pot Pie
Leftover Pot Roast Pot Pie uses the potatoes, carrots and beef to make a delicious beef pot pie for a quick and easy dinner recipe.
Ingredients
1 to

p and bottom pie crust for a 10 inch pie

homemade or store bought (I made a whole wheat crust)

2

cups

cooked

cubed beef (I used leftover pot roast)

3-4

cups

total of cooked potatoes

carrots and or frozen peas (I used the leftover potatoes and carrots from the roast and then added frozen peas to make up the difference. Feel free to use your favorite combination of vegetables.

2 1/2

cups

beef gravy

I used the leftover drippings to make some. You can make homemade or use storebought.

1

teaspoon

Worcestershire sauce

Salt and Pepper to taste.

1

egg

beaten (to brush on the crust if desired)
Instructions
Preheat oven to 425 F. Prepare the pie dough and line the bottom of the pie plate with the bottom crust.

In a large bowl, mix together the beef, potatoes, carrots, peas, gravy, Worcestershire sauce and salt and pepper. Gently fill the crust with the mixture and top with the second crust. Crimp the edges and brush with a beaten egg, if desired.

Bake at 425 F for 30-35 minutes or until the crust is golden brown and cooked through. Serve immediately.

***You can also cook fresh beef and vegetables for the pie instead of using leftovers, but it will take a bit longer.***
Nutrition
Pot pie is such comfort food and these other variation sounds delicious too!
Here is a recipe for Individual Beef Pot Pies that sound fun!
Or How about Chicken Alfredo Pot Pie 
Taco Pot Pie from Lemon Tree Dwelling sounds great!