Put your leftover pot roast to good use in this Leftover Roast Beef Pot Pie!
This pot pie uses your leftover pot roast, potatoes, carrots, and gravy to create a fantastic pie. Feel free to use a pre-made pie crust to make this a quick and easy dinner recipe!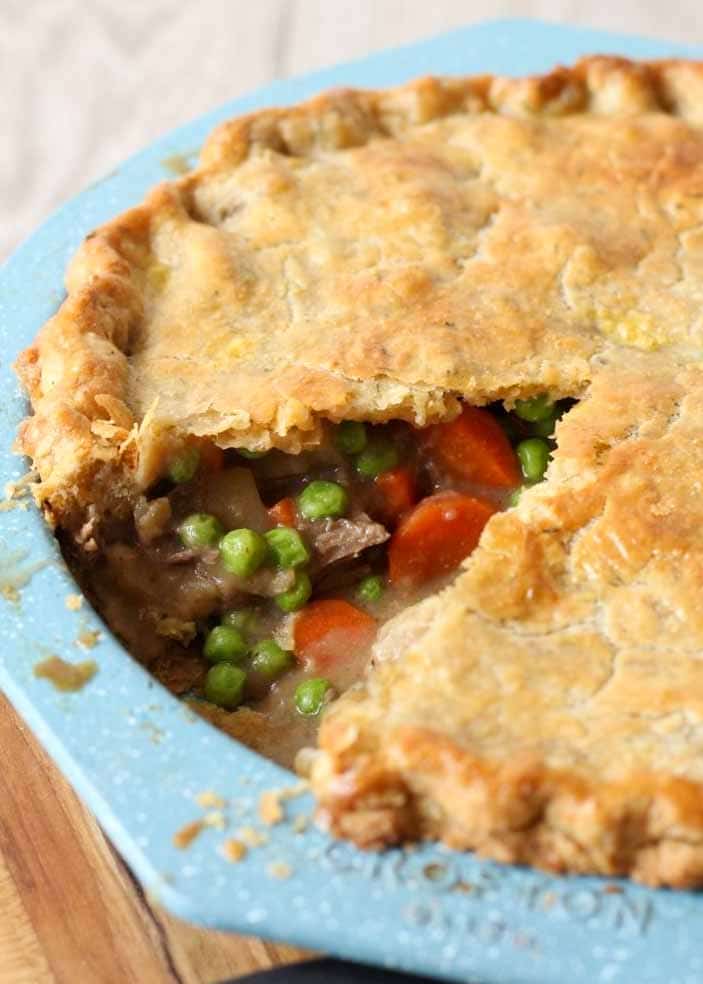 Remember how I promised you more easy dinner recipes? These Crock-Pot Sweet and Sour Meatballs and the Mexican Pulled Pork have been really popular this year.
If you haven't tried them yet, Pizza Sliders and French Bread Pizza are a couple more delicious options that you can have on the table faster than you can order take-out.
Roast Beef Pot Pie
I'm back today sharing this recipe for an easy "Leftover" Beef Pot Pie you can make using the leftovers from Sunday's pot roast.
Don't worry if you don't have a leftover pot roast, you can still make the pie, you'll just have to cook cubed beef and vegetables first.
This recipe is based on one my mom made for us growing up and it is comfort food, perfect for a rainy day like we are having today.
Doesn't that filling look amazing? I just want to grab a spoon and eat this all over again. Don't be intimidated by the crust either!
Like I mentioned earlier, you can always pick up a pre-made crust, OR you can use this cheater pie crust that is made with oil. My family has been using it for years and it's never failed us.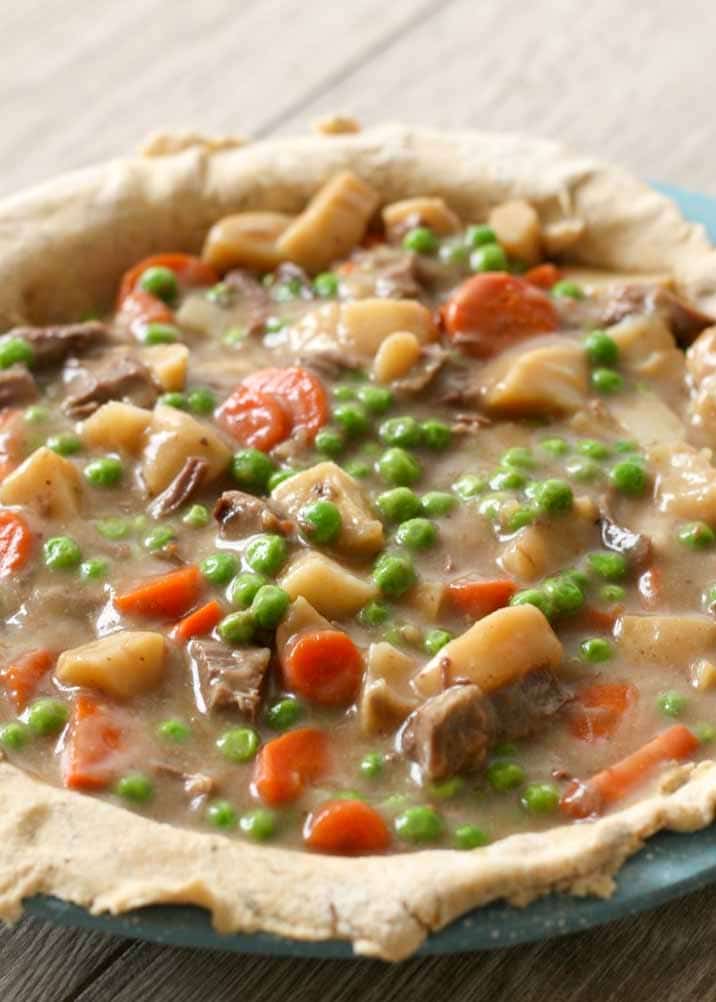 Anyway, my last bragging point on the pie is the fact that my husband helped himself to another piece as a bedtime snack it was so good. Who is he anyway?
My choice of bedtime snacks involves mint chip ice cream or chocolate turtle cookies, certainly not a piece of leftover pot pie.
What kind of snack do you reach for late at night? Are you a savory or sweet snacker in the evening?
Pot pie is absolute comfort food isn't it? These variations sound delicious too!
This recipe for Chicken Alfredo Pot Pies from The Gunny Sack sounds fun, as does this Taco Pot Pie from Lemon Tree Dwelling.
Baked Parmesan pork chops are tender and juicy with a crispy Parmesan crust. Pair them with a quick rice pilaf and some sauteed asparagus for a dinner everyone will enjoy.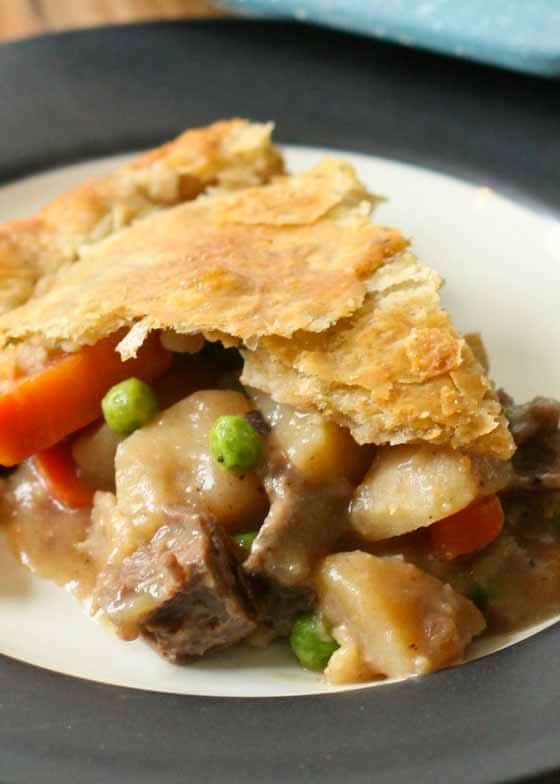 Beef Pot Pie Recipe
Preheat oven to 425 F. Prepare the pie dough and line the bottom of the pie plate with the bottom crust.
In a large bowl, mix together the beef, potatoes, carrots, peas, gravy, Worcestershire sauce, and salt and pepper.
Gently fill the crust with the mixture and top with the second crust. Crimp the edges and brush with a beaten egg, if desired.
Bake at 425 F for 30-35 minutes or until the crust is golden brown and cooked through. Serve immediately.
You can cook fresh beef and vegetables for the pie instead of using leftovers, but it will take a bit longer.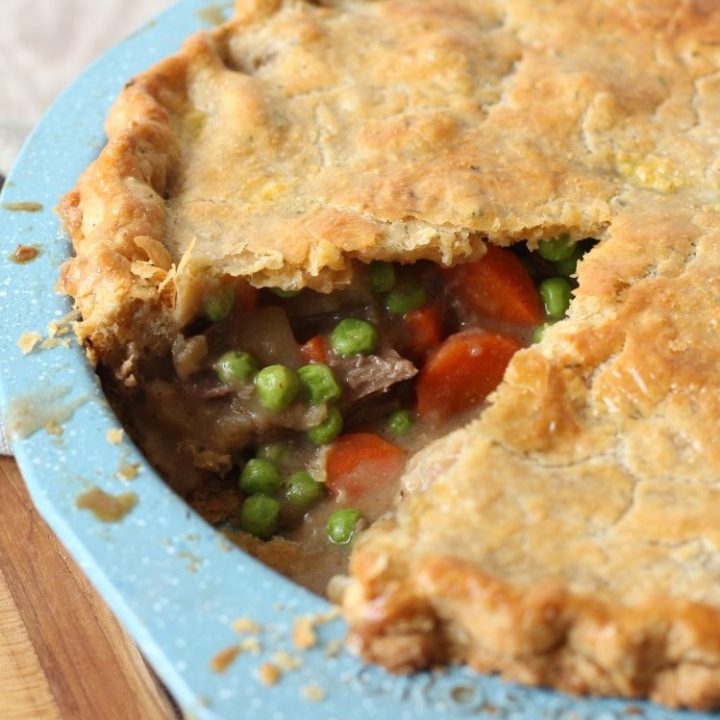 Leftover Roast Beef Pot Pie
Leftover Pot Roast Pot Pie uses the potatoes, carrots and beef to make a delicious beef pot pie for a quick and easy dinner recipe.
Ingredients
1 to

p and bottom pie crust for a 10 inch pie

homemade or store bought (I made a whole wheat crust)

2

cups

cooked

cubed beef (I used leftover pot roast)

3-4

cups

total of cooked potatoes

carrots and or frozen peas (I used the leftover potatoes and carrots from the roast and then added frozen peas to make up the difference. Feel free to use your favorite combination of vegetables.

2 1/2

cups

beef gravy

I used the leftover drippings to make some. You can make homemade or use storebought.

1

teaspoon

Worcestershire sauce

Salt and Pepper to taste.

1

egg

beaten (to brush on the crust if desired)
Instructions
Preheat oven to 425 F. Prepare the pie dough and line the bottom of the pie plate with the bottom crust.

In a large bowl, mix together the beef, potatoes, carrots, peas, gravy, Worcestershire sauce and salt and pepper. Gently fill the crust with the mixture and top with the second crust. Crimp the edges and brush with a beaten egg, if desired.

Bake at 425 F for 30-35 minutes or until the crust is golden brown and cooked through. Serve immediately.

***You can also cook fresh beef and vegetables for the pie instead of using leftovers, but it will take a bit longer.***
Nutrition
{originally published 4/25/18 – recipe notes and photos updated 6/24/21}