Tender peas, sweet carrots, and savory bits of celery and onions in a creamy, rich beef gravy baked inside a buttery crust make for a fantastic ground beef pot pie.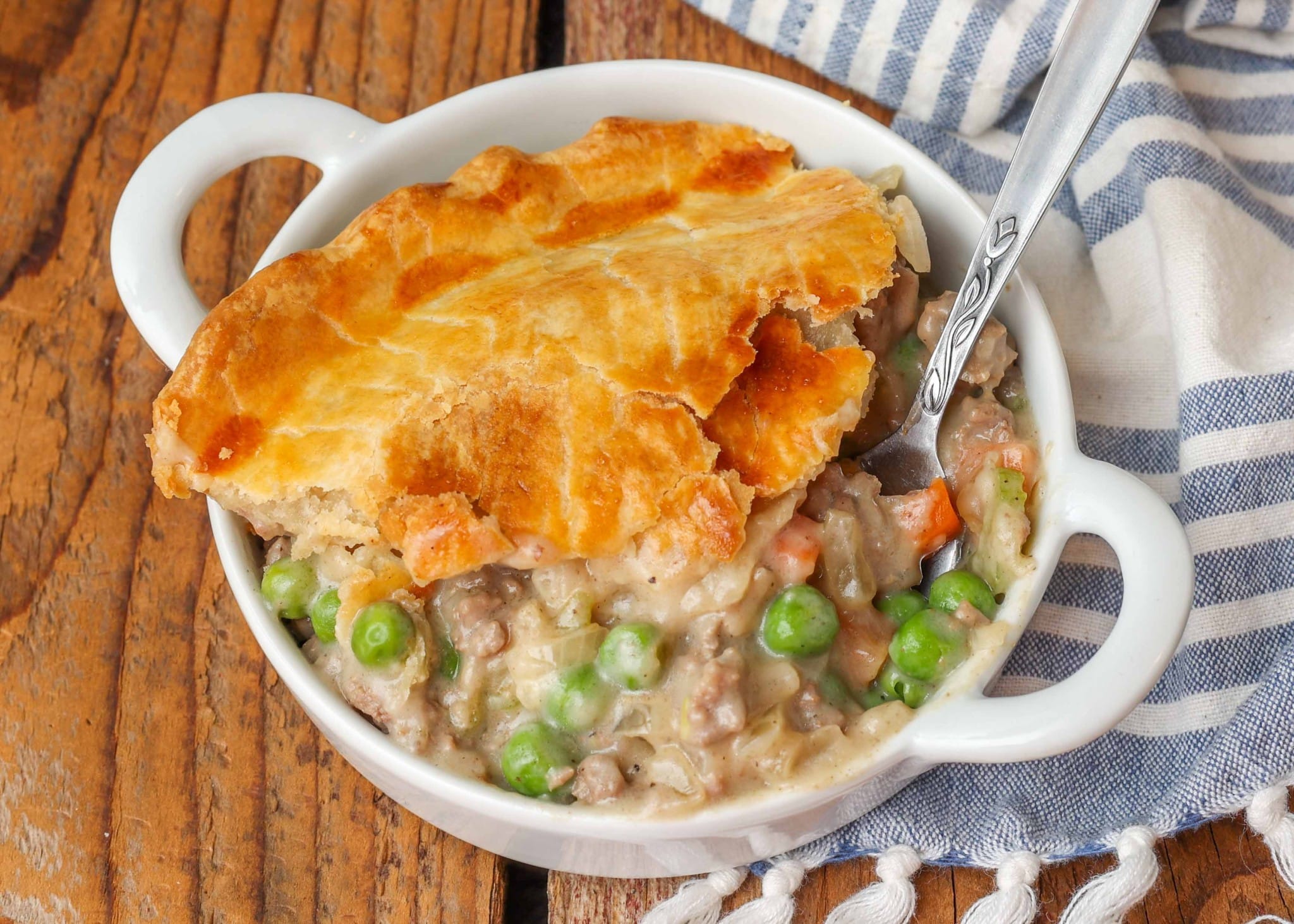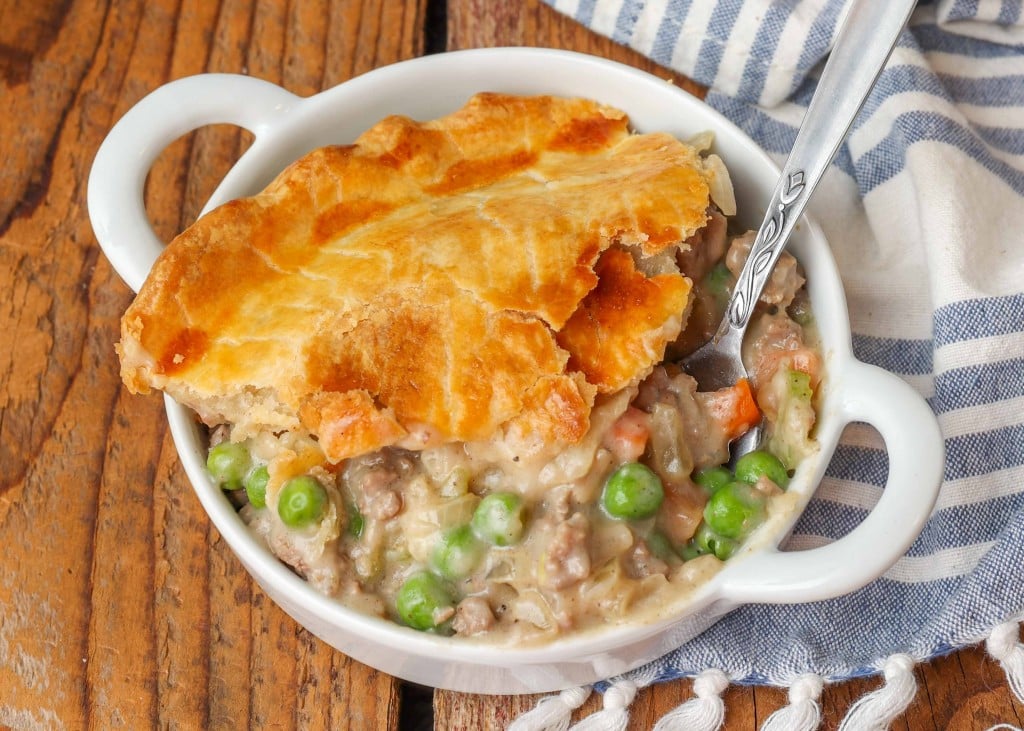 Ground Beef Pot Pie
I don't know what it is about pot pie, but it is so good. Perhaps it is the steamy fragrance when you cut into it. Maybe it is the excitement for the first bite as you blow on it like crazy to avoid burning your tongue. I don't know about you, but I can never seem to wait as I savor the smell and anticipate how good it will taste.
Pot pie is the perfect comfort food. It is a soup and a casserole, all combined into a steamy well-seasoned savory pie. And let's face it, when you say pie is for dinner, everyone gets excited.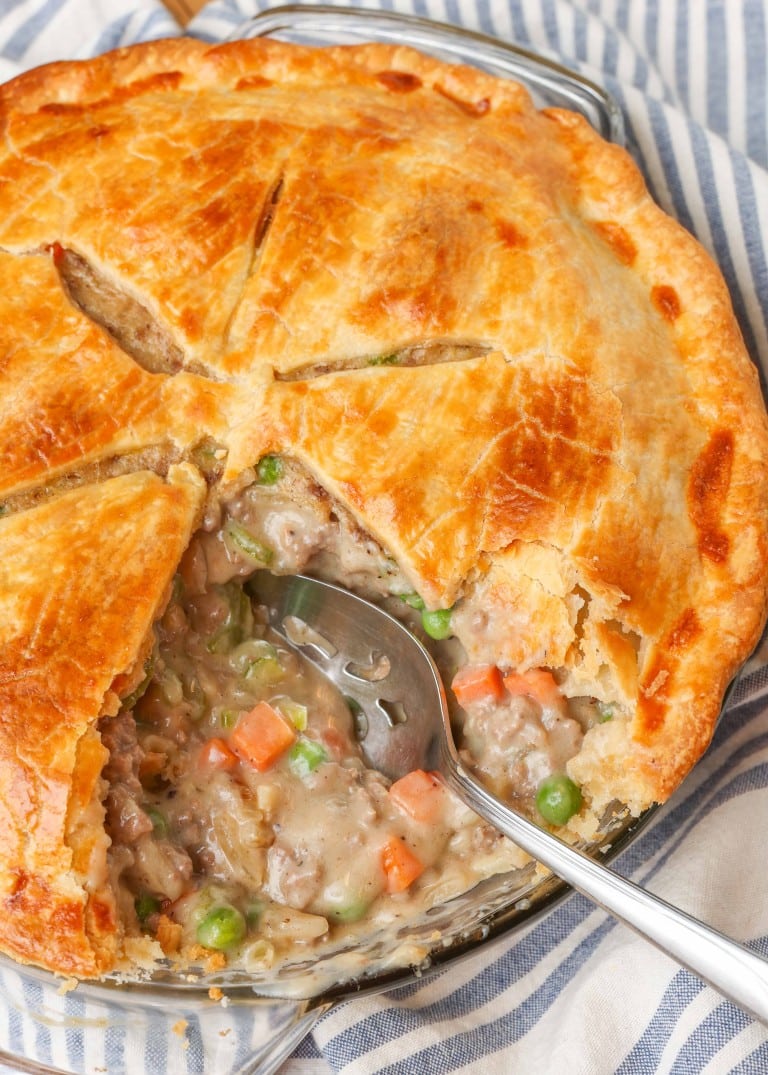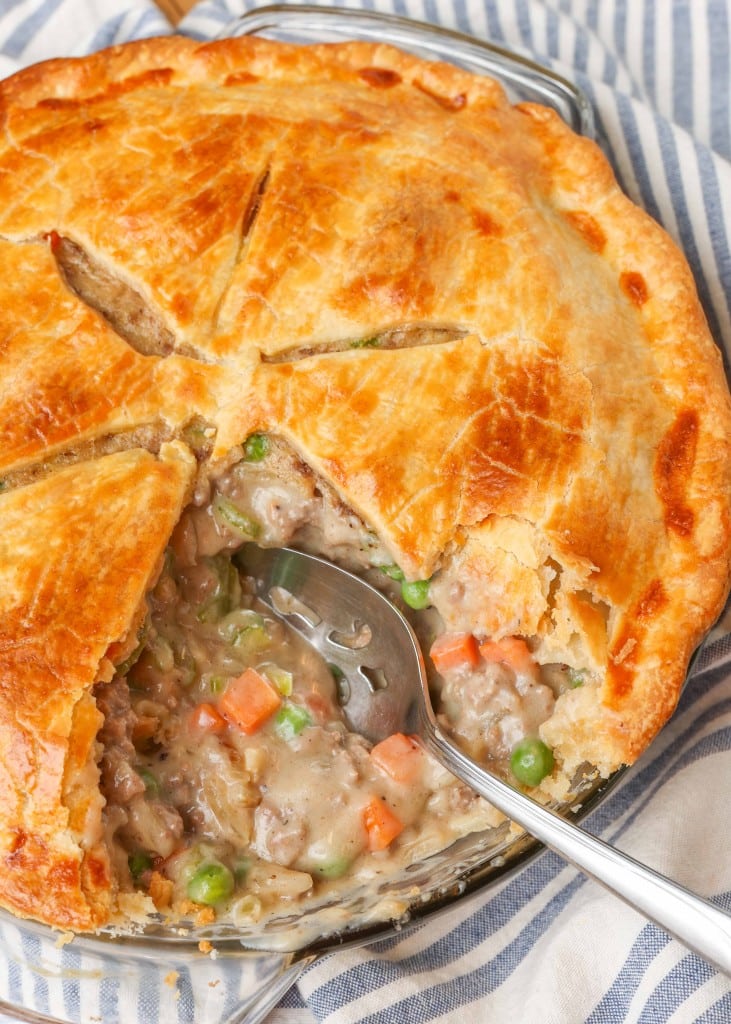 While traditional pot pie purists may prefer to make their crusts from scratch, store-bought crusts can be equally good and provide a quick and easy option for a weeknight meal.
With a preparation time of only about 30 minutes, you can assemble the pie and pop it in the oven to bake while you tidy up the kitchen or help the kids with homework.
The beauty of this dish lies in its simplicity – the filling can be easily prepared in a single pan on the stovetop. By continuously adding ingredients to the mixture, we create a sauce that is rich and creamy with plenty of beef flavor.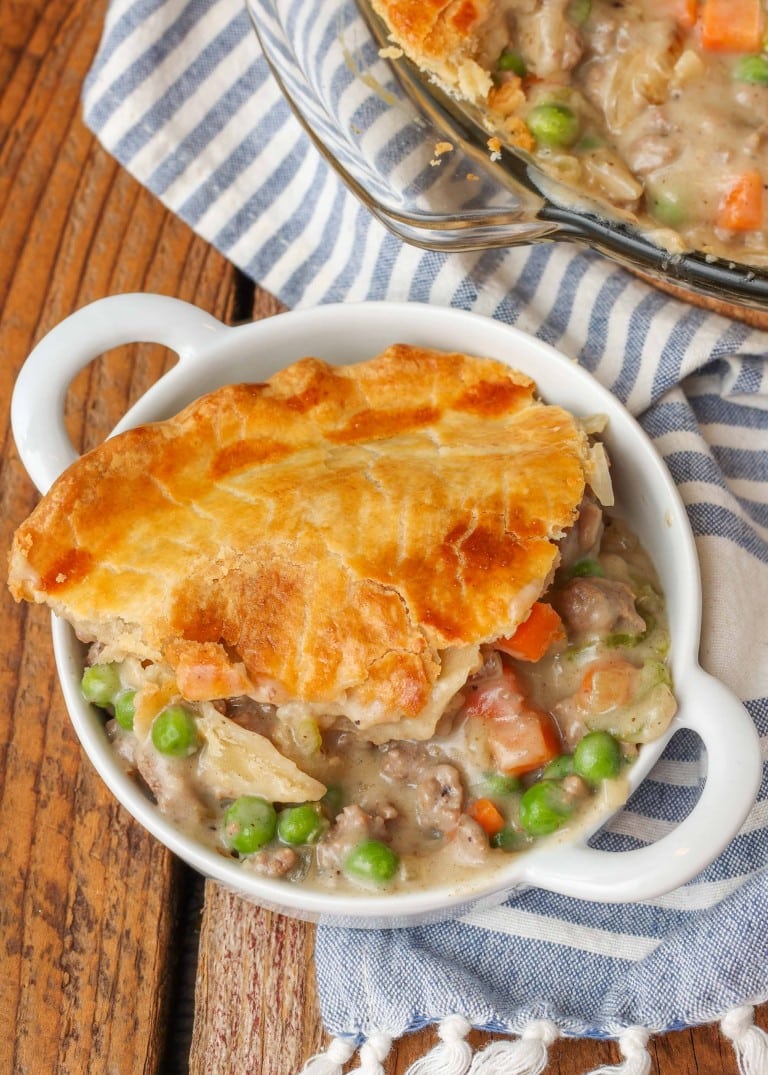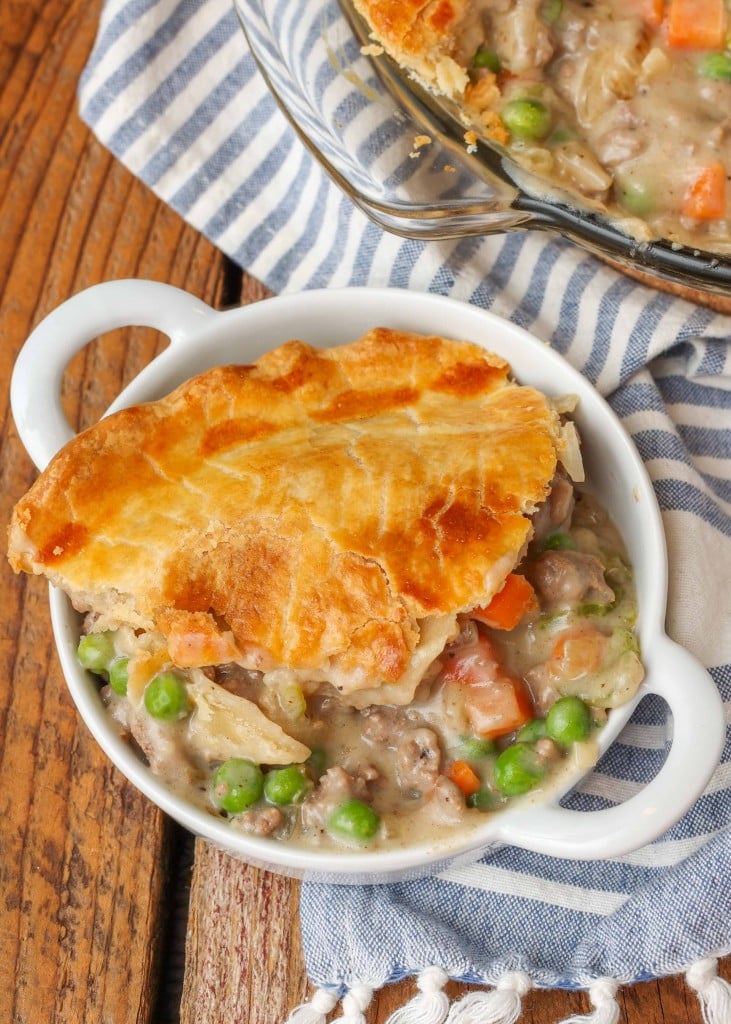 Recipe for Ground Beef Pot Pie
Brown the ground beef first; I often opt for a slightly leaner variety for this recipe. 90/10 is an excellent choice, as there will be minimal grease and no need to drain it. Once browned, the small amount of fat will blend perfectly with the melted butter, creating a delicious saute for your onion and celery.
Transfer the ground beef to a separate bowl and use the same pan to create the gravy. Saute the celery and onions until they become soft and slightly translucent.
Next, add the flour and stir to thoroughly coat the vegetables. This step is crucial, as the floury vegetables will help create the roux that serves as the thickener for the gravy.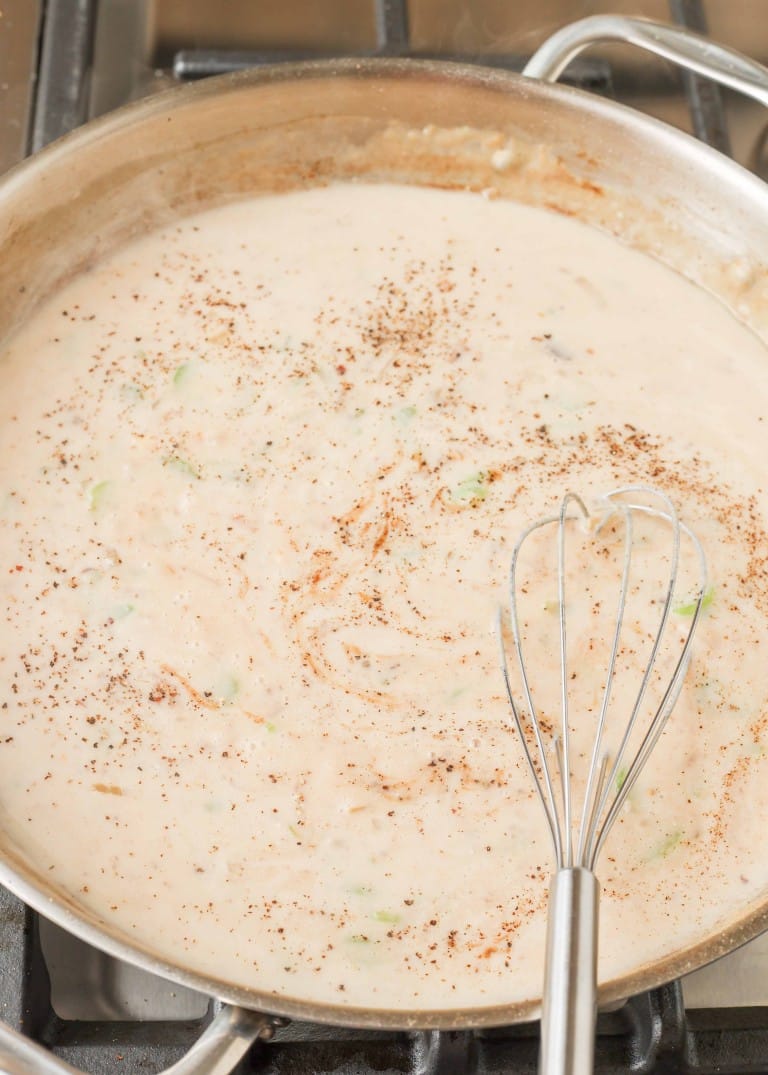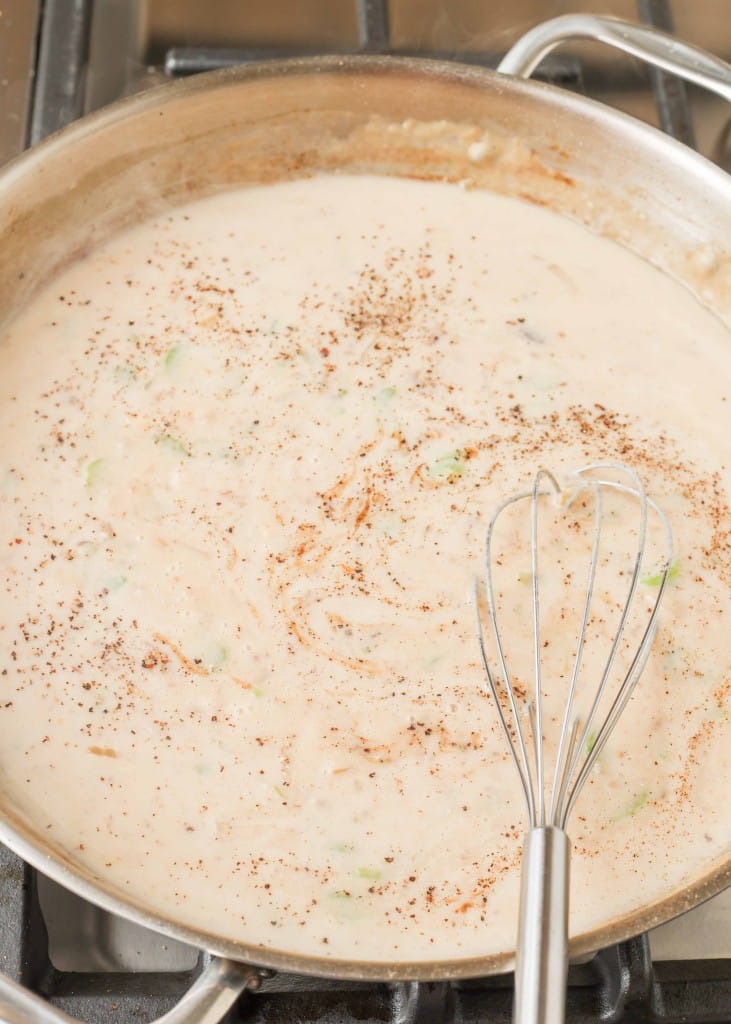 While whisking continuously to prevent lumps, gradually pour the beef broth into the pan and combine it with the floury vegetables. Then, reduce the heat to a simmer and add the milk and seasonings.
To thicken the gravy, allow it to simmer for a few minutes on low heat. Take care to avoid a rolling boil, as this could cause the milk to curdle. Although it won't affect the flavor, it will produce small curds, leading to lumpy gravy.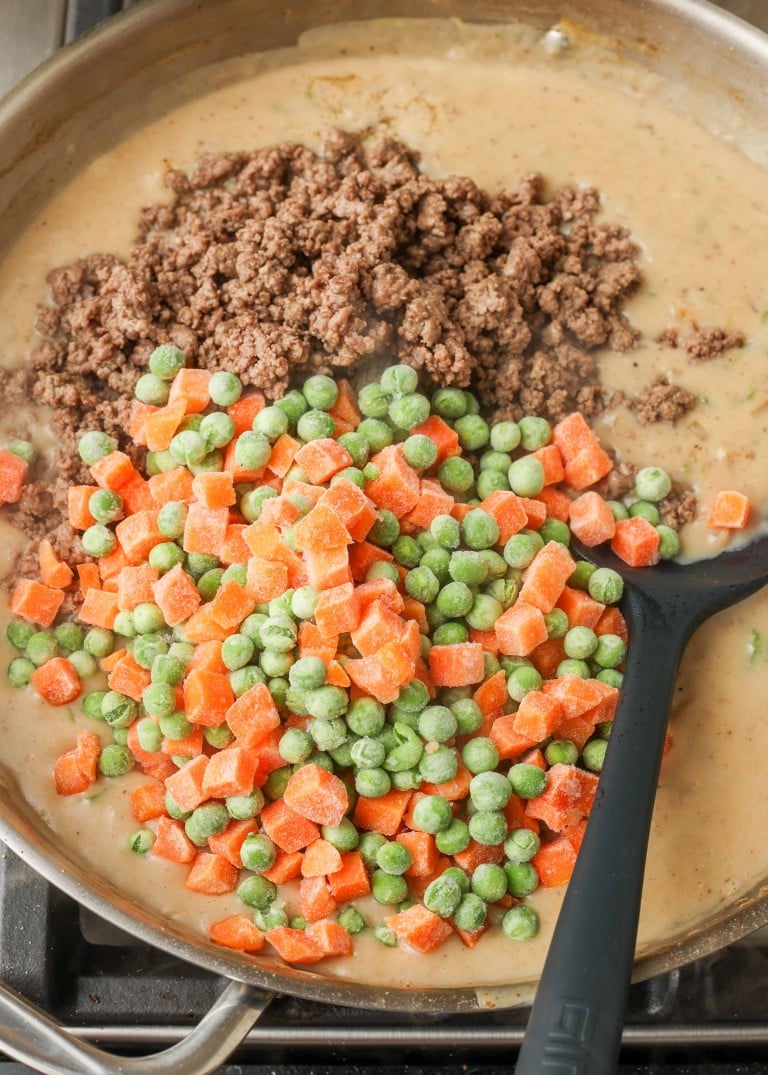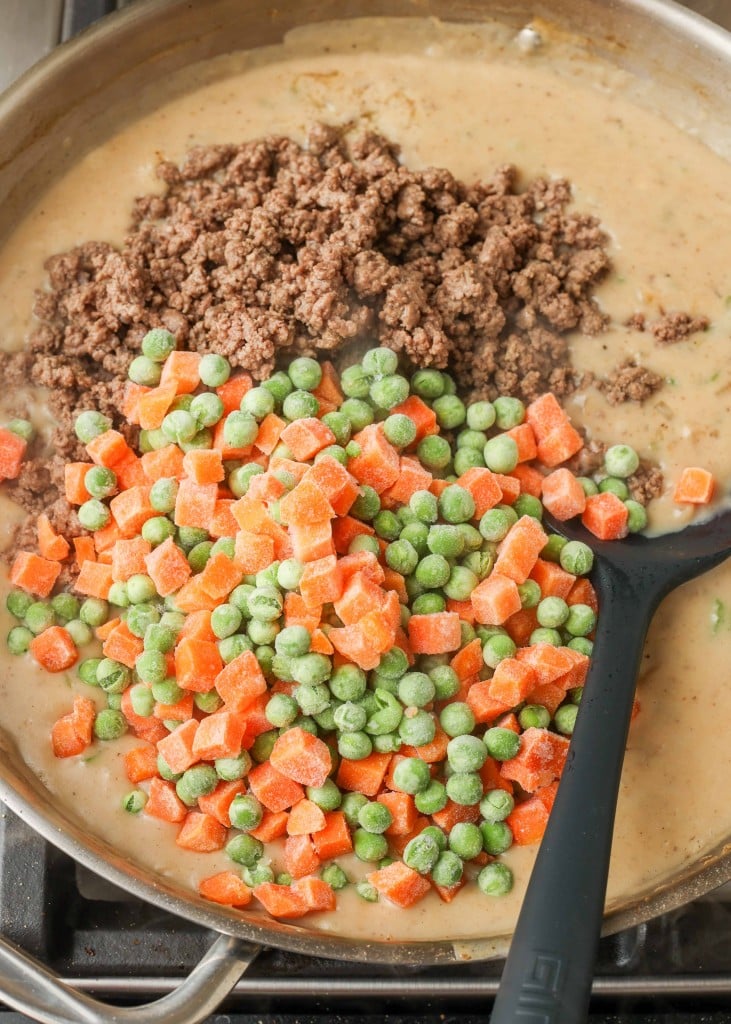 Next, add the beef and mixed vegetables to the pan, and stir everything together. There's no need to bring it back up to a simmer as everything will warm and cook through when baked.
My go-to for pot pie vegetables is frozen peas and carrots, although I've also been known to use whatever I have on hand. If I have some potatoes available, I'll add those too. Additionally, green beans, asparagus, and corn can all be added, and will work well here.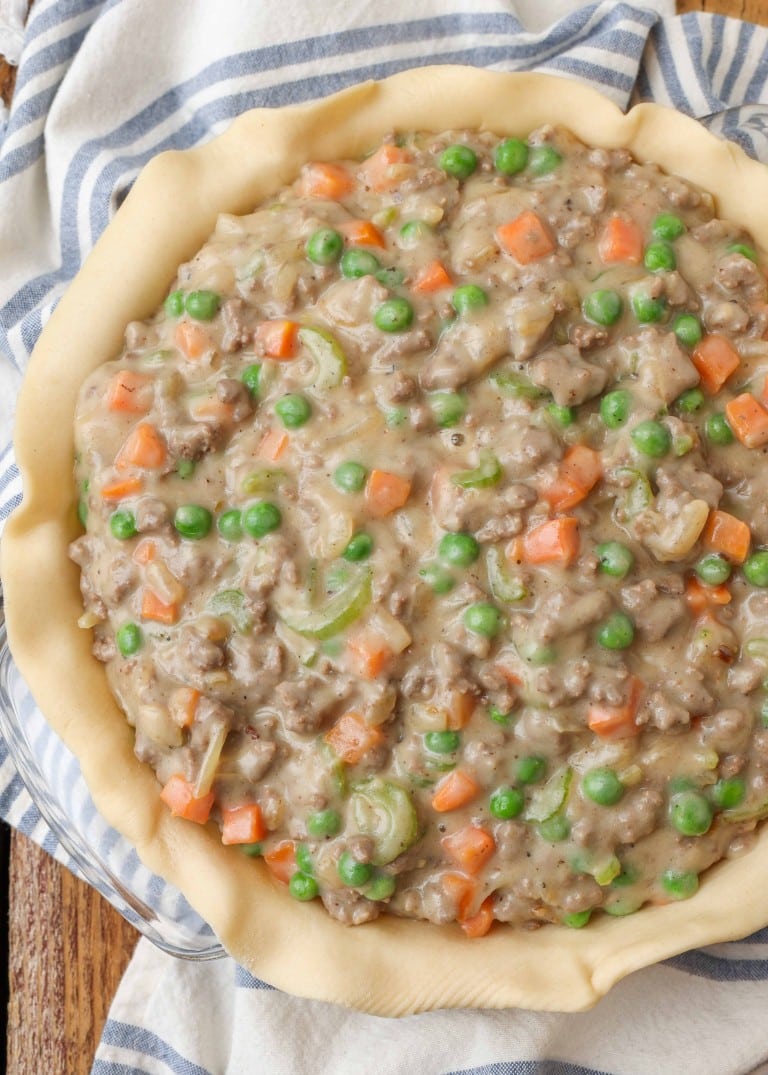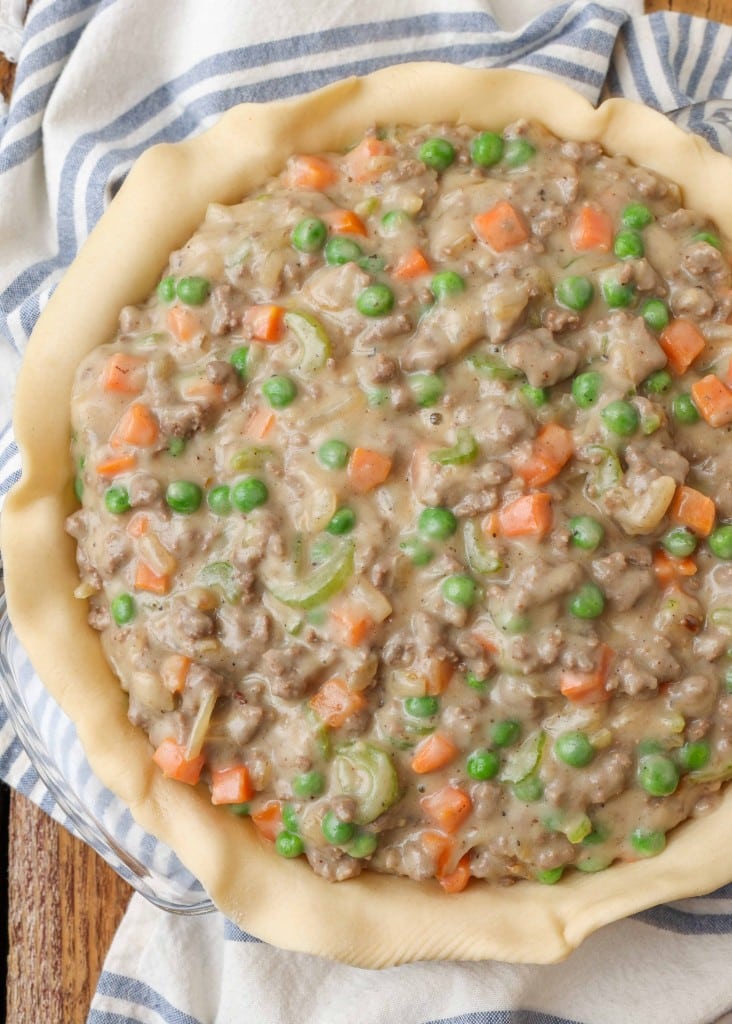 Ground Beef Pot Pie Recipe
You'll need these ingredients to make this recipe:
pie crusts, homemade or store-bought
ground beef
butter
yellow onion
celery ribs
flour
beef broth
milk
Worcestershire sauce
kosher salt
freshly ground black pepper
frozen mixed peas and carrots
egg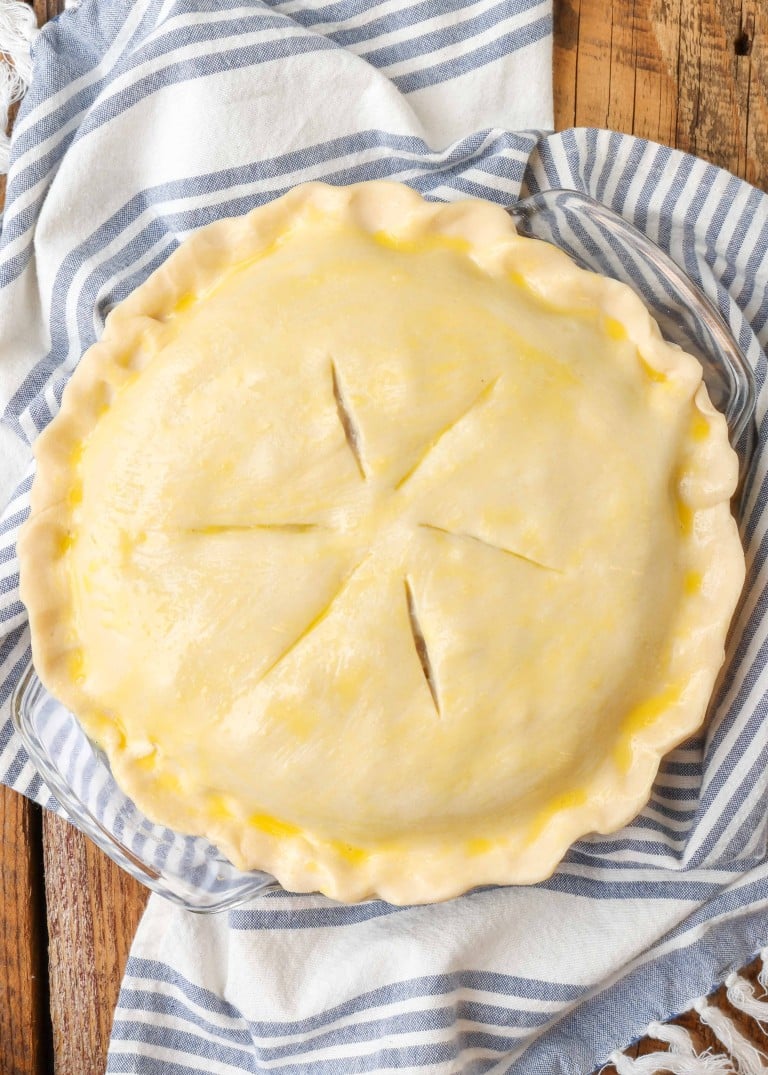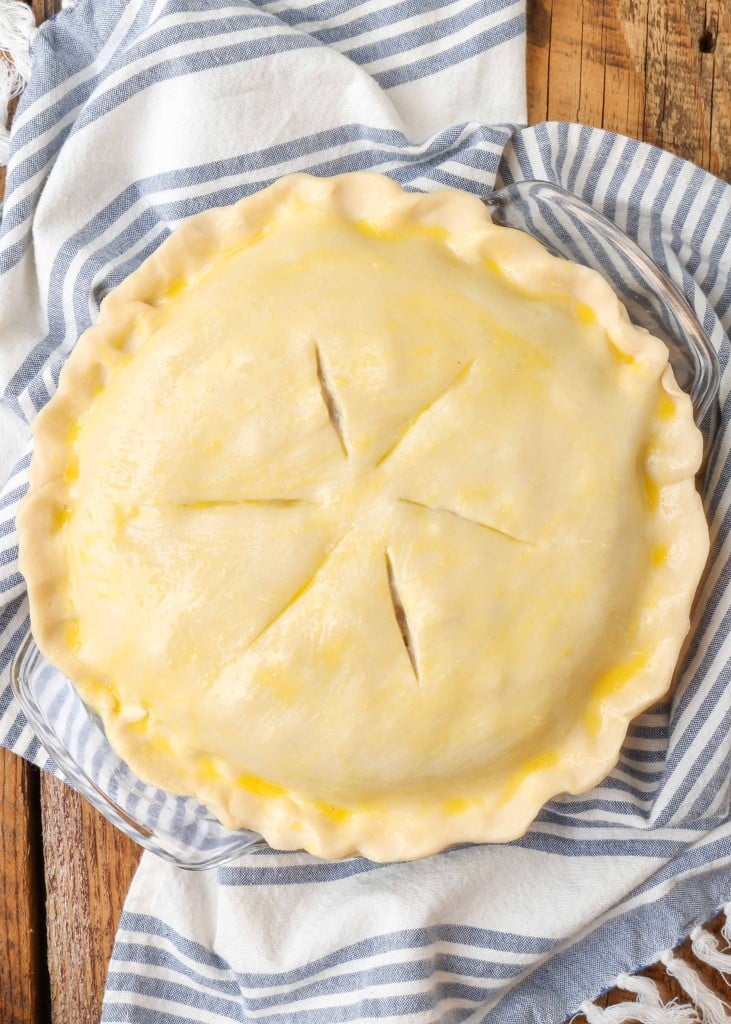 Pot pies really are the quintessential comfort food. Which is probably why I have several variations we love and make often.
This pot pie uses your leftover pot roast, potatoes, carrots, and gravy to create a fantastic pie. Feel free to use a pre-made pie crust to make this a quick and easy dinner recipe!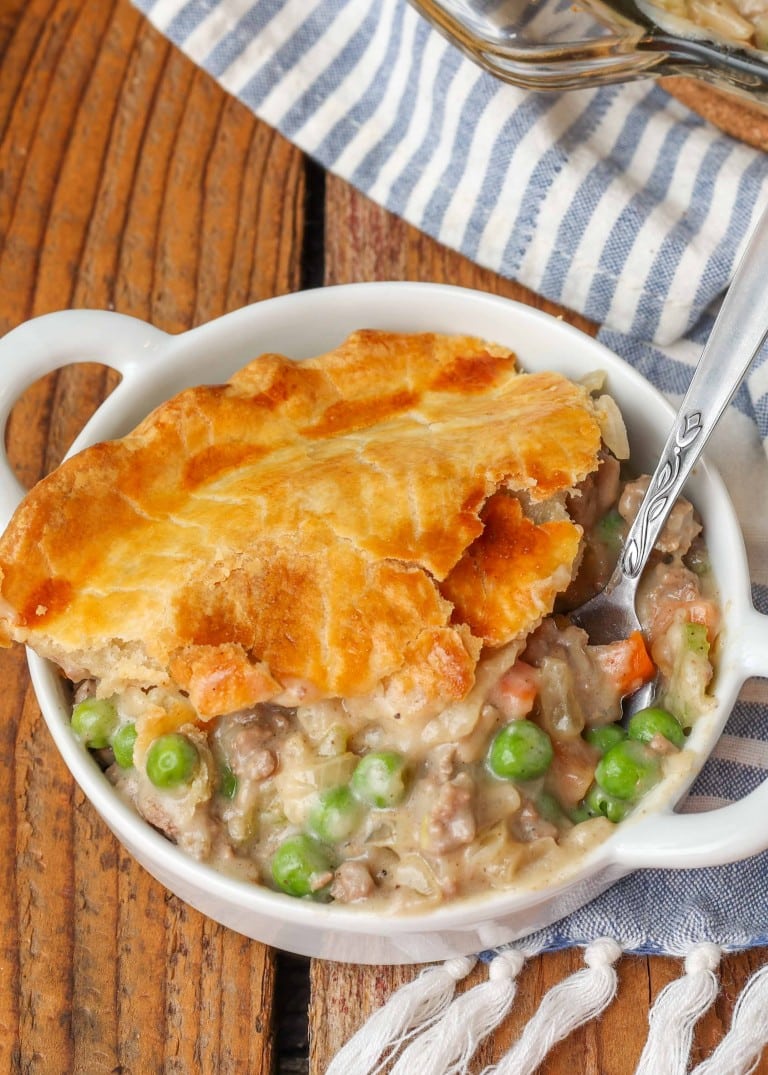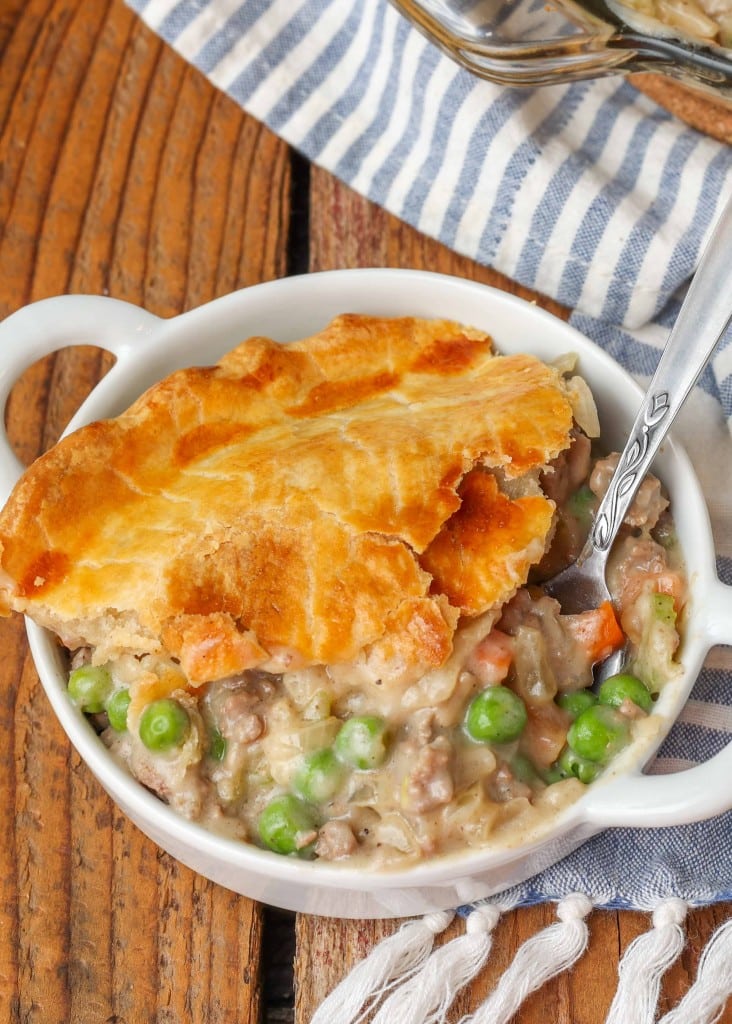 Straight from the oven, this biscuit-topped chicken pot pie casserole is downright mouthwatering with its piping hot filling of tender chicken and vegetables, topped with flaky, golden-brown biscuits.
Pot pie has never been easier to make than this chicken pot pie with crescent rolls! All the irresistible flavors of the classic dish are here in a perfect balance of savory chicken and wholesome veggies, wrapped in a buttery crust.
Chicken and vegetables simmer in a creamy filling underneath a flaky biscuit topping to make these individual chicken pot pies.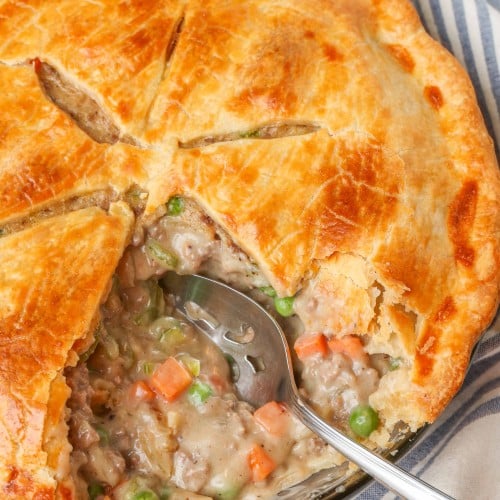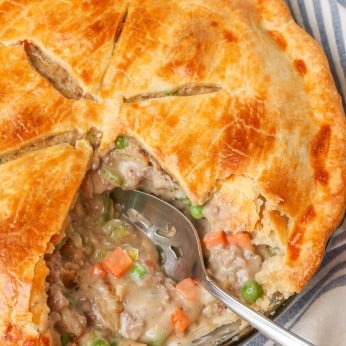 Ground Beef Pot Pie
Tender peas, sweet carrots, and savory bits of celery and onions in a creamy, rich beef gravy baked inside a buttery crust make for a fantastic ground beef pot pie.
Ingredients
2

pie crusts

homemade or store-bought

1

pound

ground beef

2

tablespoons

butter

1

yellow onion

chopped into ¼-inch pieces

2

celery ribs

sliced thin, about ½ cup

⅓

cup

flour

2

cups

beef broth

1

cup

milk

1

teaspoon

Worcestershire sauce

½-1

teaspoon

kosher salt

adjust to taste

½

teaspoon

freshly ground black pepper

adjust to taste

12-16

ounces

frozen mixed peas and carrots

about 3 cups

1

egg

beaten
Instructions
Preheat oven to 425°F. Place one pie crust in a deep pie plate. Prick with a fork and set aside. In a large deep skillet, over medium-high heat, cook and crumble the ground beef. Transfer the cooked beef to a small bowl.

In the same skillet used for the beef, melt the butter. Add the onions and celery and cook until soft, about 3 minutes. Sprinkle with flour. Slowly stir in beef broth and whisk to combine. Cook for a minute or two, until thickened.

Add the milk, Worcestershire, salt, and pepper. Reduce heat and simmer over medium-low heat until thickened, about 5 minutes. Taste and adjust the salt and pepper, as needed.

Add the cooked beef and vegetables to the sauce. Stir to mix throughout. Pour the mixture into the bottom pie crust. Top with remaining pie crust. Seal the edges and cut away any excess dough.

Make a few slits in the top to allow steam to escape while baking. Brush the crust with an egg wash, if desired. (egg wash note below)

Bake for 35-40 minutes, or until the filling is bubbling hot and the crust is golden. (Wrap the edges with foil to prevent over-browning, if desired.) Cool for 10 minutes before serving.
Notes
To make an egg wash: Whisk together one egg with about a teaspoon of water and brush this mixture over the crust before baking. The egg helps the crust brown beautifully.
Nutrition
Serving:
1
piece
·
Calories:
441
kcal
·
Carbohydrates:
32
g
·
Protein:
17
g
·
Fat:
27
g
·
Saturated Fat:
10
g
·
Polyunsaturated Fat:
2
g
·
Monounsaturated Fat:
11
g
·
Trans Fat:
1
g
·
Cholesterol:
72
mg
·
Sodium:
667
mg
·
Potassium:
398
mg
·
Fiber:
3
g
·
Sugar:
2
g
·
Vitamin A:
4211
IU
·
Vitamin C:
6
mg
·
Calcium:
80
mg
·
Iron:
3
mg