Buttery Dinner Rolls are my favorite things to serve with soups or salads. They also make a great addition to any holiday feast or Sunday dinner.
These rich rolls pull apart beautifully and taste delicious. We eat them warm with butter and jam.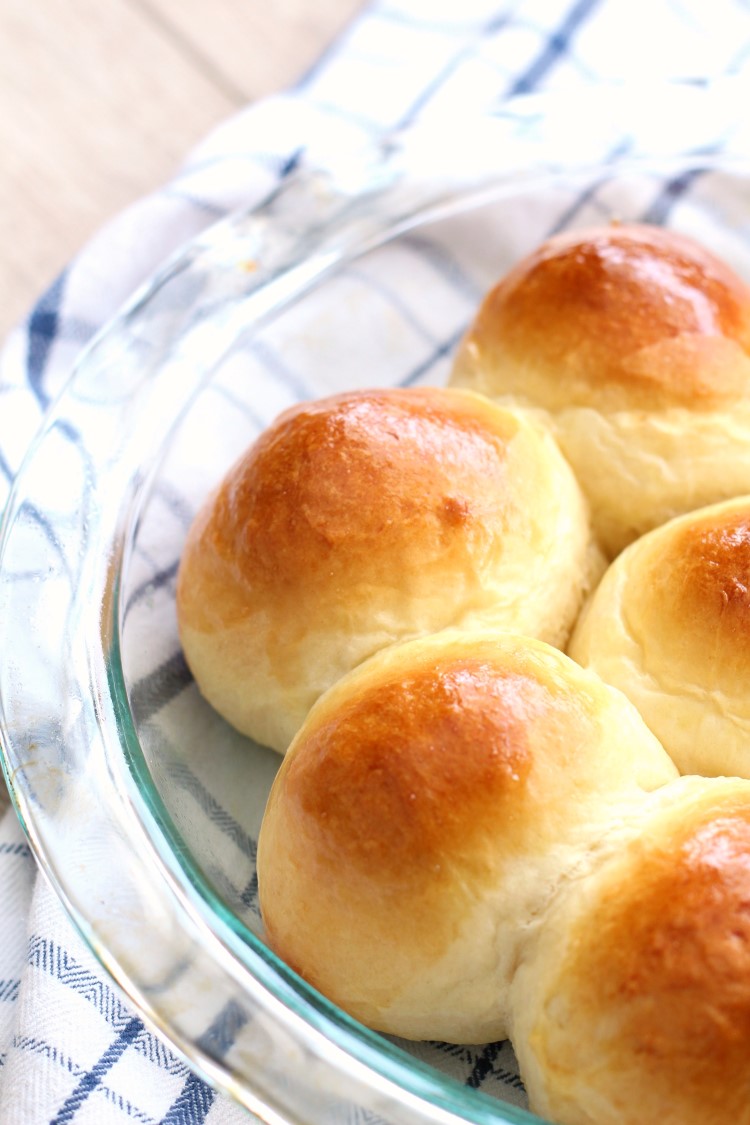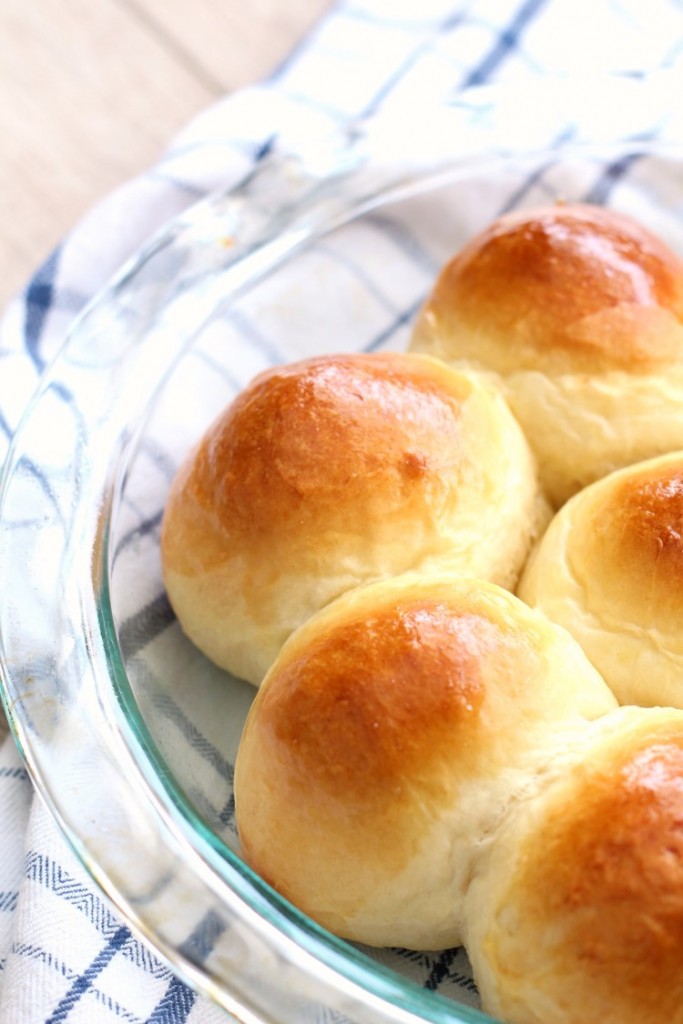 Buttery Dinner Rolls
These rolls are surprisingly easy to make. And store bought just doesn't compare to fresh out of the oven goodness.
If you keep a stash of my basic sweet yeast dough in the freezer, they're even easier to get on the table.
Making homemade buttery dinner rolls can seem intimidating. All those extra steps. Kneading, rising, shaping, baking.
But don't be fooled, those steps don't take very long at all and the resulting rolls are so worth it.
Fortunately, this easy roll recipe comes together without much fuss. Once you have the sweet yeast dough down, you're set to make these. And I'm going to repeat this over and over, you CAN do this!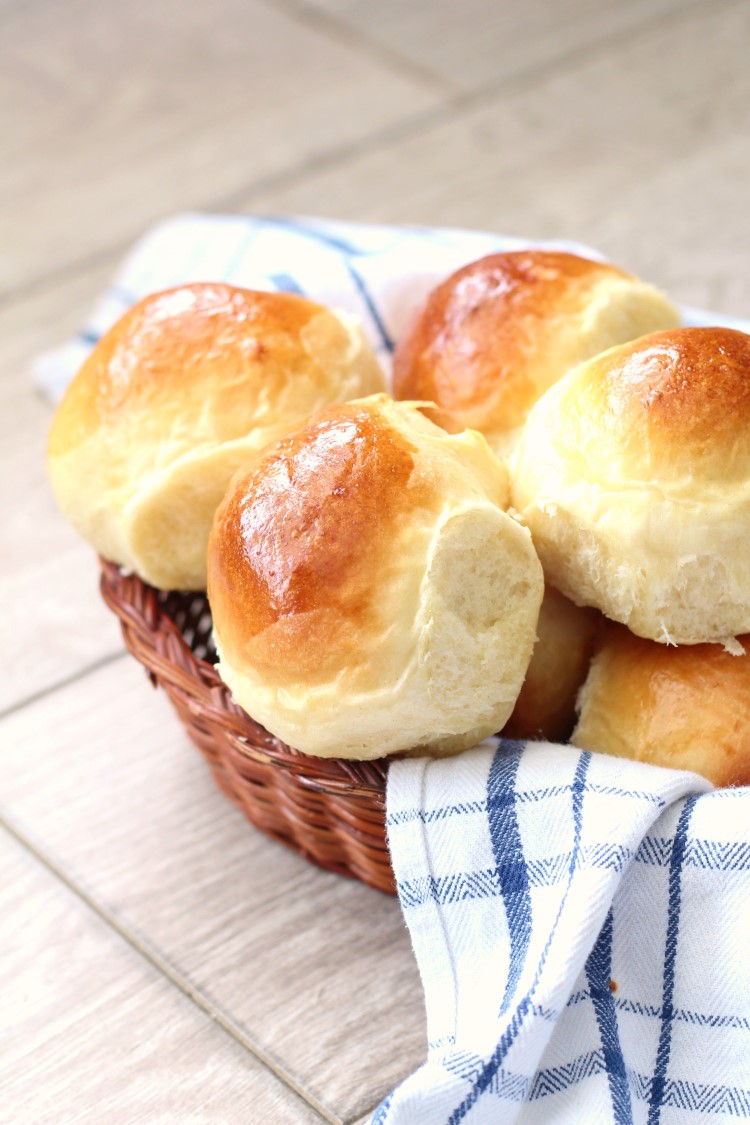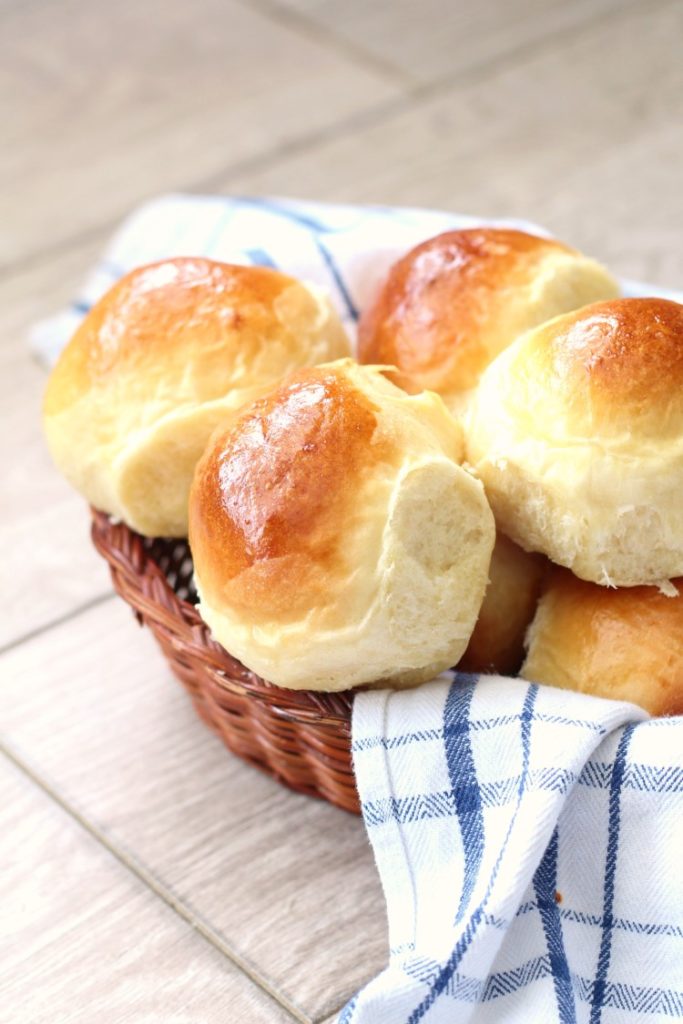 Easy Dinner Rolls
As I mentioned earlier, I use a Basic Sweet Yeast Dough recipe to make these easy dinner rolls. This is a versatile recipe that I love to keep on hand for making everything from the Best Cinnamon Rolls to Monkey Bread to Homemade Yeast Donuts.
The dinner rolls made from this dough are rich in eggs and butter. They are quite dense, but oh so good. I made these rolls quite large, if you would prefer a slightly smaller roll, go ahead, just decrease the baking time a little bit.
You can brush on an egg wash before you bake them to give them beautiful shiny brown tops. Some people brush on melted butter after they bake, but I find they are buttery enough on their own. I prefer the look and feel of the egg wash.
Garlic Herb Dinner Rolls from the Recipe Rebel are a fun variation on the dinner rolls if you like something a little more savory.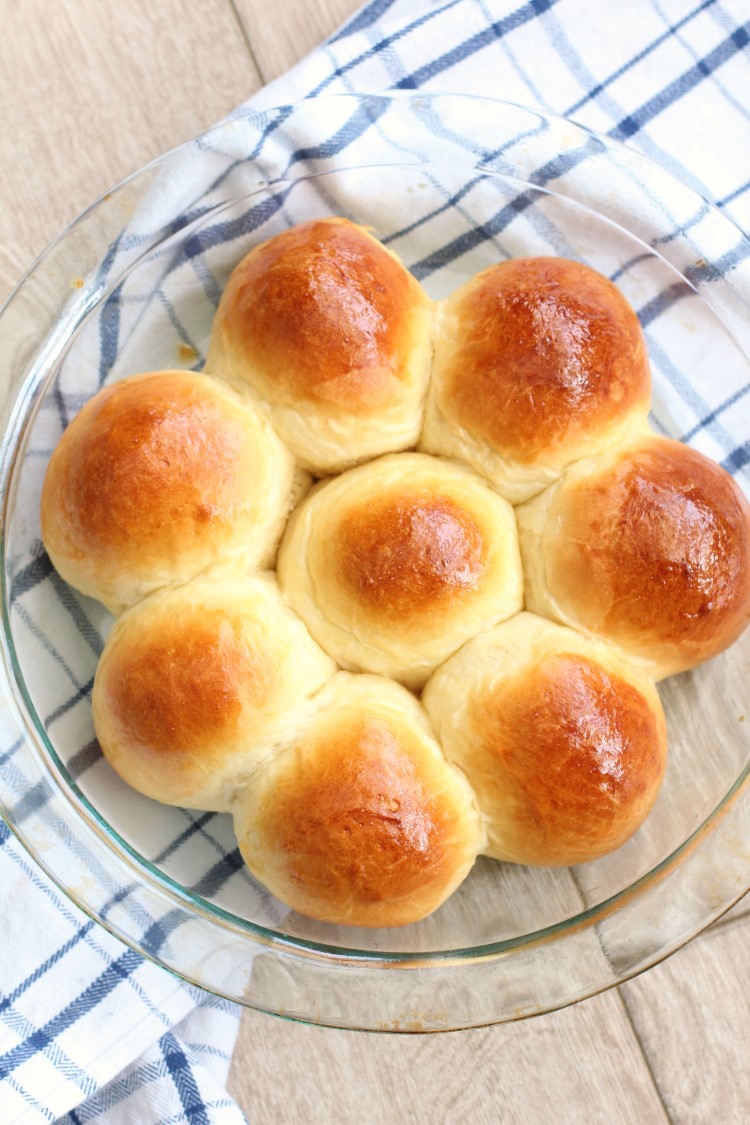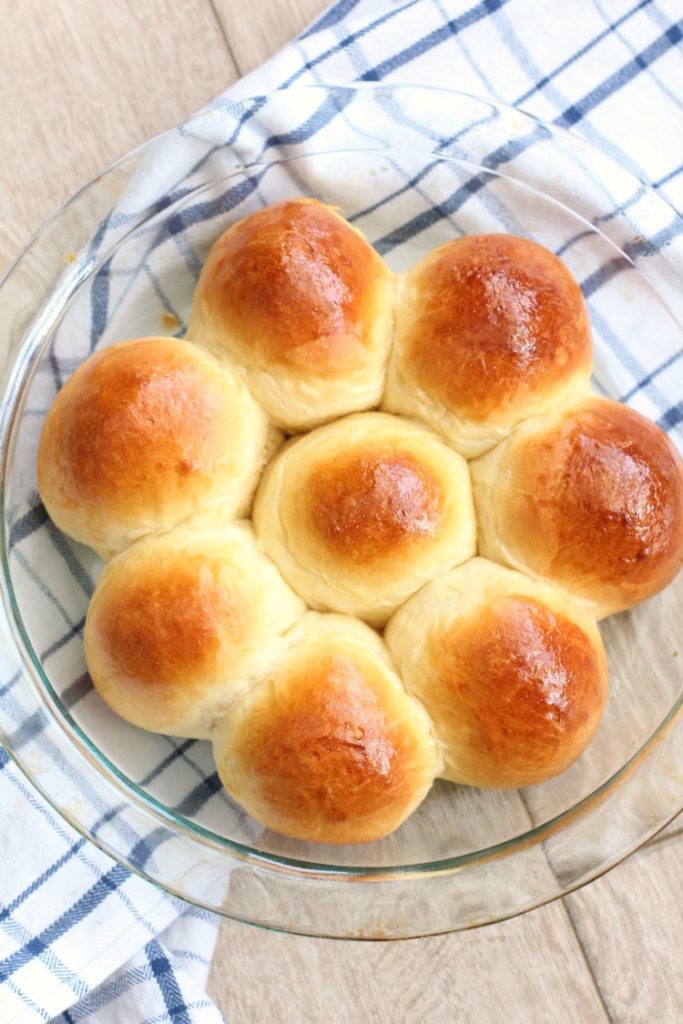 Easy Roll Recipe
I could eat these breakfast, lunch or dinner. Breakfast with a small pat of butter and some Strawberry Jam or Amish Peanut Butter Spread. Or you can slice one open and fill with some egg and cheese. Or ham and cheese for little handheld sandwiches. The possibilities are endless.
However, these easy buttery dinner rolls really shine on the dinner table. Your guests will be so impressed. I love serving Buttery Dinner Rolls for my Thanksgiving feast.
Or any holiday really. They taste great with an Easter ham. Alternatively, simply serve them alongside a bowl of Zuppa Toscana or Beef Barley Soup.
The dough freezes well, and having some on hand gives you options when it's time to cook. Try some of these easy recipes you can make with my Basic Sweet Yeast Dough: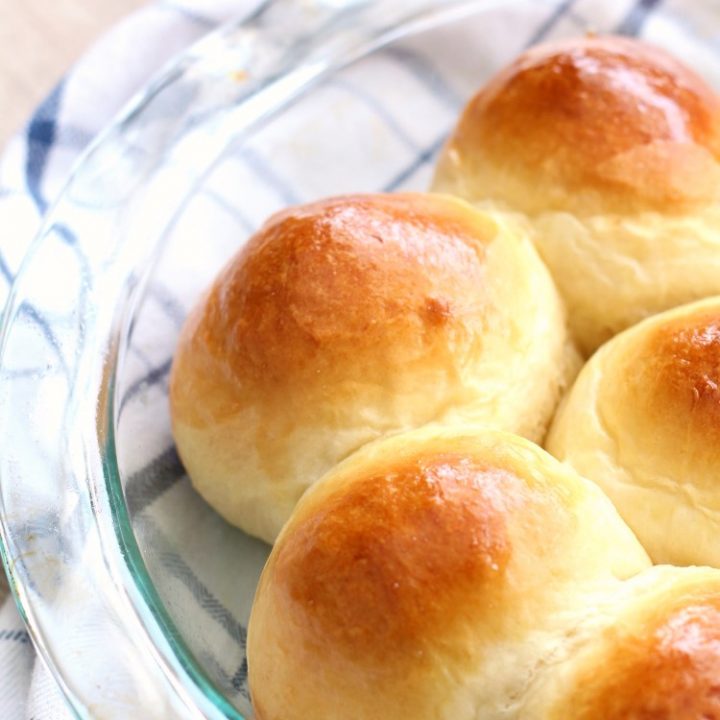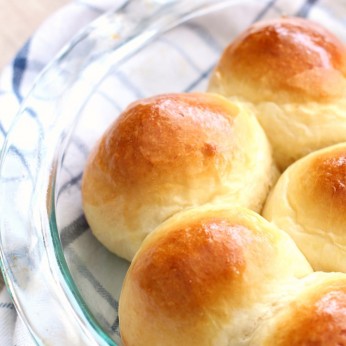 Buttery Dinner Rolls
These simple, buttery dinner rolls are made with a simple dough that is rich in eggs and butter for a perfect side to your meal.
Instructions
Punch down the dough after it has risen and knead a few times until smooth. Divide the dough in half and set one half to the side. Divide the section of dough you are working with into thirds and each of those thirds, cut into thirds again. You should have nine little chunks of dough. Form each little chunk into a smooth round ball and place in a greased baking dish about 1 inch apart. This will make large rolls, if you prefer smaller ones, divide the dough into 12 sections, instead of 9.

I usually only make half the dough at a time and freeze the other half. 9 rolls will fit into an 8 x 8 baking dish.

Cover and let rise until double. Preheat oven to 350 F. Gently brush the rolls with the beaten egg after they have risen and bake for 15-18 minutes or until done.

Cool slightly and remove from pan to cool completely. They store tightly covered for about 2 days.
Nutrition
Serving:
1
roll
·
Calories:
176
kcal
{originally published 4/18/18 – recipe notes and photos updated 1/18/21}