These Red Velvet Cake Balls are dipped in white chocolate and are elegant truffles for Valentine's or Christmas.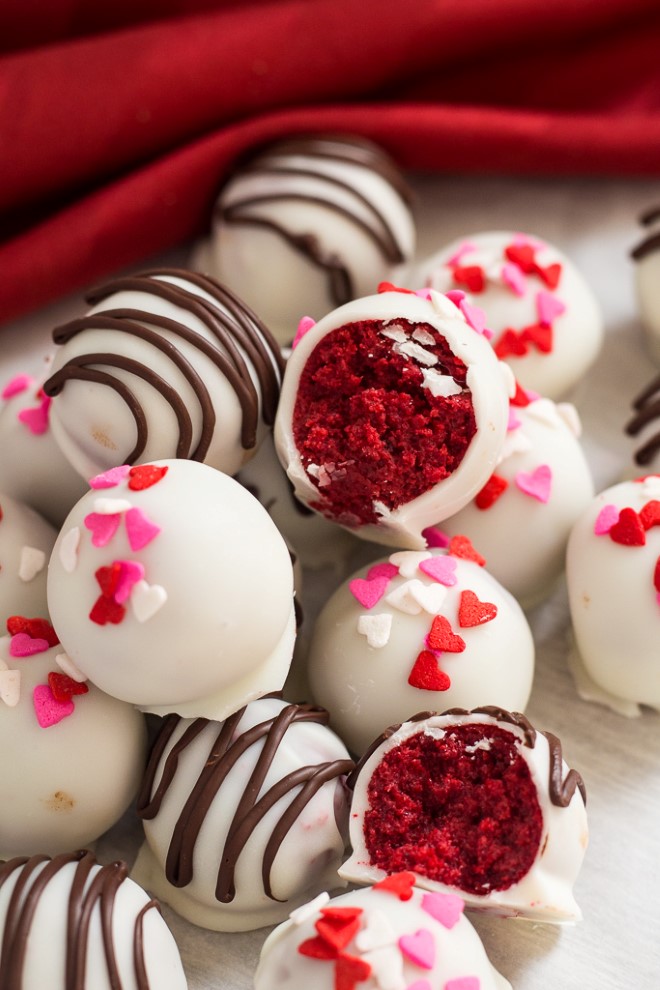 I had a red velvet cake mix sitting in my cupboard for awhile and thought cake balls sounded good one day. I like red velvet, but I can't physically add that much red food coloring myself to anything, so it's the one thing I always use a cake mix for. I do love the tangy, slight chocolatey flavor of red velvet and it always looks so festive.
How to make Red Velvet Cake Balls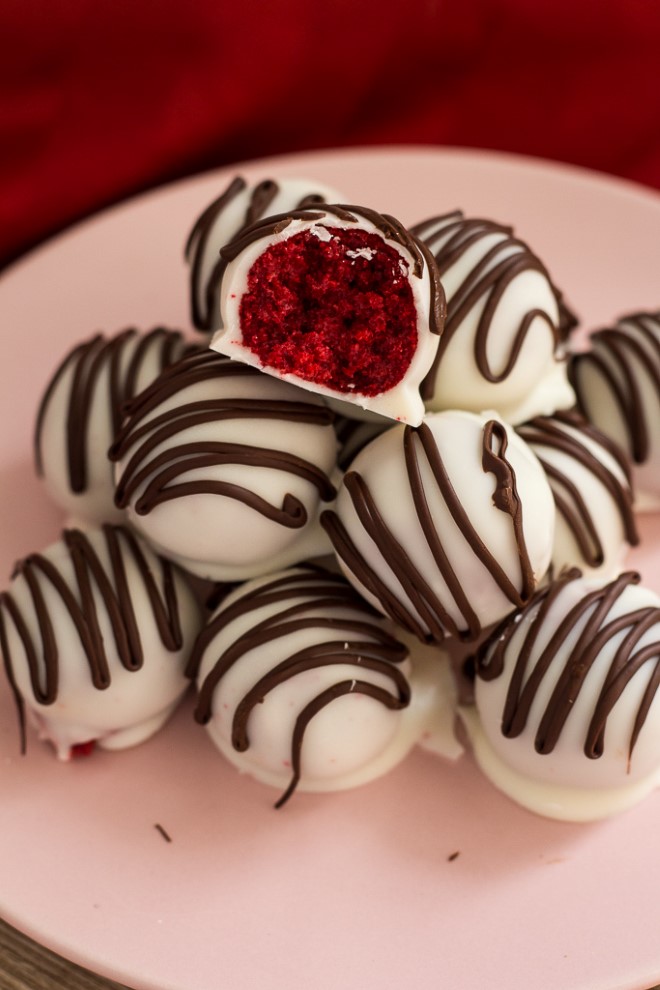 At the high level, it is pretty simple to make cake balls. You need:
A cake that is made and cooled
About a cup of frosting
White or dark chocolate to dip them in
You'll start by crumbling the cooled cake and stirring in frosting until the mixture is like stiff cookie dough. Roll out the balls and freeze them for about and hour. Then, dip them in melted white chocolate and add sprinkles if desired.
Definitely not hard, but they can be a bit time consuming. It's fun project to do with friends for Christmas or with your kids around Valentine's day. Although let go of perfect expectations if you let your kids help. They will have so much fun though.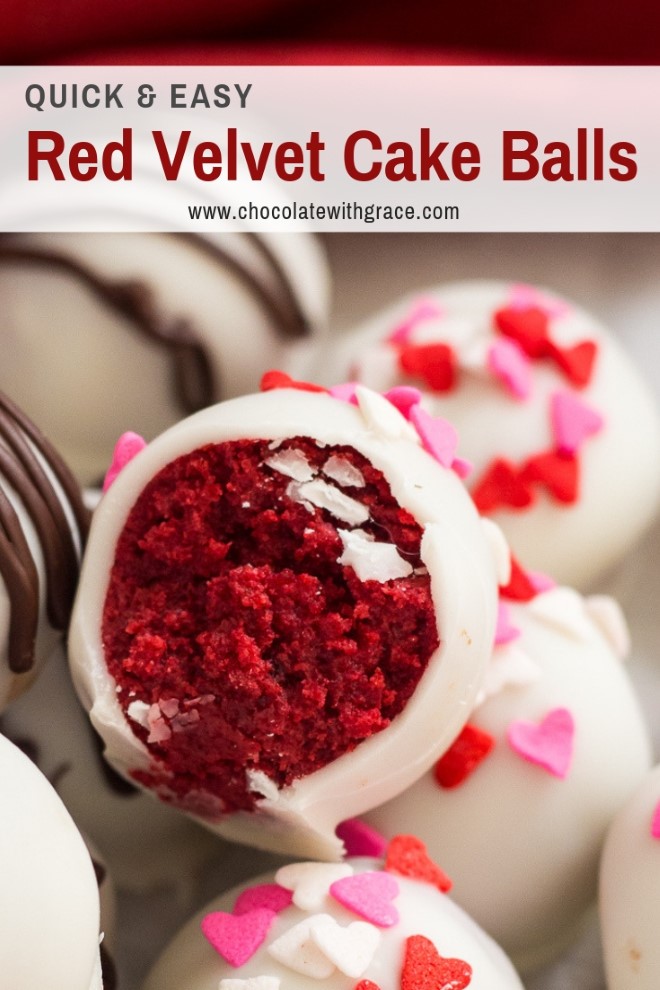 Tips for Dipping Red Velvet Cake Balls in White Chocolate
Freeze your cake balls before dipping. It makes them much easier to work with and keeps them from falling apart when dipped in the warm chocolate. Also, have everything set up with plenty of space before you begin. Have a cookie sheet lined with wax paper to set the cake balls on after dipping.
My favorite way is with a toothpick. Simply stab each ball with a toothpick and dip in chocolate. This works best if they are frozen first. Otherwise, they will tend to fall off the toothpick when pulling them out of the chocolate.
I've also used a fork with success. Simply place the cake ball on the fork and coat in the chocolate. Tap the excess off and gently slide onto the wax paper with another fork.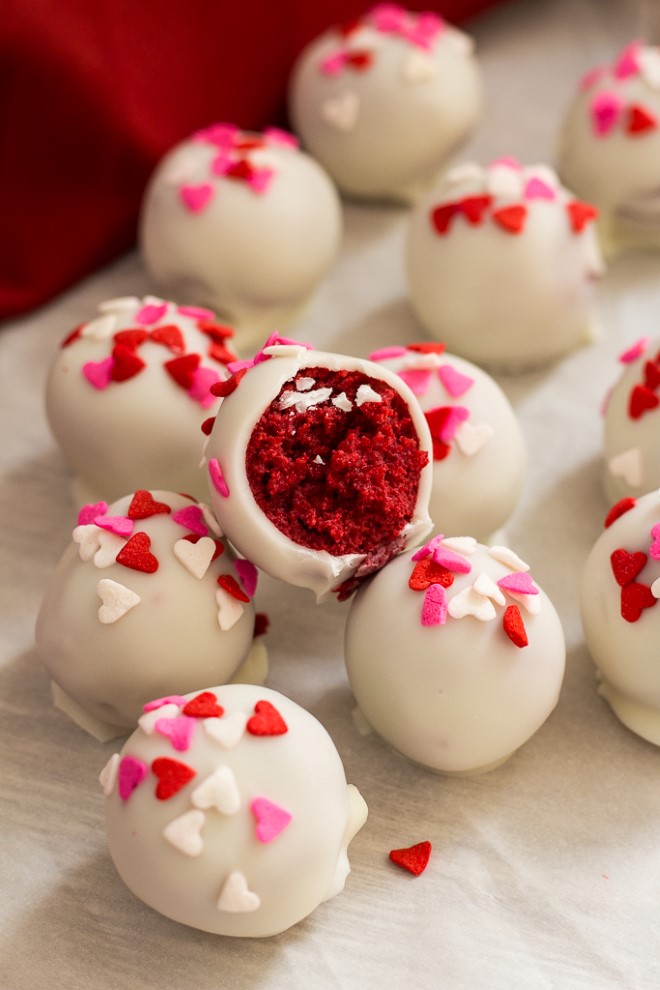 Other Truffle and Cake Ball Recipes perfect for Valentine's Day
My mint chocolate chip truffles and cookie dough truffles are two other favorites that are fun this time of year.
If you have a peanut butter chocolate lover in your family, the peanut butter ball recipe (aka buckeyes) on my site is perfect for them.
OREO balls are another favorite this time of year. I have a fun Lemon Oreo Truffle you should be sure to check out.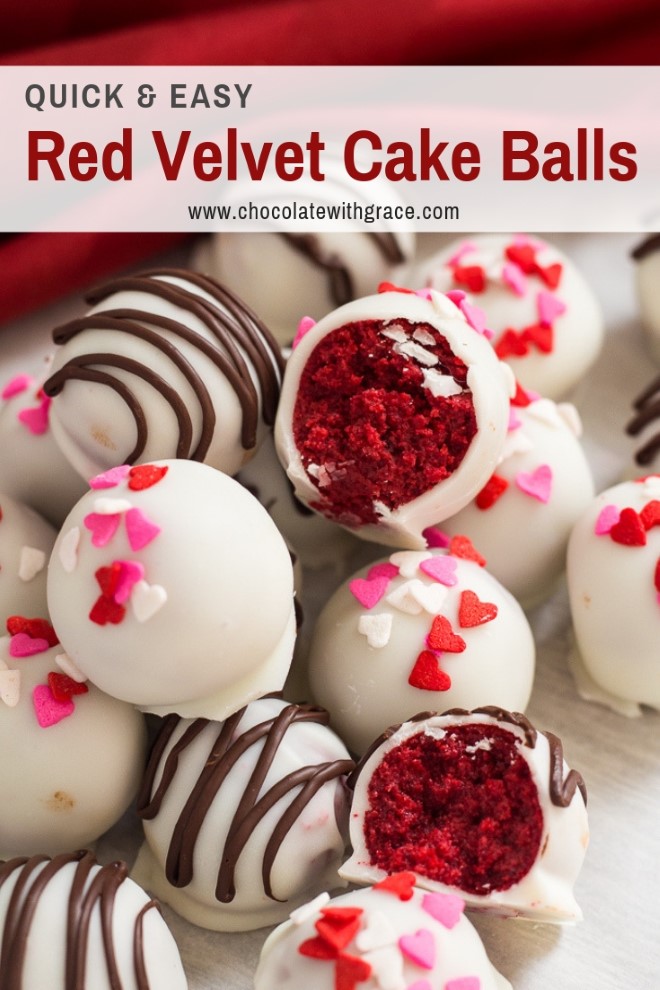 And if you're looking for other flavors of cake balls my blogger friends have some fun flavors.
Birthday Cake Balls from If You Give a Blonde a Kitchen Or Pumpkin Spice Cake Balls from Just a Pinch. Or Strawberry Shortcake Cake Balls from Life Love Liz
Let me know if you make this recipe and what you think. Tag me #chocolatewithgrace on Instagram and be sure to follow me there.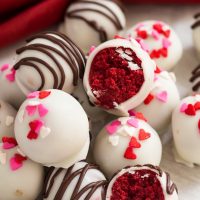 Red Velvet Cake Balls
Total Time:
1 hour
45 minutes
Red Velvet Cake Balls made with cream cheese frosting and dipped in white chocolate. An elegant truffle for Valentine's Day or Christmas.
Ingredients
1 red velvet cake mix (and the ingredients to make it) *See notes about using homemade cake
1 to 1 1/3 cups cream cheese frosting (either store bought or homemade)
24 ounces white chocolate (or Vanilla Almond Bark)
Sprinkles or chocolate for decorations
Instructions
Bake the red velvet cake mix according to the directions on the box. Let it cool completely.
Crumble up the cooled cake into a large bowl. Add 1 cup of the frosting and mix it up with a wooden spoon (feel free to use a stand mixer for this step.)
It may seem dry at first, but it will take the cake a bit of time to absorb the moisture of the frosting. I recommend you let it sit for 5 minutes and come back to see if it needs more moisture. If it does, add more frosting a spoonful at a time until the mixture is a smooth workable consistency. A bit like stiff cookie dough. The amount of frosting you will need depends on how dry your cake is.
Once the mixture can be easily rolled into smooth balls, roll the cake balls into 1 inch balls and place on a parchment lined baking sheet. Place in the freezer for 1 hour.
While the cake balls are freezing. Melt the white chocolate slowly over a double boiler. Dip the truffles in the white chocolate using a toothpick or a fork. Set the cake balls on parchment paper to harden. If you want to add sprinkles add them right away while the chocolate is still wet.
Otherwise, wait till the white chocolate hardens and drizzle a bit of melted dark chocolate over the top. They keep in the fridge for a day or two or several week in the freezer.
Notes
You can use a homemade red velvet cake for this recipe. Simply bake up your favorite 2 layer red velvet cake mix recipe and let cool completely before proceeding with step 2.
Nutrition Information:
Yield:

70
Serving Size:

1 cake ball
Amount Per Serving:
Calories:

80
Total Fat:

4g
Saturated Fat:

2g
Trans Fat:

0g
Unsaturated Fat:

2g
Cholesterol:

4mg
Sodium:

24mg
Carbohydrates:

10g
Fiber:

0g
Sugar:

9g
Protein:

1g
Nutrition information may vary significantly based on ingredients used and portion sizes. We are not responsible the reliability of this data or your reliance on it. We are not responsible for the results of any recipe you try from this blog/website, Chocolatewithgrace.com. Your results may vary due to differences in ingredients, humidity, altitude, cooking temperatures, errors, or individual cooking abilities.