Easy Cake Mix Cookies are made with just three ingredients! These cookies turn out soft and moist every time.
If you use a funfetti or sprinkles cake mix, you can dress them up for any holiday by simply changing the color of the sprinkles.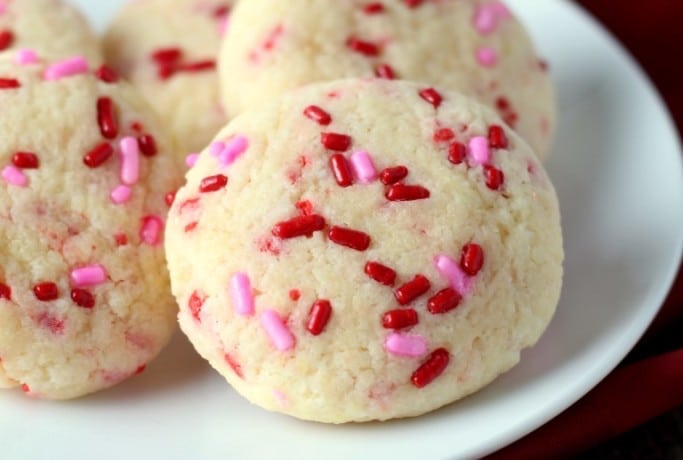 Some of my favorite days are like the day I made these cookies. Days where my husband is home from work and it's bitterly cold and snowy outside.
We didn't have anything important to do, except for maybe cleaning out a closet or two – and who wants to do that??
Warm cookies from the oven are a must on snowy days. Unfortunately, my pantry was pretty bare that day.
How To Turn Cake Mix Into Cookies
It's easy as can be to turn a box of cake mix into chewy cookies with just a couple of ingredients.
(1) box of cake mix
⅓ cup of vegetable or canola oil
2 eggs
Stir everything together and scoop the cookies onto trays for baking. There's no chilling required for these cookies.
You can have them ready to bake in less than five minutes.
Easy Cake Mix Cookies
After a bit of digging, I found a funfetti cake mix tucked into the back of the pantry. So, I pulled out my mom's recipe for classic cake mix cookies.
A few eggs and a bit of oil was all we needed to add to have warm cookies today. Luckily, I had plenty of fun sprinkles on hand, so today I can share these cookies with you!
With red and pink sprinkles on top, these cookies are perfect for Valentine's Day. Speaking of Valentine's Day, these Red Velvet Cake Mix Cookies are another sure cute cookie option for that holiday.
You can also make these cookies with green sprinkles for St Patrick's Day or red, white, and blue sprinkles for the 4th of July. These chocolate chip cake mix cookies look fun to try too.
Rich, moist, chocolate cupcakes are the perfect indulgence for any chocolate lover. Though they are made from a mix, they don't taste like one at all.
If you're lucky enough to have a few extra cake mixes in the pantry, try the Rhubarb Dump Cake, this Pumpkin Crunch Cake, or some Cake Balls.
Funfetti Cake Mix Cookies Recipe
Preheat oven to 350 F. Mix together the cake mix, oil, and eggs until well combined.
Roll the dough into 1-inch balls and roll in additional sprinkles if desired.
Bake at 350°F for 8-10 minutes, or until set. Transfer to a wire rack to cool completely.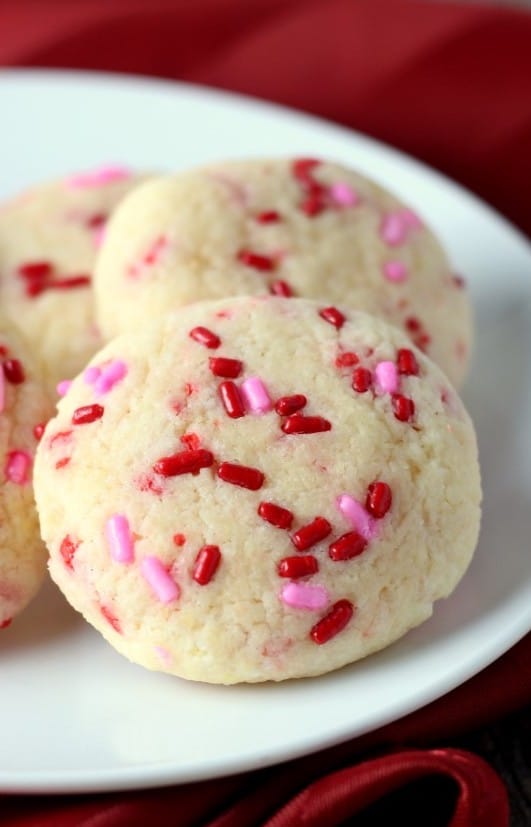 {originally published 2/13/16 – recipe notes and photos updated 1/15/21}