If you could put sunshine and sugar in a jar, I am convinced it would taste just like this strawberry compote.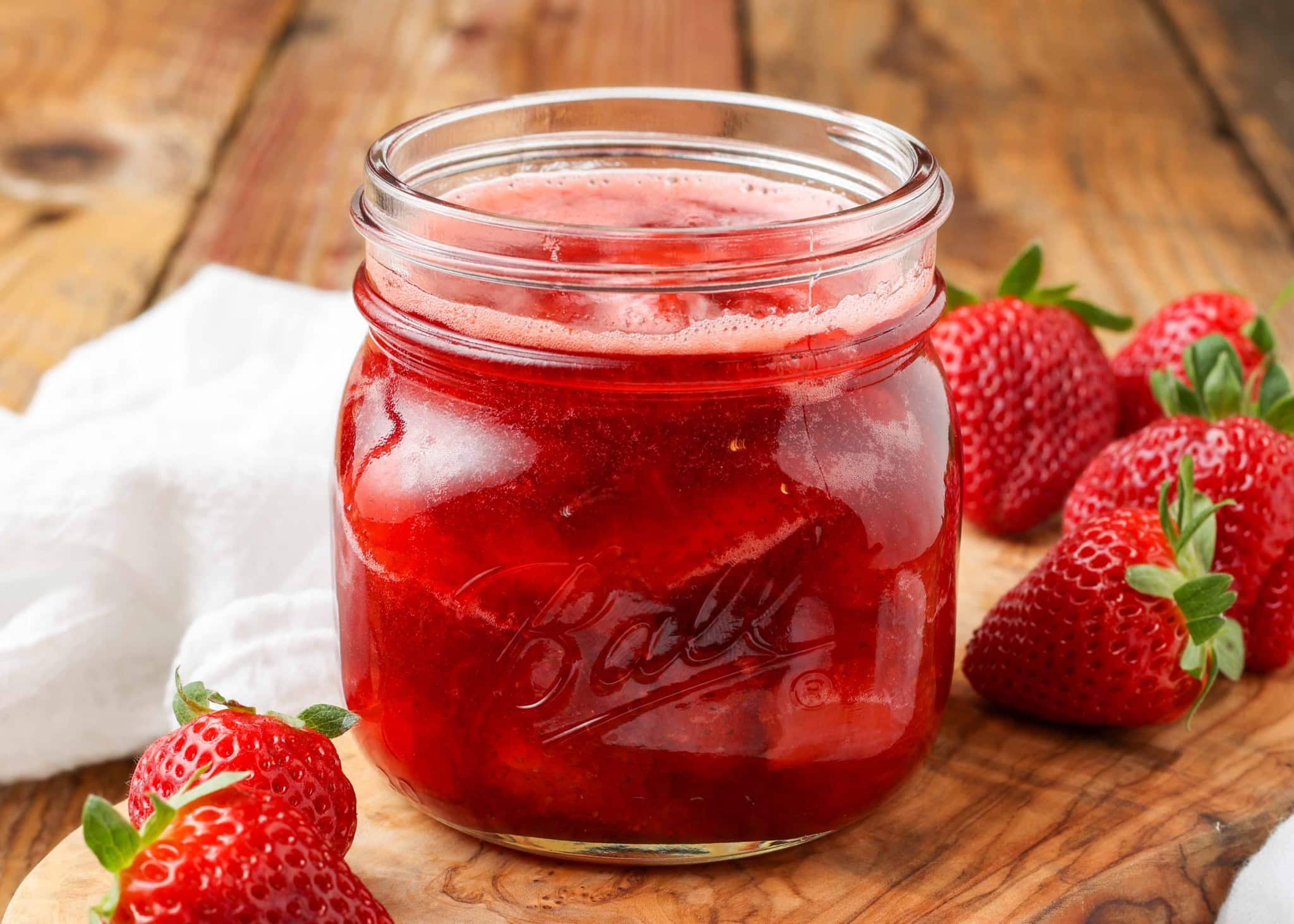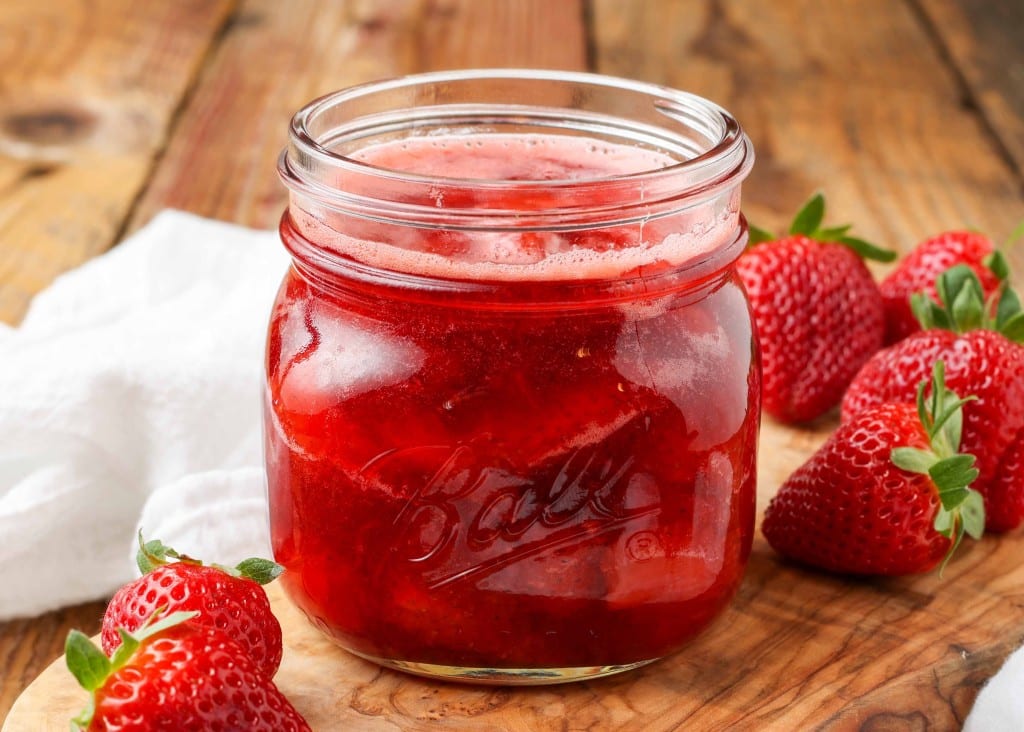 Strawberry Compote
If there were ever a fruit that takes me back to summertime as a kid, it is the strawberry. That magical date in June when they arrived fresh at the grocery store is forever in my memory. I would beg my mom to buy them as soon as I spied them there.
Visiting friends and family with gardens was even better, as we could pick them ourselves and savor them warmed by the sun, sweet and juicy from the garden. Growing up, seasons were often defined by when certain produce was available in the fresh produce section of the store or local gardens.
The strawberry season always seemed fleeting and way too short. Nowadays, we are a bit spoiled by having access to fresh berries year around. But I'm telling you that fresh berries in the winter can't hold a candle to the berries available in the spring and summertime.
My advice when buying strawberries is to always buy double what you need. It is a given at my house; half of them will get eaten fresh whenever I plan to make something with the rest of them.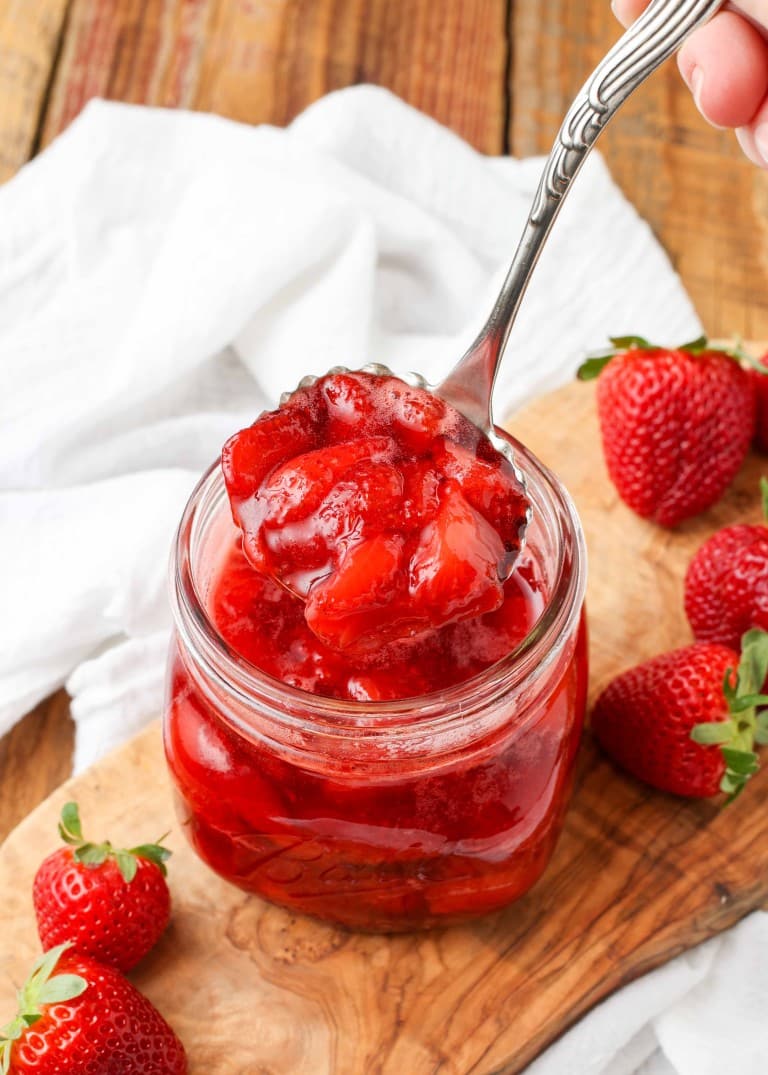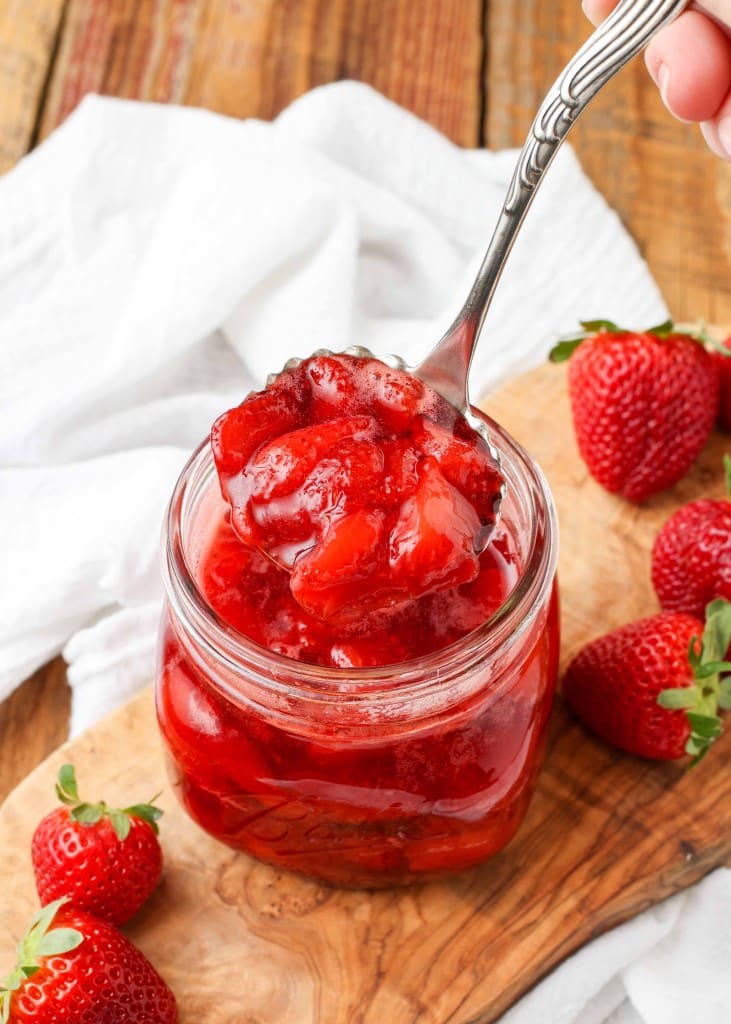 Strawberry Ice Cream Topping
Is there a more perfect treat than vanilla ice cream topped with fresh strawberry sauce? I will wait while you try to convince me. Sorry, but changing my mind isn't going to happen.
I like to pour the warm sauce over bowls of cold, creamy ice cream too. The warm/cold combination is completely irresistible. (Oh! How incredible would this sauce be over strawberry shortcake ice cream??)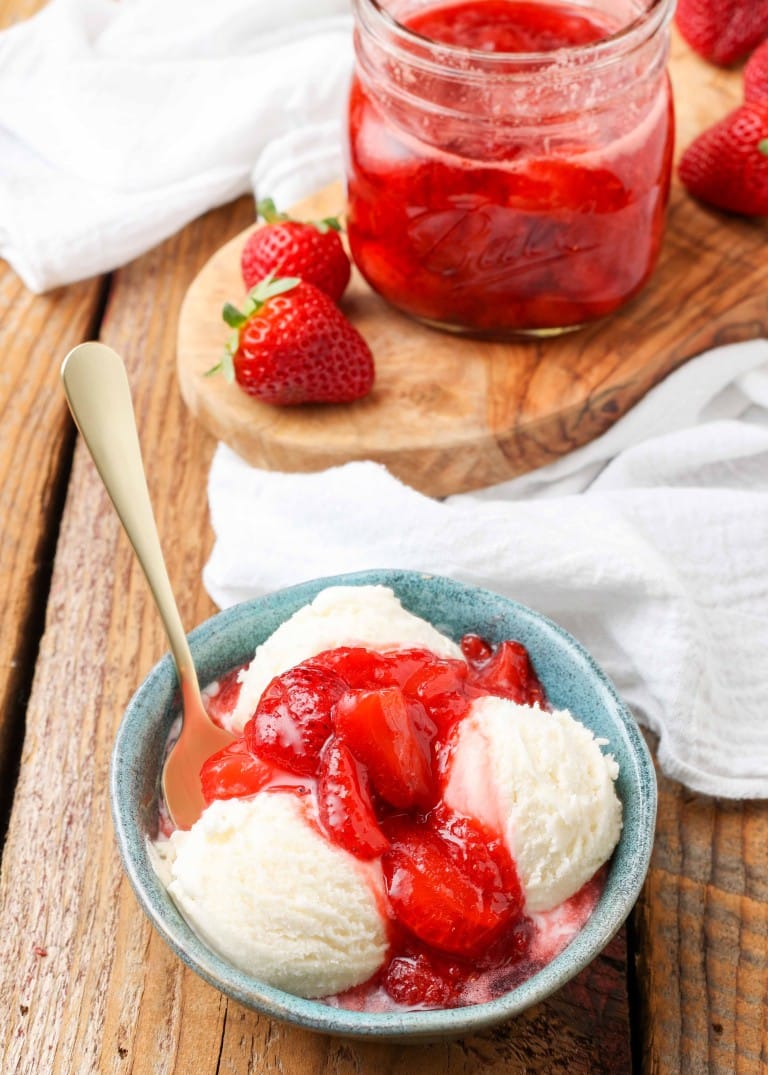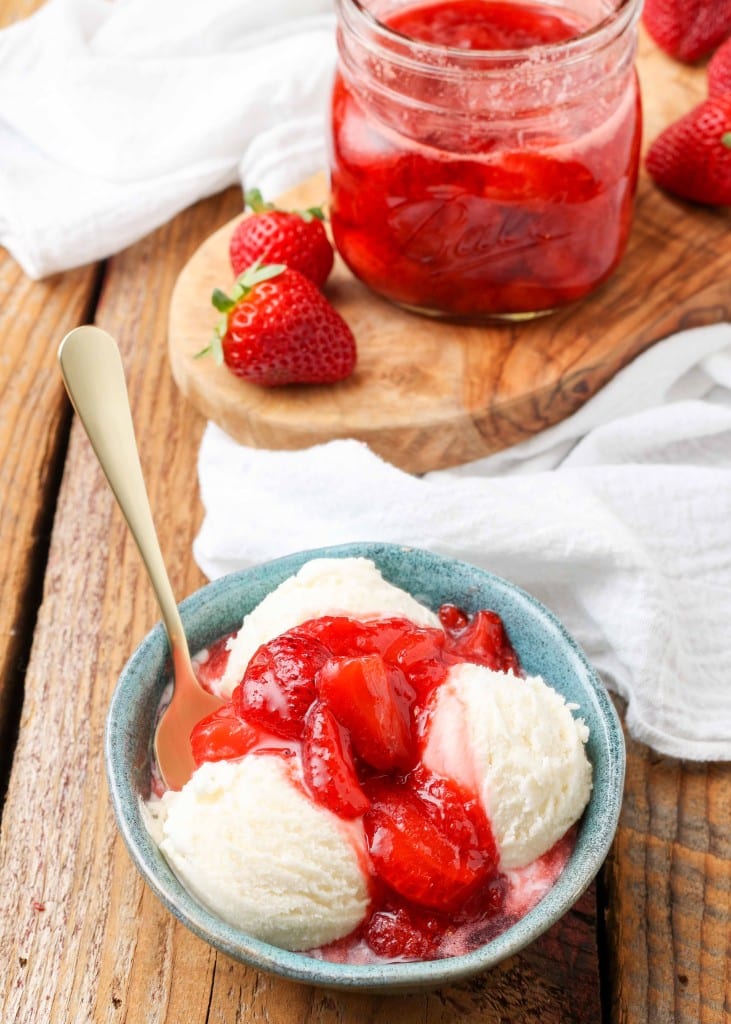 Making strawberry compote is a must for me when berries are at their best. It can be used as a topping for ice cream or cheesecake. We like to top our pancakes and waffles with it as well.
Put it on an ice cream sundae that won't soon be forgotten. Top a warm brownie with a generous scoop of vanilla or chocolate ice cream, and then pour a spoonful or two of this strawberry compote over the top.
A strawberry compote is used for the middle layer of the strawberry coffee cake that I'll be sharing with you later this week. I recommend getting your hands on some berries sooner than later, friends. You're going to want to make that one asap.
If you want a strawberry sauce without seeds just mash the berries and strain the liquid to create a smooth strawberry coulis.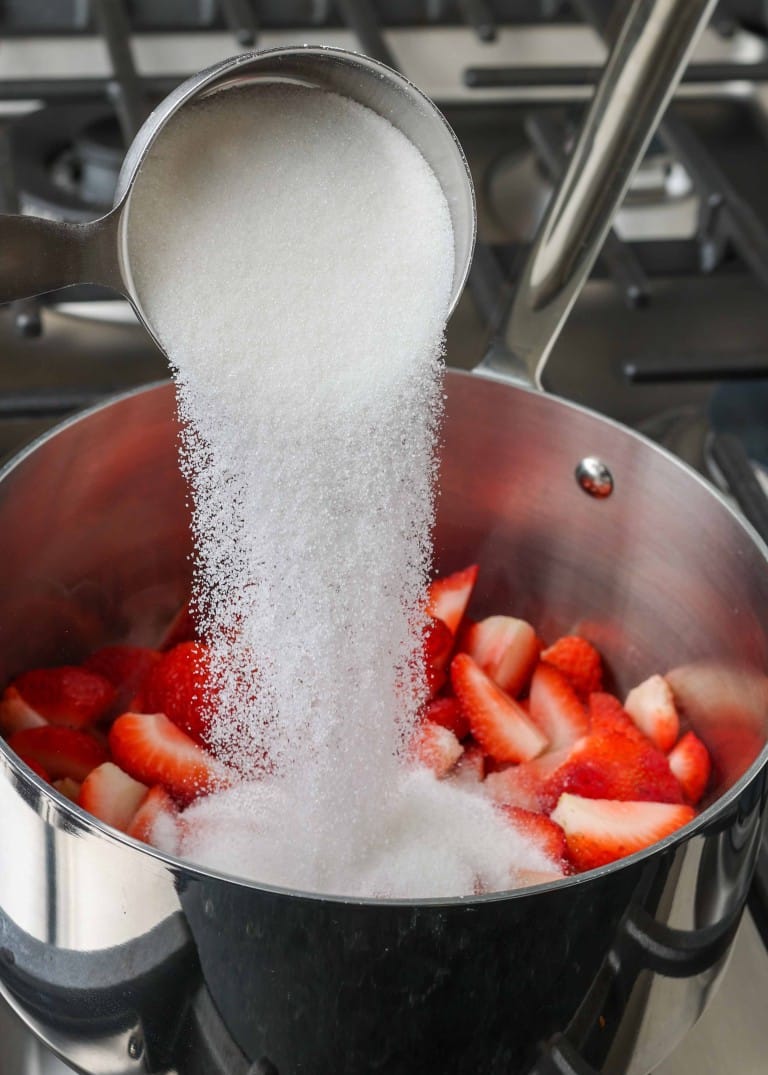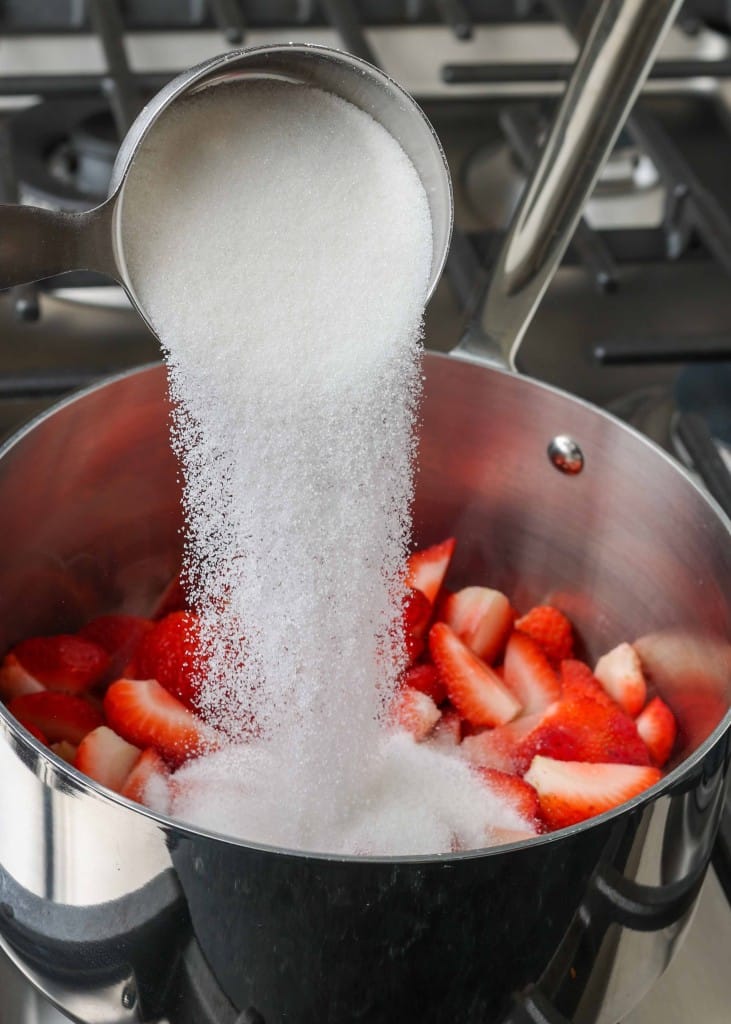 Strawberry Compote Recipe
You will need just three ingredients to make this recipe:
fresh strawberries
sugar
fresh lemon juice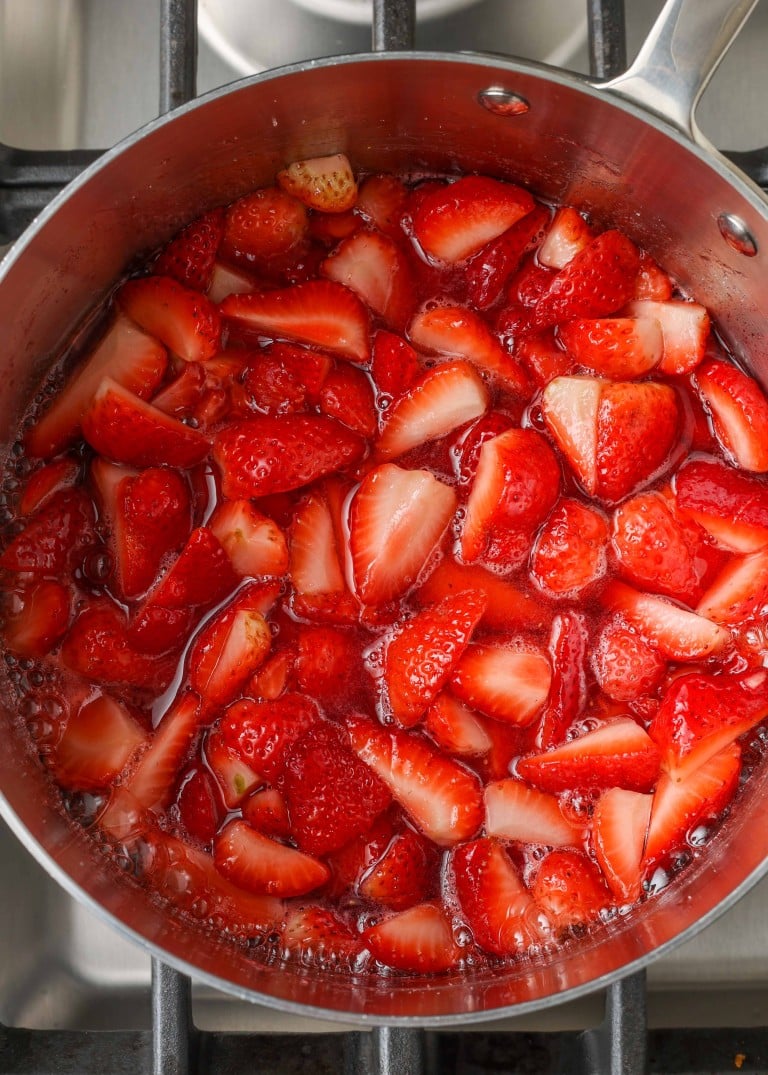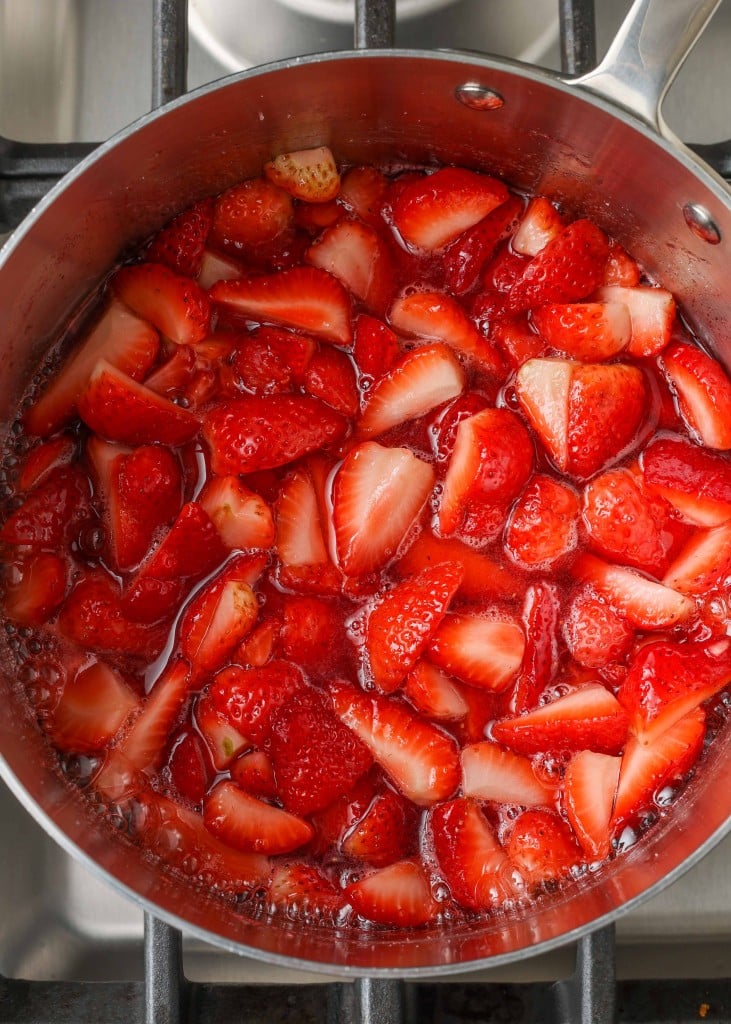 How to Make Strawberry Compote
This recipe for strawberry compote really is as simple as combining three ingredients and turning on the stove. I find myself pouring this on top of absolutely everything after I make it. And when I eat it by the spoonful, I just grin and tell myself I'm eating fruit.
Place the washed and quartered strawberries into a saucepan, toss them with sugar, and drizzle them with some fresh lemon juice. Heat over medium until the mixture comes to a boil.
Reduce the temperature to medium-low and simmer for about 10 minutes until the sauce reduces and thickens to a lovely syrupy consistency.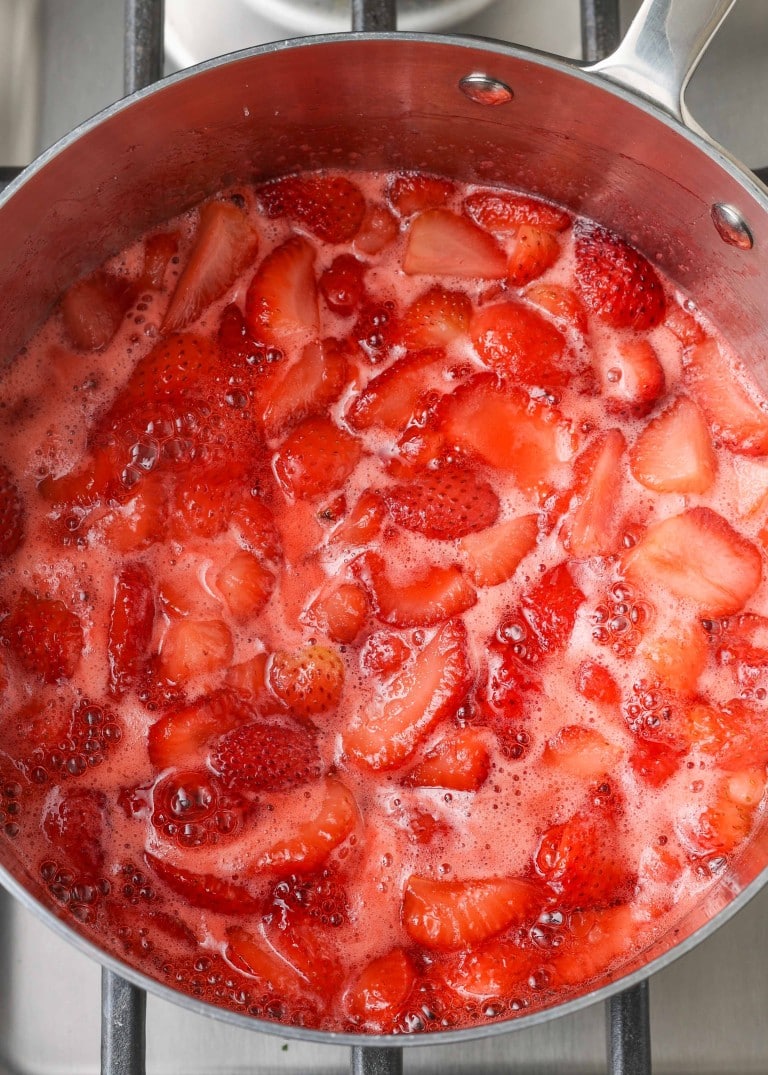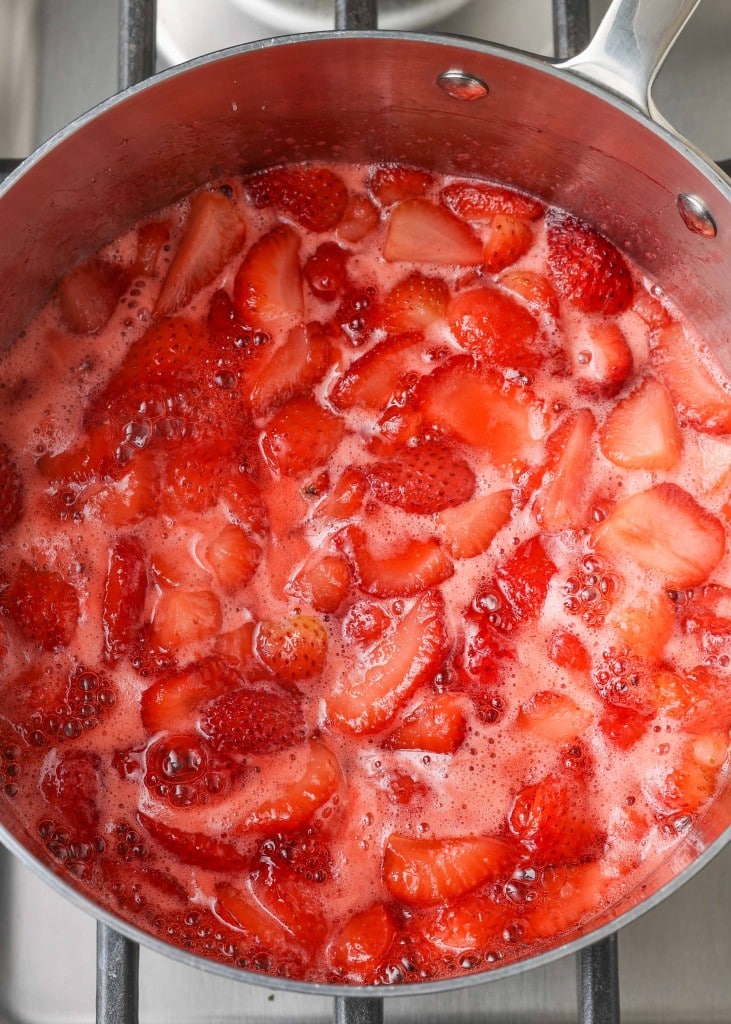 Serve strawberry compote warm over french toast, pancakes, or waffles. It can be served warm, cold, or at room temperature. Some desserts will shine best with the warm sauce and others pair a little easier with a cold sauce – I'm looking at you, cheesecake.
Strawberry compote makes the most amazing fruity layer in this buttery sweet strawberry coffee cake.
Store the berry sauce in an air-tight container in the refrigerator and it will keep nicely for up to 10 days. If you don't think you'll use it before then, it can also be frozen for up to 3 months.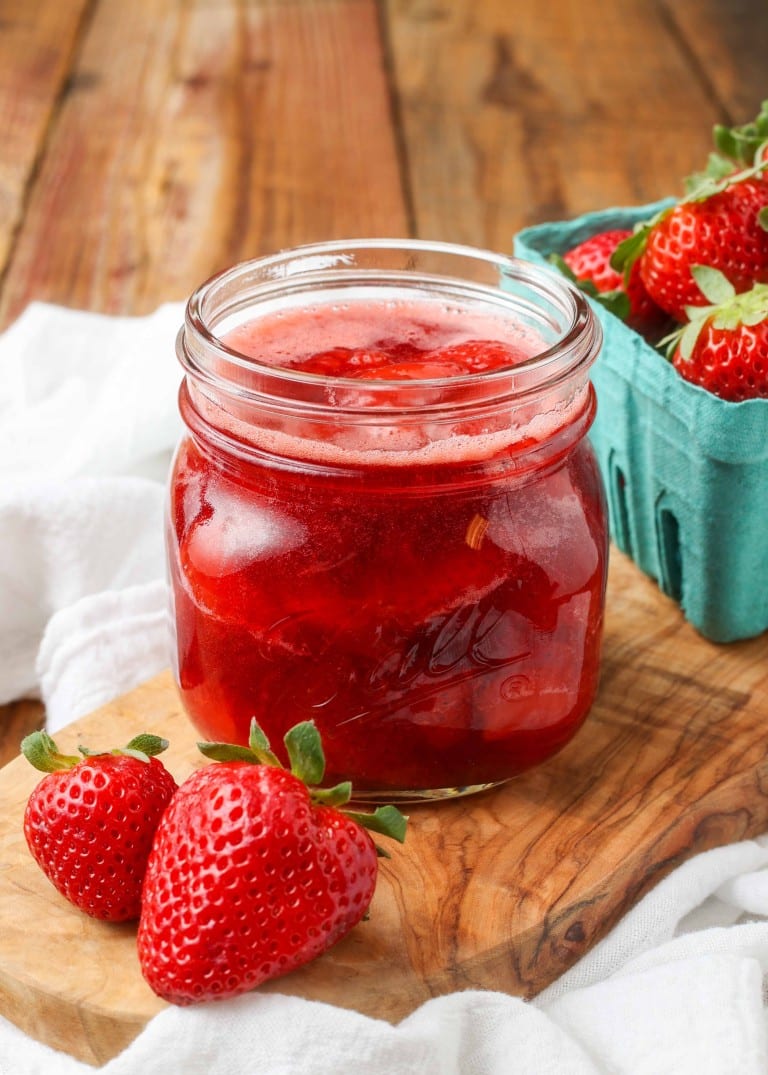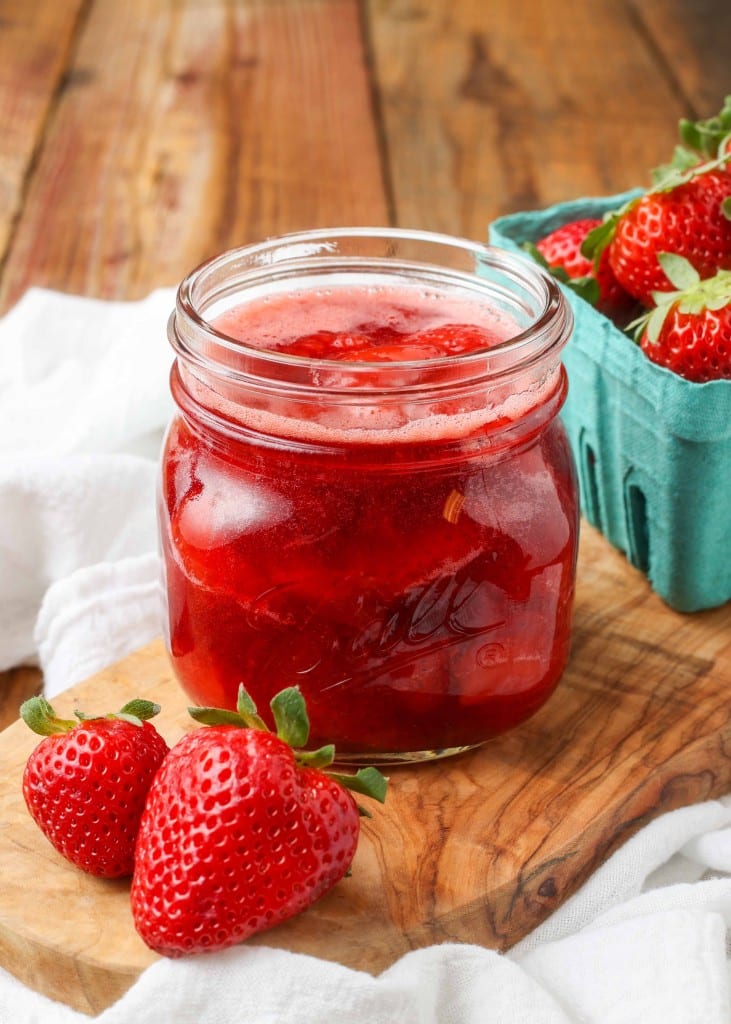 Yellow cupcakes, whipped vanilla buttercream, and fresh berries make these strawberry shortcake cupcakes a fun variation of the summertime treat.
You won't believe how easy it is to make this Triple Chocolate Bundt Cake. Pour Strawberry Compote over the top, and your taste buds will be left craving more.
Dive into a bowl of sweet, tangy, and velvety Strawberries and Cream and you'll see why it remains an enduring, cross-cultural classic.
Fresh rhubarb and sweet strawberries topped with a crunchy oatmeal crumble makes a Strawberry Rhubarb Crisp that no one will forget.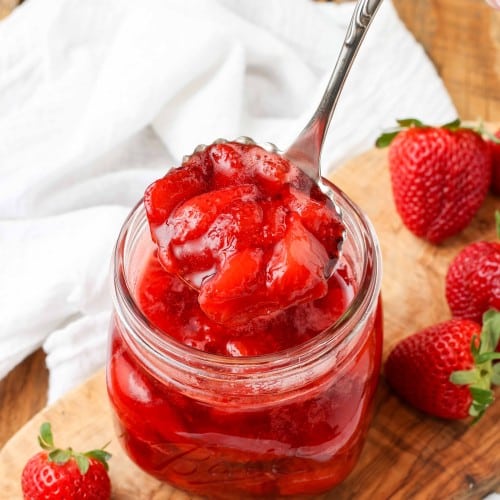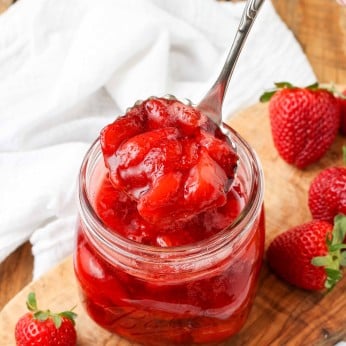 Strawberry Compote
If you could put sunshine and sugar in a jar, I am convinced it would taste just like this strawberry compote.
Ingredients
16

ounces

fresh strawberries

trimmed and quartered

½

cup

sugar

3

tablespoons

fresh lemon juice
Instructions
Combine the berries, sugar, and lemon juice in a saucepan over medium heat. Stir continuously while the sugar melts and the mixture comes to a boil.

Reduce the heat to medium-low and continue cooking until the strawberries are tender and the mixture is thick and bubbling, about 10 minutes. Cool completely before transferring to an airtight container and storing it in the refrigerator.
Nutrition
Calories:
68
kcal
·
Carbohydrates:
17
g
·
Protein:
0.4
g
·
Fat:
0.2
g
·
Saturated Fat:
0.01
g
·
Polyunsaturated Fat:
0.1
g
·
Monounsaturated Fat:
0.03
g
·
Sodium:
1
mg
·
Potassium:
93
mg
·
Fiber:
1
g
·
Sugar:
15
g
·
Vitamin A:
7
IU
·
Vitamin C:
36
mg
·
Calcium:
10
mg
·
Iron:
0.2
mg