Rhubarb Streusel Muffins are tender, studded with tangy rhubarb bits and topped with a crunchy brown sugar streusel.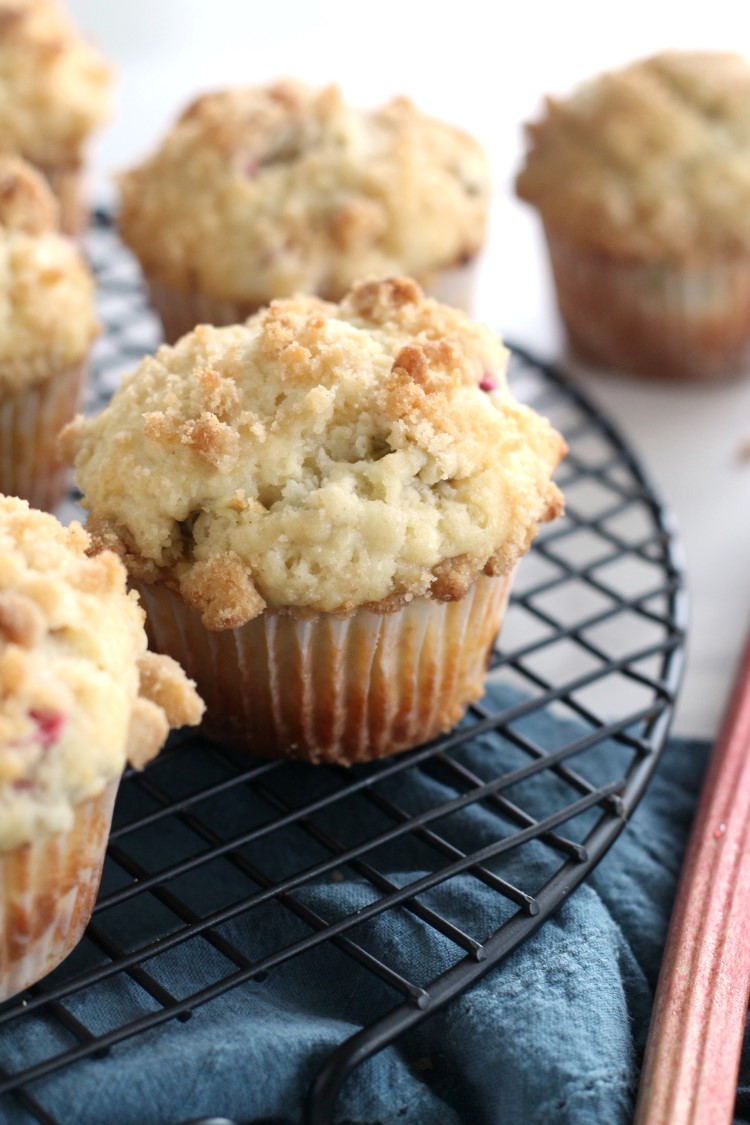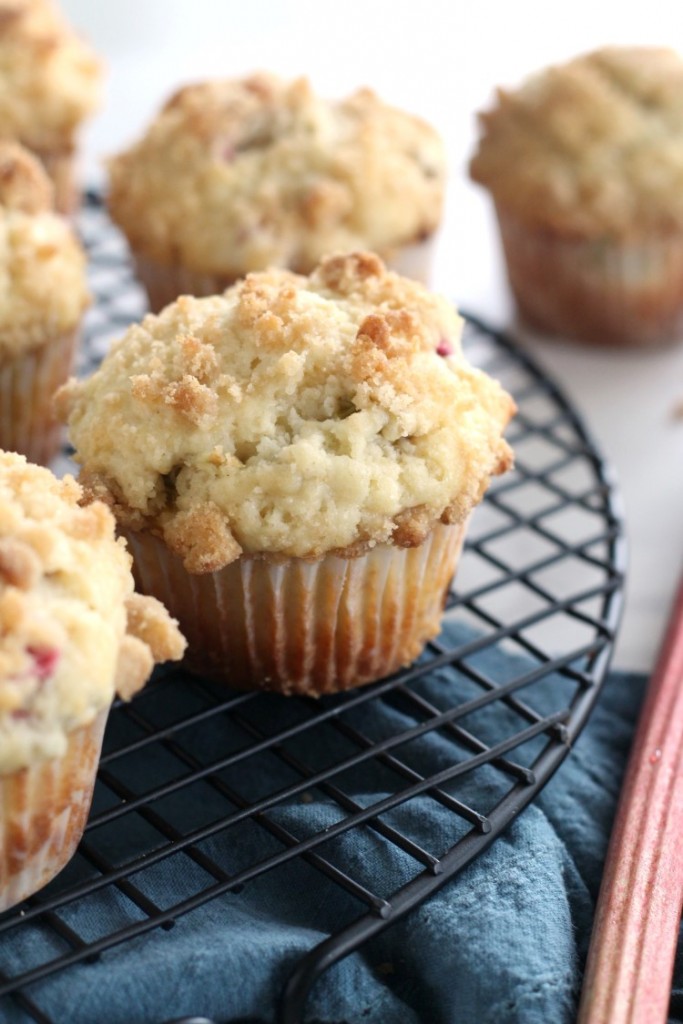 Last month, I did a sweet roll dough week where I shared 4 recipes using the same yeast dough. This month I'm going to do a rhubarb week. Starting today, I have 3 new rhubarb recipes I'm excited to share with you. (Yes, I know it's a random Thursday, but I have the posts ready, and want to start sharing them now!)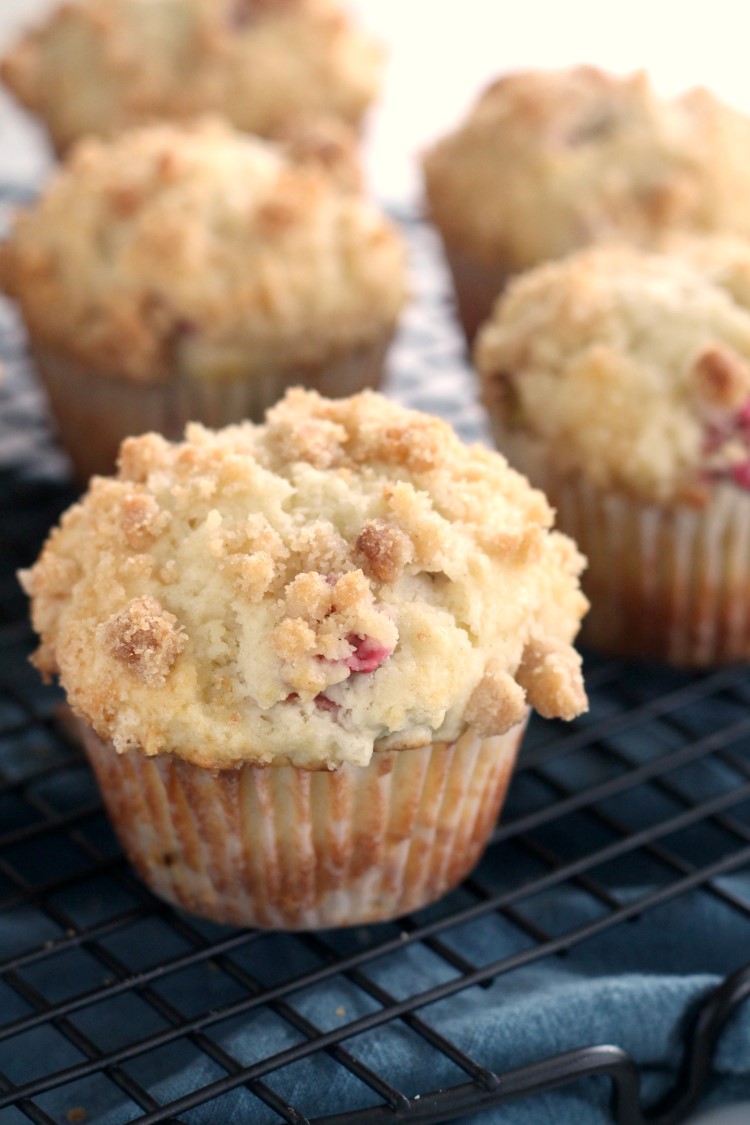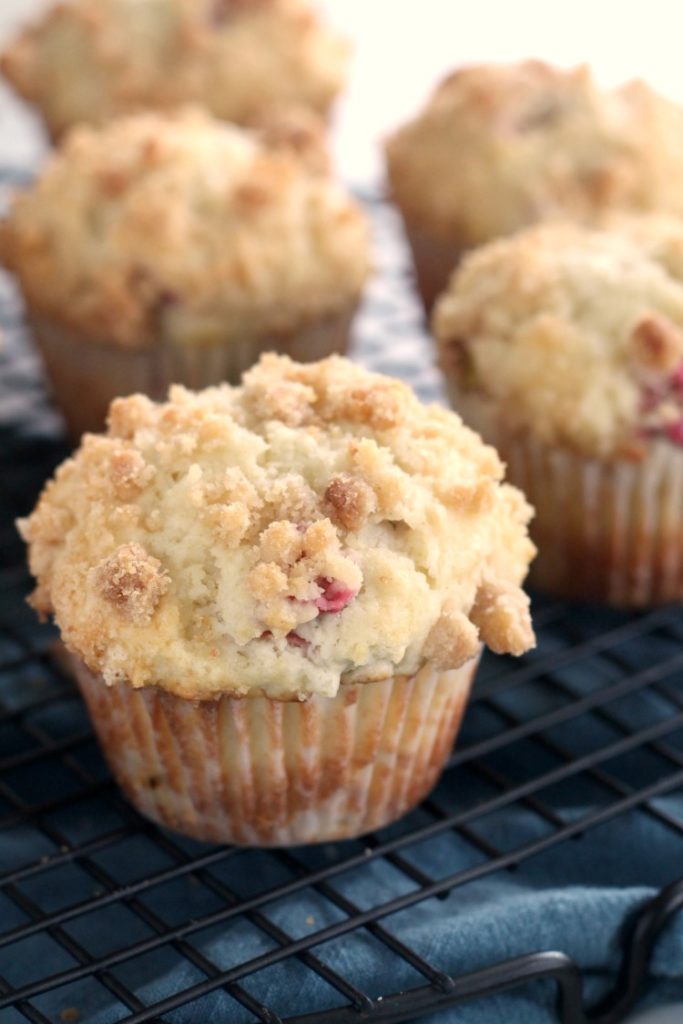 We are going to start off with these Bakery Style Rhubarb Streusel Muffins. They have a beautiful high dome covered in crisp brown sugar cinnamon streusal and are a perfect weekend treat. Or any day for that matter because they are quick to make.
All the ingredients are simple items you probably already have in your pantry. The rhubarb is going to be your hardest to find ingredient. I can get mine at several of the little farmstands in our area. Otherwise a big supermarket should have it this time of year. Go ahead and freeze some while it is in season, that way you can enjoy rhubarb treats year round. To use frozen rhubarb in recipes, thaw the rhubarb and drain it, but do not press out the excess liquid. Bake as directed in the recipe.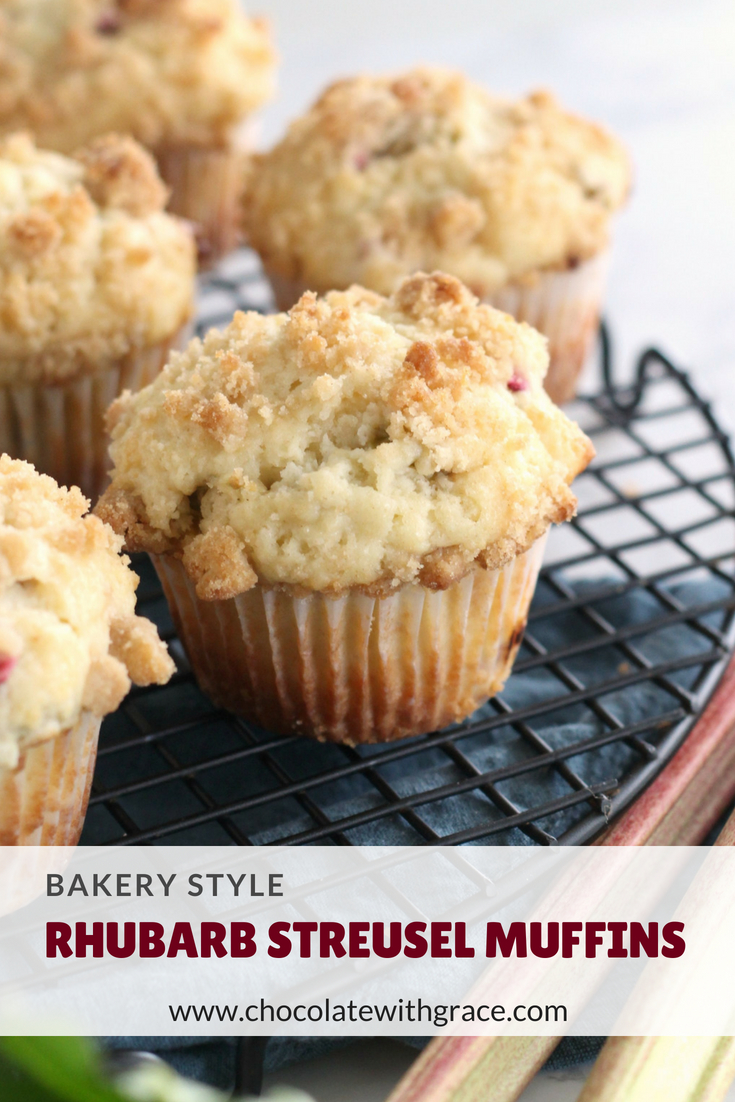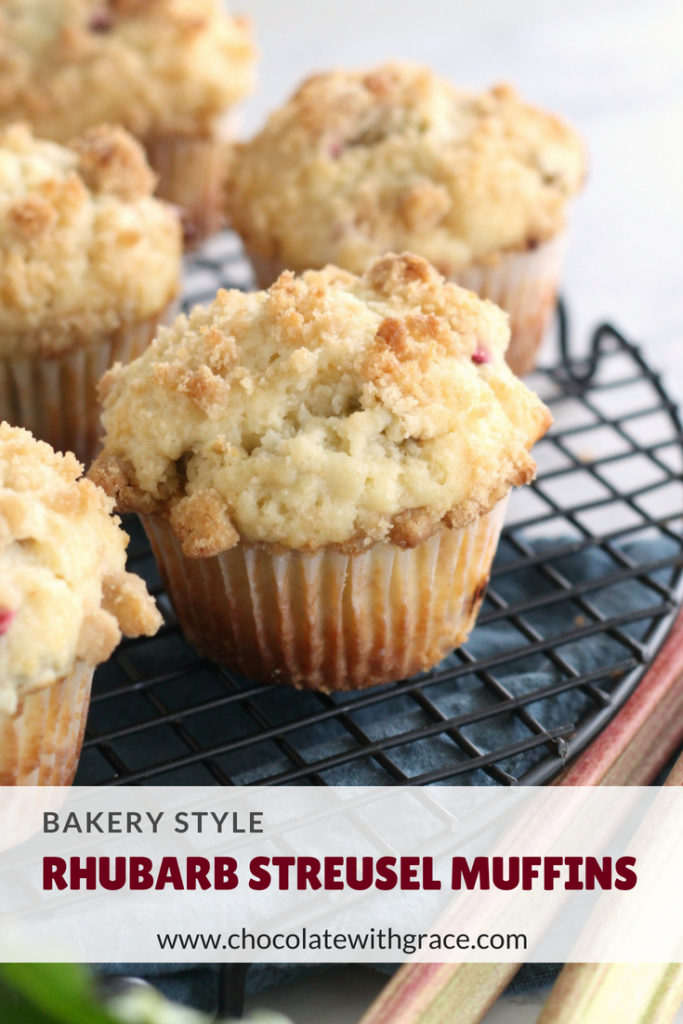 Here are a couple of muffin making tips that will yield tall, tender rhubarb streusel muffins. (These apply to any type of muffin actually).
DO NOT overstir the batter. You should just barely combine the wet and dry ingredients. It's okay, there still should be some streaks of flour. Over stirring will result in tough muffins.
Start baking the muffins at a high temperature for several minutes. This activates the baking powder and creates that nice high dome on top of the muffin. Then turn the oven down to a moderate temperature (350 F) to finish baking them.
They are great to eat warm, but most muffins are best the next day and will be moister after sitting covered for at least several hours.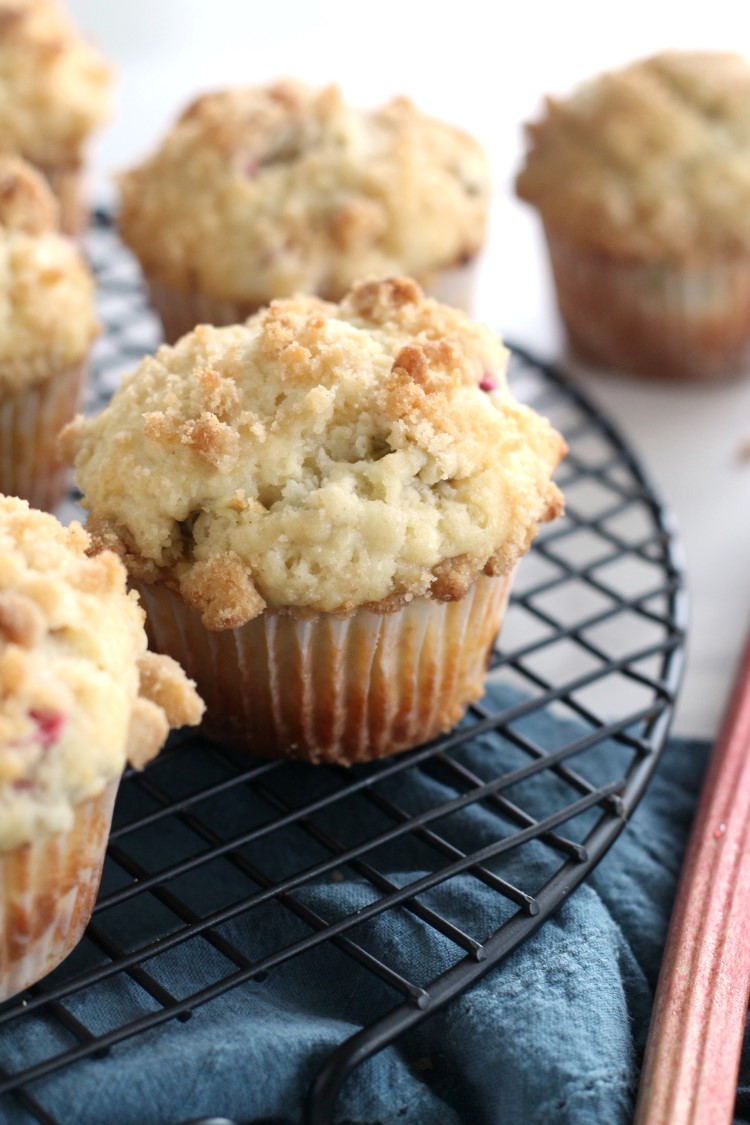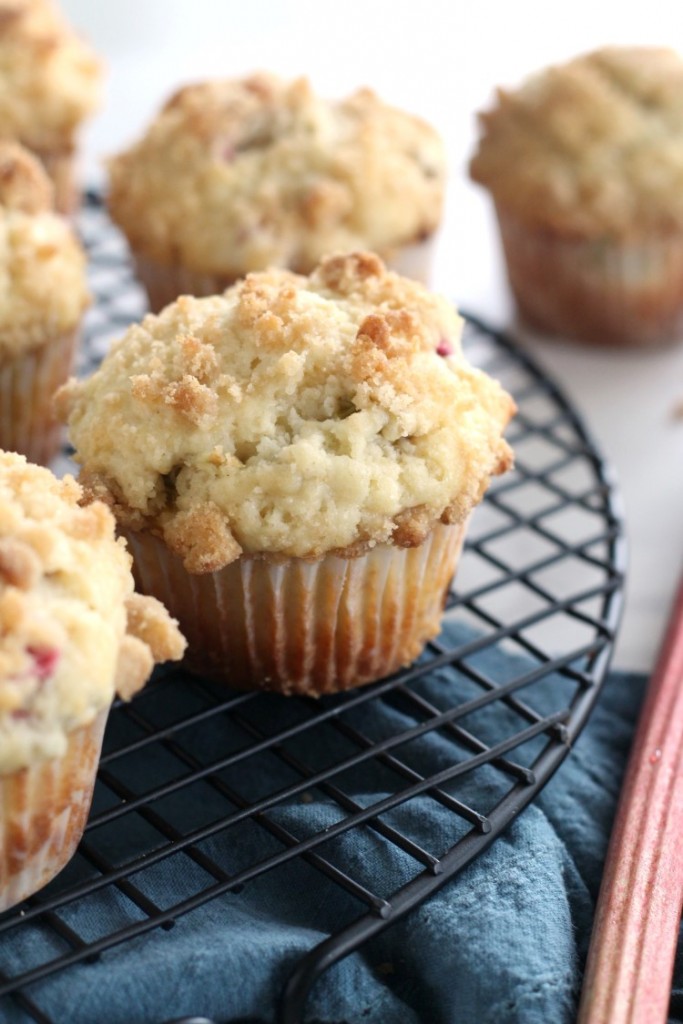 Be sure to check out my my other favorite rhubarb recipes. Old fashioned Rhubarb Pie, Rhubarb Coffee Cake, Rhubarb Bars and Strawberry Rhubarb Crisp.
And for a couple more quick breads to try, I recommend the Blueberry Lemon Bread and Cinnamon Roll Bread.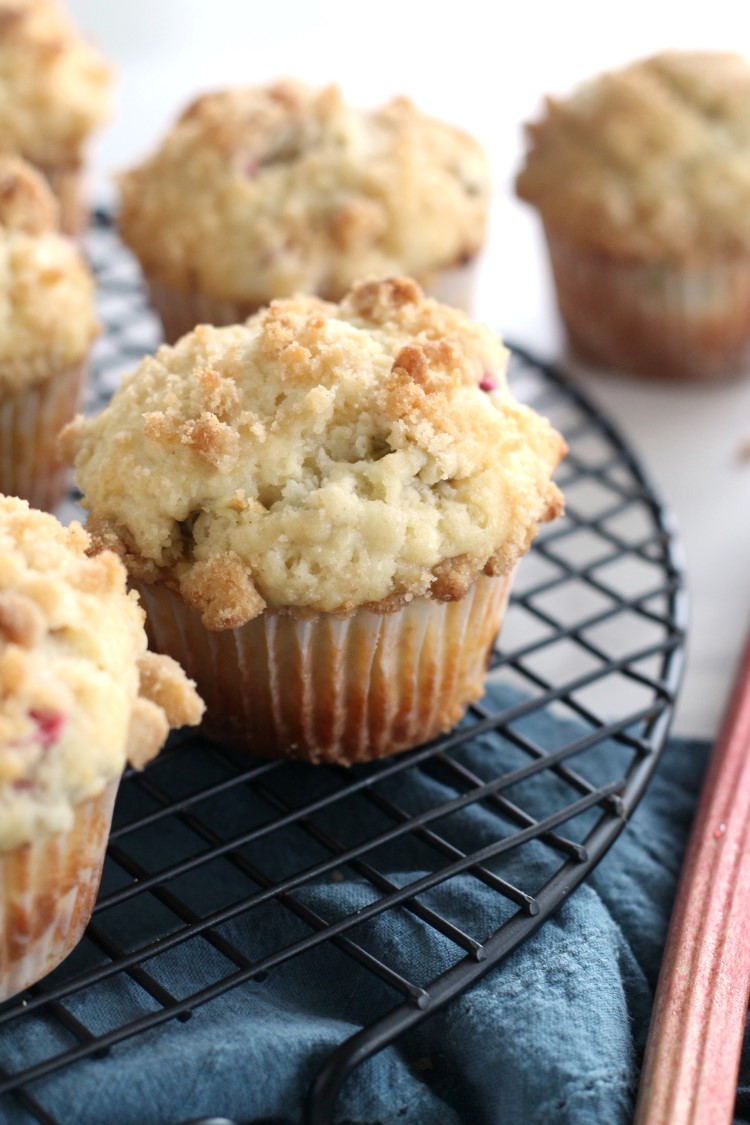 Rhubarb Streusel Muffins
Rhubarb Streusel Muffins are tender, studded with tangy rhubarb bits and topped with a crunchy brown sugar streusel.
Ingredients
For the Streusel topping
3

tablespoons

butter

melted

3/4

cup

all purpose flour

1/4

cup

brown sugar

1/2

teaspoon

cinnamon

1/4

teaspoon

salt
For the Muffins
3

tablespoons

brown sugar

2 1/2

cups

diced rhubarb

3

cups

all purpose flour

1

cup

granulated sugar

1

tablespoon

baking powder

1

teaspoon

cinnamon

1/4

teaspoon

salt

1/2

cup

butter

melted

1

cup

sour cream

or plain Greek Yogurt

1/4

cup

milk

2

large eggs

room temperature

1 1/2

teaspoons

vanilla extract
Instructions
Make the streusel by melting the butter and stirring in the flour, brown sugar, and salt until crumbly. Set aside.

Preheat oven to 400 F and line a muffin tin with 12 muffin liners. Stir together the 3 tablespoons brown sugar and diced rhubarb in a small bowl, set aside. Whisk together the flour, sugar, baking powder, cinnamon, salt in a large bowl and set aside. Beat together the butter, sour cream, milk, eggs and vanilla extract.

Pour the wet ingredients into the dry ingredients and gently fold together. Do not over mix, there should still be streaks of flour. Then gently stir in the rhubarb. Divide the batter between the muffin tins, (sometimes it makes enough for 13-14 muffins) and then top with the streusel. Bake at 400 for 5 minutes. Then, without opening the oven, turn the heat down to 350 and bake for 12-15 more minutes or until a toothpick inserted comes out clean.
Nutrition
If you love strawberries paired with your rhubarb, check out these Strawberry Rhubarb Streusel Muffins from Self Proclaimed Foodie.
And if you want to double dose on your rhubarb, why not slather on some of this strawberry rhubarb jam from Flavor the Moments.
Here are some of my favorite rhubarb recipes on my site.
The most popular are these rhubarb bars.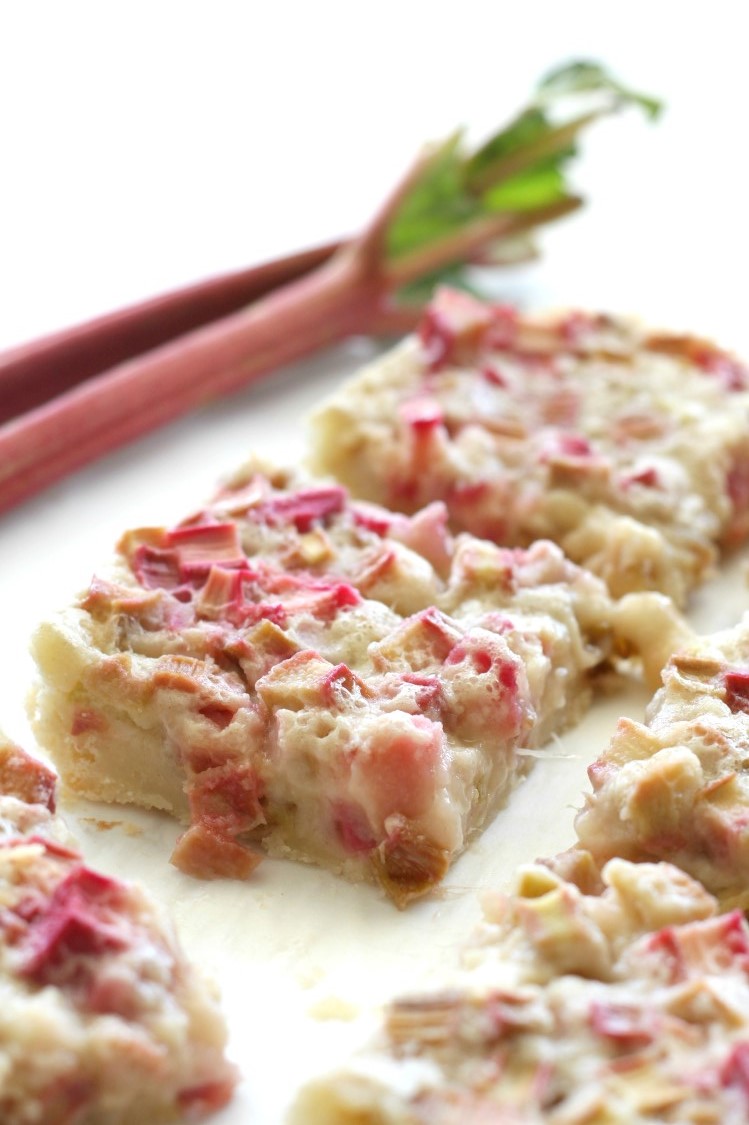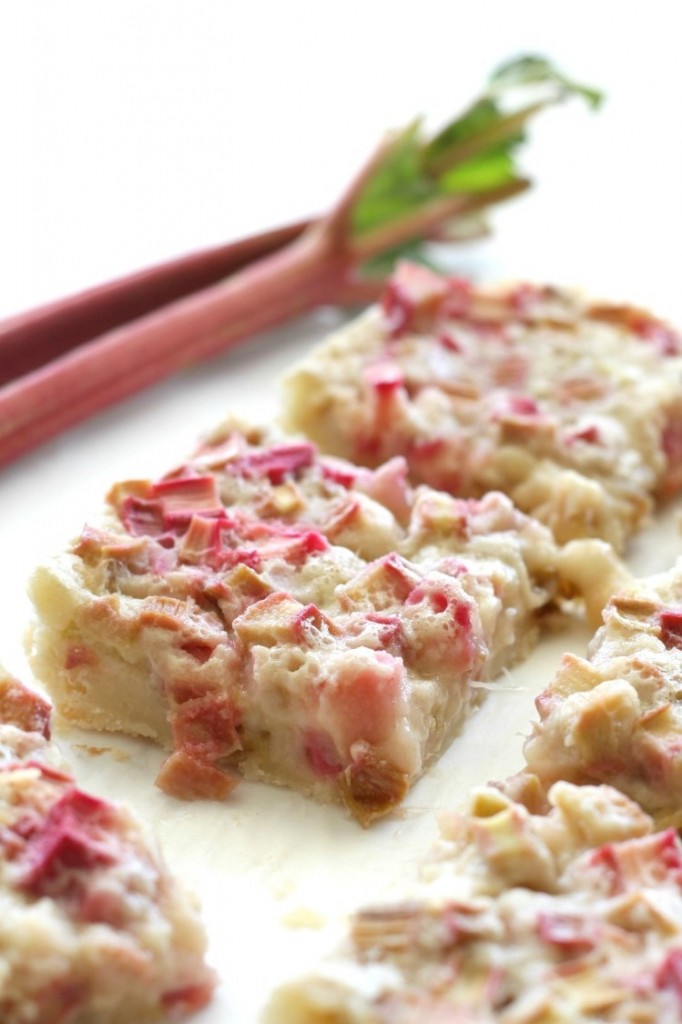 This double crumb rhubarb coffee cake also makes a great breakfast treat.