Coconut Lime Sugar Cookies are fun twist on a basic easy cookie recipe. All you need is coconut oil and a lime to step up your sugar cookie game.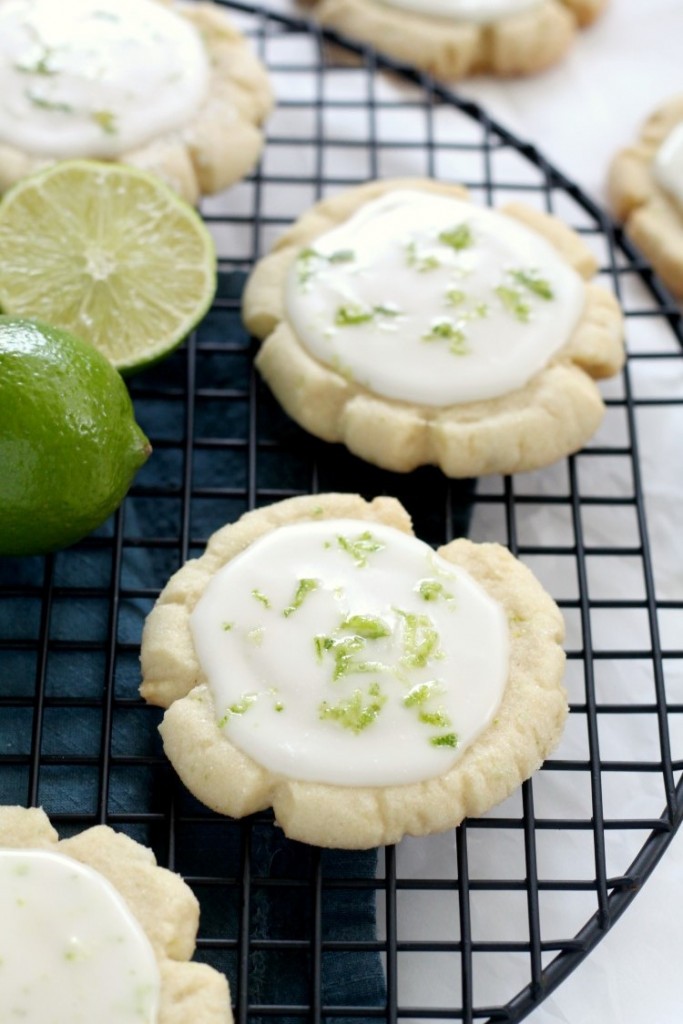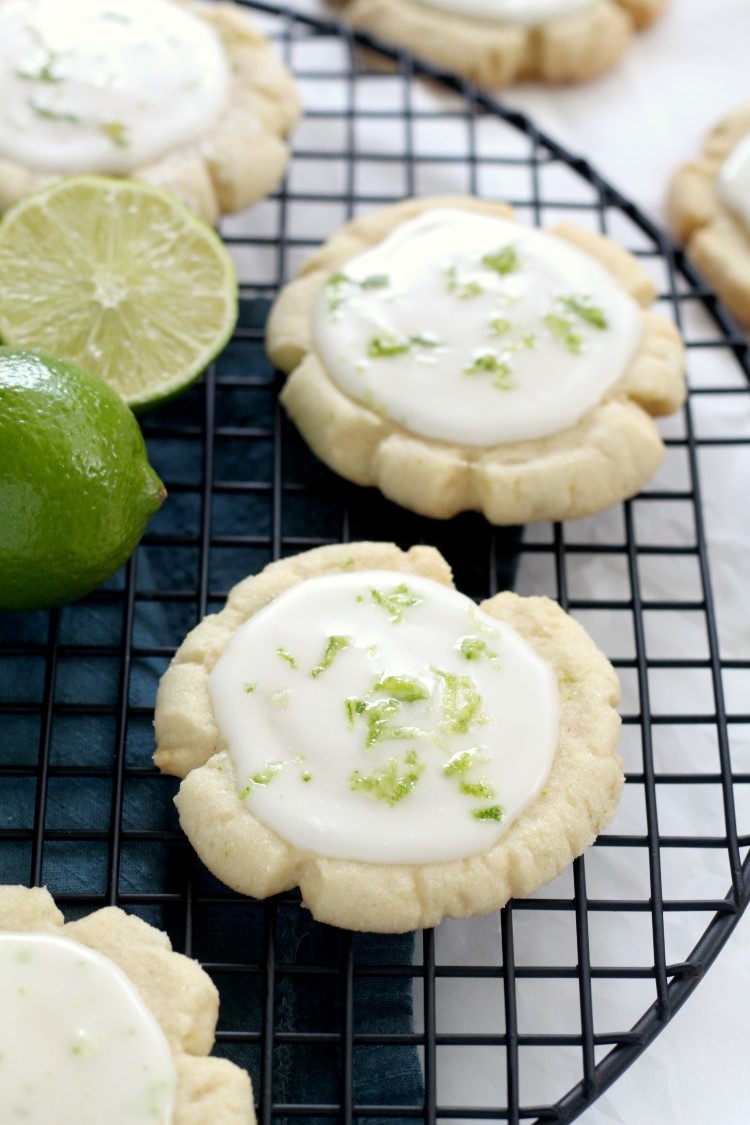 What types of cookies are your go-tos? What recipe do you reach for when you need cookies to take to a friends house? Or what do you like to keep in the freezer to snack on throughout the week? Does anyone love frozen cookies as much as I do?
My favorites are probably good old-fashioned chocolate chip or molasses crinkle cookies. Although my family is know to make and eat pumpkin cookies all year round. (Get excited for September, pumpkin cookies are coming!)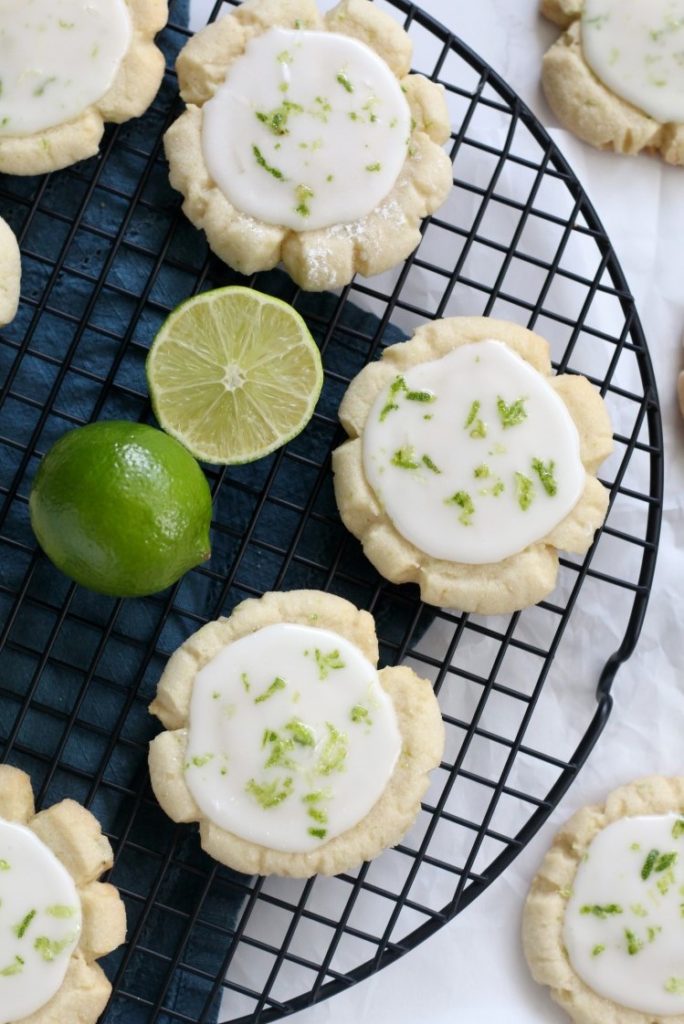 So I have my go to cookie recipes that I make half the time, and then the other half the time, I like to get creative with a new flavor or twist on a favorite cookie. These coconut lime sugar cookies came to life one day when I wanted something more than a sugar cookie and was craving tropical flavors. (It also helped that I had a stray lime sitting on my counter that day.)
I took a favorite sugar cookie recipe and added in some coconut oil and lime zest to give it some fun flavor. Then, once they were cooled I put a simple glaze with lime zest on top. Ta Da a perfect summer cookie! Although, I wouldn't be sad to eat them anytime of year.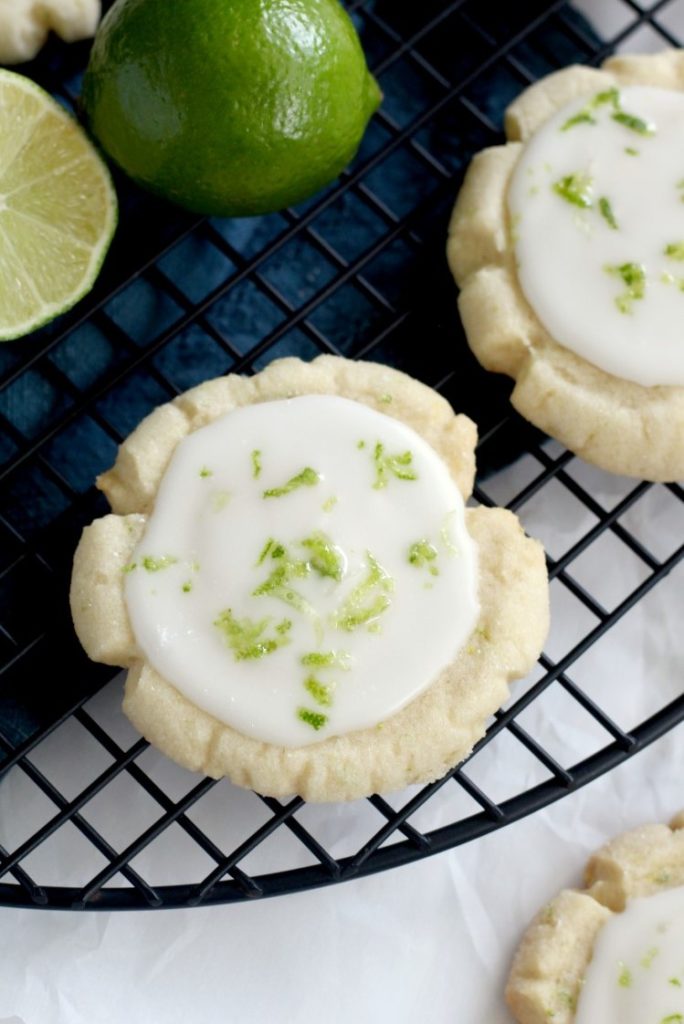 While I'm asking all about your favorite cookies, I might as well get your life's cookie philosophy, so I'll ask one more question. When you make a batch of cookies, what is the acceptable number of cookies you can eat warm from the oven? To me, it is 2-3, but I've definitely at more before. Tyler's take on cookie eating is –  eat as many as you want from the oven, because that is when they are the best. After that, don't even bother eating them.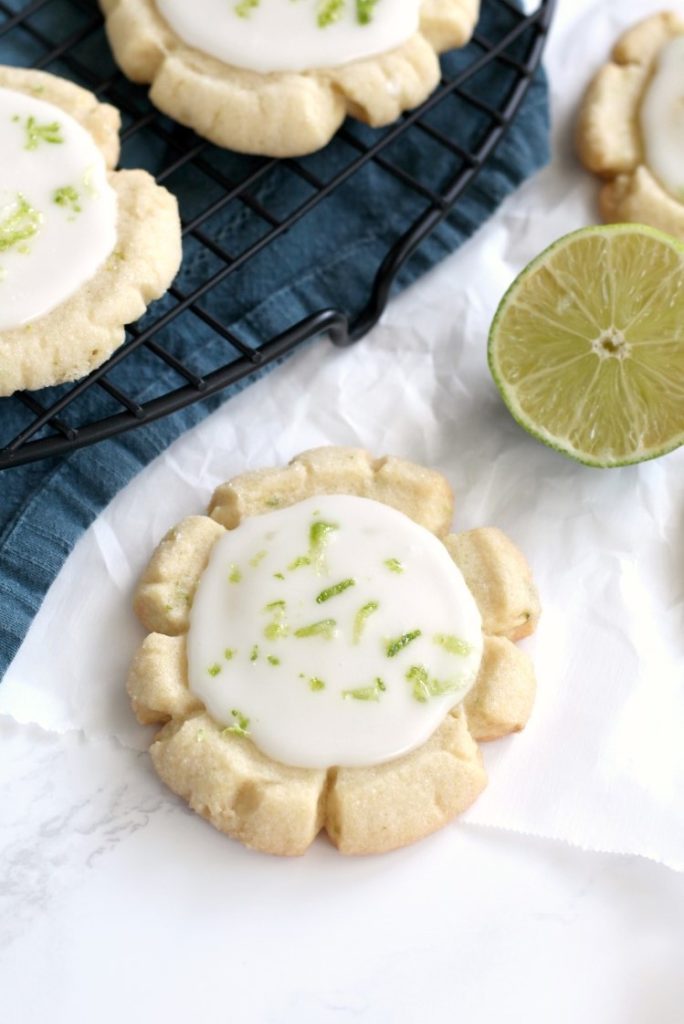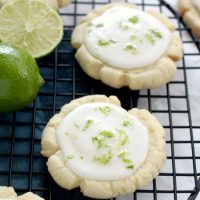 Coconut Lime Sugar Cookies
Yield: 3 dozen

Prep Time: 20 minutes

Cook Time: 8 minutes

Total Time: 28 minutes

Coconut Lime Sugar Cookies are fun twist on a basic easy cookie recipe. All you need is coconut oil and a lime to step up your sugar cookie game.
Ingredients
For the Cookies
1 cup (2 sticks) butter, softened
1 cup granulated sugar
1 cup powdered sugar
1/2 cup coconut oil, melted and cooled
2 large eggs, room temperature
1 teaspoon vanilla
4 cups all purpose flour
1 teaspoon cream of tarter
1 teaspoon baking soda
1 teaspoon salt
2 tablespoons lime zest
For the Glaze
2 cup powdered sugar
1 tablespoon lime juice
1 tablespoon lime zest
1-2 tablespoons milk, as needed
Instructions
Cream the butter and both sugars together in a large mixing bowl. Mix in the coconut oil. Beat in eggs and vanilla.

In a medium mixing bowl, whisk together the flour, cream of tarter, baking soda and salt. Stir the dry ingredients into the wet. Mix in lime zest.

Preheat oven to 350 F. Roll into 1 inch balls, roll them in sugar and place on a cookie sheet. Press with a glass or other smooth round object until flattened 1/3 inch thick.

Bake for 7-8 minutes or until just barely browned around the bottom. Let cool on cookie sheet for 2 minutes before removing to a wire rack to cool completely.

To make the glaze, beat together the powdered sugar, lime juice, lime zest and enough of the milk to make a smooth consistency. Spread on cooled cookies.
Nutrition Information:
Yield: 36 Serving Size: 1 cookie

Amount Per Serving:

Calories: 185 Total Fat: 9g Saturated Fat: 6g Trans Fat: 0g Unsaturated Fat: 2g Cholesterol: 24mg Sodium: 139mg Carbohydrates: 26g Fiber: 0g Sugar: 15g Protein: 2g

Nutrition information may vary significantly based on ingredients used and portion sizes. We are not responsible the reliability of this data or your reliance on it. We are not responsible for the results of any recipe you try from this blog/website, Chocolatewithgrace.com. Your results may vary due to differences in ingredients, humidity, altitude, cooking temperatures, errors, or individual cooking abilities.


Here are some other coconut lime desserts that sound amazing.
No Bake Coconut Lime Tart from Get Inspired Everyday
Coconut Lime Poke Cake from Dessert Now! Dinner Later
Coconut Lime Loaf Cake from Two Peas and Their Pod
Some of my favorite cookies recipes on my blog:
Lemon Crinkle Cookies from Scratch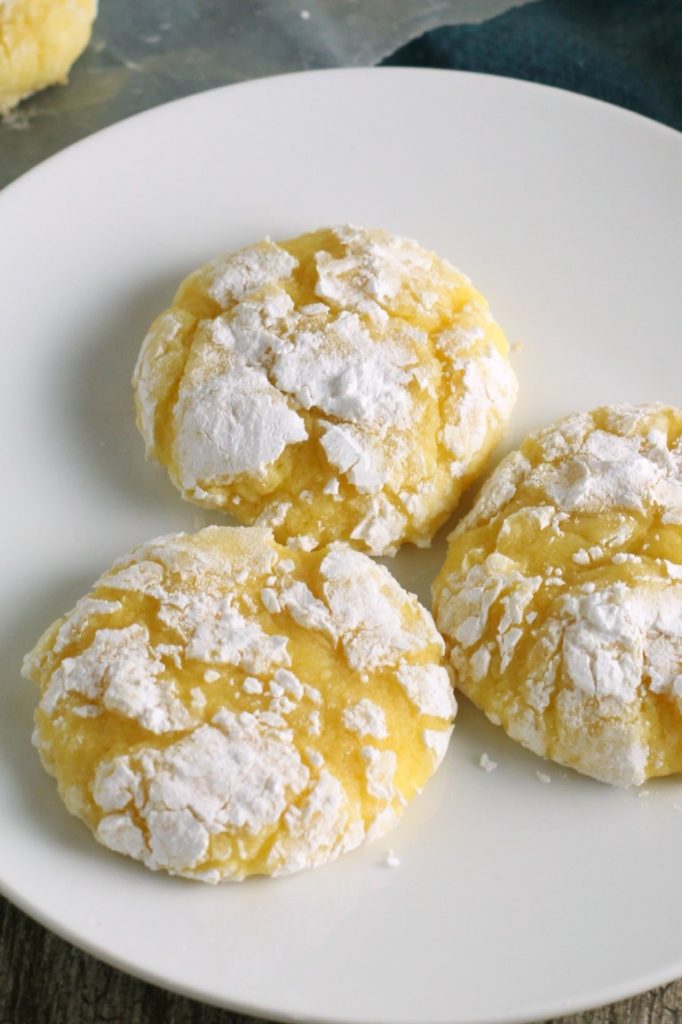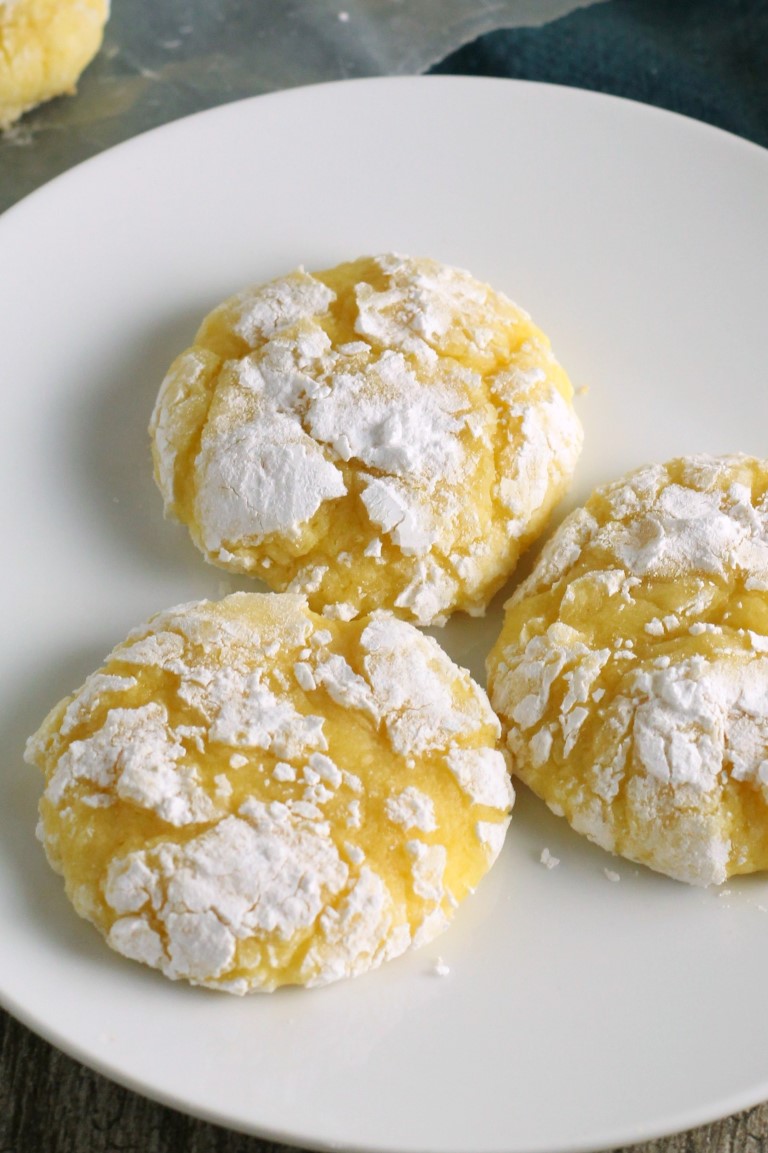 White Chocolate Raspberry Cookies