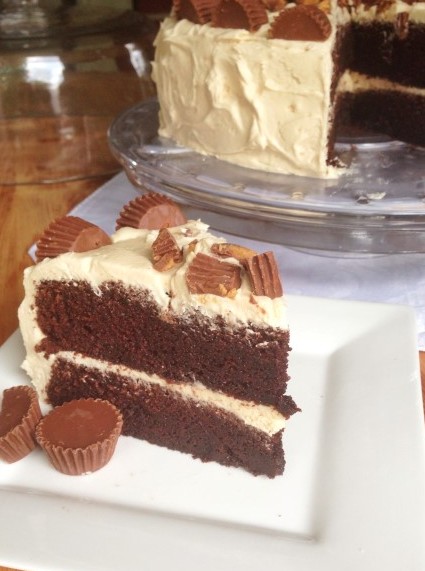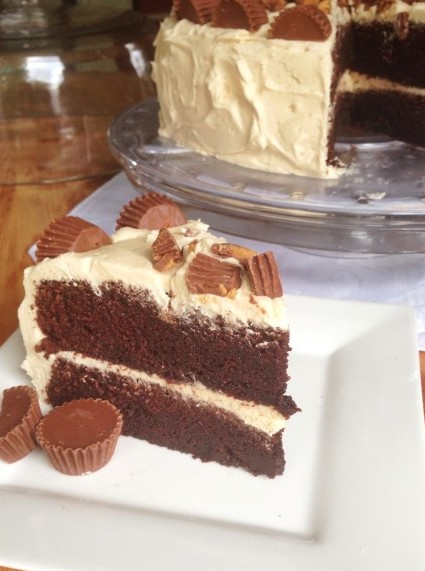 Tyler requested a chocolate cake with peanut butter frosting for his birthday this week. With just two people in our house, making large layer cakes is plain dangerous. Especially when the cake tastes this amazing, its impossible to avoid eating a large piece with every meal. Or even just substituting cake for our meal. We may or may not have done this 🙂 But hey, birthdays demand cake – good cake.
This cake will become your favorite go-to chocolate cake. Its soft and moist, and has a rich chocolate texture and flavor. That's not even mentioning the frosting. Its light, fluffy and will melt in your mouth. Just don't question the amount of butter and be sure to save some for the cake. You will want to have a spoon handy for tasting as you're making it.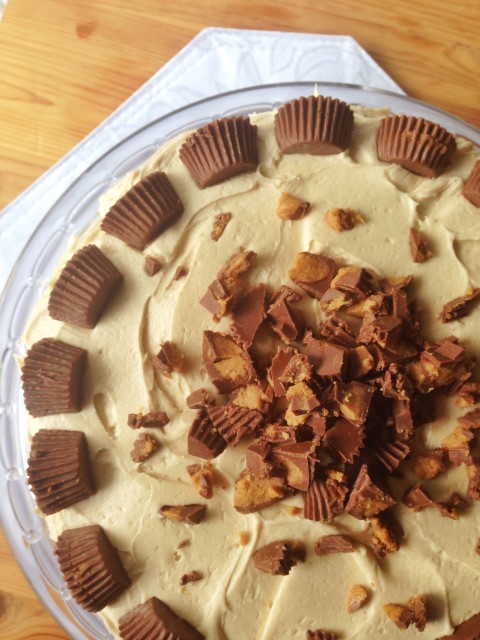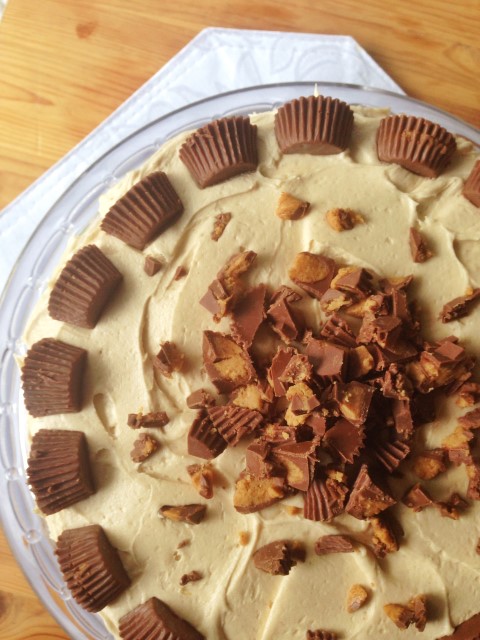 I will admit, this recipe isn't simple. It requires multiple bowls, stove top cooking and careful mixing. But its worth every bit of effort. The cake is over-leavened, meaning this cake recipe has too much baking soda in it. Over-leavening a cake will cause it to sink in the middle when baking. The extra baking soda causes the air bubbles to enlarge to the point the pop, causing a flat, dense cake. However, the extra baking soda is what helps give the chocolate its rich taste and helps lend a darker color to the batter. This is why it the boiling step is necessary in the recipe. Boiling the baking soda, cocoa powder, salt and sugar together allows the baking soda time to react with the cocoa. This enhances the flavor of the cocoa and and deepens the color. The boiling will also deactivate some of the baking soda. Leaving the proper amount of leavening for baking.
The other unusual thing about this chocolate cake recipe, is the instant coffee. I promise you will not be able to taste the coffee. While it isn't necessary for the cake, the subtle flavors of the coffee enhance the cocoa leaving a richer chocolate taste. Sorry for the long-winded explanation of baking soda, cocoa and coffee. I think this pushes me into the category, "baking nerd". And I promise you don't need to understand chemical reactions that create this masterpiece. Measuring the ingredients correctly and following the recipe directions are more important to creating the perfect chocolate cake.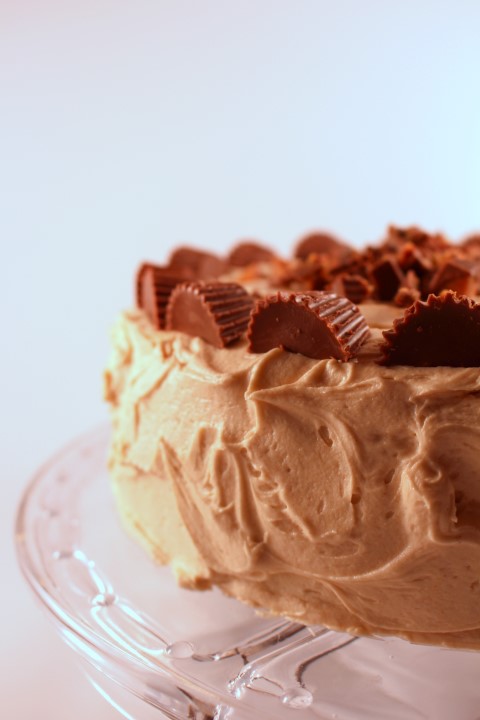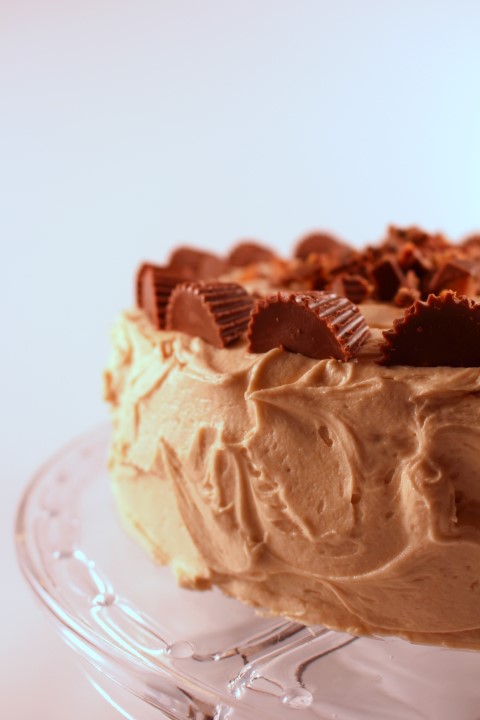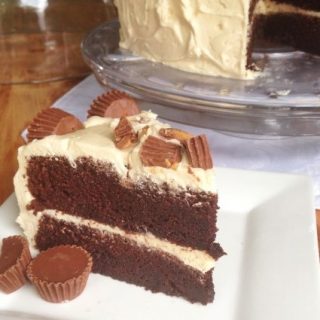 Chocolate Cake with Peanut Butter Frosting
Yield: 12 serving

Prep Time: 1 hour

Cook Time: 25 minutes

Additional Time: 2 hours

Total Time: 3 hours 25 minutes

The moistest, softest chocolate cake you have ever made, topped with a fluffy, melt-in-your-mouth peanut butter buttercream
Ingredients
For the Cake
2 & 3/4 cup white sugar
3/4 teaspoon salt
3/4 cup cocoa
1 teaspoon baking soda
1 tsp instant coffee granules
1 cup water
1 cup vegetable oil
2 teaspoons vanilla
1 and 3/4 cup all purpose flour
4 large egg yolks
2 large eggs
1/4 cup buttermilk
For the Frosting
1 cup (2 sticks) butter, softened to room temperature
1/3 cup peanut butter
3 cups powdered sugar
2-4 Tablespoons milk
Instructions
Preheat oven to 350 F. Grease and flour two 9 in cake pans.

In a saucepan, mix sugar, cocoa, baking soda, salt, and coffee granules. Meanwhile in another saucepan bring 1 cup of water to a boil.

Pour the boiling water into the sugar-cocoa mixture, stirring constantly. Place on the burner and bring to a boil. As soon as it boils remove from heat and let it cool in the saucepan for about 10 minutes.

After the 10 minutes are up. Pour the mixture into the bowl of a stand mixer. Add the oil, vanilla and mix on low speed.

Add the flour and mix on low speed until it is just incorporated. Finally, add the egg yolks, eggs, and buttermilk, mixing on low speed.

Pour the batter into the prepared pans, bake for 23-26 minutes until the cake spring back when lightly touched.

Remove from the oven and let cool in the pans for about 10 minutes, before cooling completely on a plate.

To make the frosting, beat the butter on medium-high speed for 2 minutes in a stand mixer until white and fluffy. Add the peanut butter and beat for another minute.

Gradually add the powdered sugar, beating until smooth. Add enough milk until the frosting is a nice spreading consistency.

To assemble the cake, place one layer on a serving platter, Spread about a half cup frosting on the top and then place the second layer on top.

Finish frosting the cake with a knife and garnish with Reese's if desired.




The moistest, softest chocolate cake you have ever made, topped with a fluffy, melt-in-your-mouth peanut butter buttercream