A simpler version of apple dumplings, this Apple Dumpling Bake is made in a casserole dish with soft, cinnamon apples sandwiched between layers of tender crust.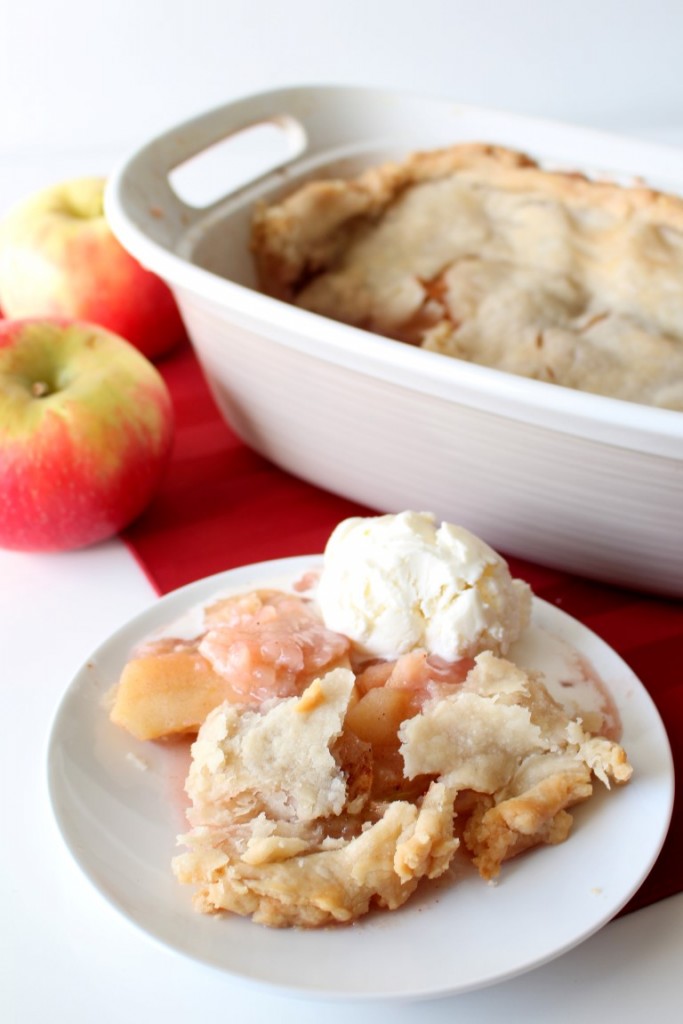 I know in February you're supposed to make all sorts of chocolate desserts with pink and red accents. But I'm sharing a family favorite recipe. My family generally loves any dessert with apples. Dad's all-time favorite dessert was apple pie, but we also love apple dumplings, apple bars, and most recently, apple pizza. This Apple Dumpling Bake is way easier than traditional apple dumplings with all the delicious flavor. (Please note the cute little hearts cut in the top crust.)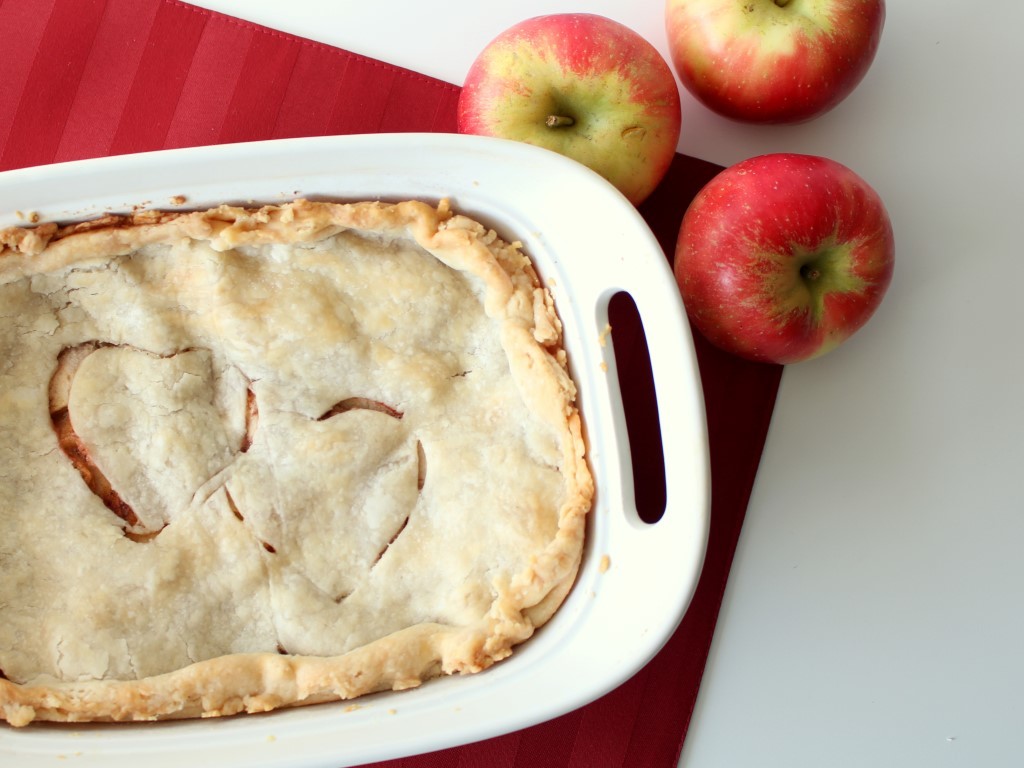 This is one of those recipes that came from my mom's glued-together cook book that was a fun collection of recipes from all sorts of places. I think this came from my Grandma. It's definitely was an older style of recipe with limited instructions and general guidelines for amounts. I've tried to make it a little more concrete. Be sure to follow the instructions for the crust carefully. The rest is easy.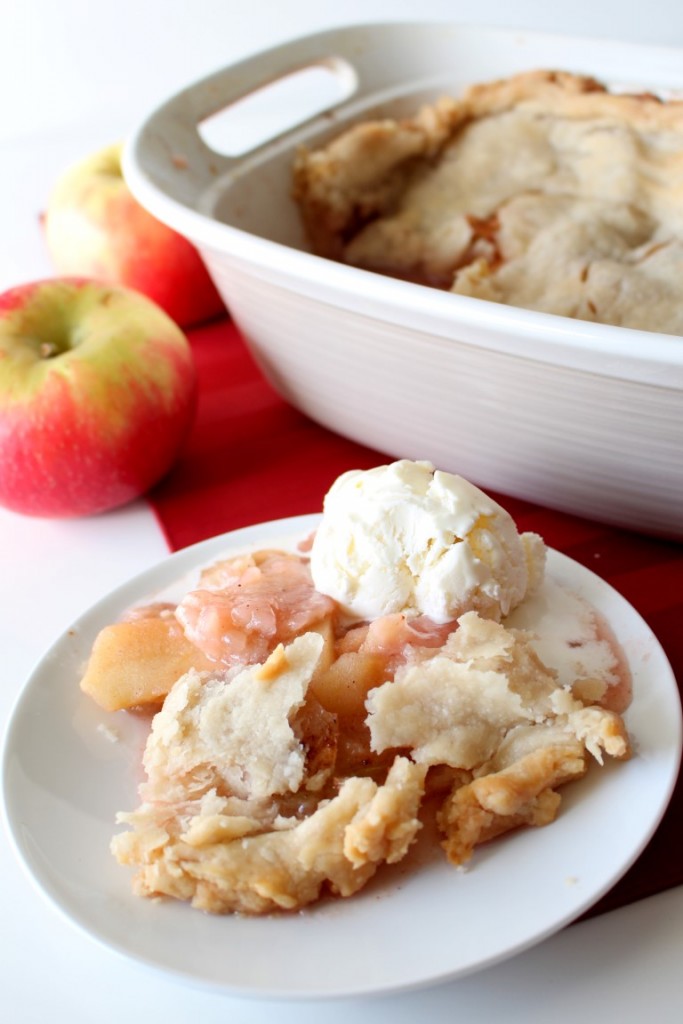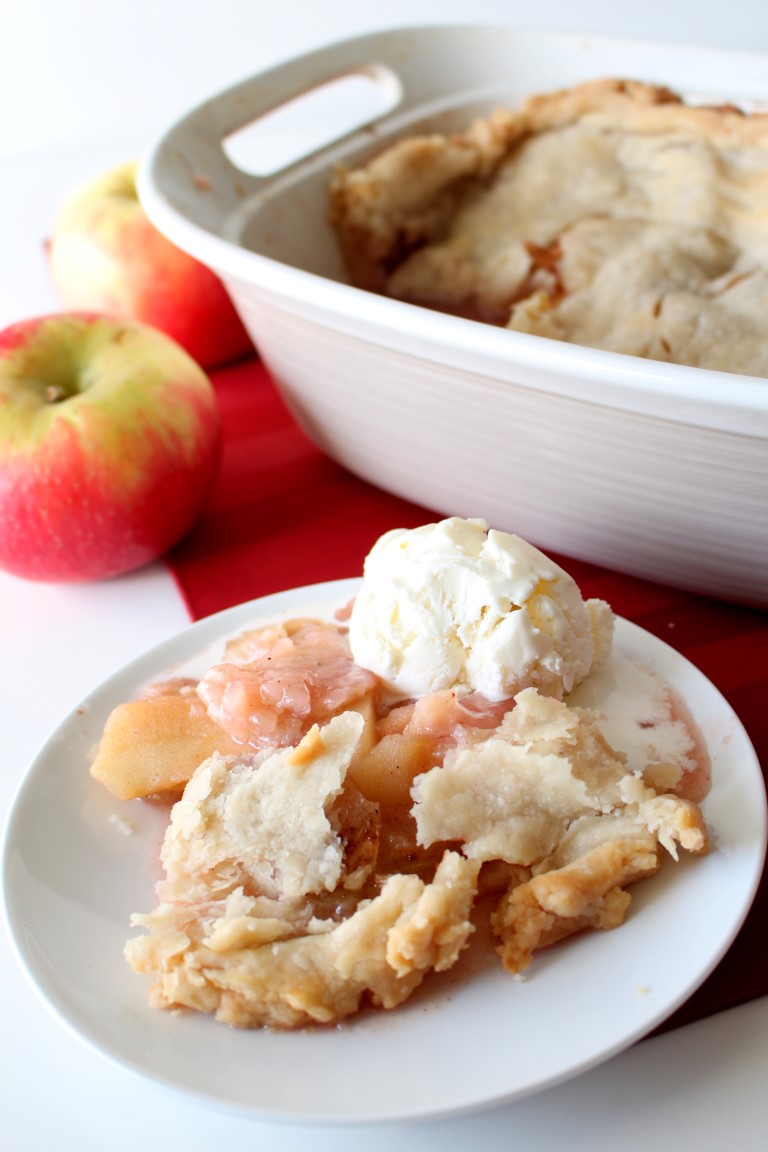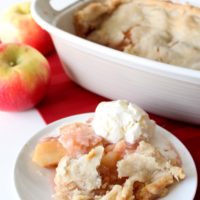 Apple Dumpling Bake
Yield: 12 servings

Prep Time: 30 minutes

Cook Time: 35 minutes

Total Time: 1 hour 5 minutes

A simpler version of apple dumplings, this Apple Dumpling Bake is made in a casserole dish with soft, cinnamon apples sandwiched between layers of tender crust.
Ingredients
For the crust
2 cups all purpose flour
1 and 1/2 teaspoon salt
1/2 cup canola oil
4-5 tablespoons ice cold water
For the filling
6-8 apples, peeled and sliced
1 and 1/2 cups sugar
1 and 1/2 cups water
1 teaspoon cinnamon
1/2 teaspoon nutmeg
a few drops red food coloring, if desired
3 tablespoons butter
Instructions
Preheat oven to 375 F. To make the crust, sift together the flour and salt. Pour the salad oil and cold water into a measuring cup, but do not stir. Add all at once to the flour mixture. Stir lightly with a fork until the mixture forms a ball. Do not over mix. Divide the dough in half. Roll out each ball between wax paper.

To make the syrup, combine the sugar, water, cinnamon, nutmeg and food coloring in a small saucepan, bring to a boil over medium high heat. Remove from the heat and add the butter. Allow it to cool slightly.

Line a well greased 9 x 13 casserole dish with half the crust. Fill with peeled and sliced apples. Place several thin pats of butter on the apples. Pour the syrup over the apples and lay the top crust in place. Poke with a knife or cut with a cookie cutter in several places. Bake in a preheated oven for 35 min or until the crust is lightly browned.
Nutrition Information:
Yield: 12 Serving Size: 1/12th

Amount Per Serving:

Calories: 278 Total Fat: 12g Saturated Fat: 3g Trans Fat: 0g Unsaturated Fat: 9g Cholesterol: 8mg Sodium: 114mg Carbohydrates: 41g Fiber: 4g Sugar: 21g Protein: 3g

Nutrition information may vary significantly based on ingredients used and portion sizes. We are not responsible the reliability of this data or your reliance on it. We are not responsible for the results of any recipe you try from this blog/website, Chocolatewithgrace.com. Your results may vary due to differences in ingredients, humidity, altitude, cooking temperatures, errors, or individual cooking abilities.


For some other variation on apple dumplings check out:
these easy, but delicious crescent roll apple dumplings.
Or traditional Amish Apple Dumplings.