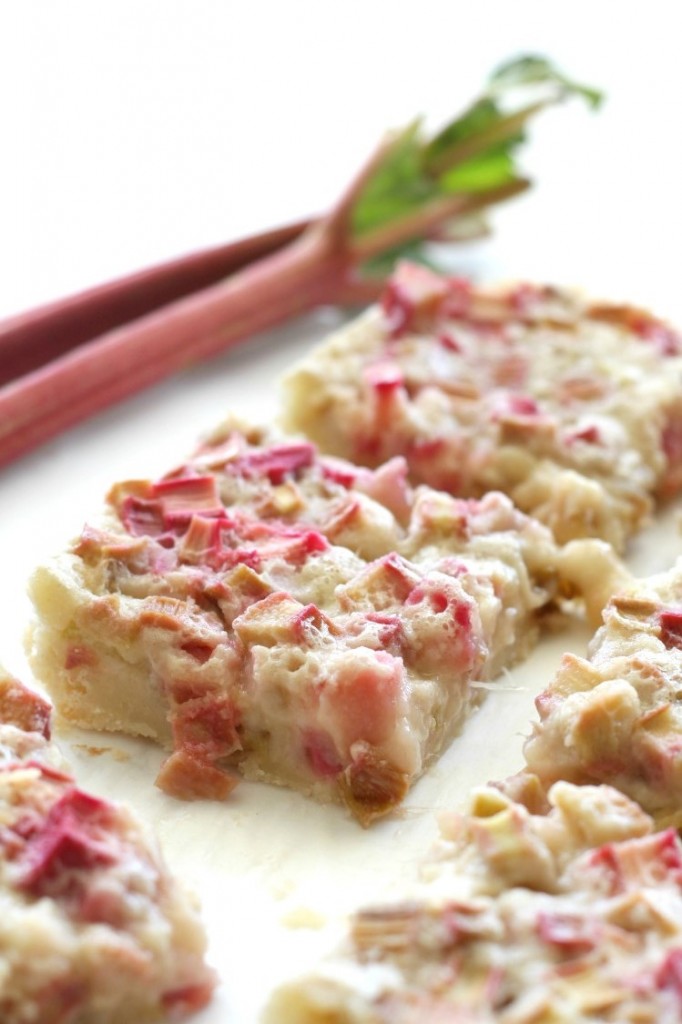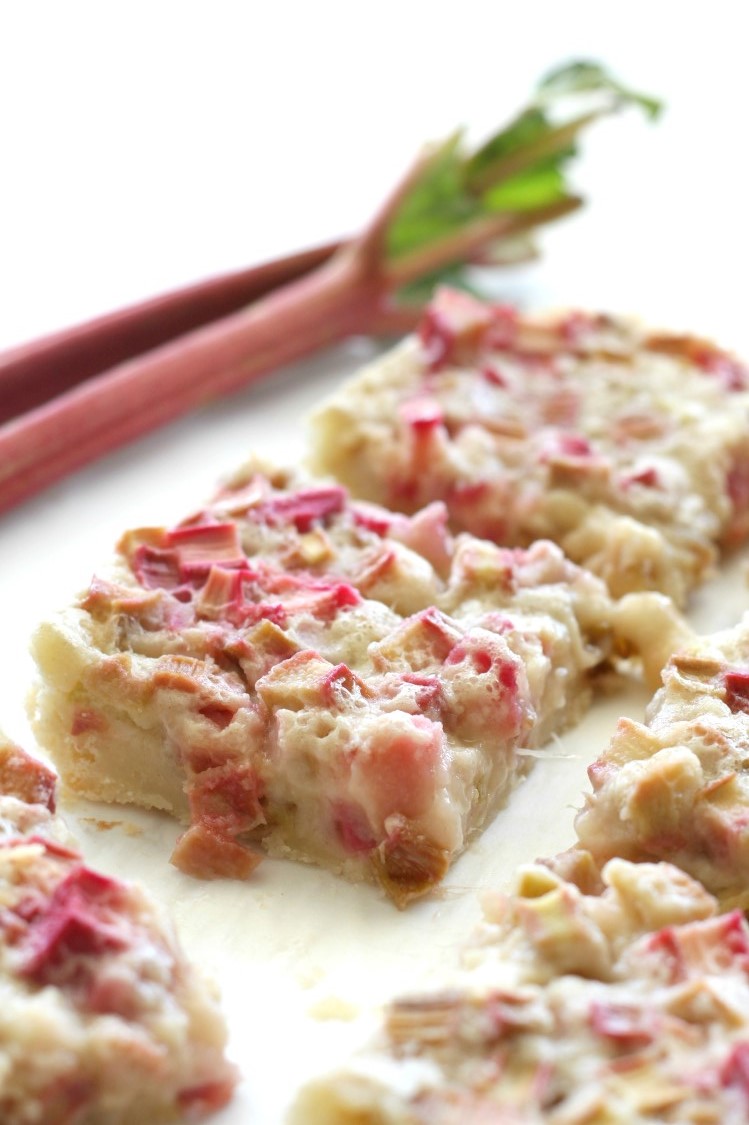 This recipe was originally published in May 2014. I updated the pictures and text in May 2018, recipe remains the same. I added some additional notes, based on issues a few people had.
Can you believe I've been blogging for 4 years now? It's hard for me to believe. I feel like it is cliche to say that though. These rhubarb bars were the 11th recipe I ever published. Kind of scary to look back at those first posts. But these rhubarb bars were the first one to be very popular and it's still one of the most popular rhubarb recipes on Pinterest. Btw, do you follow me on Pinterest? You should!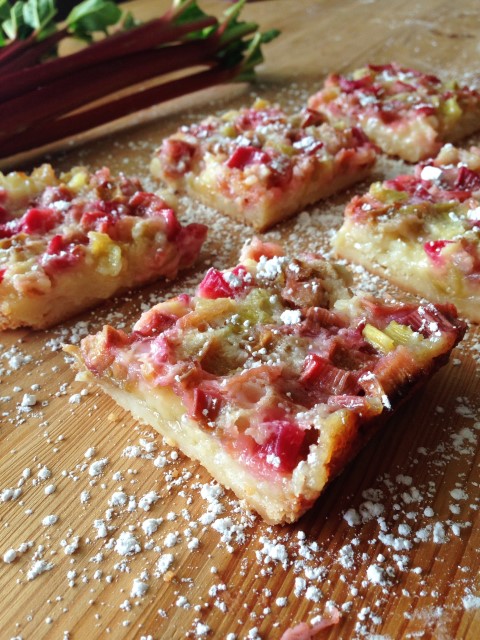 Last week I officially declared spring was here. On the way to work I would admire the emerald pastures and misty green hills in the distance. Finally, the brown grayness of winter has given way to a brilliant spring, and I have been enjoying every second of it. The hundreds of fresh produce stands in the county are opening and selling beautiful produce still fresh with dew from the fields. Asparagus and rhubarb are some of my favorites. And it seems that spring is the only time you can find rhubarb. Unless you freeze some for next year, which I'm going to try and do.
My mom always froze it and it was handy to have on hand to make these bars or a pie in the winter. All we did was wash the rhubarb, dice it up, and freeze it in 4 cups bags. Easy Peasy. 4 cups is a perfect portion to thaw out and make these bars or a pie.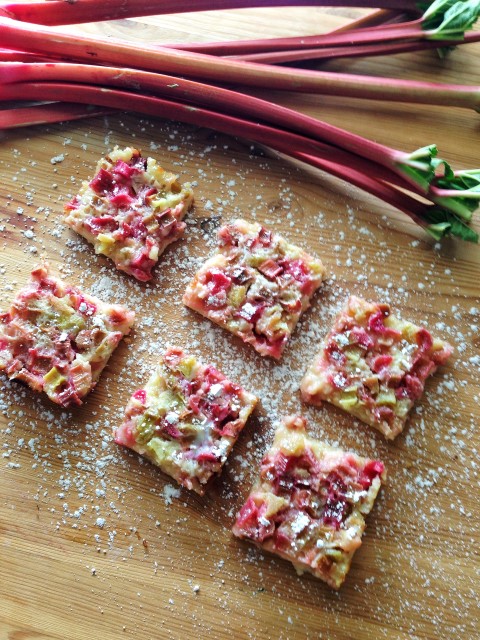 These rhubarb bars feature all the goodness of spring. The simplicity of the recipe allows the rhubarb to shine in all its tangy glory. To highlight the freshness of the rhubarb, the crust is a simple shortbread, made from a crumb mixture of flour, sugar and butter. The buttery sweetness of the crust perfectly complements the zing of the rhubarb and with less than an hour from start to finish, what excuse do you have for not making them?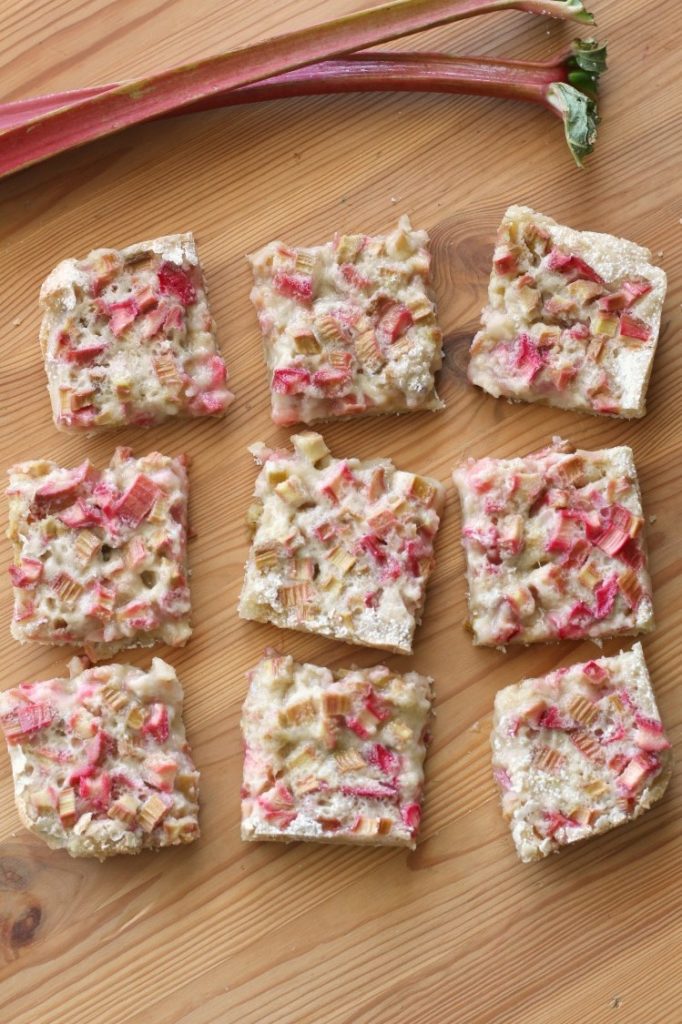 How to make the best rhubarb bars
Many of you have made the recipe with success. Below are several tips to help those of you who have run into problems. Let me know in the comments if you have questions.
I've gotten comments on a white crust forming on top of the bars, I believe this is from beating the egg mixture too long. Also, several people have commented that the bars are too sweet. This is a matter of personal preference, feel free to cut the sugar down to one cup if you prefer more tart rhubarb desserts.
Another issue appears to be people not baking them long enough. Continue to bake them until they are no longer jiggly, even if that is longer than the time stated in the recipe. Also cool them completely, preferably in the fridge, before cutting them.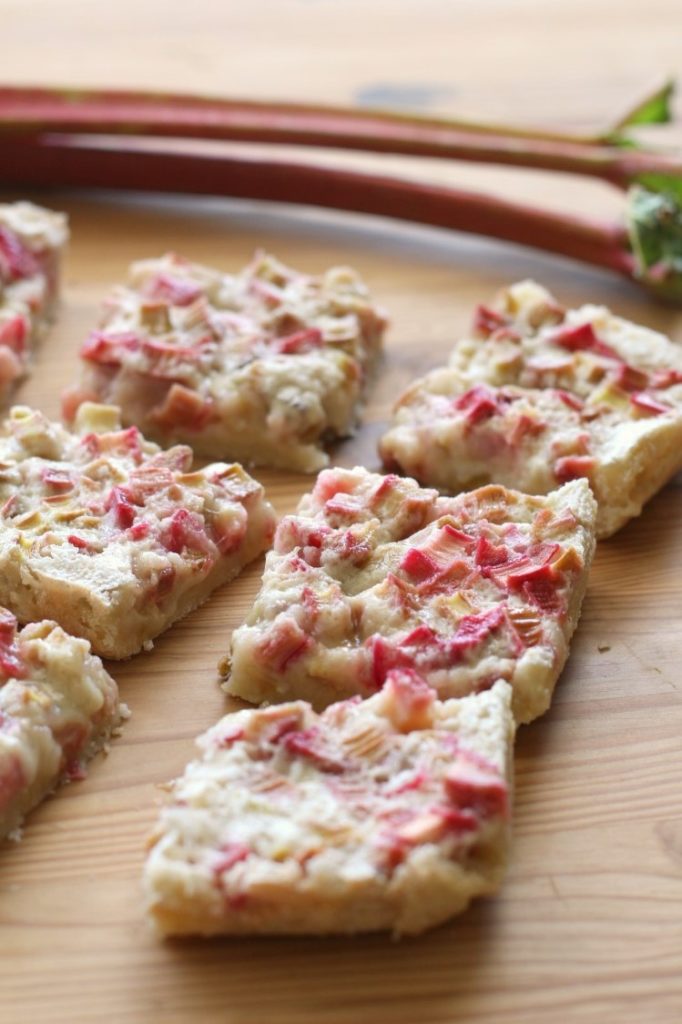 Check out my other favorite rhubarb desserts: Strawberry Rhubarb Crisp, Rhubarb Streusel Muffins, Old Fashioned Rhubarb Pie, Rhubarb Coffee Cake, Rhubarb Crunch, and Rhubarb Sauce with Strawberry Jello.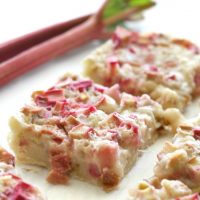 Rhubarb Bars
Yield: 24 bars

Prep Time: 15 minutes

Cook Time: 45 minutes

Additional Time: 2 hours

Total Time: 3 hours

Rhubarb bars with a shortbread crust and tangy rhubarb custard filling are a fun, easy spring dessert. Visit my blog for all the best rhubarb recipes on the internet.
Ingredients
For the crust
1 and 1/2 cups flour
3/4 cup cold butter, cubed
1/4 cup powdered sugar
For the filling
3 large eggs, beaten
2 cups white sugar, you may reduced this down to one cup if you prefer more tart dessert
1/2 cup flour
1/2 tsp salt
4 cups rhubarb, diced
Instructions
Preheat oven to 350 F. In a medium bowl, combine the flour and powdered sugar. Using a pastry blender cut in butter until the mixture resembles coarse crumbs.

Pat the crumbs into a well greased 9 x 13 in baking pan. Bake the crust at 350 F for 10-12 min or until lightly browned.

While the crust is in the oven, mix together eggs, sugar, flour and salt.

Gently stir in the diced rhubarb. Pour the rhubarb mixture over the hot crust. Return bars to the hot oven. Reduce oven temperature to 325 F and bake for 30-35 min or until the filling is set and no longer jiggly

Cool for 30 mins on the counter and the refrigerate until chilled before cutting into bars.
Nutrition Information:
Yield: 24 Serving Size: 1 bar

Amount Per Serving:

Calories: 179 Total Fat: 8g Saturated Fat: 5g Trans Fat: 0g Unsaturated Fat: 2g Cholesterol: 41mg Sodium: 113mg Carbohydrates: 27g Fiber: 1g Sugar: 20g Protein: 2g

Nutrition information may vary significantly based on ingredients used and portion sizes. We are not responsible the reliability of this data or your reliance on it. We are not responsible for the results of any recipe you try from this blog/website, Chocolatewithgrace.com. Your results may vary due to differences in ingredients, humidity, altitude, cooking temperatures, errors, or individual cooking abilities.


Here are some other rhubarb recipes from other bloggers I love:
A beautiful rhubarb tart from Baking a Moment.
Sparkling Rhubarb Lemonade sounds refreshing from Caramel Potatoes
Or a different take on rhubarb bars, these rhubarb curd bars from Broma Bakery sound delicious.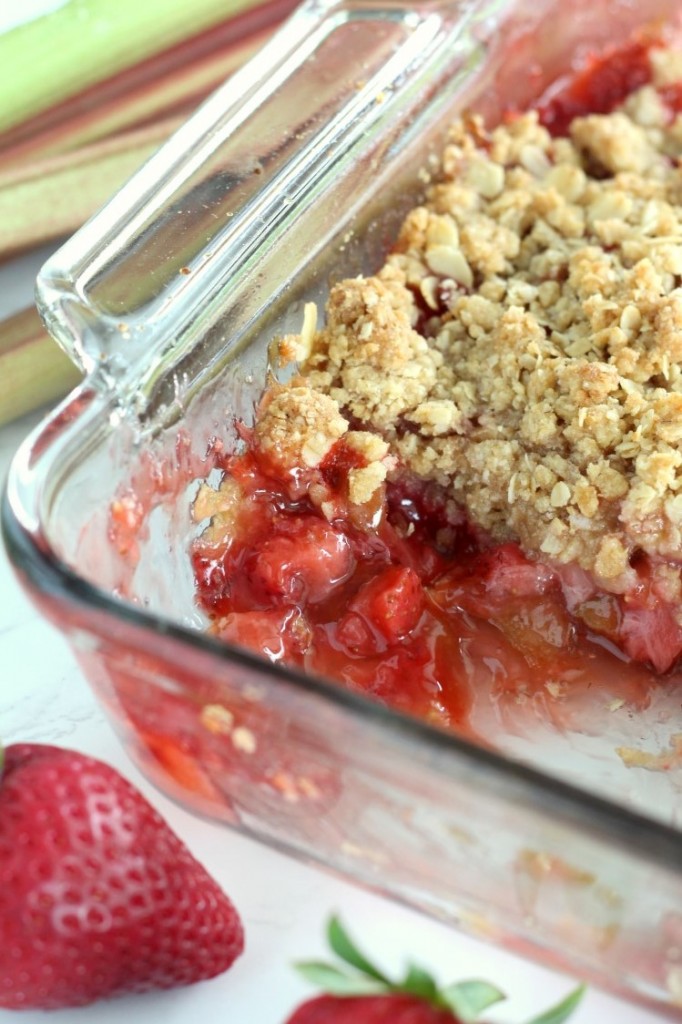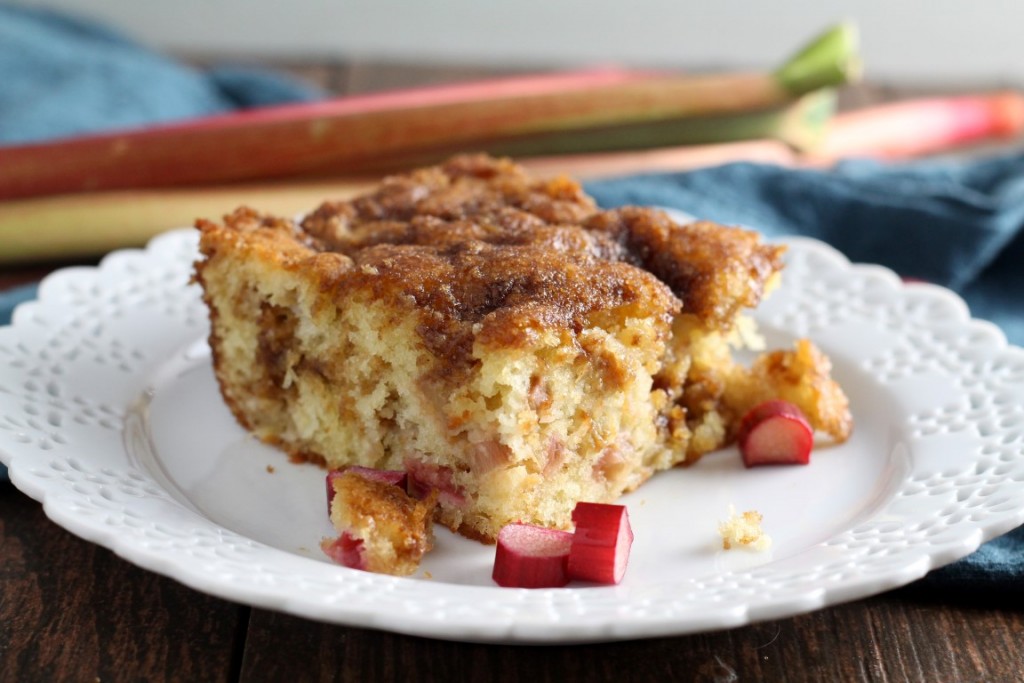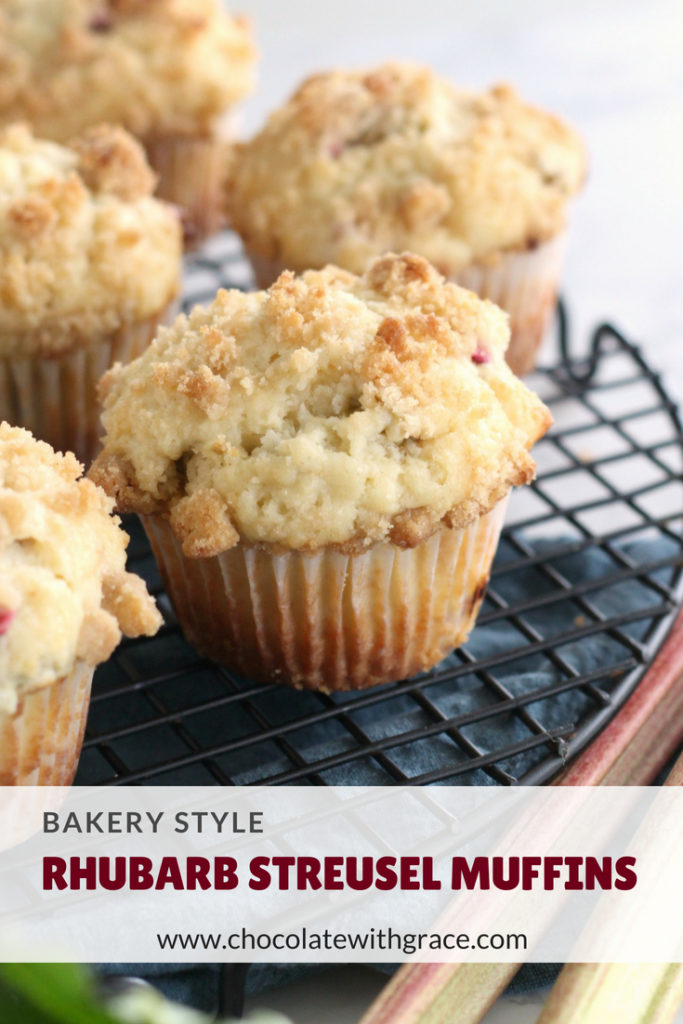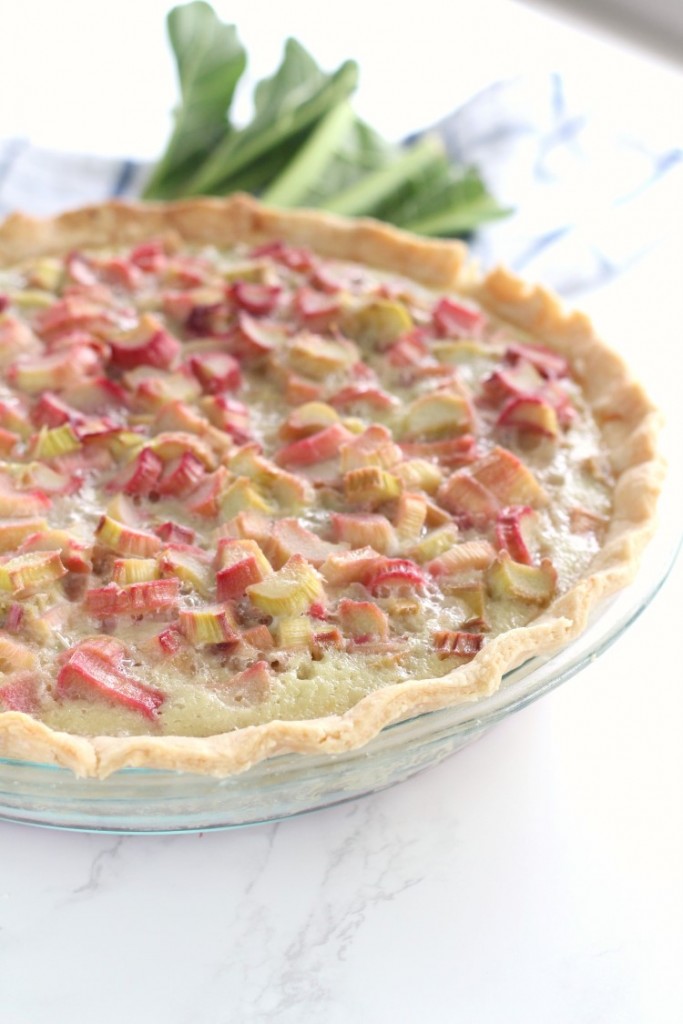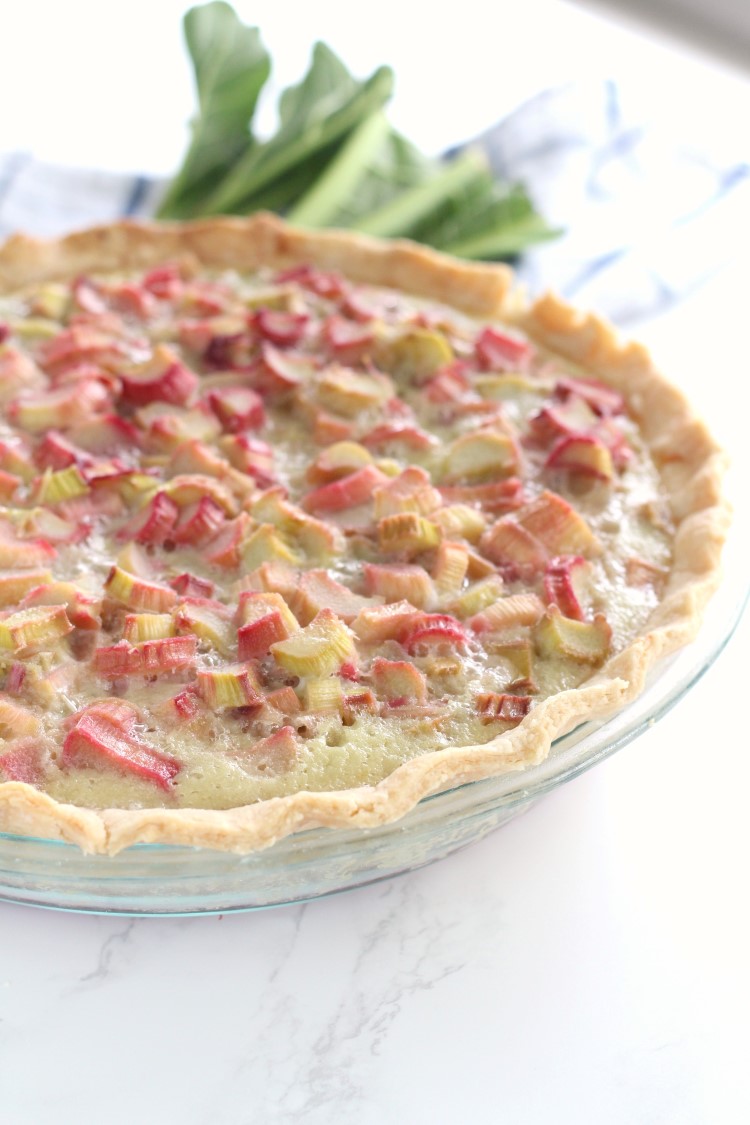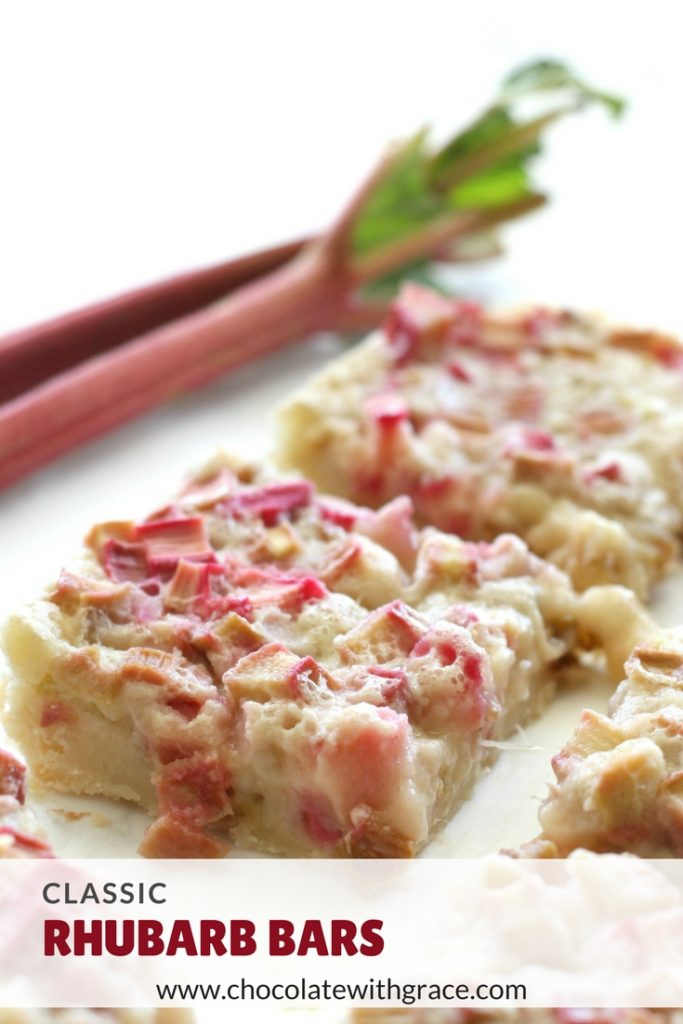 Rhubarb bars with a shortbread crust and tangy rhubarb custard filling are a fun, easy spring dessert. Browse my blog for all the best rhubarb recipes on the internet.