An easy way to use up extra rhubarb, this rhubarb coffee cake is the perfect excuse to eat cake for breakfast.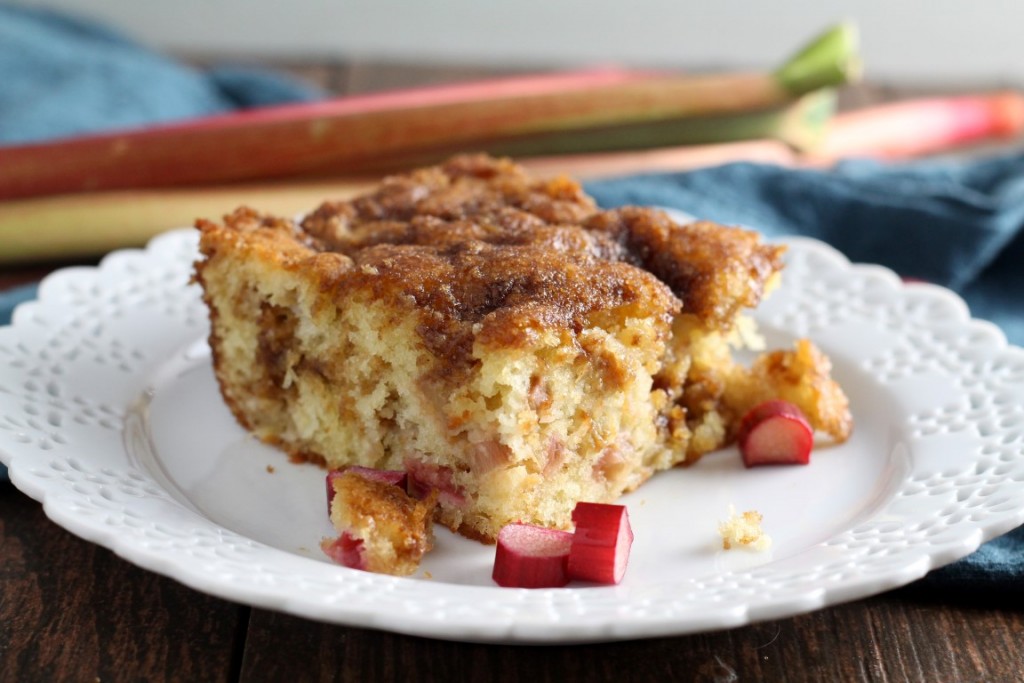 I'm happy to say that my baby is back to his normal, happy self after his ear infections. One of my favorite parts of the day is walking into his room in the morning after he wakes up and seeing the huge smile he gets on his face when he sees me. He smiles so big it makes his whole body wiggle with excitement. I wish I was always that happy to face the day.
Thanks everyone who sent well wishes and tips for getting him to take his medicine on the last post. By the last few doses, it was a considerably smoother process with less tears and more medicine swallowed. Squirting it in his cheek real quick and gently massaging his throat to make him swallow was what worked for us.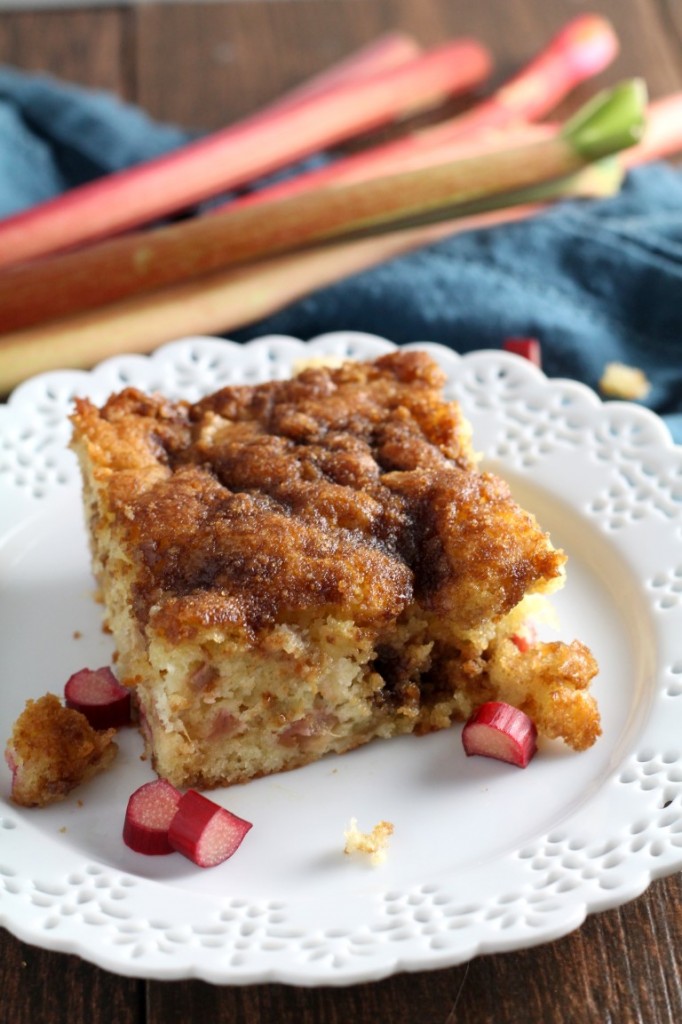 I love rhubarb season and each year look forward to baking something with it. One of the most popular recipes on my blog is these rhubarb bars. It was one of the first recipes I published and remains popular, especially with my Canadian friends. This year, I almost missed the season with all the June craziness, between work, sick babies and weekends packed with plans.
Today was a laid back day in the office and I was able to come home an hour early and of course that was the perfect excuse to do a little baking. This Rhubarb Coffee Cake is simple and is easily made in less than an hour.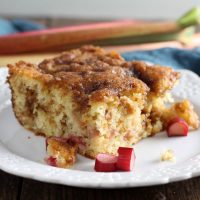 Double Crumb Rhubarb Coffee Cake
Yield: 18 servings

Prep Time: 20 minutes

Cook Time: 30 minutes

Total Time: 50 minutes

An easy way to use up extra rhubarb, this rhubarb coffee cake is the perfect excuse to eat cake for breakfast.
Ingredients
For the Coffee Cake
1/2 cup butter, softened
1 and 1/2 cups granulated sugar
2 eggs, room temperature
1 cup plain Greek yogurt (or sour cream)
1 teaspoon vanilla
2 cups all-purpose flour
1 teaspoon baking soda
2 cups rhubarb, finely diced
For the Crumb Topping
1/2 cup dark brown sugar, packed
1/4 cup all-purpose flour
1 teaspoon cinnamon
3 tablespoons cold butter
Instructions
Preheat the oven to 350 F. Grease a 9 x 13 inch baking pan and set aside.

Cream together the butter and sugar in a large bowl until fluffy. Beat in the eggs and vanilla. Stir in the Greek yogurt. In a separate bowl, whisk together the flour and baking soda. Gently stir the flour into the wet ingredients, just until combined. Mix in 2/3 of the diced rhubarb.

To make the crumb topping, stir together the brown sugar, flour and cinnamon. Cut in the cold butter with a pastry blender.

Spread half of the batter in the greased 9 x 13 pan. Sprinkle with half of the crumb mixture and the remaining rhubarb. Top with the other half of the batter and sprinkle on the second half of the crumb topping.

Bake at 350 F for 30-32 minutes or until a toothpick inserted in the batter just barely comes clean. Serve slightly warm or at room temperature.
Nutrition Information:
Yield: 18 Serving Size: 1 piece

Amount Per Serving:

Calories: 179 Total Fat: 8g Saturated Fat: 5g Trans Fat: 0g Unsaturated Fat: 3g Cholesterol: 40mg Sodium: 140mg Carbohydrates: 24g Fiber: 1g Sugar: 11g Protein: 4g

Nutrition information may vary significantly based on ingredients used and portion sizes. We are not responsible the reliability of this data or your reliance on it. We are not responsible for the results of any recipe you try from this blog/website, Chocolatewithgrace.com. Your results may vary due to differences in ingredients, humidity, altitude, cooking temperatures, errors, or individual cooking abilities.


Some other fun rhubarb recipes.
Strawberry Rhubarb Jam from Self Proclaimed Foodie
Rhubarb Tart from Baking a Moment
Strawberry Rhubarb Ice Cream from A Cookie Named Desire
My Ultra Popular Rhubarb Bars